Cleveland Ohio might not be the reggae capital of the world, but the grit and determination to establish themselves despite locational barriers made the men of Tropidelic all the more eager to make their dream a reality. From dorm room project to a nationally touring band, their momentum shows no sign of slowing down.
The band's style is one all of their own design, blending reggae with hip hop, rap, and a healthy horn section, they have no issue with making their sound resonate throughout a room. Staying humble every step of the way, they pride themselves on always being open and accessible to their fans.
Grateful Web had a chance to meet with Tropidelic frontmen Matthew Roads and James Begin at this year's Cali Roots festival to talk with them about how they felt about opening up the festival, their peers in the industry, and their personal and professional transformations throughout the years.
GW: Your song "Alcoholic" delivers a message I am sure is close and personal to you. What prompted that song, and what was the process of making that song in how it relates to your life?
Matthew Roads: Well, I think it's true to most of what it says, that being said I'm drinking a LaCroix now, so I've been almost two years sober, but back then it was just a testament to some of the things I was going through. I didn't want to make it in a depressing way, so it's kind of upbeat, and it seems that a lot of people were able to relate to it, which is always the intent. So I guess it is more of a dictation of where my life was then.
GW: Since you mention in the first line of the song that you went to college, where did you go?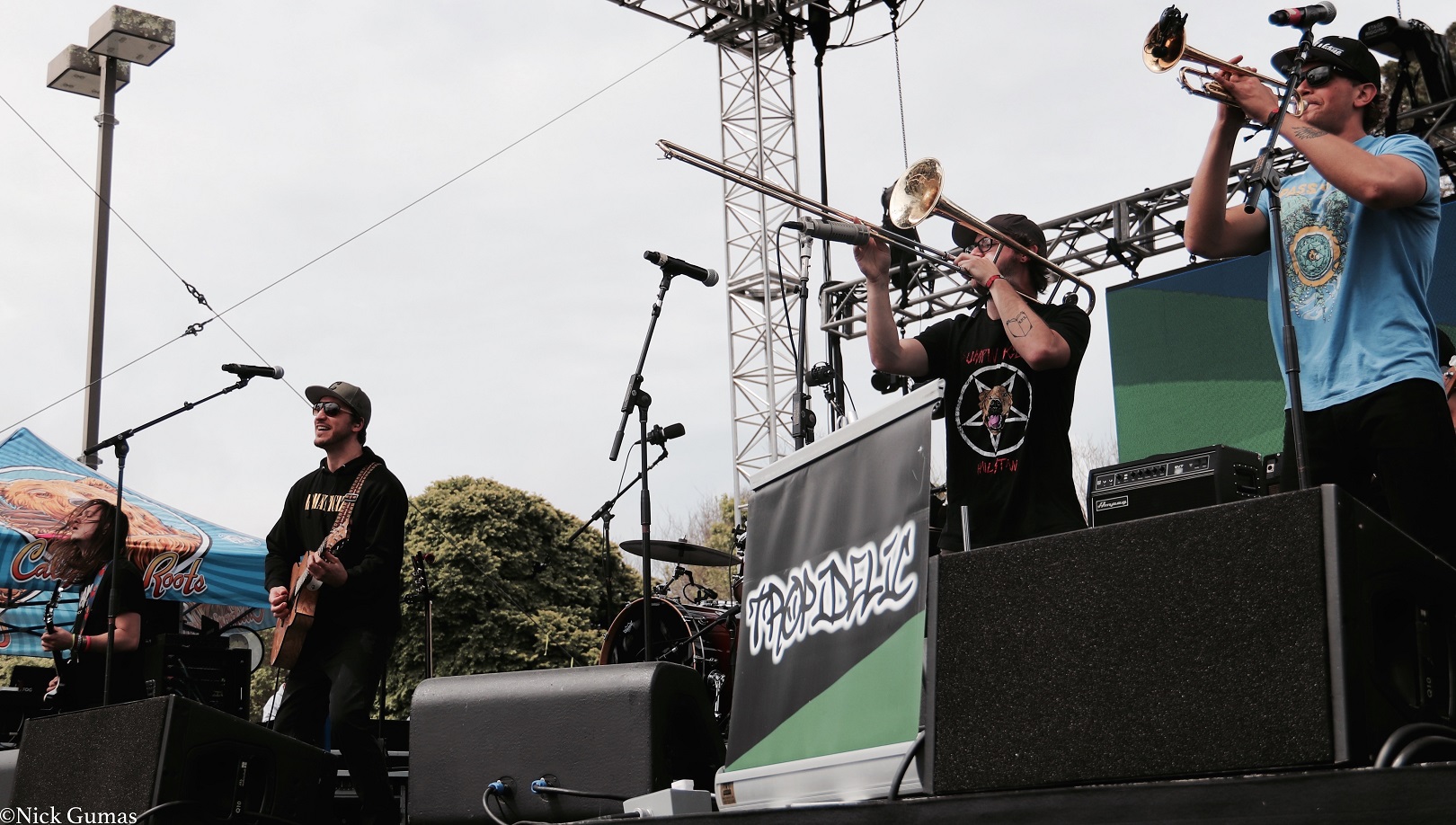 MR: Kent State. It's mostly known as where the four kids got shot in 1970. Now it's in the media more recently because a girl walked across campus with an AK. (Other than that) Great time.
GW: How does it feel to not only be playing Cali Roots, but opening it?
MR: It feels good. It's good to be out here rubbing shoulders with the people we have been able to. A lot of these bands we've played within the Midwest and in the east, but never out here, so it's great to be in the same place at the same time with all these people we listen to and love.
GW: Your audience this morning was quite large and enthusiastic compared to the average audience of a band playing as early as you did. How do you feel this is a testament to how well you can relate to your audience and how committed your fan base is, especially across the country from your home town?
MR: I like to think pretty well. We pride ourselves on being accessible. After every show, we're out there meeting everybody, and we like to. The best part about all of this is the people and being able to interact. Maybe that's the reason, they know we're about being there for people.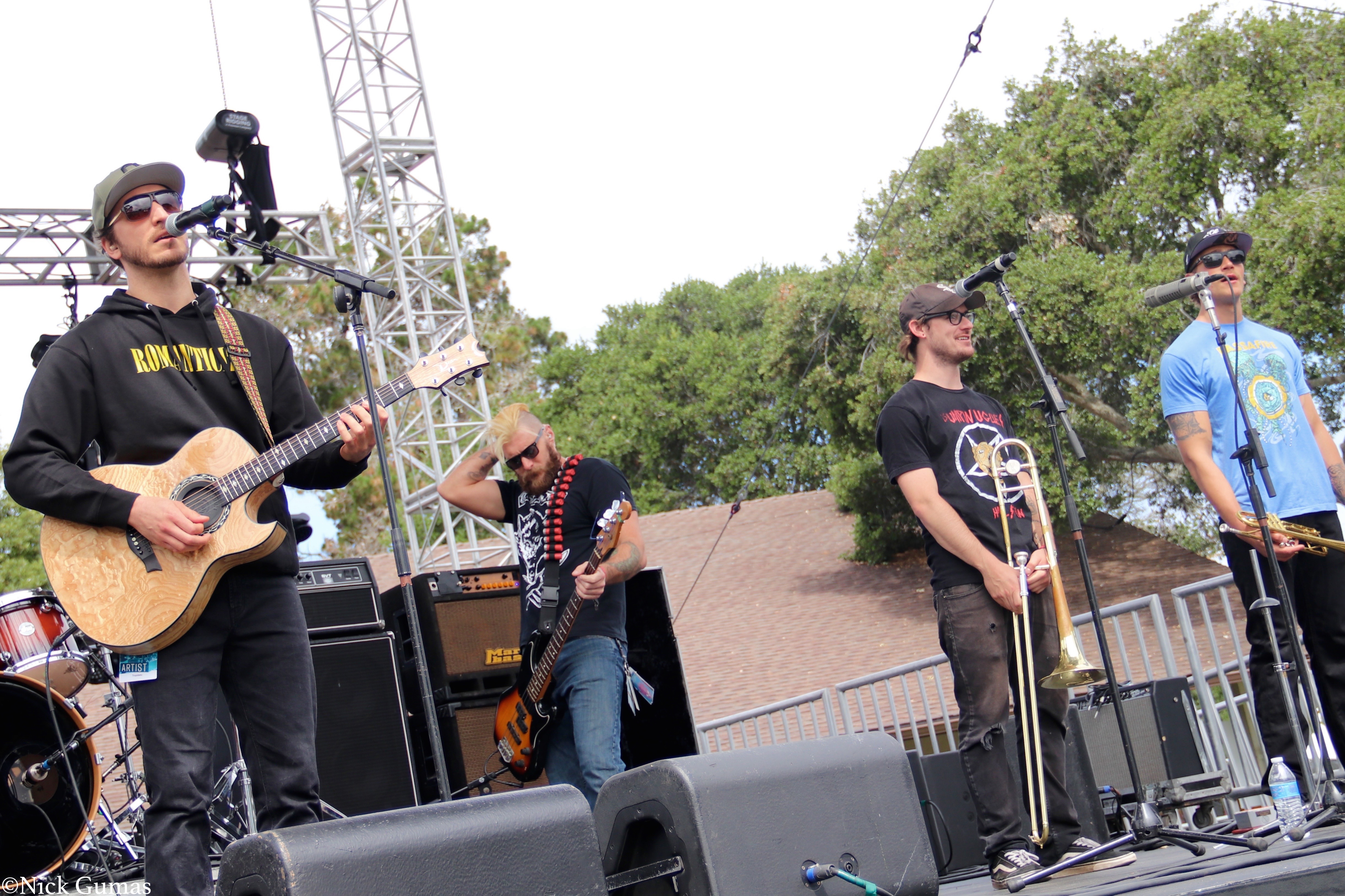 GW: Your band has a unique way of blending genres. Your added layer of rap and unique horn instruments add an interesting level to your music. How do you define it?
James Begin: How do I define it? I guess funky reggae hip hop I suppose. (But) We've been called a lot of things.
GW: How did you settle on which instruments you would feature in the band?
JB: Roads actually found (me) I play the trombone, and then Derek plays the trumpet, but we learned those instruments to be in the band. Derek was playing the tuba, and I was the singer for another band, but we both learned our horns to be able to start playing (with Tropidelic.)
GW: I particularly enjoyed your use of interludes albums like "Go Down with the Ship" and how they added to the story of the album. How did you make the decision to include them?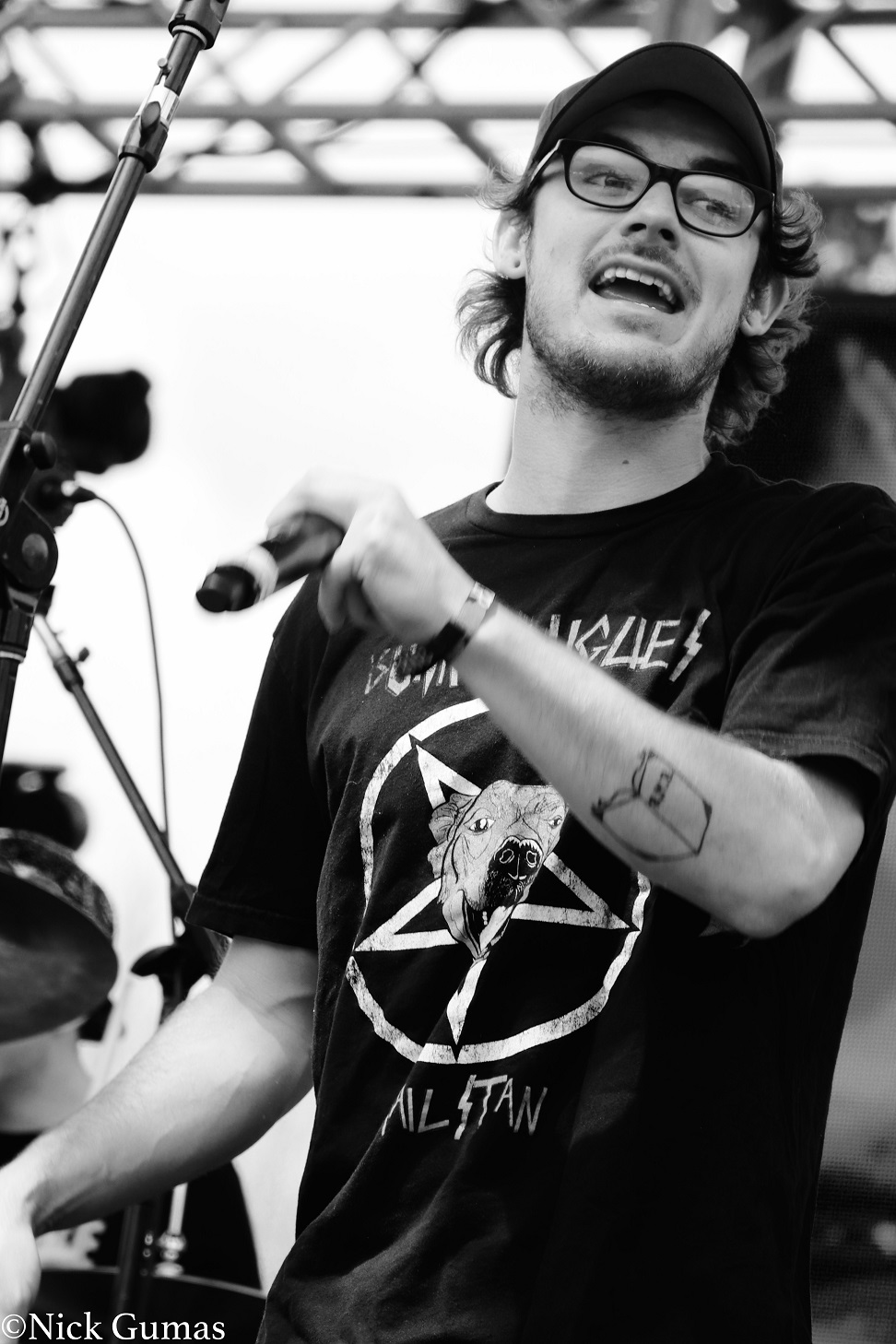 JB: We had them on "Police State" as well. It was us and our tour manager Vinnie that did the voices. We just like having fun, I guess. Me, Vinnie, and Roads would jump in there, and the three of us would record them.
MR: It was just an easier way to tie in a theme, and I think it worked out. Especially on (Go Down with the Ship.) People really liked them.
GW: One thing I noticed in your live show is how you chose to pay respect to other lyrically motivated bands of comparable sizes and genres such as Bumpin Uglies and Passafire by wearing their t-shirts while you play. What do those bands mean to you and why do you feel it is so important to show them this respect?
MR: We talk about the whole wearing band t's onstage frequently, and we wouldn't wear them if we didn't have the respect (for them) but Bumpin Uglies is like our brother band, we love those guys. I've listened to Passafire for more than a decade, and they're a band we all look up to. It's just a sign of respect.
GW: As a band from Cleveland, how do you feel playing reggae in the Bay Area compares to back home?
JB: Oh, it's crazy different. Everybody out here loves it. We do well in Cleveland too, but not a lot of people do what we do in Cleveland, so it's definitely cool coming out here where people love reggae and thrive on and look for. With (the bands) we've met here, not everybody comes to Cleveland because of that reason. We met some of our Label-Mates today that we've known about for a very long time, but we've never met in person because we're on different sides of the country, so it's definitely cool coming out here.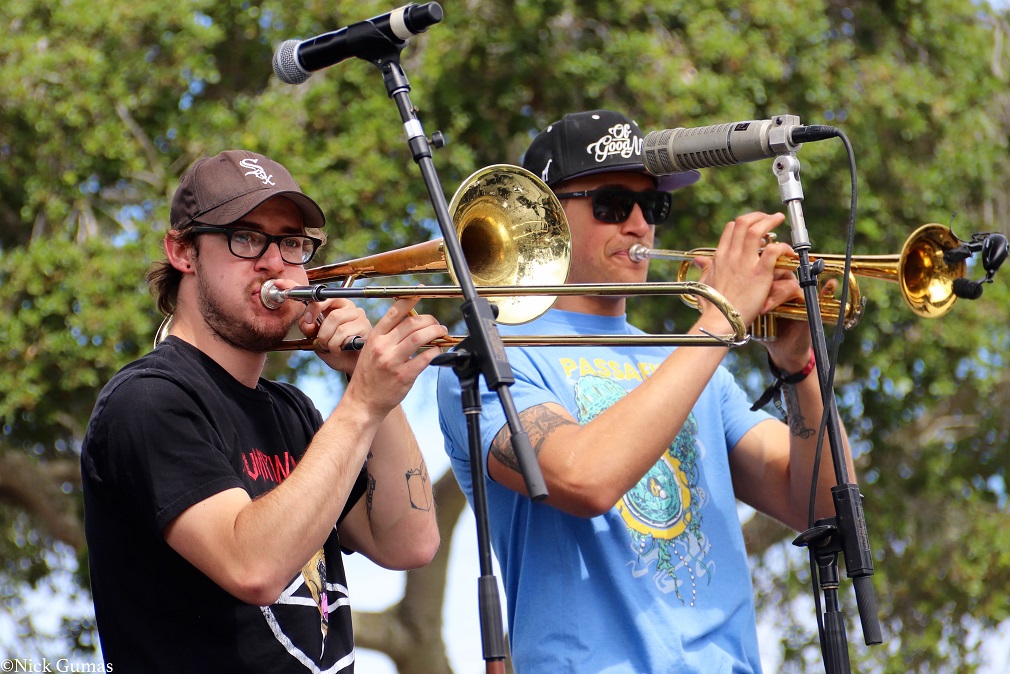 GW: What's next for Tropidelic?
MR: We're working on new material for our new record, hopefully (coming out) this year or early next year. We'll be on tour throughout the summer. For a month we'll be back here in California, we're coming back with Ballyhoo! and Bumpin Uglies, and we'll hop on the last week of the final Warped Tour at the end of July and early August. It's going to be a busy summer.
GW: What's one question you never get asked or one subject you never get to talk about in interviews?
MR: Somebody asked me earlier about what I do in my downtime, but what people don't ask much is what the real life is like. It's not all here; we spend a lot of time on the road but a lot of time at home as well.
JB: We're just a couple of regular dudes out here doing the thing, you know what I mean? We all have personal lives at home, and being out here doing this, we don't forget how lucky we are.