Since the Grateful Dead has always cherished weirdness as a super-positive adjective, it's not totally surprising that the post-Dead scene should have the weirdest possible outcome….namely, instead of fading away, Dead-Head-ism is growing just as it always has. Now, it turns out, Dead Heads are fans of the music even more than the band, so that who's playing the music is mostly a matter of taste and choice. Which is the understanding behind Skull and Roses, a festival of Dead music in one of the Dead's favorite venues, the Ventura County Fairgrounds, April 5-7, 2019, featuring Oteil and Friends (including John Kadlecik), JGB with Melvin Seals, Grateful Shred, Stu Allen and Mars Hotel, L.A.'s own Cubensis, and lots more. In addition to playing lead and singing the vocals for JGB, Zach Nugent will have his own "Disco Dead," as well as a trio called Reckoning with Stu Allen and Dave Hebert…. So talking with him about how he came to be the musician he is and why he's perfect for Skull and Roses was a pretty easy choice. For more on Skull and Roses, go to www.skullandroses.com. See you in Ventura!
Zach Nugent:
By the time I graduated high school, I'd lived in 19 houses. We were retail gypsies, really. I was born in Connecticut and lived there until I was nine, and then we moved up to Vermont and bounced around the state. I've lived there ever since. My parents are big music followers, they're Dead Heads as much as anything else, and they exposed me to a lot of music, from bluegrass to classical to reggae to Grateful Dead, and everything else. But my first real prominent musical memory is riding around in my Dad's car—a VW—listening to a bootleg, a semi-production bootleg that was called Acoustic Masterpiece. And it was an acoustic Dead show from like '93 or '95. Both my parents loved it, my mom especially, that's her special Dead soft spot, Grateful Dead acoustic stuff, Reckoning or whatever. And I remember riding around in my Dad's car and we had a cassette of Acoustic Masterpiece. So from a really young age, it's always been Jerry in my ears.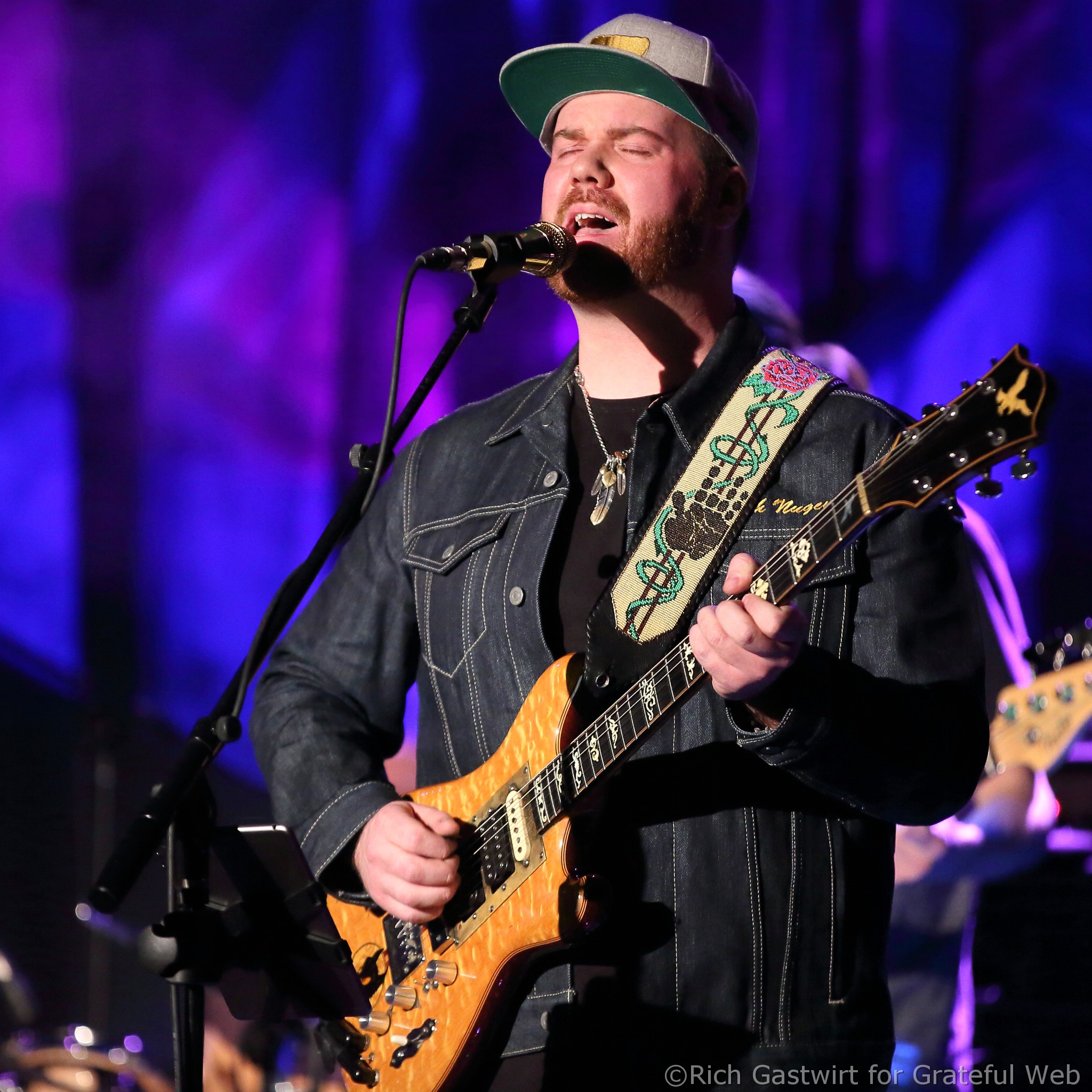 I started playing piano when I was five and then violin and then clarinet, but none of it stuck. I loved music and I knew I'd play an instrument, but none of them really meant anything to me. A lot of the music I listened to, bluegrass and reggae, was guitar-driven. Guitar started resonating with me – I liked the power that comes with it, but also the versatility. So when I was 12 my folks rented an acoustic guitar for me at Hanover Strings in Hanover, New Hampshire, just across the river from where we were living, near Norwich, Vermont. I think it was $19 a month, with an option to buy or whatever. My parents loved music and were really supportive, so it didn't take much arm-twisting to get a guitar out of them. I remember I went home that day, I remember right where I was, I can picture everything, and I learned "Ripple" first.
We lived off the grid multiple times, no running water or electricity, and that was one of those times. So, we got the guitar in Hanover and went home, and I remember the futon I was sitting on, I remember my parents coming and going and being stoked that I was playing "Ripple." It was a snowy winter day, and I grasped it pretty fast, and my folks were really pleased.
I dove pretty deep into the Old and in the Way bluegrass thing, and also Tony Rice and Clarence White, and really got into bluegrass for a couple of years. Before that I got into classical and took some lessons – those were the only lessons I ever took – but then it was bluegrass, and flatpicking, and the summer between my freshman and sophomore year in high school, a few of the faculty at my school had a bluegrass band and the guitar player was moving to Alaska. So, they asked me to join the band., the Fogey Mountain Boys. That was the first time I played with other people for real. We played gigs, and I was getting paid, and that was great.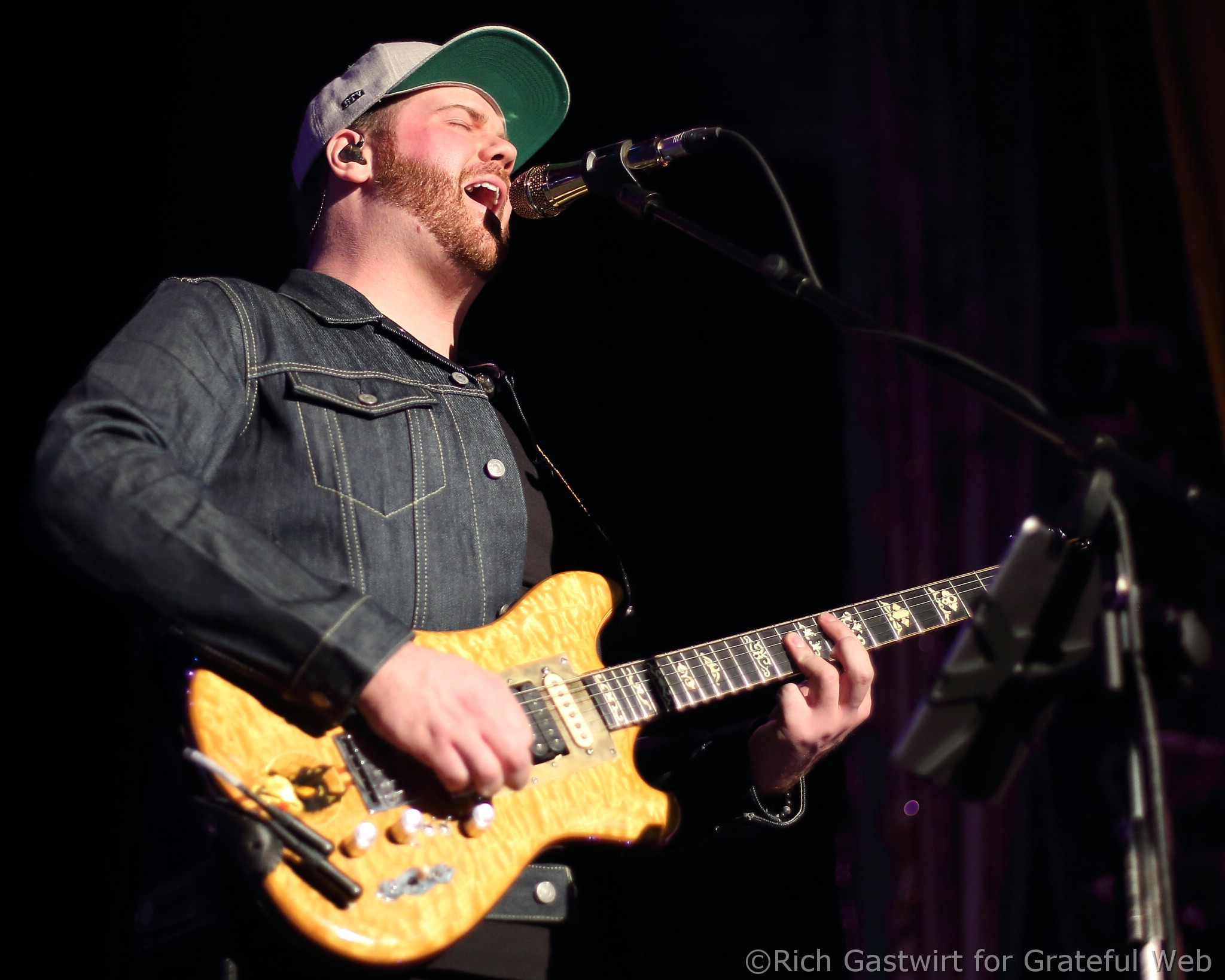 Then the guitarist moved back from Alaska, so I was out of the band, and then my driver's ed teacher at another high school – I had to log driving time with him, two students at a time for a couple of hours. By now it was 2006, and the digital music thing was happening, and I was downloading stuff from Archive.org like crazy. I made my Dad a binder of 300 Dead CDs for Christmas one year, and that was what I was mostly doing. So I started bringing my own binder of Dead CDs on these drives, and it turned out that he was a total Dead Head – Vermont, after all – and when I finished Driver's Ed, he disclosed to me that he was a very obvious drummer. So, we got together with some friends of his and formed a band called Dead Man's Hand, as in Wild Bill Hitchcock, Aces and Eights. And we gigged pretty heavily – a few weekends a month – for the next three years.
Then around 2010 the bass player John Wakefield and I started Cats Under the Stars, doing JGB stuff. So, we found a couple of serious guys, and Cats kept on going – different formations, lots of different members, of course, and by 2016 I was the only original member, but it kept on. And by 2016 we were playing pretty seriously and pretty regionally. I first met Melvin at a small festival which is awesome, and I still play there every year in Bath, New Hampshire, called Jerry Jam. It's so cool, and JGB still plays there. It's got a great vibe. And Melvin would sit in with other bands, and Dan Webb, who runs the festival, made it his mission to connect us, and we played together. And we hit it off both musically and personally.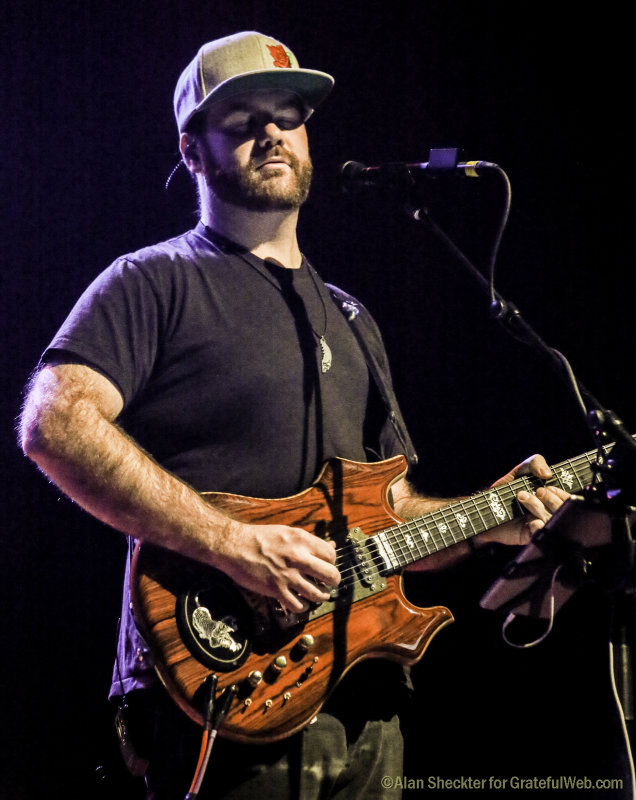 I asked him to play with Cats for some short tours, half a dozen runs over 2014-2016, and then he gave me the call to join JGB. It was about a week and a half before Jerry Jam in July 2016, and he said, "I think I need a new guitarist, and I'd like to try you out at Jerry Jam and that'll be your audition." It was a little wonky – the endings are different, the forms are different, but overall, it was great. And our next show was Jerry Day in San Francisco, August 3rd or whatever – in front of several thousand people with like Jerry's family, Trixie and Mountain Girl and Annabelle, like overnight.
Playing with JGB has been awesome. Melvin is a great player, obviously, and such a mature player. The connections and networking and the people I've gotten to play with, and the rooms I've gotten to play in, are all so cool, it's all dream come true stuff. When it comes down to it, I'm a guitarist, and I want to be good at my instrument, and one of the most valuable things is the maturity Melvin's given me. I feel good about what I did before, but this is the next level. He's really good at saying "Don't do that" in a really nice way. He's been doing it forever, and hey, he's the hand that shook the hand, and it's so nice to get that direction from him. It's great, and it continues to happen all the time.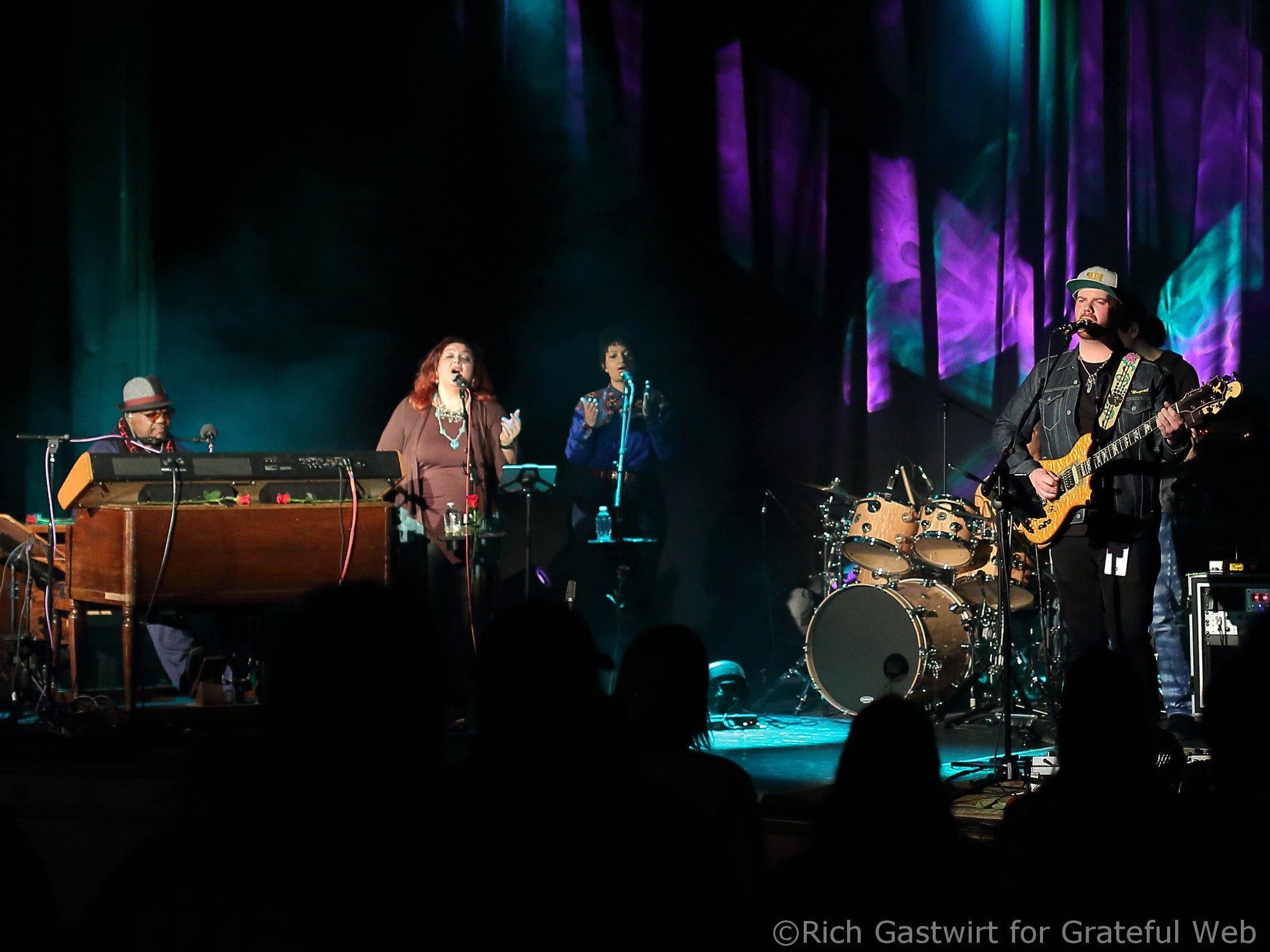 Being a Dead Head is an interesting phenomenon. There's your classic 'Head with lots of tie-dye, and a lot of people think "hippie" when they see tie-dye. But I don't wear tie-dye, and I've never smoked weed, so I don't conform to things that your average citizen would assume are important. But what I like about Dead Heads is that you go to a Dead show and you know you'll see a 15-year-old next to a dentist next to a grandfather next to a hippie who's high as they can be next to a middle-aged woman. I just love that the demographic has no edge or boundary – it's everybody. People from all walks of life are Dead Heads and it's such a cool community to be part of, such a great family. I love how much love Is passed around amongst almost all Dead Heads. Being a Dead Head is being a member of a family that's moving forward and has everybody's interests in mind so much of the time.
Playing in Ventura is just crazy. The first year we were walking around the fairgrounds, 'cause that's where we played, and I was digging it. It was cool, and there was obviously a vibe. But last year they moved the stage into the bowl, to play on the racetrack, with those palm trees and the ocean in the background – there's so many pictures of the Dead there, it's legendary. It was crazy in the best way to be playing on that stage. It's so iconic. And I loved the "Wall of the Sound" behind it.