I had long been hearing about both the beauty of Nelson Ledges Quarry Park, a place that I had been meaning to go for years, and the great new band that Klyph Black had formed called Rumor Has It.  So it was with great anticipation that I wander over on Saturday afternoon of Gratefulfest weekend to see the band, at the main stage located just steps from a huge lake, and within the shady shadows cast by the trees that are all over this beautiful festival location.
Now this festival was a lot of fun, but the music was mostly derivative.  Being Gratefulfest, and hosted by Dark Star Orchestra who played three nights as the headliner, many of the bands were very Dead inspired.  Not that I don't love that, I do- I personally saw 69 Dead shows, a handful of Garcia solo stuff, and miss Jerry like the rest of us.  But I also like a band that can instead of copying what the Dead did, do something on their own and original.  Rumor Has It manages to achieve that in spades!
I knew to expect that the band is a six piece band, and that they were relatively new.  I know that they had a handful of gigs in the Northeast, but this was by far the biggest appearance for them.  But the musicians themselves have a lifetime of experience on stage and it showed.  I wasn't expecting, however, to see them immediately take the stage as an eight piece band.  Former Zen Trickster Rob Barraco took the chair at the Hammond B3 Organ from the first notes of the set, joining his former Tricksters' bandmates Klyph Black, Tom Circosta, and Dave Diamond.  Barraco's current bandmate, Rob Koritz, sat in the entire show also on percussion.
While Black is known primarily as a bassist with the Tricksters, and also his new band the Jam Stampede, he is playing rhythm, lead, and slide guitar with this band.  I had heard that he had the chops and knew that he did a stint as axe man for a few shows for Michele Shocked some years ago.  Tom Circosta takes his customary position as rhythm guitarist and added some tasty leads to this band, more than he did in his past roles.  Of course Dave Diamond is rock solid on the drums.
They were joined onstage by their regular band members John Sparrow on guitar and harp, and Arno Hecht on saxophone.  Sparrow sometimes pairs with Black on acoustic gigs and they have a duo called Black and Sparrow (no kidding..)  And Hecht is a well known saxophone player who apparently has done turns with everyone, including being the sax player on the Rolling Stones Steel Wheels tour, and as a touring member of the J Geils Band.  Quite a resume.
The band kicked in immediately, and had a professional and tight sound that I didn't expect from a band that hasn't been together but a few months.  And they are a bit hard to classify.  They are definitely not a jam band, and definitely not a blues band.  They passed solos around like a jazz band, shared vocal duties like many bands with multiple vocalists do, and mostly sounded like a really solid Rhythm Revue- more like what the Blues Brothers did in the movie than sounding like a blues band.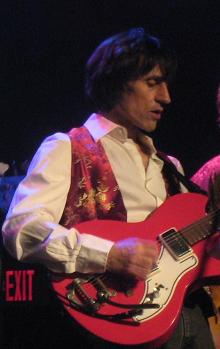 Black in particular was amazing.  He clearly is the leader of the band, and doesn't shy away from those responsibilities, but he is so warm and shares the spotlight so well, you hardly don't view him as the leader in terms of ego or agenda.  The band fired through a variety of songs including some Tricksters tunes penned by Black (Hoodoo), some tasty classics (Grits and Grocery) and then eventually veered into Jerry-land (Tore Up.)
The band is really quite excellent.  I don't know if I had slightly low expectations for some reason, but I find their polished sound, their musical signature, and the amazing talents of each band member to have come together in a way that I just didn't expect.  Despite their previous appearances, this really seemed like the Grand Opening of the band, a true introduction to the festival scene that likely will continue at the Gathering of the Vibes where they are appearing soon.
The final 4 songs or so brought up special guest Donna Jean Godchaux-MacKay.  Clearly comfortable sitting in with this band because of her relationship with the band members from their mutual stint in Donna Jean and the Tricksters, she contributed backing and lead vocals for the final four or five songs.  She was easily spied enjoying the first dozen songs of the set from the wings of the stage, and the mutual love that the band members all feel for each other was quite evident.  Much like seeing Phil and Friends, it is clear that the members of this band, eventually swelling in number to nine, have a mutual love and respect that can't be faked.  I can't wait to see the band again.  In addition to their upcoming Vibes appearance, they are playing at the Wormtown Music festival in September outside of Greenfield, MA.