Hal Ketchum recorded his new album, Father Time, without a net. He amassed more than a dozen new original songs plus a dream team of musicians and entered the studio to record the album live to two-track. There were no overdubs and only a few second takes. "When I went into this project, my mentality was that this is either going to work or not," Ketchum says. But at the end of the first day, with nine songs finished, he knew the experiment was a success.
The resultant album, which contains 13 Ketchum-penned songs plus a cover of Tom Waits' "Jersey Girl," will hit stores on September 9, 2008. It is the album that Ketchum's talents have promised since he burst onto the country music scene in 1991 claiming the #1 spot with his very first single, "Small Town Saturday Night."

The recording of Father Time as a live, direct-to-tape album originated from a conversation he had with some fellow musicians about how recording had lost some of its creative edge in this high-tech era in which players record apart from each other in separate rooms and booths. "By the end of that conversation, I said, 'OK, I'm going to cut live to two-track.' I went home that afternoon and got a yellow pad and put together a wish list of players. And almost everyone I called was available for the two days I had blocked out."

Reared in upstate New York in a musical family, Ketchum played drums in R&B bar bands at a young age, but discovered his real calling upon his move to New Braunfels, Texas — just a stone's throw from the legendary Gruene Hall, the old dance hall that has become the mother church of the Texas music scene. He didn't know about the venue at the time, but one day followed the sounds of live music up a hill. "And there," he says, "was Gruene Hall in all its glory, with Ray Benson and Asleep at the Wheel playing." Ketchum became a mainstay of the hall and later released an indie album (Threadbare Alibis) that brought him to the attention of Curb Records. Since his first Curb release, 1991's Past the Point of Rescue, he has distinguished himself as a bona fide hitmaker, with 15 Top 10 singles to his credit and five million albums sold.

The songs on Father Time include some of Ketchum's recent compositions — most of them road-tested before audiences at his live shows — as well as the first song he ever wrote ("The Preacher and Me") and even one number ("Surrounded By Love") written on a lunch break on the first day of recording, plus some of his favorite collaborations with fellow songwriters that had yet to be recorded. As the title implies, the songs focus on life's essential matters, with characters that resonate with the believability of real people living (and dying). In "Yesterday's Gone," "Surrounded by Love" and "The Day He Called Your Name" family members face mortality with an enriching love and sweetness, and there are cinematic tales about everyday people ("Invisible" and "Ordinary Day") as well as the vividly unique characters that make life a rich pageant ("Millionaire's Wife," "Million Dollar Baby" and "Continental Farewell").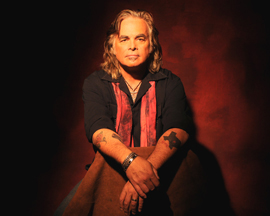 "I felt it was time to make a record like the first one I made where I wrote everything on the record," he says "I had the good fortune of having some hit records and developing a strong following as a live performer. But it was important at some point over all my years of making records that people got to see the essence of my songwriting and my voice as a singer and writer."

"It's a coming of age," he says of the new album. "This is what I do. I have a desire to be remembered as an artist, and whether somebody discovers this record today or 25 or 30 years from now, I want them to listen to this album and go 'Yeah, I understand.' The motivation here was to leave a little trail all my own."
Ketchum's friend Neil Diamond wrote in the liner notes, "I find it impossible to listen to it without smiling at the sheer exuberance of these tracks."