With summer just a few short weeks away once again comes the peak of festival season, and Chicago is diving in head first with Riot Fest, Lollapalooza, and of course Heatwave. The two-day EDM festival's second year, this time hosted at Northerly Island's Huntington Bank Pavilion, will feature both new artists and familiar faces on Saturday, June 10th, and Sunday, June 11th. Here is what to expect and how to prepare for this year's party.
Last year saw the electrifying debut of Heatwave at Douglass Park featuring just over 40 dance artists and DJs performing across The Reverie, The Inevitable, and The Radiance stages. Heatwave 2022 saw fans of EDM and house music fly in from all around the country for this stunning display of performances and beautiful pop art. This year, Heatwave will further cement its place in Chicago's art and music scene by moving to the beautiful lakefront's outdoor amphitheater seated on Chicago's Lake Michigan peninsula, featuring 45 artists on the Nova, Luna, and Rising stages. Tiësto will be returning as one of this year's headliners after taking the Inevitable Stage by storm in 2022.
June 10th will kick off with local support from up-and-coming artists Tvvin, Ktrl, Tazu, DanceLoud, Levity, and Sonorous. Following the up-and-comers are a few more small acts such as Swiss-Italian artist EDX, The Sponges, TWINSICK, Zingara, electronic trio Cheat Codes, DJs Nitti Gritti and Party Favor's house project known as SIDEPIECE, and more all filling the mid to late-afternoon schedule. Loud Luxury will also be taking the Nova Stage toward the end of the night, marking a return to Heatwave after directly opening for Tiësto on Heatwave's second day last year. Finally, at the end of night one will see headliners Whethan (a Chicago native and music producer) on the Rising Stage, EDM trip-hop and future funk multi-instrumental GRiZ (returning to the Midwest after last year's Triple Rainbow event) on the Luna Stage, and superduo consisting of Kaskade and Deadmau5 known as Kx5 on the Nova Stage.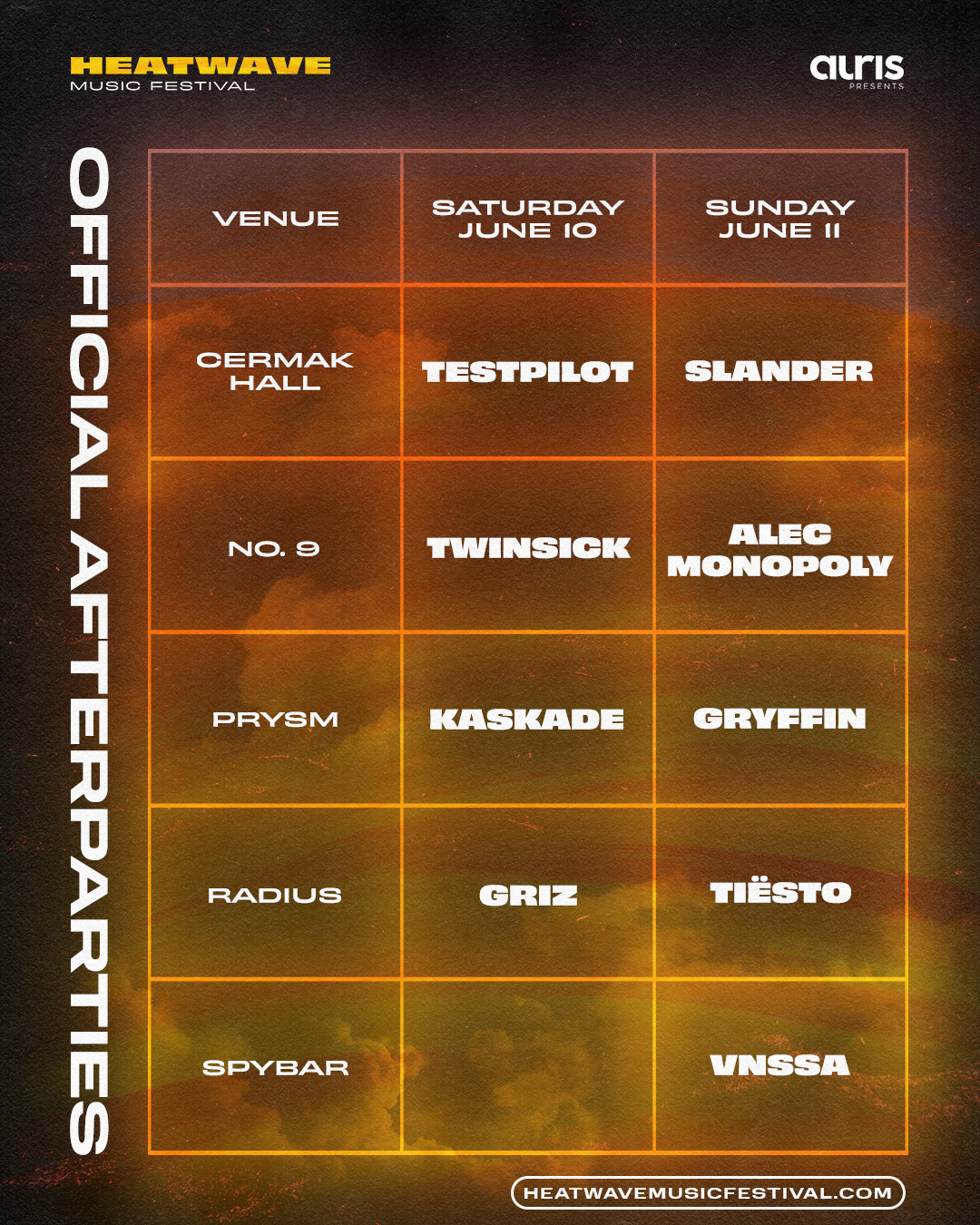 Of course, the party won't be over yet after these headliners close out the night, as Auris Presents has announced a number of afterparties at various Chicago venues. GRiZ will be taking over Pilsen's Radius after his set on Northerly Island, while TWINSICK and Kaskade will be keeping the night alive at No. 9 and Prysm respectively. Testpilot of Deadmau5 will also be performing at Cermak Hall.
June 11th will feature Chicago natives Avi Sic, Fiya Fly, and Shes.Haute and more up-and-comers Apollo Xo and Automhate, as well as Canadian house artist Nostalgix and twin sisters Coco & Breezy kicking things off for the first three hours of Day Two. Following these performers will be melodic tech house duo KREAM, Kaivon and Kai Wachi separately taking the Luna Stage at 6:30 and 7:30 respectively, chart-topping producer Deorro on the Nova Stage, and A-Trak and newcomer VNSSA performing back-to-back on the Rising Stage. After Deorro will follow EDM favorite Gryffin before Night Two's headliners Tiësto, Slander, and Noizu dominate the Nova, Luna, and Rising Stages respectively for what will surely be an explosive conclusion to Heatwave's second year as yet another prominent Chicago festival.
If Heatwave's attendees still aren't ready for the weekend to end, afterparties will include Slander at Cermak Hall, Alec Monopoly, who will also be performing on the Rising Stage on Sunday, at No. 9, Gryffin at Prysm, Tiësto at Radius, and VNSSA at Spybar. Fans should be ready for yet another electrifying weekend of immersive art and dance music.