A heart-on-sleeve concept album about girl troubles that plays like a Motown album with drum machines,
Hills Like Elephants
' debut LP
The Endless Charade
will be released on March 27 via Requiemme Records/BMG Chrysalis.
Featuring the crooning of Sean Davenport, drums from Matt Lynott [The White Buffalo] and production from Christopher Hoffe at Chaos Recorders in Escondido, The Endless Charade makes use of vintage drum machines, Moog plug-ins, an old school pump organ, and an 80s synthesizer that was recorded with fans blowing to cool it down.
Bourbon-based modern Motown bluesman Sean Davenport is no stranger to aborted romance. The Bonita born pianist spent the better part of his young adulthood stumbling from Boston to New York to L.A. and back to San Diego, tripping over women who kicked him when he was down and leaving behind a trail of soul-heavy lost love epitaphs via ex-bands Abigail Warchild (NY) and Gun Runner (SD).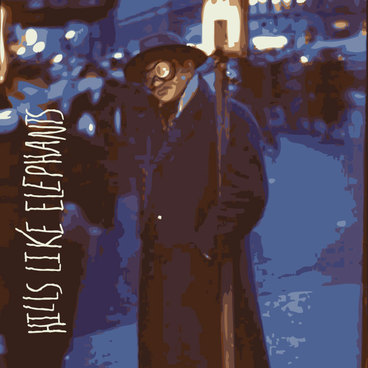 Raised a bottle-toss away from Tom Waits' old turf, the candid crooner finds solace in a place where heartbroken vocals, Pavement guitars, and driving drum machines meet. In a curious exploration to see what would happen if soul had a synth and if synth had a soul, Sean tries to answer some his own musical questions. What would happen if The Pixies hung out with Al Green or if Jay Mascis did an album with Marvin Gaye. Noise meets blues, blues meets ambient, ambient meets that beat that makes your head bob. Animal collective meets Otis Redding's daughter gives birth to a child that listens to psychedelic/dance/indie old and new wave (The War on Dugs, Jimi Hendrix, Kurt Vile, the Soft Machine, Tame Impala, Candi Staton, LCD Soundsystem, and James Booker) a culmination of everything inspiring thus far and convincing Davenport to forge ahead with another musical endeavor.  In these sounds that sum up Hills Like Elephants, Davenport has found the embrace he's longed for, the companionship he's dreamed of and the love of his life-his music and his own sonic romance.
Backed by vintage-prone engineer Chris Hoffee (The Truckee Brothers Atom Orr, The Make Up Sex, Mystery Lights, Fivecrown), Hills Like Elephants looks back on love with surly lament, reminding us that "perspective isn't something you're supposed to see, it's a concept you're supposed to understand." And often, two in the throes of the "intriguing dilemma" are bound never to see it the same.
Hills Like Elephants
debut LP
The Endless Charade
is available everwhere March 27, 2012 on Requiemme Records/BMG Chrysalis.