Garcia's at The Capitol Theatre is thrilled to welcome American roots-rock band Hollis Brown with special guests Sir Cadian Rhythm on Friday, January 19th. The show is presented by Pamnation.
Named after Bob Dylan's 1964 song "Ballad of Hollis Brown", Hollis Brown formed in 2009 and has earned a significant amount of success in their first decade as a band. The band features Queens natives Mike Montali (lead vocals/guitar) and Jonathan Bonilla (lead guitar) as well as Andrew Zehnal (drums) from Cleveland, and Adam Bock (keyboard/vocals) from St. Louis.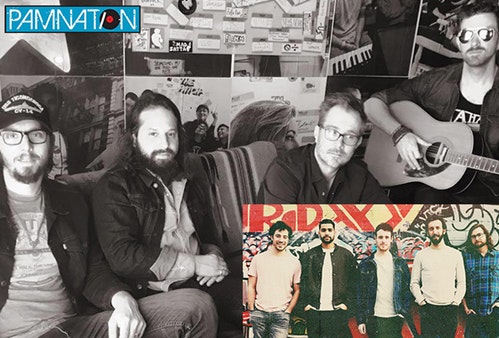 The band is building quite the resume opening up for bands like Counting Crows and The Zombies. Their songs have appeared in Showtime's hit show "Shameless" and the international trailer for "The Founder" starring Michael Keaton. After taking part in a Lou Reed tribute concert, their record label Alive Naturalsound asked the band to record their interpretation of the Velvet Underground's Loaded for Record Store Day 2014. The record has received notable airplay and has since been released on CD and digital. Their songs have been frequently played on 107.1 The Peak with "Run Right to You" (2016) and "3 Shots" (2015) each racking up over 250 plays each on the station. Their 2016 EP Cluster of Pearls is available digitally and their next album is scheduled to release in 2018.
Support will be provided by Sir Cadian Rhythm. Their new single "Not Quite Done Yet" hit 1.5 million video views and achieved 300K streams on Spotify in its first week. The song also appears in the Xbox/PS4 game Nascar Heat 2. Their first single "Run around Town" was featured in the major motion picture, Back in the Day, starring Alec Baldwin. The band has also opened for Billboard Hot 100 artist Andy Grammer to a crowd of over 2,000 people.
Tickets are $15/advance or $20/door and can be purchased by calling Ticketfly at (877) 987-6487, ordering online at www.thecapitoltheatre.com, or visiting The Capitol Theatre Box Office at 149 Westchester Avenue, Port Chester, New York, Monday through Thursday from 2:00PM-6:00PM or Friday and Saturday from 12:00PM-6:00PM.
About Garcia's at The Capitol Theatre:
In partnership with the family of Jerry Garcia, The Capitol Theatre christened its adjoining venue as Garcia's in honor of the late Grateful Dead guitarist and singer, Jerry Garcia, who counted the Port Chester, NY rock palace among his favorite venues in the country. The exclusive club features craft beers, wine and spirits by local producers. With a focus on community and a taste for musical exploration, Garcia's hosts local and national bands weekly.
About The Capitol Theatre:
Designed by celebrated architect Thomas Lamb in 1926 and listed in The National Register of Historic Places, the Capitol is located 30 miles from NYC, accessible by I-95 and only one block from the Port Chester Metro North train station. The 2,000-capacity theater, known as "the original rock palace,' showcased rock legends such as Black Sabbath, Chuck Berry, David Bowie, Derek and the Dominos, Janis Joplin, Pink Floyd, and The Rolling Stones. Jerry Garcia once called it his favorite venue, claiming "See, there's only two theaters, man… that are set up pretty groovy all around for music and for smooth stage changes, good lighting and all that – the Fillmore and The Capitol Theatre. And those are the only two in the whole country."
In 2012, the Capitol Theatre underwent a transformative renovation under the guidance of entrepreneur Peter Shapiro (Brooklyn Bowl, Lockn' Festival, the "Fare Thee Well" Grateful Dead 50th Anniversary stadium shows, music magazine Relix, FANS). Since then, The Capitol has hosted many of music's most prominent performers including Bob Dylan, Phil Lesh, Ringo Starr, Ryan Adams, Skrillex, Snoop Dogg, The Strokes, Tom Petty, Willie Nelson, and many more. The Capitol has also welcomed comedians like Kevin Hart and Amy Schumer. The New York Times raves: "A rock theater that looks and sounds as good as the Capitol is something to celebrate." Billboard agrees: "The lavishly decorated theater -- filled with mirrors, chandeliers and painstakingly restored detail -- looks absolutely stunning, and sounds even better."