Symphonic finesse and elegance was the theme on December 30 when Acoustic Hot Tuna, aka Jorma Kaukonen and Jack Casady, concluded a three-night residency at the intimate Freight & Salvage Coffee House in Berkeley, California. The enduring duo entertained the crowd with two sets of acoustic blues, roots, and spiritual music – much of it dating to pre-World War II – that was both complex and easy on the ears.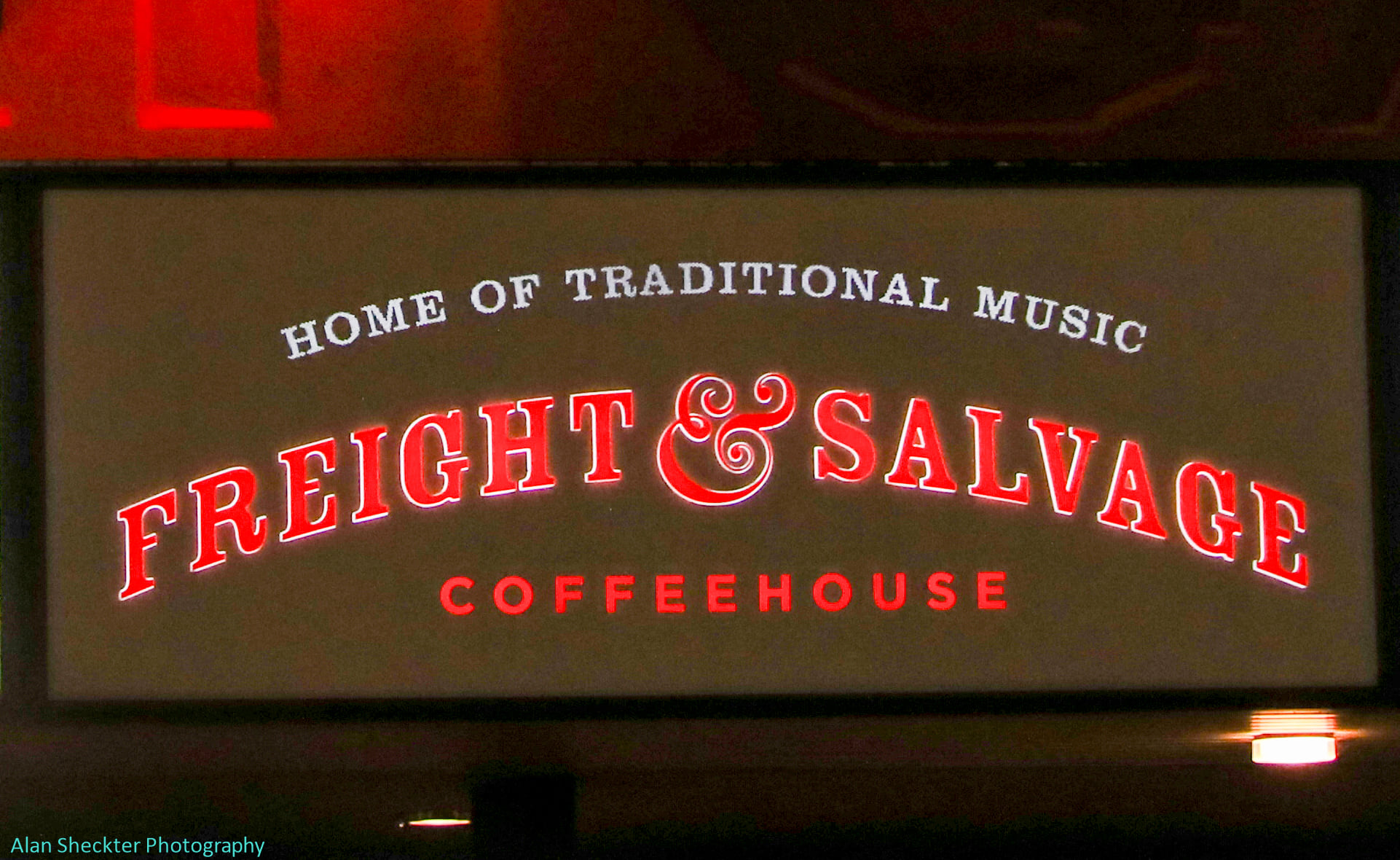 Though some songs, and instrumental passages within, sparked memories of those legendary, high-throttle Hot Tuna power-trio marathon concerts of the mid-late 1970s, the mature crowd in attendance (the vast majority appeared to be over 50), resembled children sitting at the knees of their elders, listening intently – and contributing a few timely hoots and hollers – to genteel renderings that highlighted a wide swath of the duo's song catalog. Though Kaukonen offered more than a year of free, weekly Covid-era "quarantine concerts" broadcast live from his Fur Peace Ranch, and Hot Tuna has played select shows of late back east, "this was the first time I got on an airplane in two years," he said.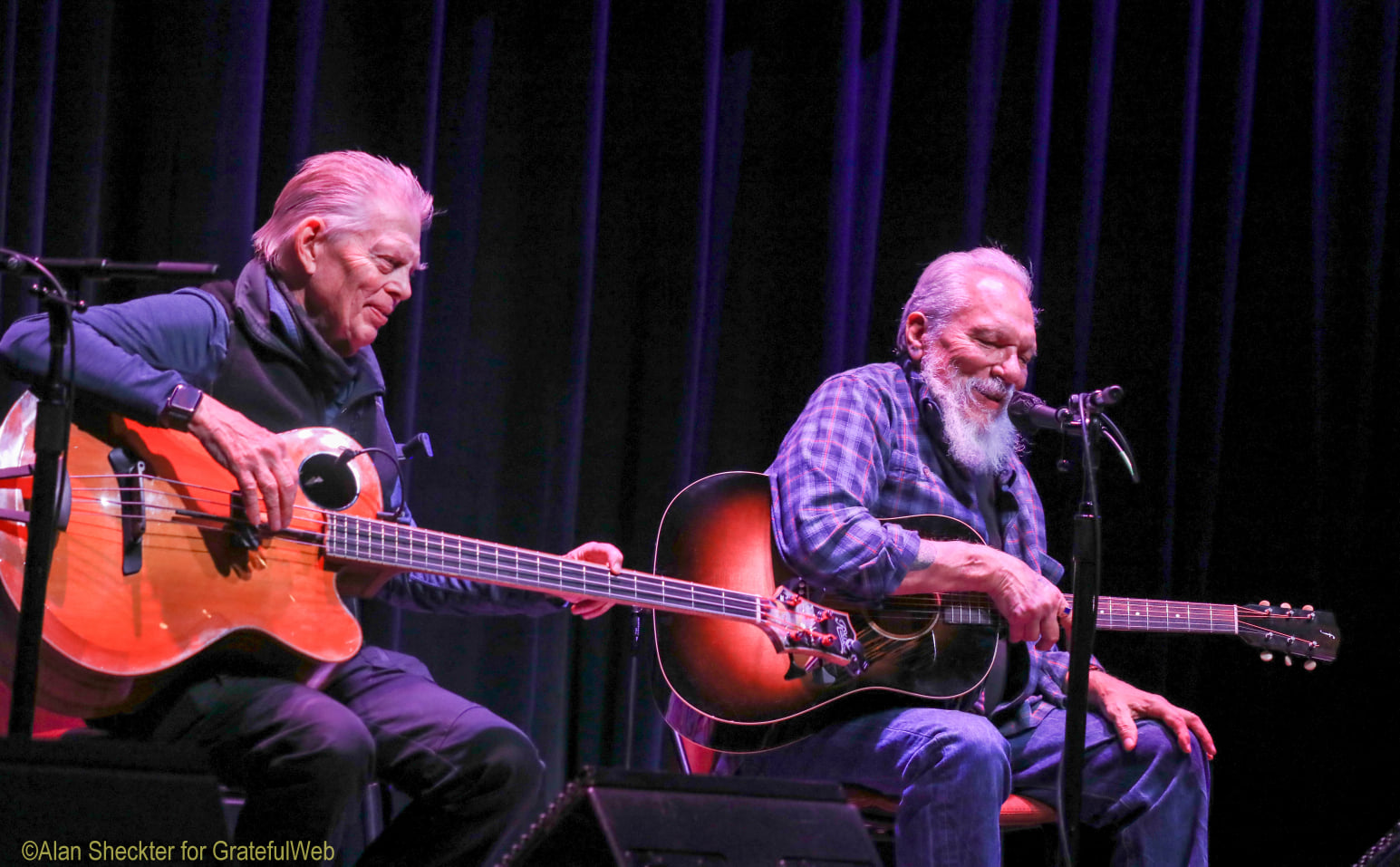 There were some younger folks in the crowd, including Zac Meurer, 19, of nearby El Cerrito. The three-night run, his first-ever acoustic-music concerts, was his first live experiences with the band. "I thought that it was a very great performance," he said of the show on the 30th, "and seeing that bass was really something else. My favorite song that night was probably 'True Religion"; it was one of the first songs I heard by Hot Tuna and hearing it live for the first time was amazing. I discovered Hot Tuna through Jefferson Airplane, a couple years back. I got really into the '60s psychedelic movement, and everything that came with it. My friend put me on to Hot Tuna."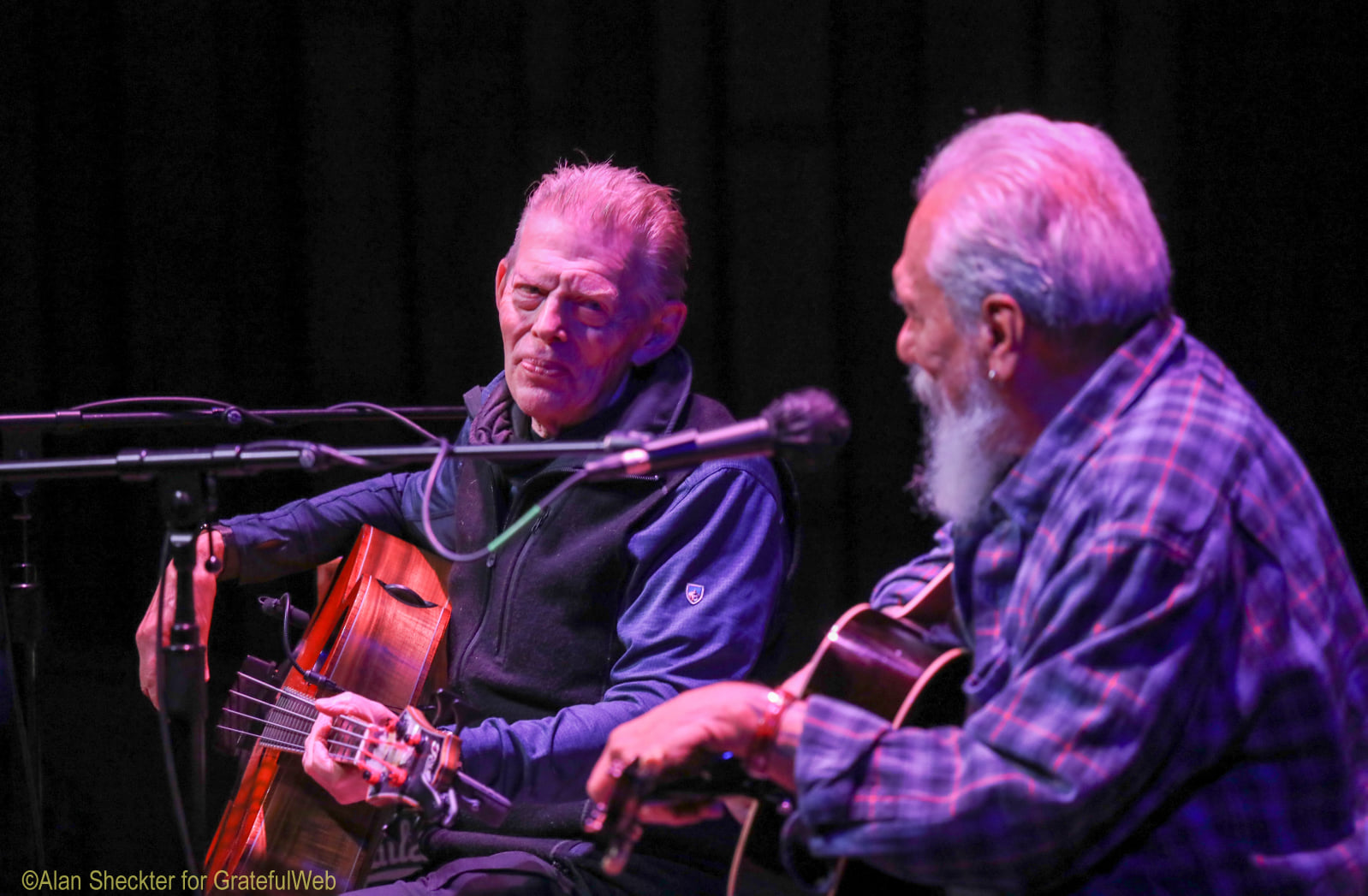 The duo performed two dozen songs on this night, from clever cantations, i.e., "Keep on Truckin'" and "Barbecue King" to sad laments, i.e., "Death Don't Have No Mercy" and "Another Man Done Gone." Casady's smooth-as-silk bass passages perfectly complemented Kaukonen's intricately skilled and graceful fingerpicking guitar and storyteller-styled vocals. The two-set, three-hour show of comfort-music food for the soul consisted of songs they've traveled with during their storied musical-road travels. Kaukonen, 81 and Casady, 77, first partnered at small-club gigs in Washington, D.C. in the late 1950, before becoming world famous as core members of the Jefferson Airplane, and on through the decades as Hot Tuna, Vital Parts/SVT, and more Hot Tuna.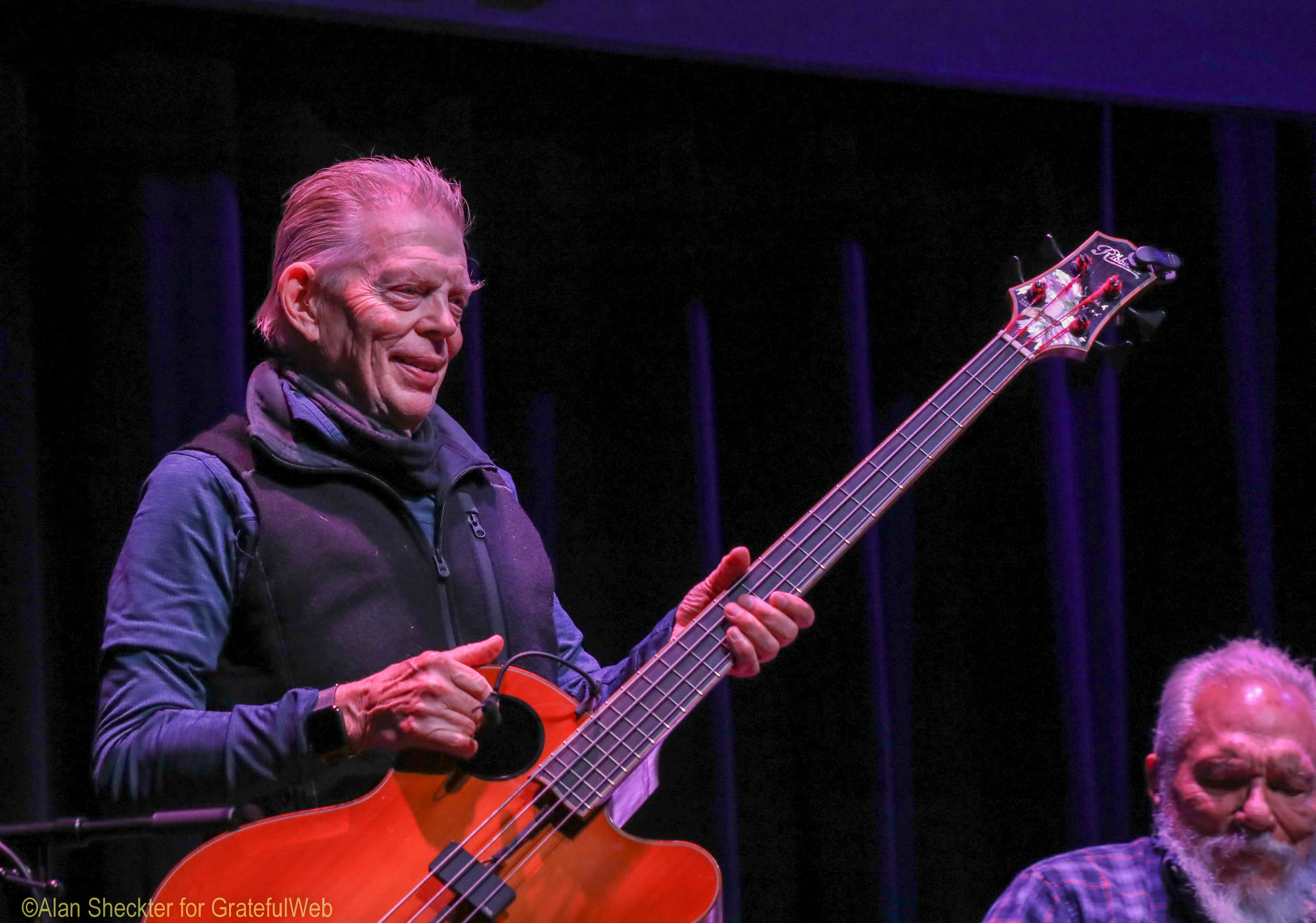 The triad of shows were originally slated for four, including New Year's Eve, but the band and venue decided against hosting a concert on the 31st. A thoughtful statement on the topic from the band included the following, "Freight and Salvage New Year's Eve shows are more than a night of music. There are multiply (sic) set breaks, food, drink, etc., champagne countdown and second midnight toast. The decision was made to forego all NYE events and due to the rapidly changing conditions... the safe choice was to cancel the event. For the other shows which we are taking day by day, all concessions have been canceled. No food, no drink. Masking at all times. Proof of vaccinations/boosters if eligible. …  we are making it as safe as we can. If fans don't want to take the risk, refunds are being issued." Indeed proof of vaccinations were dutifully checked and every person inside the venue, except for Kaukonen and Casady wore masks.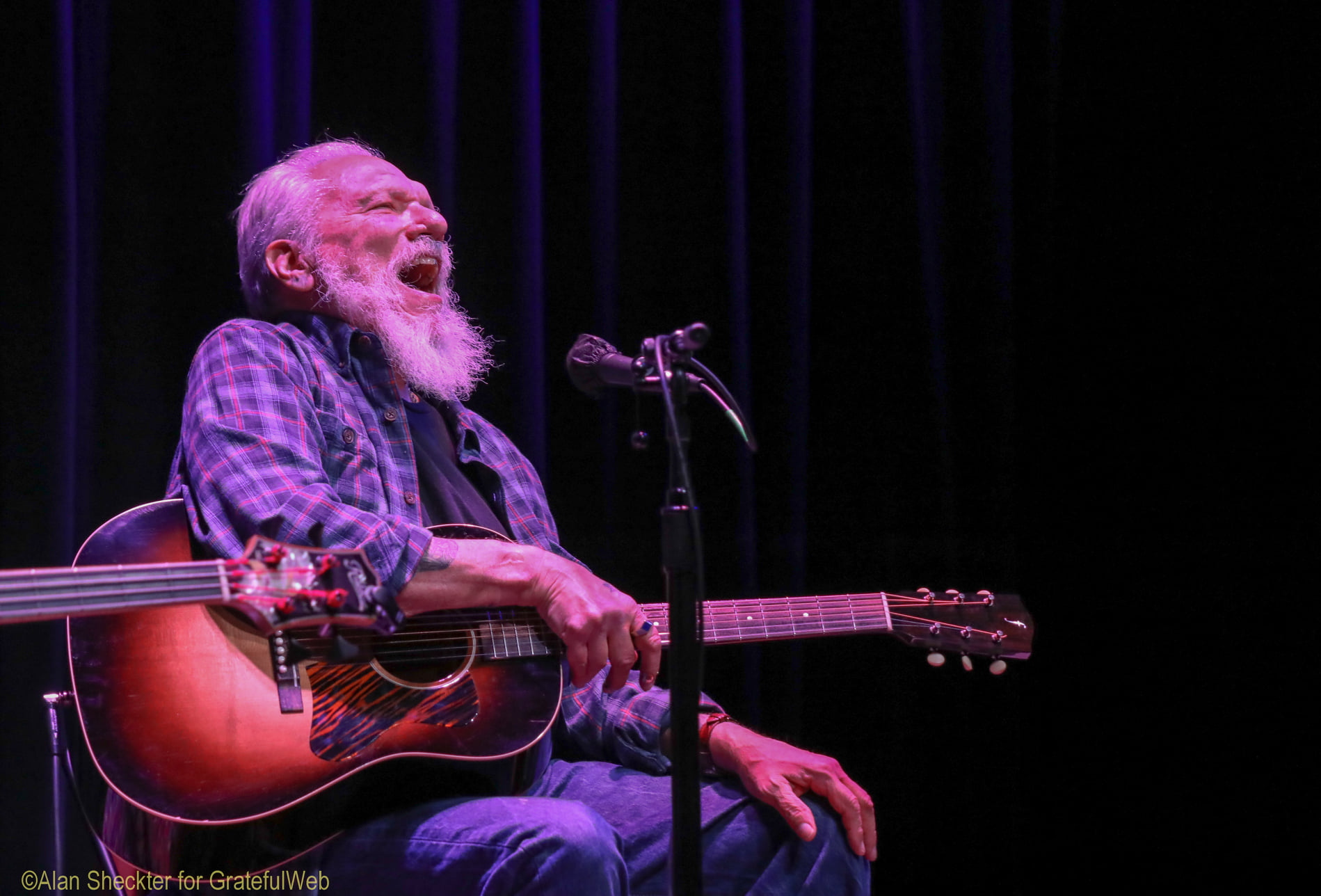 Once on stage, the musical lexicons took us on a tour through the songbook of Americana, many of which were originally African-American spirituals, though Kaukonen/Hot Tuna have performed and kept alive these songs for so long they are also widely considered "Hot Tuna songs."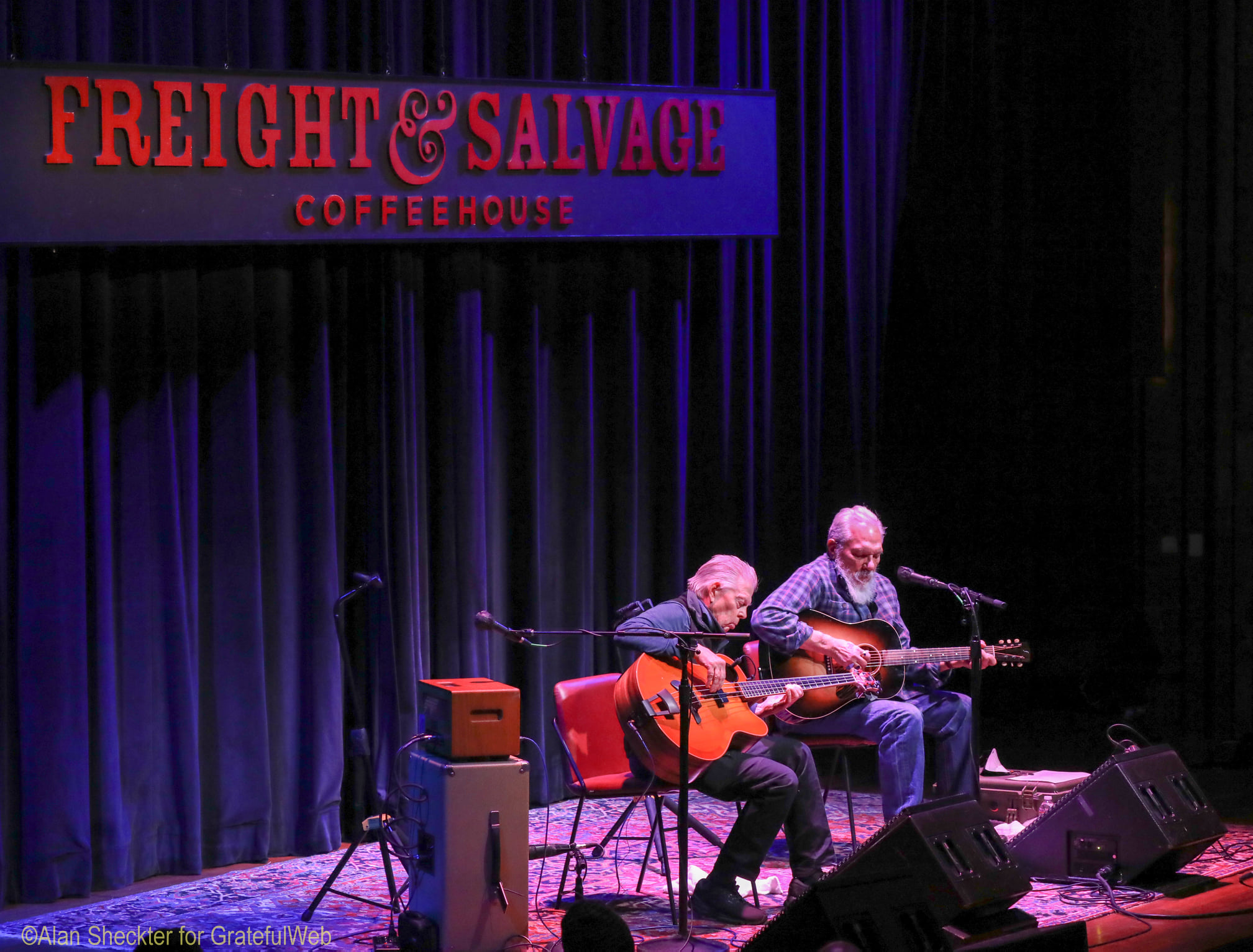 Such selections included, just in the first set, "Nobody Knows You When You're Down and Out" (Jimmy Cox, 1923; Bessie Smith, 1929), "Another Man Done Gone" (Vera Hall, 1940), "Come Back Baby" (Walter Davis, 1940), "How Long Blues" (Leroy Carr, 1928), and "Keep on Truckin'" (Bob Carleton, "Keep on Truckin'," 1918; as well as Blind Boy Fuller, blues singer/guitarist "Truckin' My Blues Away," 1937).
And then of course there were Hot Tuna songs, and standards, such as "I See the Light," "Sea Child," and the encore, "Serpent of Dreams." Plus, Hot Tuna also offered three Rev. Gary Davis songs, including a pair of songs to close the first set, "Death Don't Have No Mercy" and "Let Us Get Together Right Down Here," as well as "I'll Be Alright Some Day."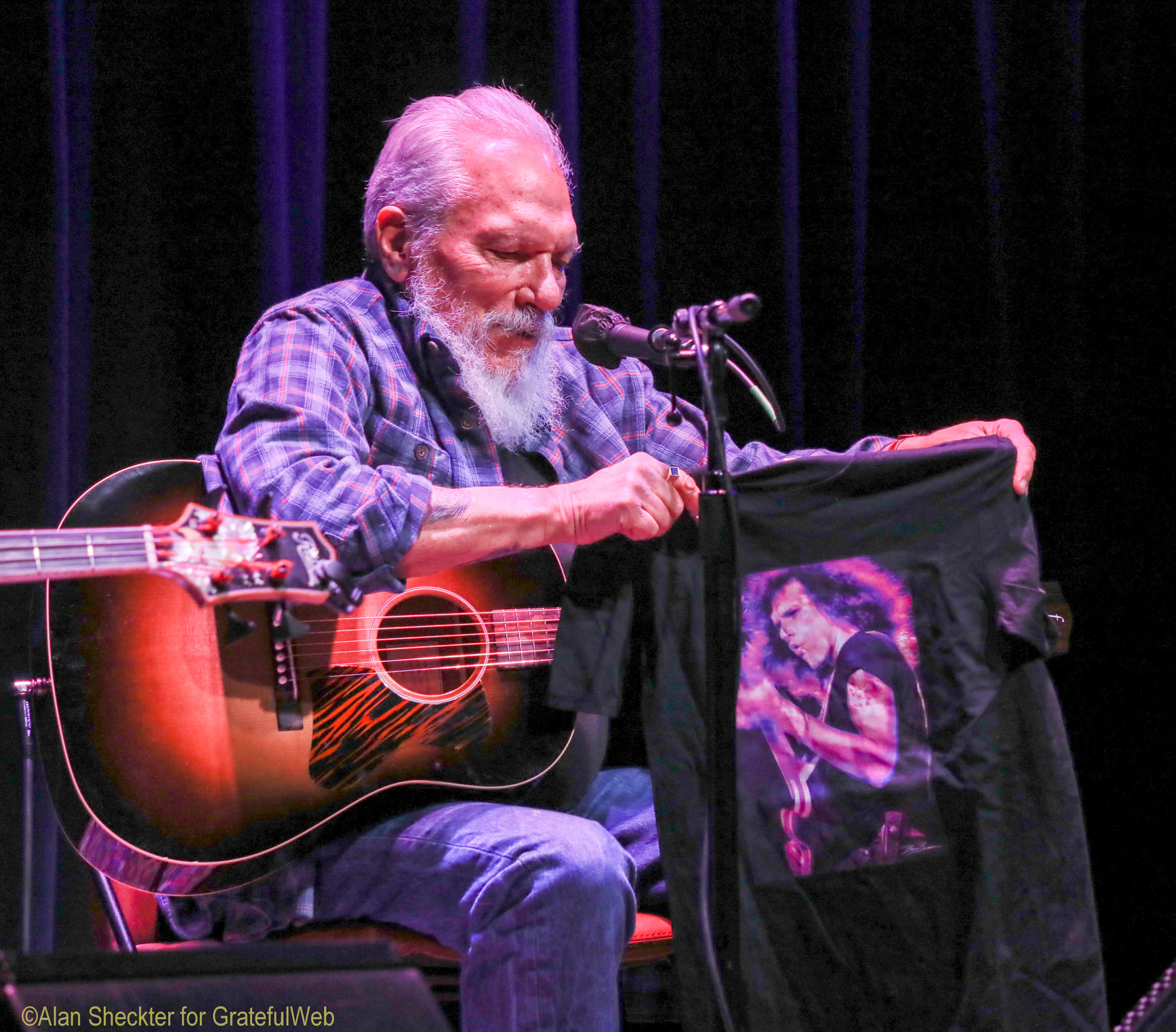 In addition, the concert delivered additional Kaukonen-penned songs, including "Too Many Years," "Highway Song," "Ain't In No Hurry" and "Broken Highway," and contained a couple of Kaukonen-sung songs from the Jefferson Airplane catalog, "Trial By Fire" and "Good Shepherd."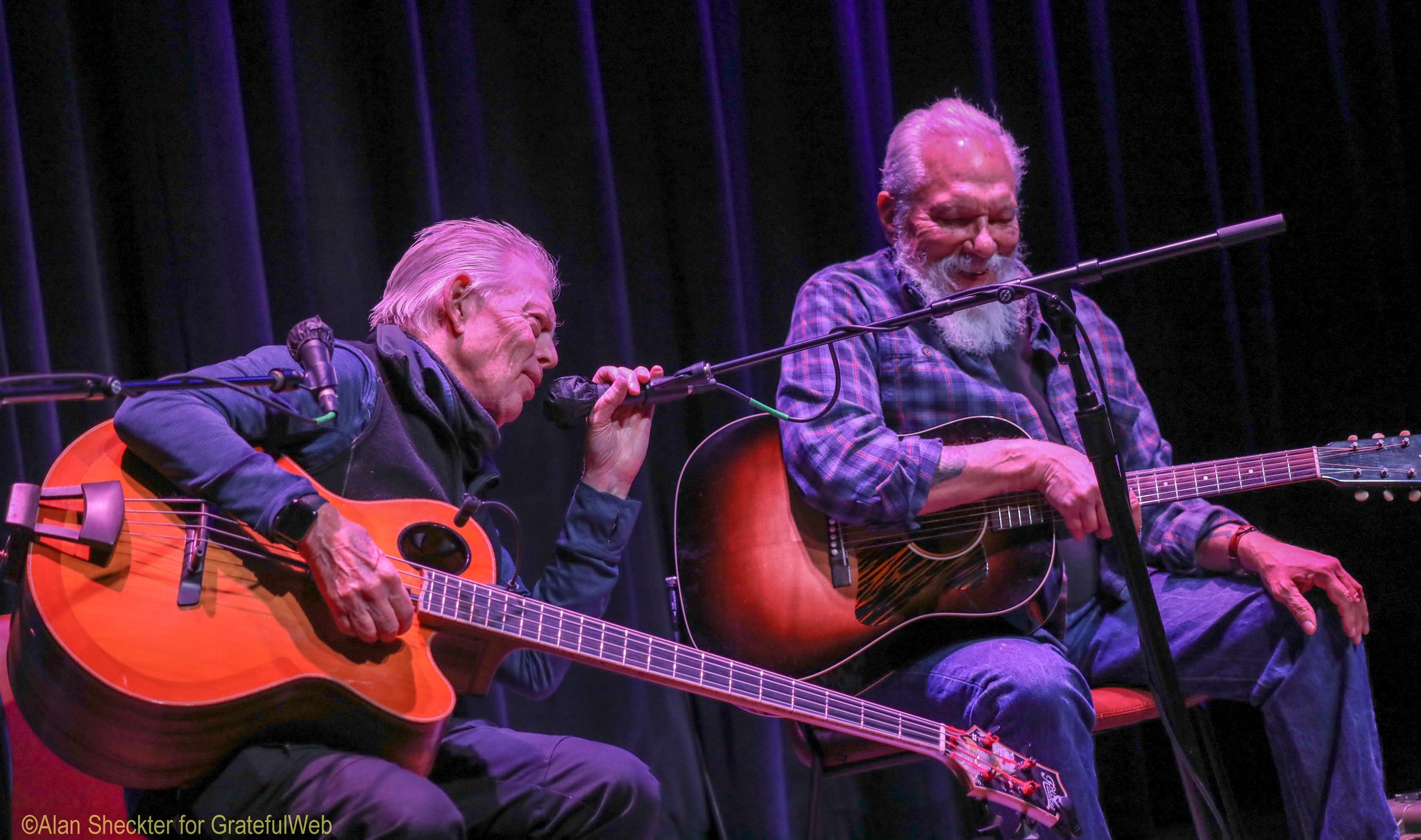 Toward the end of the first set, someone inquired about the origin of the band's name. Jorma said it could've been worse; it could've been The Dickheads, before he gave the answer. There are several rumors but this is the true story, he said. "I do remember it was me, Jack, and Paul Kantner, probably some other people too," Kaukonen said, "and one of us, probably me, known for saying inappropriate things at the wrong time, said, 'What's that smell like fish, oh baby?' And Paul said, 'Hot tuna.' And I went, 'Well, that's a great name for a band.'" Which is actually a good segue into playing that song." At which point they offered, "Keep on Truckin'."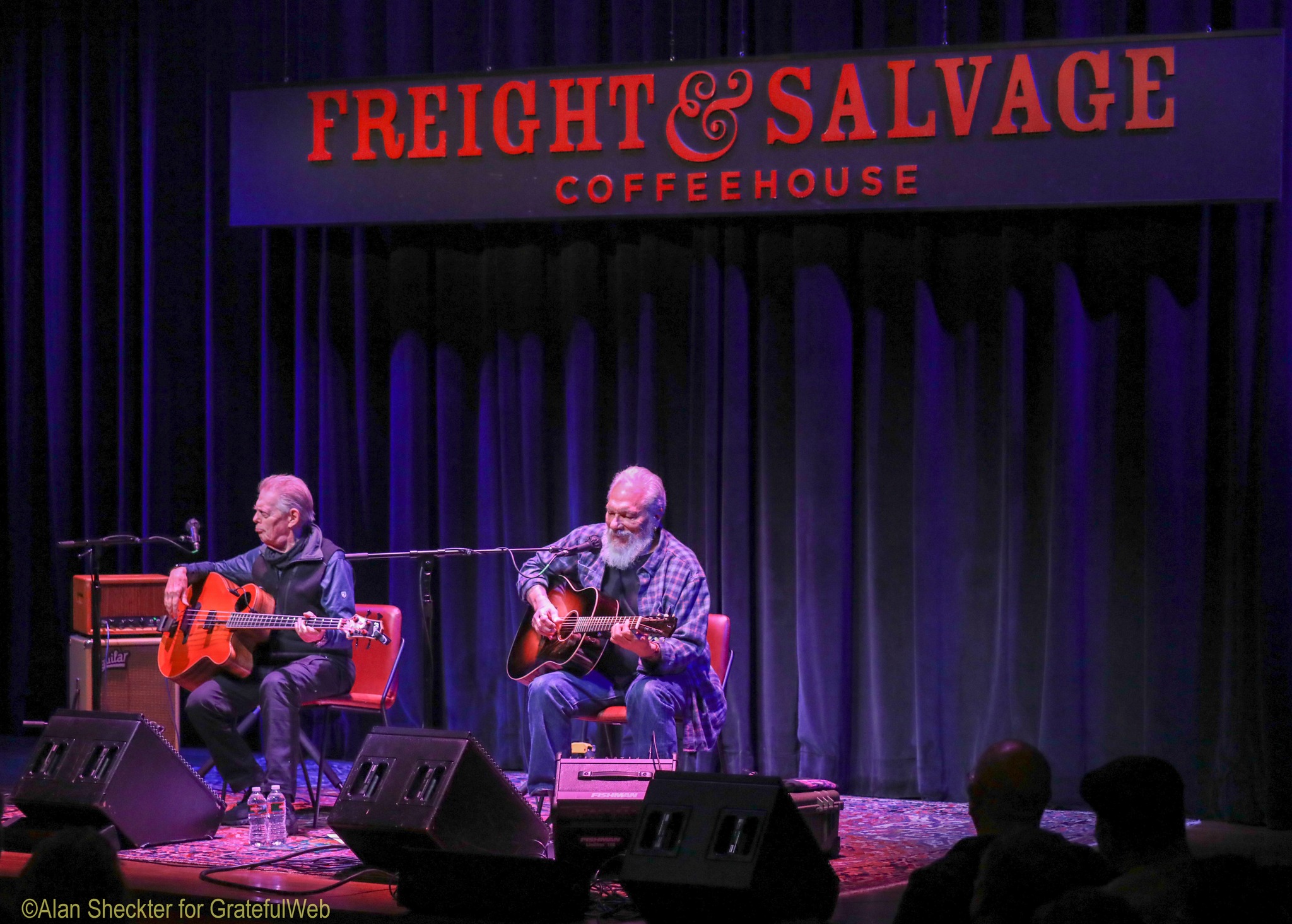 Kaukonen said he had a good conversation with Wavy Gravy, who was slated to emcee that New Year's Eve show. "To have Wavy Gravy introduce you for New Year's Eve, is just, uh… But well, I'll just have to dream about it," Kaukonen said. "Anyhow, many a-time has he done that; that's a fact. And I myself have put on the clown nose from time to time." Regarding a question of "How's he doing?" from the audience, "It sounded like he was doing great," Kaukonen said. "He was fitter than me to run the buck. God bless him, indeed. He's one of the few people I know who's actually older than me. This one goes out to Wavy Gravy, words to live by and it's called 'Let's Get Together Right Down Here.'"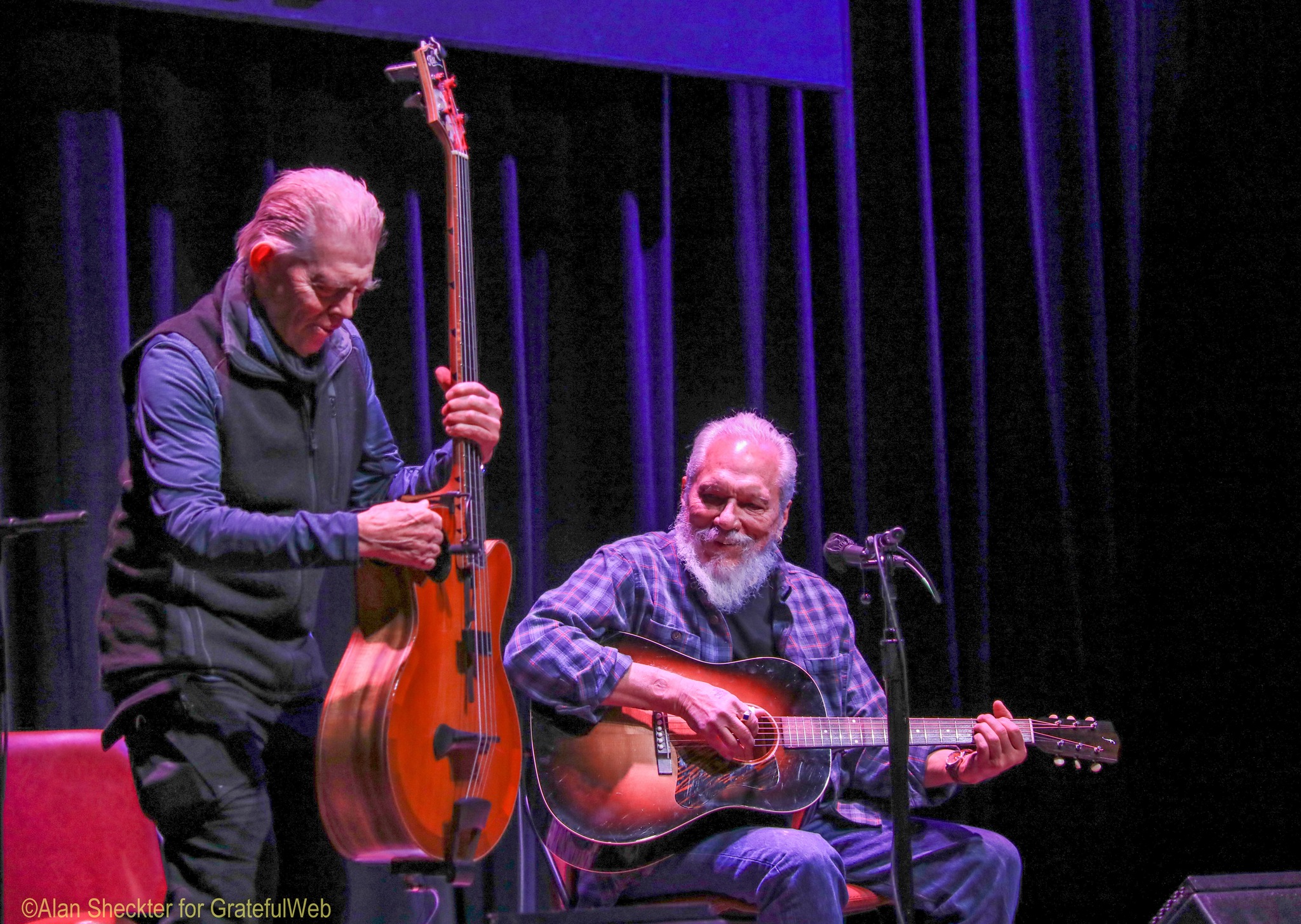 Notes: During the course of the three-night stand, Hot Tuna played only two songs at all three shows: "Barbecue King" (recorded in 1980 by Jorma and John Stench as Vital Parts) and always a crowd favorite, "Hesitation Blues" (traditional).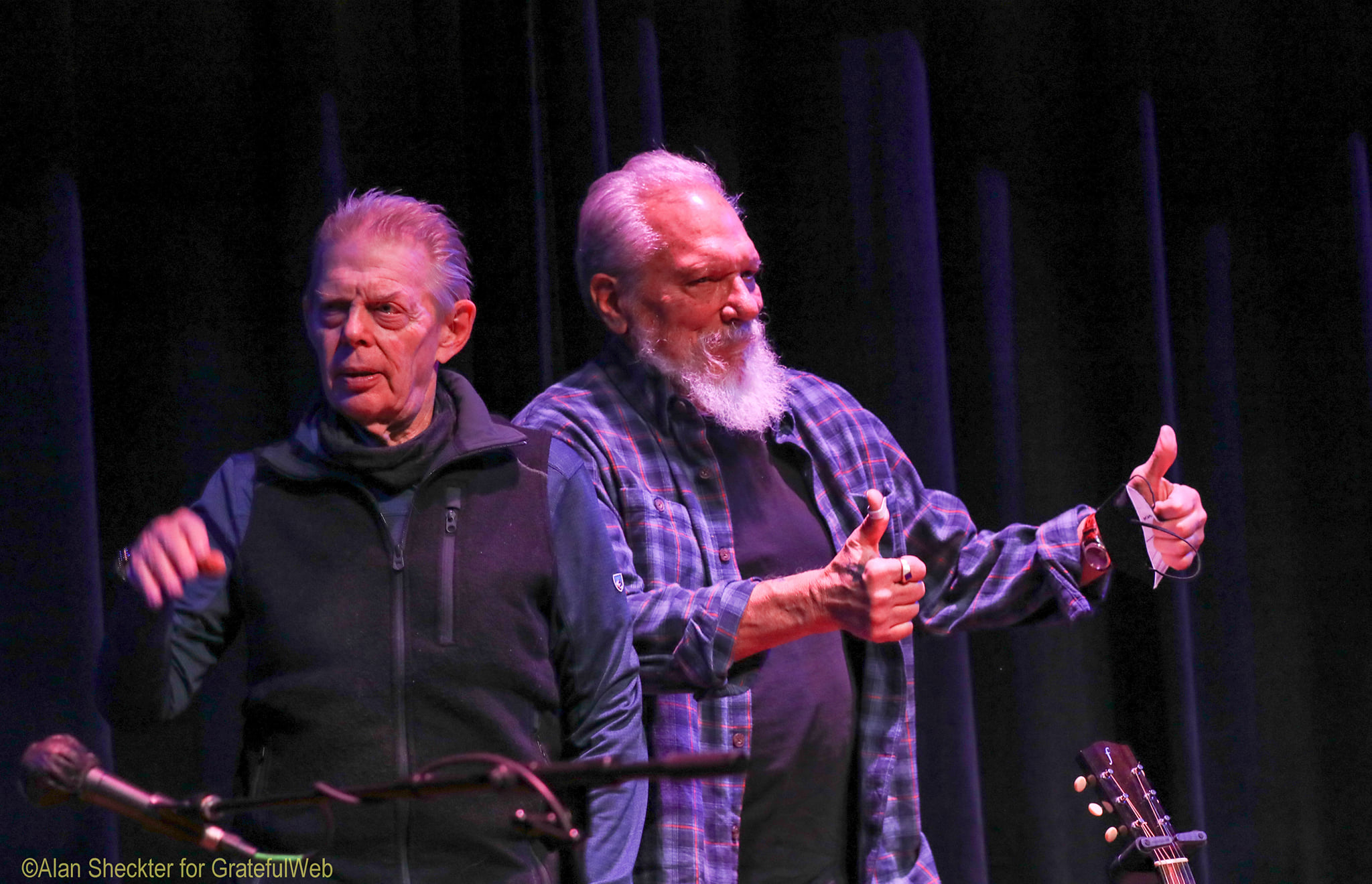 Thanks to the Freight & Salvage, which due to Covid, upgraded its HVAC system "to bring in 100% outside air seven times per hour and ensure the cleanest air possible." They also removed the first two rows of seating to create a pandemic-appropriate distance between the stage and the audience.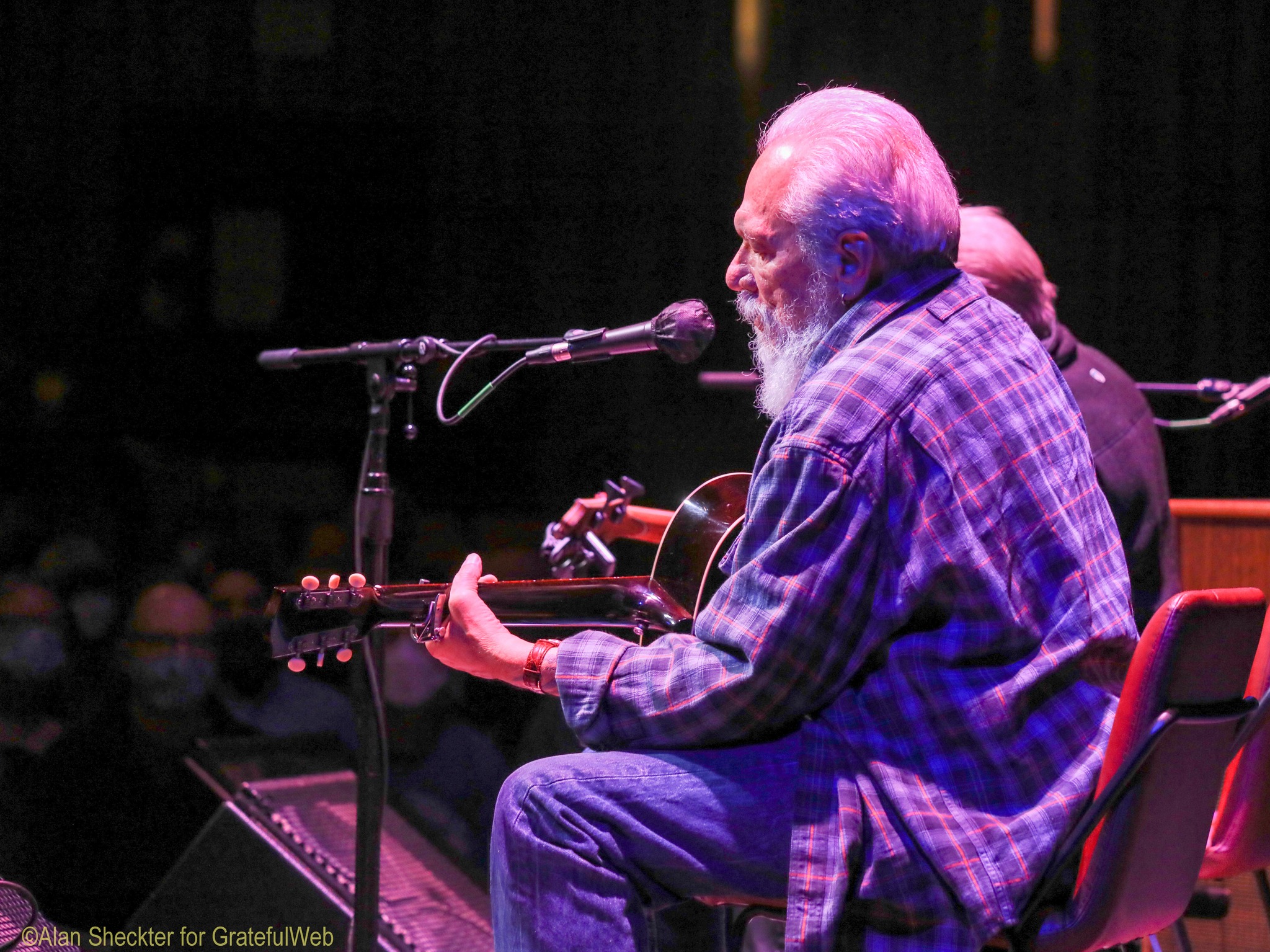 Looking ahead, Hot Tuna (mostly acoustic with a few electric gigs) has a big itinerary of shows set for February and into March, as well as a spring/summer tour with Little Feat as Acoustic Hot Tuna, with drummer Justin Guip. In addition, Carnegie Hall in New York City is finally appeared to celebrate Kaukonen's 80th birthday on April 22, with a show including electric Hot Tuna.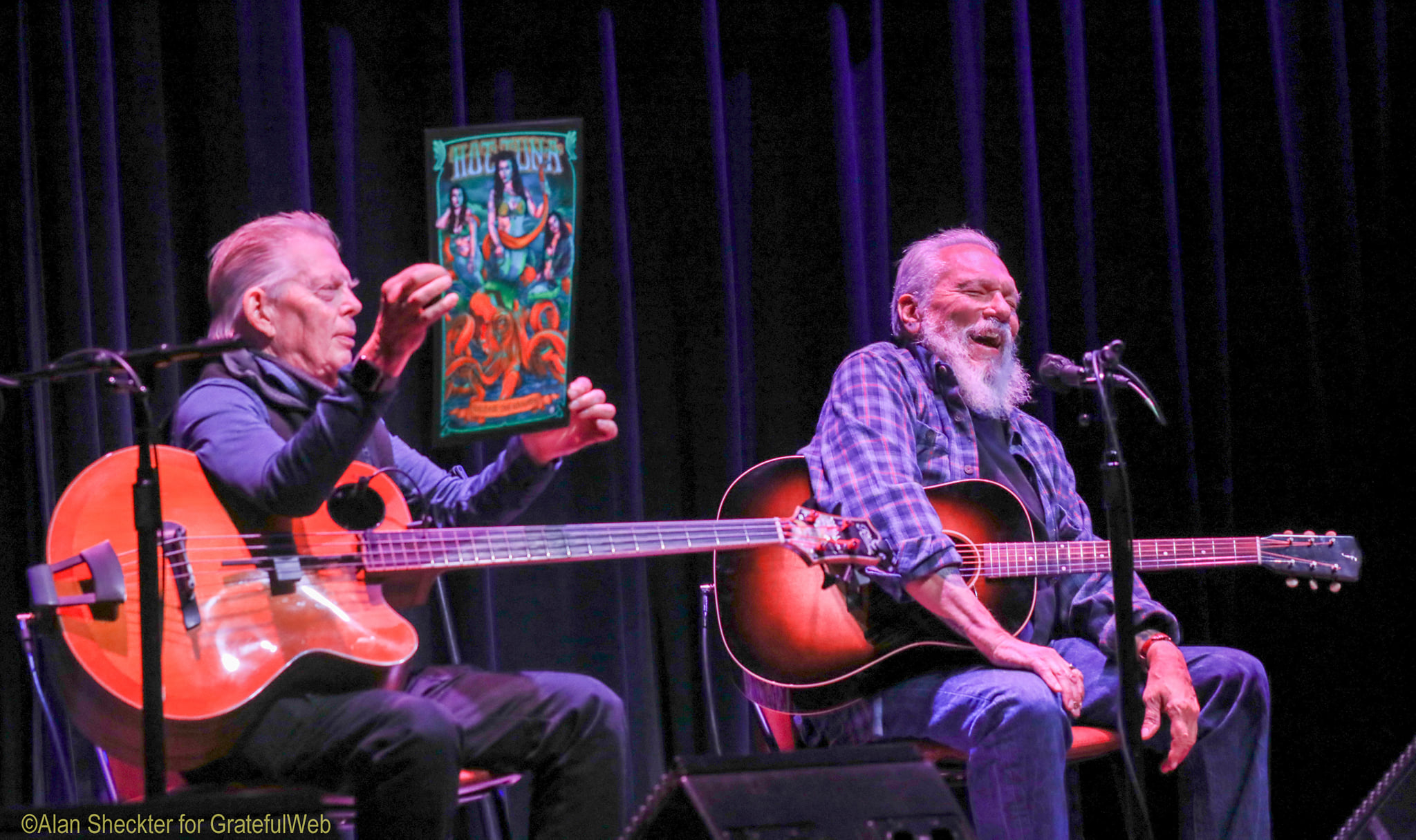 Hot Tuna, Dec. 30, 2021: Set One: True Religion, Nobody Knows You When You're Down and Out, Another Man Done Gone, Too Many Years, Highway Song, Come Back Baby, Sleep Song, Trial By Fire, How Long Blues, Keep on Truckin', Death Don't Have No Mercy, Let Us Get Together Right Down Here. Set Two: Hesitation Blues, Ill Be Alright Some Day, Trouble in Mind, Ain't in No Hurry, Broken Highway, Terrible Operation Blues, I See the Light, Sea Child, Good Shephard, Barbeque King, Keep Your Lamp Trimmed and Burning. Encore: Serpent of Dreams.