AEG Live Rocky Mountain Region announces the first annual Mile High Music Festival powered by SanDisk on July 19th and 20th. Mile High Music Festival will be held on the Outer Fields at Dick's Sporting Goods Park.  Tom Petty and the Heartbreakers will headline on Saturday, July 19th; Dave Matthews Band will top the bill on Sunday, July 20th.  Colorado has never before seen a music festival of this magnitude: hosting five stages (some tented), food from many of Denver's top restaurants, an artists' village, misting tents and more.
Mile High Music Festival will feature a tremendous variety of musical talent, ranging from established touring powerhouses to some of the hottest up-and-coming performers, including a number of bands from Denver's vibrant music scene. In addition to the headliners, performance highlights include John Mayer, The Black Crowes, O.A.R., Michael Franti & Spearhead, Rodrigo y Gabriela, Steve Winwood, Spoon, Flogging Molly, Colbie Caillat, OneRepublic, The Roots, plus local favorites Flobots, Rose Hill Drive, Meese, Born In The Flood, Railbenders and The Photo Atlas.  A complete list of currently confirmed acts is included below, with additional artists still to be announced.  Doors will open at 10:30 a.m. each day, with performances commencing at noon and ending at 11:00 p.m.
"With its abundant natural beauty, the Denver metropolitan area has always been a special place for outdoor summer concerts," says Chuck Morris, President-CEO of AEG Live Rocky Mountain Region.  "The addition of the Outer Fields at Dick's Sporting Goods Park has allowed us to realize our long-held dream of staging a world-class music festival in the Denver Metropolitan area."  Dick's Sporting Goods Park was first presented as a potential site by Stan Kroenke of Kroenke Sports Enterprises.  Morris was given a tour of the facilities and knew immediately that it was a great fit for the Mile High Music Festival.
Mile High Music Festival marks the first outdoor festival held at the Outer Fields of Dick's Sporting Goods Park, which offers immaculate lawns and remarkable vistas of the Denver skyline and Rocky Mountain Front Range, including a panoramic view from Long's Peak to Pikes Peak.  Concertgoers will have a wide range of cuisines to choose from, with many of Denver's most popular restaurants participating in the event. An artists' village - including an extensive exhibit of local arts and crafts - will be another highlight of the festival.
Tickets for Mile High Music Festival powered by SanDisk will go on sale Saturday, March 29th, at 10:00 a.m. MST online at tickethorse.com and milehighmusicfestival.com, by phone at 866-461-6556 and at Dick's Sporting Goods Park Box Office.  They can also be purchased with a credit card at the Ticket Outlet Kiosks in nine Dick's Sporting Goods stores.  Ticket prices are $150.00 (plus service charges) for a 2-Day Pass. A limited number of Single Day Tickets will be available for $85.00 (plus service charges) while supplies last.  2-Day VIP Packages are also available for $495 (plus service charges): visit milehighmusicfestival.com for details.  The Outer Fields at Dick's Sporting Goods Park is conveniently located just nine miles from downtown Denver, and only 1.8 miles from the I-70 and Quebec exit.
The line-up for Mile High Music Festival powered by SanDisk is currently as follows (not in order of appearance, additional artists still to be announced):
Saturday 7/19
Tom Petty and the Heartbreakers
O.A.R.
Michael Franti and Spearhead
Steve Winwood
Spoon
moe.
Citizen Cope
Andrew Bird
Josh Ritter
State Radio
JJ Grey & Mofro
Bob Schneider
Brett Dennen
Newton Faulkner
Meese
Born In The Flood
Railbenders
Sunday 7/20
Dave Matthews Band
John Mayer
The Black Crowes
Rodrigo y Gabriela
Flogging Molly
Colbie Caillat
OneRepublic
The Roots
Leftover Salmon
Martin Sexton
Flobots
Ingrid Michaelson
Grace Potter and the Nocturnals
Tea Leaf Green
Rose Hill Drive
The New Mastersounds
Serena Ryder
The Photo Atlas
###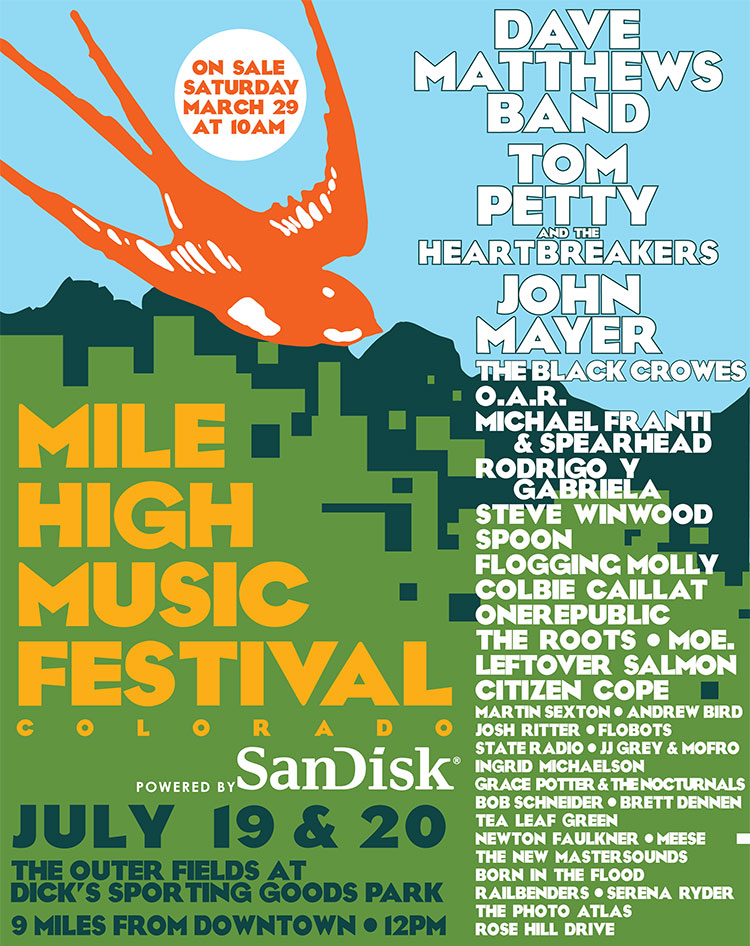 About SanDisk:
SanDisk Corporation, the inventor and world's largest supplier of flash storage cards, is a global leader in flash memory - from research, manufacturing and product design to consumer branding and retail distribution.  SanDisk's product portfolio includes flash memory cards for mobile phones, digital cameras and camcorders; digital audio/video players; USB flash drives for consumers and the enterprise; embedded memory for mobile devices; and solid state drives for computers.  SanDisk is a Silicon Valley-based S&P 500 company, with more than half its sales outside the United States.
About AEG Live:
AEG Live is one the leading providers of live entertainment and sports in the world.  AEG Worldwide owns the LA Kings, LA Galaxy, LA Riptide and half of the LA Lakers.  AEG Worldwide also owns the Staples Center, the Home Depot Center, Nokia Theaters in Los Angeles, Dallas, New York and the new O2 in London.  AEG Live Rocky Mountain Region books the Bluebird Theater, Ogden Theatre, Red Rocks Amphitheatre and the Pepsi Center in Denver, Colorado as well as producing shows in Utah, Wyoming and Idaho. AEG Worldwide Touring division has promoted international tours for Bon Jovi, Rod Stewart, Justin Timberlake, Neil Diamond and the American Idol tour, among others.
About Starr Hill Presents:
Coran Capshaw's Starr Hill Presents promotes live music on a regional and national level, and he is the co-founder of Bonnaroo Music and Arts Festival and co-owner of its sister festival, Vegoose. Capshaw founded Red Light Management in 1991 at the beginning of his sixteen-year role as the personal manager of Dave Matthews Band. With offices in Los Angeles, New York and Nashville in addition to its Charlottesville, VA headquarters, Red Light has a roster of over 50 artists. Capshaw is also the founder of leading music e-commerce platform Musictoday and co-founder of the fully independent ATO Records Group, which includes its namesake label as well as the newly formed TBD Records.
About Kroenke Sports Enterprises:
Kroenke Sports Enterprises (KSE) is the Rocky Mountain West's leading provider of live and broadcast sports and entertainment.   Denver-based KSE owns the 19,000-seat Pepsi Center, 18,000-seat Dick's Sporting Goods Park and 2,200-seat historic Paramount Theatre.  The company also owns the NBA Denver Nuggets, NHL Colorado Avalanche, NLL Colorado Mammoth, MLS Colorado Rapids and has a partial ownership stake in the AFL Colorado Crush.  Kroenke Sports owns and operates the Altitude Sports & Entertainment regional sports network and other sports and entertainment-related properties.