When I first heard John Hurlbut's and Jorma Kaukonen's acoustic album, The River Flows, my being instantly welled up to the sound, welcoming it like an ocean does a river. With tears filling my eyes, the quality of the music made me realize—There's something about greatness that opens the soul to living. What was it that I was experiencing which caused me to think such things, to feel such sentiment? John and Jorma's touch begs the asking. Released on Christmas Day, 2020, following an exclusive LP release over Thanksgiving, this album is a gift in so many ways, and one for which we all can be thankful. Its very nature erupts out of such premium ingredients, one is immediately transported into the profound and beautiful. Caught in the listening, I was so appreciatively inspired, I'm more apt to write a thank you note than an album review. From the very first moments, I knew I had something special, yet it wasn't until I dove into its ingredients that I realized all that comprises this sublime sound experience.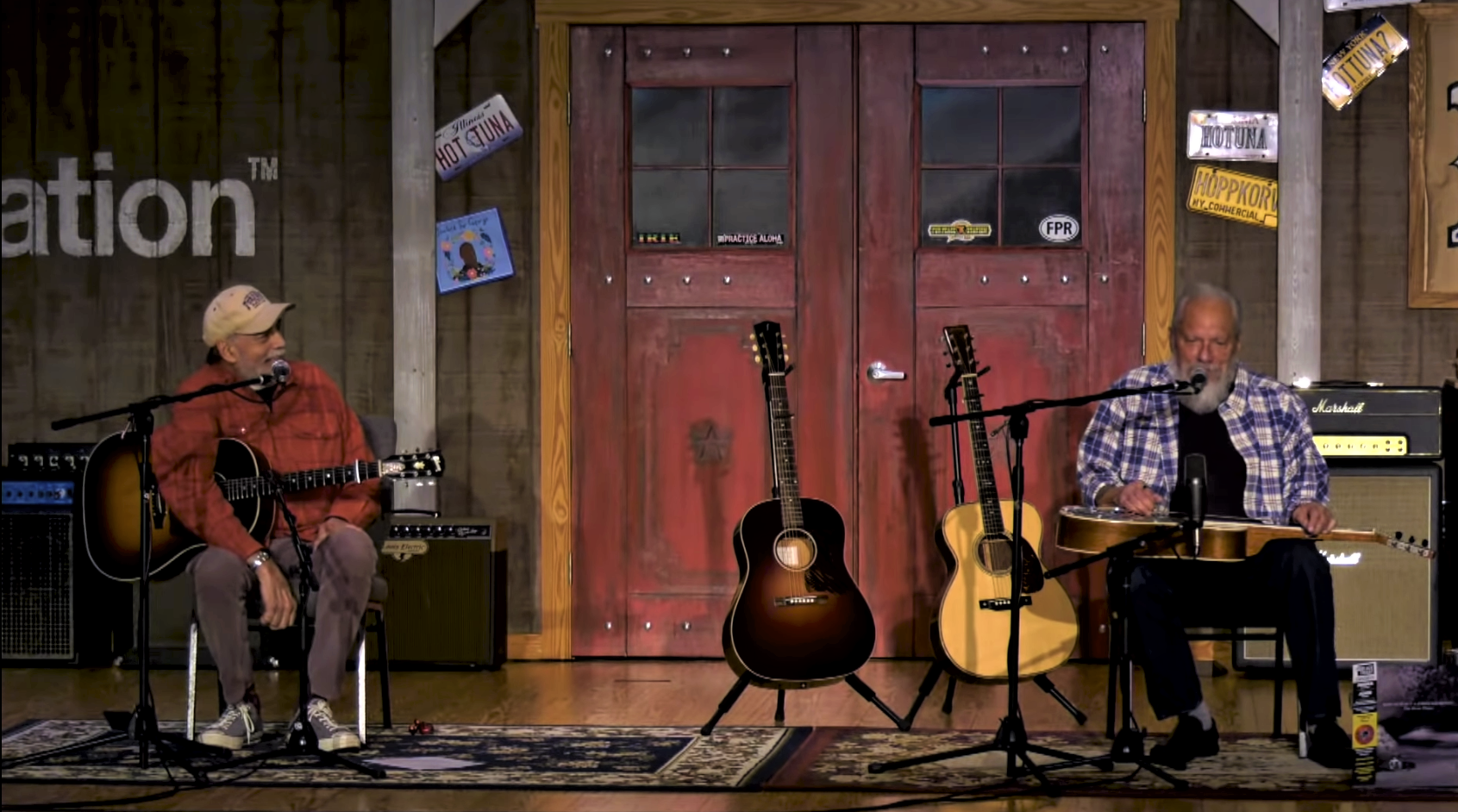 Grabbed immediately by the opening jam in "A Ballad of Easy Rider", the notes instantly carried me into the depth of song, where words take on more meaning and stories become timeless metaphors. I eagerly jumped into a note-to-note ride, and before I knew it, a song-to-song flow was running over my soul like a bubbling creek—John's warm, comforting voice transmuting into the wisdom of a life lived, imparting the abiding lessons of living. His peaceful, natural rhythm offers Jorma all the room to be comfortable and uninhibited in exposing the song, for which the depth of understanding knows no bounds—A place where music plays the musician as much as the musician plays the music. Such cannot be contained, so expect to overflow as you float this river, for true genius rings where finger meets string.
While we all know Hall of Fame inductee and Grammy's Lifetime Achievement Award recipient, Jorma Kaukonen from Jefferson Airplane and Hot Tuna, The River Flows is unique in that it takes us behind the scenes into Jorma's personal life, where we are left with just the man, his friend, John Hurlbut, and a couple of acoustic guitars between them. Inspired by his Saturday night Fur Peace Ranch Quarantine Concerts on YouTube, The River Flows offers us the wonderful intimacy of time spent with Jorma in his home, unhindered and unbounded by the ease of his forty-year friendship and musical conversation with John. Doing a couple-song pickup during each Quarantine Show, as well as some improvisational playing for the lunch and dinner crowds, pre-pandemic, at "The Ranch", John and Jorma's play together has quickly become the highlight of each affair. Recognizing they had a preternatural sound arising from the many nuances of deep friendship, the wisdom of long experience, and the spontaneity of the moment, Jorma offered a special gift to his friend, a river that flows from where all things come into the one.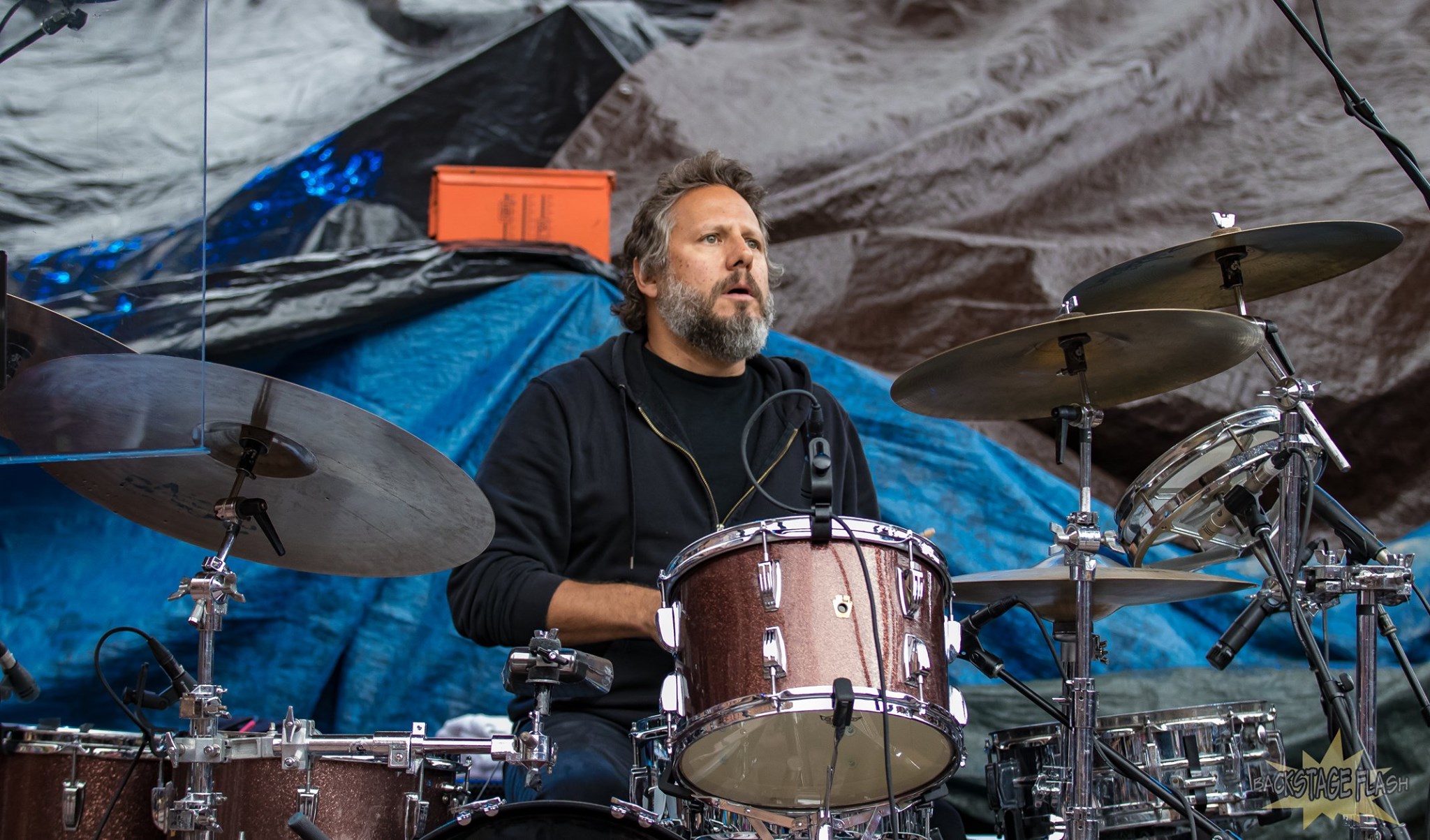 Hijacking Hot Tuna drummer and sound master, Justin Guip, John and Jorma quickly set up at The Ranch, and within days, found themselves before an array of microphones. Going acoustically au naturel with no plug-ins or overdubbing, John and Jorma's opening of "The Ballad of Easy Rider" quickly takes on a life of its own, offering a four-and-a-half-minute glimpse of what's to come before a word is ever sung. Going over ten minutes, "Easy Rider" has to be considered one of the finest openings to any album. Ending with a fade out that leaves one hanging in the ethereal, the mood is easily carried right into Curtis Mayfield's "People Get Ready", imprinting itself upon one's heart from the outset and never letting up. By the time we reach George Jones's "Choices", we feel as if Grandad is telling it straight, sharing the lessons of life and the stories which bring them about. Youth has not the inkling to lay out what's underneath this album, so listen, my friend, because there's philosophical as well as musical meaning here.
And while our boys' version of Gene Clark's "Kansas City Southern" offers a completely different feel, the song-to-song transfer is seamless, as if each song was merely an emphasis of what came before. There's some great voice and string-pull going on here. Played with a soulful rhythm that seems to arise from a backwards lean, John and Jorma produce a calling that sinks home the lyrics, "That Kansas City Southern, man, that's a lonesome sound." And as with each of the songs on this album, one can only think, "Keep on playing boys. Keep on playing."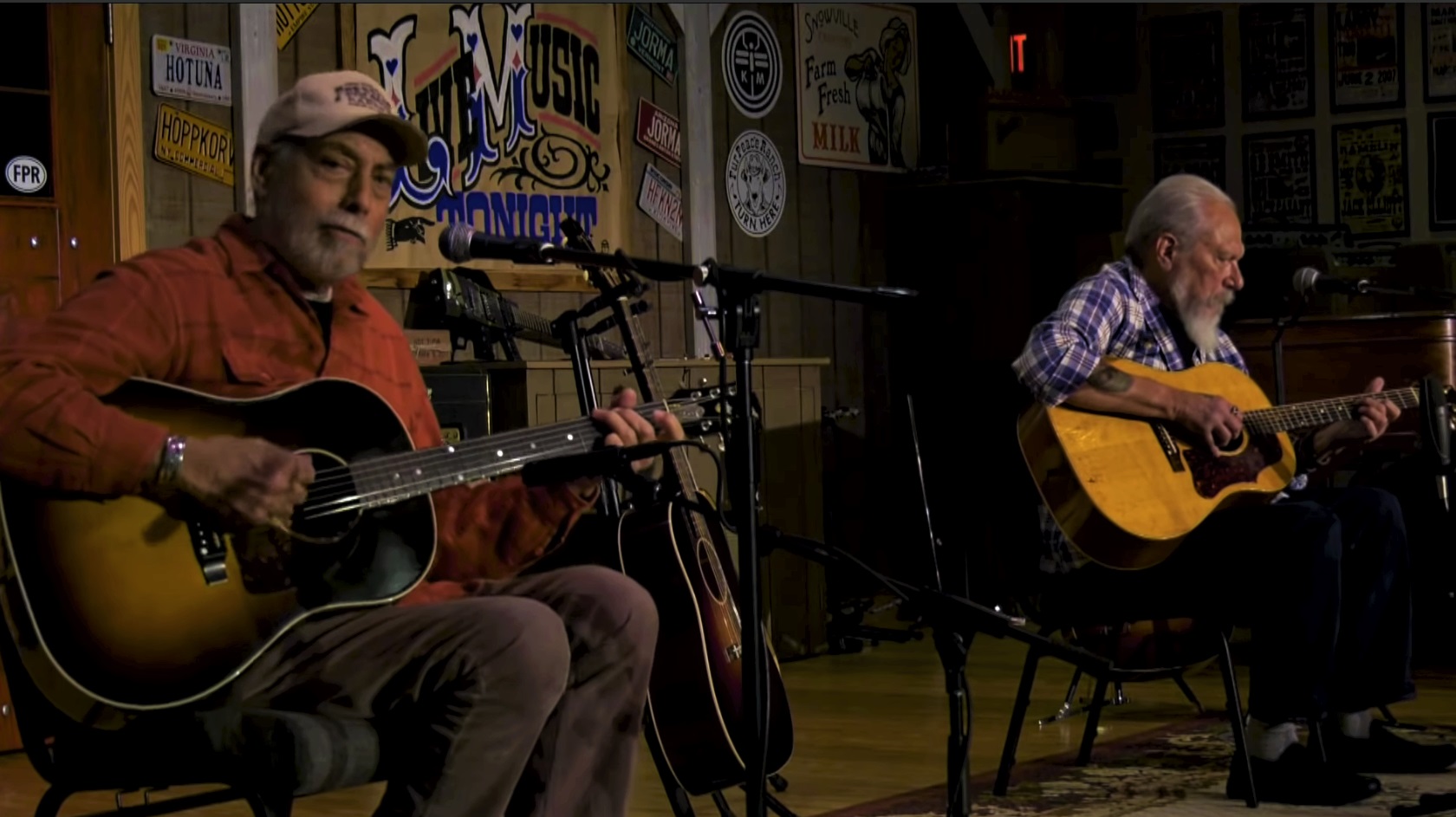 Continuing with the reflection-story theme, as if a memory from another time was constantly happening now, "Across the Borderline" imparts the lessons of the aged and experienced with a gentle, misty rain of notes that carries one to the source of the song's meaning—A fountain not made by the hands of men, perhaps. Sympathetic to the many miles traveled, up next, John and Jorma pay homage to the hobo life in "Travelin'" with a delightful mix-up of genre and style that reminded me of Old & In The Way, as well as the Garcia/Grisman days.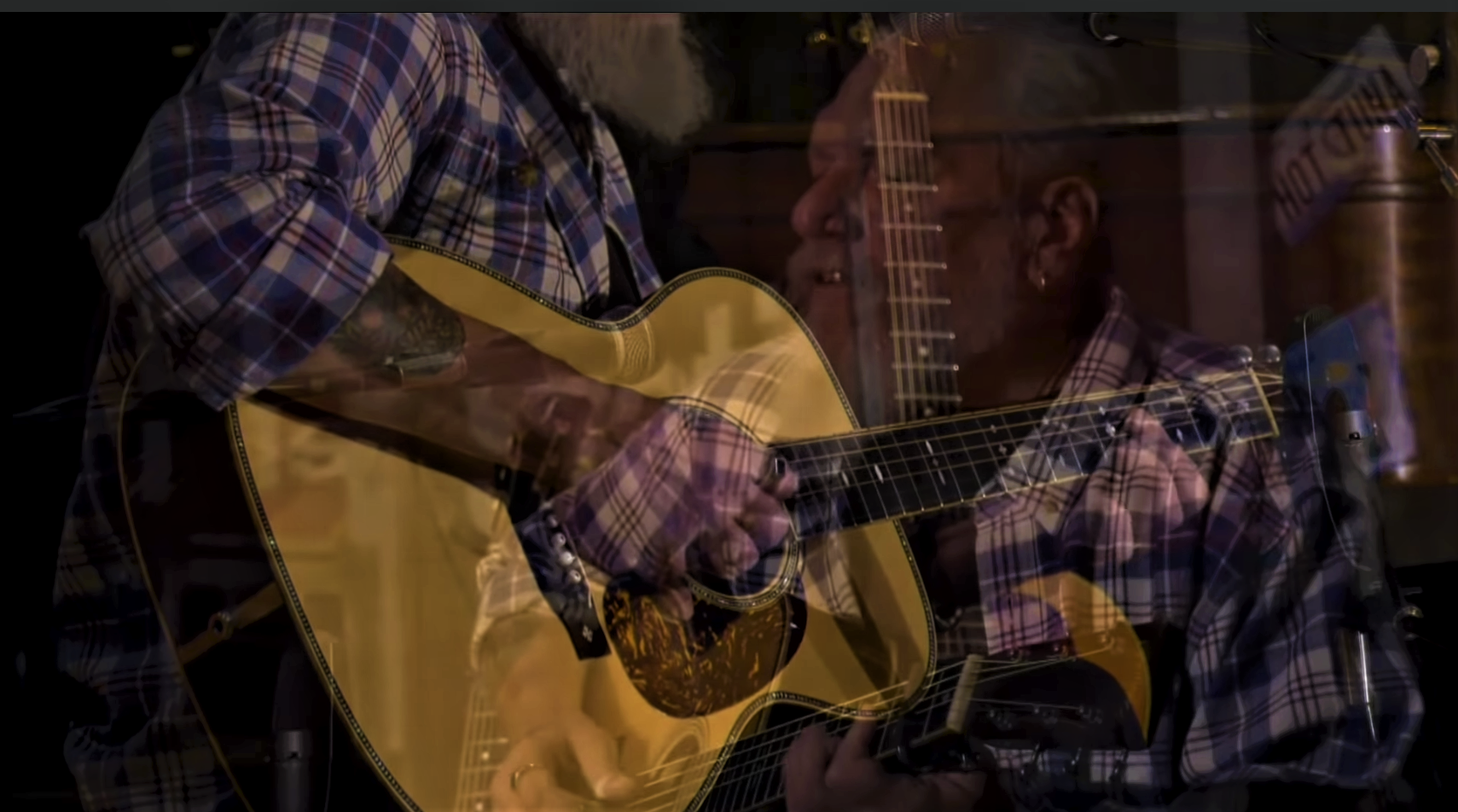 After hearing about their respect for Spencer Bohren in the comprehensive interview included with The River Flows, one's not disappointed when they hear the beauty of both message and play in Bohren's "The Old Homestead". To the pleasure of all, the familiarity Jorma shares with his guitar, and his friend, John, is intrinsically illuminated with each twang of the string, carrying each of us home as a gentle breeze does a leaf. Softly landing in the pond of the next song, this album concludes with its only original—John Hurlbut's "Someone's Calling", which is a gem among gems. Jorma ever so gently draws on the wisdom of this song through a mind-blowing and heartfelt solo which only entwines us all the more as it mixes with John's unmistakable sincerity of voice—A message so pertinent to sense and connection, that voice and guitar synchronistically merge to become the groove of any pleasant day. Thank you, my friends.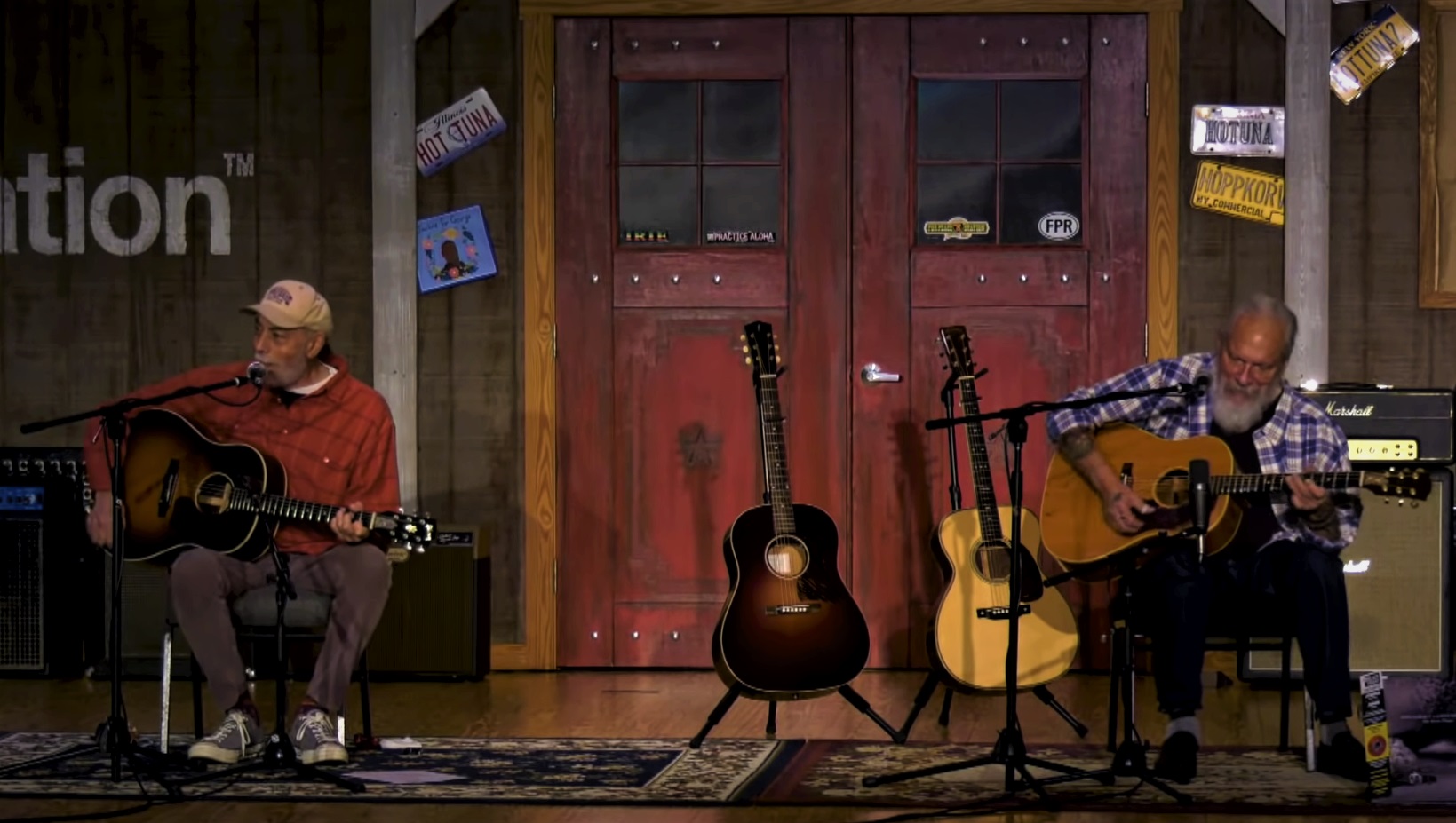 The River Flows is a definitive guitar player's album as much as it calls to any meticulous listener. Leaving room for someone to happily join in and play along, there is so much to be learned and appreciated in the happenings here that it genuinely grows as a listening experience. And while many of you may think you already know Jorma from his many years of play, after this river flows, you'll quickly realize there's so much yet to be discovered. In the end, we will each not only be grateful to Jorma for suggesting this album, but also for bringing forth his long-time Deadhead friend, John, in such an intimate and special way—by way of which we will all long for more.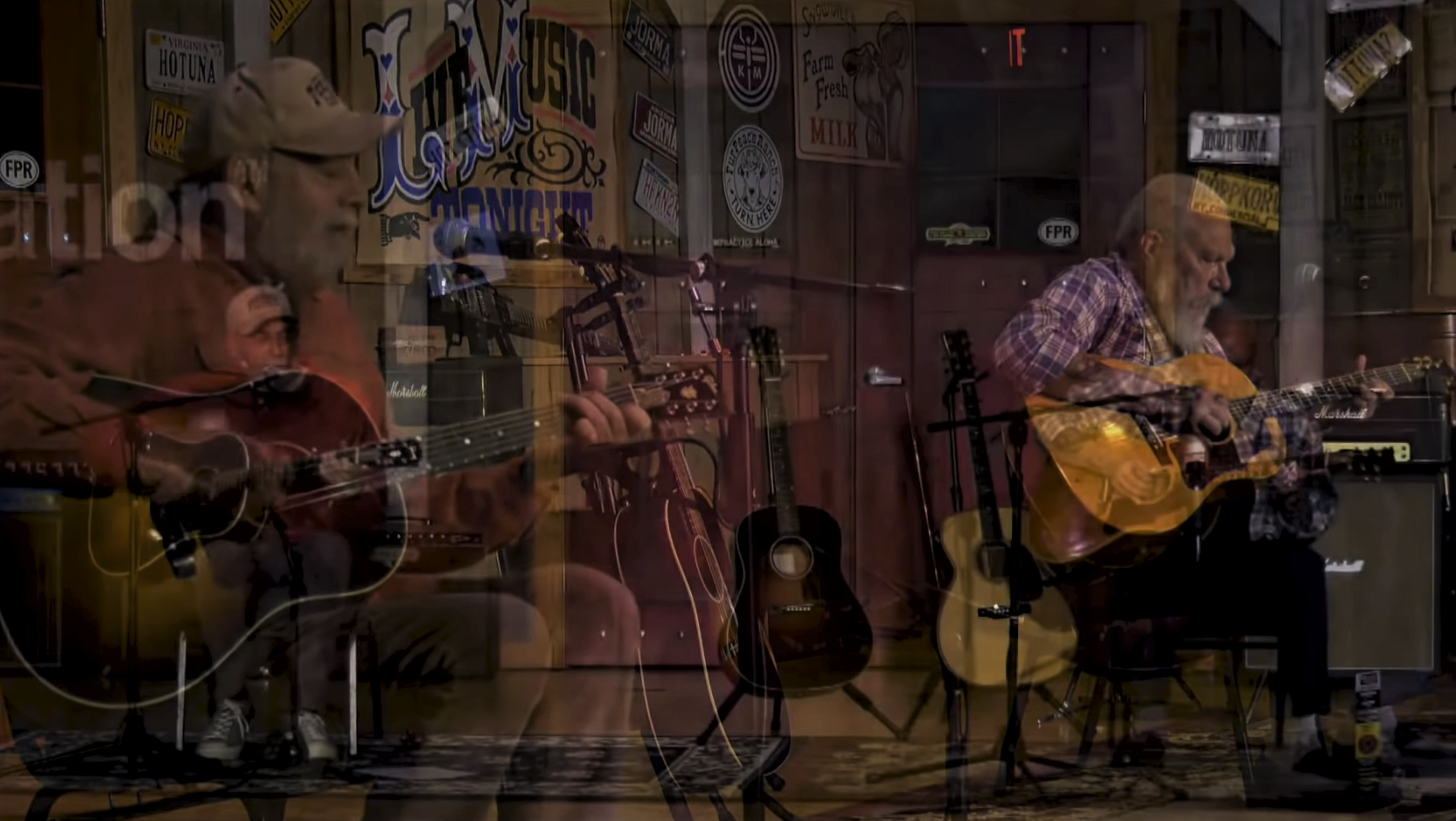 We at Grateful Web are thrilled to see Jorma and John release this side of their musical life. And with our great appreciation for the musical style of play happening on the Quarantine Shows, we're truly grateful and excited we had the opportunity to chat with both John and Jorma about their new release. And while the best insight still arises from the album itself, captivatingly recorded within every nuance of John and Jorma's sound, each interview was so rich, we've decided to release them separately following the new year. So stay tuned.
"Listen to the river sing sweet songs to rock my soul."