This past week Johnny Clegg wrapped up a short 12 twelve-city North American tour bidding farewell, and retiring from the road.
In remission from an aggressive form of pancreatic cancer, Clegg decided to have his final tour while he has the strength to endure the road. This farewell is both a bitter-sweet celebration of his career, and an opportunity to say goodbye to so many devoted fans, whose hearts he has touched.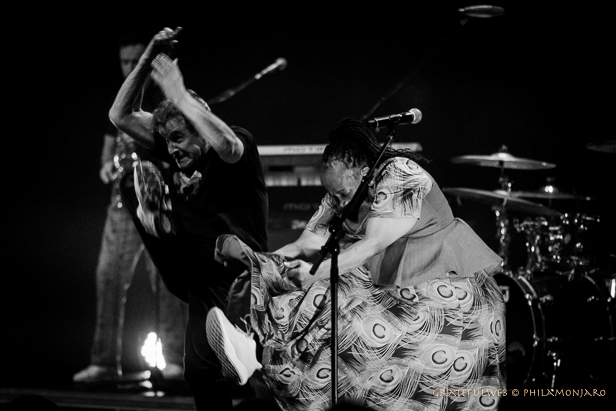 The two-set concert featured songs across his career: Jaluka, Savuka and his solo releases. Much more than the songs, Cleggs shared stories of his musical start, demonstrated and explained his Zulu dance training and the meaning behind the Zulu warrior dances. He also showed several videos that were synced with the live music, including a video of the song "Take My Heart Away" created and directed by Johnny's son, Jaron.
Of the many highlights, by far the most meaningful was his musical guest during the second set, his son Jesse Clegg. Jesse was the also the opening act. An accomplished music in his own right, Jesse started his career away from his father's legacy and vowed early on not to appear on the same stage. This was one of the reasons Jesse's decision to share the stage with his dad was so special. The other reason is that 29 years ago, Johnny Clegg wrote Cruel, Crazy Beautiful World for Jesse when he was a baby. Now it is Jesse's turn to honor his father with a song. As such, their performance of "I've Been Looking" held an even deeper meaning for both men.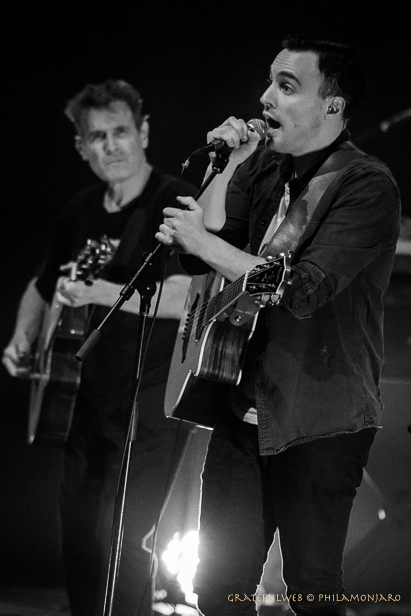 Whether familiar with this individual songs, or just the hits, it is impossible for fans to not get swept up into the infectious melodies, intricate rhythms and animated performance. It was a state of grace and bliss onstage. The audience went wild singing and dancing to the hits "Spirit Is The Journey", "Cruel Crazy Beautiful World", and the closing song "Scatterlings of Africa"; a standing ovation.
For one of their two encores, the band performed "Asimbonanga" to their 1999 video of Clegg and Nelson Mandela on stage. This moment summed up the importance of music as revolution and inspiration. Many of us had tears of joy as we swayed to the celebratory melody.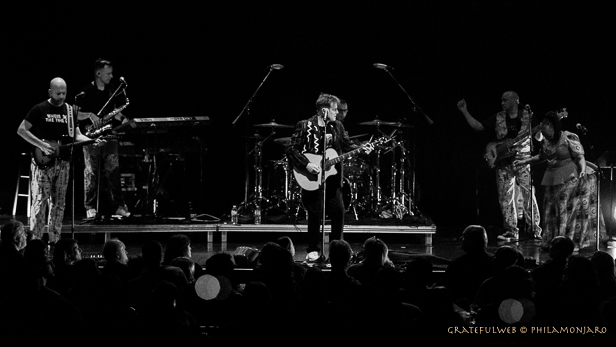 A dancer, anthropologist, singer-songwriter, activist and academic, and even a French knight, Clegg has one of the most unique paths to international recognition. In his early years he often risked, and was arrested for breaking South Africa Apartheid laws with his breakthrough bi-racial band Juluka. The band skirted the laws, and broke them when performing their uniquely original songs that were directly crafted from the Zulu tradition and blended with western music. Specifically celtic.
Upon Juluka's 1983 international hit single "Scatterlings of Africa", Clegg left his secure position as an anthropologist lecturer at university in Johannesburg. His expert topic was Zulu dance and culture. So his music has South African culture in its DNA--before, beyond, and as the primary influence to Paul Simon's "Graceland".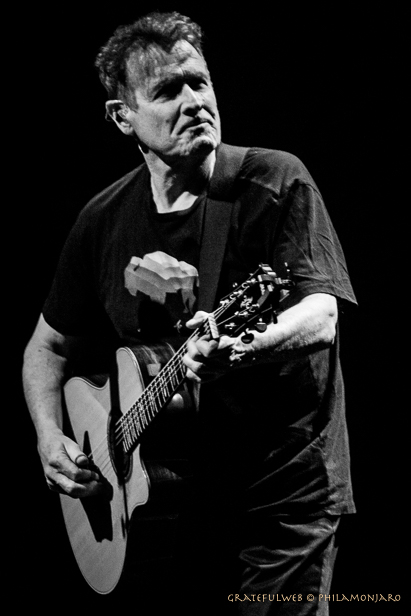 Shying away any proclamation that his music political, he favors it as humanistic. The politics found his music, not the other way around. There is nothing more powerful than an idea whose time has come. And herein lies that case as his songs served as a musical rallying cry while Apartheid collapsed. This is indisputable.
In his retirement from performance, Clegg plans to release a new solo album along with an autobiography. Johnny Clegg, the world thanks you for your gift of music and advocacy for humanity.
Band Members:
Vocals/guitar: Johnny Clegg
Keyboards/sax: Brendan Ross
Musical Director/guitarist: Andy Innes
Drums: Barry Van Zyl
Bass: Trevor Donjeany
Backing vocals/dance: Mandisa Dlanga
Set List:
Africa (What Made You So Strong)
Kilimanjaro
Colour of My Skin
I Call Your Name
Take My Heart Away
The Crossing (Osiyeza)
Set II
Walking Song
Spirit Is The Journey
Cruel Crazy Beautiful World
I've Been Looking (Duo with Jesse Clegg)
Great Heart (With Jesse Clegg)
Scatterlings of Africa
Encore:
Asimbonanga
Dela
Asimbonanga video with Nelson Mandela:
https://www.youtube.com/watch?v=BGS7SpI7obY&list=RDBGS7SpI7obY