Acclaimed writer and musician Josh Ritter confirms a select run of fall tour dates to celebrate the release of his forthcoming novel, The Great Glorious Goddamn of It All, set for release on September 7 via HarperCollins. The intimate solo performances begin in Los Angeles on September 21 and includes stops at Brooklyn's St. Anne's Church, San Francisco's The Independent, Chicago's Old Town School of Folk, DC's Sixth & I and more. General on sale begins on Friday, July 23 at 10AM local time at joshritter.com/#tourdates. Full routing can be found below, which also includes details on Ritter's book tour dates.
"Now I get the chance to perform again. I'm so excited I almost can't contain it," says Ritter. "I want my first set of shows in a year and a half to be in places that will allow me to sing some of the stranger, quieter, more narrative songs that I may not always get to at a rock show. I want the venues to be special and beautiful, I want laughter and music and stories that are true even if they're unreal. Finally, I want to perform again, stomp the dust off, see what new appendages and teeth and claws have grown from this time in the wilderness, see what joy can come from sorrow and what tears can come from joy."
The Great Glorious Goddamn of It All is a novel about a young boy's coming-of-age during the last days of the lumberjacks. The national bestselling author calls it "the kind of tender-hearted, rowdy adventure story that I've wanted to write since I grew up on the side of a mountain in Idaho." Fans can pre-order The Great Glorious Goddamn of It All HERE.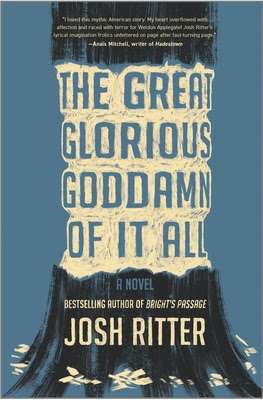 Over the course of his career Ritter has released ten full-length albums including 2019's Fever Breaks, which was produced by Jason Isbell and features Amanda Shires along with Isbell's band, the 400 Unit. Released to widespread acclaim, the album debuted at #4 on Billboard's Americana/Folk Albums Chart, #5 on Independent Albums Chart, #14 on Top Current Albums Chart and appeared on the Billboard 200. Rolling Stone raved, "It's classic Ritter on Muscle Shoals-bred steroids," while the Associated Press heralded, "There have been plenty of highlights in Ritter's nearly 20-year recording career but it's the intensity of the music and imagery that makes Fever Breaks an especially engaging outing."
In 2015 Ritter began a close collaboration with Bob Weir and went on to write or co-write many of the 12 songs on Weir's acclaimed 2016 solo album, Blue Mountain. Pitchfork called the album "quietly adventurous, wise, and a welcome late-career turn," while Entertainment Weekly described it as "a moving group of tunes worthy of any campfire."
In addition to his work as a musician, Ritter made his debut as a published author in 2011 with his novel Bright's Passage (Dial Press/Random House), which was a national best-seller. Stephen King wrote in The New York Times Book Review that Bright's Passage "shines with a compressed lyricism that recalls Ray Bradbury in his prime…This is the work of a gifted novelist."
JOSH RITTER LIVE
September 11—Park City, UT—Song Summit
September 21—Los Angeles, CA—Masonic Lodge at Hollywood Forever
September 22—San Francisco, CA—The Independent
September 24—Portland, OR—the Old Church
September 25—Portland, OR—the Old Church
September 27—Seattle, WA—St. Mark's Cathedral
September 30—Minneapolis, MN—Parkway Theatre
October 2—Chicago, IL—Old Town School of Folk
October 7—Boston, MA—Somerville Theatre
October 8—Brooklyn, NY—St. Anne's Church
October 9—Washington, DC—Sixth & I
October 11—Philadelphia, PA—City Winery
BOOK TOUR DATES
September 7—Brooklyn, NY—Word Bookstore
September 8—Moscow, ID—BookPeople of Moscow (Virtual)
September 13—St. Louis, MO—The Novel Neighbor (Virtual)
September 14—Cuyahoga, OH—Cuyahoga Public Library (Virtual)
September 15—Denver, CO—Tattered Cover (Virtual)