Jazz pianist Kenny Drew Jr. returns to New York for a rare solo performance on December 17, 2008 as part of the Lyric Chamber Music Society of New York concert series at the Kosciuszko Foundation. He continues the Lyric's tradition of infusing Jazz into traditional Chamber Music programming, combining his virtuosic talents, evident in his performances of Classical works, with superb improvisational instincts, as showcased in his Jazz performances, be they solo or in collaboration with such luminaries as David Taylor, Daniel Schnyder and many others.
In just ten seasons since its debut in the spring of 1998, the Lyric Chamber Music Society is recognized by musicians, the press, and audiences as one of the preeminent chamber music organizations in the country. Founded to present the works of the giants of the past and present, the Lyric performs masterpieces of chamber music literature and unusual repertoire in the intimate salon of an elegant Fifth Avenue mansion and at Victor Borge Hall — offering the music in the personal and intimate ambience in which it was intended to be heard. "Adventurous," The New York Times has called the Lyric, for its repertoire spanning from the Renaissance to the present, a combination of classic canonical chamber works, rarely performed compositions, and contemporary pieces. Beethoven's Kreutzer Sonata may be followed by a sonata by Poulenc, Gershwin by Jobim, Bizet by bossa nova, or J.S. Bach transcribed for four marimbas by a world premiere composed for Lyric artists.
The Lyric has attracted to its roster some of the world's most distinguished musicians, accomplished orchestral players, and up-and-coming young talent. More than a dozen concert masters and first chair players of the New York Philharmonic and Metropolitan Opera Orchestra as well as extraordinary jazz musicians have chosen the Lyric as their musical second home. Young artists who are recognized in music circles as the next generation of performing greats—many handpicked by the Lyric's legendary Advisory Board—regularly get an opportunity to introduce themselves to a wider audience. Such has been the creative energy and sense of possibility flowing from our concerts that in the brief period since our inception one new trio has already been formed under our auspices and two have made their New York debuts.
Reaching out to an ever-widening audience, Lyric virtuosos bring the inspiring scope of music's possibilities to thousands of New York public school students and reach millions of listeners on National Public Radio. As New Yorkers and visitors look to the Metropolitan Opera for opera and the New York Philharmonic for symphony, more and more people are turning to the Lyric Chamber Music Society of New York for chamber music and "chamzz," a Lyric innovation: programs combining classical music and jazz.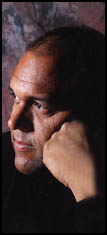 Kenny Drew Jr. was born in New York City in 1958. He started music lessons at the age of four. After studying classical piano with his Aunt Marjorie, he branched out into the area of jazz music. Kenny Jr. has performed worldwide with a comprehensive variety of musicians, including Stanley Jordan, Out of the Blue (OTB), Stanley Turrentine, Slide Hampton and the Jazz Masters, the Mingus Big Band, Steve Grossman, Yoshiaki Masuo, Sadao Watanabe, Smokey Robinson, Frank Morgan, Daniel Schnyder, and many others.
Kenny Drew Jr. was the winner of the 1990 Great American Jazz Piano Competition in Jacksonville, Florida. He has appeared as a leader at many major festivals, including the Jacksonville Jazz Festival, Kyoto Jazz Festival, Savannah on Stage Festival, Clearwater Jazz Festival, and the Newark Jazz Festival. Kenny has also performed as a leader at many major jazz clubs around the country, such as Bradley's (NY), Visiones (NY), The Blue Note (NY), Blues Alley (DC), Fat Tuesday's (NY), The Village Gate (NY), Trumpets (NJ), The Jazz Showcase (Chicago), Twins Lounge (DC), One Step Down (DC), and the Montreal Bistro (Toronto). He has recorded nine albums as a leader and has also made numerous recordings as a sideman. Kenny has performed at concerts and in clubs with The Carnegie Hall Jazz Band, the Faddis/Hampton/Heath Sextet, Steve Turre, Jack Walrath, David Sanchez, Jack Wilkins, Michael Mossman, Ronnie Cuber, Steve Slagle, and Marlena Shaw. Other performances included appearances with Jon Faddis, Slide Hampton, and Jimmy Heath at the Montreal North Sea, and Lugano festivals and with the Mingus Big Band at the Chicago and Detroit festivals.
In addition to his exploits in Jazz, Kenny has built a reputation as a performer of classical music. He has performed both jazz and classical music at the Barossa Music Festival in Australia. The classical repertoire included Bach concertos and music by African-American composers. These concerts consisted of solo piano recitals and appearances with renowned classical musicians such as violinist Jane Peters and pianist Peter Waters. Kenny participated in a performance of Charles Mingus' large-scale composition Epitaph at the Concertgebouw in Amsterdam under the direction of Gunther Schuller. He performed a Mozart concerto with the Milwaukee Symphony conducted by Andreas Delfs, and appeared at the International Bach Festival in Leipzig, playing Bach's music with Daniel Schnyder and David Taylor. Further appearances as a classical performer include the Luzern Piano Festival and in Key West.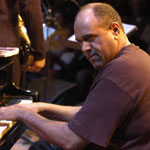 In addition to his work as a soloist and jazz side man, Kenny has been playing with a classical/chamber-jazz trio led by composer/saxophonist/flautist Daniel Schnyder, with David Taylor on bass trombone. The group has performed concerts in Switzerland and New York as well as the Barossa Festival in 1997. Among Kenny's recordings with Daniel Schnyder are the Sonata for Soprano Saxophone And Piano and the Sonata for Bass Trombone And Piano (with David Taylor). Kenny also participated in the recording of Schnyder's Third Symphony with the Basel Radio Orchestra under the direction of Hans Drewanz. Other groups and artists Kenny has performed with are the Absolute Ensemble, the Lincoln Center Jazz Orchestra, Shirley Horn, Teddy Edwards and Henry Johnson. Kenny also played a solo piano tribute to Duke Ellington on Ellington's 100th birthday at the Tonhalle in Zurich. He has recently appeared with his own trio at the Village Vanguard in New York, the Jazz Showcase in Chicago and on the Queen Elizabeth II Jazz Cruise.
Kenny has recorded over twenty albums as a leader, amongst them, in 2001, Autumn for the Japanese label Pony Canyon. The CD features George Mraz on bass and Tony Jefferson on drums. Drew recorded a CD of two-piano jazz arrangements of music by Ravel with pianist Peter Waters. This CD, which was recorded in Switzerland, also features the Winterthur Chamber Orchestra. Kenny Drew Jr. taught at the Engadin International Summer Piano Academy in Switzerland, giving master classes and private lessons. He was one of the featured artists at the West Coast Jazz Party in California. He has toured Switzerland with Daniel Schnyder, including a concert with members of the Zurich Opera Orchestra. Kenny played two concerts at the Umea Jazz Festival in Sweden, including a performance of Daniel Schnyder's Piano Concerto with the Norrlands Opera Orchestra under the direction of Kristjan Järvi. This concert was recorded for release as a CD.