This Friday, May 27th, New York's acclaimed Triad Theatre on the upper west side presents a special jazz concert, featuring a solo performance by pianist Steve Kuhn and a performance by Saxophonist Daniel Bennett and his band. Steve Kuhn will perform selections from his critically acclaimed album, "Mostly Coltrane" on the ECM label. The Daniel Bennett Group will perform selections from their newest album, "Peace and Stability Among Bears." Advance discounted tickets are available for purchase at www.brownpapertickets.com/event/171424. Tickets are available at the door for $25. The concert starts at 9:30pm and is an all-ages event. The Triad is located on the upper west side, at 158 West 72nd Street.
Legendary pianist Steve Kuhn has established himself as one of the preeminent voices in the jazz world. Kuhn began his illustrious career performing as a sideman with the likes of Stan Getz, John Coltrane, and Art Farmer. At the end of the 1960's he spent four years living in Europe. Upon returning to the United States, Kuhn began his long-term affiliation with the revolutionary record label ECM. This resulted in a string of important albums including Trance, Ecstasy, Non-Fiction,and important collaborations with Sheila Jordan. In the mid-80's, Kuhn co-founded the popular 'All Star Trio', with bassist Ron Carter and drummer Al Foster. Kuhn also launched a revolving edition of his trio with bassist David Finck and various drummers, like Joey Baron, Lewis Nash, Billy Drummond, Kenny Washington and Bill Stewart. Steve Kuhn has released over 20 critically acclaimed albums on the Blue Note, Concord, and ECM labels. Kuhn continues to tour extensively throughout the world, with a strong following in the United States, Europe and Japan.
Critically acclaimed New York saxophonist Daniel Bennett has recently shared concert stages with artists like Bill Frisell, Charlie Hunter, James Carter, Billy Martin (Medeski, Martin & Wood), Jerry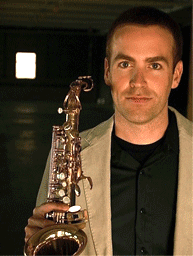 Bergonzi, and David Fiuczynski. The Boston Herald described Daniel Bennett's music as, "exploratory folk-jazz." Bennett's musical journey began as a graduate student at the prestigious New England Conservatory in Boston, Massachusetts. During this time, Bennett began to compose songs that featured folk melodies played on the saxophone in a jazz quartet format. Bennett's chord progressions also maintained a unique minimalist quality, influenced by composers like Steve Reich and Philip Glass. The Boston Phoenix described Bennett's style as, "an unusual folk-minimalist approach." The music was innovative, yet remarkably accessible to a broad spectrum of listeners. The Boston Globe described Bennett's music as "a mix of jazz, folk, and trance." The Daniel Bennett Group has released four albums on the Bennett Alliance label, A Nation of Bears, The Legend of Bear Thompson, Live at the Theatre, and Peace and Stability Among Bears. Daniel Bennett's "Folk Jazz" music has found a broad fan base that is unusual for a modern jazz outfit. Insite Magazine called Daniel Bennett's music, "refreshingly capricious and trippy."
The world-renowned Triad Theatre has hosted performances by entertainers like Slash, Joan Osborne, Lisa Loeb, Paula Cole, Susan Lucci, Buddy Miles, Ravi Coltrane, Debbie Gibson, David Crosby, George Benson, Max Weinberg, John Entwistle, Tracey Morgan, Kathie Lee Gifford, Matthew Broderick, Rachel Dratch, and Steve Gutenberg. The Triad was the original home for Off-Broadway hits like "Forever Plaid," "Forbidden Broadway," and "Secrets Every Smart Traveler Should Know."
-
Friday, May 27th
158 West 72nd St, New York, NY
Purchase Tickets HERE!