Modern Classic Recordings, an imprint of celebrated archival label Light in the Attic (LITA), proudly announces their deluxe vinyl reissues of Morphine's final two studio albums: Like Swimming (1997) and The Night (2000). The release mark the very first availability of both titles on wax.
Due out September 8th and available to pre-order beginning today (8/3), each album has been lovingly remastered by Pete Weiss at Boston's Jade Cow Music, with lacquers cut by John Golden. Both titles were pressed at Austin, TX's Gold Rush Vinyl and are each available in two colorways. The Like Swimming LP (featuring such favorites as "Early to Bed," "French Fries with Pepper," and "Eleven O'Clock") is being offered on opaque blue or translucent red wax (seen below), while the 2-LP, 45-RPM edition of The Night (featuring "Rope on Fire," "Top Floor, Bottom Buzzer," and "The Night") is available on translucent orange or purplish hue wax (seen below).
Rounding out each package is a 20-page booklet featuring rare and never-before-seen images from the band's archives (including photos by Lana Z. Caplan and Danny Clinch, artifacts from Morphine's career, and unseen art by the band's late frontman Mark Sandman). A major highlight of both packages are the insightful new liner notes by Ryan H. Walsh—a Boston-based journalist, musician, visual artist, and author of the acclaimed 2018 book Astral Weeks: A Secret History of 1968. Walsh's notes include a handful of new interviews detailing the band's career, including one of the final interviews with Morphine drummer Billy Conway, who sadly passed away in 2021 following a battle with cancer. Both albums are housed in deluxe gatefold jackets, featuring gorgeous art direction and design by Darryl Norsen at D. Norsen Design, also of Boston.
Dedicated to the memories of Sandman and Conway, both albums were produced with the full support of Morphine's surviving members (drummer Jerome Deupree and saxophonist Dana Colley), as well as the band's friends, family members, and collaborators—many of whom shared their memories with Walsh. The upcoming reissues follow Modern Classic Recordings' acclaimed 2011 vinyl reissue of Morphine's sophomore album Cure For Pain.
Inspired by Morphine's map of Cambridge, Massachusetts (included in The Night's liner notes), Walsh will be leading a walking tour this September 24th (Sandman's birthday) for twenty-five "Lucky" fans. The tour will start at the former location of Hi-n-Dry studio (Sandman's loft) and include an intimate concert by Vapors of Morphine upstairs at the Middle East. There will also be a vinyl signing with original band members Dana Colley and Jerome Deupree at Cheapo Records after the show. Click here for more details and tickets (available beginning August 10th).
In celebration of the release, LITA will be releasing a new episode of their Light in the Attic's Liner Notes podcast this September, which promises to give fans an in-depth look into the history behind both albums.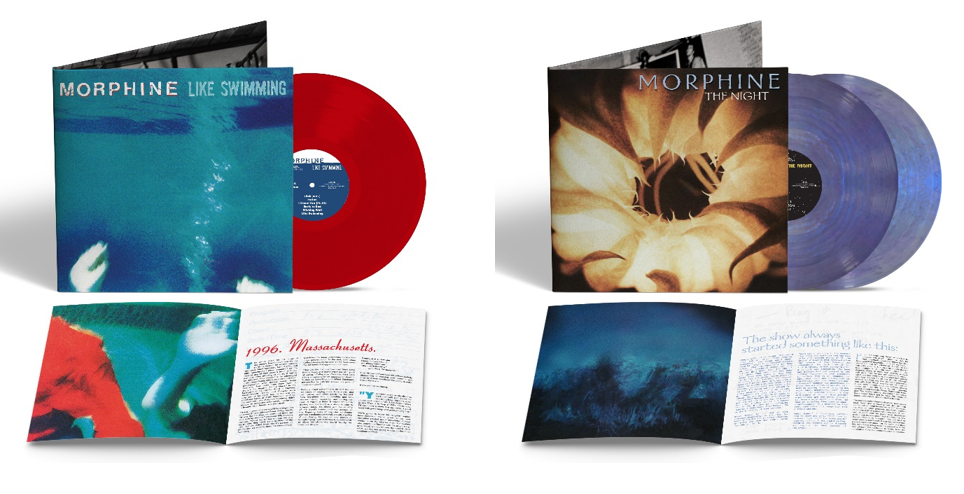 For more info and to pre-order Like Swimming and The Night, visit LightInTheAttic.net.