In 2015, a restless, curious talent from Gloucestershire, England, decided to revisit her Nashville relatives—she had previously spent summers with them, and perhaps she believed that this jaunt would just be one more road trip, yet this visit yielded a major career milestone.
In fact, singer-songwriter, Lilly Winwood, found that visit so illuminating that she chose to document her coming-of-age observations and anecdotes. The result became 2017 debut EP, 'Silver Stage'.
To support Steve Winwood, Lilly toured in 2017 with her famous dad and a select group of spirited musicians of her own choosing. As vocal narrator, the twenty-one-year old shines. Her original music centers around love and loss. Her extensive range and tearful expressiveness created incredible intimacy in the large, historical building. Perhaps the set could be described as, part travelogue and part painful lessons learned.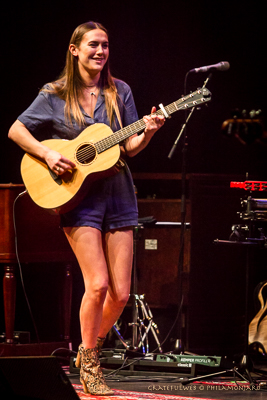 "I'm not from any of these parts." She smiled broadly, before launching into a song about the landscape of California. Manning the first one alone, the talented band kicked in at the second verse. The song culminated with an inspiring, electric guitar solo. With her fresh, warm voice and honest approach, Lilly convinced all there that she has a bright future ahead.
"I'm dedicated to be opening up for an old friend tonight," she ribbed, referring to, of course, her legend father. And she appeared every bit as humble as her father would later that night, too. "Thanks for being so kind to us, Chicago!" When one fan screamed, "LILLY!" she cupped her ear, smiled and murmured, "Sorry, I didn't quite hear that."
'One Big Sky' was even more subtle, as the drummer employed brushes on the skins and Lilly crooned convincingly, about being seventeen.
With heartfelt persuasion, she employed great breadth on 'Safehouse,' a touching song about loneliness. "Safehouse, I treat it like a playground." As her vocals soared, she exhibited some fine gymnastics, exclaiming, "What a way to hide out."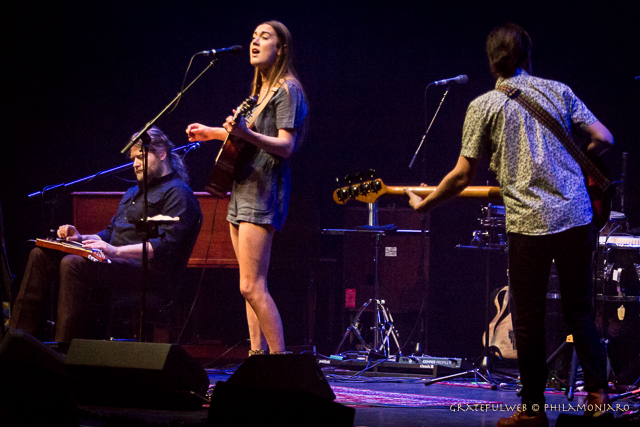 Klaus Luch echoed Lilly's sentiment on lap steel, another breathless feat. The response was clear. That was the audience favorite. In the olden days, it would have been an airways favorite. Nevertheless, in current times, a sure contemporary hit, with its lovely blend of pathos, innocence and hopefulness.
Each arrangement was tastefully executed, essentially light on percussion in all the right places, and where, often, Lilly took the lead with her forceful arranging acumen on acoustic guitar. She also moved well onstage, and interacted frequently with her band mates.
Later, she joined Steve Winwood for several songs in his set. Their voices blended delightfully, especially on 'Higher Ground'.  Lilly has already acquired the ability to be a team player, even on a stage with an undisputed legend. And to his credit, Steve Winwood, treated his daughter as the pro she already is.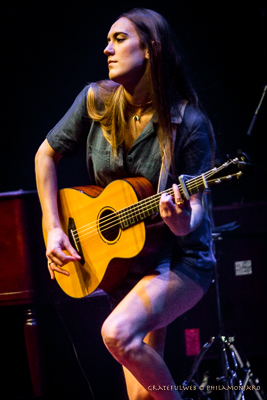 Audience members hooted and screamed, "I love you" several times. Lilly seemed happy about the adulation and offered a few tongue-in-cheek comments back, offering to meet fans after the set, "come get a photograph; a kiss on the cheek if you're lucky…"
With humor, grace and a stunning blues-country intensity, Lilly impressed. This rising star will have no trouble corralling the troops next time she hits Chi-town.