While the pandemic seemed to bring most of the world to a standstill, it was the catalyst to create a burst of positive energy and birth the larger than life "rock & roll for the soul" supergroup, Marble Eyes. Composed of nationally touring artists Eric Gould (Pink Talking Fish), Adrian Tramontano (Kung Fu), Mike Carter (The Indobox), and Max Chase (Amulus), the group proudly releases their first single "Tollbooth" via Color Red on August 26th as part of their debut record 'Return to The Roses' that will be available world-wide on October 21st.
Gould and Carter lived close to each other, but were always too busy to get together. With touring halted, they decided to get together and make some music. Carter invited keyboardist Max Chase to set up in Gould's driveway with social distancing measures in place. From the first notes, it was evident that this was no ordinary jam session. There was something very special about this collection of voices. Gould invited drummer Adrian Tramontano to the next session and he added his virtuosic color, taking each song to new heights. The energy of this lineup made it clear that Marble Eyes was here to stay. Cut from the same cloth as The Band and Traveling Wilburys with multiple singers and vocal harmonies, the songs that each musician brought to the table fit together perfectly. Over the course of the shutdown, the band penned over 50 songs together.
"Tollbooth" is an exemplary debut track that encapsulates the group's chemistry and has an epic instrumental feel, similar to the spirit of U2 and The Verve. Composed by Gould, the lyrics speak to recognizing the challenges in life and facing them head-on while also understanding that, while in the fight, there will be ramifications. Carter's guitar style creates a colossal sound with his textural tones and vibrant leads. Tramotaono's powerhouse drumming forges a gargantuan atmosphere when the tension rises. Chase creates a spiritual feel in the verses with his rhodes lines and adds to the power of the chorus with thick organ chords. Gould keeps a strong pulse on bass throughout and sings with all his heart.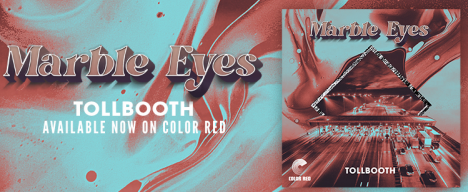 "I'm inspired by many different styles of music and have written songs in many genres throughout my career. The music that moves me most is the style of Rock & Roll that makes your body tingle with emotion, both instrumentally and lyrically. I wasn't trying to accomplish this when creating "Tollbooth" but once it was completed, it fit that dynamic and I couldn't be more pleased. This song set me on a major writing kick and the inspiration is still strong. I feel like it was the catalyst of a new chapter in my musical creations," explains Gould.
Over the course of Fall / Winter 2020, the band played a handful of socially distanced concerts and was able to share the inspiration and energy of this music. In 2021, Marble Eyes performed a live stream concert series every other week that introduced their music to people all over the world. The release of "Tollbooth" and the upcoming album 'Return to the Roses' captures a very unique and special moment in time that will never be forgotten.
To support the release of 'Return to the Roses,' Marble Eyes will play a string of shows through the northeast and mid-atlantic regions, spanning across 9 states. The tour includes 2 festivals along with headlining events. There are 2 official album release shows happening - October 21st, the actual release date, in the band's hometown region of Seacoast NH and October 27th in New York City.
MARBLE EYES TOUR DATES:
Aug 27: Port Chester NY - Garcia's at The Capitol Theatre
Sept 4: Portsmouth NH - The River House Restaurant Concert Series at Prescott Park
Sept 5: Lake George NY - Adirondack Independence Music Festival
Sept 10: Burlington VT - Nectar's
Oct 21: Newmarket NH - The Stone Church Music Club
Oct 27: Brooklyn NY - Brooklyn Bowl w/s/g Dogs In A Pile
Oct 28: Hartford CT - Arch Street Tavern
Nov 19: Pembroke MA - Soundcheck Studios w/s/g Arukah
Nov 20: Bridgeport CT - TBA
Dec 3: Wayne PA - 118 North
Dec 4: Roanoke VA - 5 Points Music Sanctuary
Dec 5: Washington DC - Pearl Street Warehouse (FREE SHOW!)
Dec 9: Portland ME - Portland House Of Music and Events