Moe., the crafty, veteran improv-jamming five-piece out of upstate New York, completed a four-day residency at Phil Lesh's Terrapin Crossroads on July 1 with a fine show in the venue's Beach Park. Phil Lesh & the Terrapin Family Band closed out the show, and then they all joined together for a three-song finale that turned it into a five ½-hour event.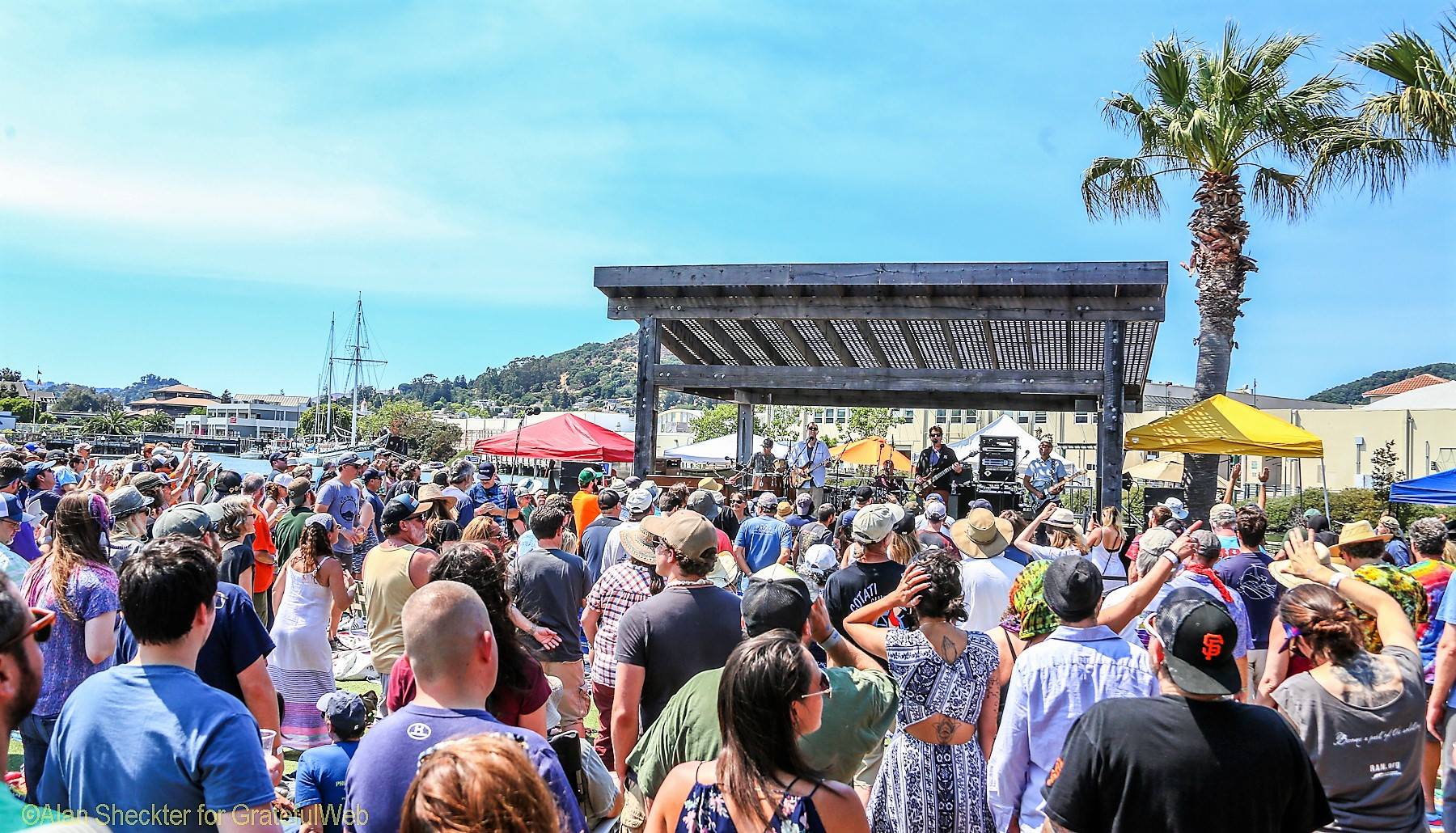 For the first three nights moe. played in the venue's Grate Room, with Terrapin Crossroads proprietor and legendary Grateful Dead bass player Phil Lesh playing in the band. That ensemble performed nightly a set of Grateful Dead songs followed by a moe.-songs set. On this final day of the series of shows, a lovely afternoon/early evening with temperatures in the low 70s, moe. began, greeting the sold-out assemblage who had gathered in the intimate park with ground blankets and lawn chairs, with an extended two-hour set.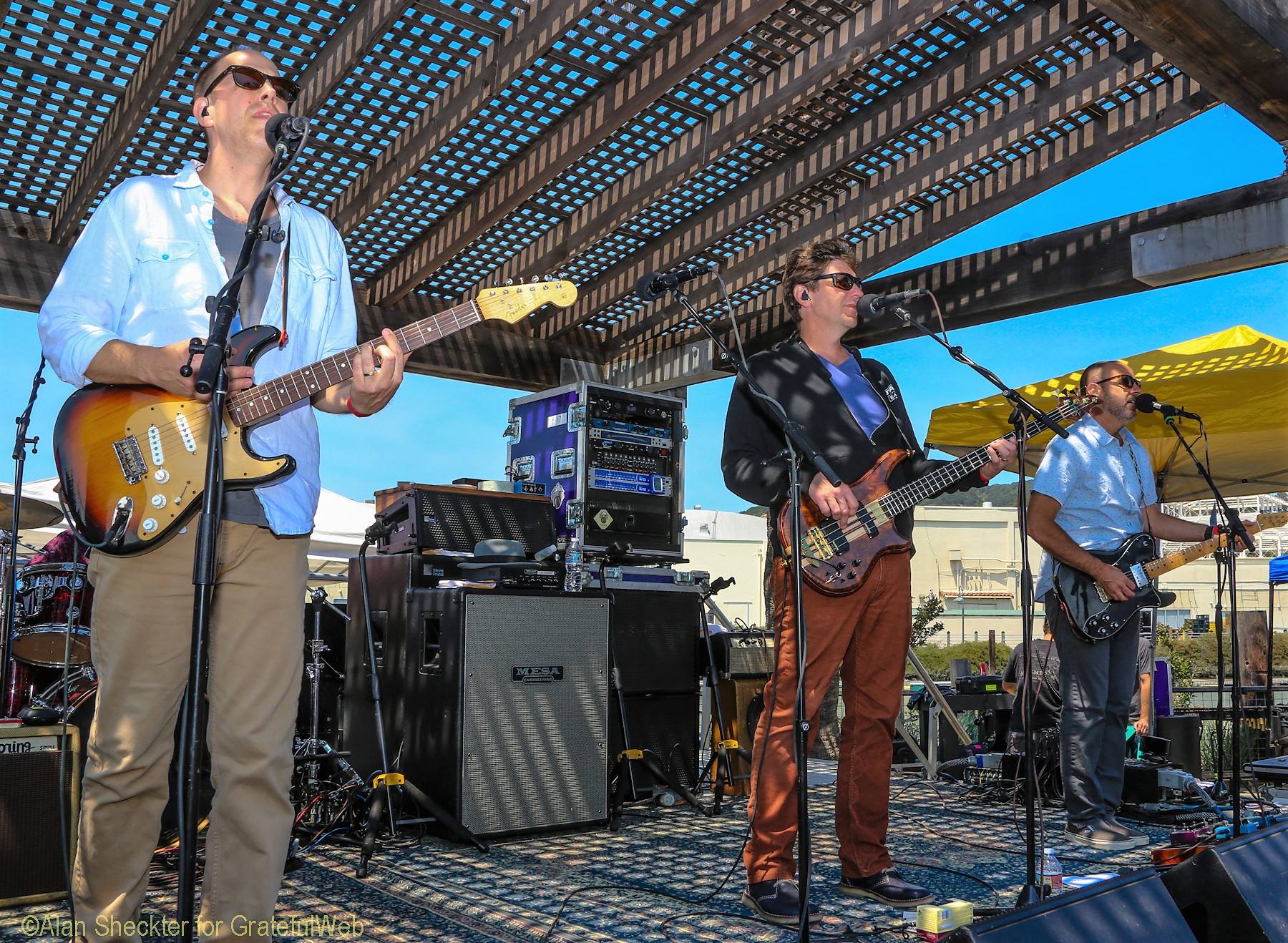 The band, whose lineup has remained stable for almost 20 years, delivered a bevy of classic moe. tunes, on the sun-splashed crowd, brilliantly blending improvisational layers and textures of smart rock 'n' jams consisted of 11 pieces of music, all of which were spirited and impressive.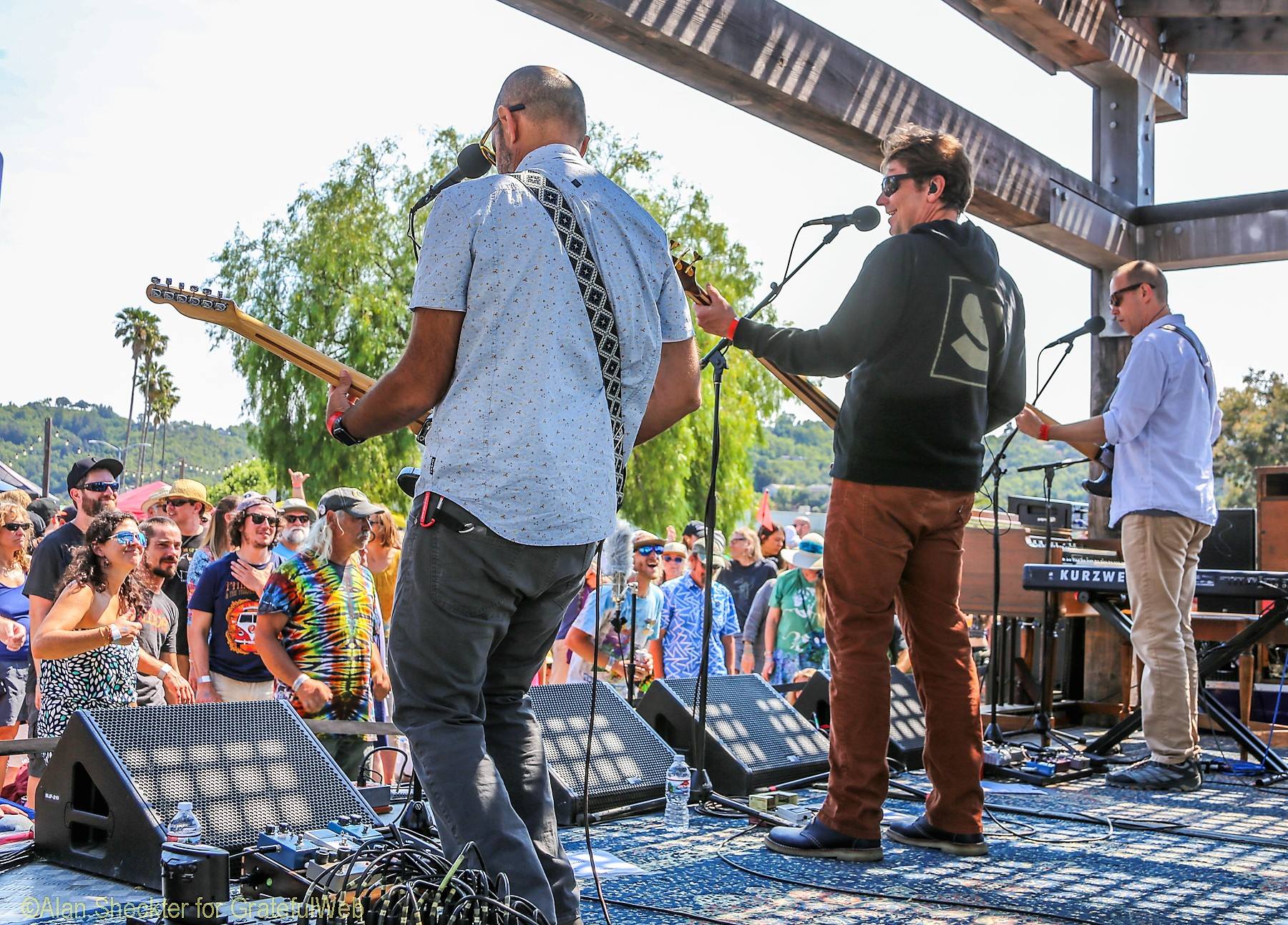 Based in upstate New York, moe.'s 25-plus year reign of music proliferation rarely takes them out to California, and Marin County fans were lucky that four of the band's eight California shows on their current tour were in one place, Terrapin Crossroads. The venue, featuring seven-days -a-week of Phil Lesh and/or several purveyors of Grateful Dead music, psychedelic rock music, or other genres, has become a frequent magnet for locals and must-see music destination club for those traveling to the Bay Area.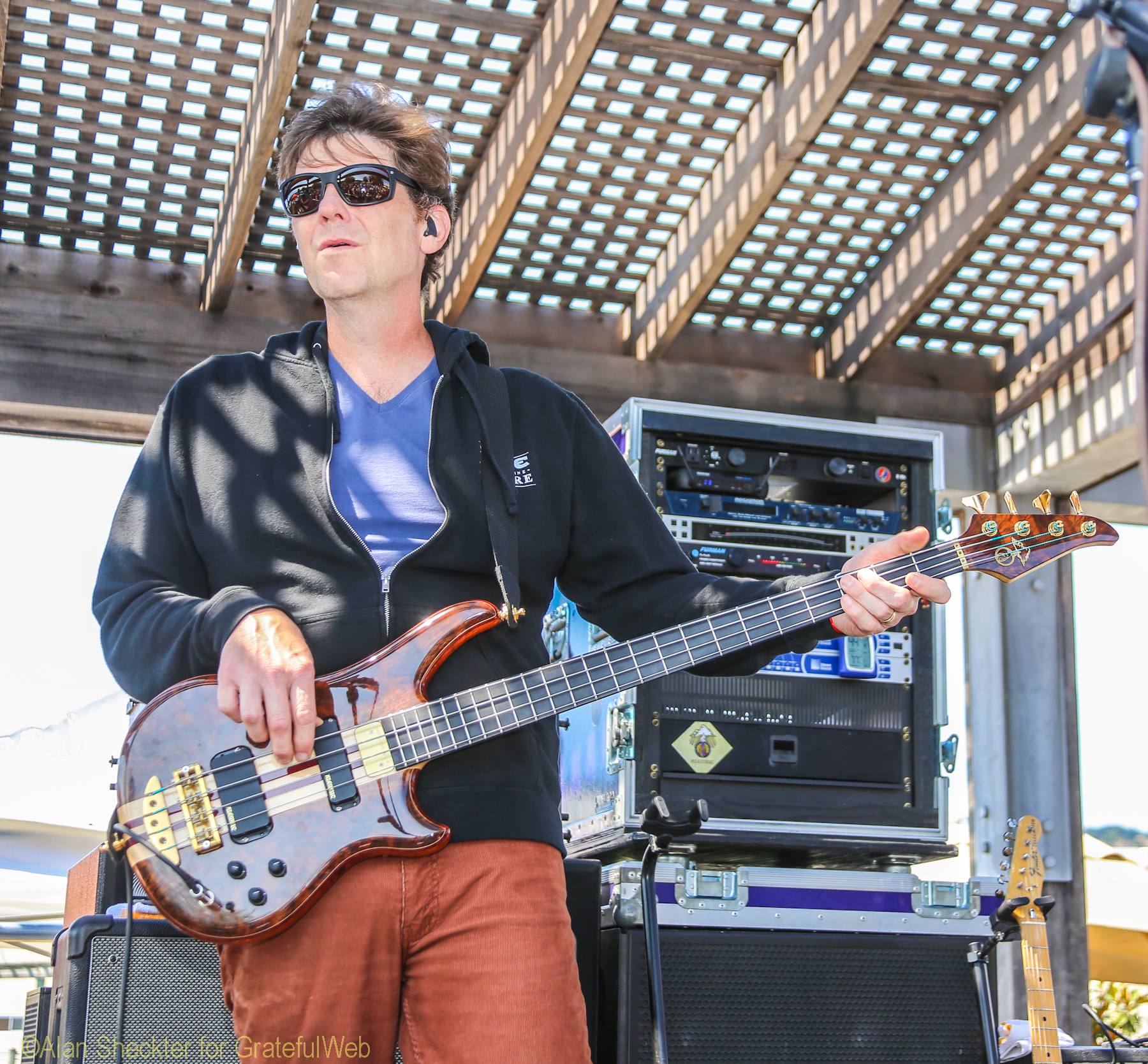 Moe. bass player/vocalist Rob Derhak voiced his approval of the venue, comparing it to "one of the places we played while coming up in New York called The Wetlands."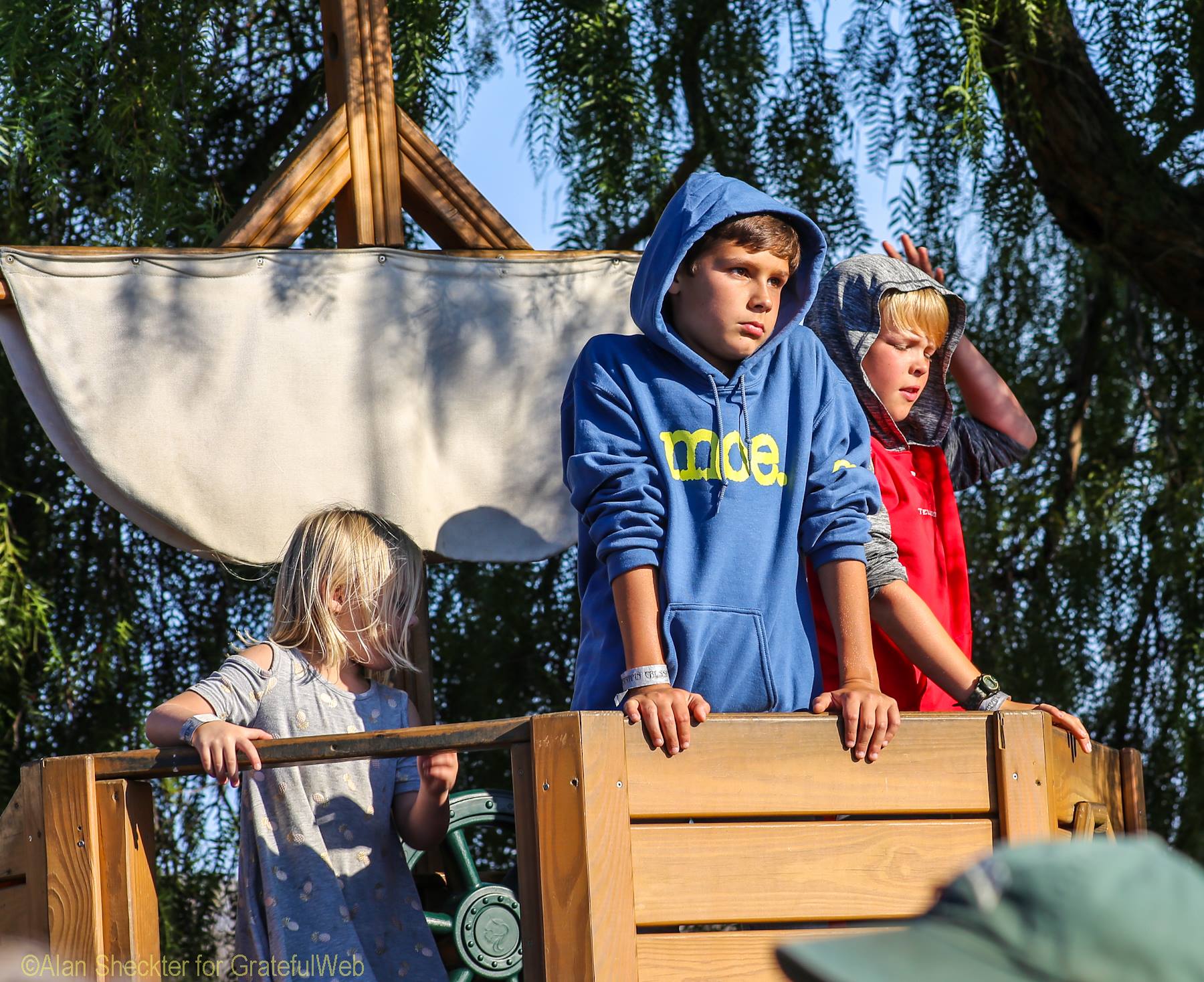 "It was a magical place," Derhak said. "I think it was the only other place I've ever been in that really; I don't know, there was something about it. This is a lot nicer than The Wetlands was, but it really captures the spirit of the place. It just reminds me of those days. I'm pretty glad The Wetlands did not have an outdoor venue. I don't know what that would've been like in that neighborhood. There would've been way too many rats."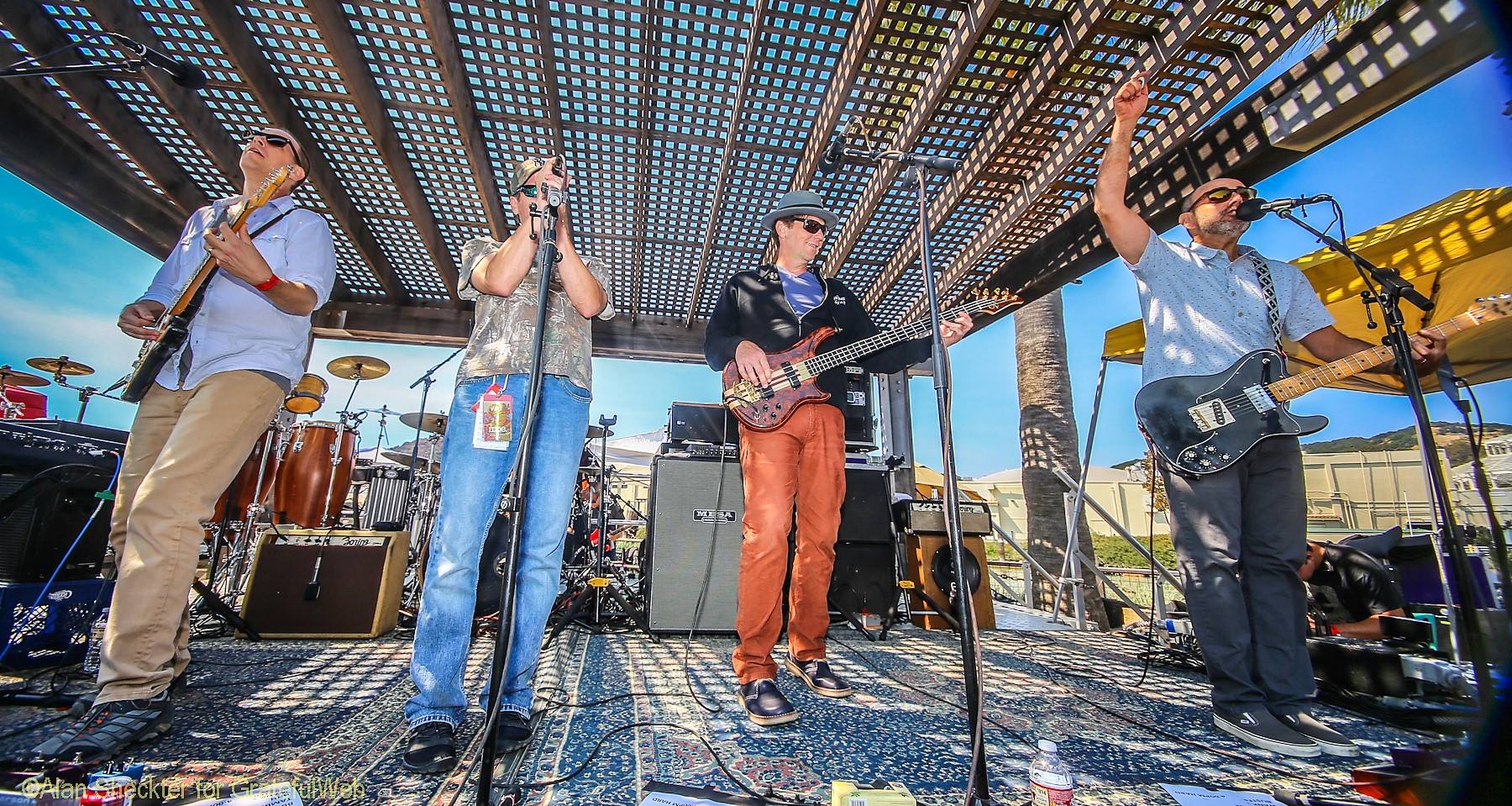 Opening with "Seat of my Pants," moe. established the tone and pace for the epic set, with Al Schnier and Chuck Garvey firing on all cylinders on guitars and vocals. In between those two stood Derhak, powerfully plucking on the bass (and also providing vocal passages throughout the set). Jim Loughlin improvised and on percussion and vibes, and Vinnie Amico maintained a consistent drum attack all set-long. The energized performance seamlessly moved on with hints of funk, jazz, and flamenco intertwined along the way. Variety was also a theme, as only "Downward Facing Dog," was a repeat from any of the three previous nights. For the encore, Loughlin appeared front and center, leading moe. – and the crowd – in a fierce version of Led Zeppelin's "Immigrant Song."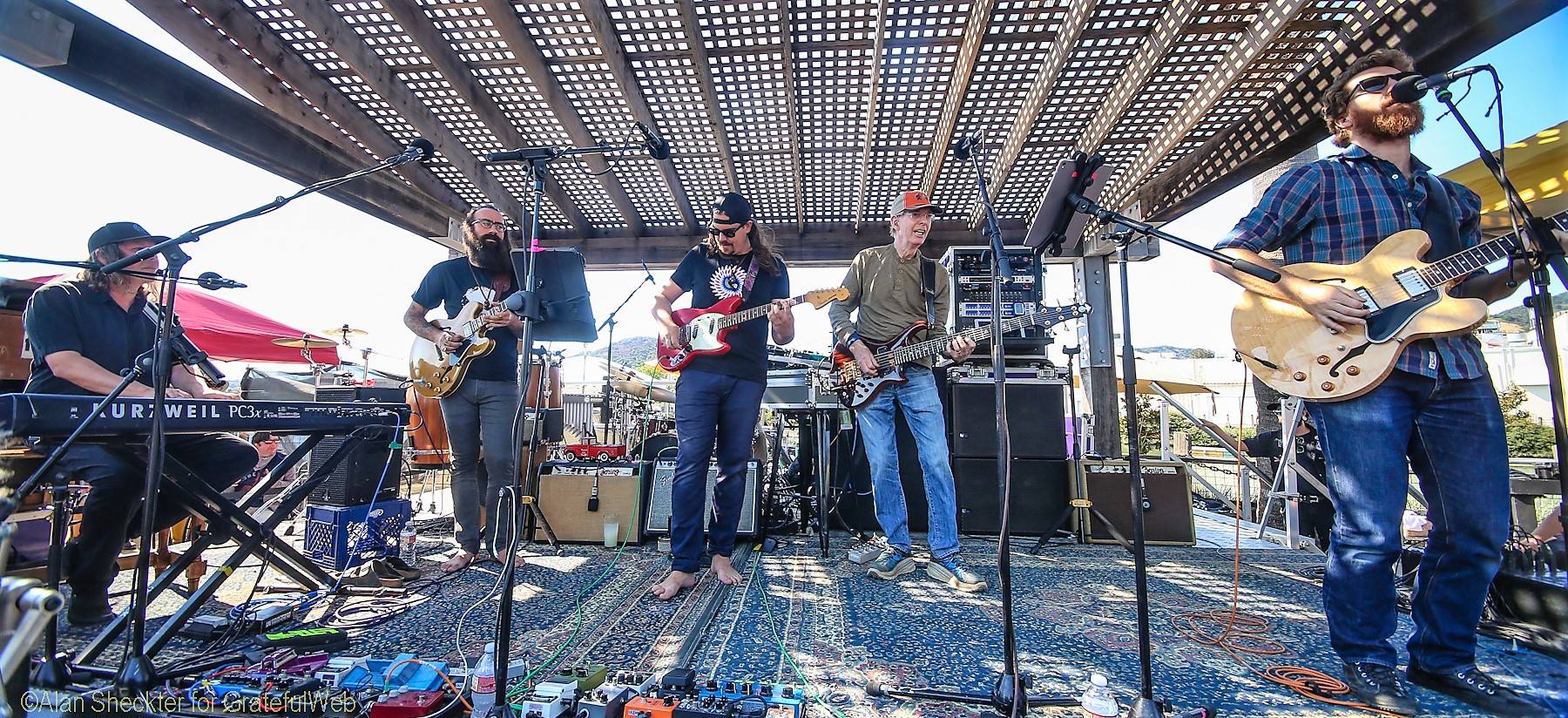 Soon after, Phil Lesh and the Terrapin Family Band appeared onstage for a big set of Grateful music as fine and genuine as the Dead & Company group that was on this very day passing in close proximity, between shows in Eugene, Ore., and Mountain View, Calif. Referring to a collection of musicians who've plied their craft and matured together at Terrapin Crossroads since it opened six years ago, the Terrapin Family Band included three ace guitarists: the uniquely awe-inspiring, old-music-soul-in-a-young body Ross James who also co-leads the Cosmic Twang band; dynamic singer/songwriter/player Grahame Lesh, son of Phil who has long since proven his talent independently, apart from his dad, as co-front person of the now national-touring band, Midnight North; and Alex Koford, a young phenom who for this show was out from behind his familiar seat at the drumkit, to deliver fine content on guitar and vocals. Midnight North's drummer, Nathan Graham, played drums and will reportedly hold down that role with the Terrapin Family Band moving forward. National in-demand session and live performance player Jason Crosby, another Terrapin Crossroads MVP, assumed keyboard duties.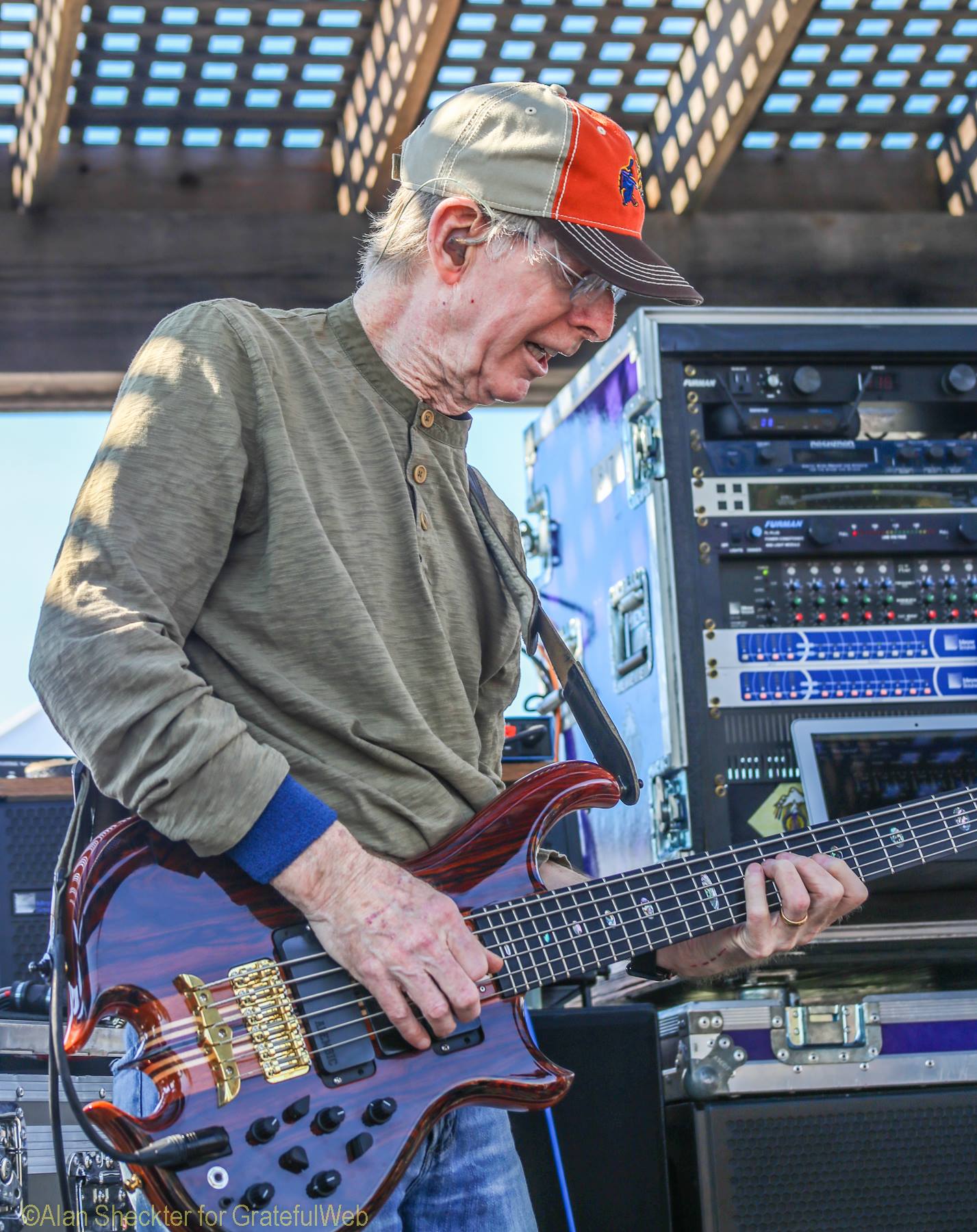 At 78, Lesh continues to be visibly enjoying himself onstage while maintaining his power, skill, and grace on the bass. Amazing in material covered, cohesiveness, and in powerful quality of sound that have become synonymous with Terrapin Crossroads, the band came out and immediately dazzled the crowd with a gorgeous "Dear Mr. Fantasy," followed by "Mississippi Half-Step," and a feverish "Bertha." The set also included an epic rendering of "Alligator"; "Wharf Rat," on which Koford delivered perfect lead vocals; and a peppy "Bertha," which had everyone in the audience two-stepping about. The set ended with a super-strong sequence of "Cumberland Blues," an over-the-top dandy with three guitarists; "Liberty," and "New Speedway Boogie." At this point, that show had already clocked in at well over four hours. And yet, there was a little more to come.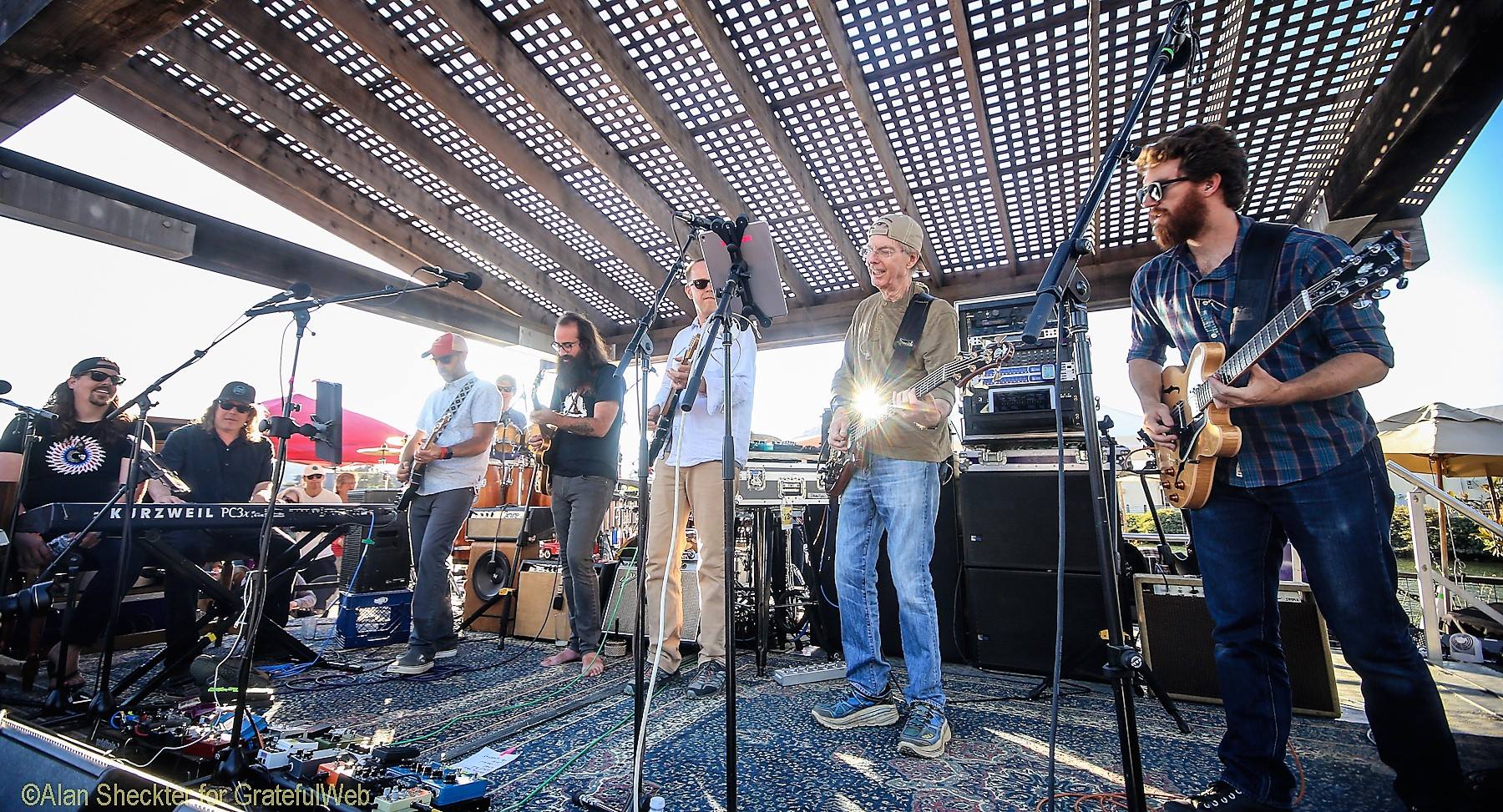 Soon, led by Phil, all the members of moe. and all the Terrapin Family Band, 11 players in total, climbed back onto the stage for a three-song finale. Now, with guitar work from Schnier, Garvey, James, and Grahame Lesh, Koford joining Crosby on the keyboards, and Derhak playing percussion while leaving the bass work to Phil, the super band delivered a sweet version of Neil Young's "Down By the River," followed by Jerry Garcia's "Deal," and The Band's "The Weight." Hugs and handshakes all around!
moe.: Seat of My Pants > Sensory Deprivation Bank, Defrost. Akimbo, Moth, Brent Black, Tambourine, Happy Hour Hero, Downward Facing Dog, Jazz Wank, Buster, Encore: Immigrant Song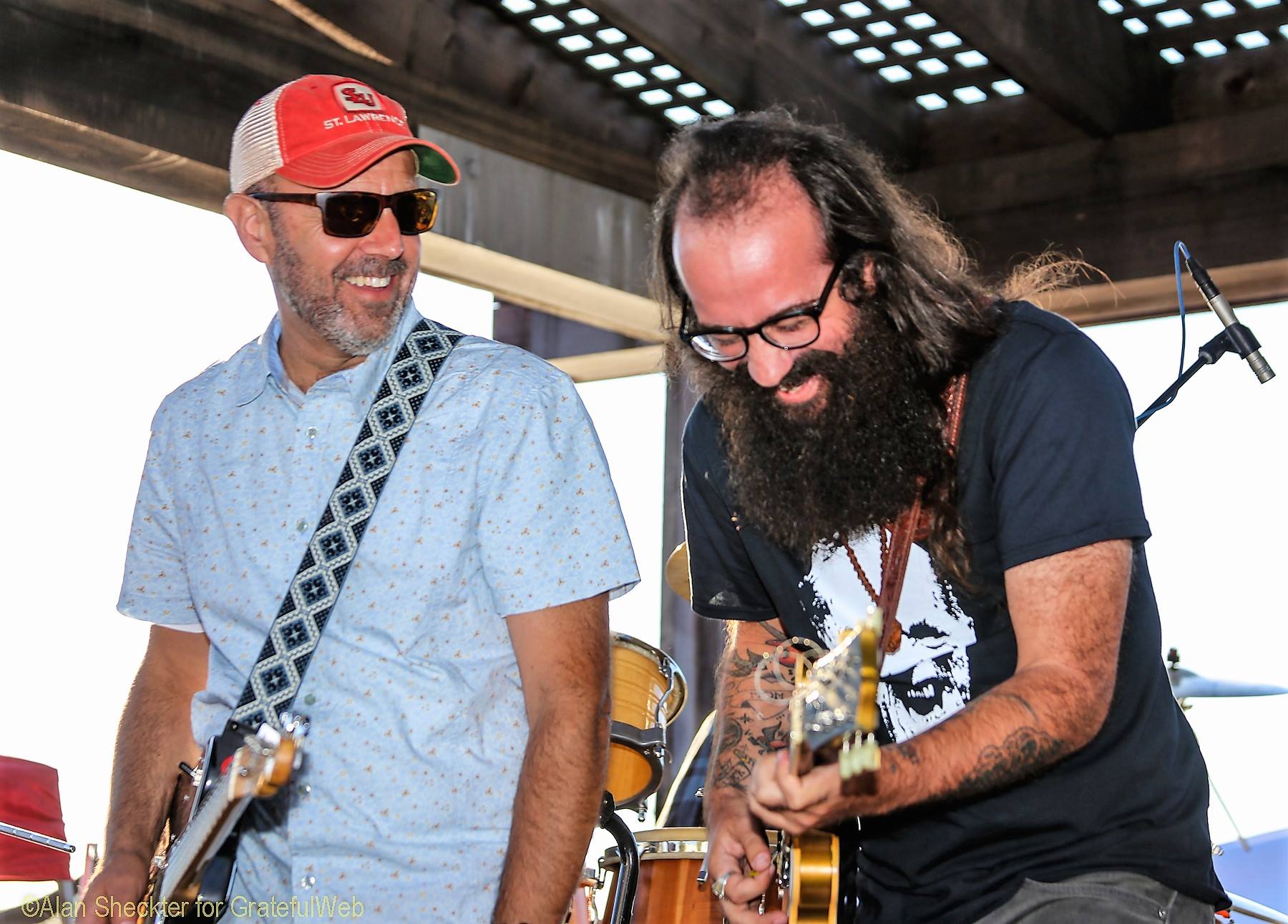 Phil Lesh & the Terrapin Family Band: Dear Mr. Fantasy Mississippi Half-Step Uptown Toodeloo, Bertha, West L.A. Fadeaway, Jack Straw, Alligator, Wharf Rat, The Wheel, Cumberland Blues, Liberty, New Speedway Boogie
Finale with both bands: Down by the River, Deal, The Weight