I just returned from a Musical Sojourn in Porto, Portugal, a weeklong musical experience featuring ALO's Dan "Lebo" Lebowitz, Natalie Cressman and Jennifer Hartswick (Trey Anastasio Band and multiple other projects), Nikki Bluhm, members of Greensky Bluegrass, Fruition and Railroad Earth, and many other artists from the extended jam and bluegrass world. This was a unique and intimate event with six days and nights of musical tourism in one of Europe's most beautiful cities. (The entire musician list is at the end of this article.)
The Musical Sojourn in Porto was produced by Matt Butler (Jambay, Everyone Orchestra). "We're trying to facilitate a musical community with a living room feel," he told me a few weeks before the journey began." This event is all backstage."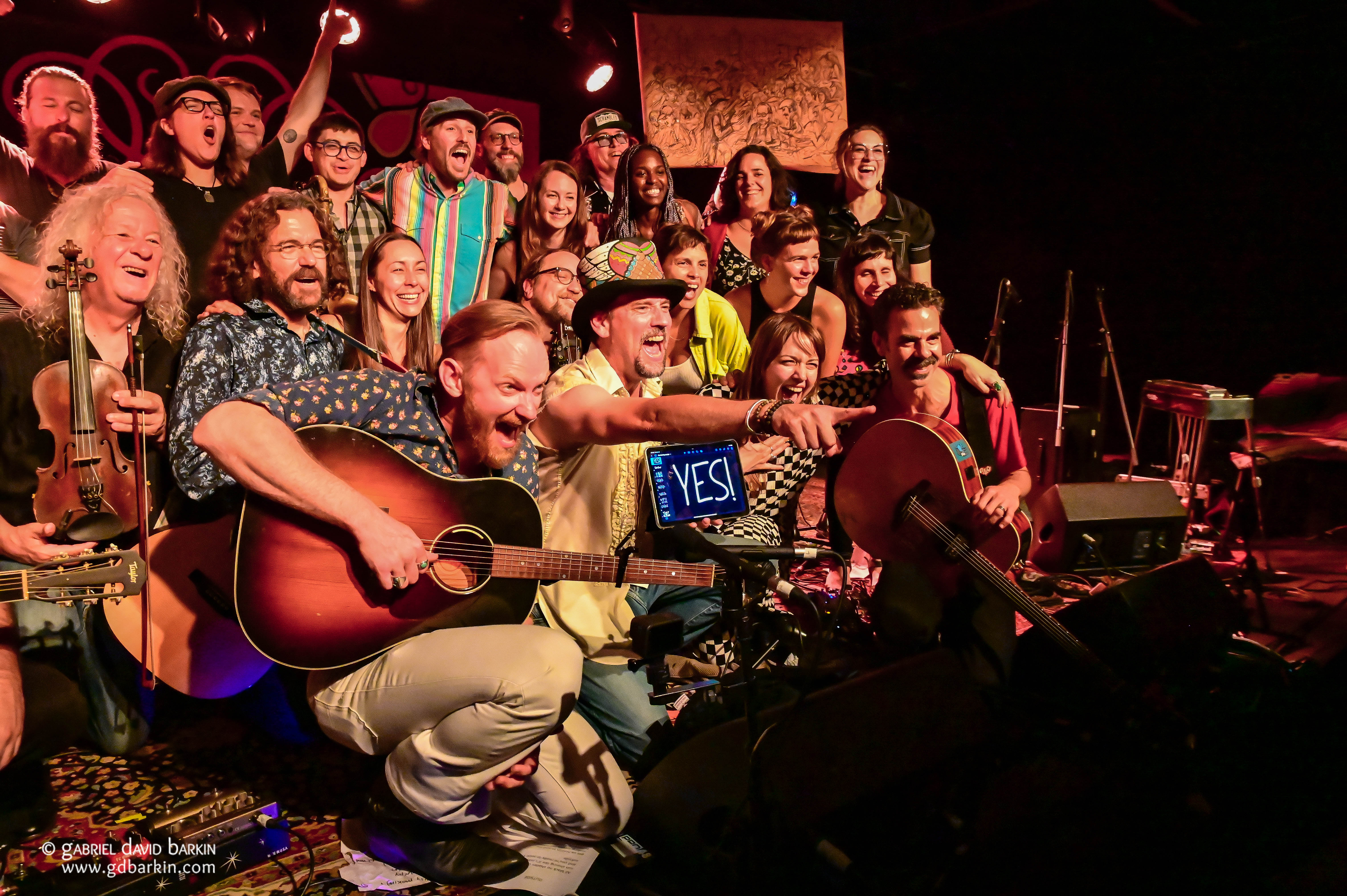 All the attendees and musicians stayed in two hotels in Porto, with Hotel Mouco serving as home base and also as the venue for some of the events. (The hotel has a performance hall that rivals many small clubs for acoustics and ambiance.) Other performances were held at charming local venues. Musicians from Portugal were also featured throughout the week, including jazz, a cappella, and Portuguese traditional Fado music artists. Performers and guests mingled and soaked up the local atmosphere, making new friends across the Atlantic.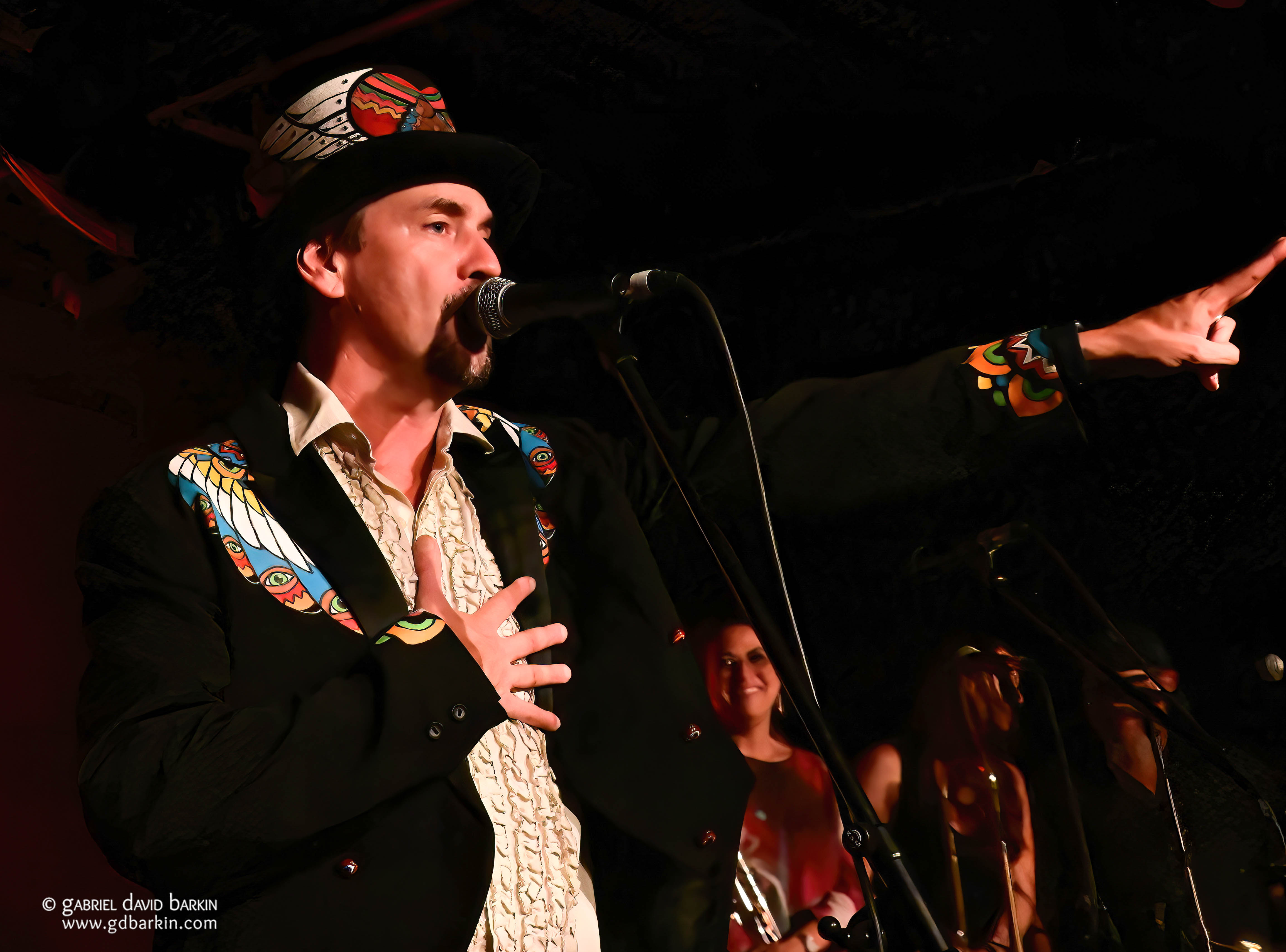 Matt Butler founded Everyone Orchestra (EO) in 2001. EO is an ongoing improvisational musical project that features a constantly revolving roster of musicians. Butler typically brings together instrumentalists from the jam, bluegrass and improv scene, many of whom have never played together. He then "conducts" live, unique experiences via musical cues, often written extemporaneously on a handheld whiteboard (or two, or three). Those cues might be as simple and open to interpretation as "Dots" or "Unison." Often the audience is asked to chime in with a "Yes!" or a "Hey!"
In many ways, the Sojourn is an expanded EO experience. Butler told me he hoped the event would "facilitate a unique connection with the musicians. They're all beloved EO people. I'm excited to provide a super meaningful experience."
And now, on with the show.
DAY 1
Monday, October 9
We were greeted with laminated lanyard passes and wine tasting at the hotel, followed by a sumptuous buffet dinner in the hotel bar and courtyard.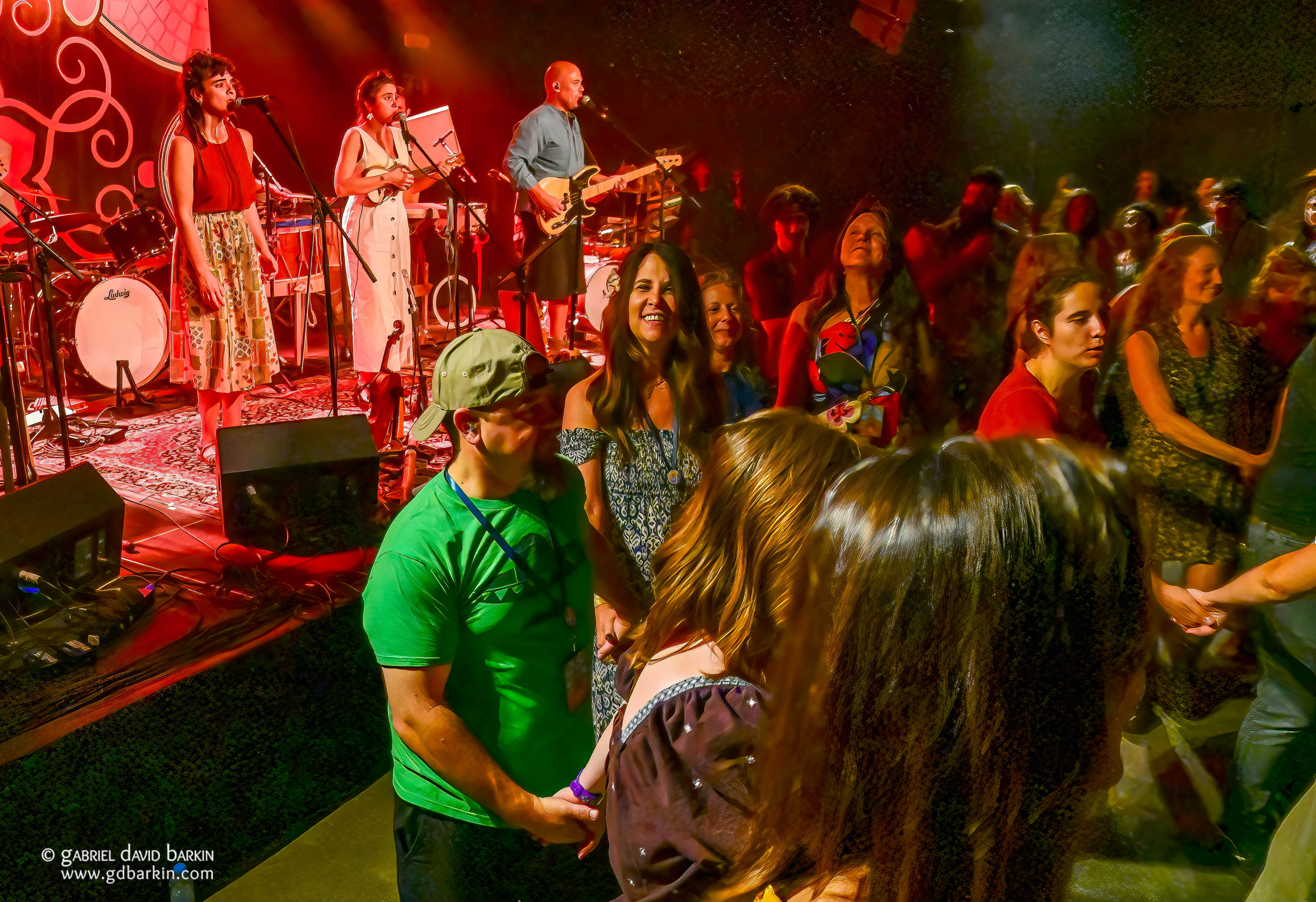 ACT I
Our first musical treat was a local band, Retimbrar. Driven by Portuguese percussion and rhythms, the eight-piece ensemble got the crowd moving with their interpretations of traditional songs and original tunes. We danced in spiraling circles to "Vai de Centro ao Centro," a traditional Portuguese folk song. Another audience participation number, a traditional line dance sort of thing, was more like a drunken wedding reception line dance (and became more so each time the band sped up the pace) -- which may or may not have been the point.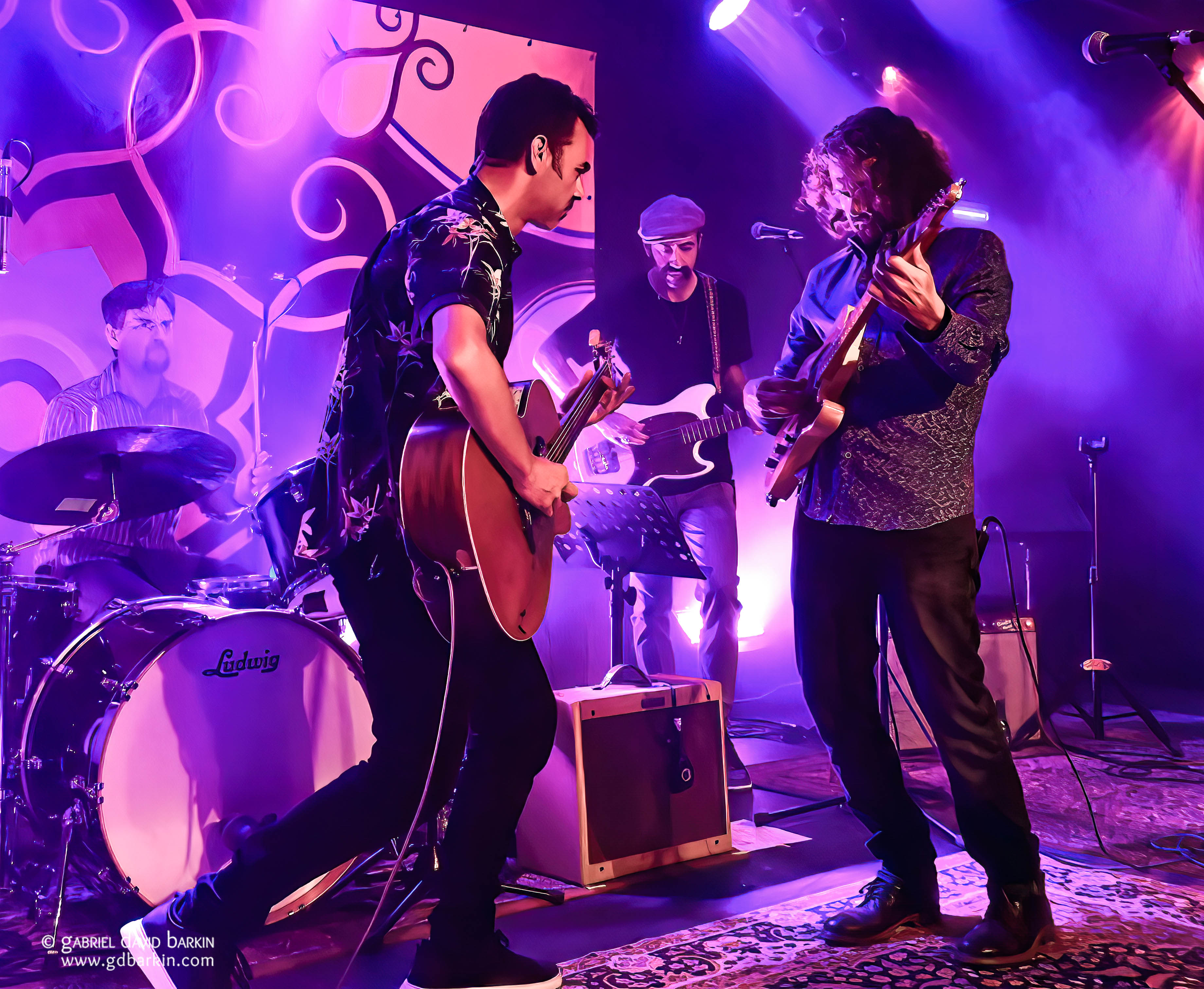 After a short break, The Eights (Lebo, Scott Law, Ross James, Holly Bowling, Matt Butler, and Nikki Bluhm) delivered an ass-kicking set of jammy rock and blues. I asked Lebo why they called this band "The Eights" when there were only six people on stage, and he hinted that it was a secret. Holly Bowling made a lip-zipping motion when I asked her about it. (I sorta know the answer now, but I'll keep quiet.)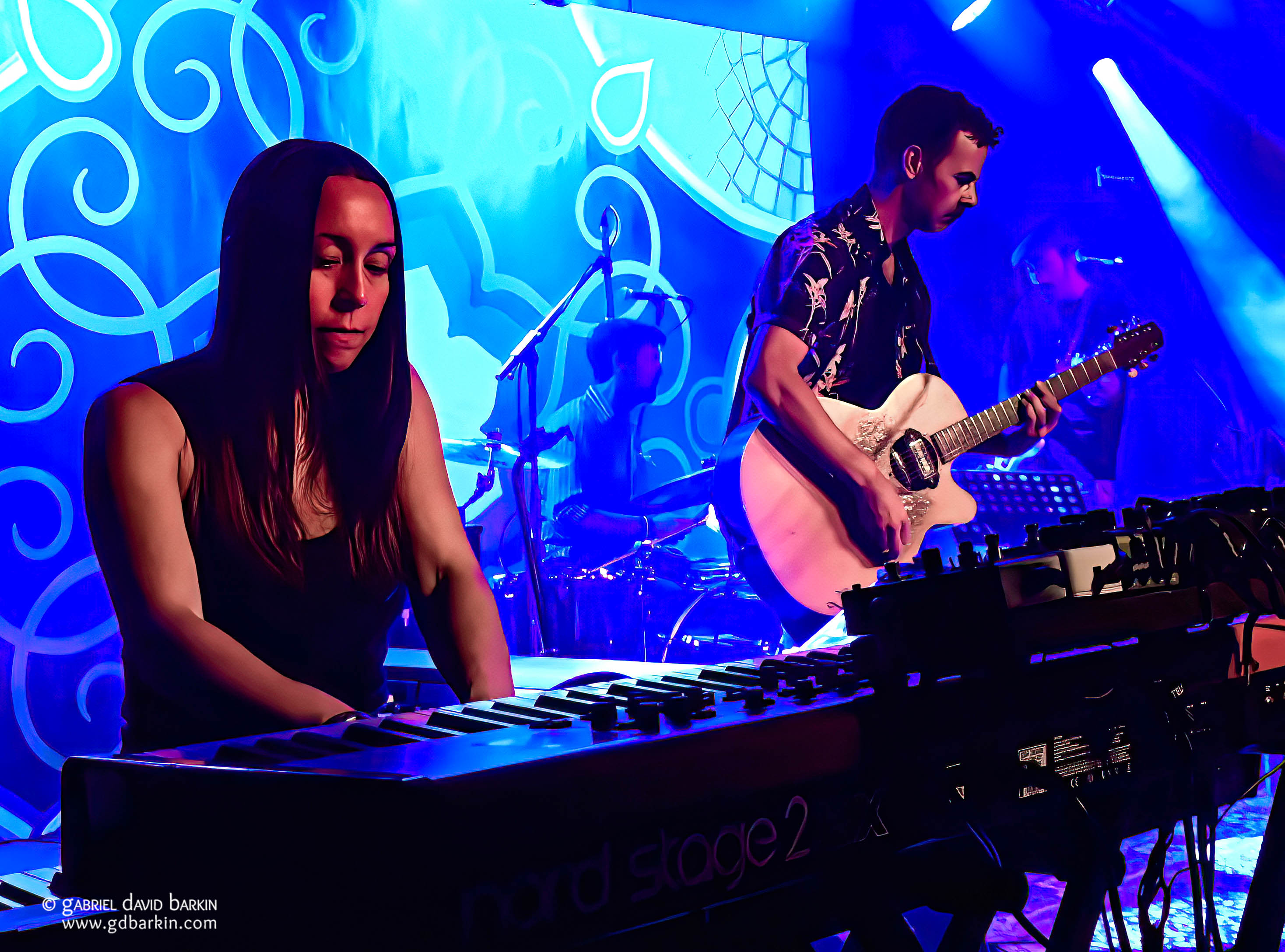 The sextet hit the ground running with covers of "Get it While You Can" and "Tore Up Over You." Next, Bluhm tore up her own vocals on her hit "Little Too Late." Later in the set, Mimi Naja added some vocals. Natalie Cressman and Jennifer Hartswick also jumped onstage with their trombone and trumpet in hand, joined by Los Lobos's Steve Berlin on baritone sax to add an arsenal of horns. (Berlin was a late addition after the untimely death last month of James Casey.)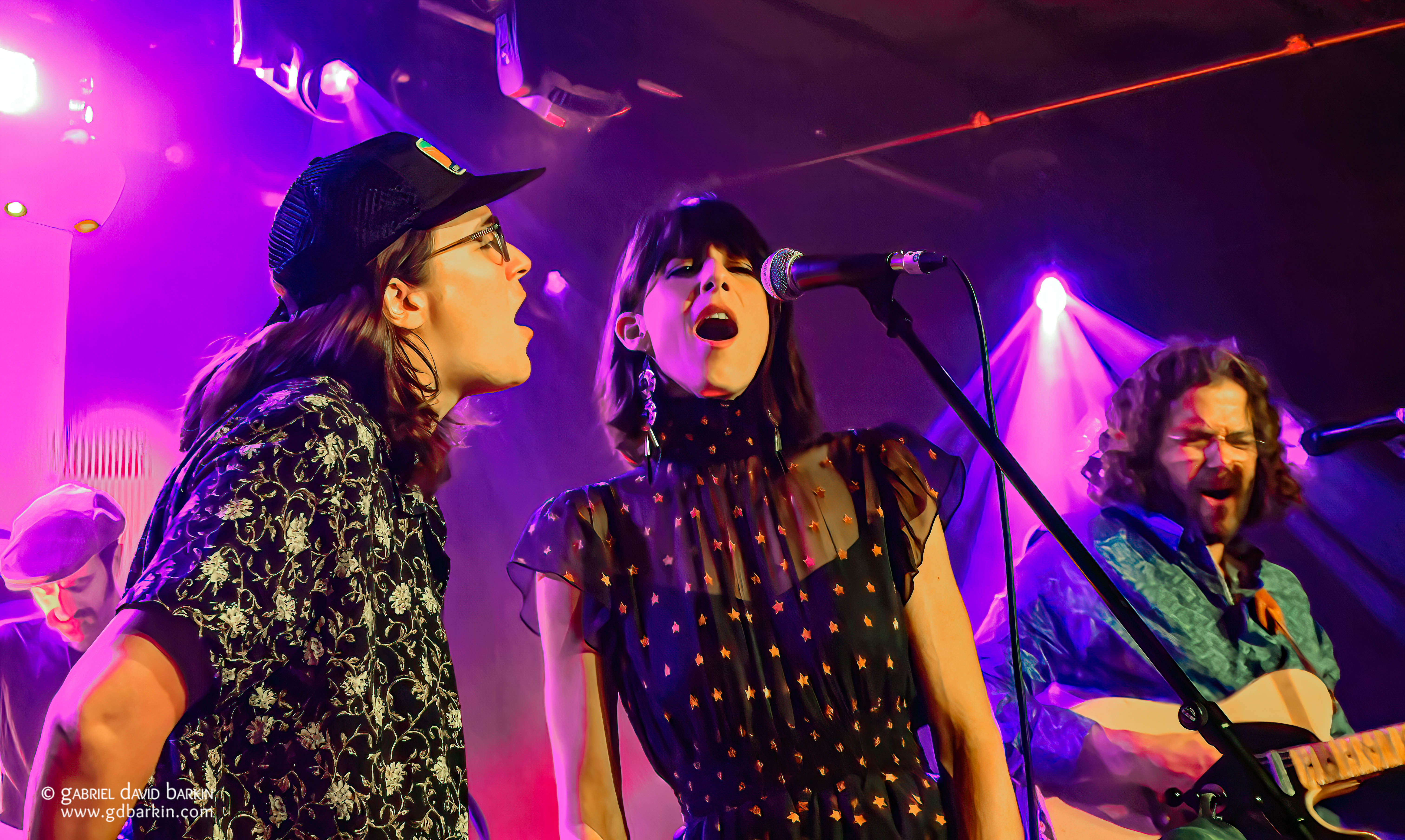 The clock was running late after an extended "Don't Let Go" (with "Dark Star" interlude), so The Eights wrapped it up quick to make room for an all-too-short Everyone Orchestra set. This version of EO featured everyone from the Eights' set, and Kellen Asebroek played as well. Drummer Tikyra Jackson (Southern Avenue) joined on the skins so Butler could move up front. He led the fray in his trademark conductor's jacket, of course. Two extended improv pieces gave everyone a chance to shine.
DAY 2
Tuesday, October 10
ACT I
It's been unusually warm and wonderful weather for a Porto October.  A mild breeze helped to cool the sunshine for a morning "Bom Dia Musica" session in the Hotel Mouco courtyard with Scott Law, Tikyra Jackson, Kellen Asebroek, and Ross James.
Asebroek kicked it off with a few solo acoustic tunes. Then he brought out the others. "We didn't work up a set list for this morning. We'll just see where the spirit guides us. That usually works out."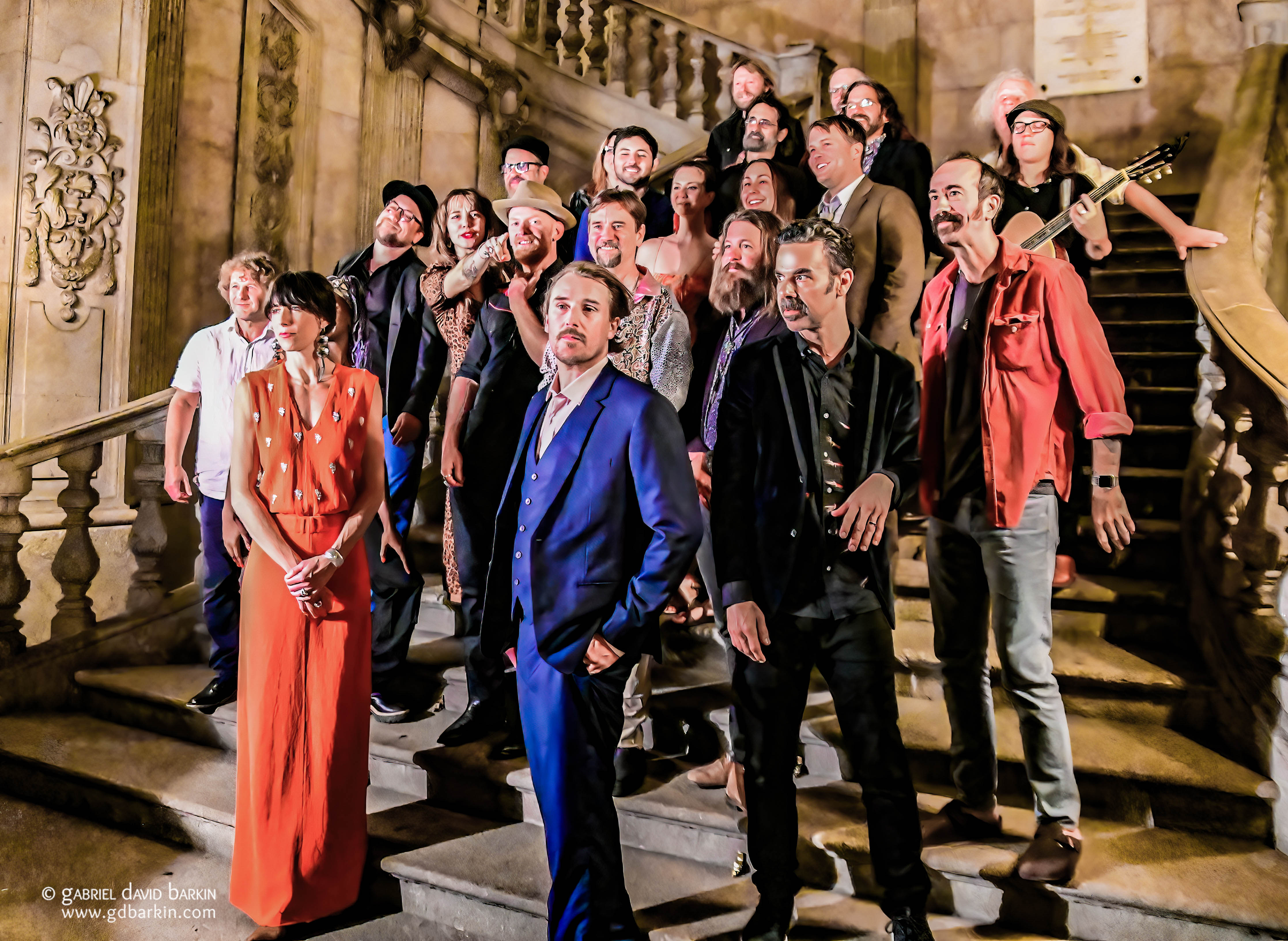 After drumming for a few of Aesbroek's songs, Jackson put down her sticks to pick up an acoustic guitar and we got to hear her as-yet unreleased song "Sweet Child." She told us, "This is my first time meeting a lot of these musicians and I feel like I know them already."
Matt Butler was happy. "To see a performance like this just evolve over 18 hours is a real treat. it's all an experiment, but so far, the experiment is working out."
ACT II
The Tribunal da Relãçao do Porto is the federal courthouse in downtown Porto. It's a stately building on a hill above the main tourist area. We were advised to leave any "contraband" at home.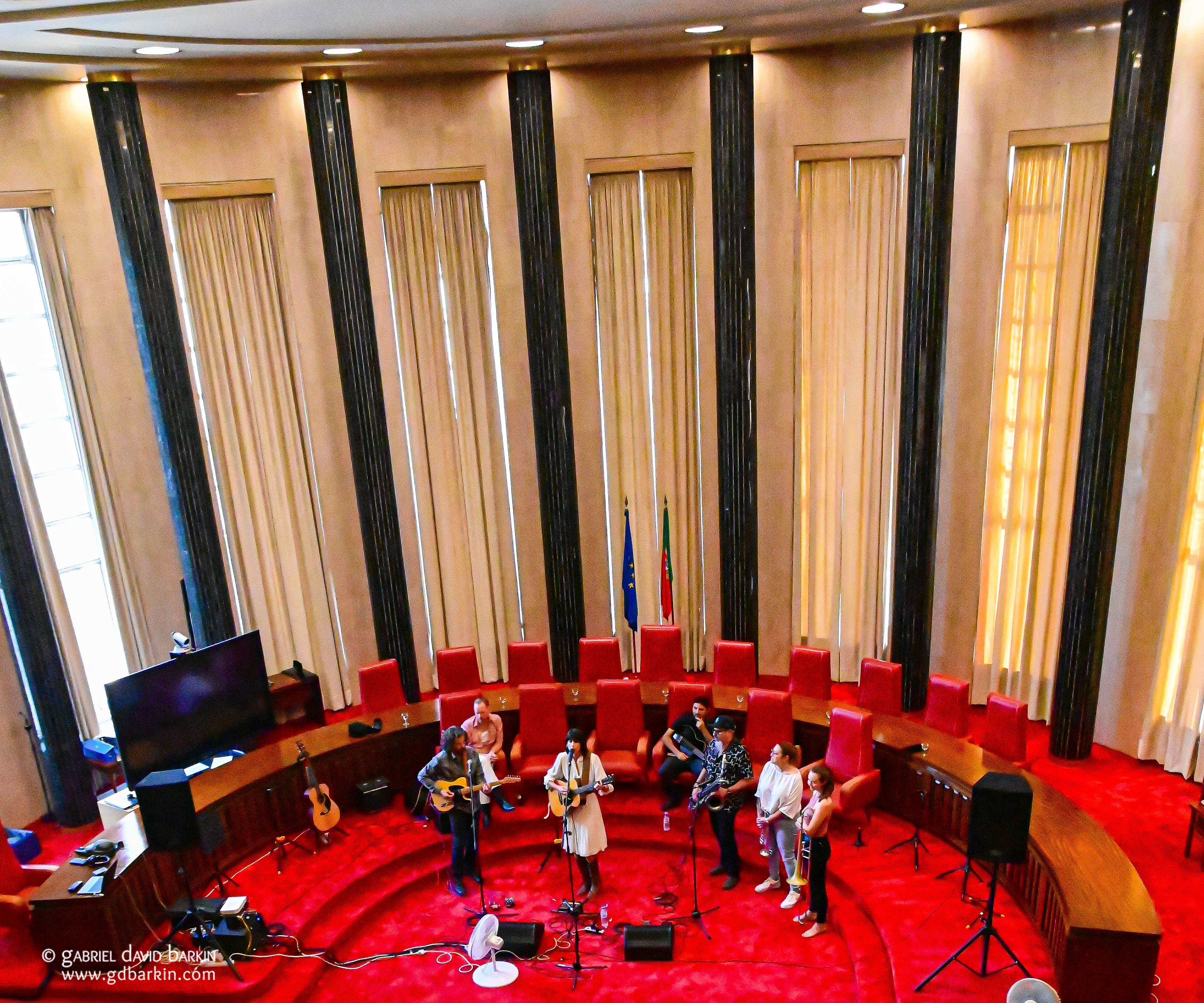 The venue for the afternoon "Songwriters on Trial" session was a voluminous courtroom with 40-foot-tall windows and murals of Portuguese history (kings, courtiers, that sort of thing.) One of the people on Butler's team said his great grandfather had painted the mural! An appellate court judge introduced the event.
Several songwriters took a turn on the witness stand. The other musicians sat behind each performer in a semicircle of high-backed red leather chairs like an agreeable and attentive Portuguese politburo.
Nikki Bluhm was the first to testify, with Scott Law backing her on a Telecaster guitar. She sang one cover, Sippie Wallace's "Women Be Wise," and also a new breakup tune of her own,
"Leaving Me." She said she was nervous in the great hall of justice, but her voice rang true. Jay Cobb Anderson and Megan Letts followed.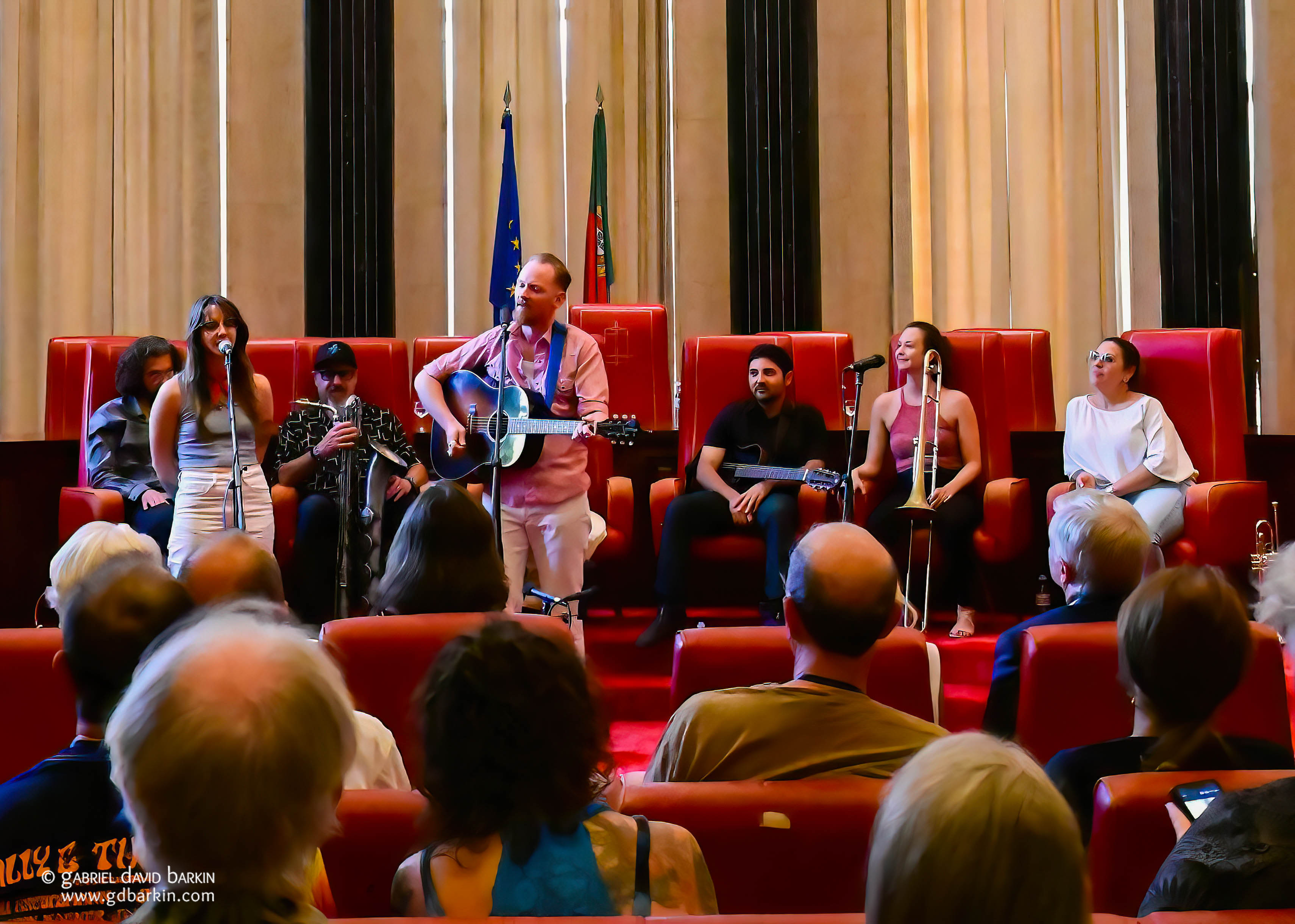 Other witnesses, I mean performers, included Jennifer Hartswick, Natalie Cressman and Ian Faquini. Hartswick teased the crowd regarding their complicity: "I feel like you're all in your best behavior now. But I saw you last night!" She sang the aptly titled "Innocent," a thank you to the lands that she grew up on. "I see you winking in the trees, watching over me and mine."
Fiancés Cressman and Faquini said it was the first time they'd ever played as a duo standing up. (Then someone got Faquini a chair.) They sang a sweet song about the time they met followed by the first song they ever wrote together, a soulful jazz number "Setting Rays Days of Summer."
All were found guilty … of talent and creativity!
ACT III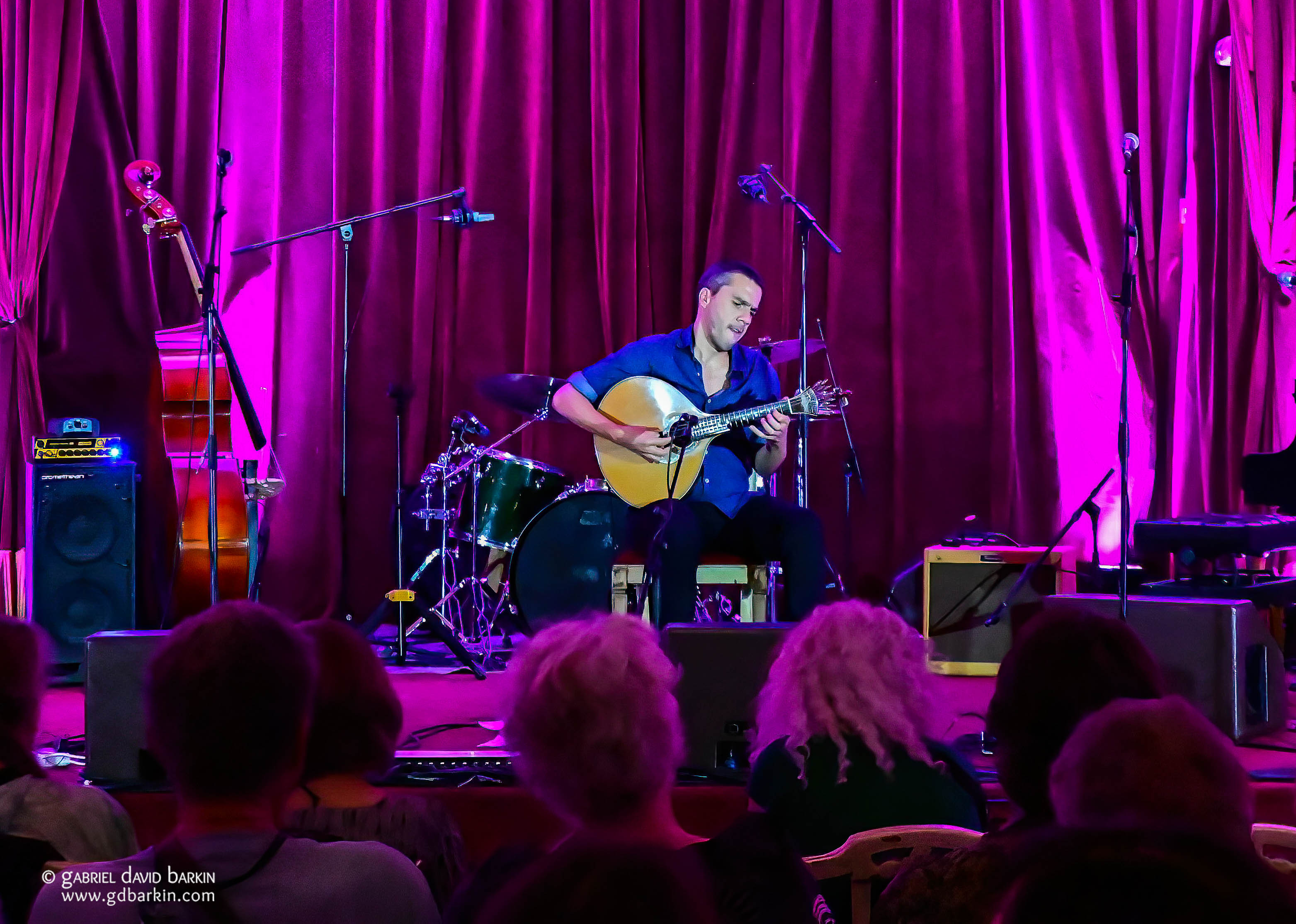 In the evening, we gathered at Ateneu Comercial do Porto, a theater built by a private cultural association in 1885. Tall mirrors lined the walls of the ornate performance hall.   
Bernardo Couto played a set of traditional Portuguese fado music on guitarra portuguesa. His virtuosity and skill were enhanced by Holly Bowling's accompaniment on grand piano for two pieces that resonated with transcendent sublimity.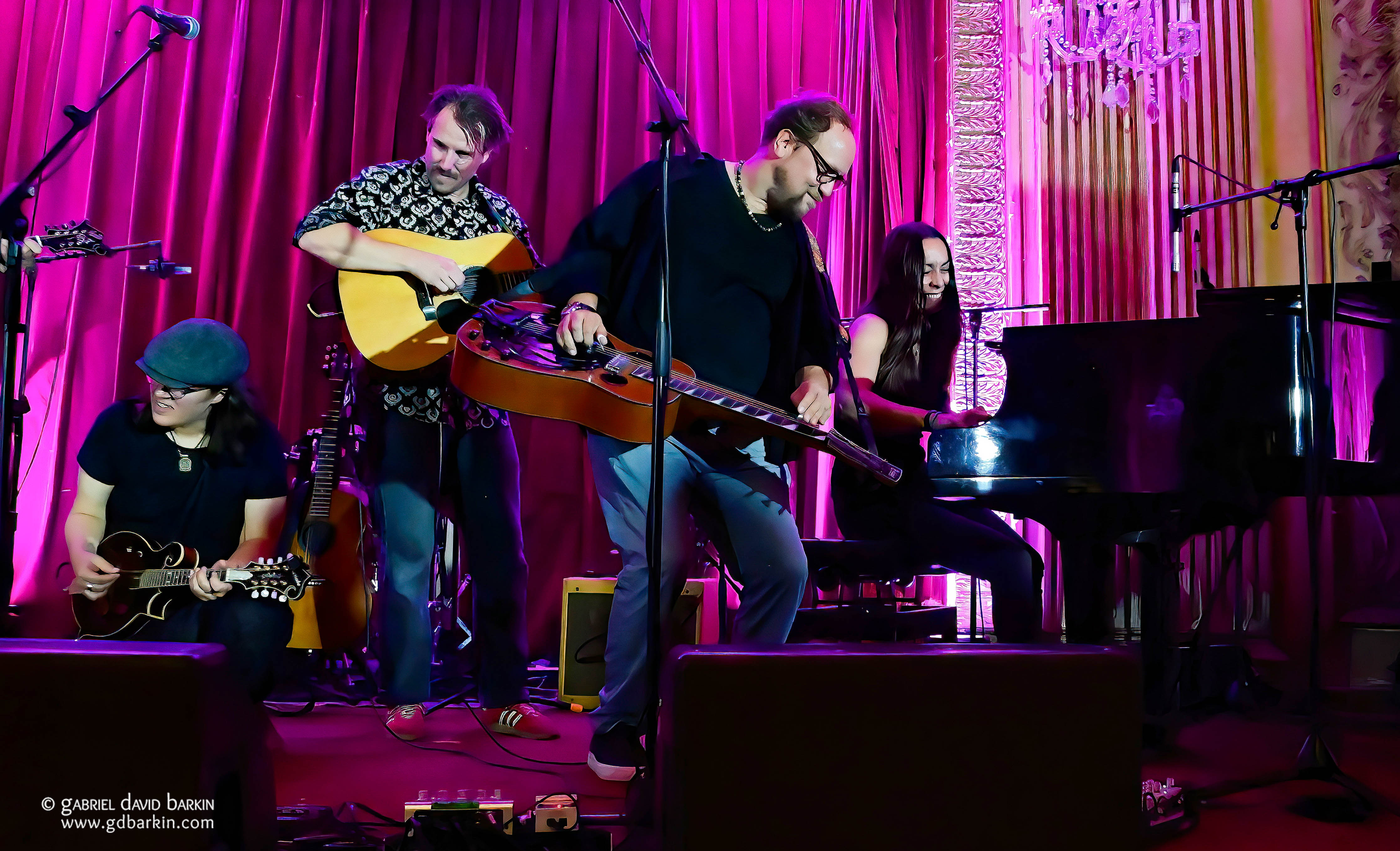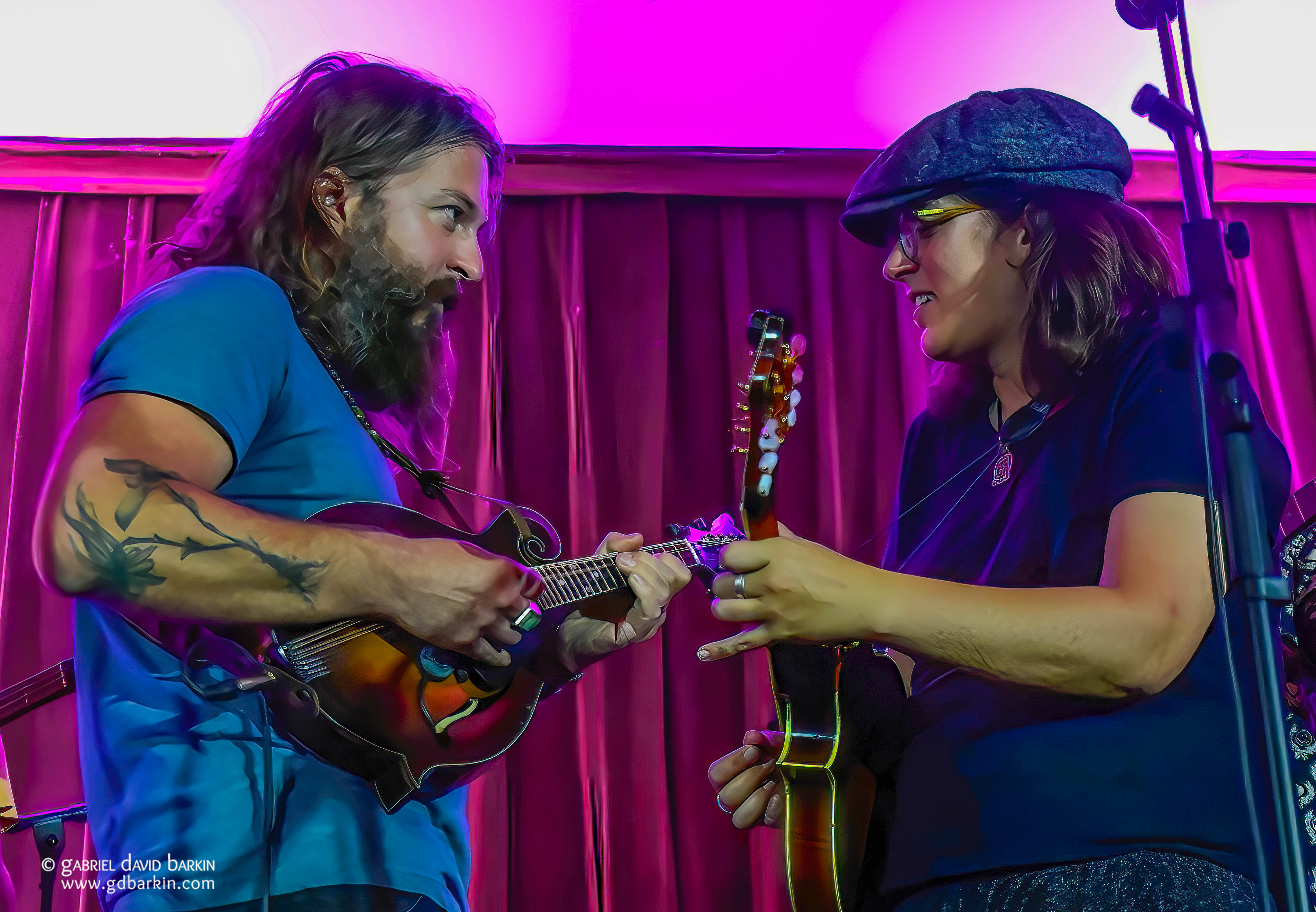 The Fruition Trio came next. Jay Cobb Anderson, Kellen Asebroek, and Mimi Naja played a number of new songs and fan favorites. Regarding the new stuff, Naja wryly said, "It's an intimacy experiment, who doesn't like those?" Later in the set they were joined by Greensky Bluegrass's Porto trio (Mike Devol, Paul Hoffman, and Anders Beck), as well as Tikyra Jackson and Matt Butler trading off on drums. A Fruition set of yacht-rocky Americana morphed into a bluegrass barnstormer.
DAY THREE
Wednesday, October 11
I ran into Los Lobos's Steve Berlin at breakfast (he saw my "Scrabble" T-shirt and asked me if I played). After some word nerd talk, I asked him how his Sojourn was going. "I've played in the same band for 50 years, and you know, some nights I could literally be in a coma. I don't have to use my brain. It's nice to actually have to use all of it."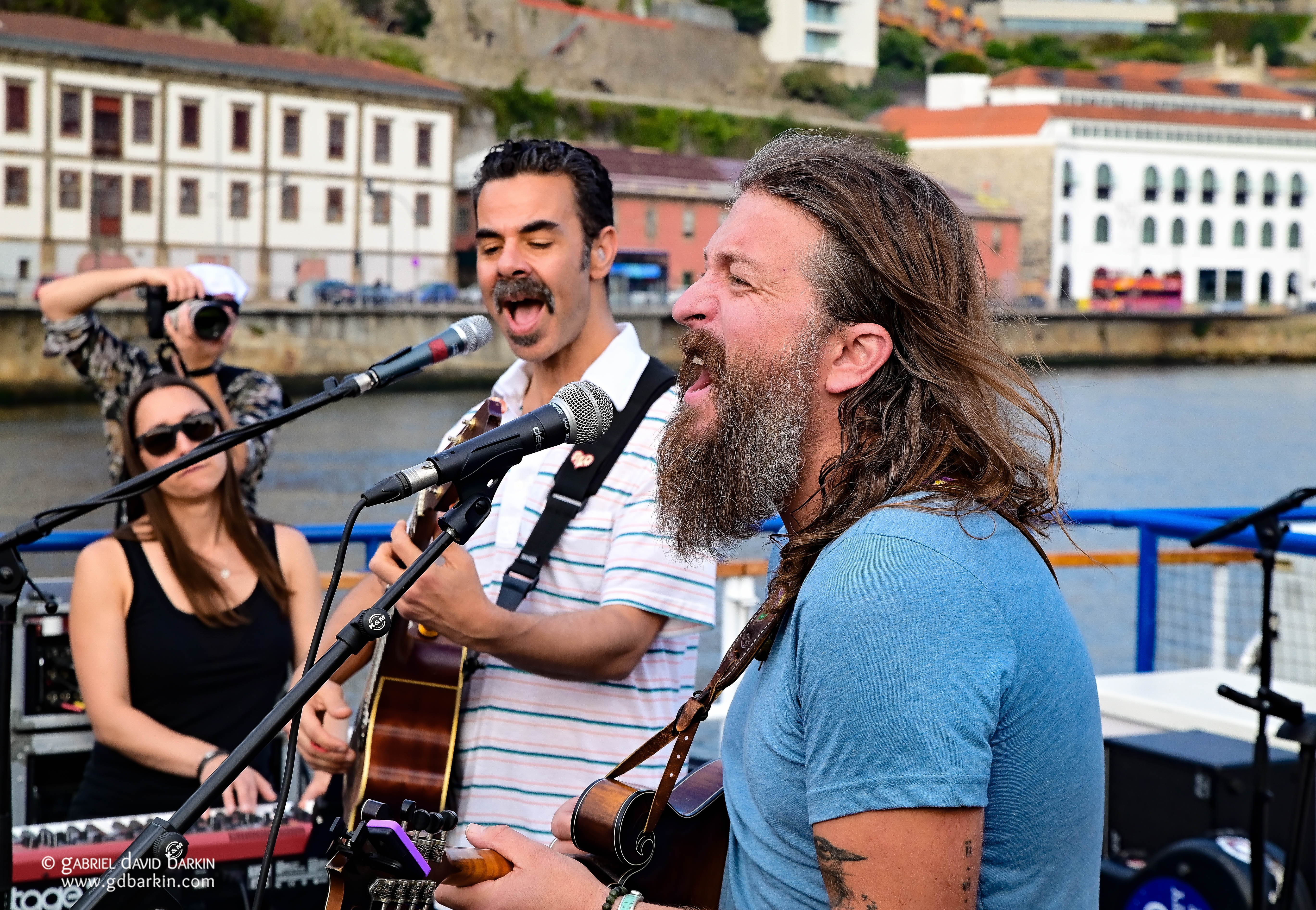 The centerpiece of Wednesday was our riverboat cruise on the Douro River. A dockside cafe was not ready for the arrival of 150 hungry and thirsty pre-gaming music fans, but the lone waitperson did her best to feed and water us.
ACT I
We boarded the Esplendor do Douro and took off westward on the Douro toward the river mouth. The floating performance was a nonstop three-hour set of Grateful Dead by the aptly named Ship of Fools ensemble. Lebo and Law have performed under this moniker before. This time, they were joined by Holly Bowling, the Greensky trio (Mike Devol, Paul Hoffman, Anders Beck), Tim Carbone, Steve Berlin, Natalie Cressman, Ross James, and both Matt Butler and Tikyra Jackson on drums.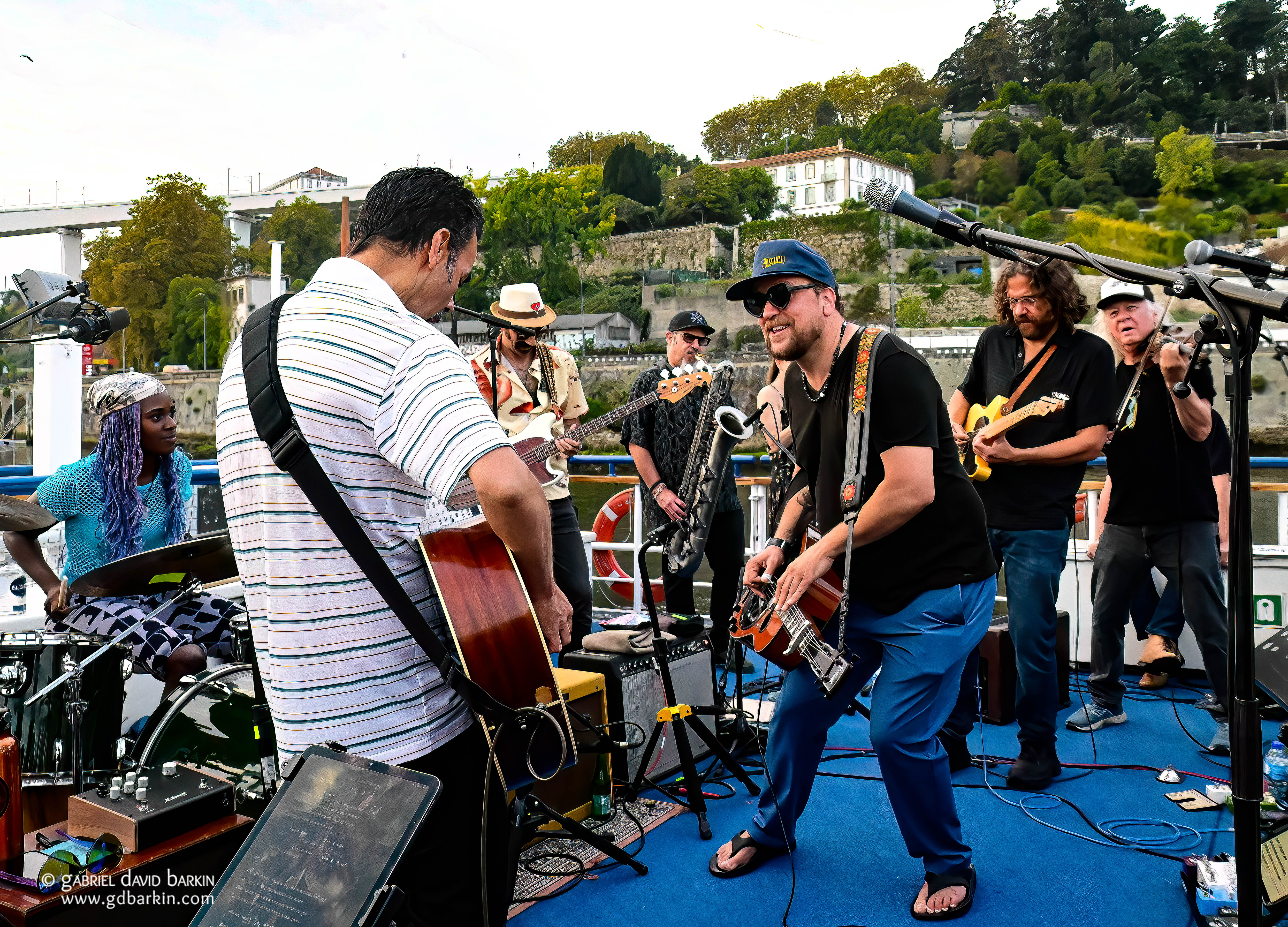 The riverboat was about the same size as a Manhattan Circle Line ferry, and the band filled the deck at the prow. It was a breezy, sunny day, and we floated downstream under river's bridges and past Porto's canyon walls. The set began with an apt "Big River," with Bowling and Lebo playfully trading leads. The city's distinctive pastel yellow and green buildings and port warehouses provided colorful background views. Some travelers on passing river tour boats got up to dance when we egged them on.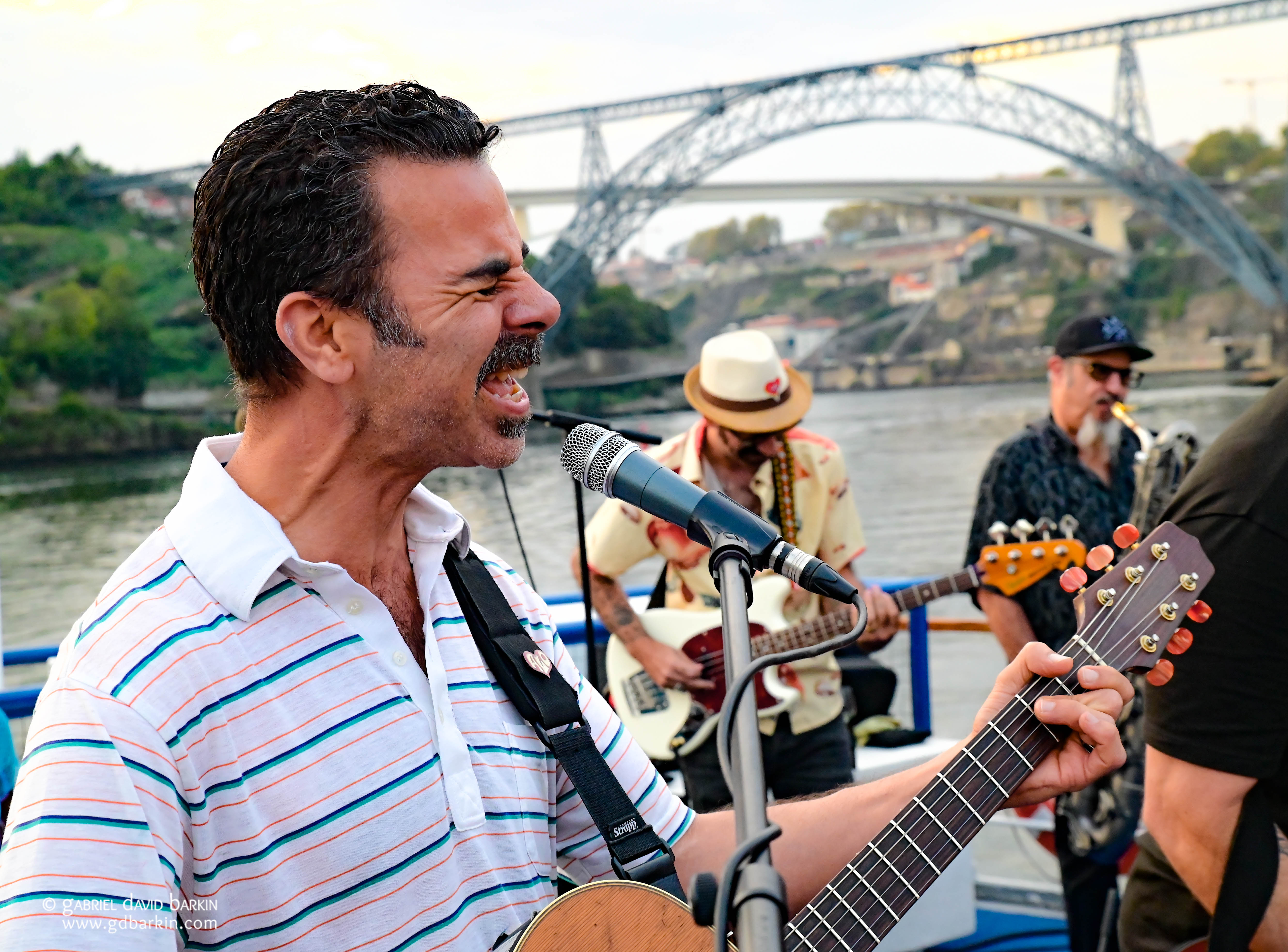 The high riverbanks mellowed to sandy shores as we approached the Atlantic near sunset. "Cassidy" gave a soundtrack to the visuals, the "flight of the seabirds." A fisherman standing up in a small motorboat rocked in rhythm with us as he reeled in a fish. During "I Know You Rider," our minds were wandering like the wild geese flying above our heads in the west (of Portugal).
Anders Beck shared a truism: "We haven't yet found a place where Grateful Dead music doesn't sound good."
ACT II
Back at the hotel, O Gajo opened the evening festivities with a set of originals on viola campaniça, a traditional countryside 10-string Portuguese guitar with a distinctive and hypnotic tuning. Gajo was accompanied (as we learned when he introduced them) by "Right Foot" on a small kick bass drum and "Left Foot" on tambourine.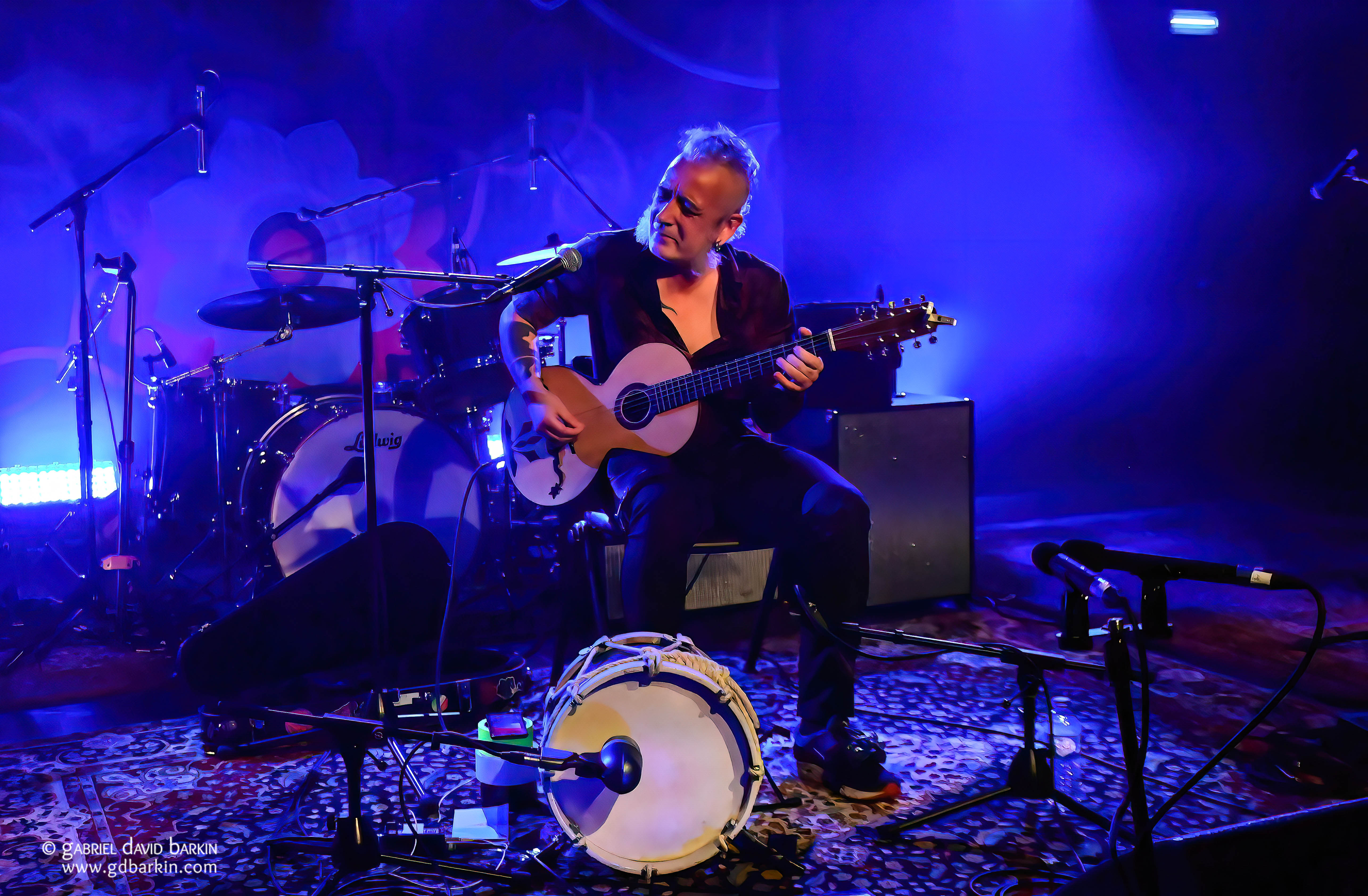 The Greensky Trio was joined by emerging Sojourn MVP Holly Bowling for a set of familiar GB songs. (Coincidentally, two of the other Sojourn musicians, Steve Berlin and Tim Carbone, had produced GB albums.) "What You Need" was particularly epic, with Berlin, Natalie Cressman and Jennifer Hartswick each soloing and adding "brassgrass" texture to the melody.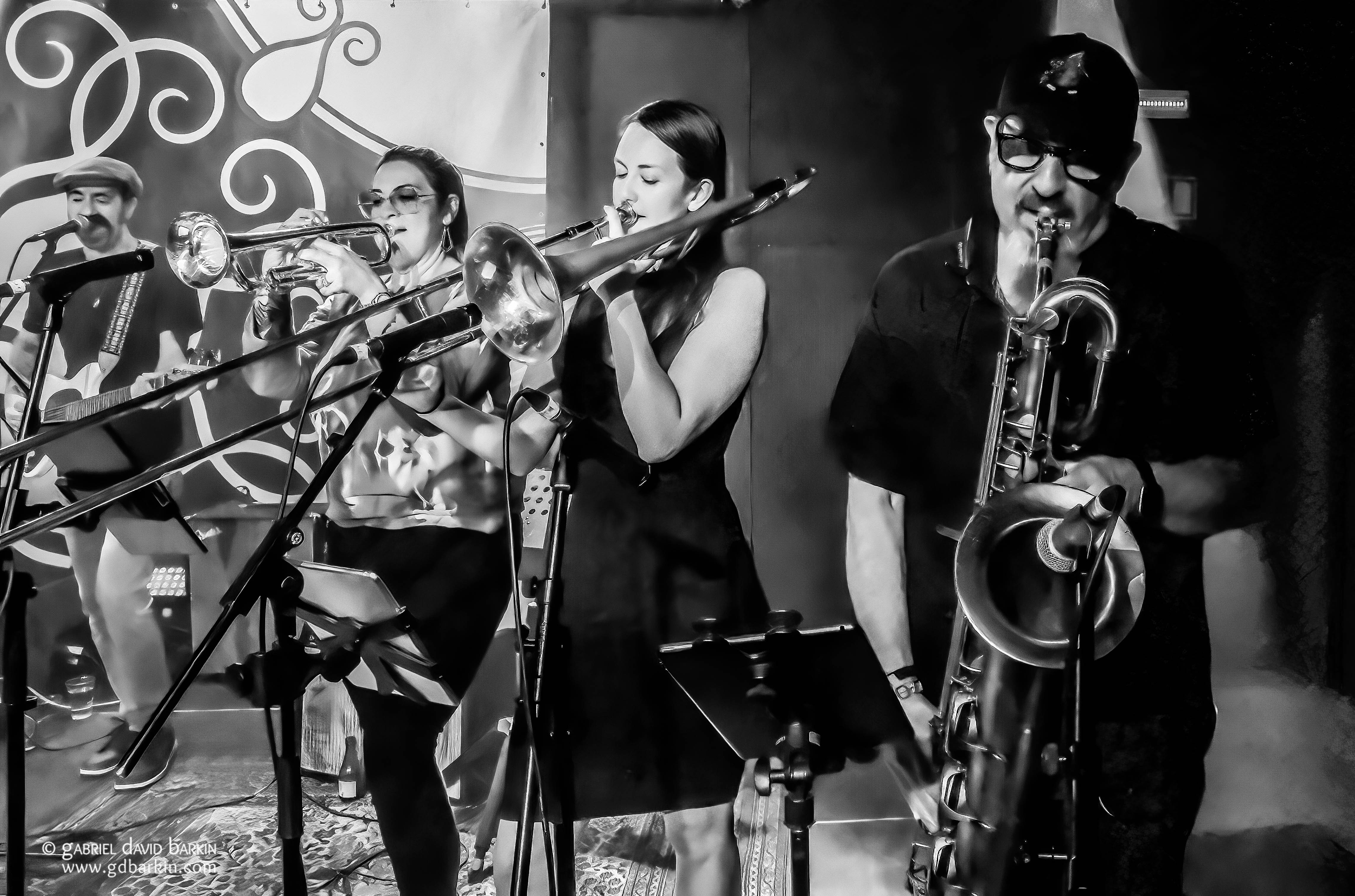 Bowling's toddler son stole the limelight when he wandered on stage with his toy guitar and showed everyone else how to be a rock star. Hoffman began bidding for who could sign the boy up for their band.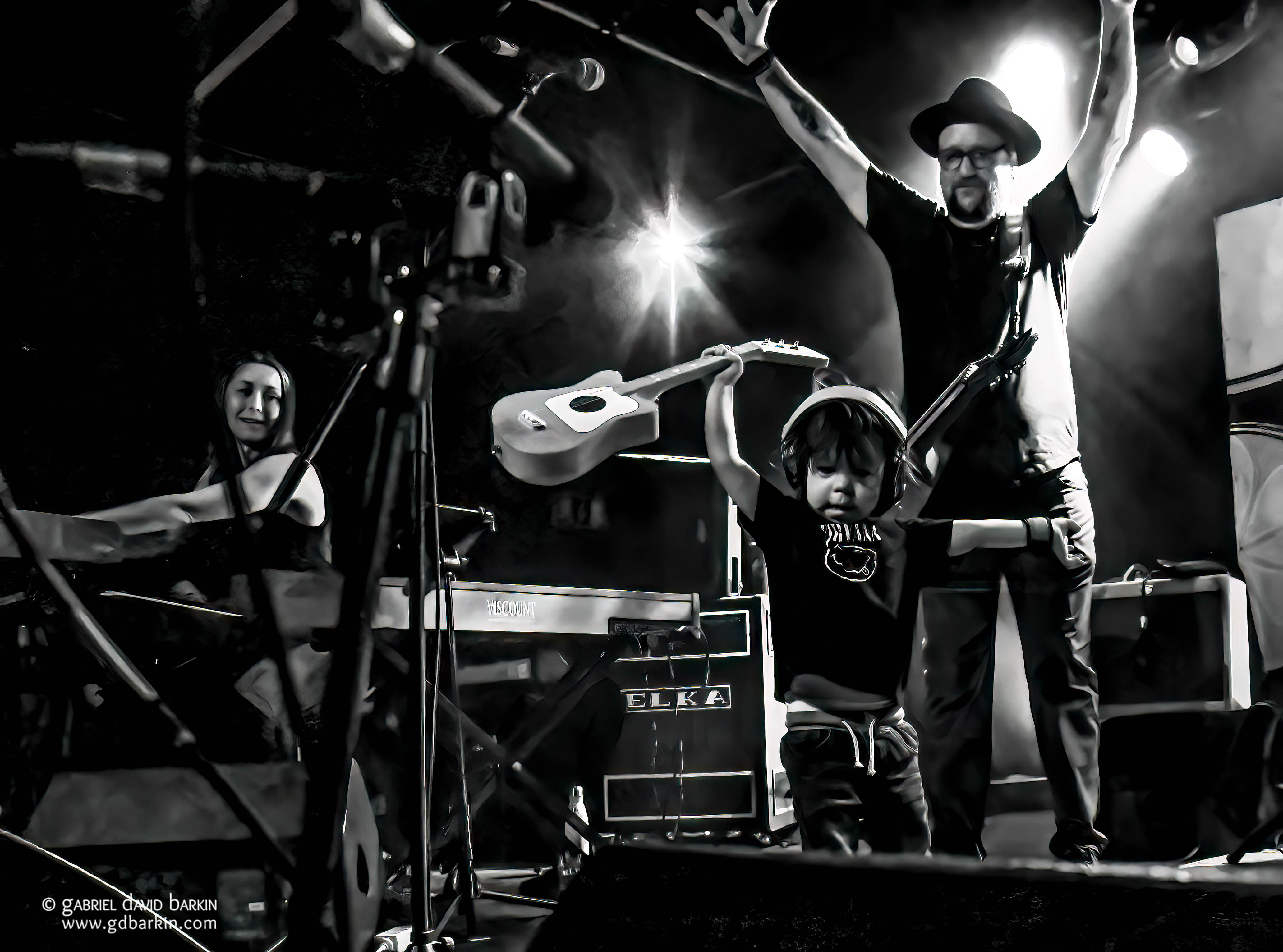 DAY 4
Thursday, October 12
ACT I
Thursday morning's "Bom Dia Musica" set in the hotel courtyard showcased Lebo, Mimi Naja and Ross James. Naja and Lebo harmonized on "Can't Find My Way Home," and then traded lyrics with him on "You've Got a Friend."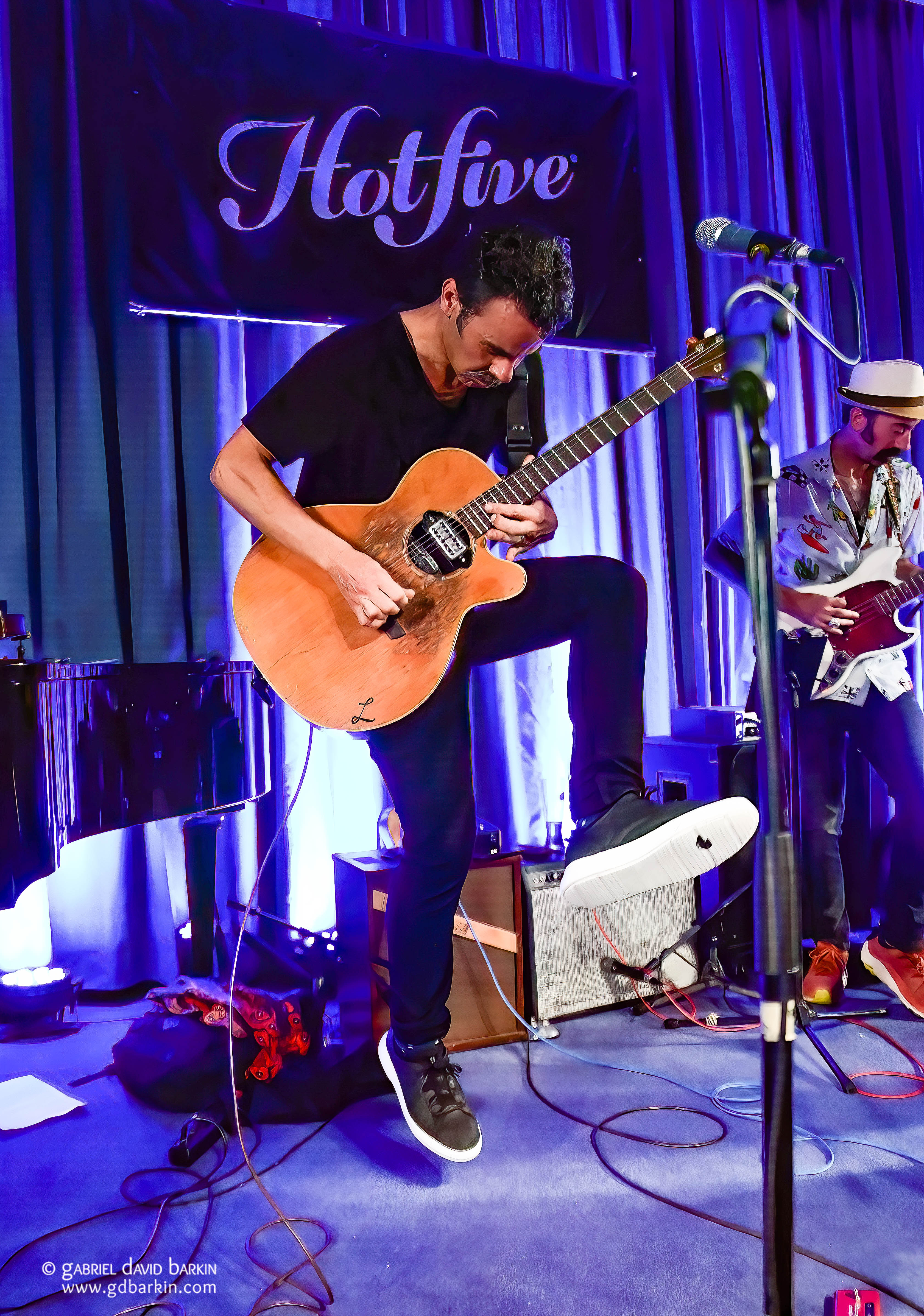 Lebo sang his own "We Carry On." He told us it was fitting to play in Europe because, "I wrote this tune on this continent, in Amsterdam some years back after a trip to the Anne Frank house."
Naja reminded us of a poignant truth before singing Bob Dylan's "Chimes of Freedom": "I'm reconciling having the time of our lives while a lot of terrible things are happening around the world. We're allowed to experience joy while we open our hearts to send out good thoughts, vibes, prayers, whatever you want to call them, for peace"
ACT II
We were invited to "dress to impress" for Thursday night's "Sojourner Soirée" at the Palácio da Bolsa. The Palácio is on every "top ten things to see in Porto" list. It's a 19th century uber-swanky, mega-ornate edifice. I remember Matt Butler saying a few months back he needed to find a suitable setting for a Holly Bowling performance. Mission accomplished! (Dancing was prohibited in the opulent Arab Room. We swayed gently instead.)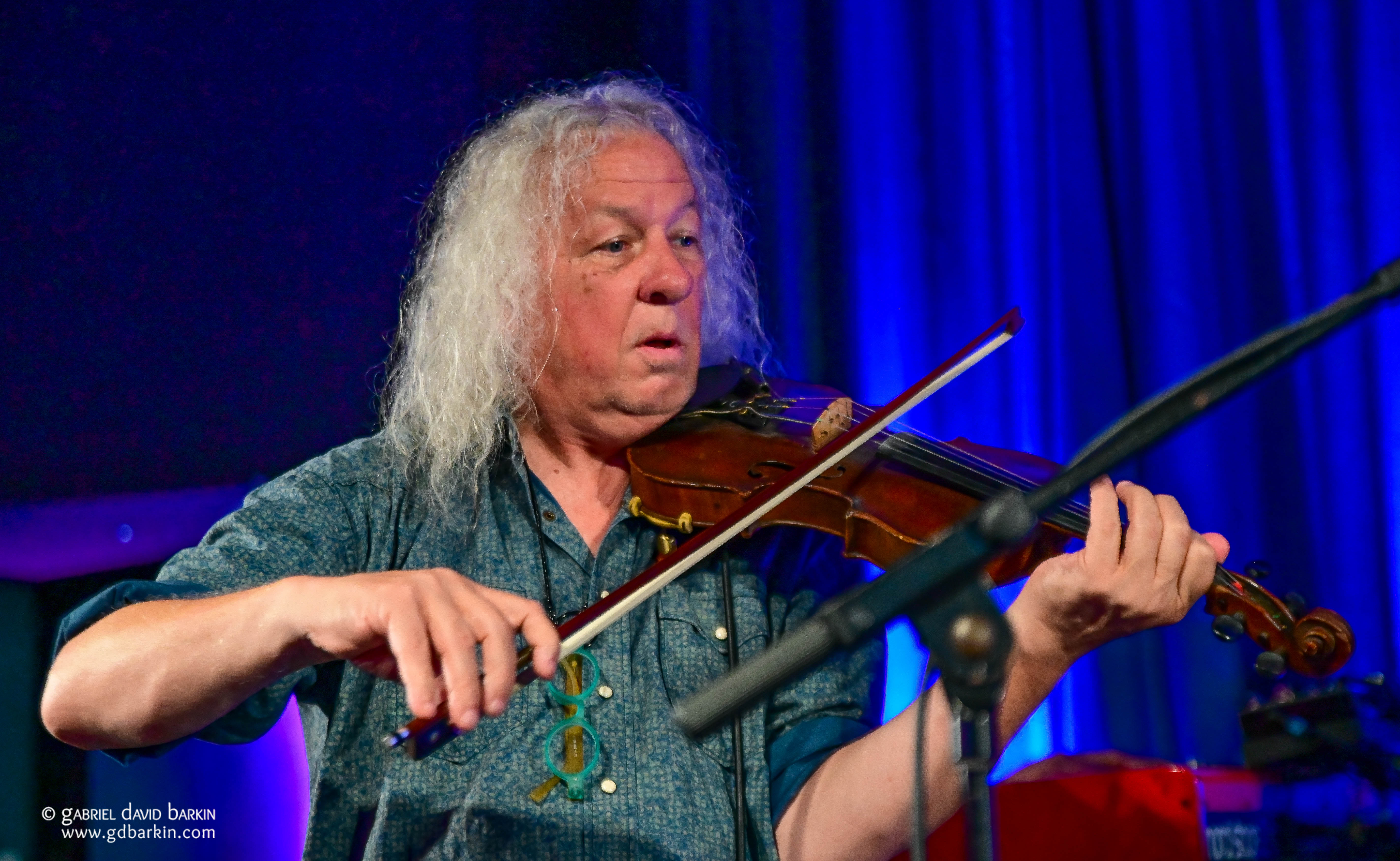 Tim Carbone and Todd Sheaffer opened this evening's festivities. Sheaffer was recovering from illness and his voice was raspy, a little Tom Waits-ish. Notable in the duo's short set was an Irish lament that Sheaffer introduced for "all our friends and family who have recently passed away."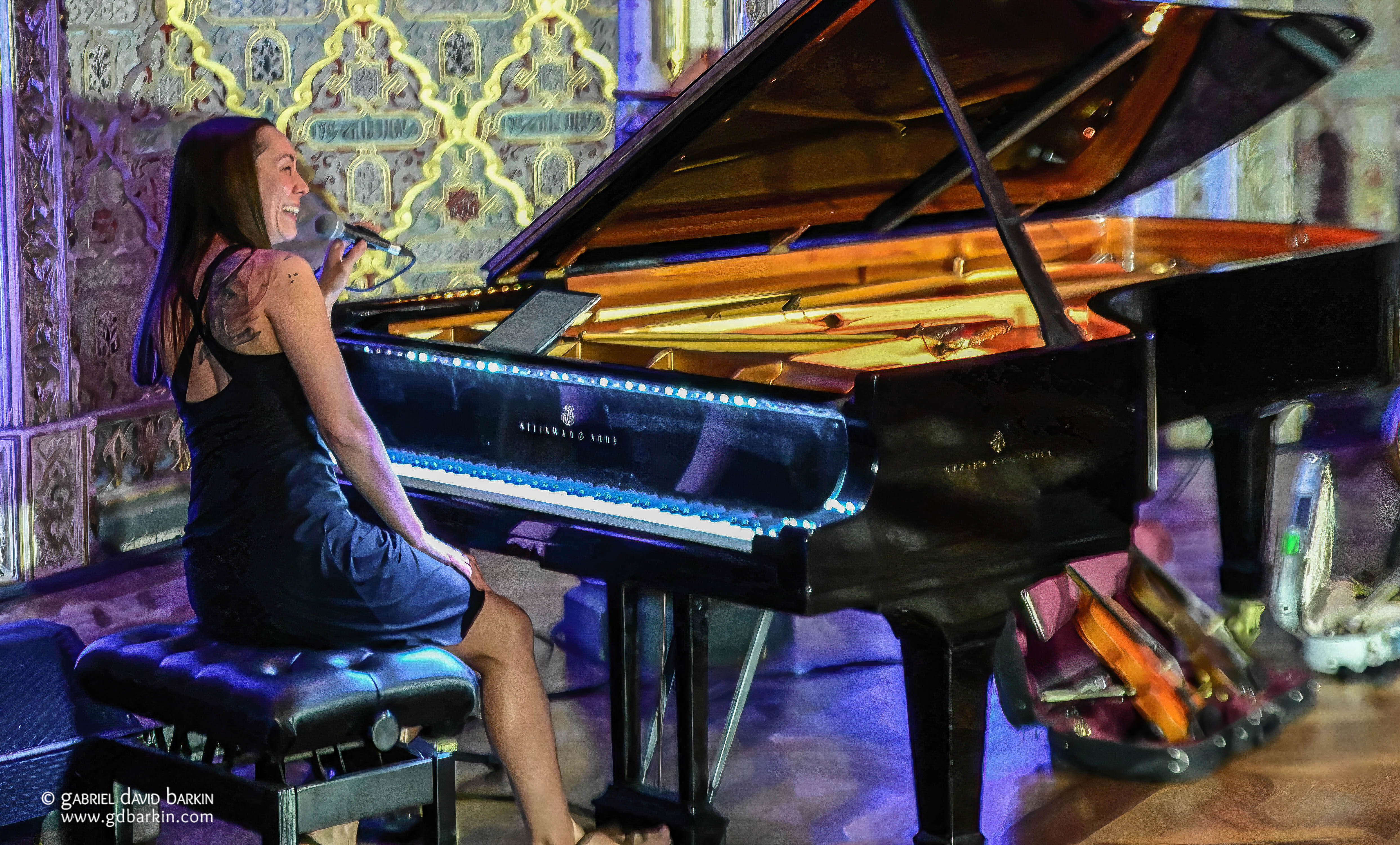 Holly Bowling and Paul Hoffman sound-checked half of "Eye of the Tiger" before Bowling began her mostly solo set on a Steinway concert grand piano. She focused on Grateful Dead songs, including "Crazy Fingers" and "Row Jimmy," but recast them in her delightfully fluid and virtuosic style. Bowling was in awe of the room just like everyone else. "I always get lost when I play. I opened my eyes during that piece and said, oh, we're here!"
Hoffman joined Bowling on mandolin for his GB song "Windshield" before Bowling closed her part of the show with an aptly chosen "Brokedown Palace."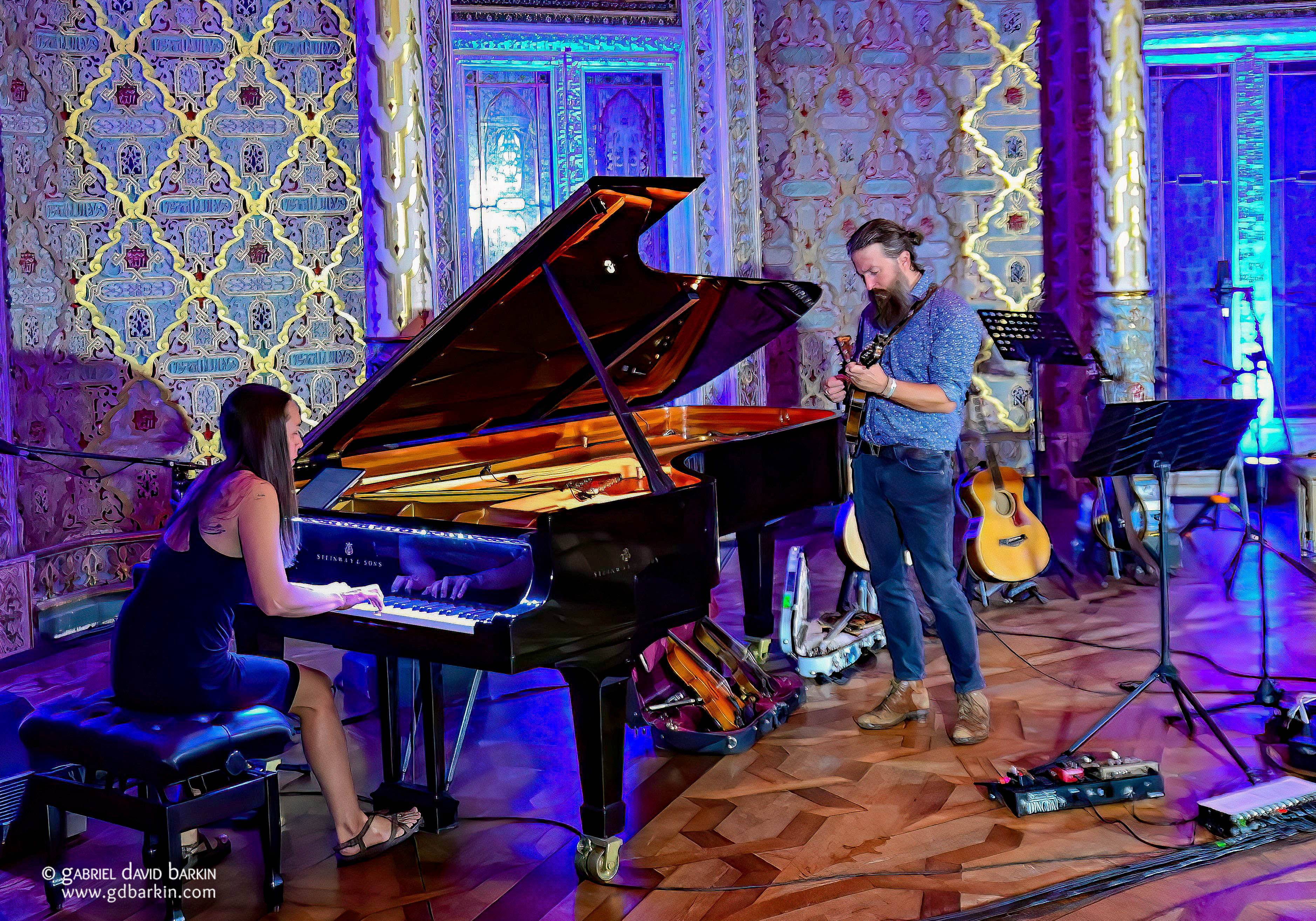 The evening's "headliner" was billed as "Damas Noturnas," and most of us assumed that was another Portuguese act Butler found to wow us. Instead, it was Mimi Naja. And Holly Bowling. And Nikki Bluhm. And Natalie Cressman, Jenifer Hartswick. And Tikyra Jackson. And Megan Letts. The ladies of the night! A nearly all-women set (Paul Hoffman and Anders Beck provided accompaniment on a few songs) blew us away with harmonies on a number of originals and covers.
All of las Damas Noturnas took at least one turn on lead vocals (with the exception of Bowling). Each was better than the last! We wanted more from each singer.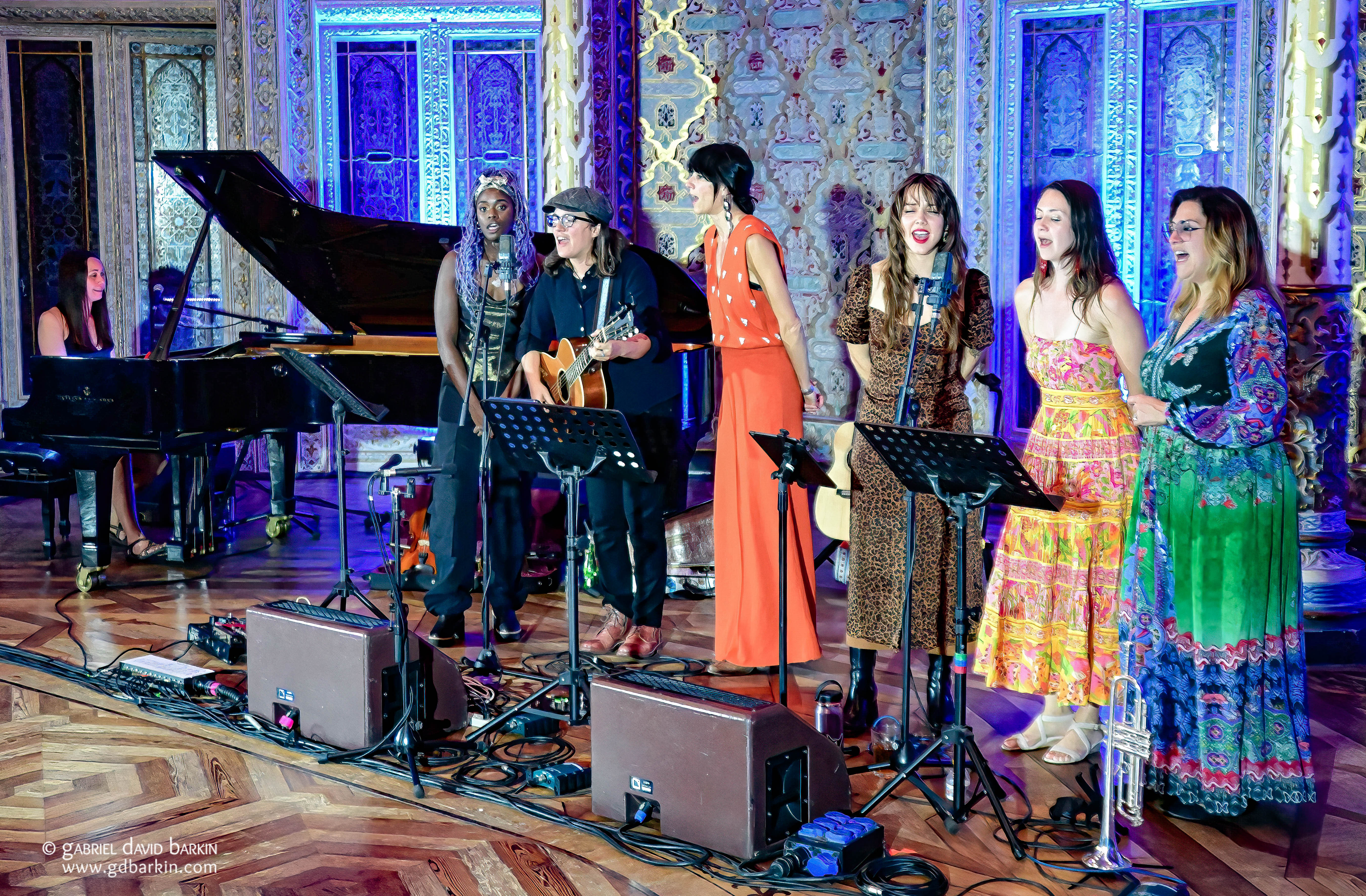 The most powerful and memorable moment was a version of Ralph Carmichael's spiritual "A Quiet Place," dedicated to sax player James Casey, who (as mentioned earlier) was slated to join us in Porto before his death in August. Casey's Trey Anastasio Bandmates Cressman and Hartswick led the singing and crying, and the entire Arab Room was awash with tears.
Then from this quiet place
I go prepared to face
A new day with love for all mankind
Nikki Bluhm did a good job bringing some joy back into the room with Carole King's "Sweet Seasons" before the closing number, an audience singalong cover of TLC's "Waterfalls."
DAY 5
Friday, October 13
ACT I
The "Bom Dia Musica" performance was moved to the basement music hall at Hotel Mouco due to rain. This was our first and only rainy day, a lucky and unusual treat for Porto in October. The stage used for evening performances was hidden behind a curtain, and the artists sat in folding chairs in front of a window along the side of the room. Several sojourners lay on carpets in front of the musicians, reclining on throw pillows. The vibe was mellow.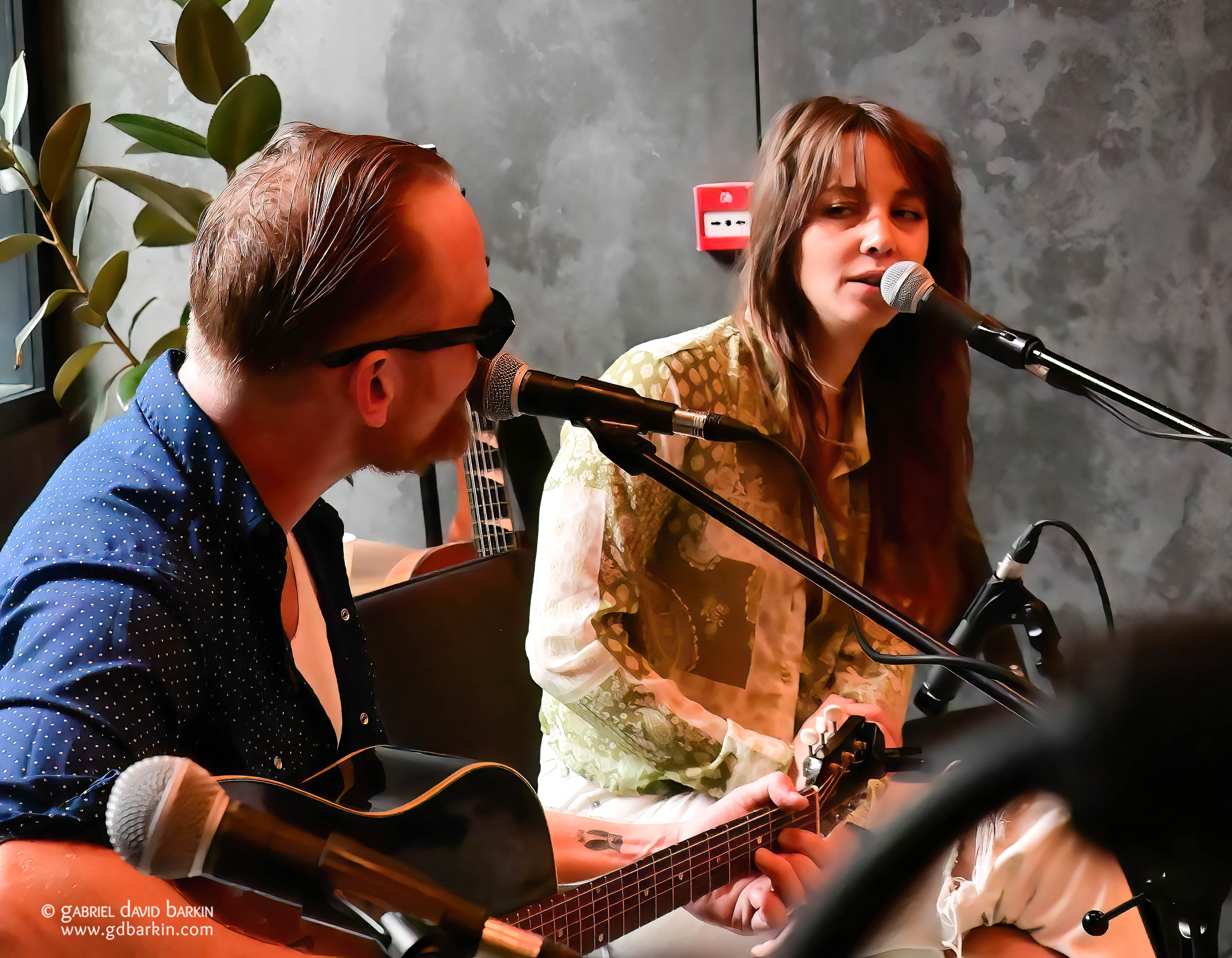 Jay Cobb Anderson (on his 40th birthday) kicked it off with a few solo originals and some magical duets with Megan Letts. (Not coincidentally, they are married.) Then Anders Beck and Jennifer Hartswick joined him. Paul Simon's "Under African Skies," the Stones' "Wild Horses," and Bill Withers' "Kissing My Love" were among the tasty lunchtime covers. Anderson shared an original tune to remind us that, "One day we're all gonna die." During this one, a mariachi duel emerged organically between Hartswick and Beck, both jumping out of their seats to challenge each other playfully.
I asked Beck afterward what makes the Sojourn experience different from a typical festival collaboration. "Yeah, we often do this together, some of us, each weekend at a festival -- like, I'll see Hartswick, and we'll do something together. Or I'll see the Fruition people, and we'll do a song. But here, it's the whole week. We'll prepare a song and do collaborations that are incredibly unique. And everyone puts effort into those things musically."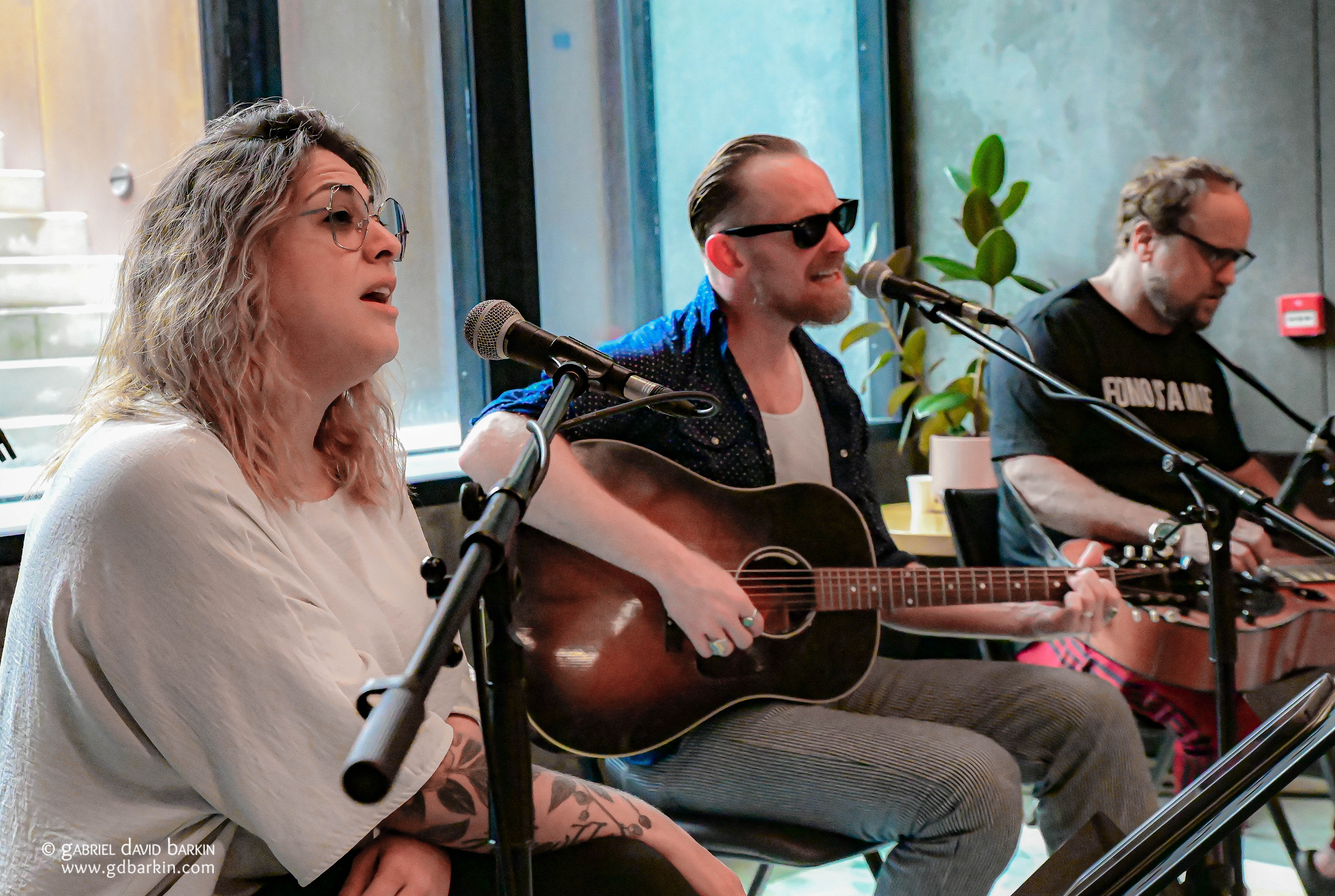 The effort shows. Beck summarized it this way: "It could be thrown together. But it's not!"
The "Bom Dia Musica" set ended with Letts and Natalie Cressman joining Hartswick in picture-perfect harmony on Aretha Franklin's jazzy soul love song "Day Dreaming."
ACT II
Sojourners spread out on their own throughout the city for sightseeing, twelve-course Michelin star meals, and shopping sprees until it was time for the first of two evening performances. The first was at Igreja do Carmo, an 18th century Catholic church that is one of Porto's most visited tourist sites. We had to wait for Mass to end before we could file inside.
Typical of Iberian churches, the nave and alter areas of this midsize congregation house were bursting with ornate sculptures, paintings, gold-leaf filigrees and other accoutrements depicting saints and the story of Christ, particularly his bloody end. Some of us were amused by the irony of our presence, some were mildly (or perhaps worse) "triggered" by the trappings.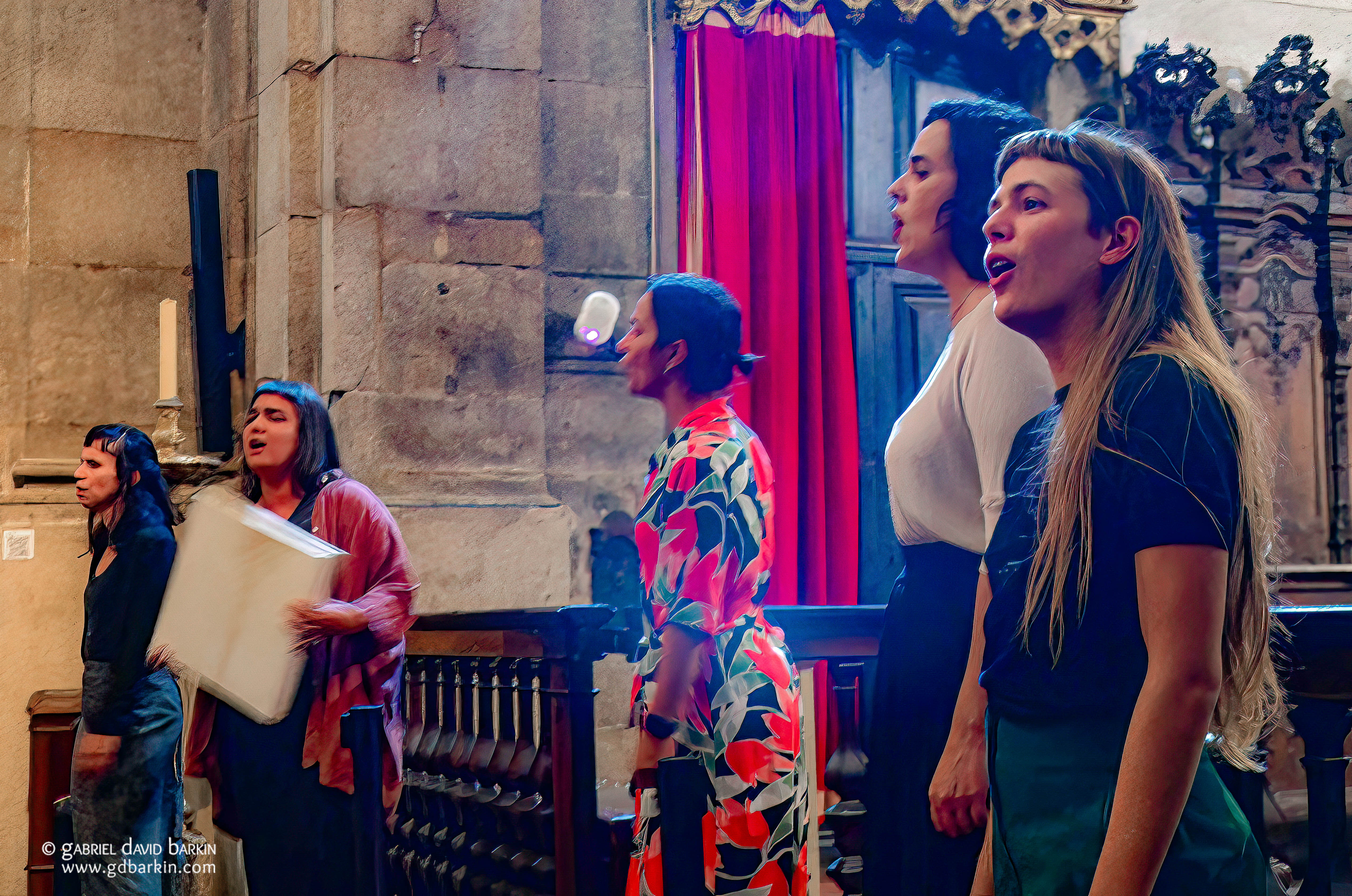 Sopa de Pedra (which translates to "Stone Soup") is an a cappella group of 10 women from Porto. Five of them came to sing for us. They shared delightful songs about ripening fruit, birds, and peasant workers.
Next, Paul Hoffman and Mimi Naja played an acoustic set, trading guitar and mandolin. They played a few originals and some covers too. After singing "More Love" (The Chicks made it famous, it was written by Gary Nicholson and Tim O'Brien), Naja looked up at the iconography surrounding us and said, "Love, that's my religion." After a Greensky song, Hoffman said, "That was about right for a church."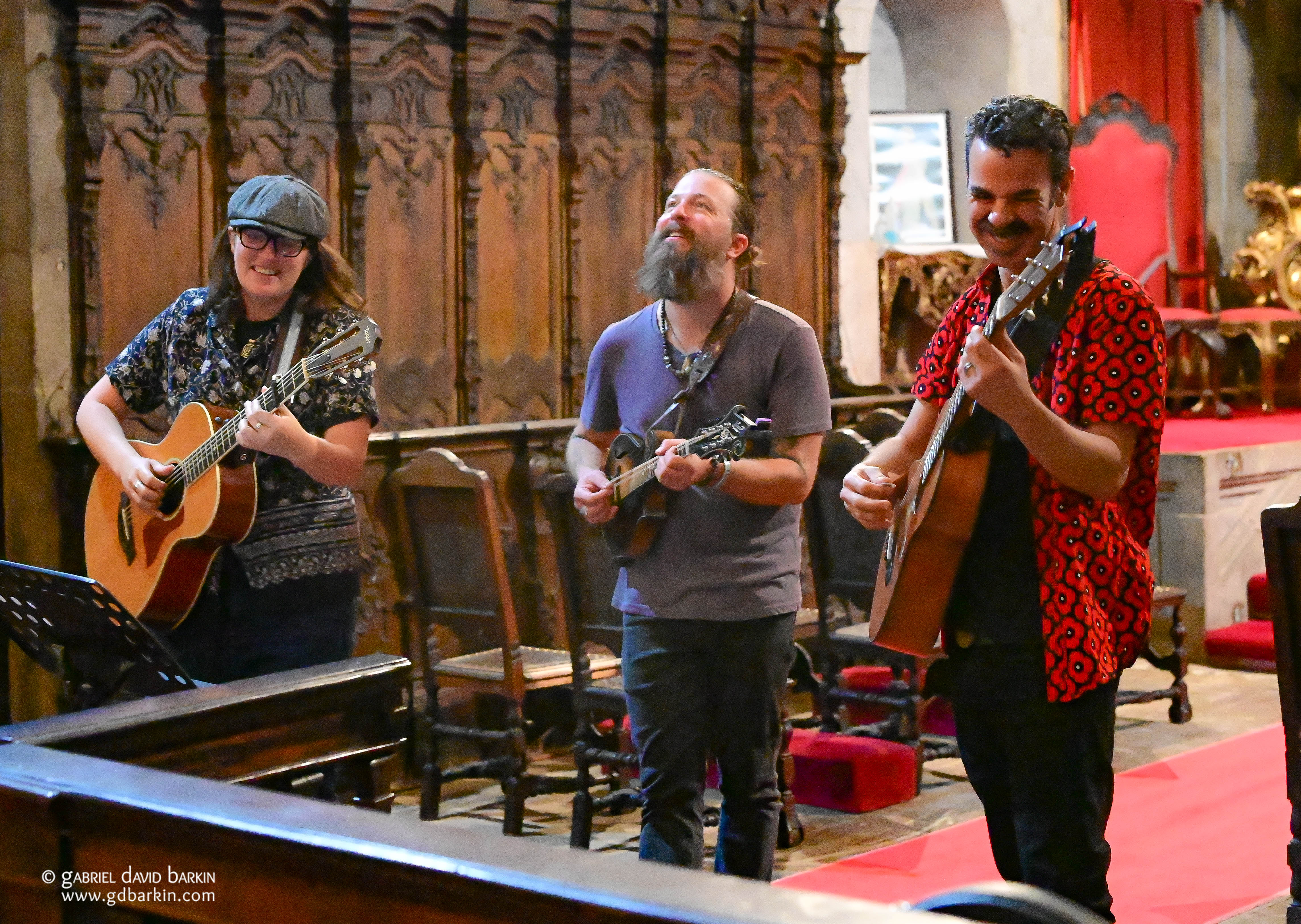 "Take Me Out of the City." (a Dawes cover) was a perfect closer for the set, with the scene-appropriate (or not, depending on your point of view) lyric, "Take me out of the city, where God's never been; where my soul is my sorrow, and it's bound by my skin."
We walked out of the church to thunder and lightning. Derive from that what you may.
ACT III
We reconvened later in the evening at the Hot Five Jazz & Blues Club, an American-style swanky jazz house with tiered seating, red table lamps, and a small dance floor in front of a blue-curtained stage. A large sign on the wall just left of the stage said, "Music On, World Off." Well, okay then!
When we arrived, a jazz trio was on stage. With sax, drums and upright bass, Last Action Trio performed a Brad Mehldau arrangement of the Oasis hit "Wonderwall."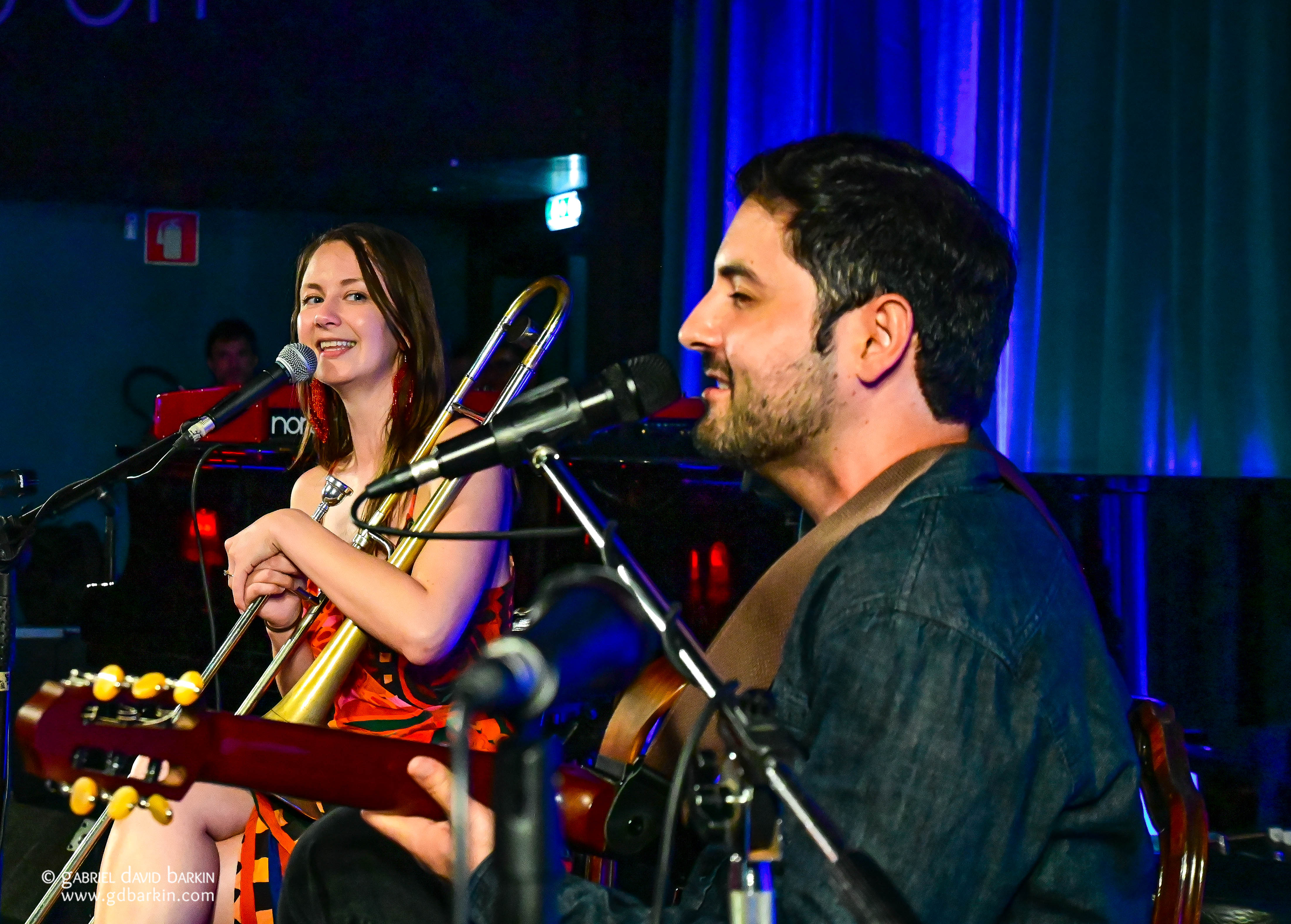 Next up was Natalie Cressman and Ian Faquini . They told us they'd gotten engaged in Porto in February. Their love for each other shines clearly when they play together.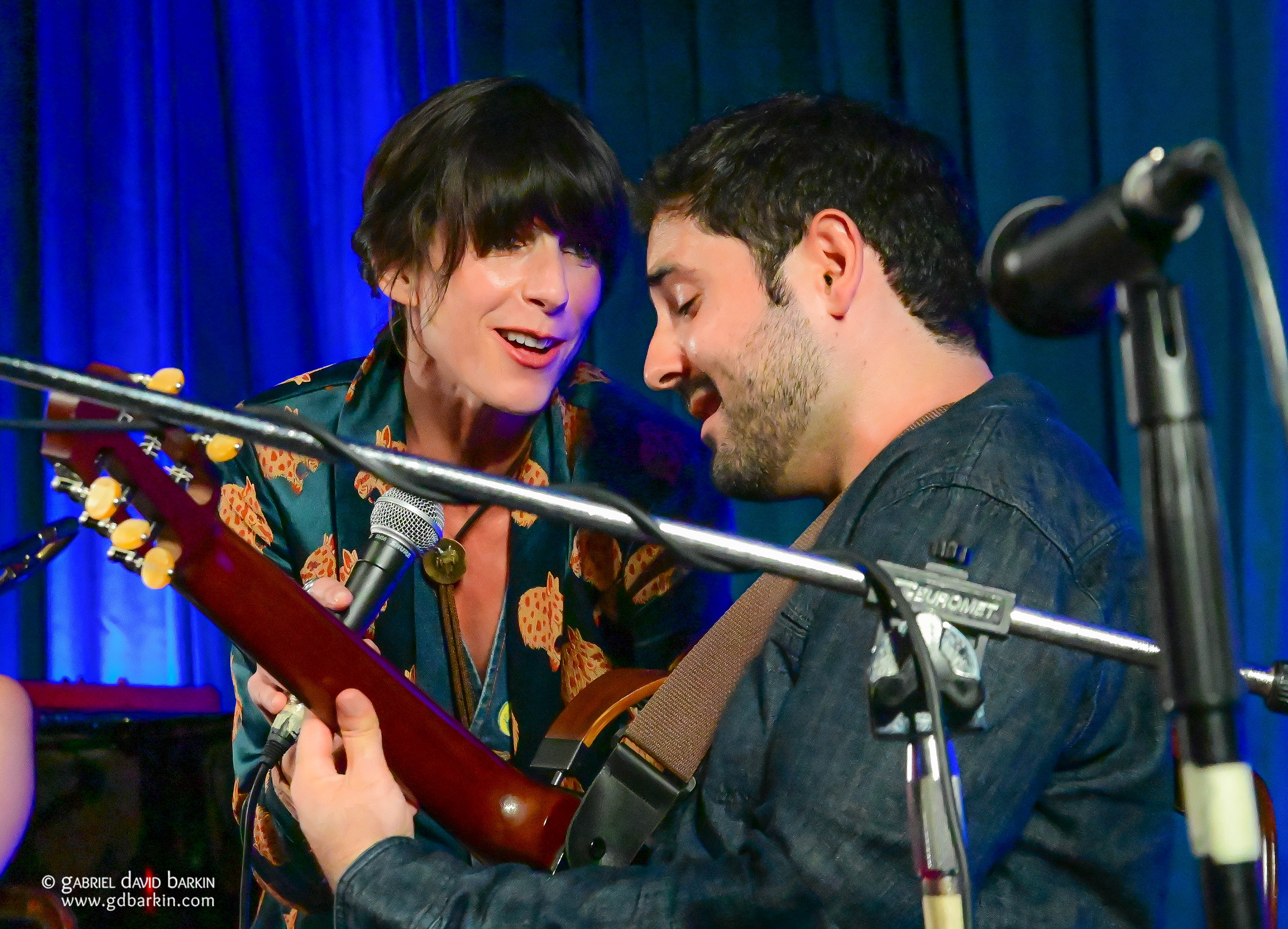 The duo kicked it off with some fast-talking Brazilian jazz songs. Cressman watched Faquini while they scatted in unison to follow his timing on the intricate "rap." Befitting the jazzy venue, they also played an Ella Fitzgerald song, and then called up Nikki Bluhm to croon "Moon River," the Henry Mancini chestnut. Throughout the performance, Faquini's fluid Brazilian guitar styling was flawless and fluid. Cressman sat with her trombone across her lap while she was singing and then brought the instrument to her lips to provide immaculate accompaniment and solos.
Lebo and Friends (including Ross James, Tikyra Jackson, Natalie Cressman and Jennifer Hartswick, among others – Lebo has a lot of friends!) closed the evening with a long set that got us all sweating on the club's small dance floor. We finally got to hear Lebo's "I Wanna Feel It," a fan favorite which had been cut from the Day 1 set due to time constraints. After that, there were two clear highlights:
1.    "Sympathy for the Devil" with enthusiastic "woo-hoo" refrains from the audience.
2.    The Talking Heads' "Slippery People" included a long jam with shifting rhythms and Lebo riffing the "Gilligan's Island" theme. While he did that, many of us joined in with an audience chorus of "A three-hour tour!" Lebo told me he'd meant to play the TV show theme in the riverboat set; better late than never!
DAY 6
Saturday, October 14
The final day!
ACT I (In four parts)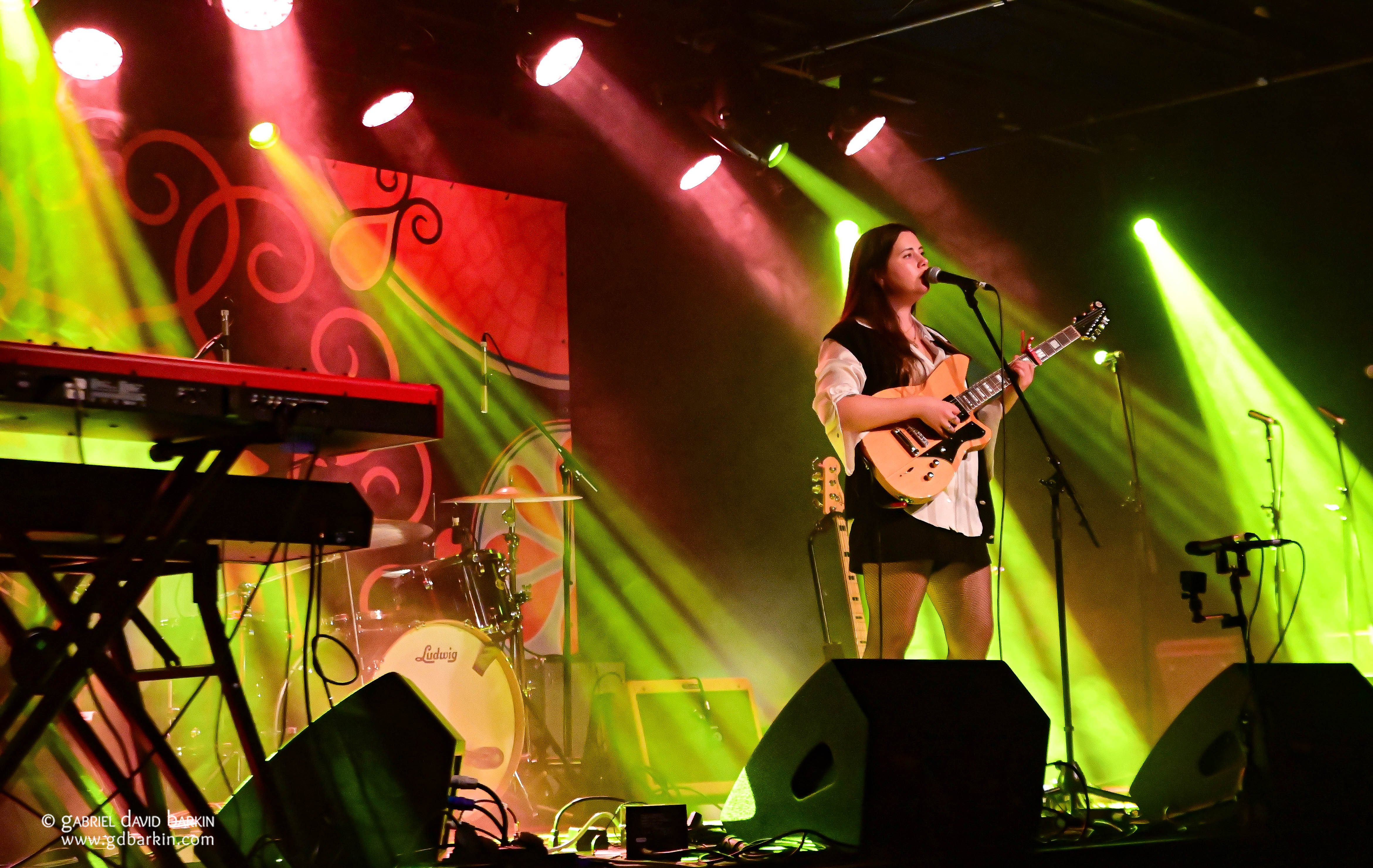 Cat Falcão Trio began the evening in the Mouco music hall. The Lisbon singer serenaded us with a country-ish voice that reminded me of Neko Case in her first-album days. Falcão told us she was nervous, but she had nothing to be nervous about; her voice was clear as honey and her songs rang with honesty and personality.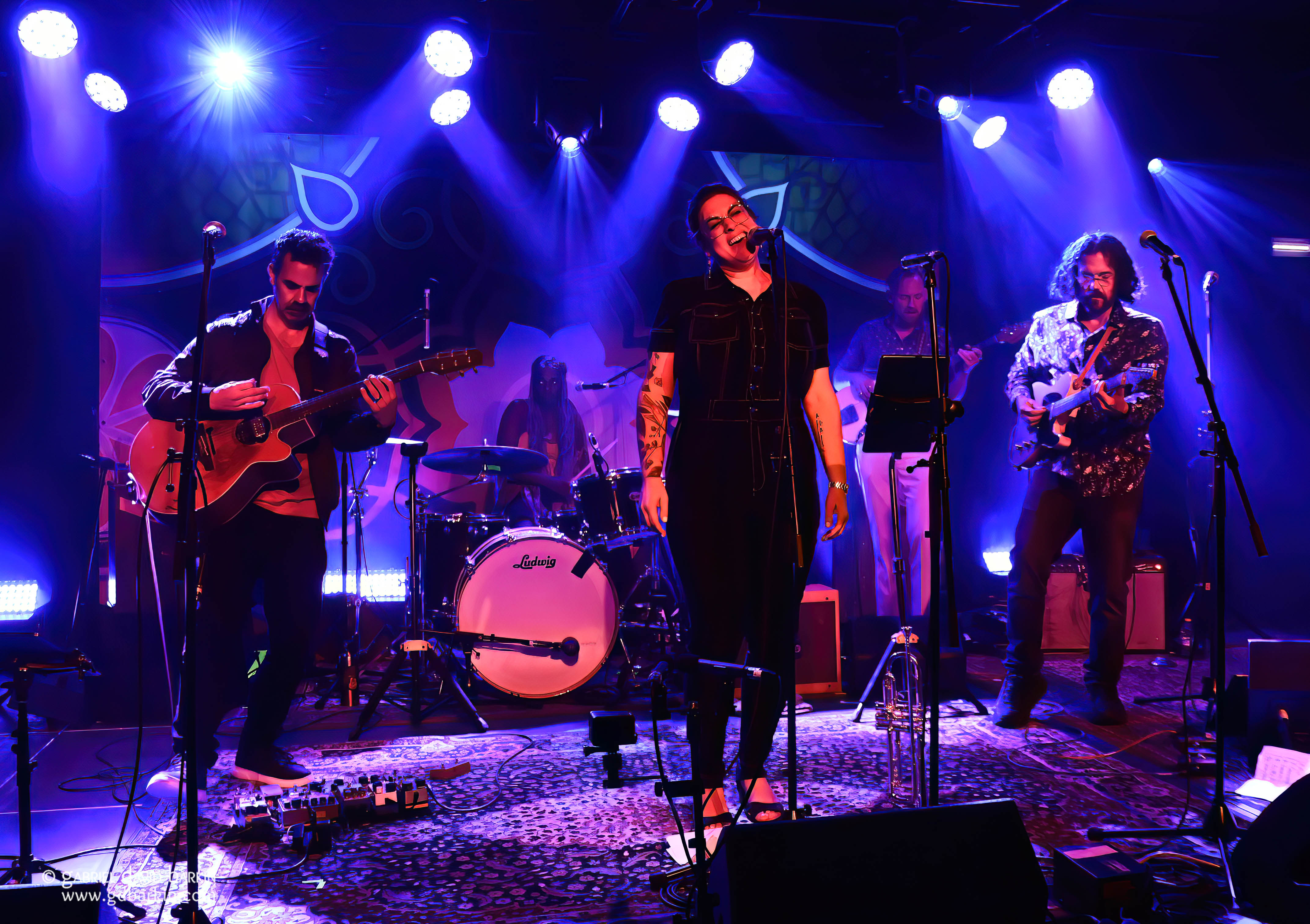 Next up was a funk and soul set led and arranged by Jennifer Hartswick and Tikyra Jackson. They were joined by Lebo, Scott Law, and other members of what I'll now call the Sojourn Musicians Union. Close your eyes and imagine a jam band playing at a hippie bar mitzvah on a cruise boat – and there you are! The hits kept coming. We grooved to "Tell Me Somethin' Good,"  "How Deep is Your Love," and "Midnight Train to Georgia," the latter with us dance floor denizens joining in on the Pips' classic backing vocals.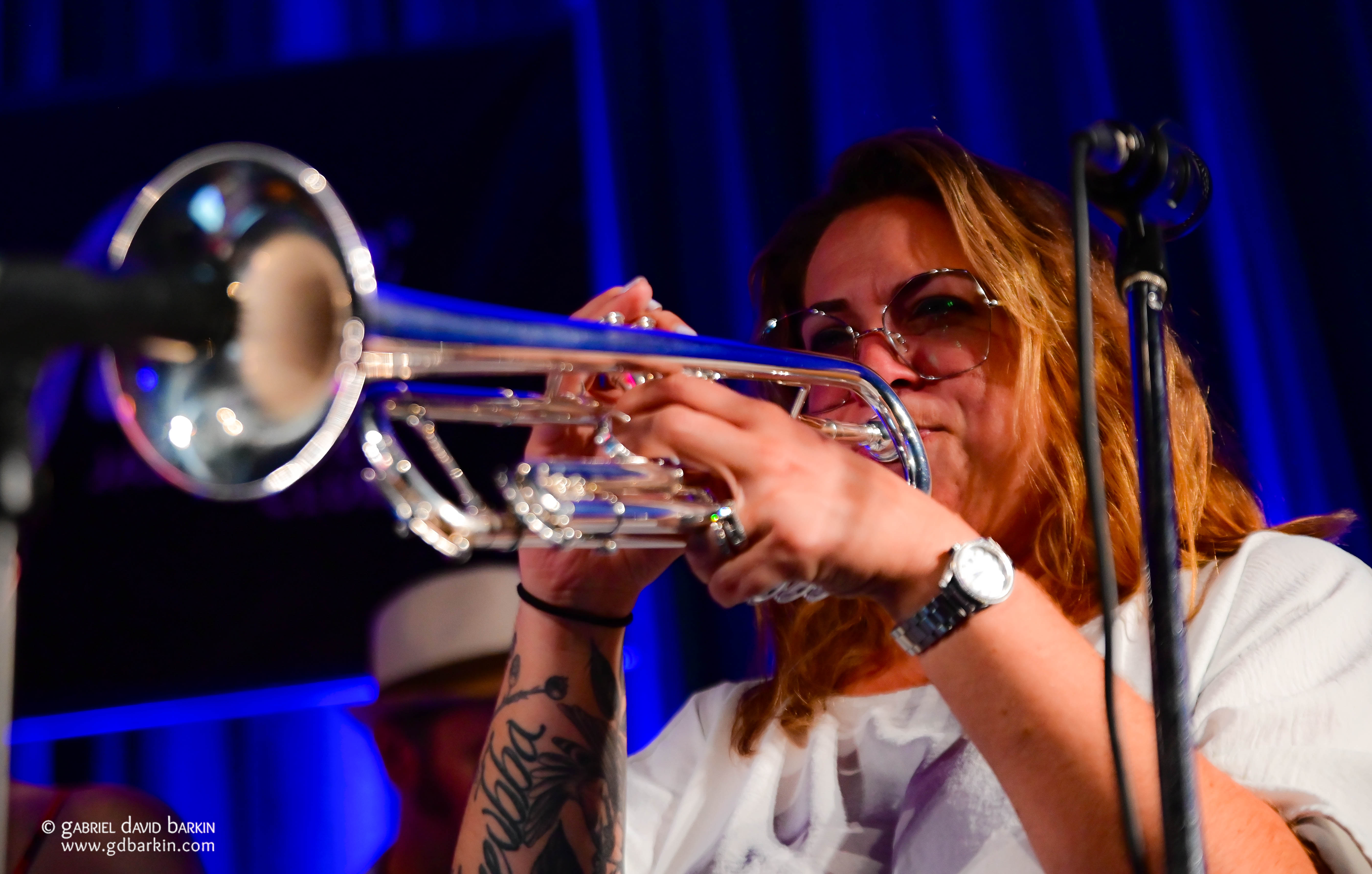 Hartswick introduced the recent pop hit "Feel It Still" as an inside joke. It's a song by alt-pop stars Portugal. The Man. Get it?
To complete the bar mitzvah jam cruise theme, three wee folks (kids of Holly Bowling, Ross James, Paul Hoffman) stole the show with their onstage rock star dancing during "Higher Ground" while Lebo and Law knelt beside them trading solos.
The last song of this set was a departure from the funk party theme. Nearly every musician in the lineup came up to honor and remember James Casey with a teary-eyed performance of his song "Outside."
Everybody knows your name
And although it ain't the same
Know you're really glad you came
Outside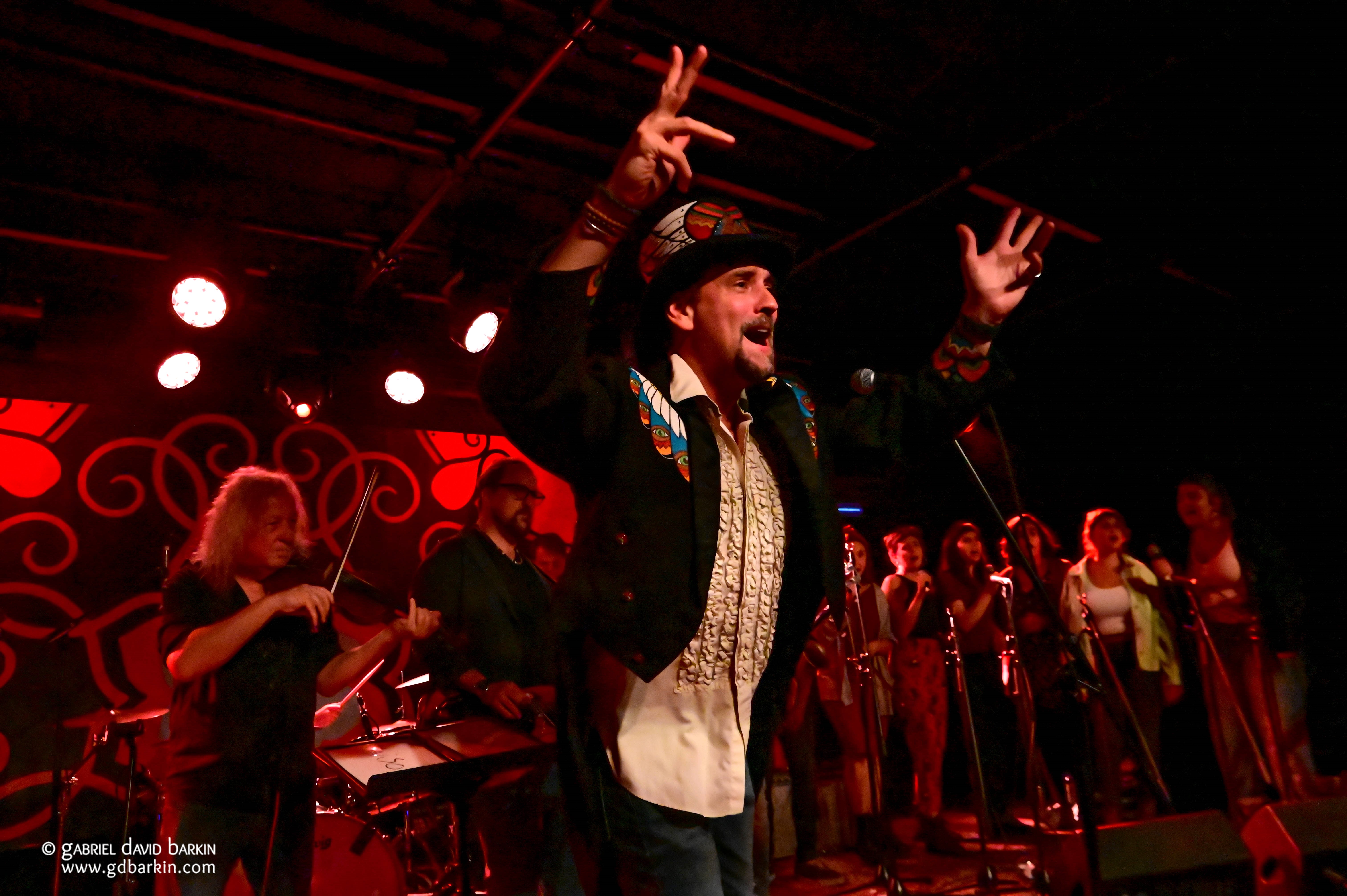 After a break, Matt Butler treated us to another version of Everyone Orchestra. Todd Sheaffer, Tim Carbone, Paul Hoffman, Kellen Asebroek, Ross James, Natalie Cressman, Megan Letts, Jennifer Hartswick, Mimi Naja and members of the local acts Retimbrar and Sopa de Pedra were among the cast. (I counted 22 musicians conducted by Butler at the end.)  Washboard impresario Andrea "Caterino" Scarso from Italy was a late addition to the lineup, and he played emotively and joyfully at the front of the stage.
This was one of my favorite EO sets ever. The vocals by Sopa de Petra added a magical harmonic dimension, and the Lisbon ladies were having the time of their lives.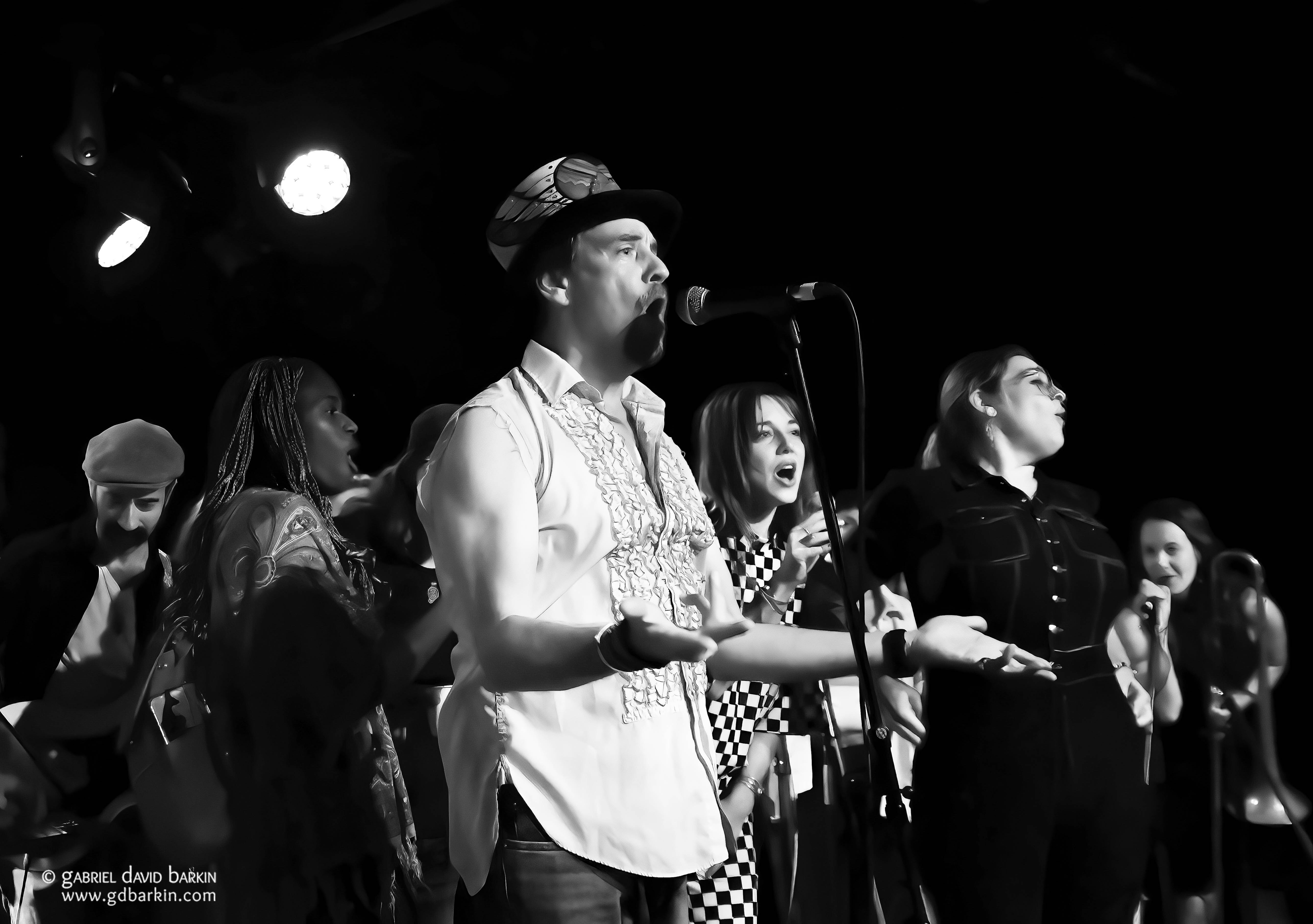 Butler told me later it was interesting putting together so many disparate elements. "Part of the challenge is to get everyone to show up not knowing where it's gonna go." For instance, one of the jams was actually a repeat of an EO bit that emerged in Lisbon in 2019, a frolicsome bit centered on a fun vocal take on obrigado, the Portuguese word for "thank you". "Only Kellen [Asebroek] knew we were gonna do it," Butler told me. Smiles spread across the stage when Asebroek started singing "Oh … oh … oh …brigado!" The "lyric" was quickly picked up by everyone on the mics.
Toward the end of the set, Hartswick playfully mocked Butler's EO whiteboarding by whipping out a handwritten sign for him that said, "Guns Out!" Butler complied, ripping off his trademark embroidered EO tuxedo jacket and finishing the set in a sleeveless white button-down shirt.
And so it ended. All things must pass, and our Sojourn was almost over.
Among the few Sojourn musicians in the house that night who were not in EO that night were four pickers: Lebo, Law, Naja, and Faquini. The quartet came out immediately after EO to stand with their guitars just in front of the stage. They led the entire assembly in a passionate singalong version of "Forever Young."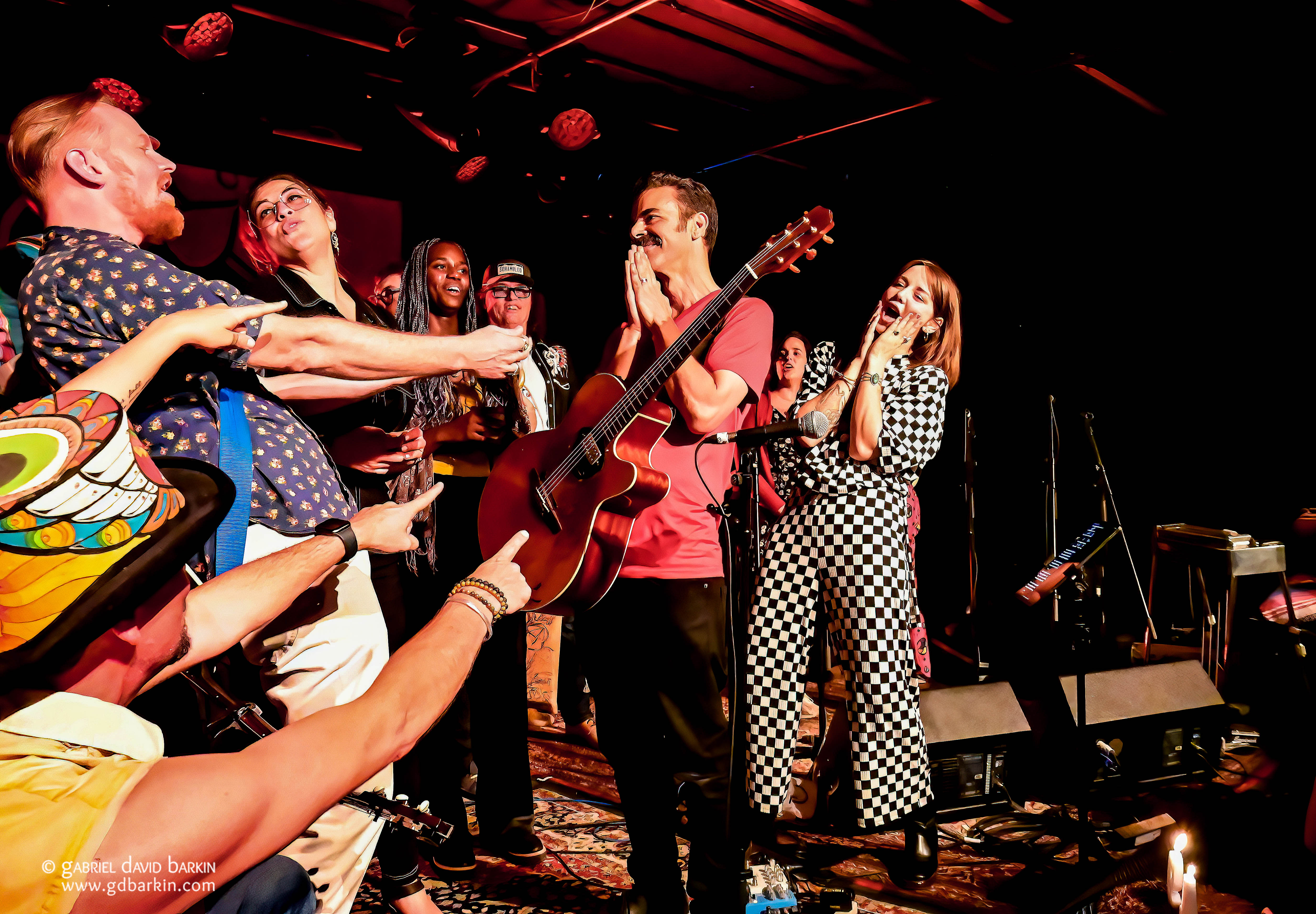 There was cake for Lebo's birthday. The rest was all hugs and goodbyes.
Matt Butler was happy at breakfast the next morning. "It was everything I ever dreamed of it being. Everyone Orchestra is a way for me to meet people and build community and trust and relationships. It's powerful, it's incredible, it's a gift." Butler and crew earned a standing ovation for sharing that gift with all of the Sojourners.
May we all stay forever young and have opportunities to share such memorable experiences. And let us raise a glass and sing a song for those who don't have these magical opportunities.
COMPLETE (mostly) ARTIST LIST
AMERICAN PERFORMERS:
Paul Hoffman (Greensky Bluegrass; guitar, mandolin, vocals)
Anders Beck (Greensky Bluegrass; Dobro)
Mike Devol (Greensky Bluegrass; bass)
Dan "Lebo" Lebowitz (ALO; guitar, vocals)
Tim Carbone (Railroad Earth; violin)
Todd Sheaffer (Railroad Earth; guitar, vocals)
Mimi Naja (Fruition; guitar, mandolin, vocals)
Jay Cobb Anderson (Fruition; guitar, vocals)
Kellen Asebroek (Fruition; guitar, keyboards, vocals)
Nicki Bluhm (vocals)
Natalie Cressman (Trey Anastasio Band; trombone, vocals)
Ian Faquini (guitar, vocals)
Jennifer Hartswick (Trey Anastasio Band; trumpet, vocals)
Steve Berlin (Los Lobos; saxophone)
Tikyra Jackson (Southern Avenue; drums, vocals)
Matt Butler (Jambay, Everyone Orchestra; drums, conducting)
Megan Letts (Mama Magnolia; vocals)
Aaron Feder (The Burning Shore, Alma Afrobeat Ensemble, Pedal Steel)
Andrea "Caterino" Scarso (Washboard)
PORTUGUESE PERFORMERS:
Retimbrar
O Gajo
Bernardo Couto
Cat Falcão
Sopa de Pedra