GRAMMY® Award-winning, Chicago-based band Wilco and Chicago-based singer-songwriter pianist Neal Francis have united to co-release a joint live rendition of the Wilco classic, "Theologians." Recorded earlier this year in front of a sold out festival crowd at Wilco's Sky Blue Sky in Riviera Maya, Mexico, "Theologians" will be available on a pay-what-you-want basis via Bandcamp for one day only on Friday, April 1, with all donations collected equally split between Chicago-based organization My Block My Hood My City as well as Ukrainian families via International Rescue Committee. Mexican artist Daniel Herrera designed the cover for the digital-only single.
LISTEN TO WILCO & NEAL FRANCIS "THEOLOGIANS"
"Our good friend Neal Francis said let's play this song together," says Wilco's Jeff Tweedy. He came to practice it with us, and he sang the shit out of it, so he's gonna sing it."
"As a Chicagoan, I've spent most of my life looking up to Wilco, so naturally I was thrilled when they asked me to sit in at Sky Blue Sky," says Francis. "The band was gracious enough to allow me to pick the tune I would play with them, which presented its own challenge because they have so many songs I love. My girlfriend suggested 'Theologians' as it's one of her favorites. I liked that choice because it has a great piano part, and the lyrics really resonate with me as someone who continues to contemplate spirituality. Most importantly it's an honor to be contributing to My Block My Hood My City, whose work focuses on support at the neighborhood level for areas of Chicago that continue to be denied resources. In light of the heart wrenching violence in Ukraine, and the great needs of the people there, we have also decided to direct the proceeds of our release to the International Rescue Committee which supports Ukrainian children and families in harm's way."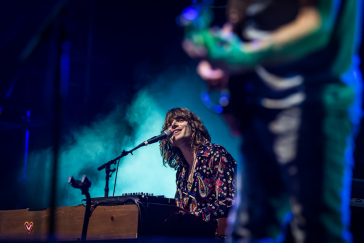 ABOUT NEAL FRANCIS:
Neal Francis has been making music at the piano since the age of four, sitting in with countless Chicago bands as a teenager before setting out on his own solo career. His 2019 debut album, Changes swiftly drew lavish acclaim, including a glowing review from KCRW who said, "What do Dr. John, Leon Russell and boogie woogie piano have in common? Neal Francis is the answer." Francis's acclaimed second LP, In Plain Sight, followed in 2021, once again earning international praise from such publications as Rolling Stone, who declared the album "a must hear," and MOJO, who wrote, "Francis digs deep on guileless rock and soul with bold flourishes, ala Lowell George or Randy Newman." An equally gifted live performer, Francis has shared the stage with members of The Meters at the New Orleans Jazz & Heritage Festival, toured alongside Lee Fields & The Expressions, Black Pumas, and The Cat Empire, and lit up festivals including Outside Lands, Shaky Knees, and his hometown's Lollapalooza 2021.
ABOUT WILCO:
Throughout the past two-plus decades Wilco has won multiple GRAMMY® Awards, released 11 studio albums, as well as a trio of albums with Billy Bragg penning music to lyrics by Woody Guthrie. They have founded their own record label (dBpm Records) and festival (Solid Sound). The Chicago sextet continues to be regarded as a live powerhouse, as described by NPR, "To see Wilco on stage is to hear the best of the best." The band's newest album, Ode To Joy, was released fall 2019.
 
ABOUT MY BLOCK MY HOOD MY CITY:
Chicago's fastest growing social impact organization, My Block My Hood My City's mission is to inspire youth, empower communities, and build a better world, one block at a time. Created by CEO/Founder Jahmal Cole, My Block My Hood My City knows that real change happens at the block level. With a goal to create an equitable future for Chicago through exploration and rapid mobilization, My Block My Hood My City targets unjust systemic barriers and invests in quality youth programming and community development initiatives to ensure access to holistic care, no matter the zip code. For more information or to make a donation, please visit www.formyblock.org.
ABOUT INTERNATIONAL RESCUE COMMITTEE:
The International Rescue Committee is a global humanitarian aid, relief, and development nongovernmental organization. For almost 90 years, the IRC has been responding to the world's worst humanitarian crises. When a new crisis strikes, the IRC's emergency team swiftly activates to determine the most effective way to reach people in need. Russia's invasion of Ukraine has killed hundreds of civilians and displaced millions of people so far. The IRC has deployed to neighboring Poland and is working with partners to assist arriving refugees. They are also working with partners inside Ukraine, supporting the evacuation of women and children and providing emergency aid to people who had to flee their homes.