Writer and producer Olivia Harrison is pleased to present Came the Lightening, in which she dedicates twenty poems to her late husband George Harrison to mark the twentieth anniversary of his passing. It will be published by Genesis Publications on June 21st, 2022. The cover reveal took place this morning to an audience of millions on social media.
Came the Lightening sees Olivia examining the intimacy and emotional connection of their relationship in a memorable series of poems. She delves into the phenomenon of losing a partner and the passage of time. The poetry is accompanied by a selection of photographs and mementos curated by Olivia, including some never-before-seen images of herself and George.
As a contributor to the book Concert for George, the revised edition of I Me Mine, as well as the bestselling book George Harrison: Living in the Material World, Olivia Harrison is no stranger to writing beautiful words that have an ethereal connection to love. Now, in her first departure from biographical nonfiction, this book is set to establish her as a new voice in poetry.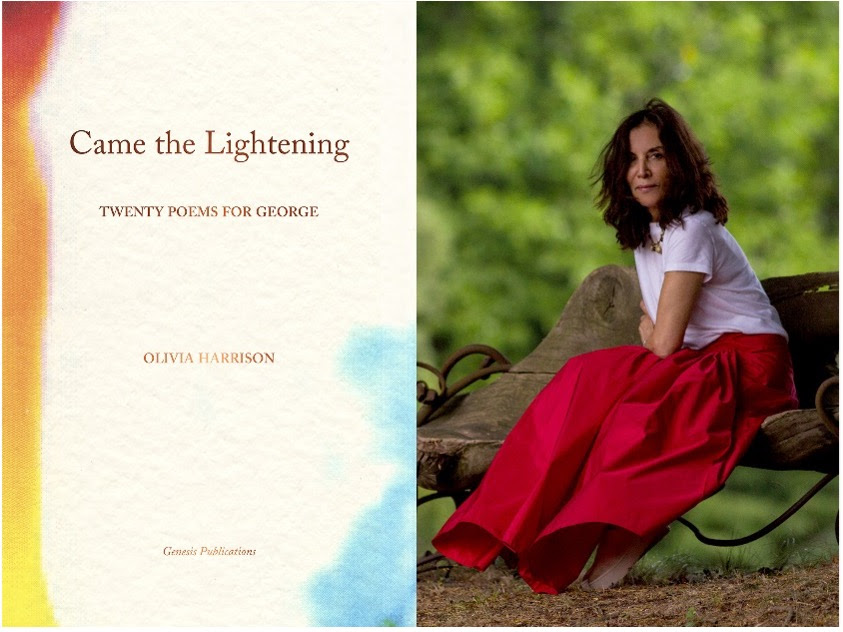 The book will be available in hardcover for $35 at all major booksellers. For a special signed limited edition, go to www.genesis-publications.com/oliviaharrison for further details.
Martin Scorsese, a long-time friend, and director of the 2011 documentary, George Harrison: Living in the Material World writes:
"Olivia evokes the most fleeting gestures and instants, plucked from the flow of time and memory and felt through her choice of words and the overall rhythm. She might have done an oral history or a memoir. Instead, she composed a work of poetic autobiography."
—Martin Scorsese
"Here on the shore, twenty years later, my message in a bottle has reached dry land. Words about our life, his death but mostly love and our journey to the end."
—Olivia Harrison
About the Author:
Olivia Trinidad Harrison is a film producer, and the widow of musician George Harrison of the Beatles. She first worked in the music industry in Los Angeles, for A&M Records, where she met George and then helped run his Dark Horse record label.
Olivia co-produced the Grammy award winning film of the 2002 Concert for George which she organised in memory of George. Olivia also received an Emmy for Outstanding Nonfiction Special from the Academy of Television Arts and Sciences in 2012 for her role as producer on the Martin Scorsese directed documentary: George Harrison: Living in the Material World. Olivia is a producer on the multi award nominated The Beatles: Get Back.
In late 2005, coinciding with the reissue of the album and film from the 1971 Concert for Bangladesh, Olivia established The George Harrison Fund for UNICEF with an initial focus on programs in Bangladesh. The fund had also assisted children affected by civil conflict, natural disasters or poverty in Afghanistan, Brazil, India, Angola, Romania, the Horn of Africa, Burma and Nepal and Mexico.
Olivia is a director of the Material World Foundation, a charity set up by George in 1973, overseeing the Foundation's ongoing work in encouraging and promoting the exploration of alternate and diverse forms of artistic expression, and philosophies. The Foundation has lent its support to many established charities around the world. Olivia and the Foundation are also partners with Martin Scorsese's Film Foundation to ensure the preservation of film history from across the globe. Restoring such diverse works as Charlie Chaplin's The Count to Mexican classic Enamorada to the British The Life and Death of Colonel Blimp