The eleventh annual Peach Music Festival in Moosic, PA at the Montage Mountain Ski Resort kicked off without a hitch on June 29, 2023. Despite a heat wave running through the country, the Northeast has seen very mild weather thus far, and Day One at the Peach was no exception. The merch table sold a lot of hoodies after the sun went down. The first day had a lighter schedule in comparison to the other days, and only one of the three stages had artists. Fans were enamored nonetheless as jam rock heavy hitters Goose and Twiddle put on raging performances. Friends of the Brothers and Thumpasaurus were on hand and delivered stellar sets of their own.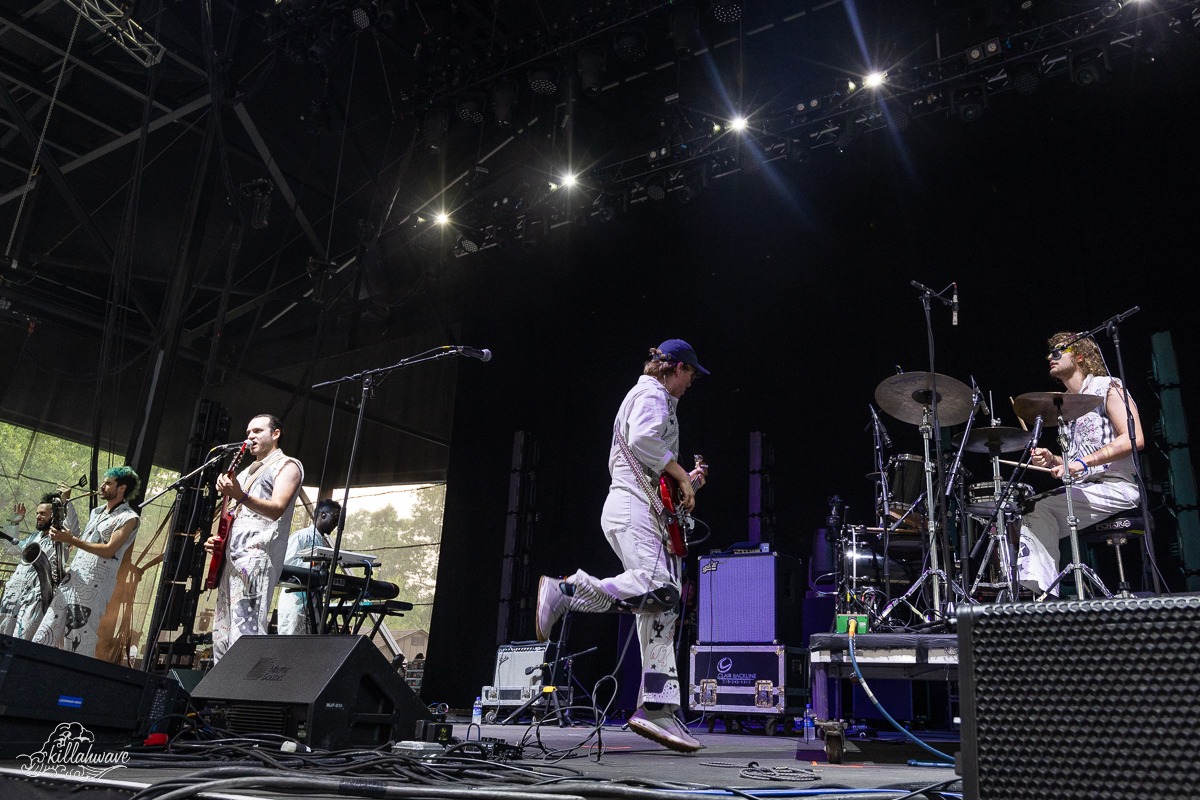 The Friends of the Brothers kicked off the festivities for the weekend on the Peach Stage, which is the larger, covered stage with reserved seating. This was a fitting spot for the septet as they primarily play songs from the Allman Brothers, who were an integral part of creating the Peach Music Festival. The current lineup included guitarists Junior Mack, Andy Aledort, and Alan Paul, drummers Lee Finkelstein and Dave Diamond, keyboardist Mike Katzman, and bassist Craig Privett. This all-star band brought a fun opening set.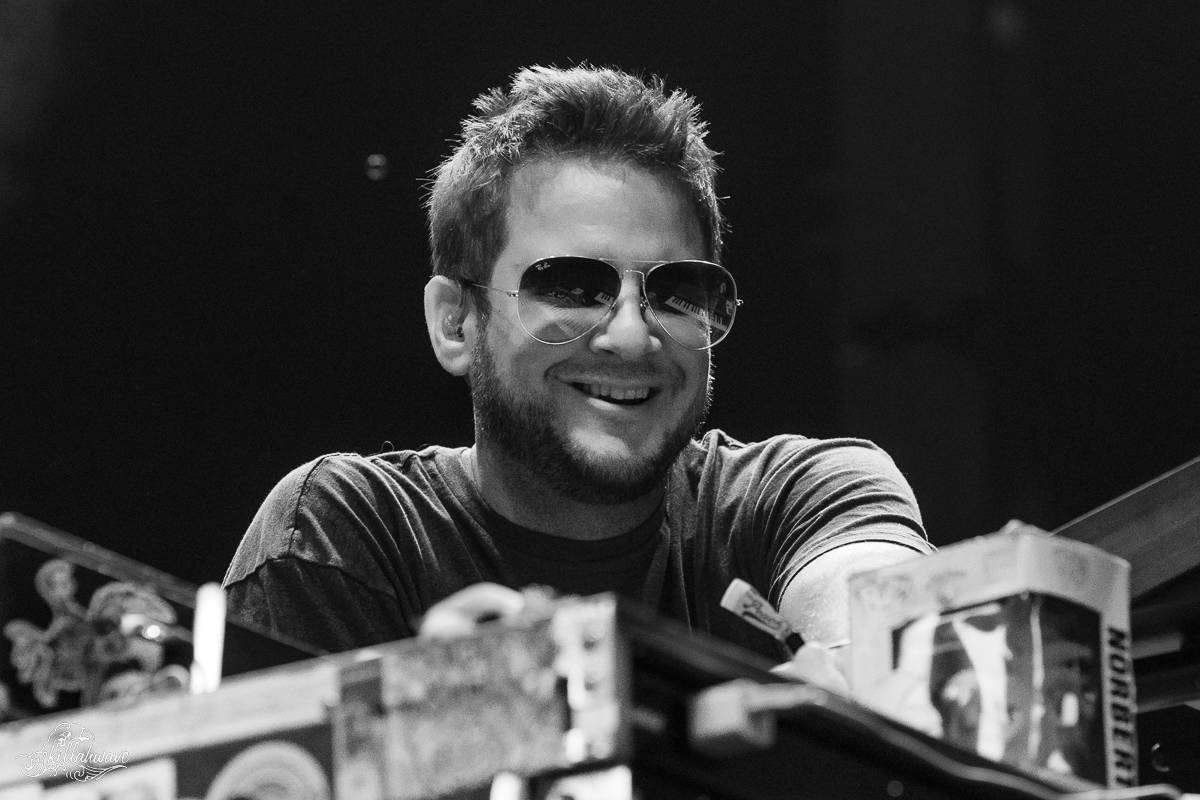 The pancake-making Thumpasaurus followed with a very high-energy set that can only be described as funky death metal. The sextet also had a band member who made pancakes as the band played and flipped them out to the crowd. The lineup comprised guitarist Lucas Tamaren, drummer Henry Was, saxophonist Henry Solomon, keyboardist Paul Cornish, bassist Logan Kane, and pancake flipper Ben Benjamin. This in-your-face band jumped around on stage and put on a highly entertaining, non-stop set. Solomon's saxophone balanced out the intense guitar and bass riffs, which created a unique or perhaps "thumping" fusion.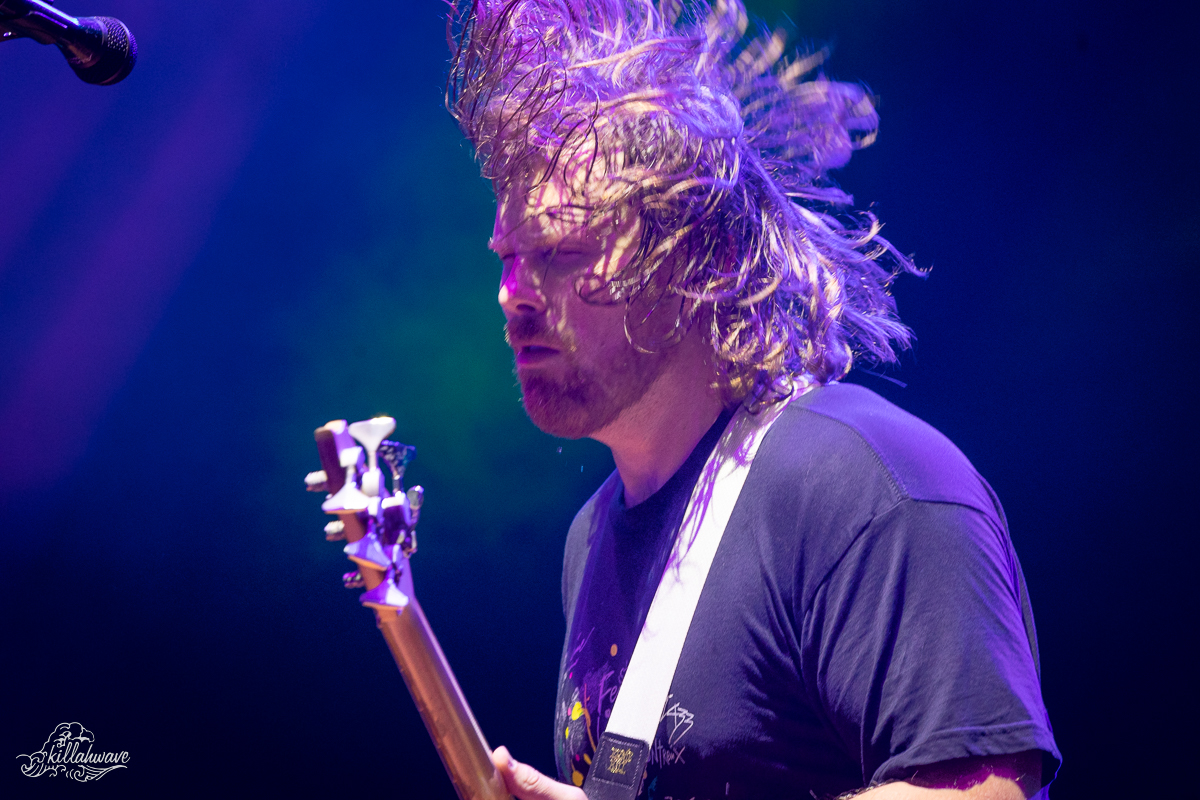 Twiddle, the uplifting reggae meets funky jam rock squad from Vermont, took the stage for a fiery set that included plenty of tasty exploration. The quartet's lineup consisted of guitarist Mihali Savoulidis, keyboardist Ryan Dempsey, drummer Adrian Tramontano, and bassist Zdenek Gubb. We've said it before and we'll say it again: this band is unbelievably talented. We are still crushed that they are taking a hiatus, but certainly understand, and are taking every opportunity to enjoy them while they are playing. If you agree, we suggest you do the same!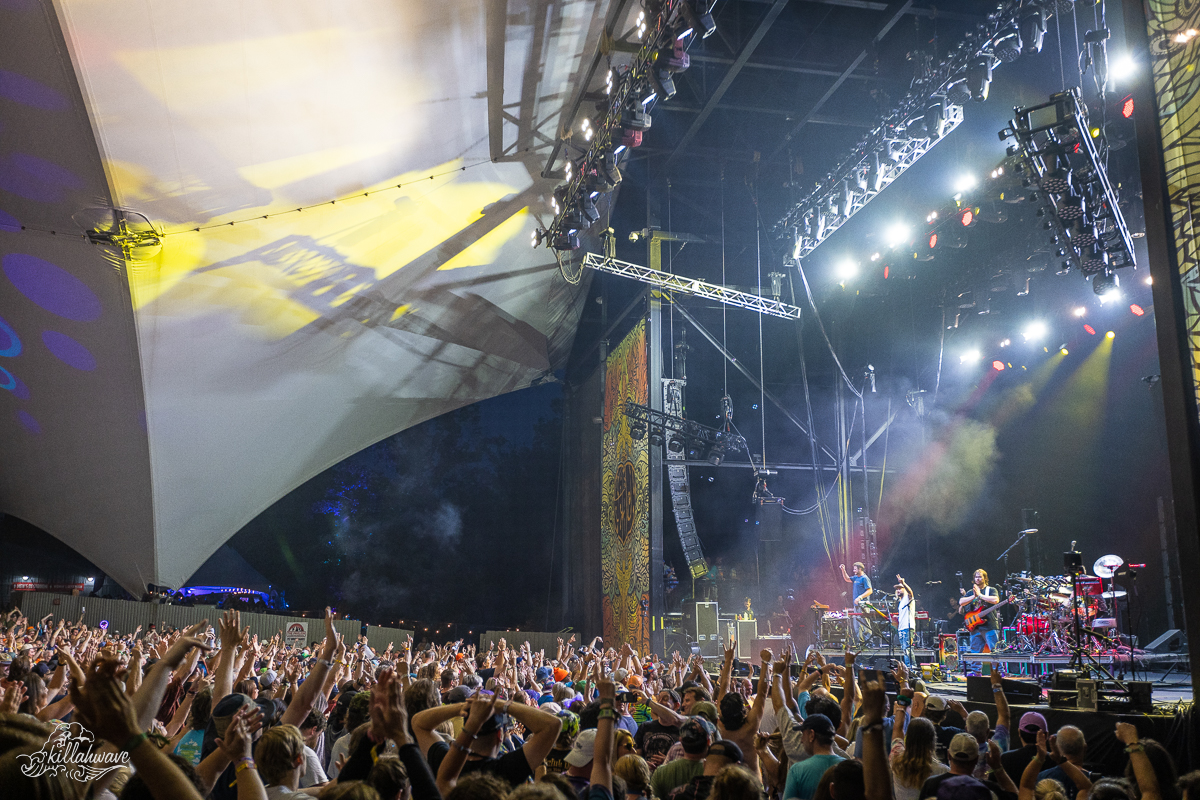 Tonight's therapy session, care of Twiddle, included a mega jam sandwich that started with "Orlando's," from their album Plump (Chapters 1 & 2), and flowed into "Every Soul." Tramontano unfurled a head-turning drum solo that morphed into a "Billie Jean" by Michael Jackson tease. This non-stop sequence rolled into "Marmunes the Faun" and ended back squarely in "Orlando's."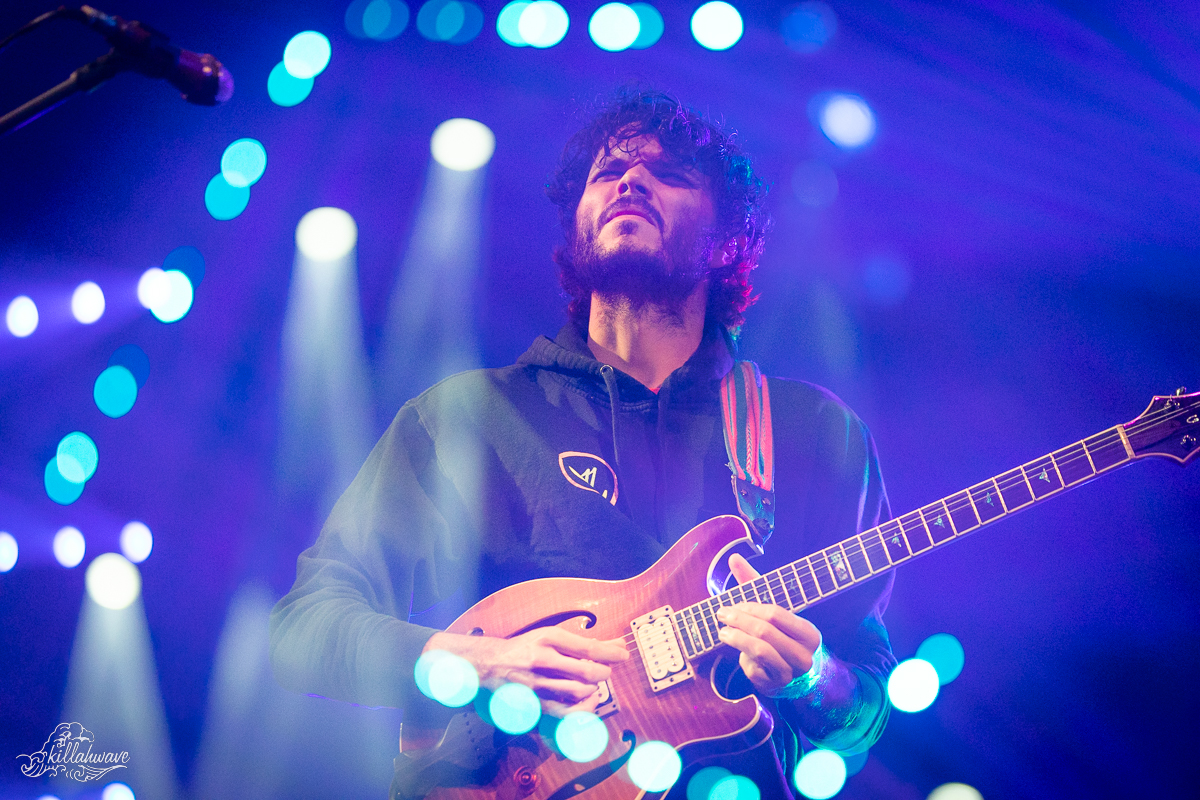 The bird band from Connecticut, Goose, closed out the first day with two sets of their signature originals and a pair of covers. Their current roster entailed guitarist Rick Mitarotonda, bassist Trevor Weekz, multi-instrumentalist Peter Anspach, drummer Ben Atkind, and percussionist Jeff Arevalo. The band wasted no time, and dove into newer tunes "Feel It Now" and "Mr. Action." "Rockdale" from the Goose predecessor Vasudo hopped into the set list next, complete with a funky jam. Another new tune, "Lead Up," proceeded, which debuted on March 10, 2023, at the Capitol Theatre. The intensity slowly rose through the set, and elevated during an electric "Turbulence & The Night Rays." Lighting Director Andrew Goedde and his team got very creative with the large ceiling and the explosive light display. This absolute fire set ended in a blaze during "Butter Rum," which also turned into a massive singalong.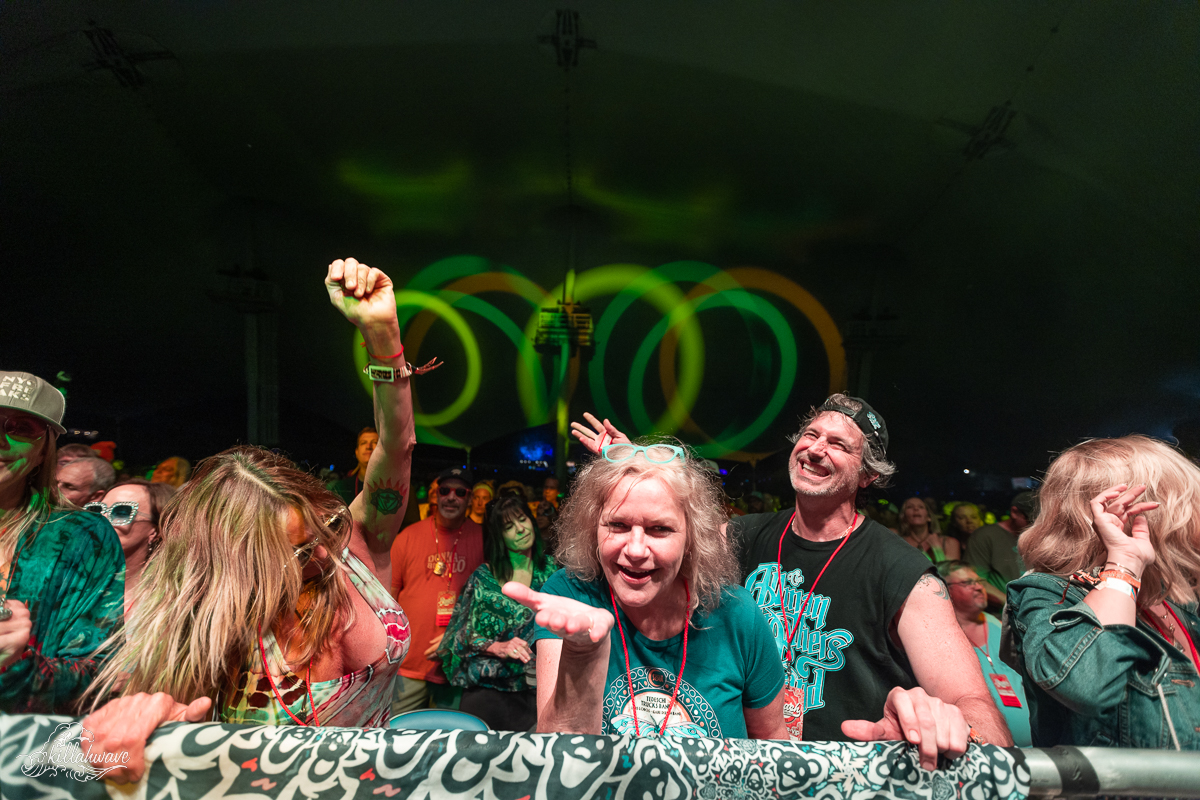 This quintet returned for round two and launched into even more improvisation, as well as the first of two covers: "Fish in the Sea" by Fat Freddie's Drop. This tune has become a staple for them since its debut in 2021. An inspired "Red Bird," along with "Silver Rising," saw some deep jams. The dance inciting "Drive" was up next, and the entire pavilion was moving and grooving to the well-executed tension and release. Mitarotonda's impeccable guitar skills led to a monster "Hollywood Nights" by Bob Seger & The Silver Bullet Band. The band was not quite done and dropped the jam of the night with "726" > "Thatch" to close out an epic festival performance.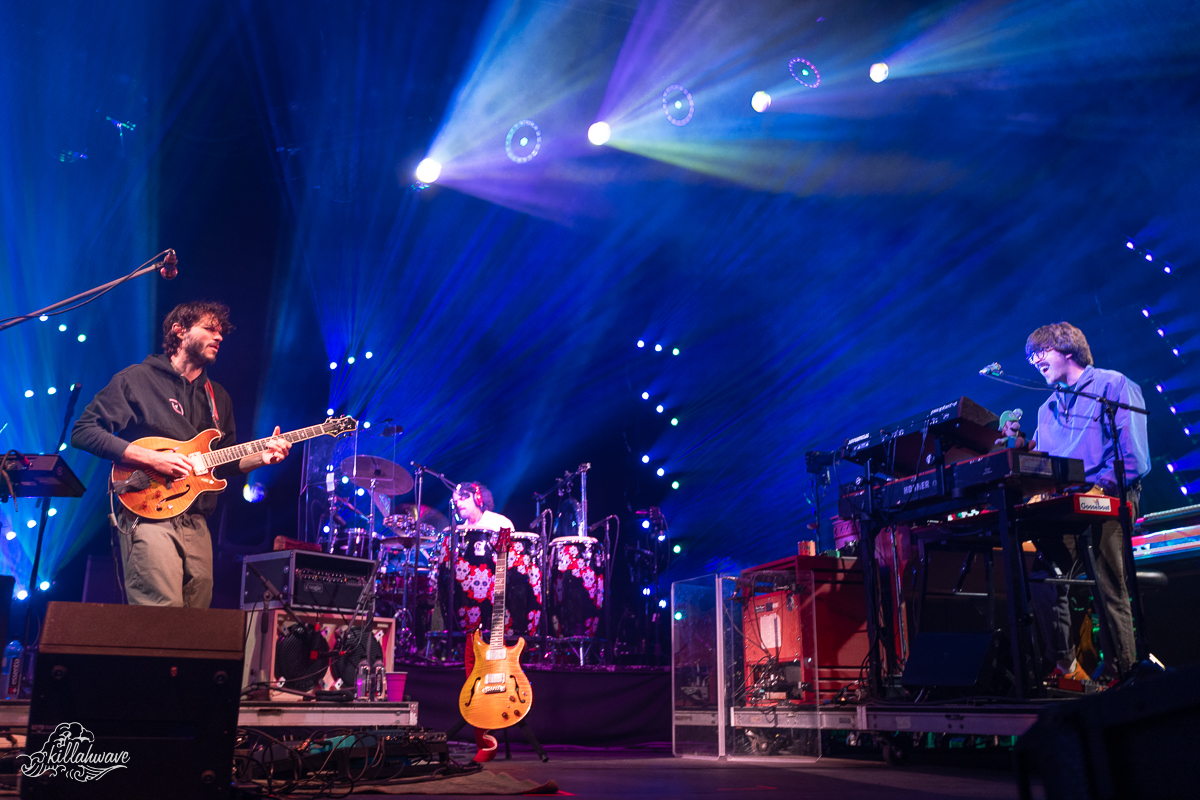 The Peach Music Festival is back in action today. Stay tuned to Gratefulweb.com for more coverage. Also, view more photos from Day One at the Peach!
Twiddle Set
Jamflowman, The Friend's Theme, Orlando's > Every Soul > Adrian drum solo > Billie Jean tease > Mamunes the Faun > Orlando's, Lost in the Cold, The Box, Slippin in the Kitchen
Goose
Set One: Feel It Now, Mr. Action, Rockdale, Lead Up, Turbulence & The Night Rays, Butter Rum
Set Two: Fish In The Sea[1], Red Bird, Silver Rising, Drive -> Hollywood Nights[2], 726 > Thatch
Coach's Notes:
[1] Fat Freddy's Drop
[2] Bob Seger & The Silver Bullet Band