Guided by its ongoing mission of "keeping music in the schools" and featuring a remarkably diversified fusion of musical voices, the 16th annual Petaluma Music Festival on July 29 celebrated the day with 14 music performances over three stages at the Marin-Sonoma Fairgrounds in Petaluma, California. Fueled by its belief in "the positive influence of music in children's lives," previous fest donations to the music programs in Petaluma-area schools have totaled $425,000.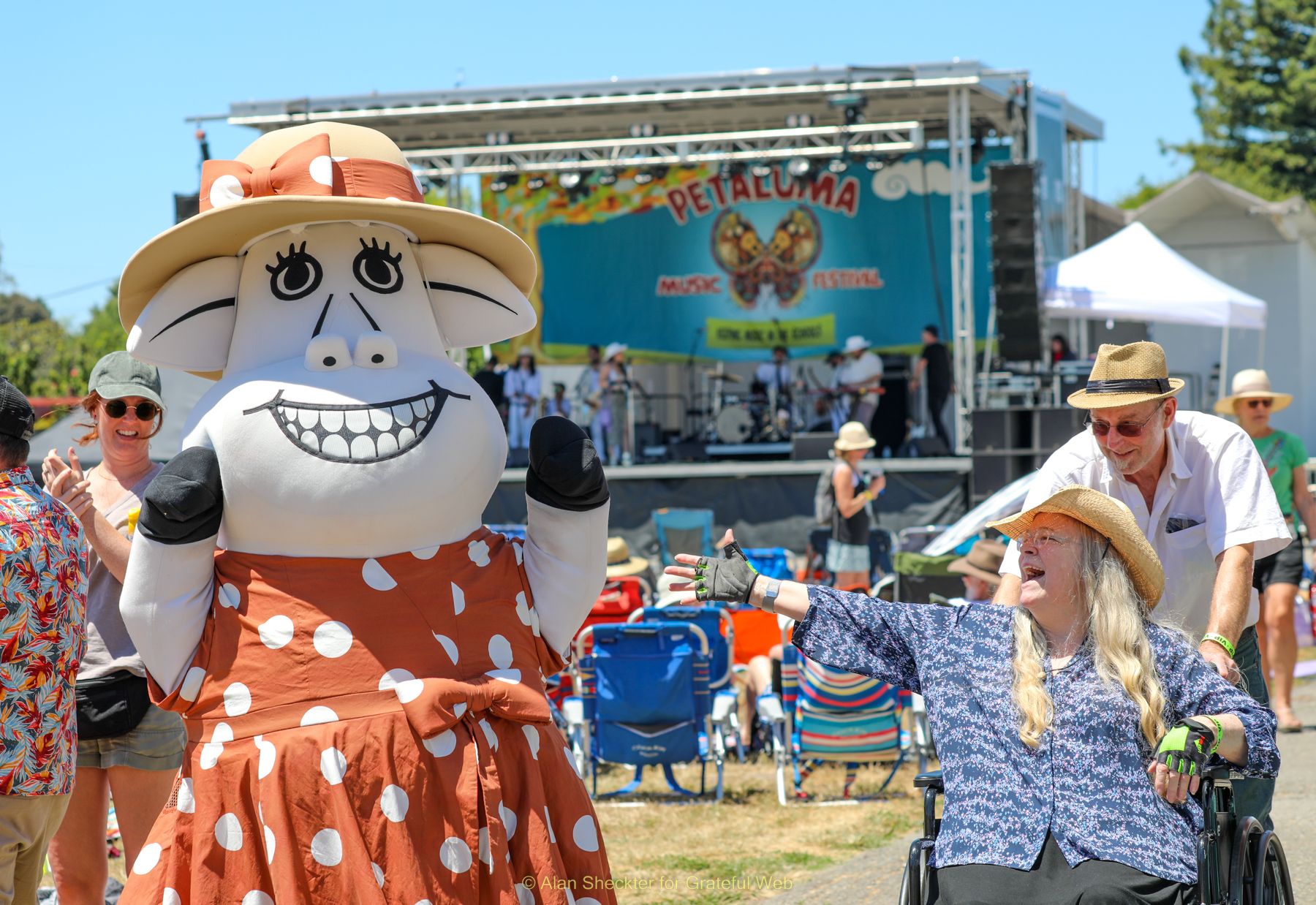 The day was headlined by a grooving 90-minute twilight set of genre-defying sounds from Karl Denson's Tiny Universe, included a joyous collection of ska-flavored hits from The English Beat, bohemian bluegrass from The Brothers Comatose, and profound rock and more from Chuck Prophet & The Mission Express.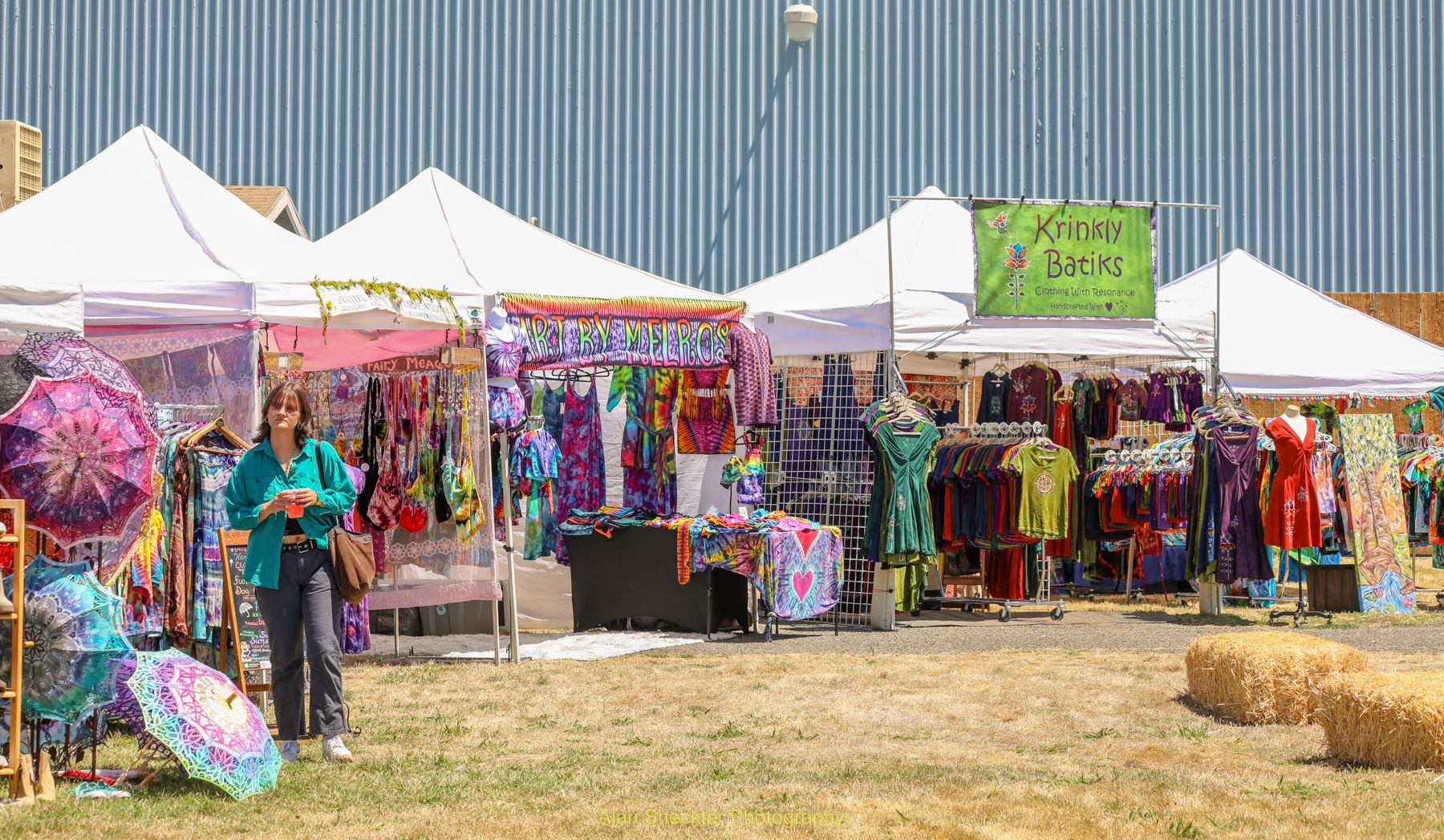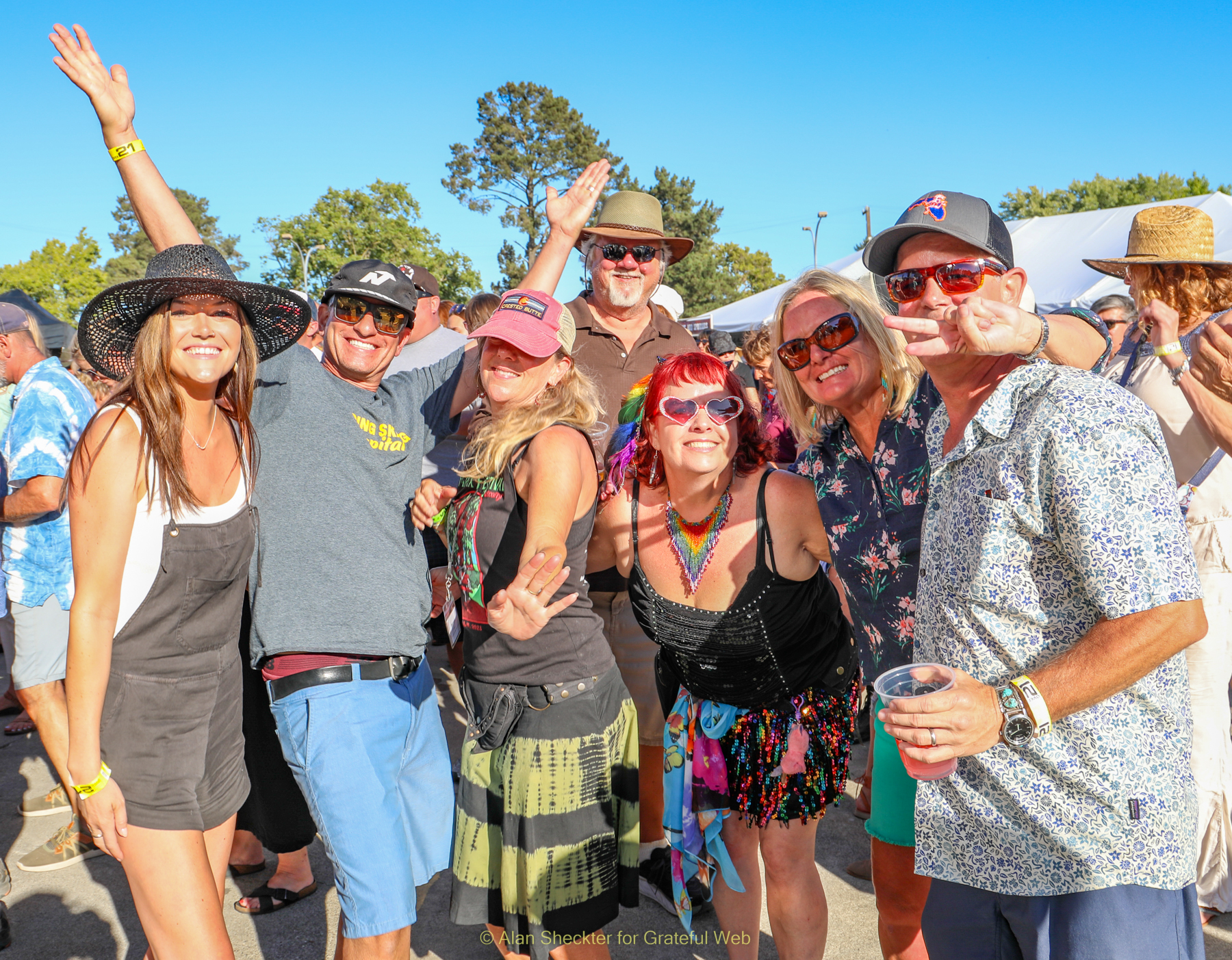 Each act played for a minimum of one hour, and well-planned scheduling made it possible to take in at least some of every band. The layout of the fairgrounds presented colorful pathways of artisans, food/drinks, kids activities, a large permanent area of covered/shaded picnic tables, and several fine perches from which the sun-splashed crowd could gather and settle in around the three stages.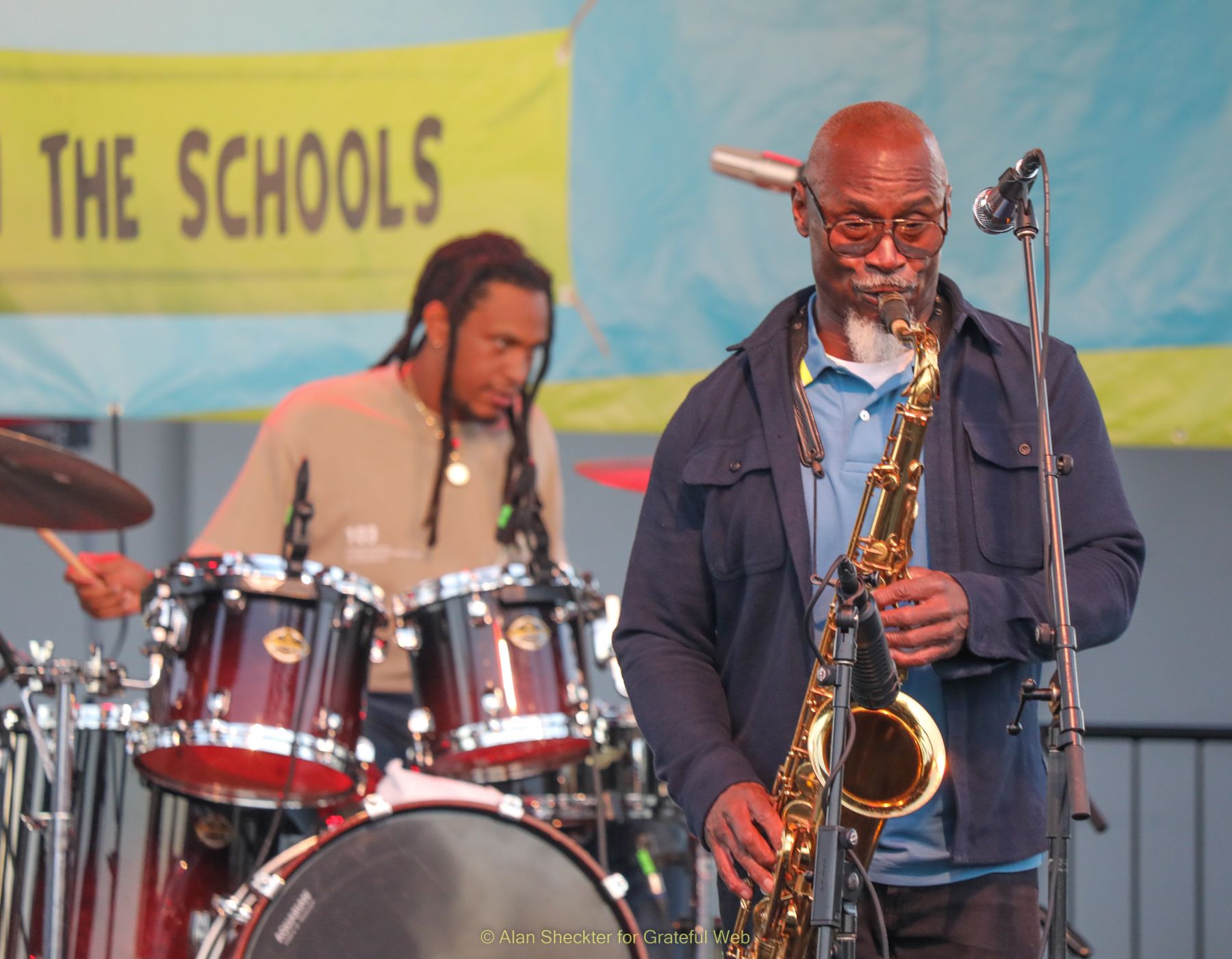 FESTIVAL STAGE: Seamlessly combining funk, rock, jazz, and soul into one improvisational and intoxicating experience, bandleader Karl Denson, primarily on saxophone as well as flute and vocals, led a seven-piece outfit (keyboards, two guitars, trumpet, bass and drums, in addition to Denson). Each Tiny Universe player was in command of their instruments, producing an exuberant, big house party vibe. While in recent years Denson's outfit have performed themed sets celebrating the music of such heritage artists as David Bowie and the Beastie Boys, this night's set focused on their own compositions.
Now in his 25th year of leading the Tiny Universe, Denson, who was a core member of Lenny Kravitz's band in the late 1980s, also co-founded the Greyboy Allstars in the early '90s, and has been a touring sax player for the Rolling Stones since 2014. Always muscularly toned, and a vision of class onstage, Denson's energy and spirit – he and his band's feverishly paced musical articulations were contagious – provided a jubilant finish to the day's proceedings.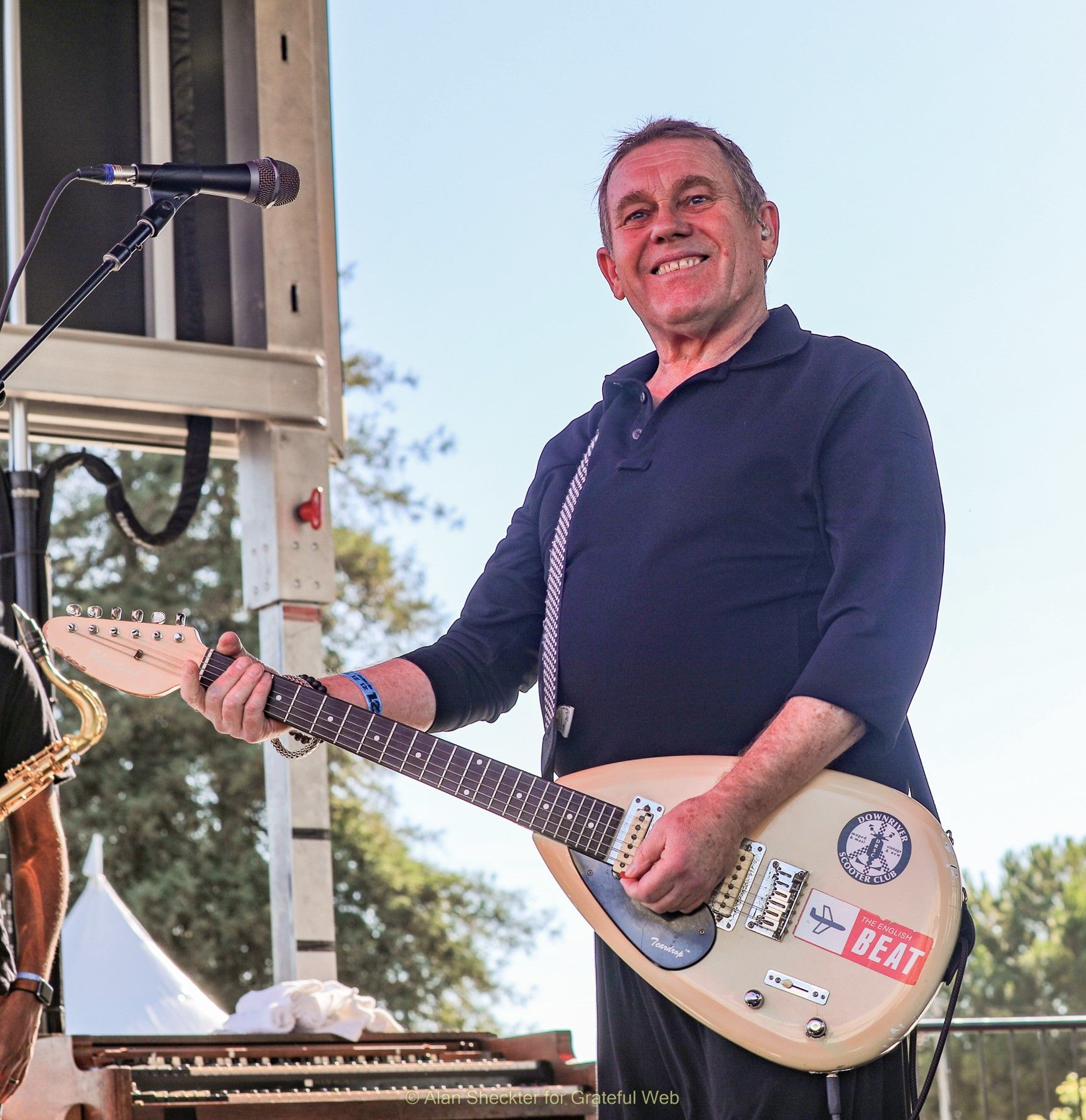 Dave Wakeling, the voice and guitarist of The English Beat since its origin in Birmingham, England, in 1979, led an all-killer, no-filler set of hits that inspired the audience to frolic in dancing unison. With roots in rocksteady (a mid-1960s classification that bridged ska and reggae) and 2-tone ska-punk, the band's horns, staccato beats, and Wakeling's vocals were all in excellent form as the seven-piece band delivered hits from its glory days of the early '80s.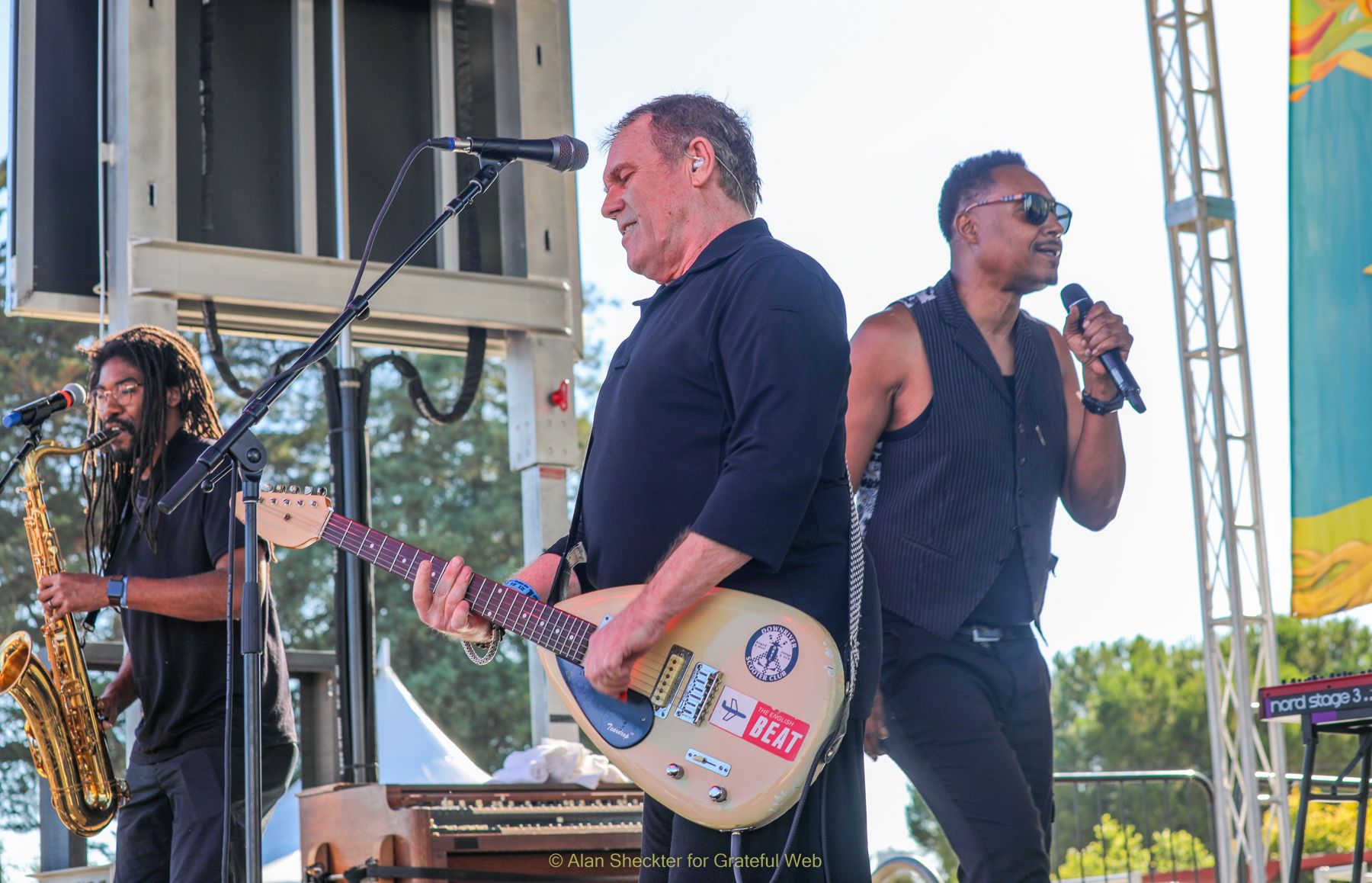 The set included most of the tracks from their debut record, "I Just Can't Stop It," such as the set's final songs, "Ranking Full Stop" and "Mirror in the Bathroom," as well as the encore sequence of "Two Swords," Smokey Robinson and the Miracles' "The Tears of a Clown," and "Jackpot." Wakeling and company (sax, keyboards, drums, guitar, back-up vocalist, and toaster), also regaled the crowd with "Save it for Later," their wonderful treatment of Andy Williams' "Can't Get Used to Losing You," and "Tenderness" as well as the Staple Singers' "I'll Take You There," the latter two taken from the General Public catalog, a band formed in the mid-'80s with Beat-mate Ranking Roger, who died in 2019.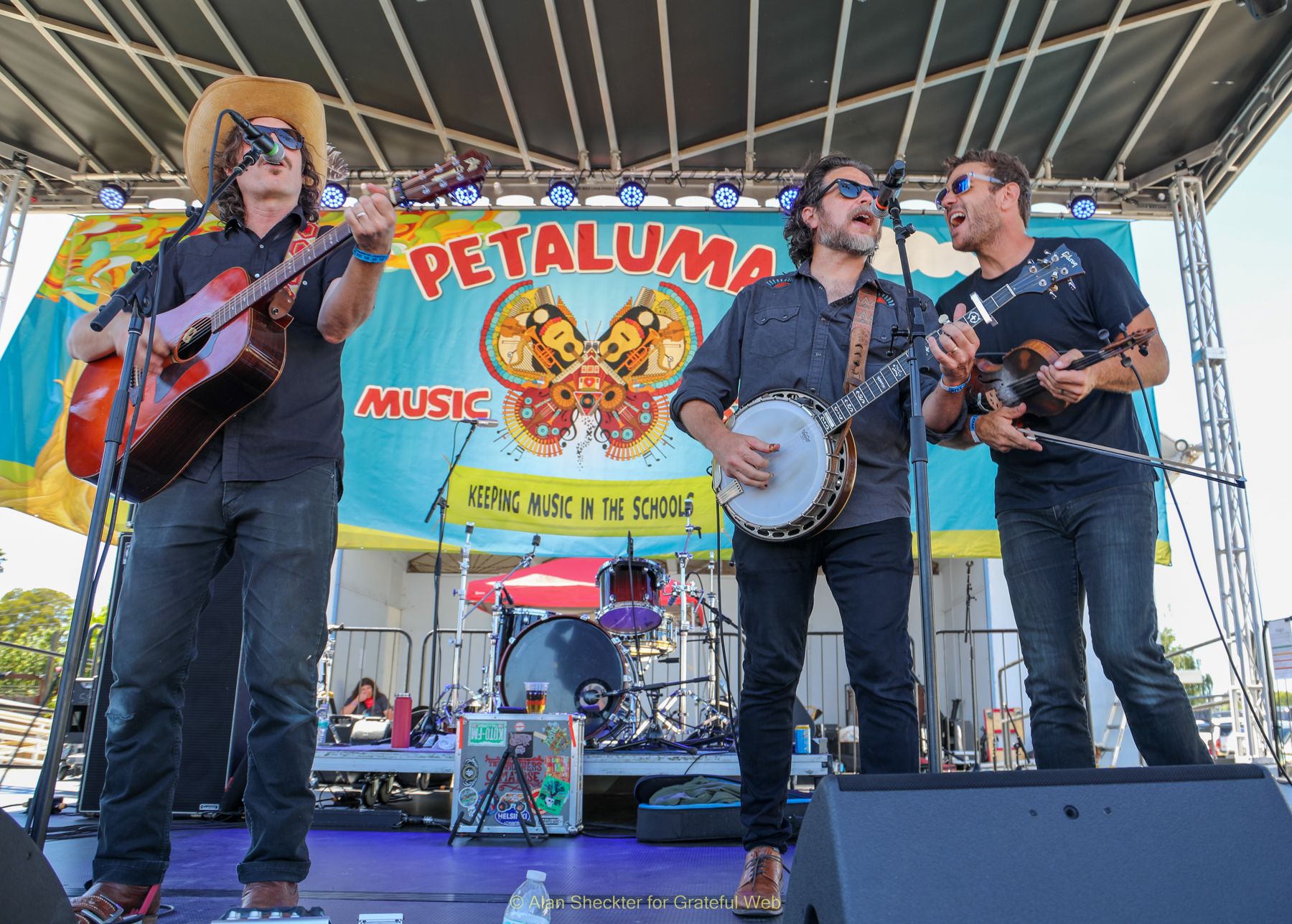 The Brothers Comatose, great players all and the nicest bunch of guys you'd ever want to meet, have made a lot of people stand up and take notice across the land. Here on their home turf – real-life brothers Alex and Ben Morrison were born and raised in Petaluma and the town's famous brand of beer, Lagunitas, can often be seen around their stages –the audience was quite familiar with The BroCo's frenetic fingerpicking and foot-stomping sounds, which inspired those gathered around into hootin', hollerin', and dancin' about.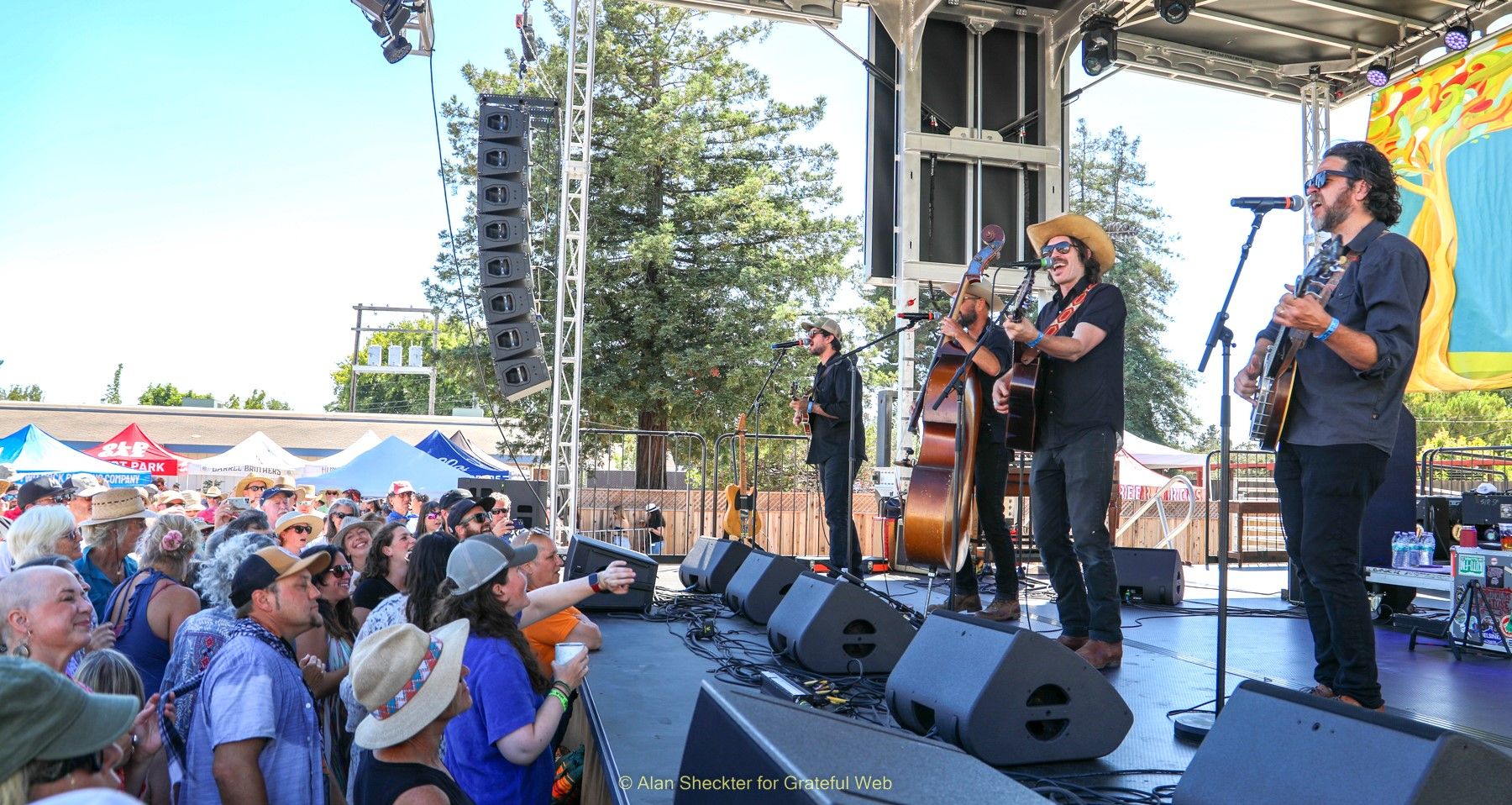 The five skilled and charismatic players (Ben on acoustic guitar/vocals, Alex on banjo/vocals, Phil Brezina (violin), Steve Height (stand-up bass), and Greg Fleischut (mandolin) fiddled their way through a joyous 17-song set. The band leaned most heavily on their 2016 album, "City Pained Gold," performing six tracks from that record, including the opening numbers, "Angeline" and the record's title track.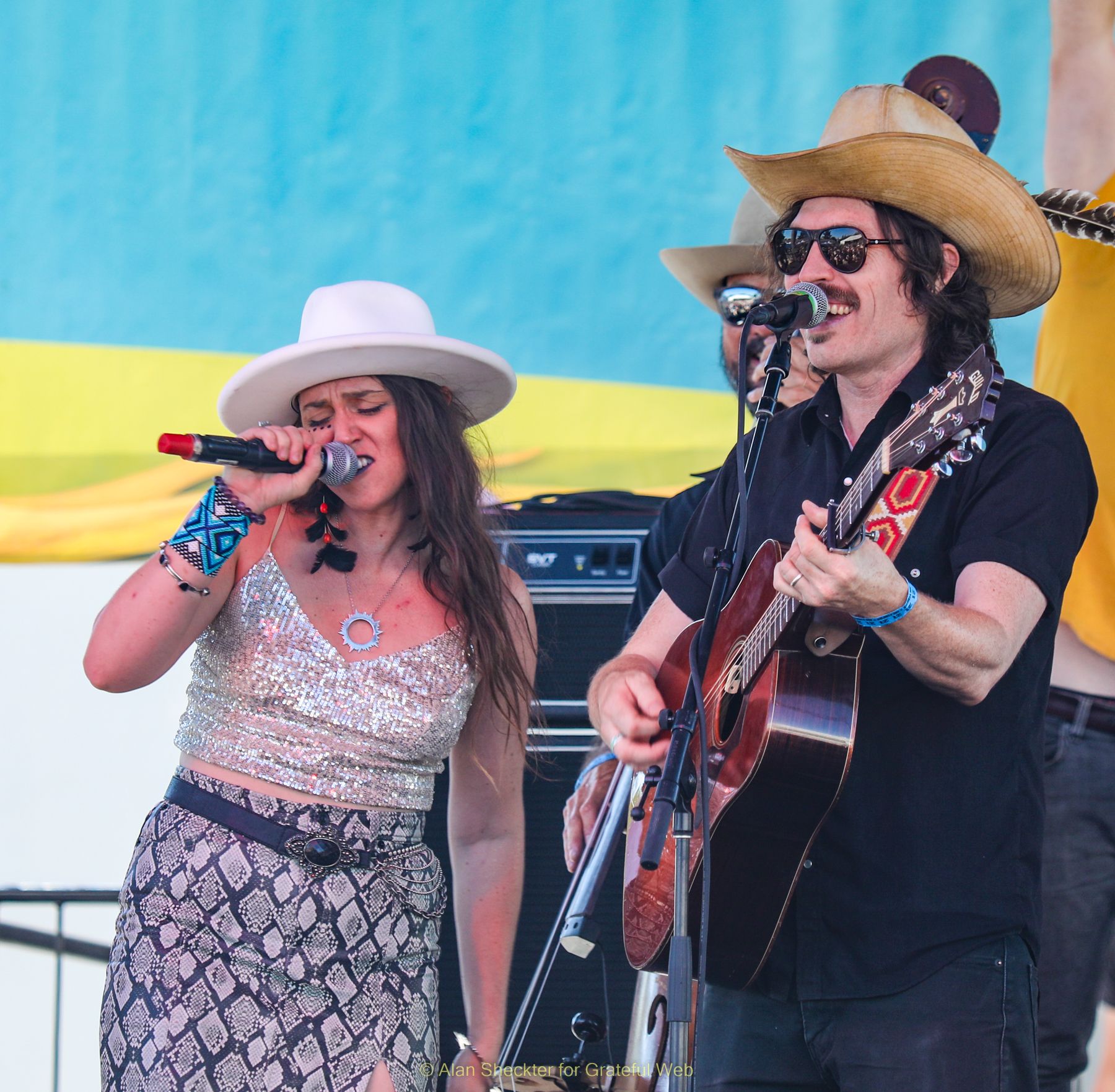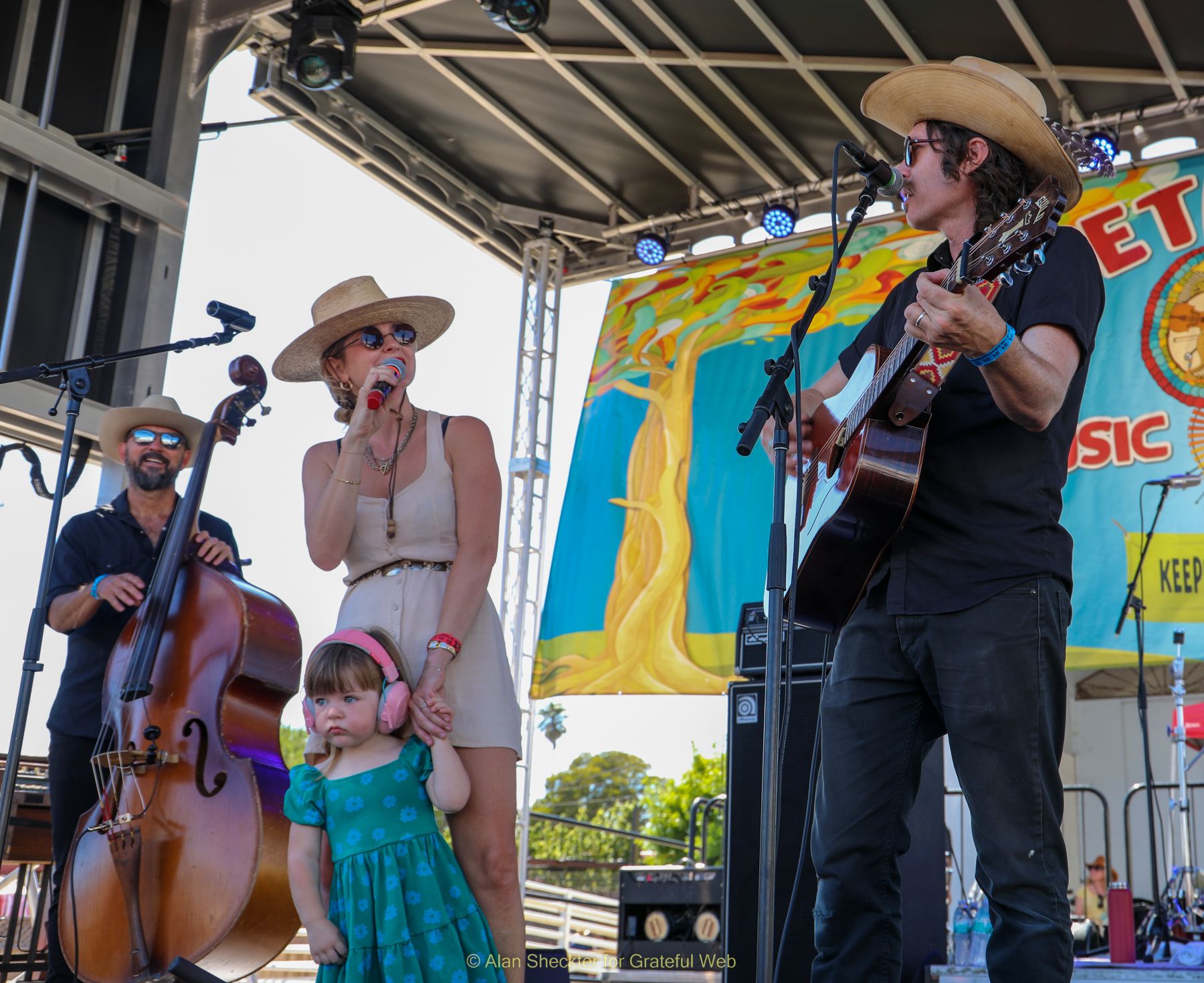 They also invited Royal Jelly Jive band members onstage for two more songs from that record, "Dance Upon Your Grave," and "Valerie," a cover of The Zutons song, made famous by Amy Winehouse. The Brothers Comatose also reached back to their early days for "Pie for Breakfast," and closing number, "The Ballad of Tommy Decker – The Prince of Haight St." And they also played their alt-country ballad, "Sugar Please," with Erika Tietjen of the T Sisters (and Ben's wife) sharing vocals with Ben.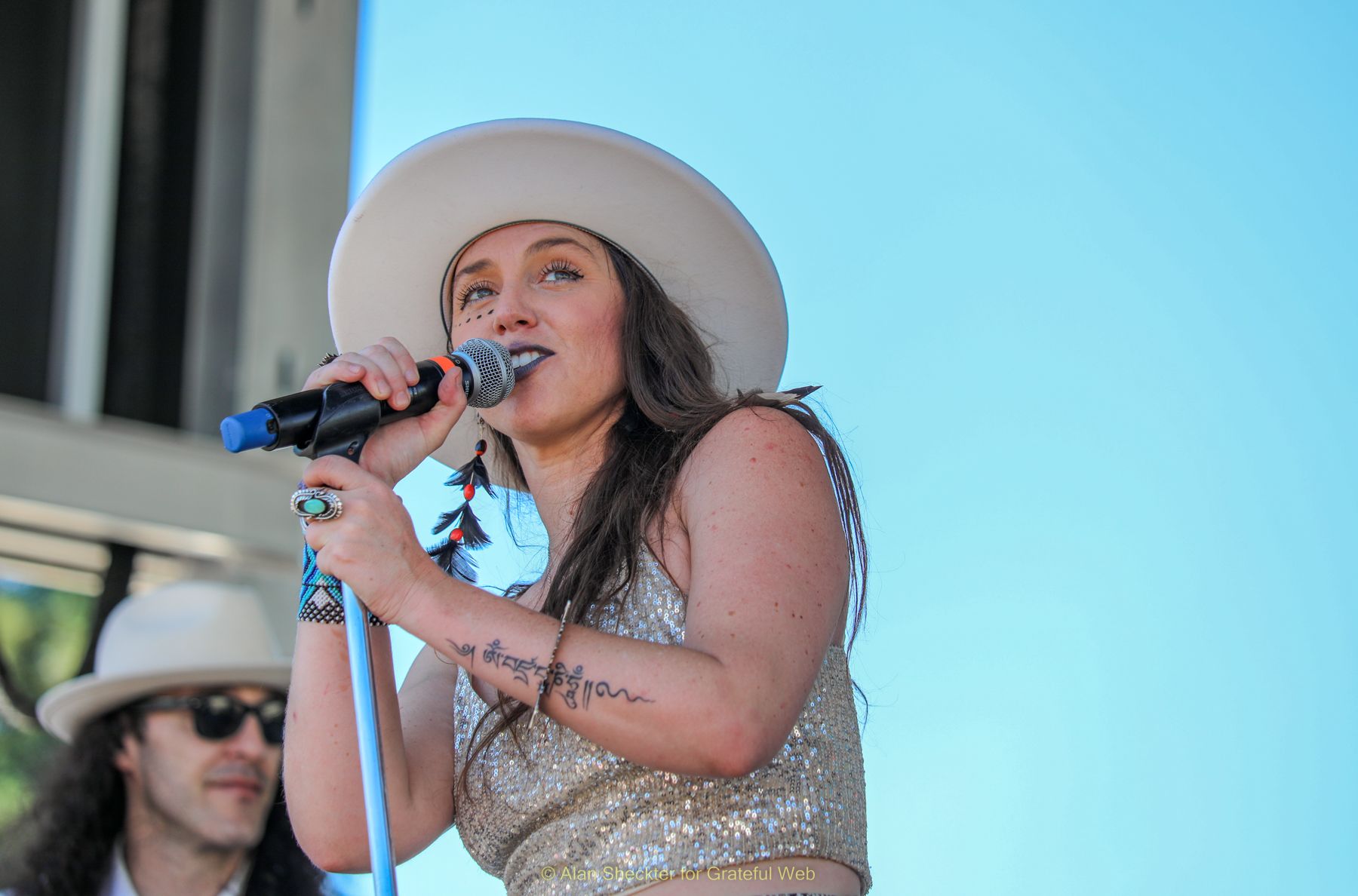 Led by the distinctive vocals from captivating personality Jaleh Lauren Bjelde, swing and retro-jazz collective Royal Jelly Jive (self-described as "San Francisco Soul") preceded The Brothers Comatose and their crafty songs and irresistible arrangements kept the mood bright and fun while instigating lots of dancing.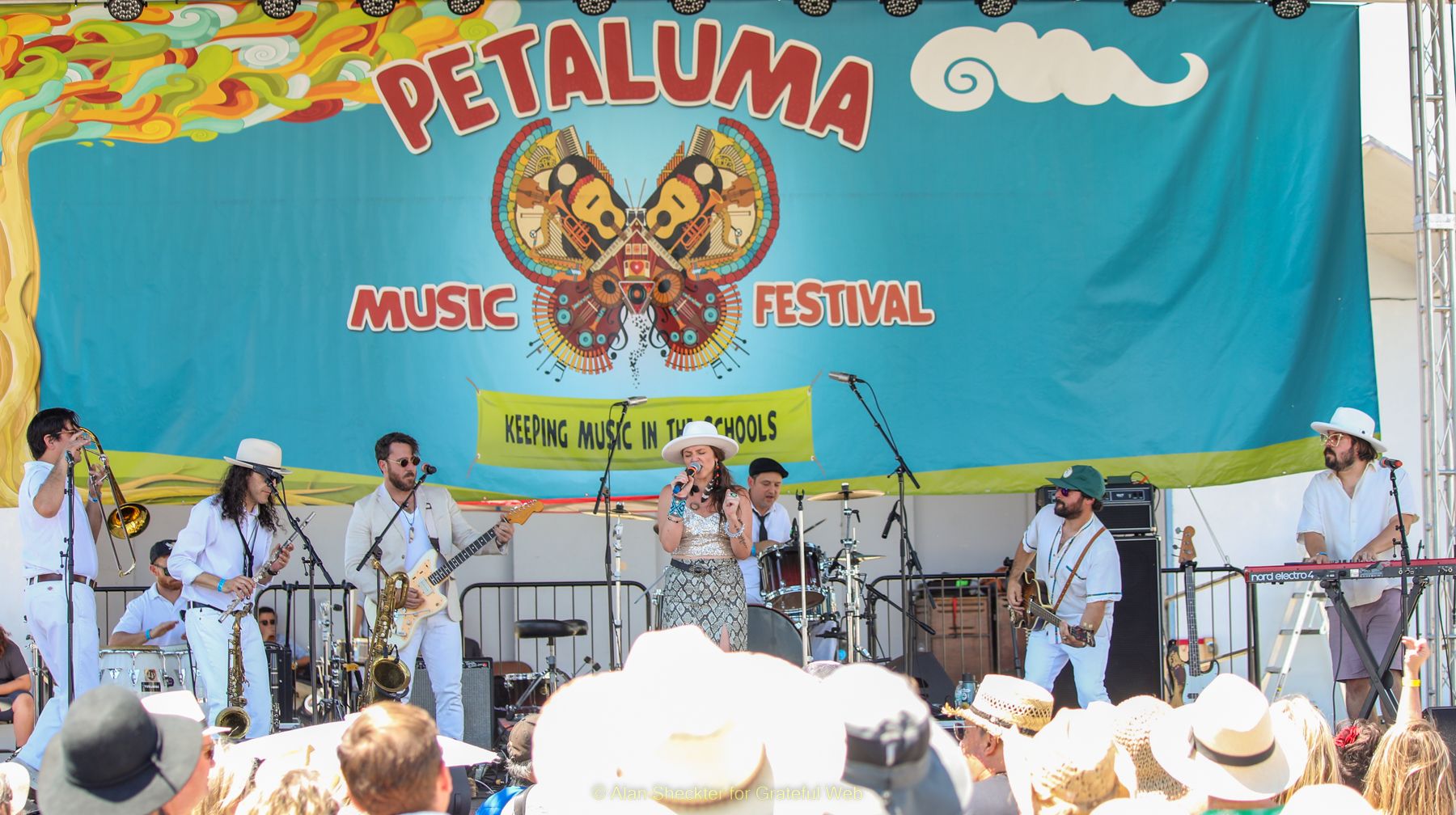 Supporting Bjelde, the vibrant nine-member group, which has been the most frequent performer at this fest over the years, were keyboardist/accordion player Jesse Lemme Adams, a trio of horn players, a guitarist, bass player and two percussionists.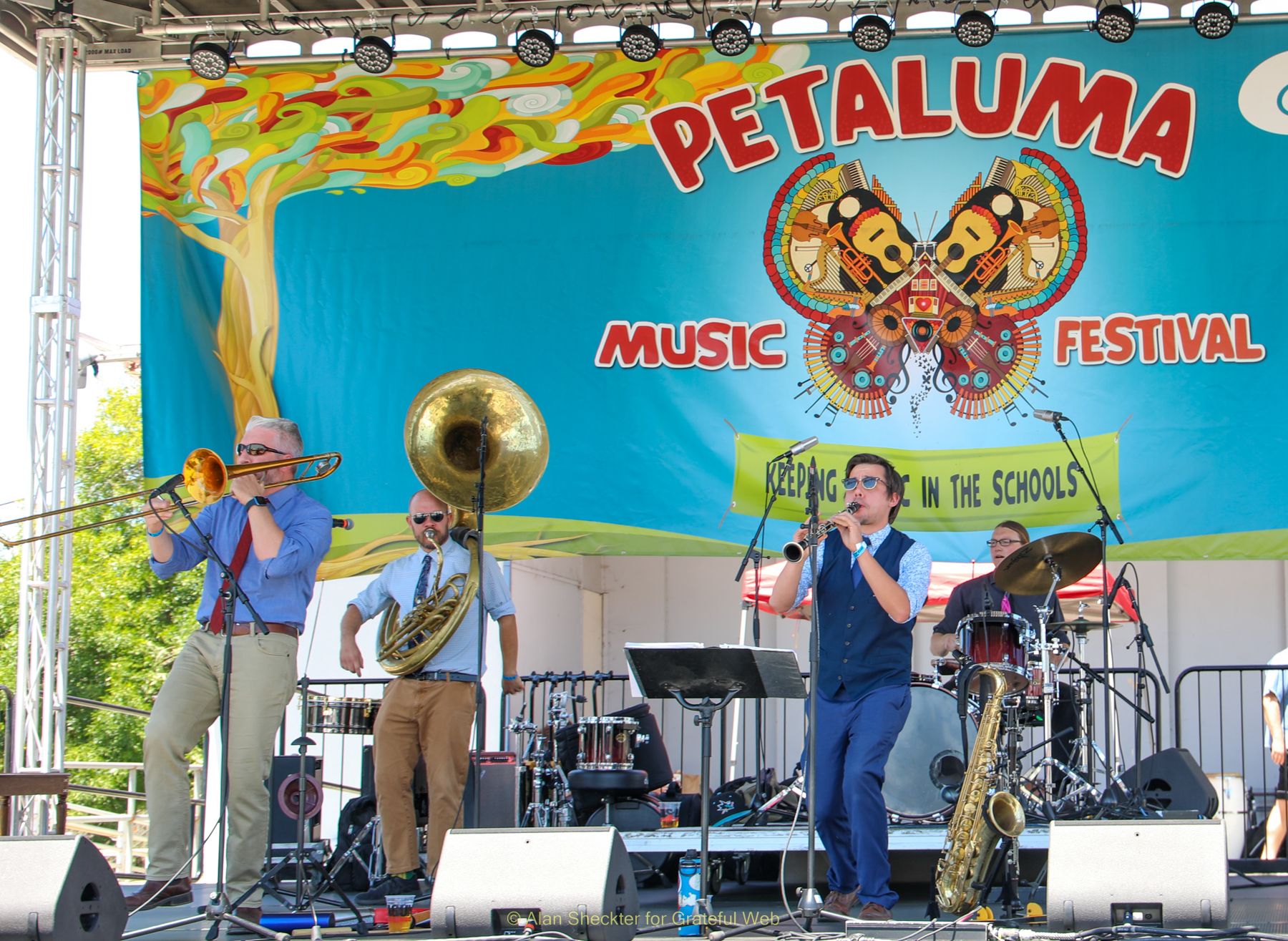 The Bay Area's King Street Giants opened the Festival Stage proceedings with a merry mix of New Orleans/Dixieland sounds fueled by a hearty helping of brass.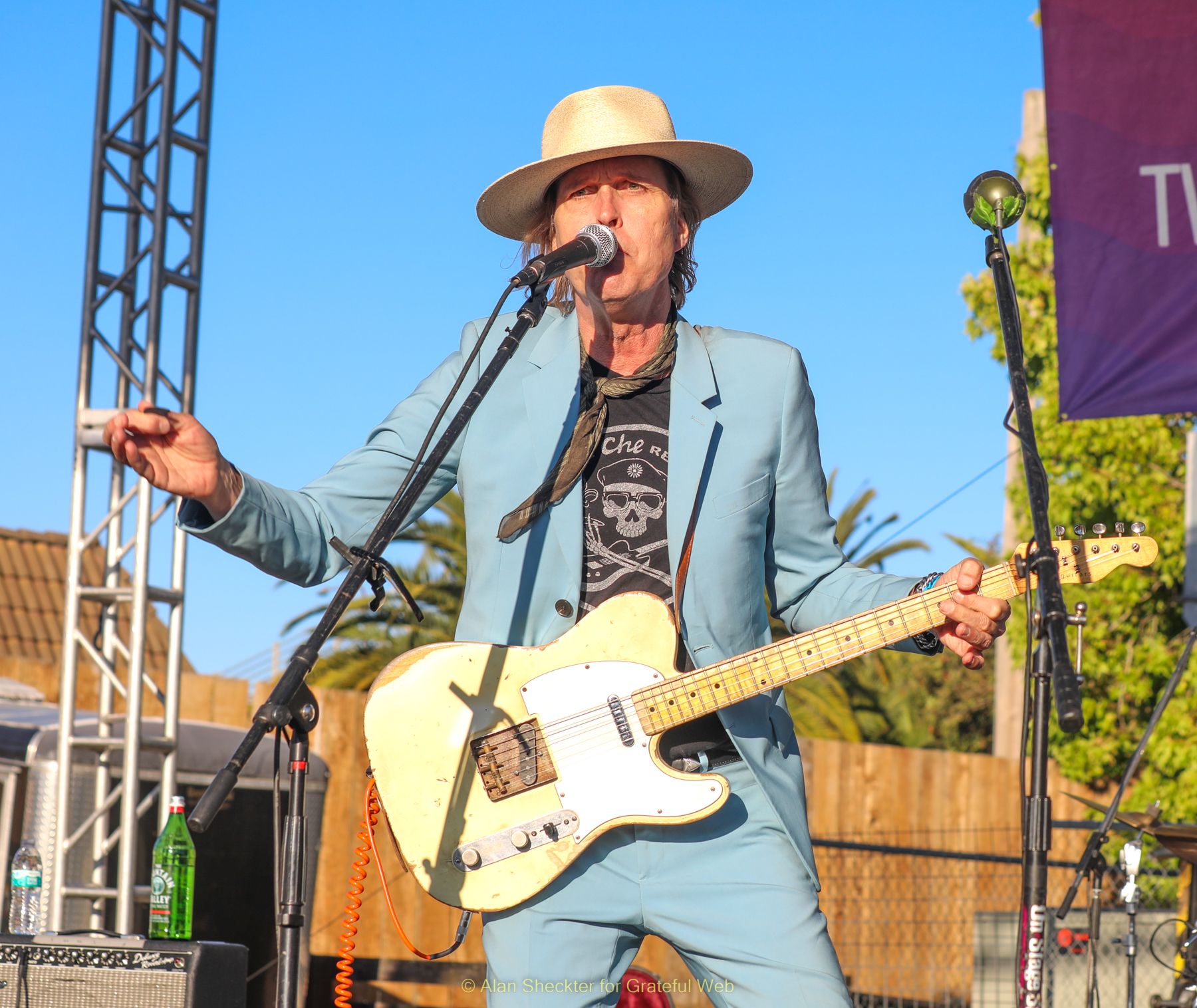 TWO ROCK BREWING STAGE: Chuck Prophet & The Mission Express closed out the Two Rock Brewing Stage, performing their dynamic brand of alt-rock, country, and blues immediately before Denson's Tiny Universe. A consummate entertainer with incredible lead guitar acumen, Prophet has led his own band for more than 30 years following his tenure with Green on Red. The Mission Express included Prophet (lead guitar/vocals), James DePrato (guitars), Stephanie Finch (Prophet's wife, on keyboards, backing vocals, Kevin White (bass), and Vincente Rodriguez (drums).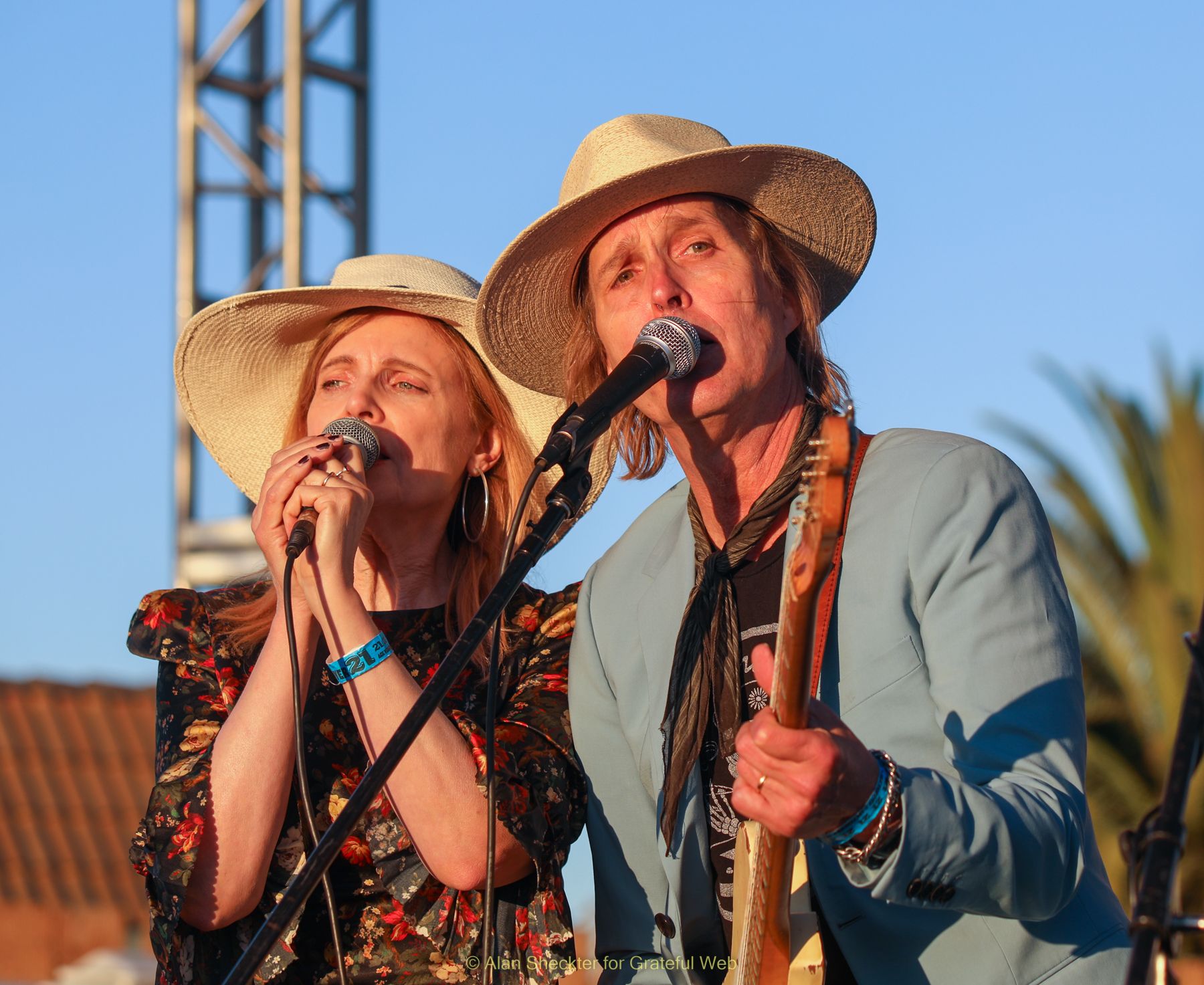 Prophet and the band presented soulful, country-tinged ballads ("High as Johnny Thunders") to mid-tempo selections ("Willie Mays is up to Bat"), to fierce guitar-laden rockers such as "In the Mausoleum" and Alex Chilton's "Bangkok." Their set also included "The Left Hand and the Right Hand," "You Did (Bomp Shooby Dooby Bomp)," and closing number, "Summertime Thing."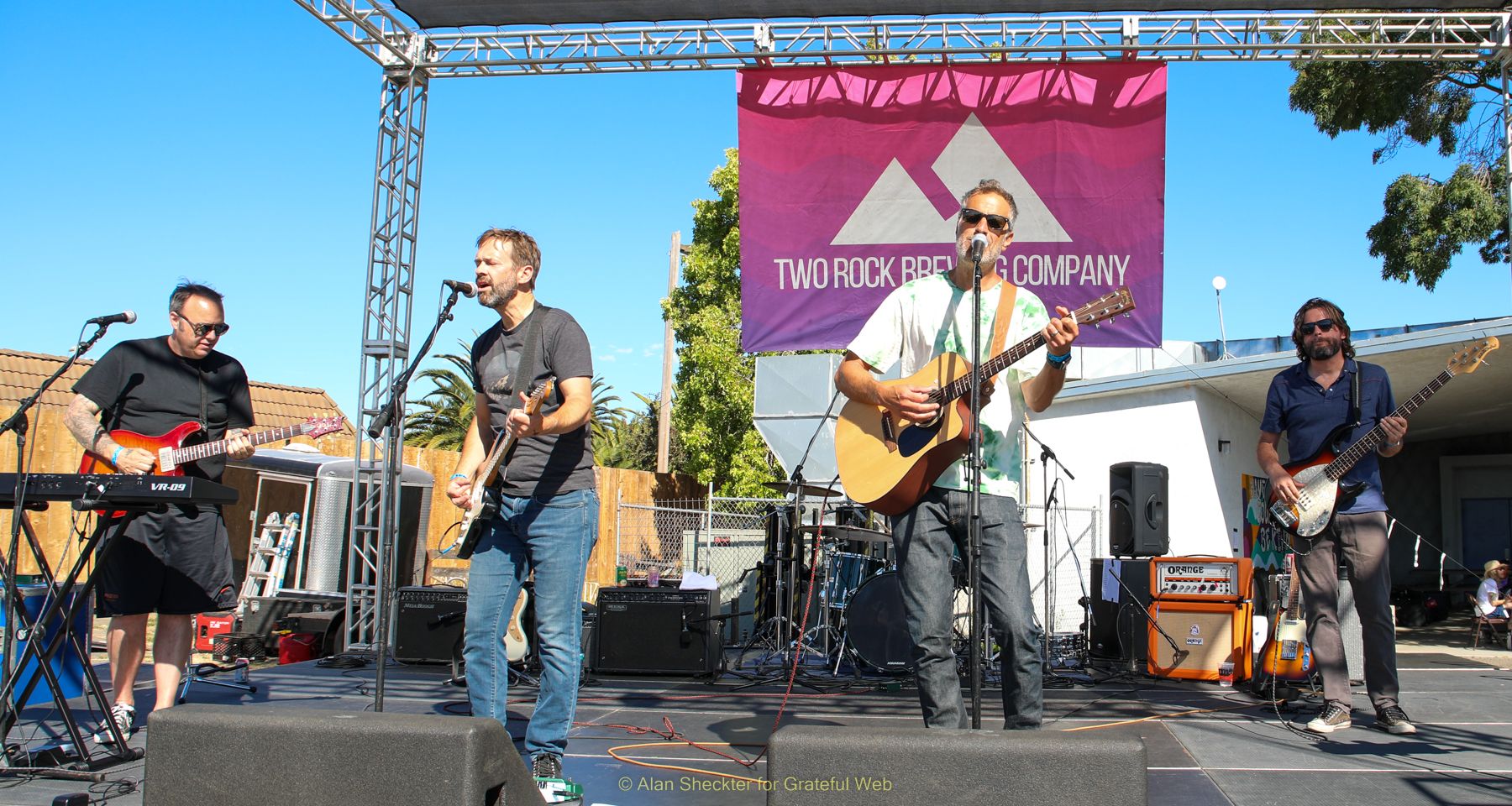 Veteran alt-rock/grunge outfit Stroke 9, led by singer/songwriter/guitar thrasher Luke Esterkyn, preceded Prophet, with a well-received set.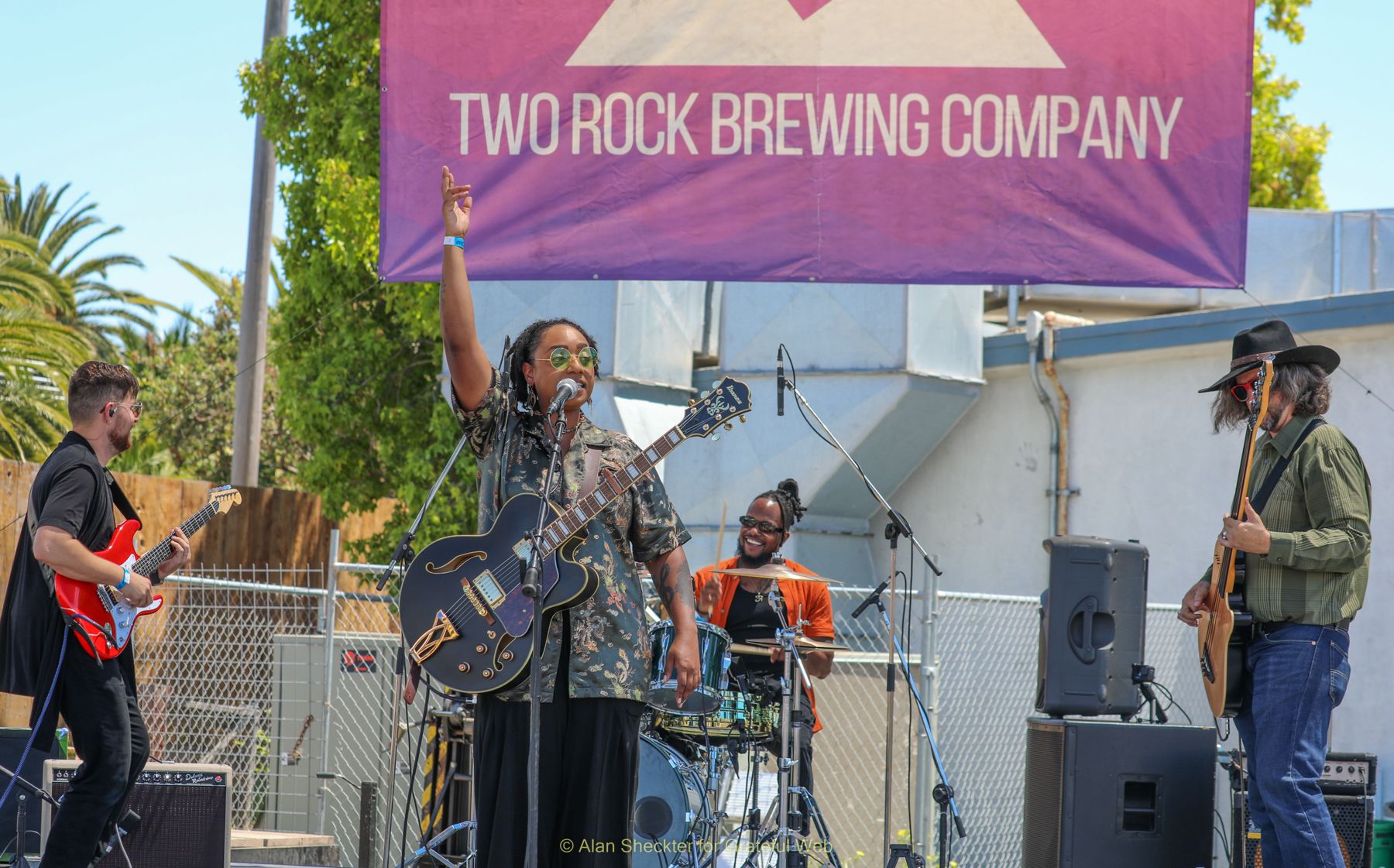 Erica Ambrin delivered an engaging early-afternoon set. A solo artist who gives off "vibes of Erykah Badu, The Fugees, and the Alabama Shakes," her website aptly states, the charismatic, clear-voiced Ambrin appeared with her with the rock 'n' soul-filled Eclectic Soul Project.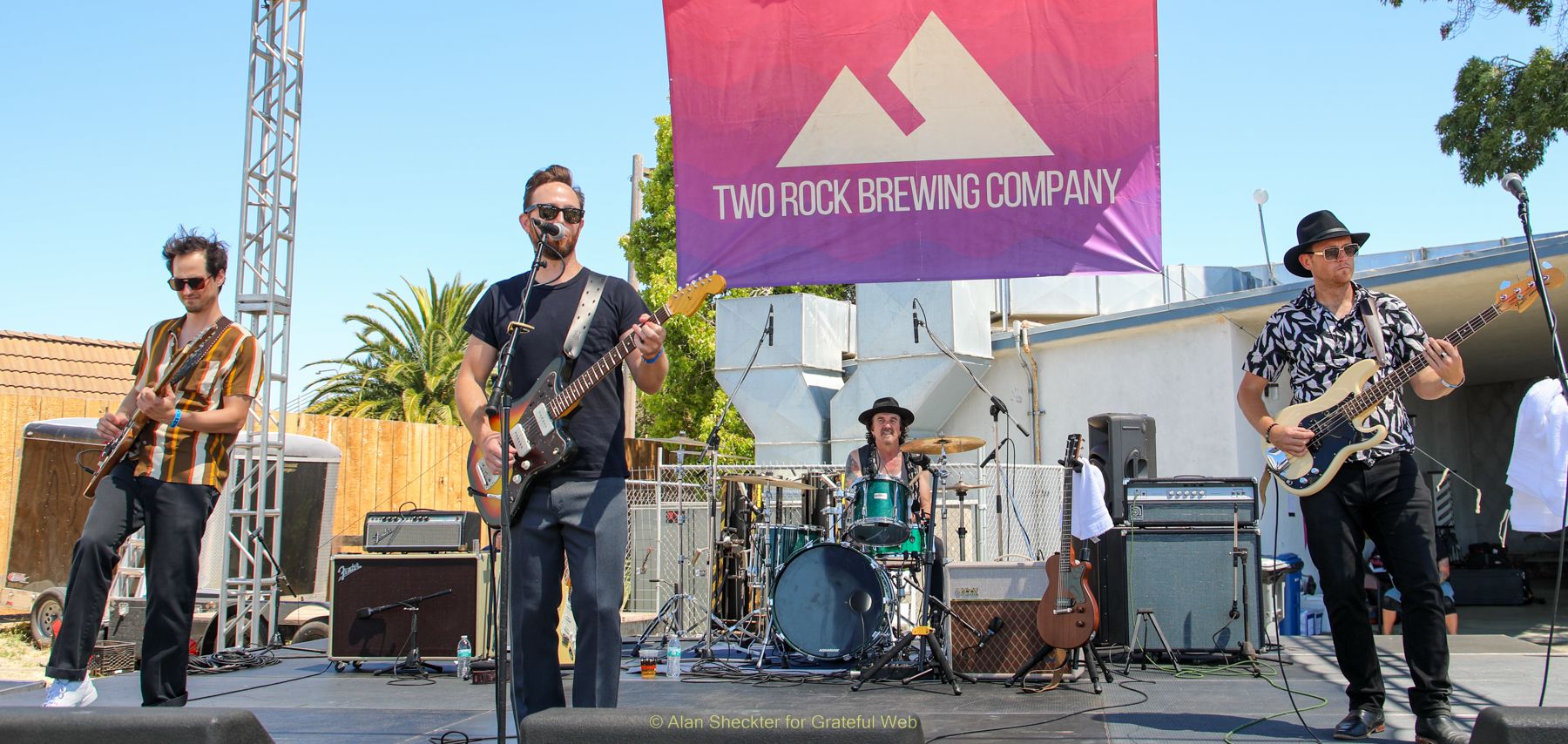 Other Two Rock Brewing Stage performers included Kingsborough and DJ Dyops.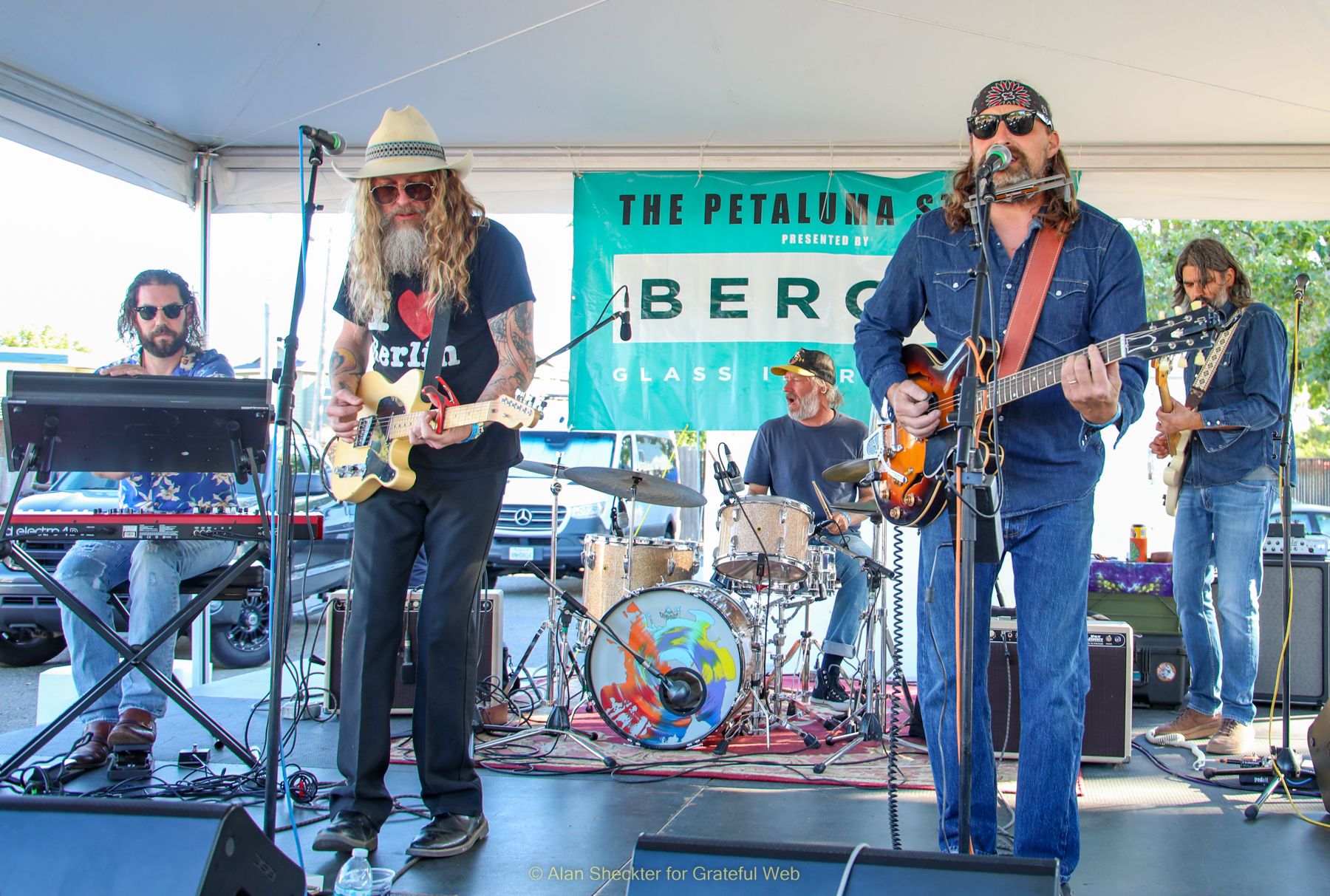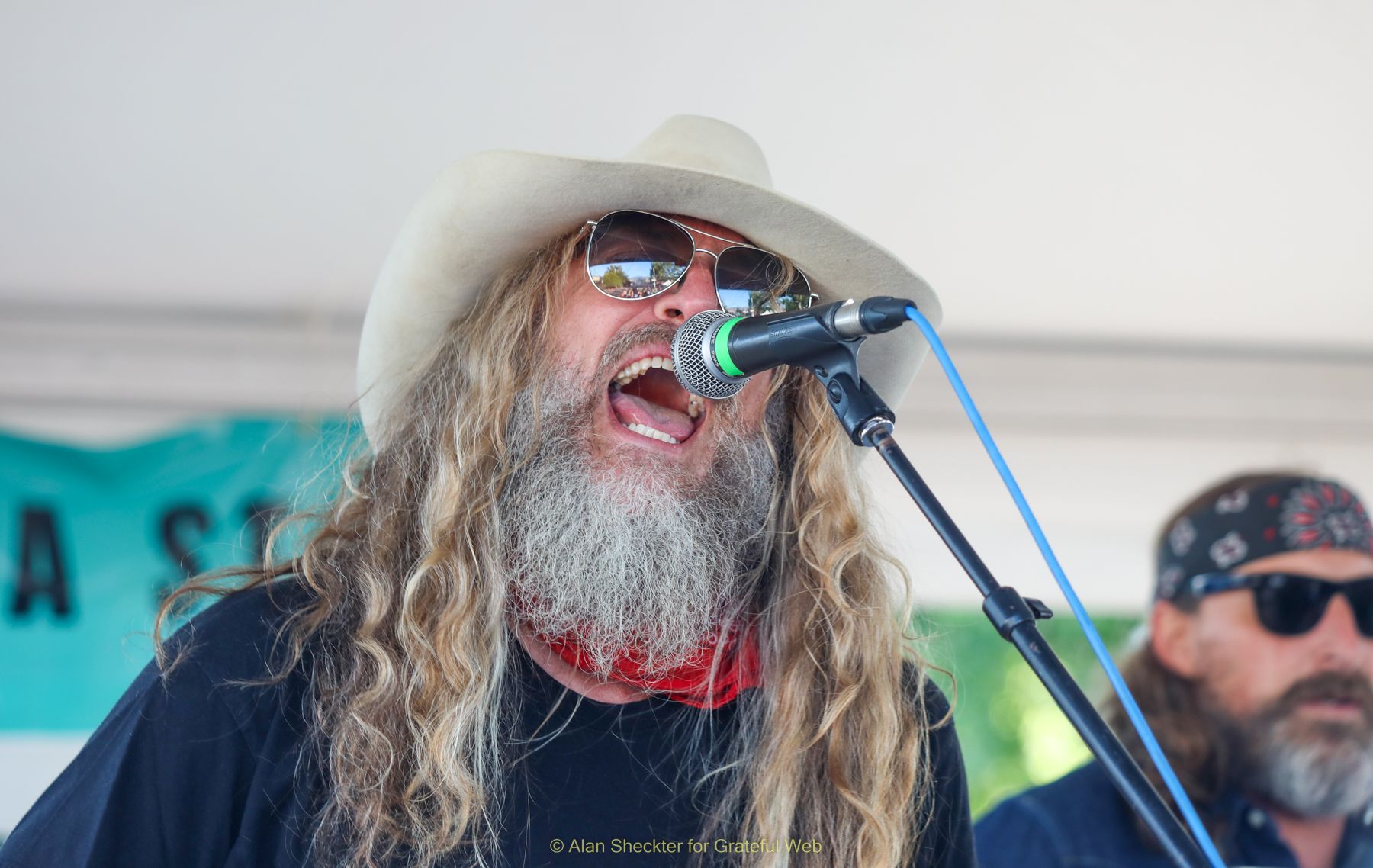 PETALUMA LAGUNITAS BBREWING STAGE: San Geronimo, a soulful Americana-with-a-touch-of-psychedelia Marin County band, closed out the Lagunitas Stage to the delight of avid fans and first-time listeners. Co-front men Darren Nelson and Jeremy D'Antonio, both on guitar and vocals, were flanked by Danny Luehring (drums), Brian Rashap (bass) and John Varn (keyboards) for a set of material that ranged from low-fi tunes to raucous rockers. A mainstay at Phil Lesh's local Terrapin Crossroads nightclub, San Geronimo developed a following there that continues to gain steam.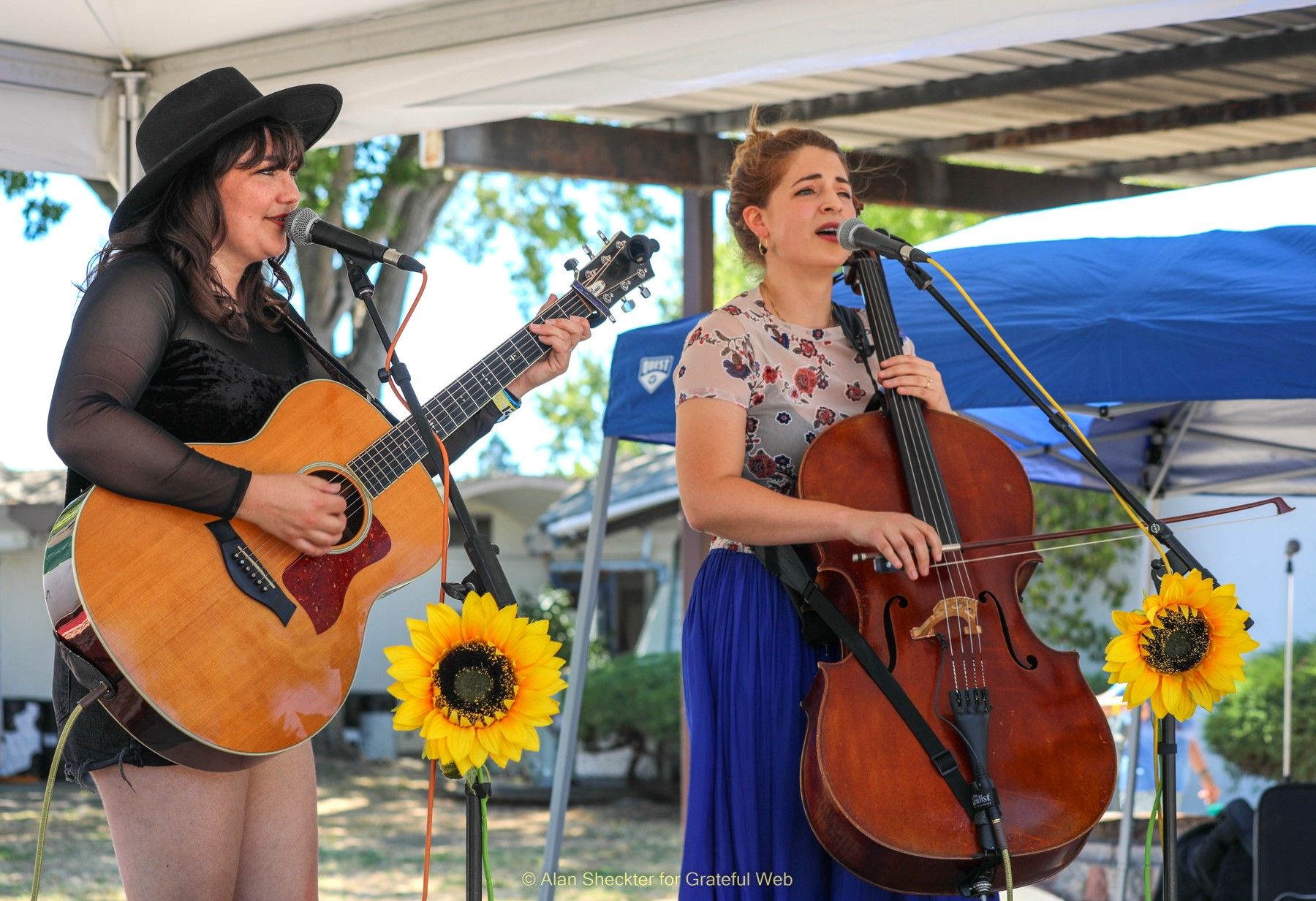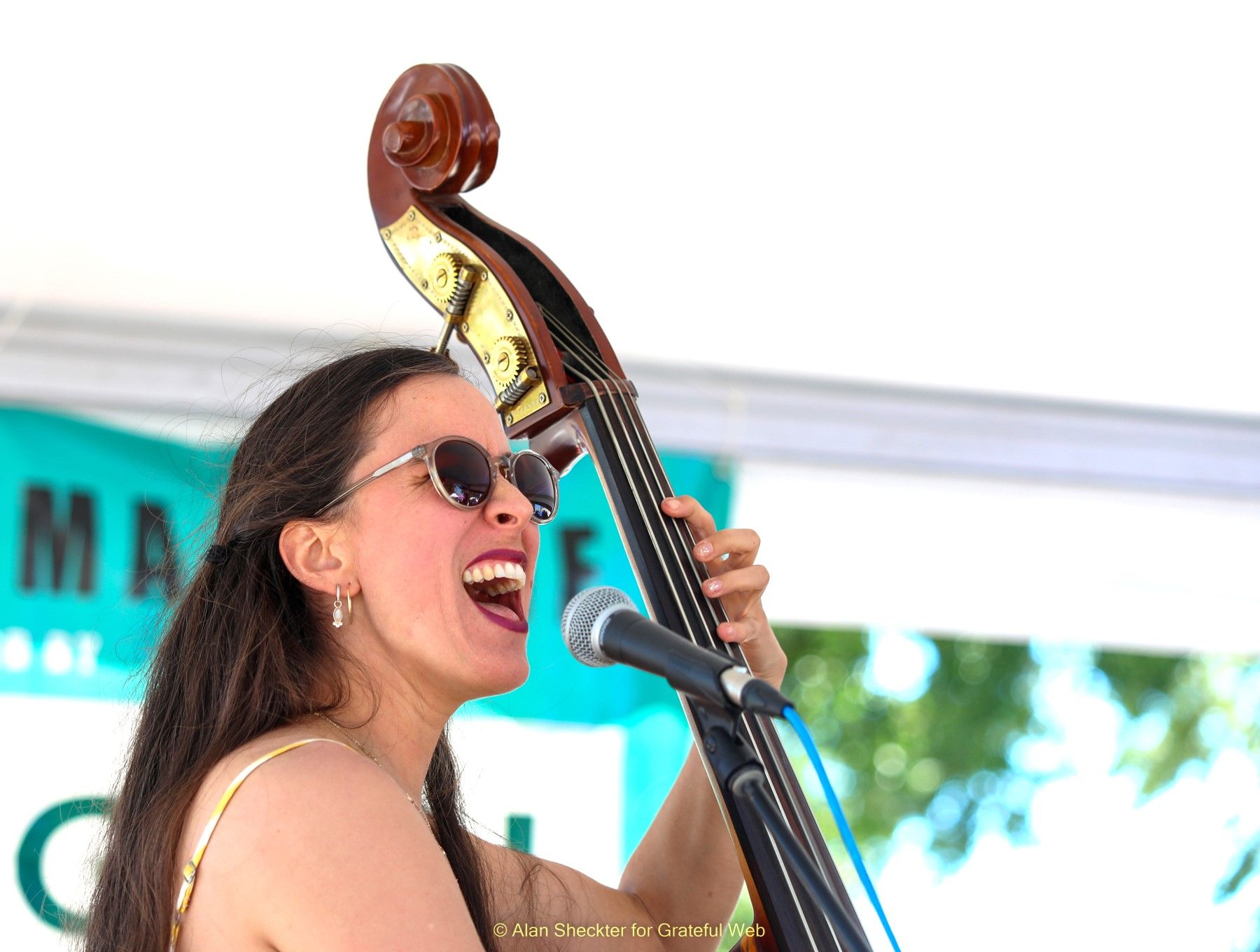 The harmonies of Sacramento-based trio Dear Darling, just back from a national tour, delighted their audience at the Lagunitas Stage. Three singer/songwriters, each with impressive musical pedigrees, fell together just before COVID-19 changed the world. And they've been prolific ever since, writing and performing a lot of new material. Here, Hannah Jane Kile (guitar), Natalie Hagwood (cello), and Casey Lipka (stand-up bass) – all three contribute vocals to the mix – delivered a sweet mix of ballads, folk-pop ditties, and self-effacing stories to charm their onlookers.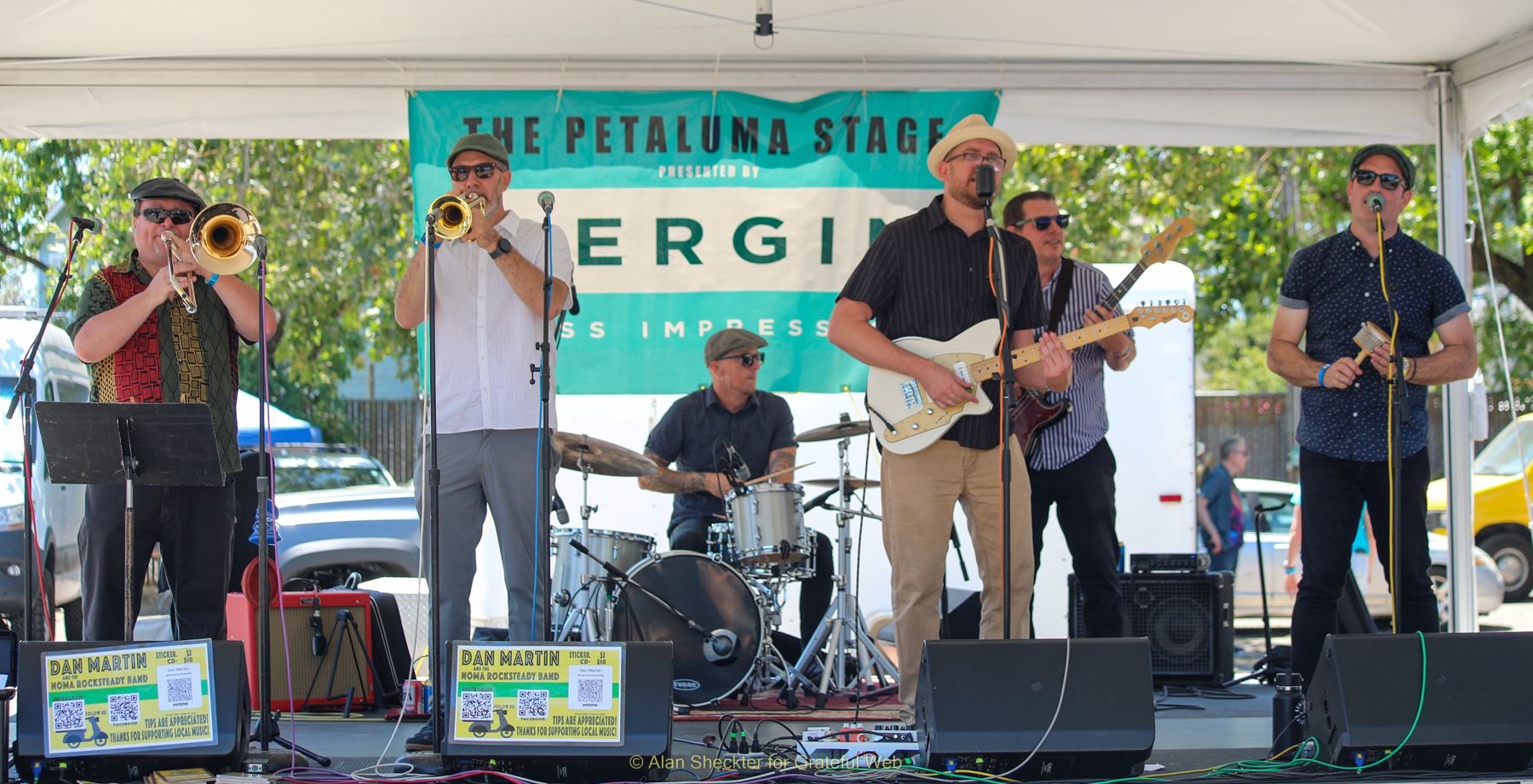 Other Lagunitas Stage performers included Dan Martin & the Noma Rocksteady Band (rocksteady, reggae, and ska), and One Armed Joey (punk rock).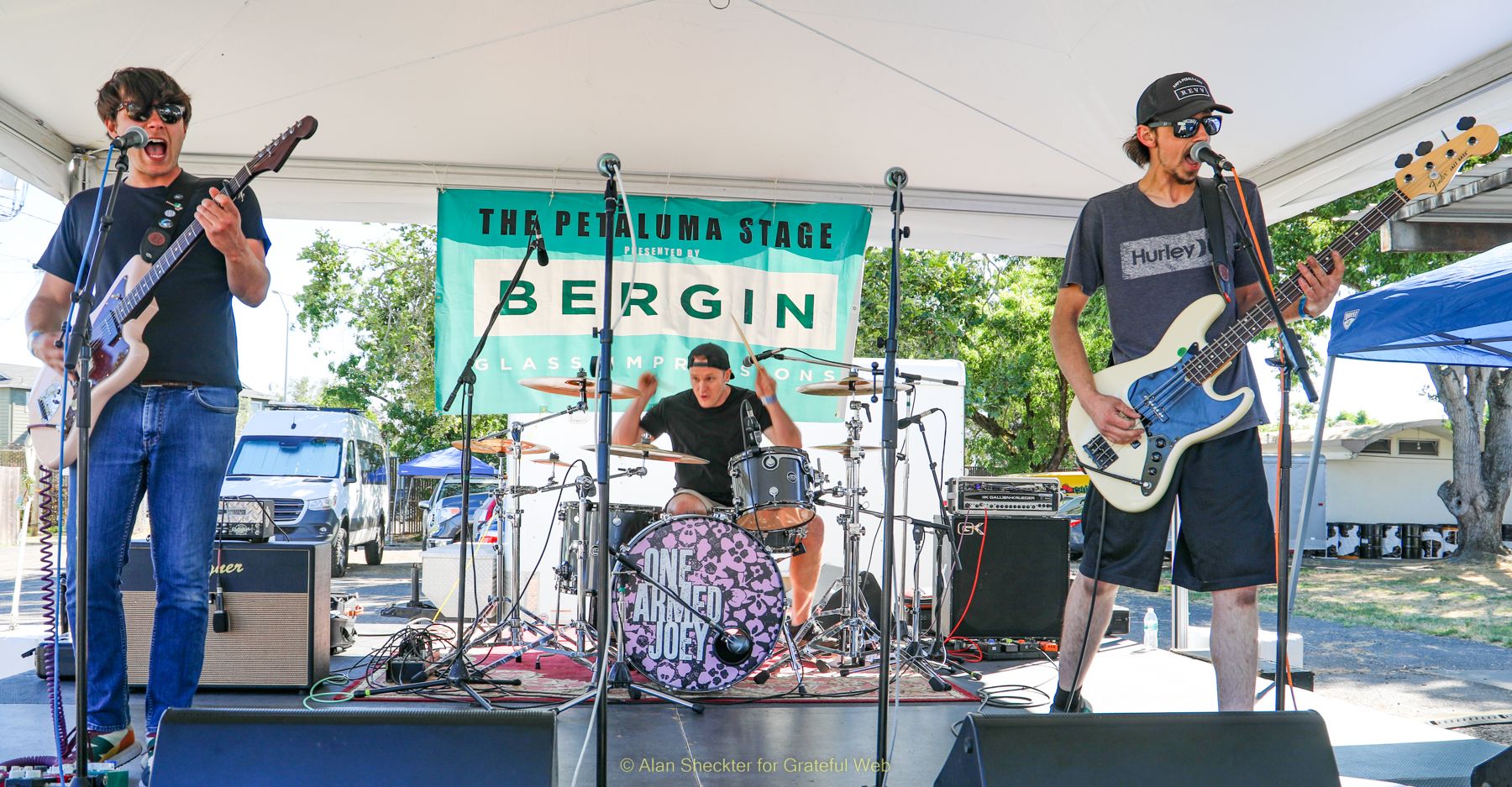 The English Beat: Rough Rider, Twist & Crawl, Hands Off...She's Mine, I'll Take You There, Tenderness, Best Friend, Can't Get Used to Losing You, Click Click, Save It for Later, Whine & Grine/Stand Down Margaret, Too Nice to Talk To, Doors of Your Heart, Ranking Full Stop, Mirror in the Bathroom. Encores: Two Swords, The Tears of a Clown, Jackpot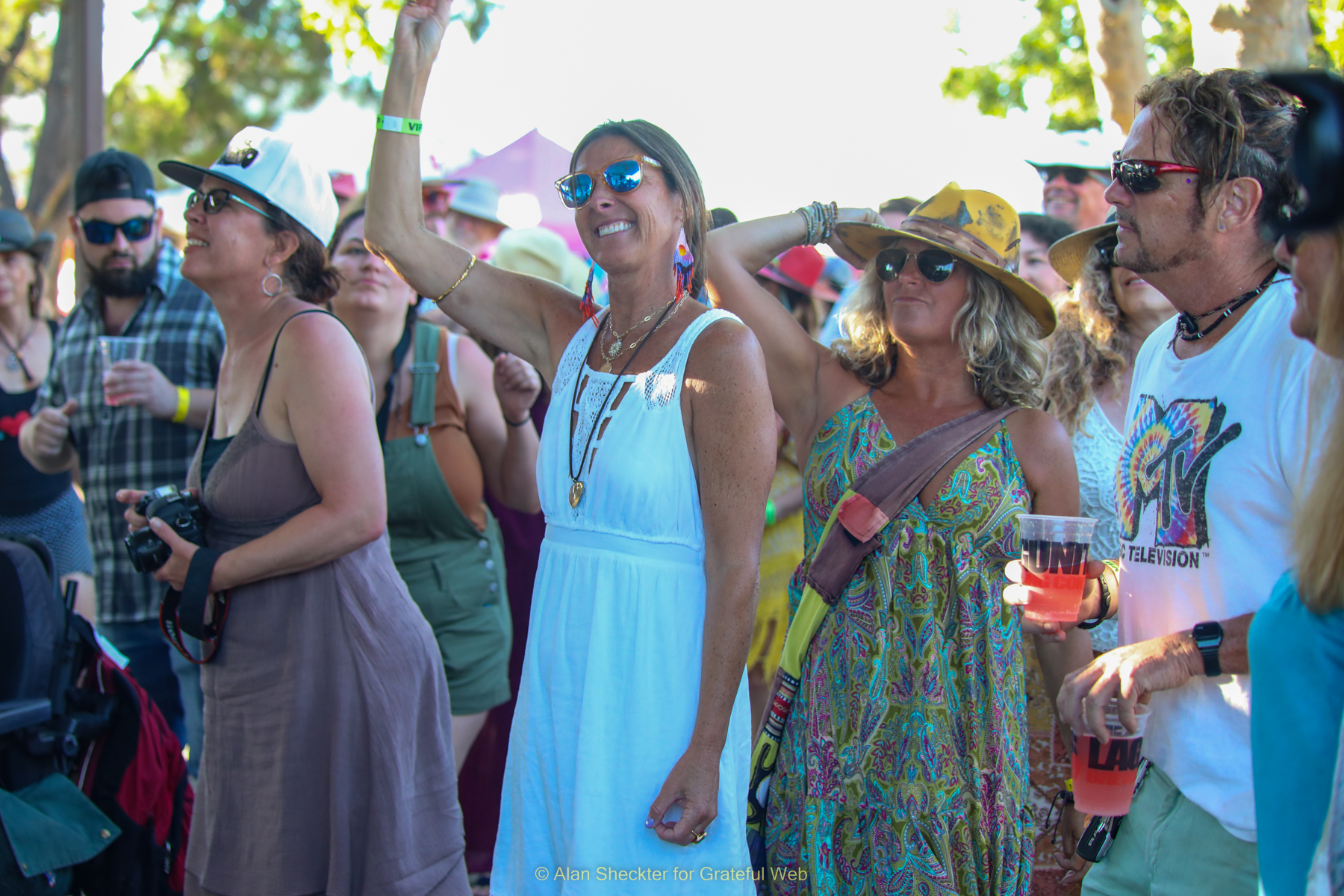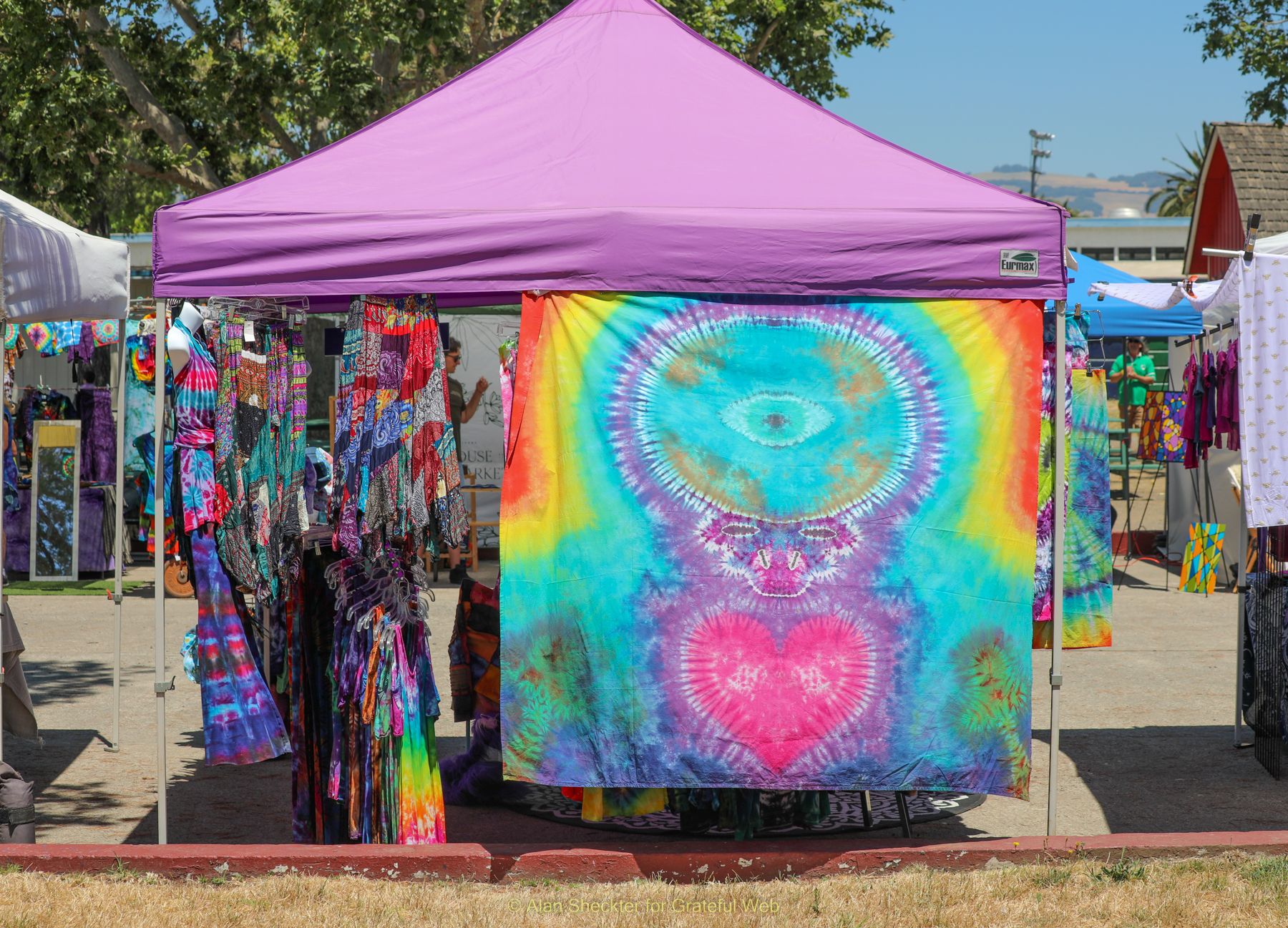 Chuck Prophet & the Mission Express: Bobby Fuller Died for Your Sins/Bangkok, Fast Kid, Come on Over, Wish Me Luck, Coming Out in Code, High as Johnny Thunders, My Best Shirt On, Run Primo Run, Killing Machine, The Left Hand and the Right Hand, Marathon, You Did (Bomp Shooby Dooby Bomp), In the Mausoleum, Willie Mays is Up at Bat, Summertime Thing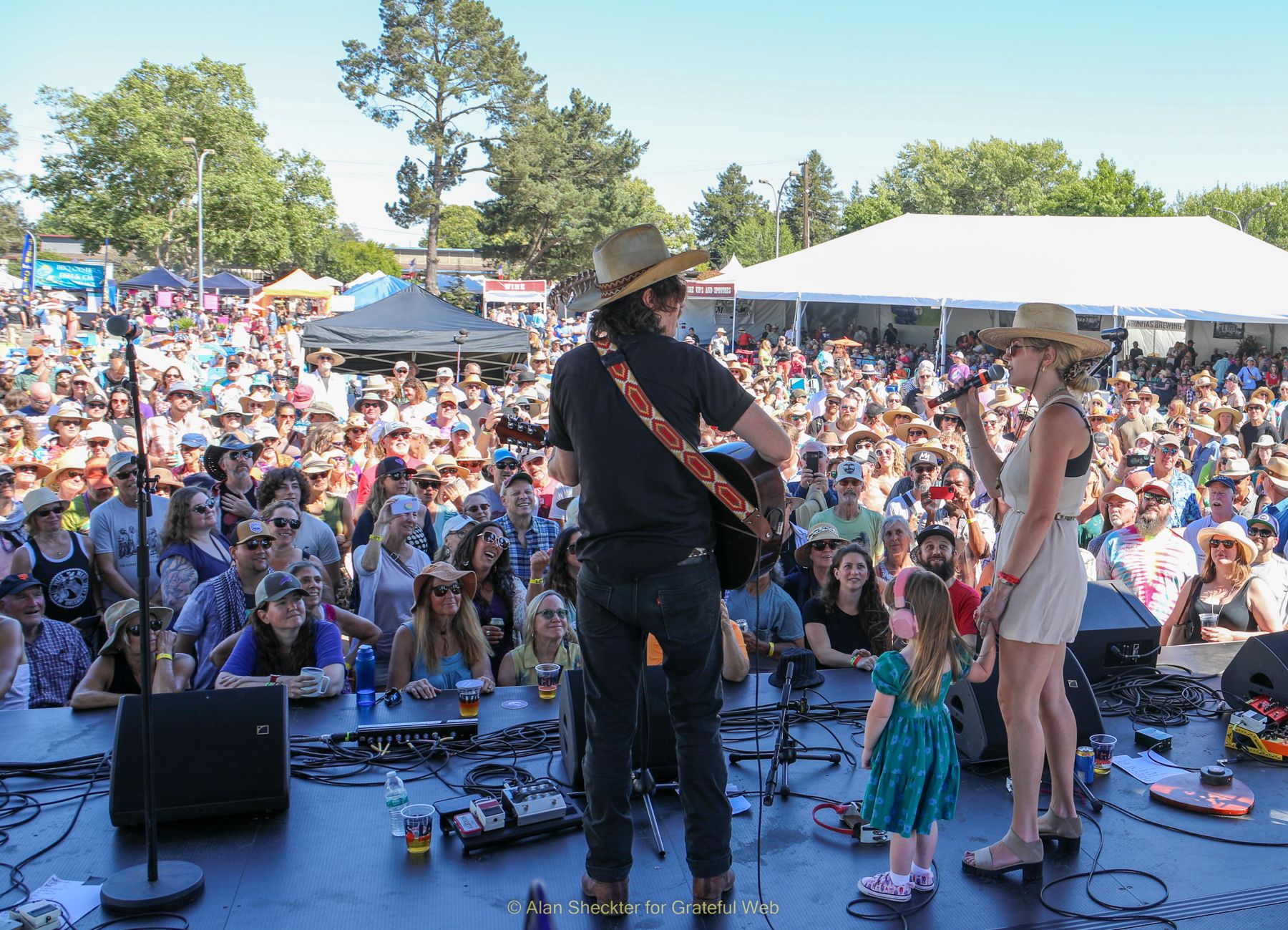 The Brothers Comatose: Angeline, City Painted Gold, Pie For Breakfast, Knoxville Foxhole, Working For Somebody Else, Too Many Places, We Don't Want No IPA, Going to California, Trio Jam, Gone Gone Gone, Sugar Please w/ Erika & Desi?, Tops of the Trees, Fiddle Jam, Steel Driver, Dance Upon Your Grave (w/ Royal Jelly Jive), Valerie (w/ Royal Jelly Jive), The Ballad of Tommy Decker – The Price of Haight St.