Today, Rhino's premium vinyl series, Rhino High Fidelity (Rhino Hi-Fi), continues with the next installment of timeless quality reissues. The Doobie Brothers' The Captain And Me (1973) and Herbie Hancock's Crossings (1972), are available exclusively at Rhino.com and select Warner Music stores worldwide. Each is limited to 5,000 numbered copies and retails for $39.98. Order Here.
An exclusive bundle of The Captain And Me and the 2022 hardcover book Long Train Runnin': Our Story of The Doobie Brothers, signed by Tom Johnston and Patrick Simmons, will also be available on December 1 at Rhino.com. Limited to 300 signed copies, the bundle retails for $59.98. Order Here.
Rhino High Fidelity continues to set the industry standard for sound quality and packaging, a testament to Rhino's 45-year legacy of award-winning audio releases. To ensure an unrivaled listening experience, all album lacquers are AAA cut directly from the original stereo master tapes by Kevin Gray, while Optimal handles the 180-gram vinyl pressing. The meticulous attention to detail extends to the aesthetic experience, with glossy covers and "tip-on" jackets reminiscent of vinyl's golden age.
Crossings is celebrated jazz pianist Herbie Hancock's 10th studio album, increasing his group of collaborative players to a septet with the addition of Patrick Gleeson. With Gleeson on the Moog synthesizer, Crossings saw the three-track album continue with the avant-garde style of Mwandishi and experimenting with an electronic and funk jazz fusion. Order Here.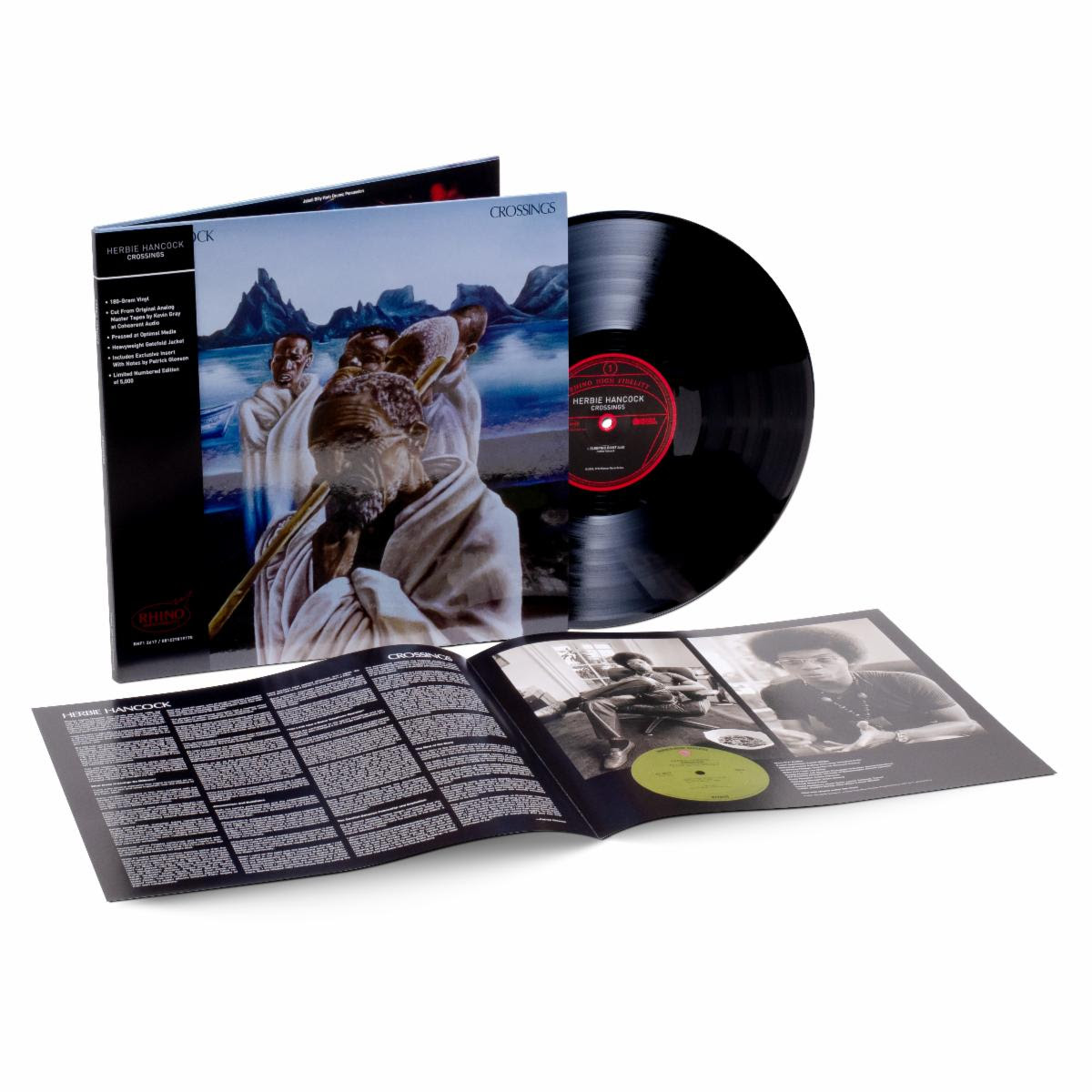 The set includes scans of the original master tape boxes, a reproduction of the original album label, and unreleased photographs. Detailed liner notes from Gleeson expand on Hancock and the ensemble's compositional strengths, sharing they "had a marked effect on the band's solos, changing, even reversing, the usual relationship between soloist and accompaniment."
Riding the high of their breakthrough sophomore album, Toulouse Street, The Doobie Brothers released the hit-filled The Captain & Me. Continuing to work with producer Ted Templeman, the group moved towards a country-rock sound that saw the album peak at No. 7 on the Billboard 200 and earn a 2x platinum status from the RIAA. Order Here.
The High Fidelity set contains scans of the original master tape boxes and lacquer-cutting notes for fan-favorite tracks "Long Train Runnin'" and "Without You." Along with a liner note excerpt from Long Train Runnin': Our Story of The Doobie Brothers following the album's making.
Rhino High Fidelity will continue to tap into Warner Music's extensive music catalog, bringing music enthusiasts and audiophiles superlative versions of landmark albums from diverse genres, including jazz, blues, rock, pop, and beyond. The series will introduce two classic albums quarterly, maintaining the same exceptional audio and packaging quality that has quickly defined Rhino High Fidelity.
Herbie Hancock - Crossings Tracklisting
Side A
1.    Sleeping Giant
Side B
1.    Quasar
2.    Water Torture
The Doobie Brothers - The Captain & Me Tracklisting
Side A
1.    Natural Thing
2.    Long Train Runnin'
3.    China Grove
4.    Dark Eyed Cajun Woman
5.    Clear As The Driven Snow
Side B
1.    Without You
2.    South City Midnight Lady
3.    Evil Woman
4.    Busted Down Around O'Connelly Corners
5.    Ukiah
6.    The Captain And Me