Celebrating twelve years, this festival continues to provide some of the best acts in the region and some amazing full touring bands. This year's campground was huge, with quiet tent camping, a rowdier camping area, and an RV park—all along the beautiful Rio Grande. There were also activities for children in the Kid Zone, this year marked by huge tipis that were constructed on the site. An art area sprung up by the Beach, a sandy area where a few people launched floats or played in the bracing water. There was also daily yoga instruction on Saturday and Sunday by Yoga Durango and a performance slot for children from the music program this festival supports. And, of course, there were vendors selling food, adult beverages, and various wares (jewelry, clothing, hats, art, and other interesting bits). The music, however, is what always draws folks. This year, I was super excited to hear the bands on the second day of the Rhythms on the Rio.
Starting things off was Dave Manning, a singer-songwriter I was very curious about. I'd caught a snatch or two of his music before I drove up to South Fork CO for this festival. But it didn't tell me much. What I heard from him on this Saturday morning was a far-cry different from the opening singer-songwriter of the day before. Crammed behind a keyboard, whose case was plastered with stickers and looking more like an old-fashioned traveler's trunk, Dave Manning wove the magic that only gifted storytellers can do. His set was a mix of favorite covers (from "Imagine" to "The Rainbow Connection"—which he did merge into one song) and originals that make you want to hang on every word. In between songs that storytelling juju continued as he told stories of his experiences on the road.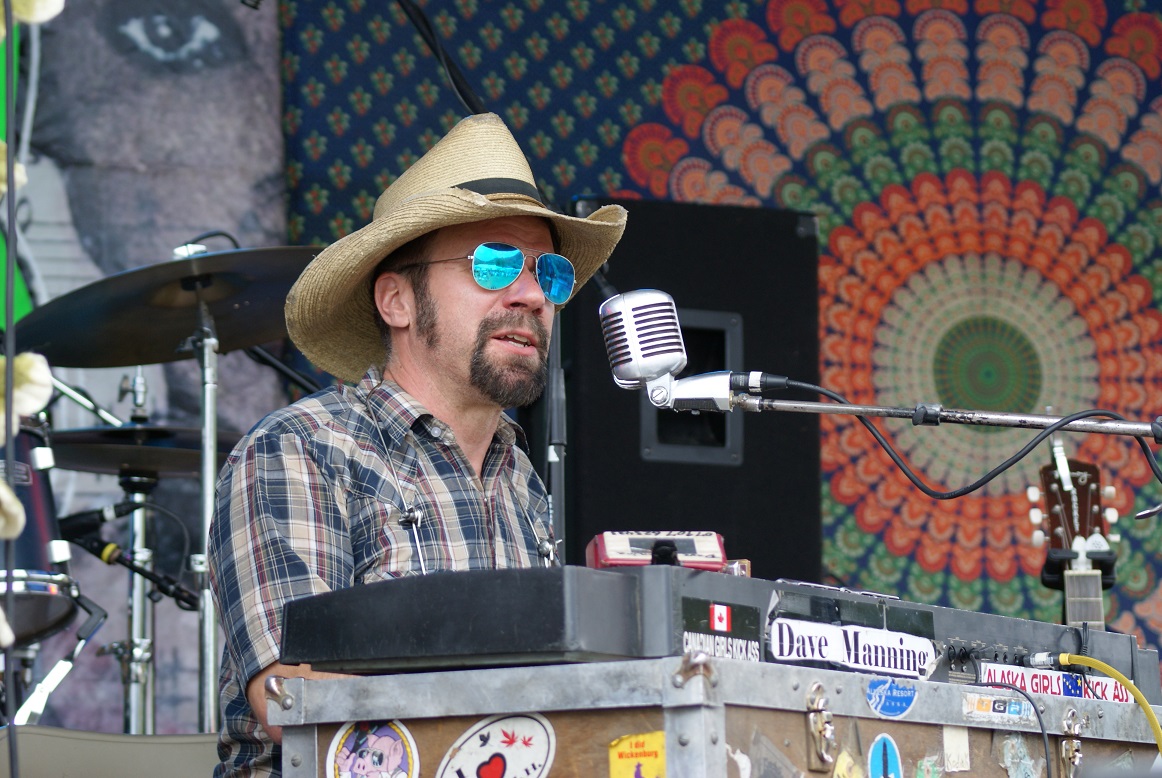 I'd gotten there a little later than I wanted and could have kicked myself because I know I missed something important. What I did hear was some solid piano work that often was honkytonk and Roadhouse worthy to lounge noodling behind his stories to blues to just good Americana. His songs were delivered by an underdressed, gravely voice that could be mellow and croon or turn rootsy and gutsy, depending on what he was trying to say. And then there were the songs. Now, I've heard songwriters who wrote great stories in their songs, and I've heard great storytellers who couldn't sing worth a whit. But this guy, Dave Manning, is as good a songwriter as he is a storyteller.  I loved his song about his 1965 VW Microbus that he toured in and named after the subject of a Don McLean song. It was witty and charming. His song "Finish Your Drink" was a bluesy number that tipped its hat at vintage blues songs by inserting parts of lyrics into his rhymes. I later learned Dave Manning was a documentary videographer for Heartbeat Alaska. For that show, he got inside a lot of lives of some very unusual people living in the bush country of Alaska. Dave and I talked a bit about storytelling, and he said, "Stories are everywhere. I just listened." The musical world is a grander place because he listened and brought that into his music.
After Dave Manning, The Deer, from Austin TX, took the stage. I had never heard of them before last night's blending of Elephant Revival and The Deer.  Today's rendering of the band consisted of five members, though they have been known to expand and contract as needed. They were Grace Park (guitar and keys), Jesse Dalton (upright bass), Michael McLeod (guitar, keys), Aaron Eckert (drums), and Noah Jeffries (violin). The Deer offered an afternoon set of Americana that sometimes dipped into Southern Gothic or expanded to show some pop influences. Some of their material is ethereal and ambient; while others are jazz-based.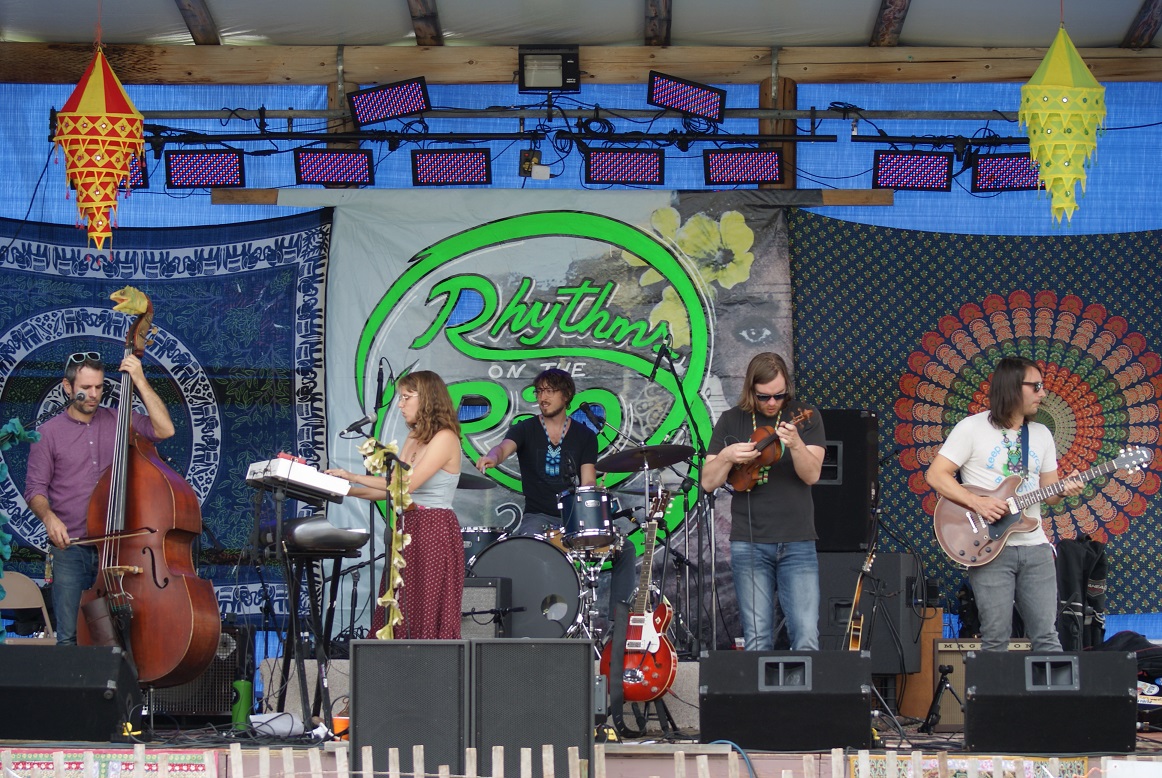 Grace Park has a lovely voice with a very distinctive quality that showed its versatility as she led most of the songs and was backed up by Jesse and Aaron, who sometimes presented sweet harmonies instead of just vocals sung by deeper male voices. The set was mainly originals written by Grace and Jesse that were often tender and thoughtful. I especially enjoyed their tune about cats and grandmothers and the song about the river close to Grace's home. The Deer was joined by Bonnie Paine on washboard and Ben and Dan both on shakers and tambourine from Elephant Revival. This added another layer of depth to The Deer's material.
There was one moment when the band all turned their backs on the audience to face Aaron the drummer, while he let loose with some beats. Then they all left the stage, just to let Aaron have his special moment on stage. It was a lovely introduction to The Deer that also paved the way for other full bands that followed later in the day and into the evening.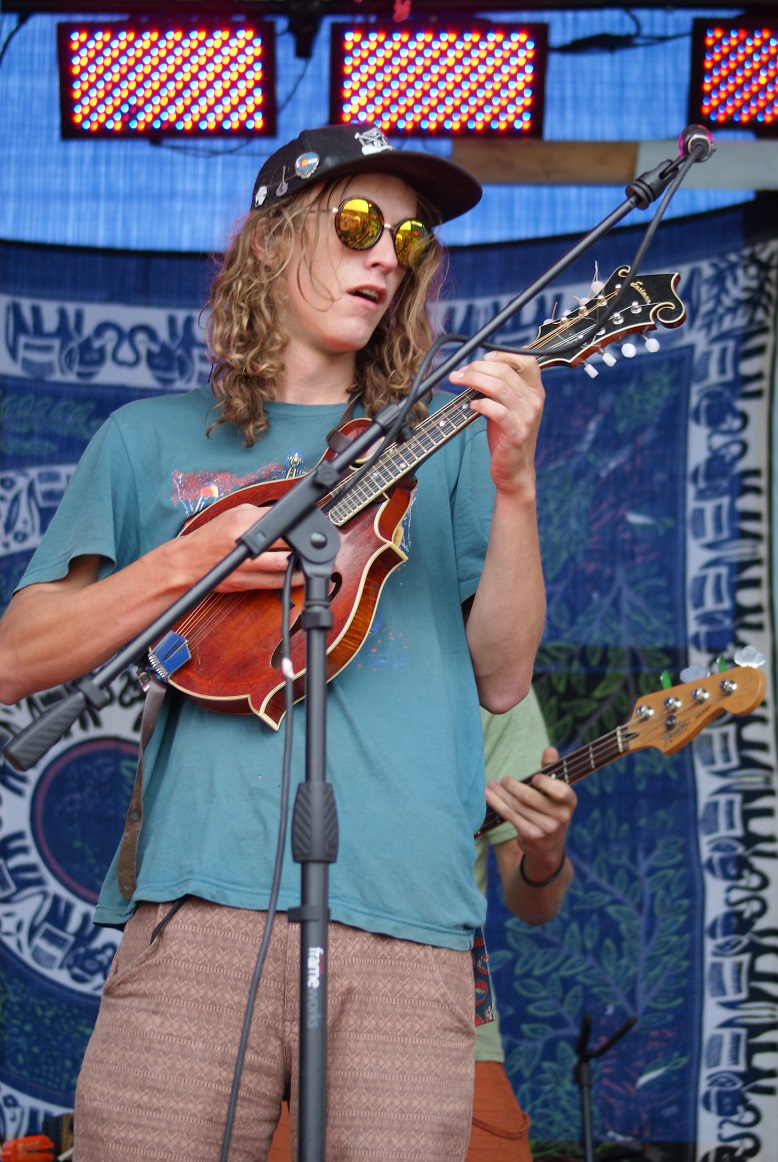 Next up was a festival favorite, Liver Down the River, from Durango. This six-piece band formed five years ago and had been winning over audiences right and left, especially after their debut on this festival stage last year. They produce a mix of country/Americana that morphs into pure Dead-like jams, enhanced by their creative touches. Emily Winter was killer on fiddle! She moved from hoedowns to haunting melodies to strong violin leads.  Tyler Rice, who also plays banjo, was so much fun to watch when he played keys. Dylan Ruckel, presenting a unique look with beard and mane of blond curls, showed off his seasoned chops on electric as well as acoustic guitars. Patrick Storen's mandolin added bright color to the mix. Dereck Abt on bass was spot on, offering some slick runs, while he and drummer Carter Colia kept this musical train on track. Not only is Liver Down the River strong on instrumental skill, but it also boasts top-notch vocals. Emily's voice often reminded me of Loreena McKinnet's, though with some earthiness that kept her from drifting into a more classical sound. Tyler and Dylan both sing, but usually remaining with backup, though Dylan did lead a song or two.
I was impressed with a spooky murder ballad they did that was quite chilling but had an upbeat section in the middle. Quite unique. They were joined for a couple of jam numbers by Sam Kelly from Elder Grown, adding some tasty saxophone to the mix. It was a great set, but it was cut short because the festival was running behind time and needed to trim somewhere. I've seen this happen a few times at other festivals. It usually isn't because the band being cut is considered less important. It's because headliners come in at specific times and they expect to play at the time allotted and then head out to another gig.
T
he Brothers Comatose from Haight-Ashbury took the stage next. Again this was a band new to my ears. These guys kicked major butt! This acoustic band offered tight instrumentation, without a drummer, and great vocals. I had never heard a stand-up bass sound like a kick drum, but Bassmaster Gio Benedetti made it happen. The brainchild of brothers Ben (guitar) and Alex Morrison (banjo), The Brothers Comatose further brightened up a drizzly afternoon in southern Colorado. They launched into a Cake cover, "Stick Shift and Safety Belts," about wanting your baby close in the truck. Their rendition did a tasty mandolin (Ryan Avellone) and fiddle (Philip Brezina) interplay, while Ben sang and Gio and Alex offered vocal support.  Gio presented a song he wrote that highlighted Ryan's mandolin work. The line struck me: "In time for breakfast, the snow's coming down in a cold and distant town."
There was some instrument swapping and highlighting. Ryan swapped his mandolin for an electric guitar on a song or two. Ben swapped his acoustic guitar for a resonator guitar on a tune. Later, Phillip did a fiddle instrumental. Gio got to do some sweet bass work on a solo, and he even dipped into some skat singing on a tune.  At one point the band asked the audience to get down with them, and the all stooped down on stage and then flat on their backs. When they got up, Gio picked up the bass like a guitar and started playing. It was a fun moment, but it didn't detract from their strong instrumentation and vocals. Even their love songs are great. And, in a very rare encore, The Brothers Comatose, did a quick two-minute version of "La Bamba" that held together with their acoustic sound.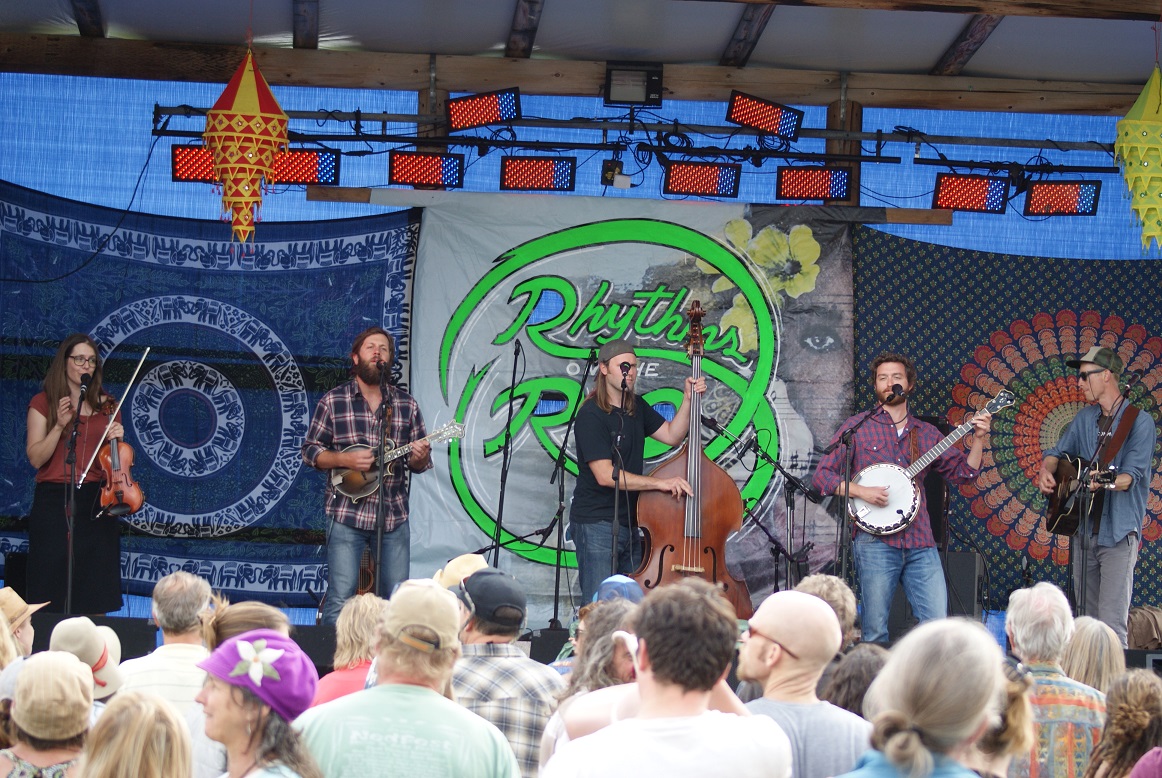 Around suppertime, Trout Steak Revival, a popular five-piece acoustic band from Denver, made its debut appearance on the Rhythms stage. I can't say enough about this band. Stellar musicians and skilled vocalists, Trout Steak Revival, is a must see at any venue. Again, one of the signature musicians was another female fiddle player. Bevin Foley just knocked it out of the park every single time without grandstanding. She style was varied and not just hoedown fun. It was often sensitive and plaintive. Bevin's vocals were strong. She has a powerful voice that hasn't been over-trained. She's able to reach audiences through her sensitive phrasing and friendly voice, letting the song unfold to say what it's supposed to say. It was especially fun to hear her sing a song about telling an ex to get lost uniquely. Sweet!
This is also a hallmark of Trout Steak Revival--the ability to write powerful, unique songs. I have no idea what the title of one song was, but I was in awe of one repeated line in it that said, "I could drown in your kerosene eyes" and the chorus, "Where did my bluebird fly?" Travis McNamara (Banjo) led this one and Bevin's fiddle work was spot on. When Steve Foltz traded his mandolin for a guitar, and Will Koster swapped his acoustic for a dobro, I knew the next number would be interesting. What I didn't expect was a bebop jazz tune!  Casey Houlihan (standup bass) led another song, and Steve stepped up to the vocal mic on yet another. But it was the songs that got to me. There was a line in one that went: "I see your light in these dreams."  Another said, "we sang to the bees, and they sang to us, loud and sweet." But it was Devin's number that moved it with these lines: "We will know the sting of heartache…Take our troubles let them go; they're a heavy load...Lay them down by the side of the road."  And finally, there was Travis' tender song about his grandfather that he wrote while he was dying but never got to hear. Trout Steak Revival does it all from jazz to jam to plaintive country. They will have a new album later this year and worth checking out.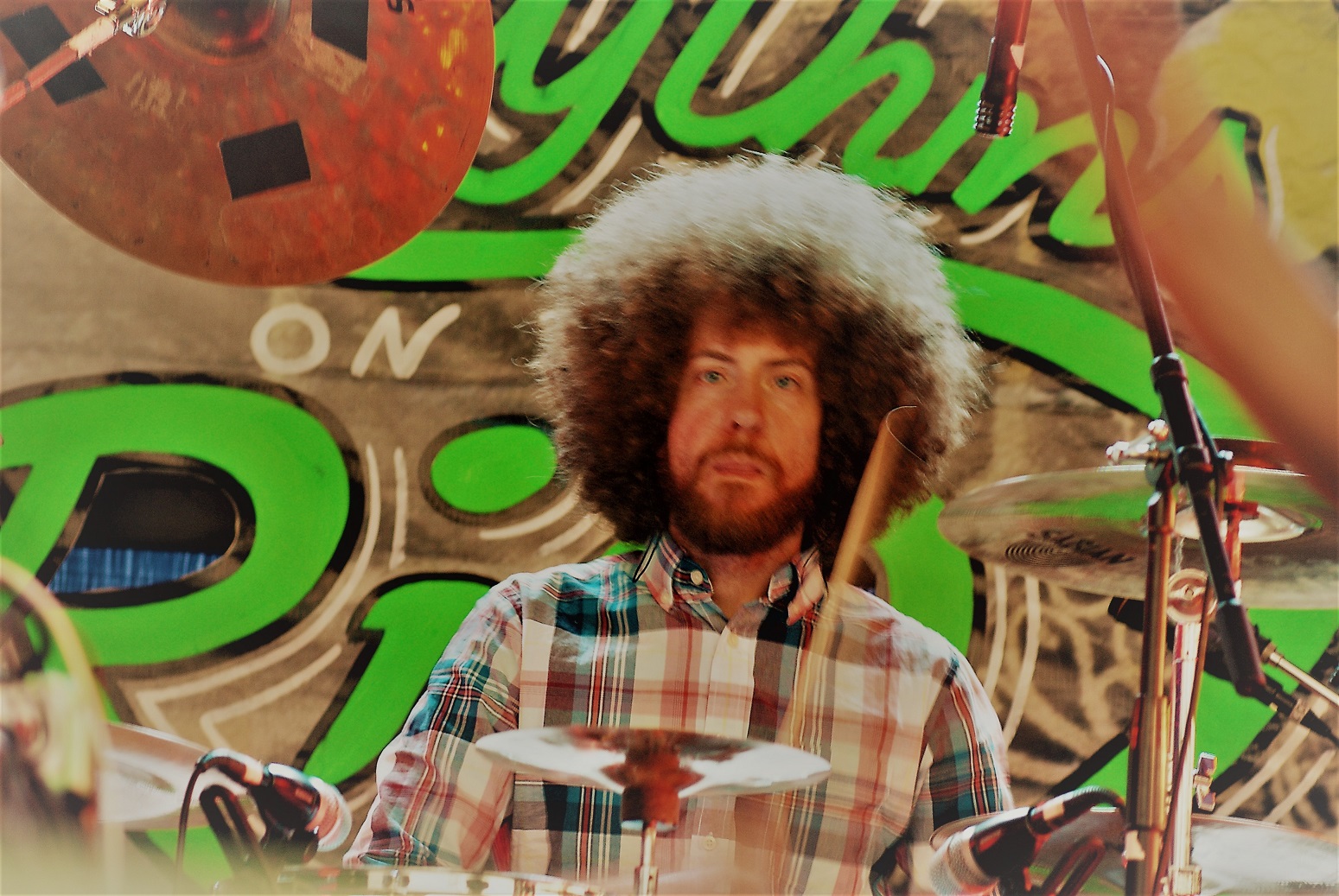 For the fifth straight year, Euforquestra returns to the Rhythms on the Rio stage. Sometimes, they come with a few extra folks, but this year it was just the core band that gave a dynamite show. They always bring a party of high-energy funk, jazz, island music, and a lot of brass. Their single, "Fat Woman," written by the Matt Wright (keys) was a fun tune. There was a great island tune with the line: "Ooooh, what did you put in that soup?" that was an audience favorite.
Another song had a sweet twist. In it, Matt Bricker's trumpet with a mute didn't sound like a normal jazz mute but had almost a harmonica sound, adding a gospel feel to the tune. Euforquestra also did a down and dirty funk version of the Beatles' "She Came In Through the Bathroom Window" that was killer! And their rendering of "Midnight Rider" was unexpected and very, very tasty! Not enough can be said about the rest of the band as well. Mike Tallman (guitar), Austin Zaletel (saxophone), Otis Lande (bass), and the newest member Jeff Peterson (drums) were all exceptional. In fact, the band honored Jeff by stepping off the stage and letting him do a thoughtful drum solo. That was amazing to have c back for another year.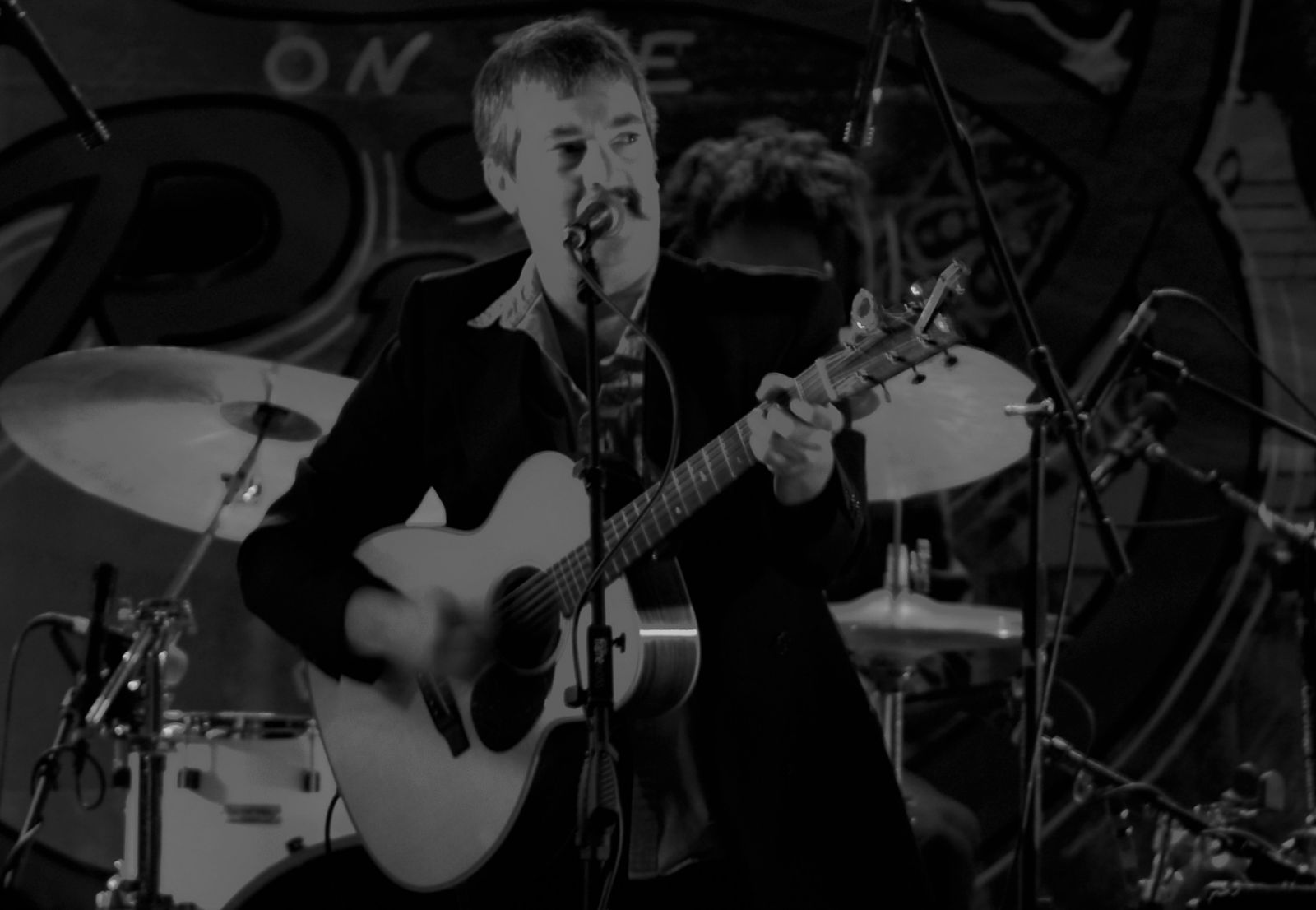 Ending this jam-packed second day of the festival was the Larry Keel Experience and his special guests. Last year, Larry Keel brought his band with a special guest, Danny Barnes, and did a set.  Then he and his band and the Infamous Stringdusters and a few others did a big jam on stage. This year, that jam feeling was planned because Larry Keel (guitar) and his wife Jenny Keel (upright bass) were joined by Jeremy Garrett (fiddle) and Andy Hall (dobro) from the Infamous Stringdusters and Alwin Robinson (drums) from Leftover Salmon. This promised to be quite a set, and it certainly was. Larry Keel is one of those bluegrass stars who has broken out on his own, drifting into other musical genres and writing about things that no traditional bluegrass performer would dream of. His originals, which he did a few in his set, are rather New Agey in content and jazzy in instrumentation. They are always a surprise to me juxtaposed next to bluegrass fiddle and dobro. I appreciate Jenny Keel's bass work and vocals, always adding just the right bluegrass harmonies. On this night, Andy Hall and Jeremy Garrett added intense colors to this mix of genres. Andy even sang lead on one number. They all did a tune where everyone, including Alwin Robinson, had a moment or several to shine.  When Jeremy launched into "Big River," the audience immediately rooted for this country standard. But the two songs that I found the most fun were a ballad about a river rat named Koko Joe and a swamp tune called "Lizard lady." Jenny Keel's bass kept that swamp feel through her creative guitar work. The Larry Keel Experience and friends made for a great ending to the second day at Rhythms on the Rio.