STAND UP! RECORDS along with Omnivore Records and Richard Pryor's production company Indigo is proud to announce the release of the comedian's first two albums, Richard Pryor and 'Craps' (After Hours) newly remastered on vinyl with bonus material along with Live At The Comedy Store, 1973, making its debut on vinyl.  Release date is Tuesday, May 23rd and MSRP is $39.98.
The five-time Grammy Award winner and pioneering writer-actor-comedian was the rare artist for whom "legendary" is entirely apt and not at all hyperbolic, pushed the envelope in life as well as in art - on film, television and especially on record.  Once listeners hear these albums, they will have the opportunity to witness the evolution of this comedic genius spanning Pryor's most formative years – 1968 – 1973.
Scott Saul, author of Becoming Richard Pryor, wrote in his liner notes for the Richard Pryor reissue: "What you hold in your hands is something precious: both the landmark debut that was, and the piece of cultural dynamite that might have been. In its original form, Richard Pryor alerted the world that Pryor had stepped out of Bill Cosby's long shadow and developed a style — surreal, nervy, improvisational — that was all his own."
Richard Pryor, originally released in 1968, featured cover art (shot by renowned photographer Henry Diltz) that should have let the buyer know this was not your average comedy record.  Pryor was at a career crossroads that year, when the album was recorded at the Troubadour in West Hollywood. He'd already become a regular on The Merv Griffin Show and The Ed Sullivan Show, and was signed to the same agency that handled the Beatles and the Supremes. But it wasn't just his love of artistic freedom that pulled him toward what many looked at as defiance. Pryor wanted to not only change comedy, but how we look at ourselves and those around us.
Richard Pryor is a double-deluxe vinyl release with delights aplenty - sides one and two are the original, but newly remastered classic album, recorded live at The Troubadour, sides three and four are bonus material recorded at the same time, originally issued as tracks on Evolution/Revolution: The Early Years (1966-1974), now on vinyl for the very first time.
And it's wrapped it all up with the original Grammy-nominated cover art (designed by Gary Burden) updated with the addition of the border art by another legend, Bay Area psychedelic poster artist Rick Griffin, who also designed the labels.  Remastering was done by Greg Reierson.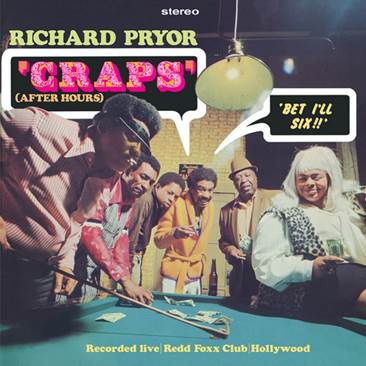 Originally released in 1971, 'Craps' (After Hours) arrived on a new label, Laff Records. It also came from a tumultuous time in Pryor's personal life. But this new arrangement and Pryor's need to create saw him — for the first time since his earliest days in Peoria — performing in nightclubs that drew an almost entirely black audience. In these lively black clubs, he could say anything he wanted and those parts of himself that had been buried, by shame or censorship, could now serve as his creative fuel.
In his introduction to the 'Craps' (After Hours) package by Larry Karaszewski (Golden Globe® and Emmy®-winning co-writer of Dolemite Is My Name and The People vs. Larry Flynt) writes, "This fascinating collection chronicles how Richard Pryor evolved from 1960s nightclub comedian to being the voice of his generation. The performances capture the moment where Richard Pryor stopped being polite. Where he took off his suit and tie and gloves. Where Pryor began to reflect what was happening in the streets and in the counterculture."
'Craps' (After Hours) is a double-deluxe vinyl release with sides one and two being the original LP recorded live at The Redd Foxx Club in Hollywood,  newly remastered; side three is bonus material selected from Evolution/Revolution: The Early Years (1966-1974) and No Pryor Restraint: Life in Concert, now on vinyl for the very first time and side four is an engraving of the original cover art for 'Craps' (After Hours).
Live At The Comedy Store, 1973 was recorded on October 29th & 30th at the West Hollywood comedy club, which had just opened in April of 1972.
This wasn't the tame comedian of a decade earlier; instead, the performer onstage was the confident, boundary-breaking comic who had begun to find his own, original voice in 1967.
Cory Frye, in his liner notes for the new release, indicates that the Comedy Store stand was a warm-up of sorts for future engagements at Washington, DC's Kennedy Center and San Francisco's Soul Train Club.  These shows were never meant for commercial release but nonetheless, Pryor impeccable timing was on full display as he trying out new material.
Pryor was at the peak of his powers with such bits as "Street Corner Wino," "Wino and Junkie," and "Fighting."  The latter would become "The Back Down" on the '74 LP which closed with "Wino and Junkie."  Pryor also revisited material from Craps ("Masturbating," "Religion," "The Line-Up") and topically tackled "Nixon," "Cops," and "Black Movie Stars."  His material is both completely of its time and yet timeless as his observations still retain relevance today.
Here is the "Religion" routine – Note, the clip contains adult language …https://www.youtube.com/watch?v=MPkMdFRp_R0&list=PLiTfUx1bmc-itdPwVSHaO…
Richard Pryor was a master at challenging his audience's preconceived notions of what was and wasn't appropriate to banter about; one can hear the occasional groans as well as the loud guffaws throughout.
Much of the material he performed nearly fifty years ago would still prove controversial today.  His Live At The Comedy Store, 1973 isn't for those who might be offended by strong language or provocative imagery; indeed, it revels in its outrageousness while reminding the listener that the funniest, most keenly-observed, and indeed, most powerful comedy can sometimes also be the most uncomfortable.
For Live At The Comedy Store, 1973, sides one and two are the newly mastered album, making its debut on vinyl; the first track of side three comes from …And It's Deep Too! The Complete Warner Bros. Recordings (1968-1992) and the remainder hails from Evolution/Revolution: The Early Years (1966-1974).
Live at The Comedy Store, 1973, comes in three color versions of the vinyl and two different covers containing both the original and expanded liner notes; a photo cover and a limited, painted variant cover by illustrator and painter Jason Edmiston, created in conjunction with Austin, Texas-based and internationally recognized pop-culture art powerhouse, Mondo.
All three albums' re-releases were produced by Jennifer Lee Pryor, Reggie Collins and Cheryl Pawelski and were all mastered by Michael Graves, with vinyl remastering on the self-titled album's bonus material and lacquers cut by Greg Reierson.