Nice Spring weather. Check. Tucked away in the scenic foothills of Virginia. Check. Easily accessible. Check. Polite and accommodating staff and police. Check. Well laid out stages and concessions. Check. Lightning bugs and even the tail end of a meteor shower. Check. Festival go-er friendly priced tickets. Check. Wide variety of talented performers. Check. The Infamous Stringdusters. Check. Anders Osborne. Check. Real live Dancing Bears (Humans in costume but we'll take it). Check. Horns and Funk. Check. Bluegrass. Check. Proudly sponsored by an American manufacturer that didn't sell out its town or country by going overseas to squeeze some extra profits. CHECK.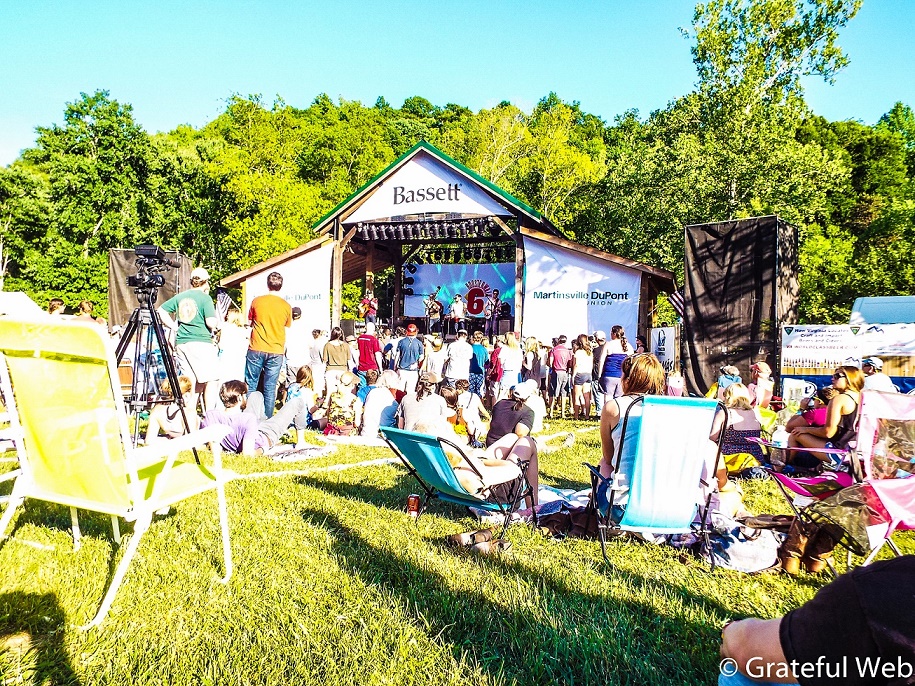 All of these attributes are what made the 6th version of Rooster Walk one of the highlights of the year's Southeast festival circuit. Located outside Martinsville, Virginia the event is easy to get to and once there, easy to enjoy.  With Mother Nature, the performers and the attendees ready to burst out from a harsh winter, the folks of Rooster Walk orchestrated a wonderful event for shaking off the chill and paleness of winter.  With all this happening Roosterwalk proved itself as the little music festival that does. None of this would have happened without the good people of Bassett Furniture, the sponsor of the festival.  These folks need to be appreciated and supported.  Check them out at bassettfurniture.com.
Anders Osborne -Guitar, Vocals and Piano, Eric Bolivar-Drums, Carl Dufrene-Bass, Vocals Brady Blade-Drums, John Gros-B3, Piano, French Horn, Jason Mingledorff-Baritone, Tenor Saxophone, Clarinet, Justin Tocket-Background Vocals, Susan Cowsill-Background Vocals Warren Riker-Percussion, Tony Leone-Drums, Scott Metzger-Guitar, Vocals Peter Stelling-Guitar
WHO DAT!? The first time you catch Anders Osborne you may want to kick yourself for not having been listening to him for years.  Straight out of "Nawleeeeens", survivor of Hurricane Katrina and everything, The Anders Osborne Band will knock your socks or toe ring right off your feet.  Unquestionable heart, rarely rivaled talent and the New Orleans mojo are what Anders gives his people.  If Government Mule is in your vocabulary, as well it should be, Anders and his band produce a very similar sound with whatever it is about New Orleans that will have you checking Anders tour dates. A good place to start would be a song titled 5 Bullets from his Peace Album.
Karl Sax-Saxophone, Flute, Vocals, Chris Stillwell-Bass, Chris Littlefield-Trumpet, Brian Jordan-Guitar, David Veith-Keyboards and John Staten-Drums
As usual, Karl Denson's Tiny Universe set had all in attendance living, learning and dancing large.  Turning folks on and out is nothing new for Karl Denson as proven by his work with Lenny Kravitz, The Greyboy Allstars and most recently San Diego's Slightly Stoopid.  Check out Karl Denson's Tiny Universe's new album, New Ammo.
Andy Hall-Dobro, Andy Falco- Guitar, Chris Pandolfi -Banjo, Jeremy Garrett-Fiddle and Travis Book –Upright Bass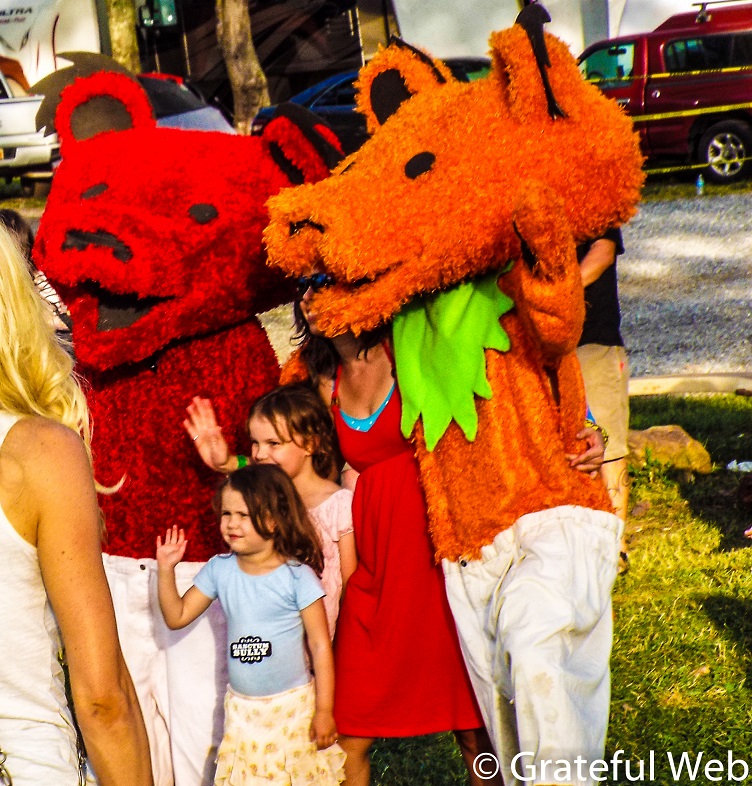 The Stringdusters kept saying, "This is going to be our longest show ever." Well, when they are clicking, which is always, one song can give the enjoyment of an entire set.  On this sunny afternoon that stretched into a cool spring evening the Stringdusters were so on it makes writing about them almost pointless. Everyone has their favorites and everyone has a bias and bluegrass fan or not, after one listen the Stringdusters will impress you with their timing, talent and just overwhelming joy to be onstage. You'll be downloading or buying CDs after sopping up the musical gravy these fellas are stirring up. Betcha!
Blake Christiana - Vocals, Guitar, Trevor MacArthur - Vocals, Guitar, Andrew Hendryx - Mandolin, Harmonica, Rod Hohl - Electric Guitar, Vocals, Rick Bugel – Bass, Cemre Dogan - Drums
Yarn has adopted the VA and NC region as their home away from home.  From some of the finest mandolin playing you will hear, to tricked out versions of Rolling Stones and Led Zepplin songs, to their well penned originals; hear these cats once and what at one time may have been a name you stumbled across and an act you might go check out depending on how the festival is going, Yarn will become a name you circle and sure to be catch. 
Particle, a sparkly, spiraling, sonically stimulating musical hula hoop were slated to end the night but with the energy Particle brings, they just began the night for the Particle People.  Particle gets the psychedelic techno sound happening at a high, high, high level on all fronts.  Sleep being what it is over the course of a 3 day event; Particle is worth a little sleep deprivation.
Rooster Walk has some big news on the way for 2015.  Follow them at Roosterwalk.com.