Samantha Fish and her band performed their debut show at the majestic Mishawaka Amphitheatre last night. This Colorado gig has been highly anticipated by music fans for many months. Fish is a messenger of poetic truths that land on your soul. Lyrically gifted with the art of expression and armed with a no-hold-back attitude she is poised to get your attention. Her guitar playing is an extension of her character, she can play soft or she can let you have it with searing guitar solos that leave you exhausted with excitement.
Samantha and her touring band consist of Ron Johnson on bass, drummer Sarah Tomek, and Matt Wade on keyboards. This incredible lineup of musicians deliver the material with raw emotion, powerful expression and precision. Samantha loves to play to a live audience as she relentlessly tours the world. She has strong persistent work ethic, ambition and is a Tour de Force of talent. From the opening note, and especially if you have never seen her perform, you know you are in for a night of rock and roll magic.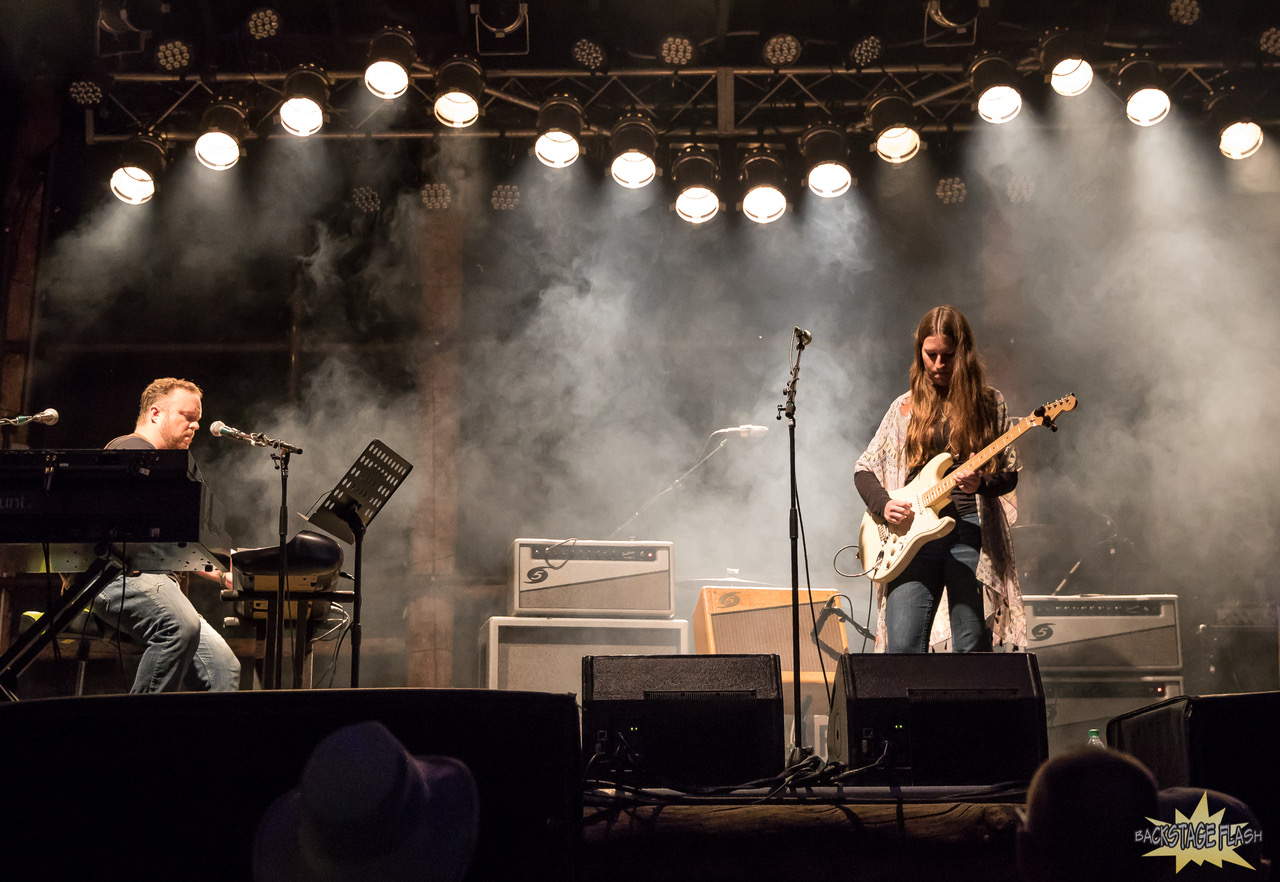 Local artist Grace Kuch brought her unique blend of blues guitar and vocals to the party last night. She was joined by Dave Wisbon on vocals and keyboards who is also from Fort Collins, Colorado. The duo played original compositions by Kuch as well as a few select covers. They complimented each other perfectly as Grace has a beautiful soft but powerful vocal delivery while Dave has more low end to his vocal range. With Dave on the keys banging out beautiful rhythms and Grace on guitar they were the perfect act to open the show. Grace met Samantha Fish when she was ten years old at The Blues From The Top Music Festival in Colorado and has been inspired ever since. She was thrilled to be supporting Samantha last night. At seventeen years old Kuch is highly decorated with awards from many entities including the Colorado Blues Society presenting her with best youth performer three years in a row. She is driven, motivated and gaining national attention everywhere she goes. Keep your eyes on Grace Kuch, she is recording new music and also pairing up with blues legend Ronnie Earl on a track titled Got That Style. Jackson Stokes joined the duo for the last number.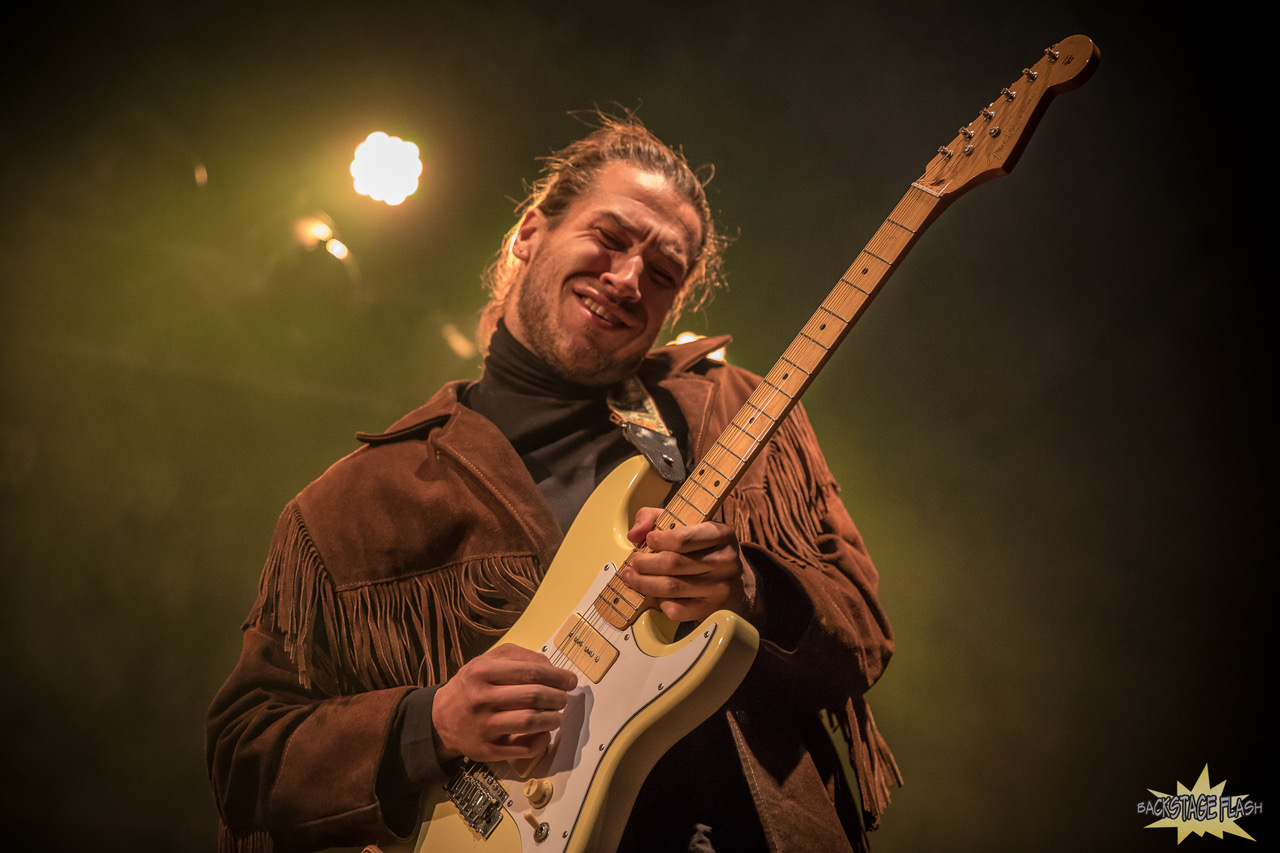 Create Records artist Jackson Stokes took the stage next. He is from St. Louis and grew up in a vibrant music scene. He typically plays with a full band and tours the country as a headlining act. Stokes has also been on supporting tours with the Allman Betts Band and many others over the last few years. Armed with his six string, incredible vocal range he commanded the stage and had the audiences' full attention. He played original compositions that have memorable hooks and intricate arrangements, his solos are precise and melodic and it all flows together beautifully. The crowd loved Jackson and gave him a warm Colorado welcome.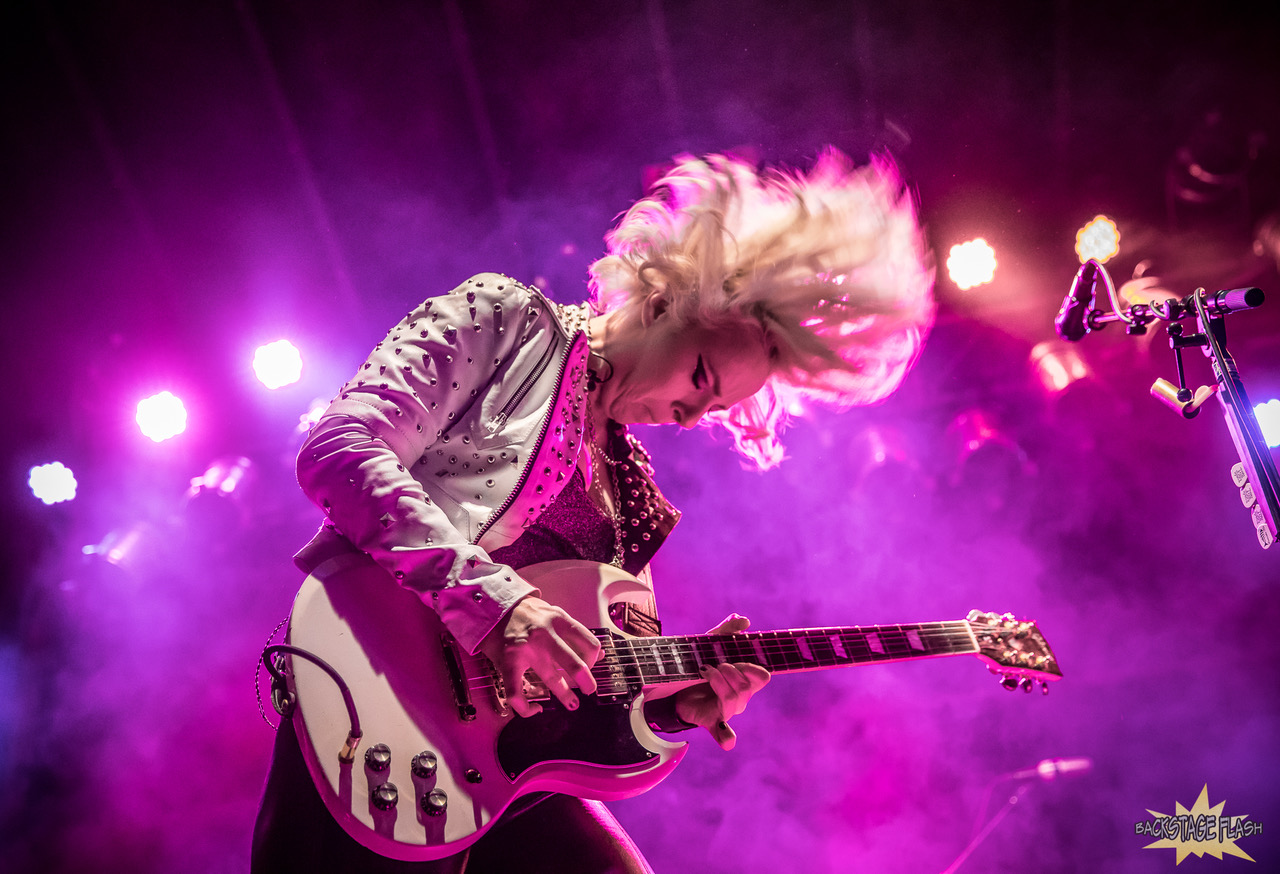 Samantha Fish exploded onto the stage next, taking her brand new Billboard #1 album Faster out for a test drive. Samantha looked stunning dressed in a black and white studded leather jacket, black leather pants, and white stiletto boots. Her white Gibson Sg was her first tool of choice as the band ripped through the title track Faster. The crowd went nuts at the conclusion of the powerful opening number.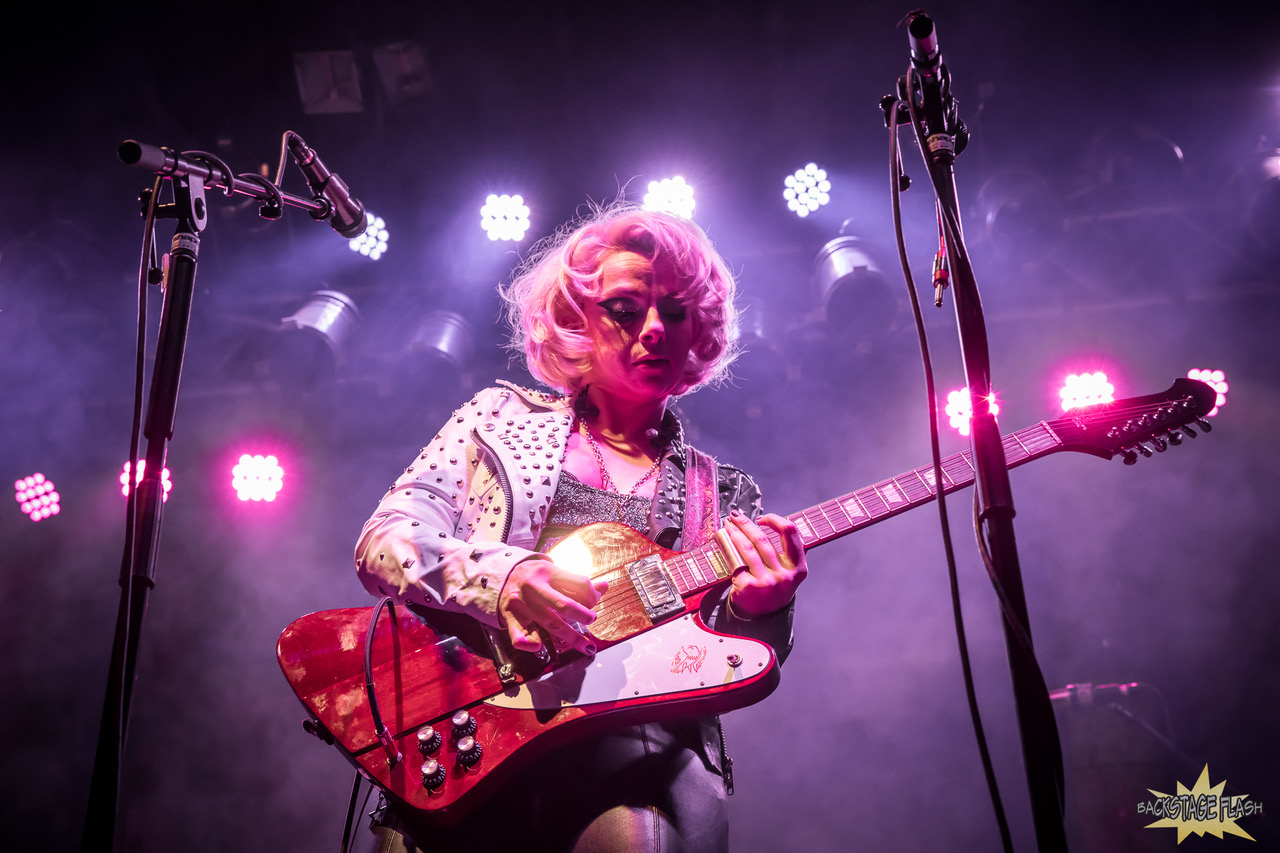 Samantha and her band continued the musical assault on the audience, they ripped through All Ice No Whiskey and Twisted Ambition, both new tracks from the Faster album. These songs are powerful guitar driven arrangements that capture the emotion and feel of the album. Samantha and the band deliver the material with high energy, out of the box attitude, and style. Her stage presence is on another level, you can't keep your eyes off her. Her energy is infectious and takes you along for a thrilling ride. The audience was blown to pieces over what they were seeing and hearing.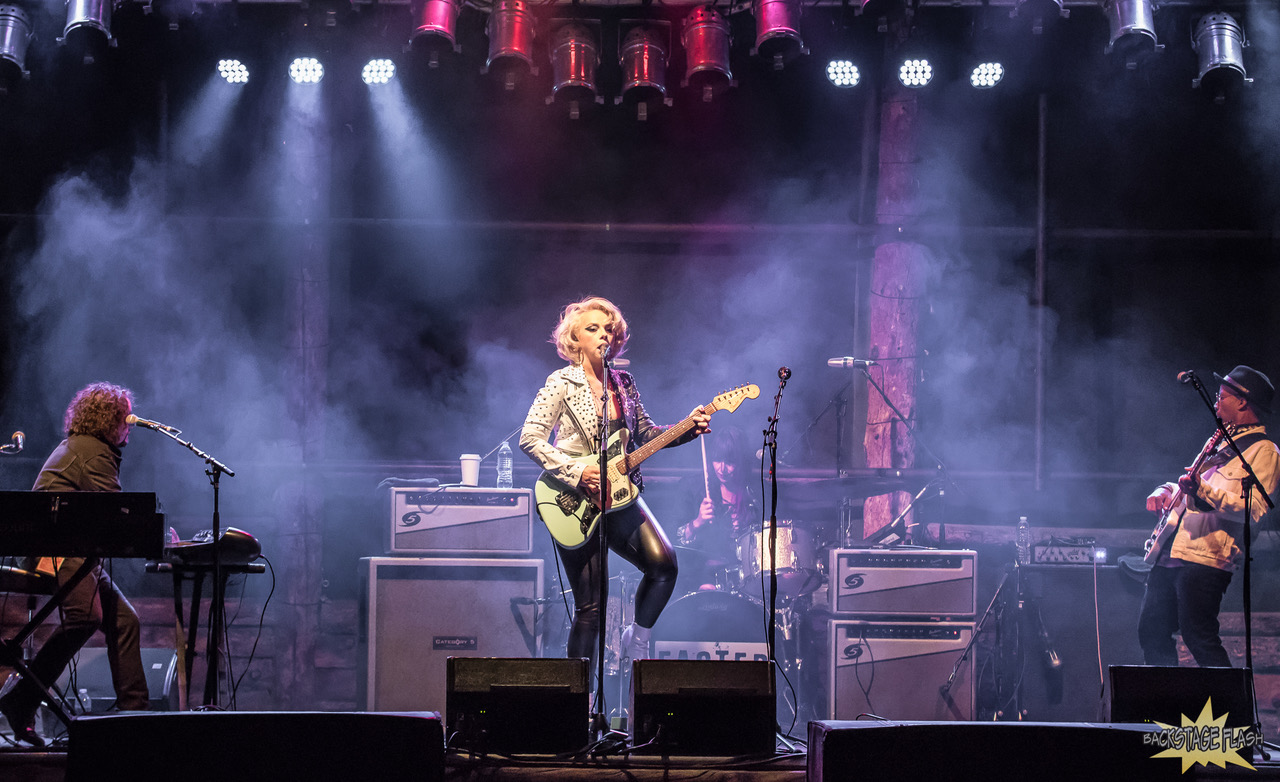 The set list also contained crowd favorites like Kill Or Be Kind, Bitch On The Run, Dream Girl and many other songs from Faster and Bell Of The West. Guitar changes are abundant when you attend a Samantha Fish show. She favors her Gibson SG but also plays a Gibson Reverse Firebird, her signature Delaney, a Fender Jaguar, and of course her Hanley's Cigar Box Guitar. All of these instruments present different tones and are all well equipped to handle the tenacity of Fish's playing style.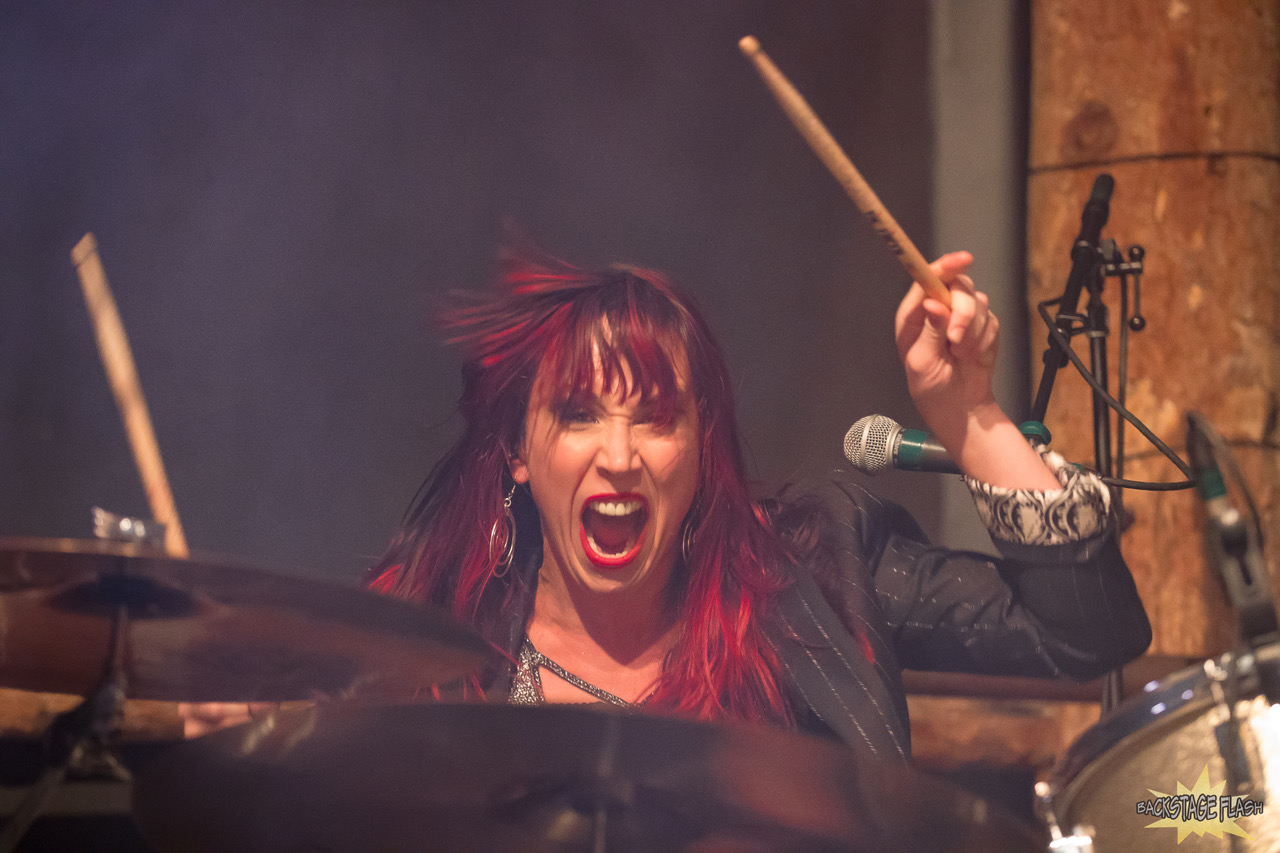 Samantha is touring with some incredible musicians. The rhythm section of Ron Johnson and Sarah Tomek is like a freight train pushing down the track with no brakes. They are the heartbeat of the band and simply keeping time is an understatement. They are exploring and improvising as the music unfolds. Sarah brings so much energy to the vibe of the music with her heart pounding beats and fierce expressions. Matt Wade on keyboards is a constant source of the arrangement. When Samantha is melting your face with a solo, he plays with a smooth touch on the keys and can hammer down on the organ for the rich full sound that makes this band a very well rounded machine.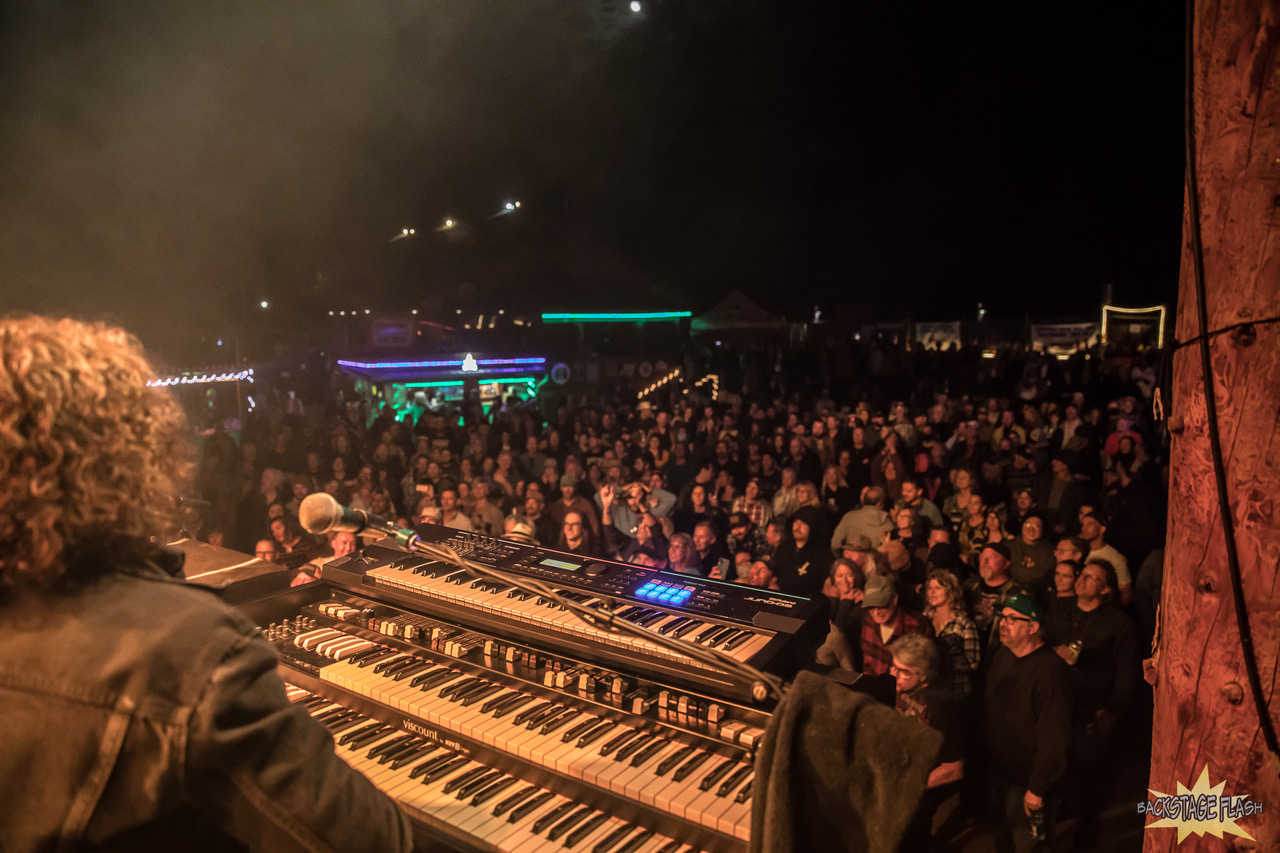 The show had many incredible moments and to pinpoint any single one would be hard to do. Samatha's voice on Dream Girl was downright heart piercing. Her delivery of Hypnotic was exactly as it's titled; Black Wind Howlin', Loud and Bulletproof were pure power; and the encore Go Home followed by Shake Em' Down with Jackson Stokes were all examples of Samantha's diversity and commitment to deliver the best possible show she can every night. She loves to tour and play to new audiences the world over and we are all very grateful for her commitment to her craft.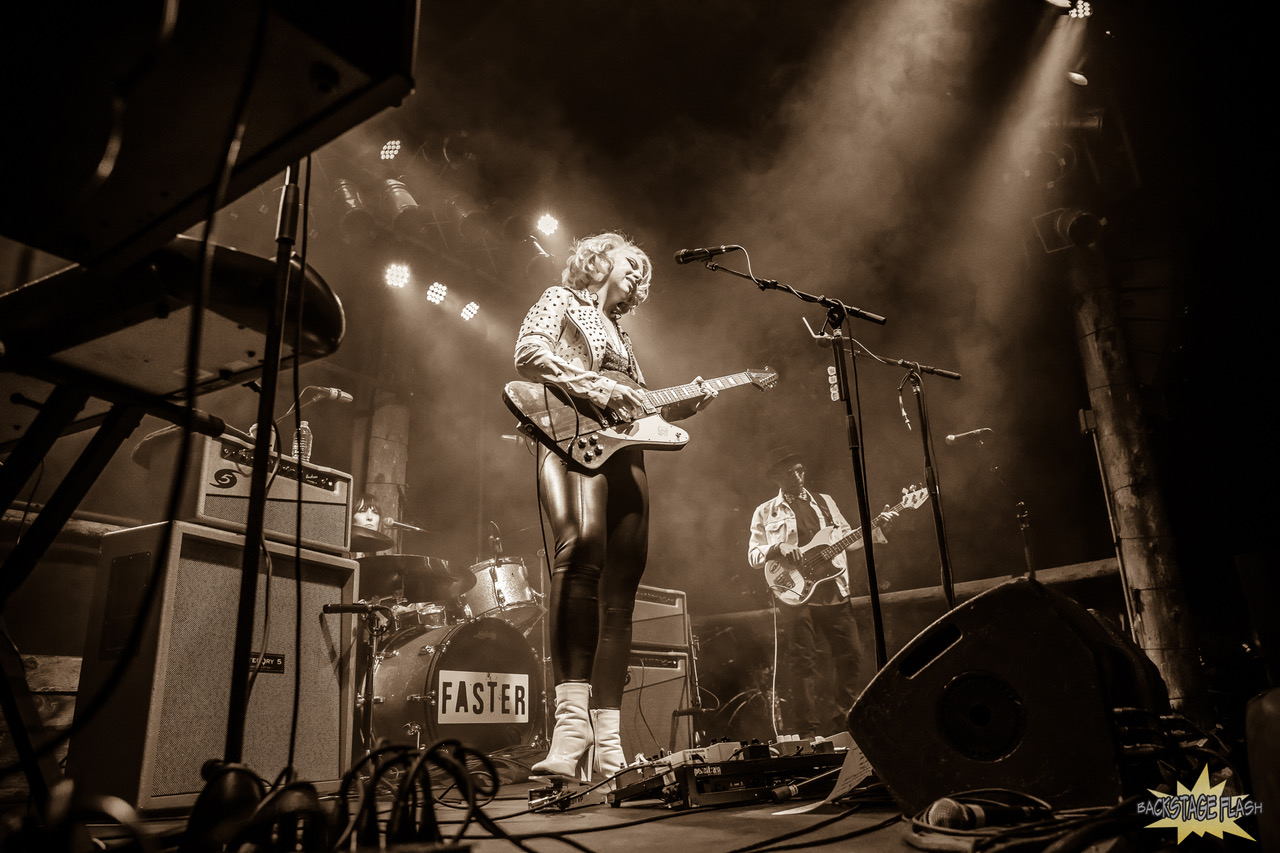 We caught up with Samantha Fish the day before her new album Faster was released. Here is what she had to say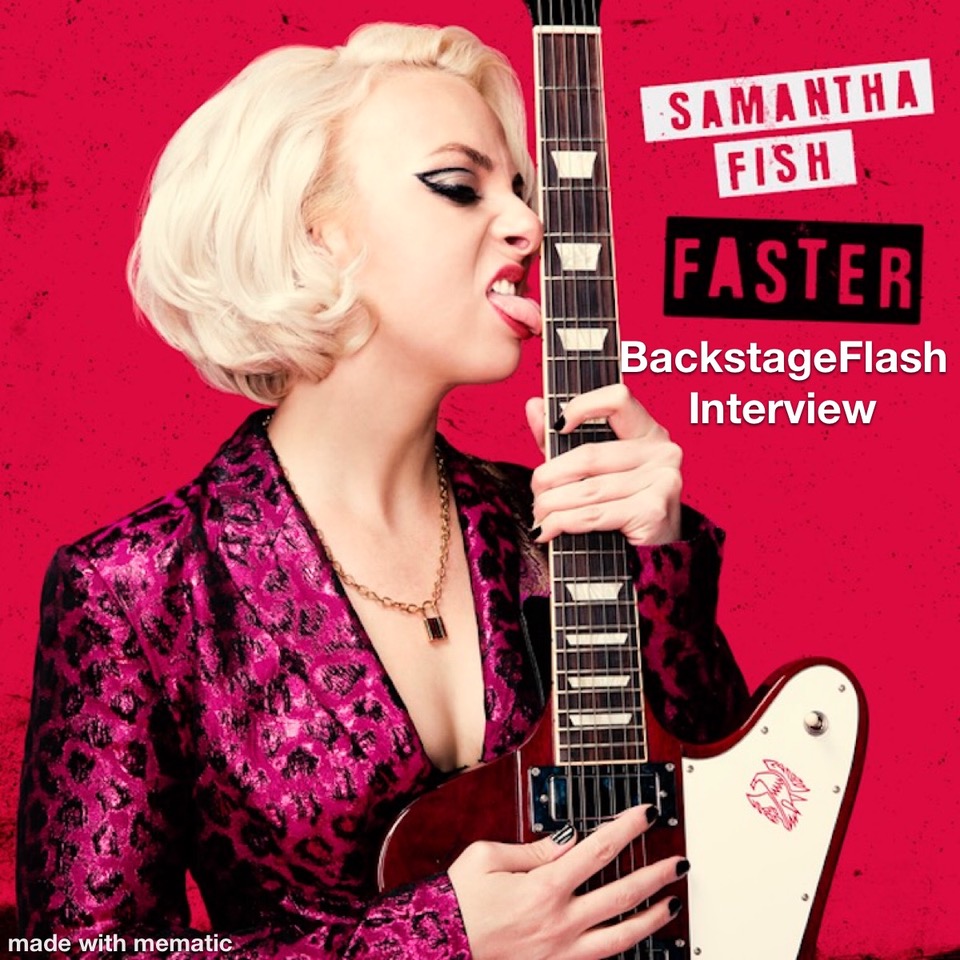 GW: What track on your new album Faster do you think will catch on the most?
SF: Better Be Lonely is a throwback to my original sound while still evolving forward. Hypnotic is very different, I am singing in falsetto and the guitar takes a wild turn in the middle. All Ice No Whiskey has a little bit of everything and is very in the moment. It's hard for me to pick one individual song. I know I'm telling you what I like and I hope everyone likes the songs too.
GW: Where was the album recorded and roughly how much studio time did it take to complete?
SF: The Village in LA, it's my first west coast record. There was a lot of pre-production with numerous hours on the front end. I started writing on my own when the pandemic hit. Martin Kierszenbaum is my producer and co-writer. He was in France working with Sting and I was in New Orleans and we would work together remotely after his sessions. The actual studio time was about ten days. With so much preliminary work already done we got in the studio and executed the songs quickly.
GW: Can you tell me a little bit about the collaborations with other writers on this album?
SF: Martin and I co-wrote Faster and Hypnotic. And Jim McCormick and Kate Pearlman also contributed to the album. I have worked with Jim and Kate before and they each bring a little something different to the writing. Being in the studio with Martin brought a level of positivity and great energy to the project. We cut All The Words live, the only ballad on the album, and he played grand piano. The collaboration between Jim and I goes back the deepest as far as time goes, we have written together for the longest period.
GW: Do you feel your style is evolving to a more contemporary rock sound?
SF: I try not to dictate exactly what I think it is. This album is definitely more contemporary and mainstream than anything I have done on my other albums. I give a lot of credit to the production quality of the record as well.
GW: Other than you and Martin who were the other musicians that played on the record?
SF: We brought in Josh Freese on drums, he has played with Guns and Roses, Nine Inch Nails and the Replacements. Diego Navaira on bass from the band The Last Bandoleros is also on the album. They both did an amazing job and are highly skilled and talented players.
GW: Faster has a wonderful flow, do you organize the tracks in specific way?
SF: Yes, sequencing is an understated important art form. The flow of the record is incredibly important, you are telling a story with each track. In a way it's a lot like a movie, if the scenes are out of order you will not know what's going on. So yes, it is very deliberate and a joint collaboration between myself, Martin the producer, and the record label. All The Words is the last track as I tend to end my albums with a ballad.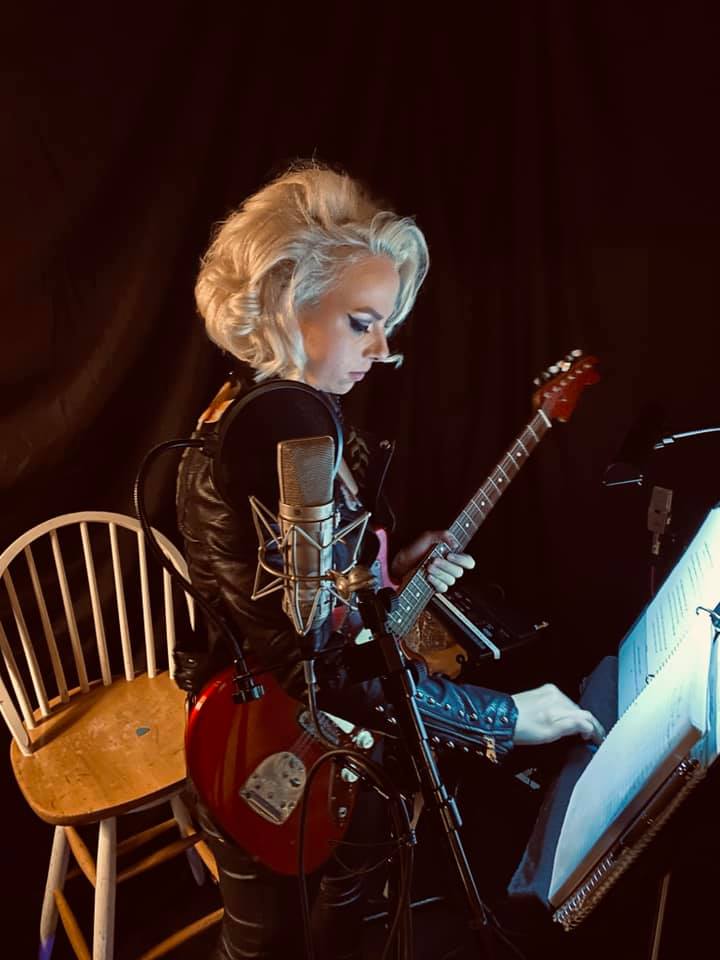 GW: Question for the gear heads. Did you use any specific instruments to achieve a certain tonal quality on any specific tracks?
SF: For the majority of the record I used my Gibson SG. I was thrilled to hear the studio had a Fender Super Reverb and a Fender Deluxe and we favored the deluxe amp straight through with the SG and no pedals, just dry. That amp has incredible tone and really suited every track.
GW: Did you play any acoustic or cigar box on the record?
SF: No acoustic and no cigar box. I brought the cigar box with me but it felt I was forcing it and I just needed to let it be. Nothing on this record jumped out at me as a cigar box song. Don't worry, I am still keeping it in the show and will continue to write with it.
GW: Thank you for being so gracious with your time.
SF: You're welcome and thanks for your time as well.
Samantha Fish has experimented, explored and literally exploded onto this recording!
The new Rounder Records release 'Faster' was officially released on September 10th, 2021. Fish is on a fast track to expanding her fan base with such a diverse and powerful offering. This record has style, attitude and a more contemporary rock & blues feel, with all kinds of ear pleasing extras. Samantha gained guidance and direction from renowned producer, songwriter and musician Martin Kierszenbaum (Gaga, Sting, Crow). He produced the record and co-wrote with Fish on some of the tracks and also played keyboards, percussion and guitar on select cuts. The duo was joined by John Freese on drums (GNR, NIN & The Replacements) and Diego Navaira on bass from the band The Last Bandoleros. Jim McCormick and Kate Pearlman also collaborated with Fish on writing. The theme of this record goes something like this - take charge of your life and don't be afraid to go for what you want and what you need. That type of energy and ambition is highly contagious to the listener and pulls you in to her vulnerability, personal expression and mood. Fish's vocal delivery is like a kaleidoscope of sounds and emotions depending on where you are on the record - downright raw and edgy with confidence and power, uplifting and loud to a softer delicate expression filled ballad.
The title track 'Faster' welcomes you to the record in a *holy shit* kinda way. The track is explosive and gets your heart racing. Dying to hear what's next that would be All Ice No Whiskey with the easy to understand message of 'I need substance in my life and you don't have any, come back when you get some'. From there the album progresses into guitar driven compositions that rock you with clever arrangements and empowering emotional truths. This is one of the most radio and video friendly albums that has come along in a long while. Rather than go through each song I'm going to leave you with track number twelve, titled All The Words. This song is so relatable to pretty much everyone since it describes letting go, even though you know horrible pain will soon follow. The only ballad on the album is a heavy one, these kind of things need to be said as they help us cope and get on with life and it takes a strong willing person to share that kind of vulnerability with the world.
It's so apparent Fish lives her life as a story teller of truth, she never hides behind anything or anyone and has clearly taken command of her life as her songs demonstrate. This album is clearly a highly visible look into the caliber of artist she is. I've purposefully left out details about the other nine tracks so you can pick up this record and enjoy it as much as I did with no expectations or prior knowledge of the recording other than knowing there are cool and unexpecting twists and surprises. On record debut day 'Faster' quickly landed at number two on iTunes Top Forty Rock Albums, sitting second behind Metallica and ahead of Iron Maiden. Fish currently has the #1 Blues album on Billboard Top US Charts. If asked to categorize Samantha Fish, I would say she is musical and her songs come from her heart and life experiences. Where ever her songs hit you that's the category they belong to.
Thank you Samantha Fish for your honesty, diversity, creativity and love of rock and roll.
Track List - Faster, All Ice No Whiskey, Twisted Ambition, Hypnotic, Forever Together, Crowd Control, Imaginary War, Loud, Better Be Lonely So Called Lover, Like A Classic & All The Words.