Three bohemian bands and a world-famous clown came together June 2 at the UC Theatre in Berkeley, California, for a benefit for the Seva Foundation, a global health organization with a core vision of "A world free of blindness." Emceed by Seva co-founder Wavy Gravy, who remains on its board of directors, Rising Appalachia, Dead Winter Carpenters, and The Sam Chase & the Untraditional marked Seva's 40th anniversary by visibly invigorating the swaying, dancing crowd.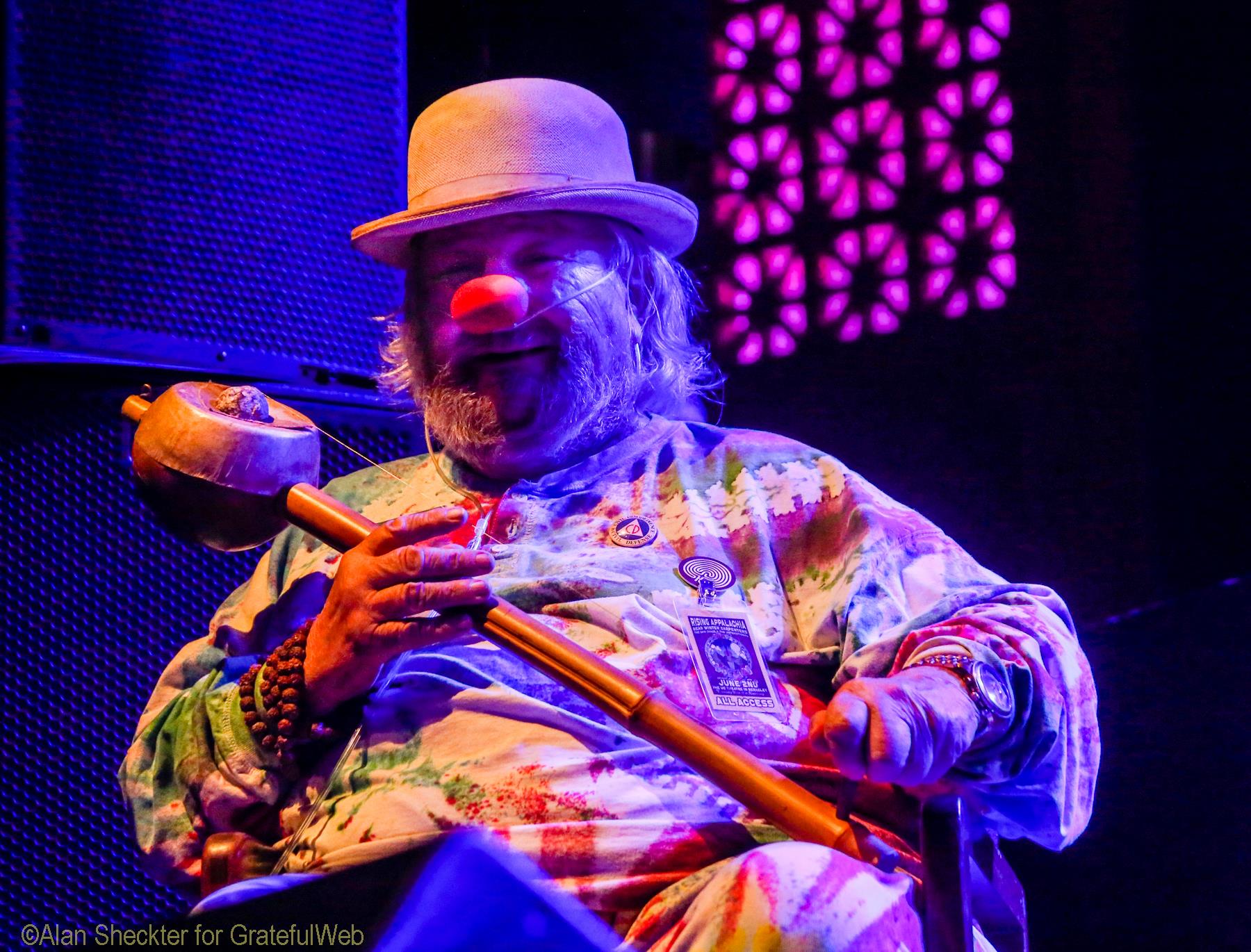 Upon taking the stage, Leah Song, one of the front women for Rising Appalachia, properly adorned with a big red clown nose, praised Wavy Gravy for his involvement in "social peace activism" and being "a righteous clown." She continued that, "It's an honor to be on this stage. The Seva organization has cured over 3 million folks from blindness, and it's a very powerful place to be standing in honor of all the work that's been done."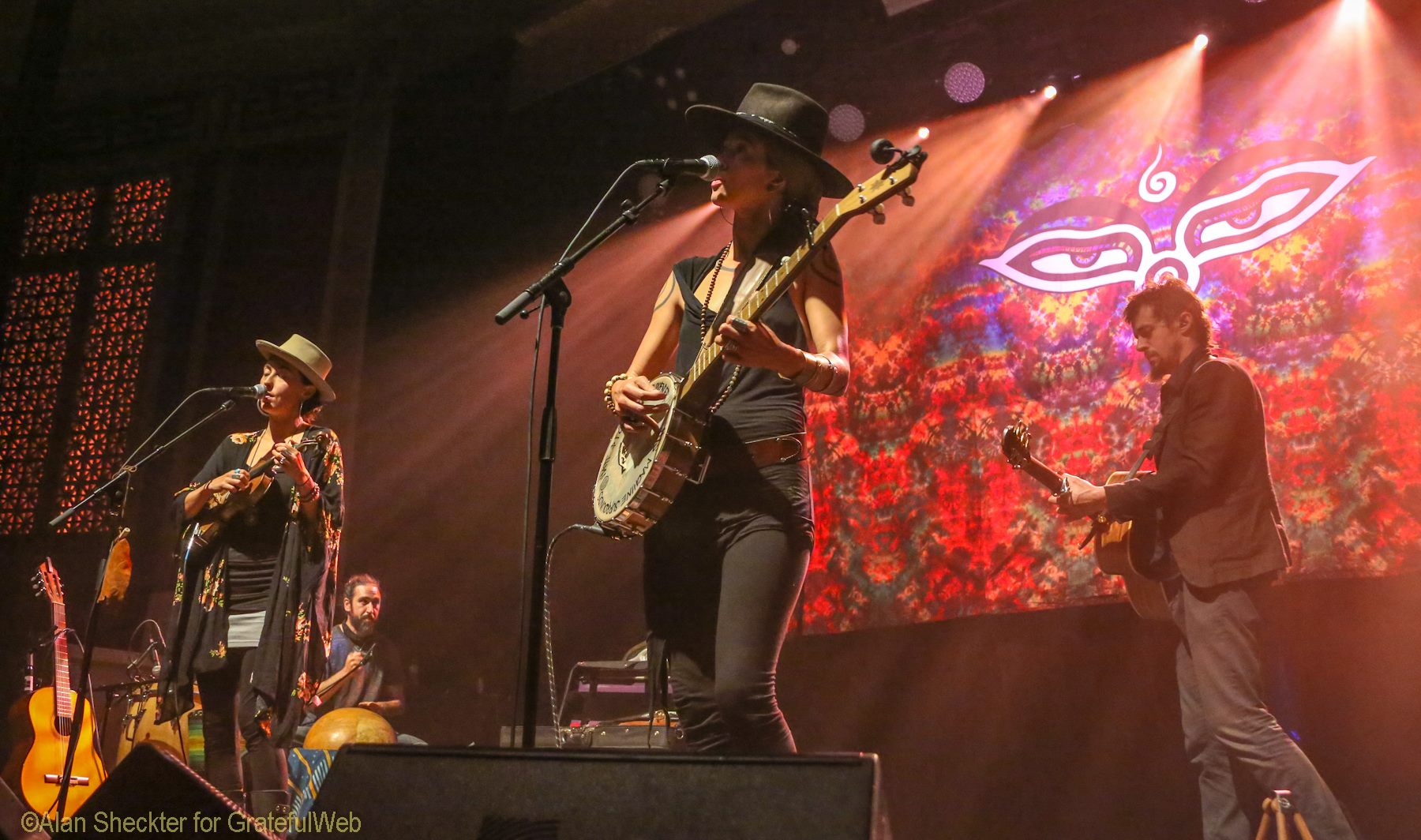 Song (banjo and vocals) and her sister Cloe Smith (fiddle and vocals), along with Biko Casini (percussion) and David Brown (guitar and bass), headlined the evening with a big set of artistic mountain-tinged folk tales and artistic ballads that countered injustices with love and affirmations, essentially placing daisies into the rifles of those who endorse oppressive and tyrannical behaviors.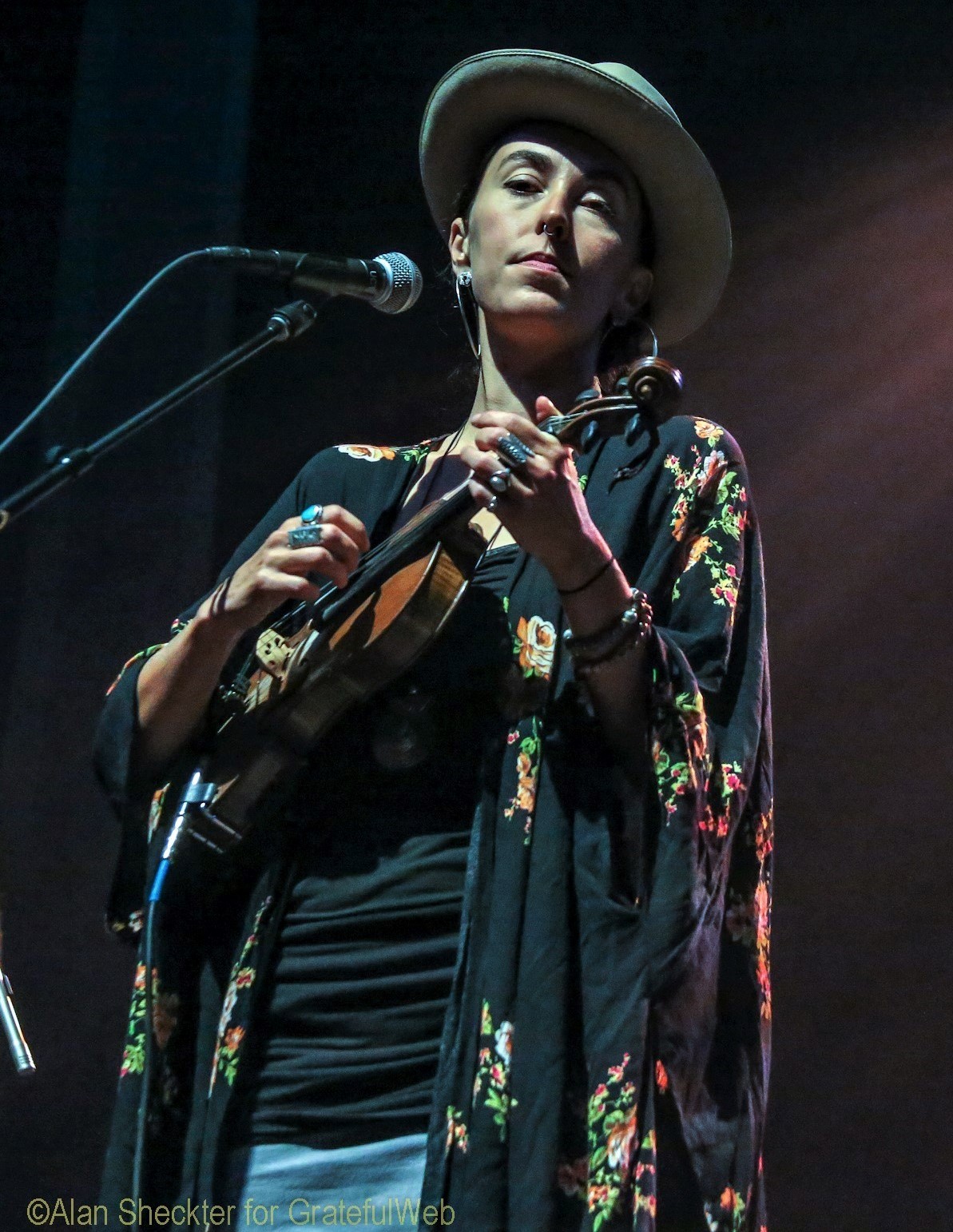 Tender, evocative, indigenous-American flavored and simultaneously earthly and spiritual, Rising Appalachia provided a soothing elixir of music and energy that was fanciful, beautiful, and satisfying. Smith and Song even partnered in some mid-song rhythmic dancing. This was the final show of their tour. "After this, we disappear into the Northern California woods and start to make a new album," Song said.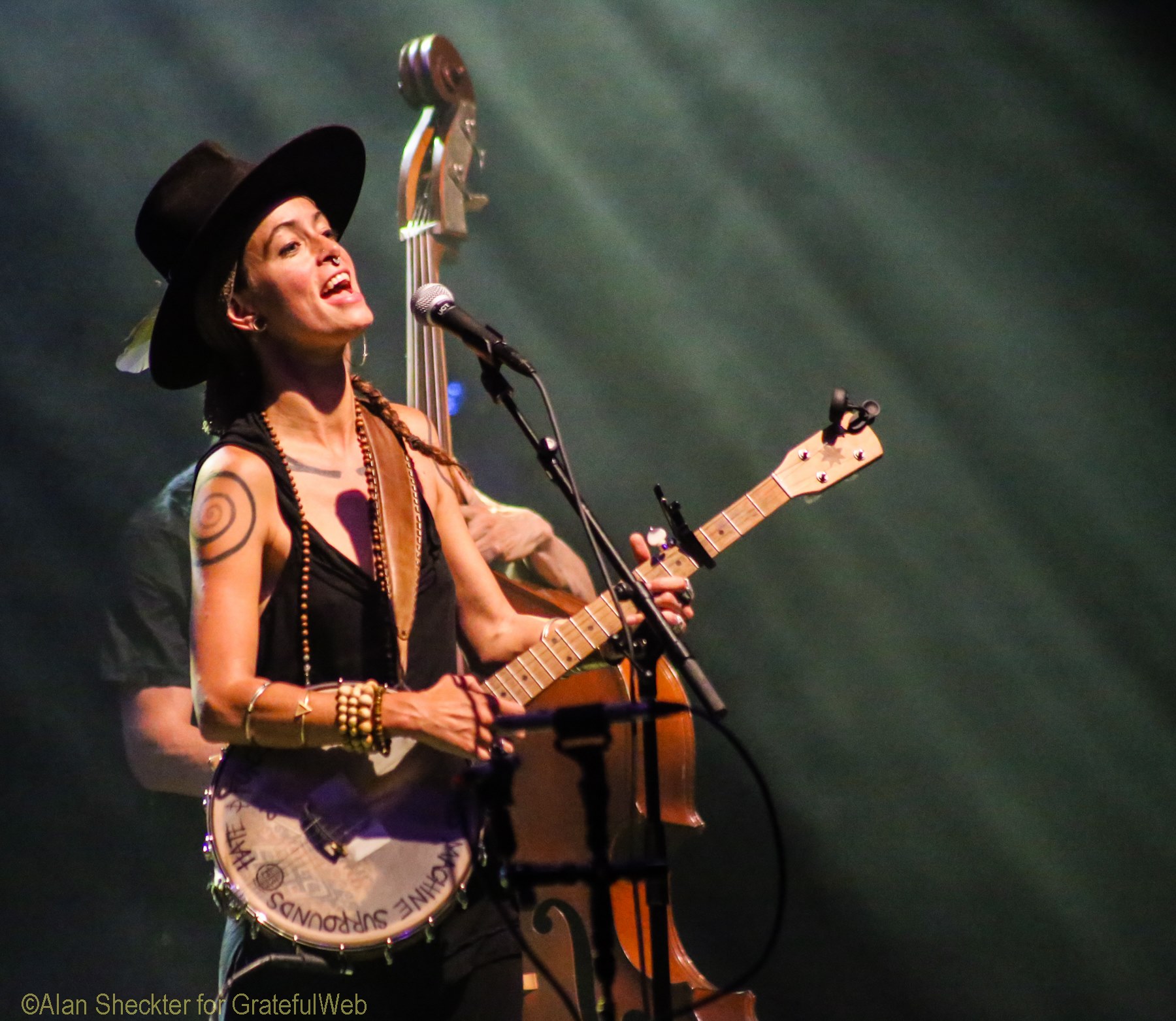 Their set which mostly included enchanting, nicely crafted originals, began with the traditional gospel song, "Just a Closer Walk with Thee," and included the delightfully percussive "Sail Away Ladies," and ended with an encore of the tribal-flavored "Take Me Downtown."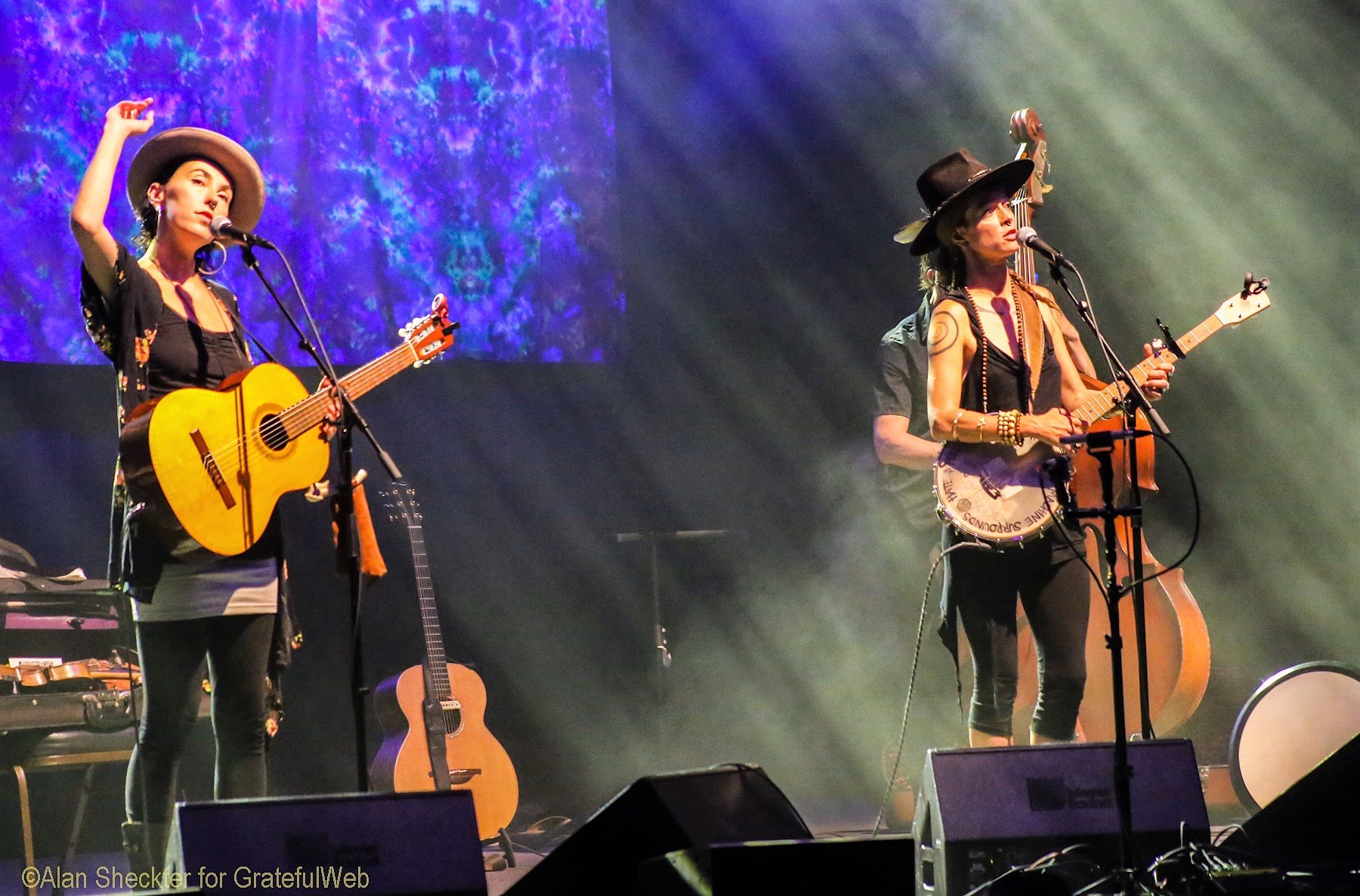 Much of the set included material that appears on the group's 2017 live project, "Alive." Rising Appalachia also performed their new single-release, "Resilient," which has an anti-Trump tone without naming names. Its lyrics include:
"When the world comes undone / My voice feels tiny / And I'm sure so does yours / Put us all together / We'll make a mighty roar / I am resilient / I trust the movement / I negate the chaos / Uplift the negative."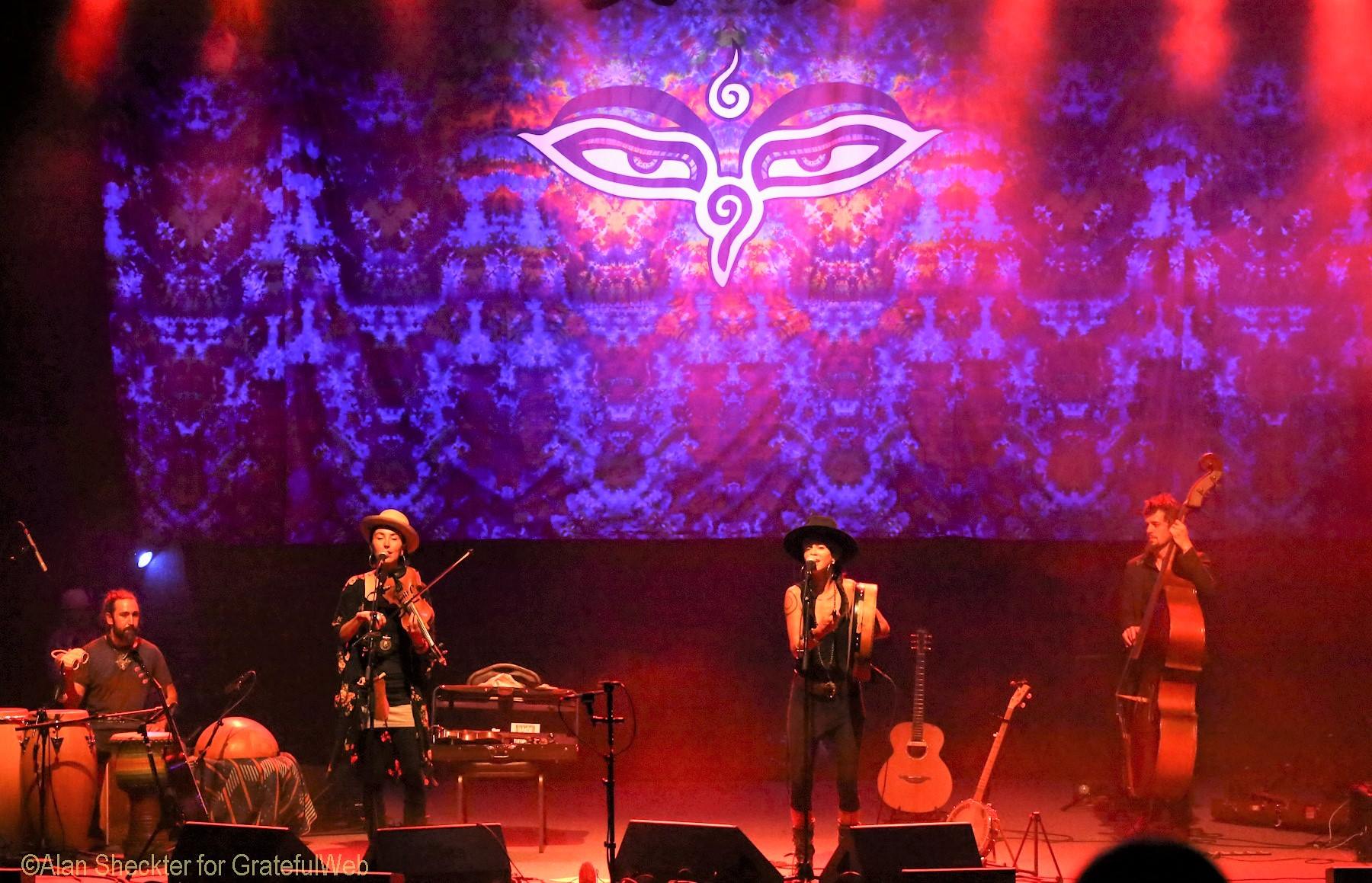 Rising Appalachia in 2015 founded the Slow Music Movement, to help maintain an independent and unvarnished musical soul in the face of the hectic and pressured world of the music business. The band is committed to keeping their work personal and accessible as they travel from town to town while at the same time generating audience interest in their music-making model, which includes presiding over production, management, recording, and all forms of guiding their work, and avoiding flying jet airplanes from one soulless, impersonal arena to arena. Their music-delivery model is reminiscent to Woody Guthrie's a few generations ago. Troubadour Guthrie used to arrive from town to town on slow train or by other means and meet the townspeople and their cultures before a performance.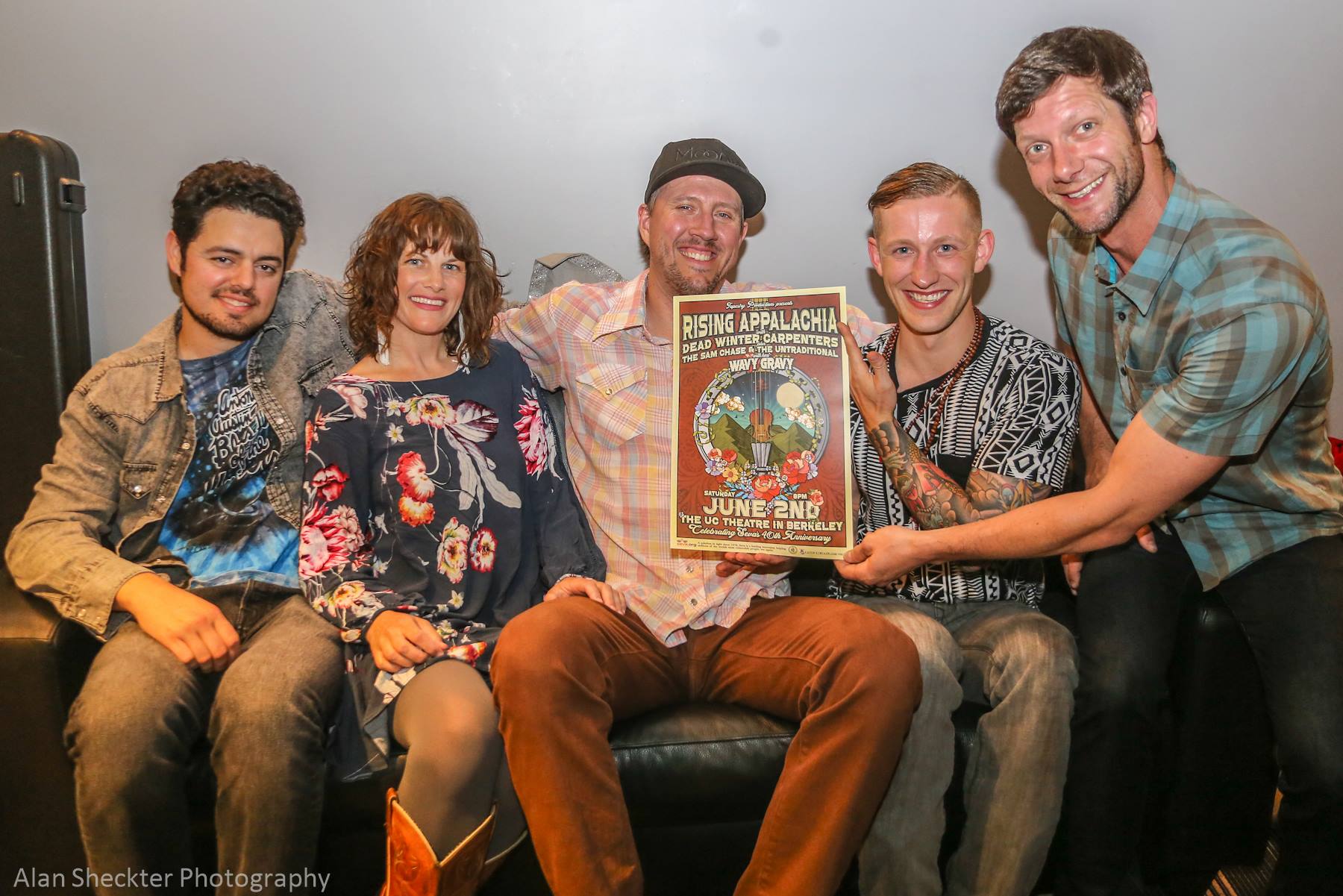 Immediately preceding Rising Appalachia, Lake Tahoe, California's, Dead Winter Carpenters delivered a rip-snortin', fiddle-infused, twangy amalgamation of bluegrass, classic country, and Americana compositions. An established good-timey band, Dead Winter Carpenters, are now in their ninth year of winning over audiences one at a time with their engaging let-it-all-hang-out sets.
The band features charismatic co-founders Jenni Charles on fiddle, vocals, and smiling-good vibes, and Jesse Dunn, the band's chief songwriter, and fine guitar player, who has a deep, clear countrified voice a la Bob Dylan on "Nashville Skyline." Lead guitarist Nick Swimley added plenty of depth to the jamming interludes, while drummer Brendan Smith (and guest/former bassist Brian Huston, who manned the drumkit for a few tunes), and new bass player Ryan Lukas ensured that the musical output was cohesive and of one voice.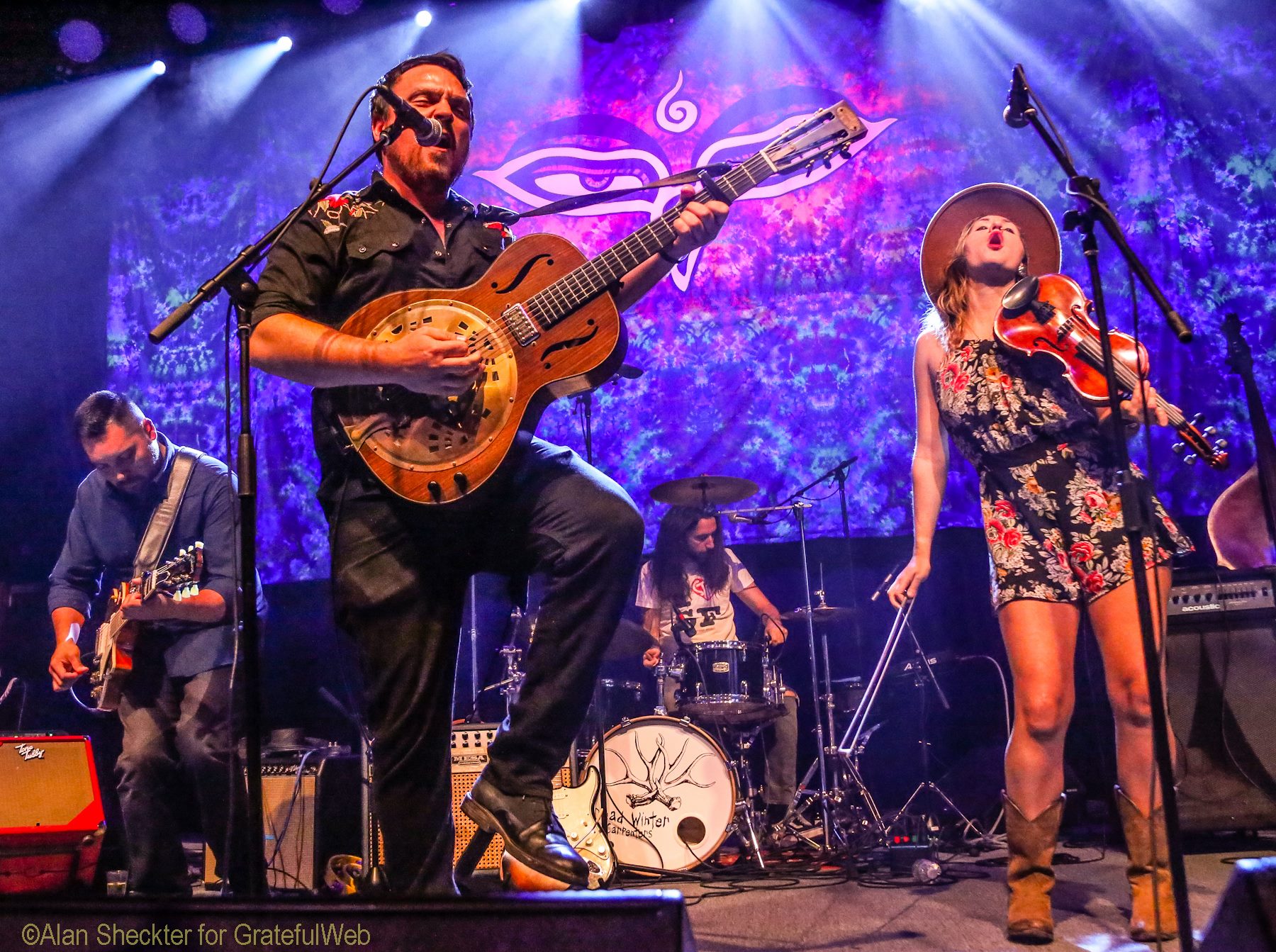 Led by Sam Chase, a rambunctious, passionate showman, The Sam Chase and the Untraditional opened the night's proceedings. A compelling ringleader born and raised in San Francisco, front man Chase, on guitars and lead vocals, performed in tandem with a unique and affable band of players, the majority of which were refreshingly women – Chandra Johnson on fiddle, Devon McCLive on cello, Liss Leigh on bass, and Debbie Neigher on the keyboard. Lead guitarist Nikko Rios and drummer Ted Desmarais rounded out the ensemble. With the raucous and raspy-voiced Chase at the helm, the band's dramatic performance was an enjoyably boisterous carnival of fun.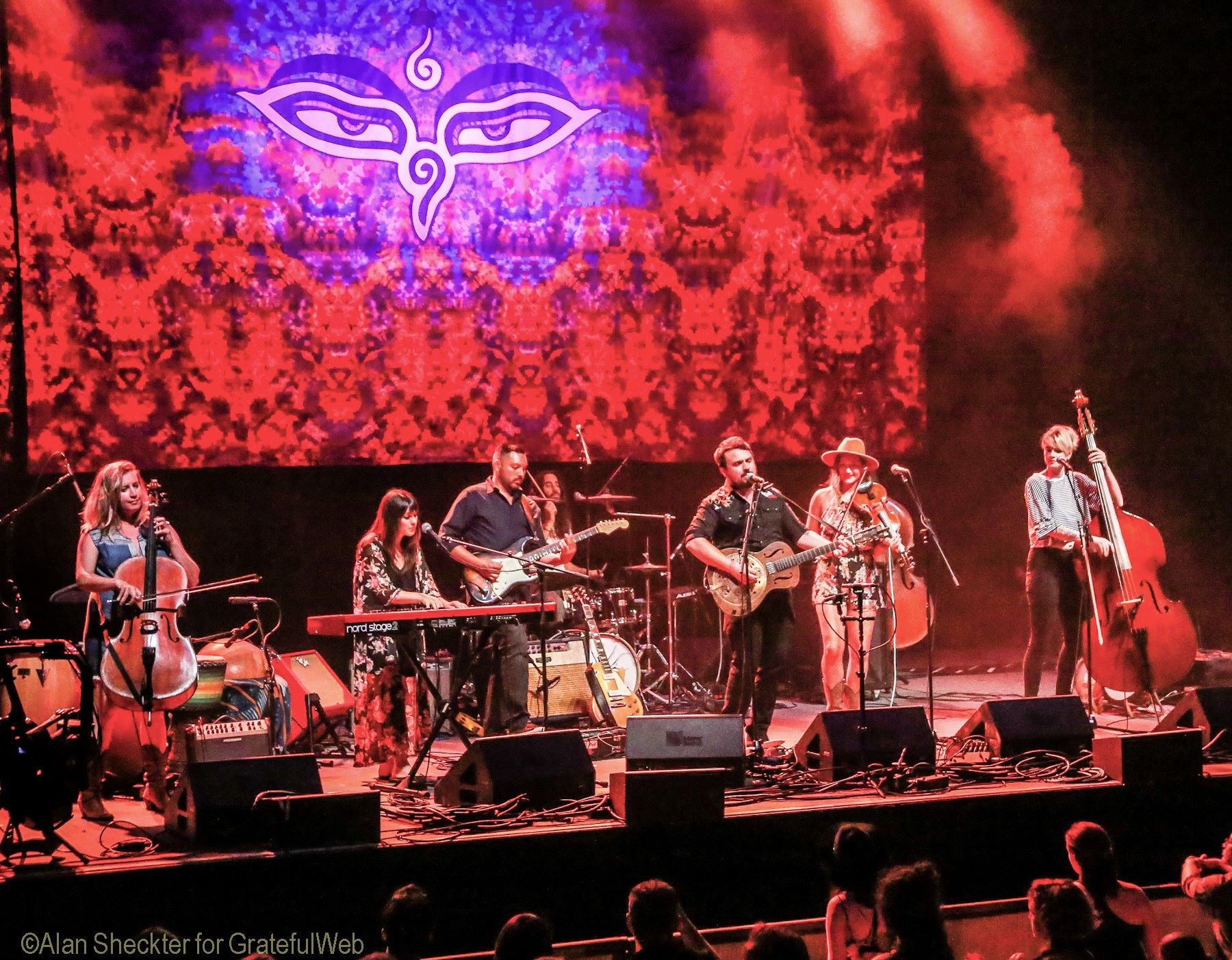 Seva, which is a Sanskrit word for "service," or in Seva's case, "selfless service to others," was reportedly conceived in 1978 when three heads came together – Dr. Larry Brilliant, an epidemiologist and philanthropist who attended the show; psychologist/academic Ram Dass, and activist/comedian Wavy Gravy, along with a colorful supporting cast of smart and talented innovators put their heads together to deliberate about which public health issue they felt they could tackle. Together they became passionate about eradicating blindness in disadvantaged communities in Nepal, Cambodia, and elsewhere. The Grateful Dead's affiliation with Seva dates back to its early days, with a Seva benefit concert in 1979 at the Oakland Auditorium. Bob Weir serves as an honorary lifetime Seva board member.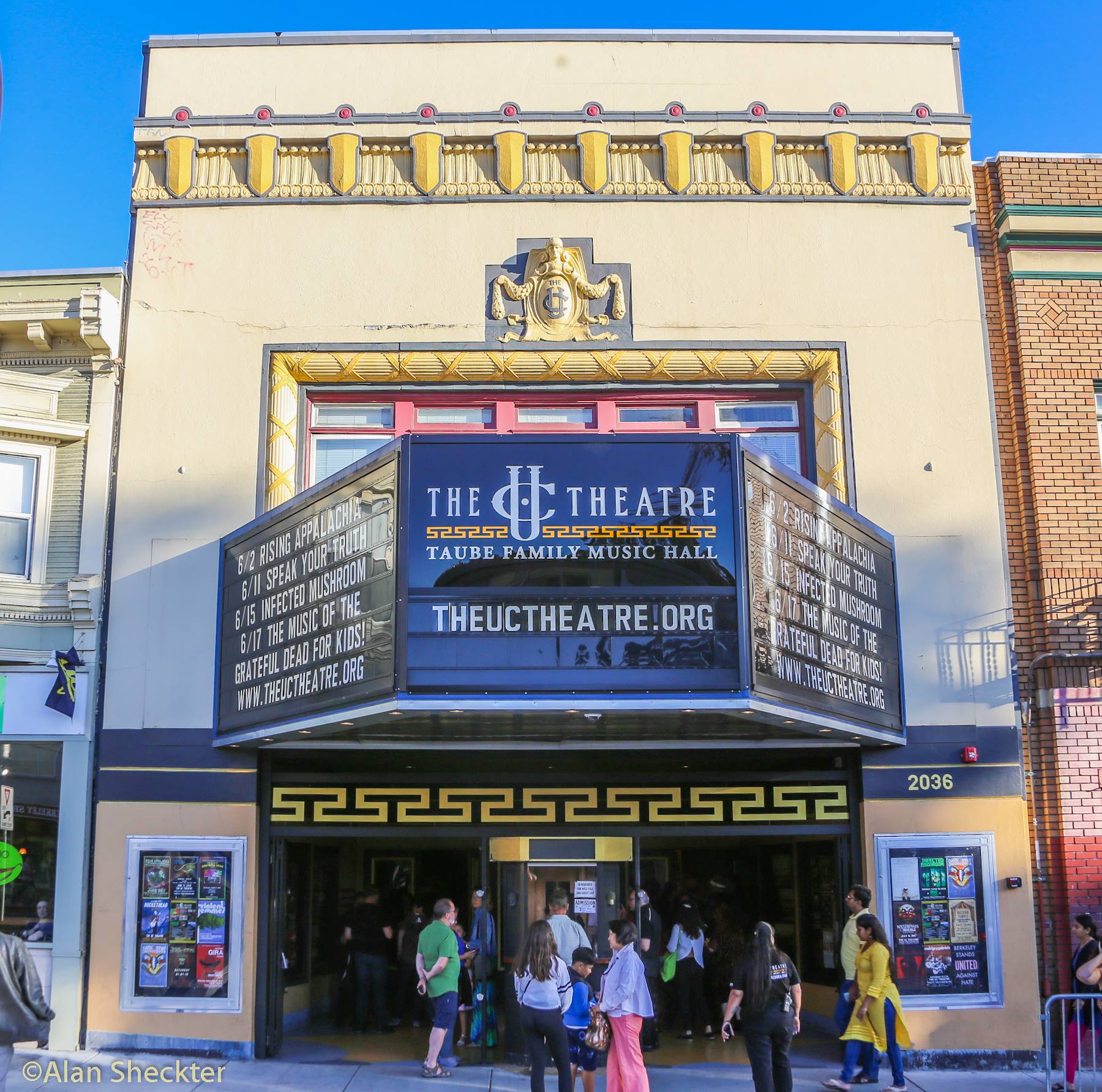 "Eighty percent of all the blindness in the world is preventable or curable," states Seva Co-founder Larry Brilliant on the organization's website, seva.org. Ninety percent is in the developing world, and there are 40 million blind people in the world. Surely when we can deliver sight for under $50, those numbers have got to be reduced, eliminated, put to bed."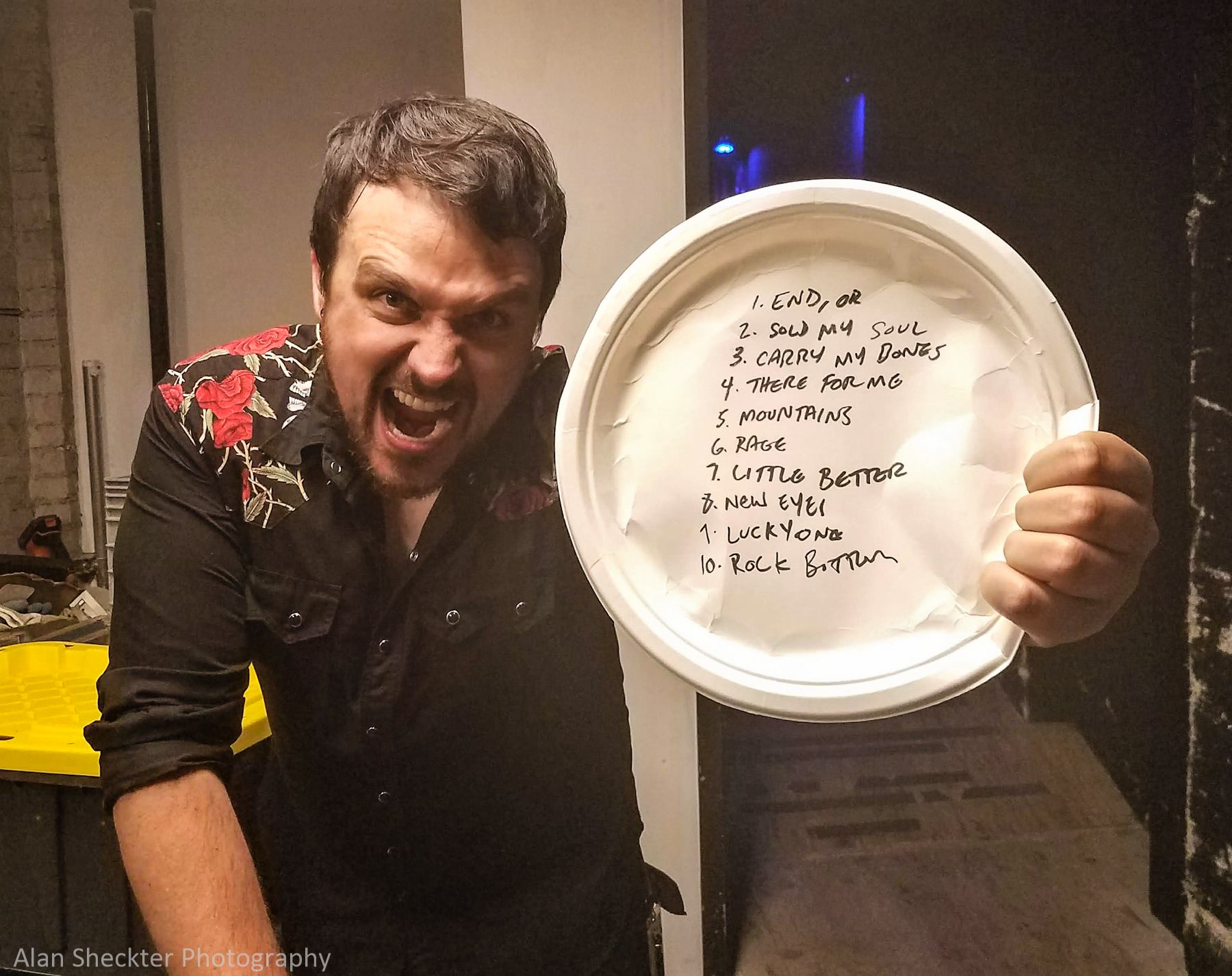 Setlists
Rising Appalachia: Just a Closer Walk with Thee, All Fence and No Doors, Pretty Little Foot, Filthy Dirty South, Sail Away Ladies, Wider Circles, Lean In, Resilient, Medicine, Caminando, Across the Blue Ridge Mountains, Cripple Creek (Appalachian traditional, not The Band song), Scale Down. Encore: Take Me Downtown. tribal-flavored
Dead Winter Carpenters: Colorado Wildfire, Roller Coaster, Holy Moses, Tahoe Gal, Detrimental Tendencies, Long arm of the law, Another Brick in the Wall (Pink Floyd), Winning Hand, How to Make a Living 101.
Sam Chase & the Untraditional: End - Or, Sold My Soul, Carry My Bones, There for Me, Mountains, Rage. Little Better, New Eyes, Lucky One, Rock Bottom.