Skull & Roses Festival officially dropped reschedule dates yesterday and also announced a virtual party happening this week…as we can't all be together this weekend in Ventura.
1. SKULL & ROSES IV is OFFICIALLY RESCHEDULED for APRIL 8-11, 2021
Mark your calendars, we're officially rescheduled to approximately the same time next year. We felt it best to take a full year off to allow the virus to run its course, rather than trying to force an earlier date that may also be negatively affected. If you plan to join us, you don't need to do anything. Your ticket will be honored even if ticket prices increase in the future.
We are still working very hard on solidifying the lineup for you, but you can expect most of the same artists to join us in 2021 for a VERY similar lineup. We are looking forward to presenting you the finest available GD-related entertainment and as details shake out, you'll be the first to know!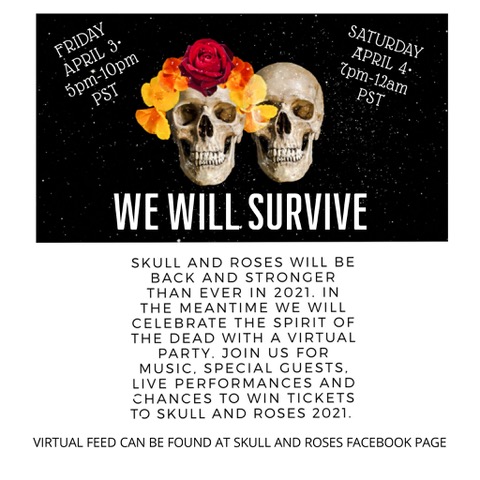 2. SKULL & ROSES IV: VIRTUAL BEACH PARTY WEEKEND
Several of our biggest fans & supporters have stepped up to organize a virtual, online festival for us all to enjoy this weekend.  Nothing like the real thing, but in today's environment, this is about as "real" as it's going to get.
Please tune-in and join us at some point this weekend for great music, special guests, live performances and past S&R sets. Let's unite our positive forces in cyberspace as we intended to do live in Ventura this weekend and shine our burning love lights as one and beam our positive energies to the universe!
CONFIRMED ACTS:
Reed Mathis (Billy & The Kids), Scott Guberman (Stu Allen & Mars Hotel), Roger McNamee & Jason Crosby (Moonalice), Zach Nugent (Disco Dead), Richard James (Pink Talking Fish), Nate LaPointe (Cubensis), Halina Janusz & Garrett Deloian (Jerry's Middle Finger), Mark Fisher (Electric Waste Band), Michael Berkey (The Alligators), a drop in from 'No Simple Road' and more.
Streaming live from the festivals Facebook page!
Friday 4.4 5:00pm - 10:00pm PST
Saturday 4.5 7:00pm - Midnight PST
FB EVENT: https://www.facebook.com/events/3003738599708555/
(Schedule will be up in here soon!)