Sound Summit returns to the slopes of Mount Tamalpais for another festive and eclectic day of music high above San Francisco Bay.
Jazz legend and musical icon Herbie Hancock will be topping a bill that includes stellar rock vocalist Grace Potter, rising country star Nikki Lane, energetic funk and soul ensemble Con Brio, and special guest Bob Weir of the Grateful Dead. DJ Andy Cabic of Vetiver, will be spinning tunes throughout the day. Charismatic Bay Area radio personalities Murph & Mac (aka Brian Murphy and Paul McCaffrey) return as the day's dynamic Masters of Ceremonies.
Produced as an annual celebration of and fundraiser for Mount Tamalpais State Park by Roots & Branches Conservancy, the annual one-day festival has raised $175,000 for Mount Tam in just its first three years. Last year, San Francisco Magazine named Sound Summit as Best Festival of the North Bay in its annual Best of the Bay issue, citing its quality and intimacy.
Sound Summit is staged at the historic Mountain Theater, a 4000-seat natural stone amphitheater with stunning views of San Francisco Bay and the Pacific. The same venue was the site of the Fantasy Fair and Magic Mountain Festival in the summer of 1967, the Summer of Love, a week before Monterey Pop. Over 30 bands including Jefferson Airplane, The Doors, and The Byrds played over two days to a buoyant and colorful crowd and unknowingly birthed a tradition that's still thriving a half-century later. In that respect, Sound Summit is treading on hallowed musical ground and keeping the vibe alive for a resonant cause.
"Sound Summit continues to fulfill what we'd envisioned – a spirited community gathering in a stellar location with a great soundtrack," says executive producer Michael Nash. "It's also throwback to a more grassroots, time-out-of-mind experience. There's a certain synergy in the amphitheater between the artists and the audience, an intimate gathering amidst an expansive landscape."
Previous acts have included Wilco, Phil Lesh & Bob Weir, Tedeschi Trucks Band, Jim James, Los Lobos, Dr. John & The Night Trippers, Preservation Hall Jazz Band, Bill Frisell, The Mother Hips, and many more.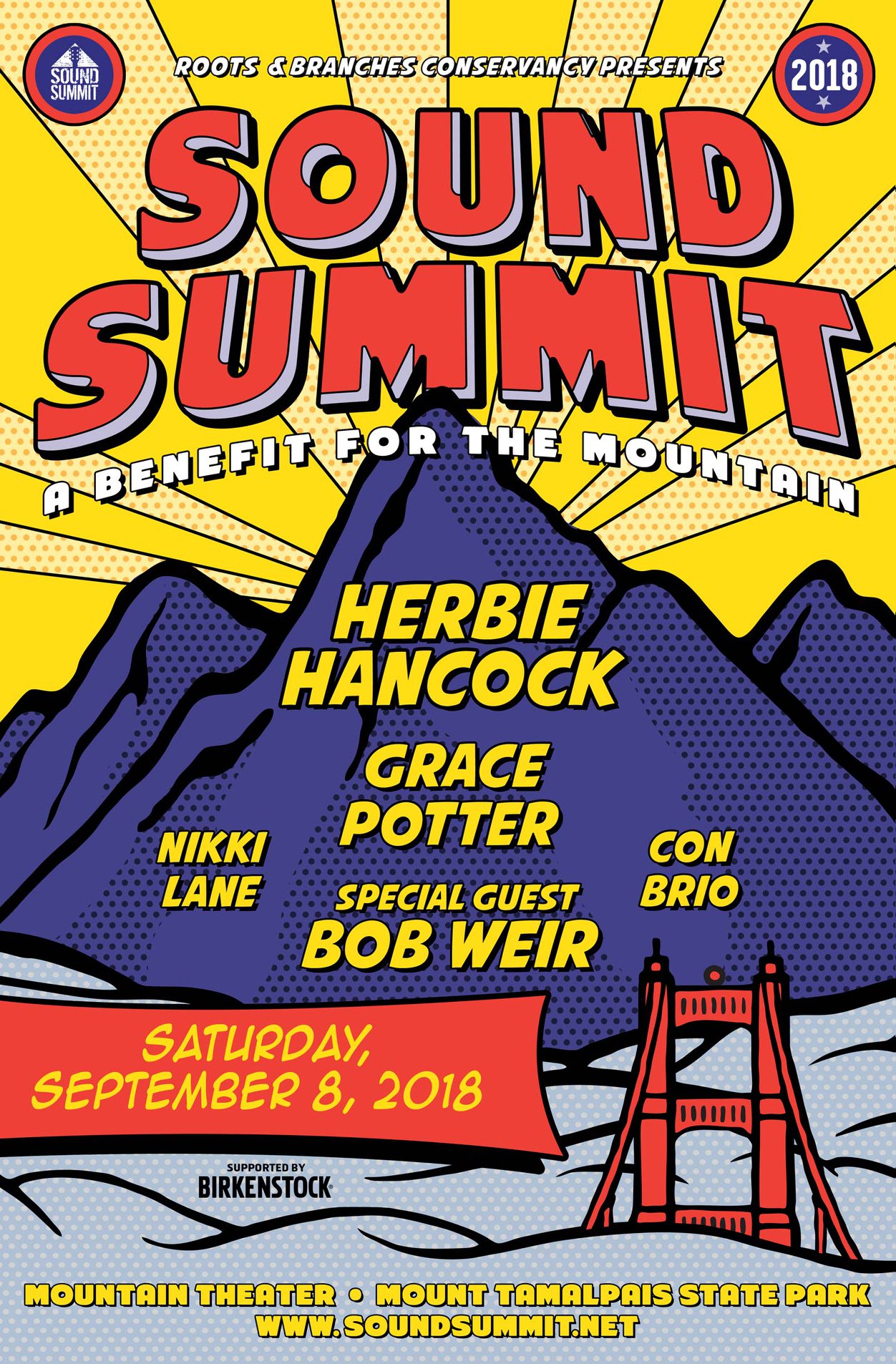 Nash feels strongly that Sound Summit remain an eclectic music experience for its audience, where quality takes precedence over genre or preconceived notions of what kind of festival it is.
"We like to mix it up," he adds. "Personally, I'm thrilled to have an iconic artist like Herbie Hancock headlining Sound Summit. His career has had an incredible arc and his artistry has influenced so many diverse musicians and continues to do so, both from his own generation and those that have followed. How cool is that?"
Tickets for the daylong festival go on sale Friday, July 27th at 10:00 am and are $110 for adults and $55 for youth 12 and under; children 2 and under are admitted free. To purchase tickets and for more information, visit SoundSummit.net.
Fans variously make the journey up to the mountain venue by foot, bike, car, and bus. Gates open at 10:00 am; music from 11:00 am – 7:00 pm.
Sound Summit's stellar lineup features musical performances by the following artists:
Herbie Hancock is a true icon of modern music. Throughout his explorations, he has transcended limitations and genres while maintaining his unmistakable voice. With an illustrious career spanning five decades and 14 Grammy™ Awards, including Album of the Year for River: The Joni Letters, he continues to amaze audiences across the globe.
There are few artists in the music industry who have had more influence on acoustic and electronic jazz and R&B than Herbie Hancock. As the immortal Miles Davis said in his autobiography, "Herbie was the step after Bud Powell and Thelonious Monk, and I haven't heard anybody yet who has come after him."
Described by Spin as "one of the greatest living voices in rock today," and by SF Weekly as "the whole package," Grace Potter continues to impress both critics and audiences with her musical achievements and captivating live shows. Heralded as one of today's best live performers, Grace Potter has played every major music festival from Coachella and Lollapalooza to Bonnaroo and Rock in Rio. She's had the honor of sharing the stage with artists such as Willie Nelson, Robert Plant, The Allman Brothers, Neil Young, Mavis Staples, and The Roots to name just a few. Most recently, she was given the honor of performing, along with Sheryl Crow, a tribute to the late Glenn Frey at the Rock and Roll Hall of Fame induction ceremony. For an artist who has built a devoted fan base through her electrifying live show, Potter seems hell-bent on breaking out of the box when it comes to studio work. She refuses to be defined by a single genre. Over the last three years, she has seamlessly transitioned from collaborating with the Flaming Lips for a Tim Burton film, to songwriting and producing for soundtracks and theme songs for film and TV, to multi-platinum, Grammy-nominated country duets with her friend Kenny Chesney, to most recently joining The Rolling Stones on stage for an inspired rendition of "Gimme Shelter."
Bob Weir is one of the founding members of the legendary Grateful Dead, which received a GRAMMY Lifetime Achievement Award in 2007. The band has also appeared on Forbes' list of top-grossing entertainers and in the early '90s were the highest-grossing concert attraction in the U.S. Since establishing the band in 1965, Weir has become one of rock's finest and most distinctive rhythm guitarists. Earlier this year he received the inaugural Les Paul Spirit Award. Weir is currently a member of Dead & Company and has also performed with many other acts including The Other Ones, Kingfish, Bob Weir Band, Bobby and the Midnites, Scaring the Children, RatDog and Furthur, co-led by former Grateful Dead bassist Phil Lesh. His first solo album, Ace, was released in 1972.
Nikki Lane's stunning third album Highway Queen sees the young Nashville singer emerge as one of country and rock's most gifted songwriters. Co-produced by Lane and fellow singer-songwriter, Jonathan Tyler, this emotional tour-de-force was recorded at Matt Pence's Echo Lab studio in Denton, Texas as well as at Club Roar with Collin Dupuis in Nashville, Tennessee. Blending potent lyrics, unbridled blues guitars and vintage Sixties country-pop swagger, Lane's new music will resonate as easily with Lana Del Rey and Jenny Lewis fans as those of Neil Young and Tom Petty.
Named for an Italian musical direction meaning with spirit, Con Brio is a San Francisco Bay Area seven-piece that plays energetic soul, psych-rock and R&B that's as fresh and freethinking as the place they call home. With charismatic singer Ziek McCarter bringing "the dance moves, splits and all, of James Brown" (KQED) and a tight, veteran band that "comes across like a party punk version of Sly and the Family Stone" (Consequence of Sound), Con Brio is known to convert anyone who sees their electric live show.
About Roots & Branches Conservancy
Roots & Branches Conservancy is a San Francisco Bay Area-based non-profit organization dedicated to the conservation of natural resources, both physical and cultural. The broad arc of our efforts ranges from regional environmental and educational work to the preservation and evolution of artistic and cultural traditions – musical, narrative, and beyond. Wherever possible, we aim to create intersections between the environment and the arts to their mutual benefit.
Towards those ends, our programs entail three key facets – grantmaking, education, and experience. As such, our interests lie in producing resonant community experiences at our events, providing educational components in our programming, and making meaningful contributions to worthy beneficiaries.
We at Roots & Branches feel strongly about both preserving and celebrating treasured Bay Area cultural and environmental resources and evolving others we hope will become equally treasured. Implicit in our name is the concept of connection – past and future, foundation and growth, root and branch – that guides and inspires our goals, our programs, and our development.