With six shows in October, Tedeschi Trucks Band announces an eighth consecutive year of their annual musical bash at New York City's Beacon Theatre: October 5, 6, 9, 10, 12, 13.  The show run includes two weekends of "Evening with TTB" two-set performances and a pair of mid-week dates that will feature special opening guests (to be announced).  Oct. 9th will also mark the 30th time the incredibly talented 12-member ensemble, led by husband-wife duo Derek Trucks and Susan Tedeschi, take the stage at the iconic venue.  
Tickets go on sale to the general public Friday, May 4 at Noon ET (view details below). For pre-sale ticket information, visit www.tedeschitrucksband.com.
The autumn residency at the Beacon has become a highly anticipated tradition for TTB's growing legion of fans, as both NYC area residents and travelers from far and wide mark their calendar to catch several shows each year. While legacy artists such as the Allman Brothers Band and Steely Dan made the Beacon their home for multi-night residencies, Tedeschi Trucks Band represents the next generation and the only contemporary band supporting a six-show run at the theater multiple years running.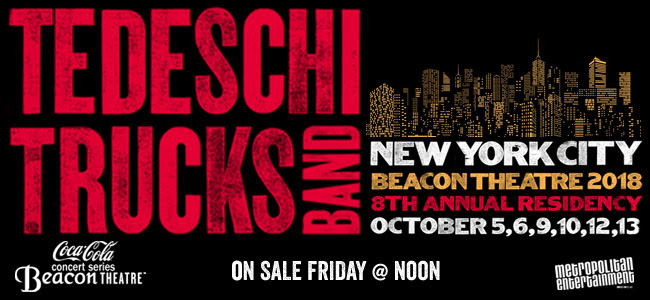 "The room sounds great and feels like home", says Trucks. "It's one of the best spots to really turn the band loose. Everybody comes locked and loaded."  Multiple nights also offer fans an extensive live immersion with this genre-defying force that is celebrated for its ever-changing set lists, original song debuts and ability to explore almost any musical territory.  "With six shows, we throw the net a little wider, dig deeper into our catalogue and work up new arrangements; it's a different show every night".
Appearances with a wide variety of acclaimed musical guests are a frequent highlight for TTB's Beacon shows. Last year featured sit-ins with Trey Anastasio, Nels Cline and Norah Jones, and prior memorable collaborations – including Jerry Douglas, Taj Mahal, Leon Russell and Rosanne Cash among many others – are a testament to the respect and musical camaraderie that TTB has among its peers in the industry.  Trucks adds "There's been a lot of memorable moments with our friends joining us on stage, and there are also nights we intentionally choose to play without guests so we're able to focus our energy as a band and really stretch out."
Prior to the Beacon run, the group has a busy spring on the road, a debut appearance at the Telluride Bluegrass Festival, and a summer reprise of their Wheels of Soul Tour, now in its fourth installment.  "A champion of the summer concert season" (Cincinnati.com), Tedeschi Trucks Band again headlines and curates the five-week amphitheater tour, with this year's special guests Drive-By Truckers and The Marcus King Band.
Formed in 2010, Tedeschi Trucks Band carries a distinguished reputation as one of the premier live bands touring today.  Critics around the world have praised the collective for their world-class performances. "Downright spiritual," says No Depression.  A "major force in American music," with "unassailable musicianship across the board," raves the Austin American Statesman.  New York Times columnists also gave spontaneous praise on social media after seeing TTB live at the Beacon in 2017:  "…honestly, one of the best shows I've ever seen." (Sopan Deb); "Ok, that was amazing." (Paul Krugman).
TEDESCHI TRUCKS BAND  - BEACON THEATRE 2018
Fri, Oct 5 @ 8pm           Evening with TTB - 2 Sets
Sat, Oct 6 @ 8pm          Evening with TTB - 2 Sets
Tue, Oct 9 @ 7:30pm     Opening guest tba
Wed, Oct 10 @ 7:30pm  Opening guest tba     
Fri, Oct 12 @ 8pm          Evening with TTB - 2 Sets
Sat, Oct 13 @ 8pm         Evening with TTB - 2 Sets
Tickets are priced at $49.50, $85.50, $126 plus applicable fees. Once again, there will a limited number of balcony seats at $29.50 which is inclusive of all fees. Tickets can be purchased online at Ticketmaster.com, BeaconTheatre.com and by calling 866.858.0008. Produced by John Scher/Metropolitan Entertainment.