Tedeschi Trucks Band has reached the midpoint of its six-episode series, Fireside Sessions- the Grammy-winning group's newly-filmed, up-close and personal home performances hosted by Derek Trucks and Susan Tedeschi.  Only three new installments of these very special appearances remain: Episode 4 is slated for Thursday, March 11 at 8 pm EST at nugs.net.  All previous episodes of the highly successful series are available on-demand, with a full six-night subscription.
WATCH PRO-SHOT VIDEOS
"When Will I Begin" (3/4/21)  https://youtu.be/m7SSC8uBMAk
"Whiskey Legs"(2/25/21)  https://youtu.be/u2FDU7sXsHk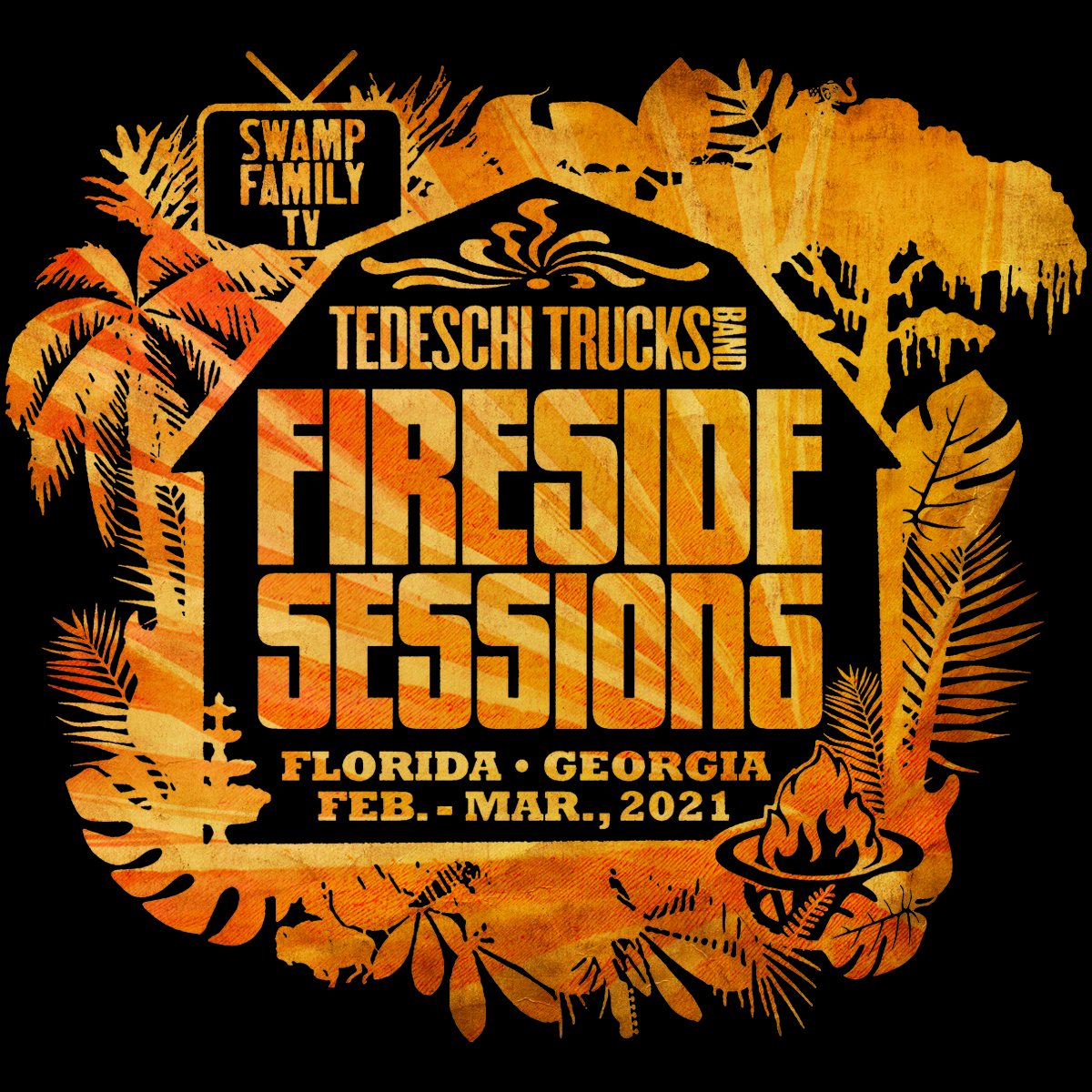 TTB's return to live performances has made these Fireside Sessions must-see Thursday night viewing, showcasing various configurations of the ensemble from an intimate vantage point most fans could never otherwise experience. The series opener featured the group as a quartet- with Derek and Susan joined by TTB's bassist Brandon Boone and drummer Tyler Greenwell for a dozen-song set that included potent renditions of "Statesboro Blues," "That Did It," "Angel from Montgomery," and a fiery finale of "I Want More" that morphed into "Soul Sacrifice." Episode two saw the addition of TTB members Gabe Dixon on keys and vocals along with Mike Mattison on vocals and guitar as the sextet delivered a sizzling full set with three sparkling debuts; a new original, "Here My Dear," and a pair of covers: Leonard Cohen's "Suzanne," and Paul Pena's "Gonna Move."
The third installment, perhaps the most affecting so far, stripped the lineup back to a dynamic duo, with just Derek and Susan.  From their home studio the pair played a variety of acoustic and electric guitars, offered detailed song introductions- including a heartful remembrance of Kofi Burbridge, the band's late multi-instrumentalist, during "Strengthen What Remains"- and provided viewers, once again with the unique atmosphere of a "living room" performance. The two also revived their rendition of the Rolling Stones' "You Got the Silver," last played in 2014, as well as another new entry, "Smiling On Me," co-written with Oliver Wood.  For the final three episodes, fans can expect more surprises, including song debuts and visits from additional band members, sitting in for these rare, up-close and intimate sessions.
In a recent interview with the Jacksonville Times Union, Trucks said, "It was fun exploring these tunes in a different light." He added "we were surprised at how some of the songs worked" and "it was quite a relief to get back. It's one thing to sit home and play and it's another thing to get back into the action." Trucks also expressed gratitude to fans for stepping up with donations to the band and crew.
Each episode was captured in stunning 4K detail by 7Cinematics, an award-winning crew of concert filmmakers, with audio recorded, mixed and mastered by TTB's engineer Bobby Tis. Audio from each session is available, as well, in an mp3 bundle or separately for purchase in all additional formats. After each initial 8pm broadcast, episodes are also available for on-demand viewing for a 48-hour period. Ticket and bundle information can be found here:  2nu.gs/TTB
The past year has been a challenge for so many, and musicians and crew members are no exception.  Beyond purchasing the Fireside Sessions, fans can also donate at givebutter.com/TTB.
In 2020, Tedeschi Trucks Band raised over $100,000 to benefit charities including Music Health Alliance, NAACP, Sweet Relief, Mr. Holland's Opus Foundation, Feeding America and World Central Kitchen via their free Swamp Family TV webcast series.