The 35th Grey Fox Bluegrass Festival had many highlights, most notably the omnipresence of the hottest talent on the Bluegrass circuit, Billy Strings.
However, one of the main "subplots" that many wondered about was the status of "The Grateful Ball" given the recent, sudden and tragic passing of mandolin genius and original Grateful Ball participant, Jeff Austin.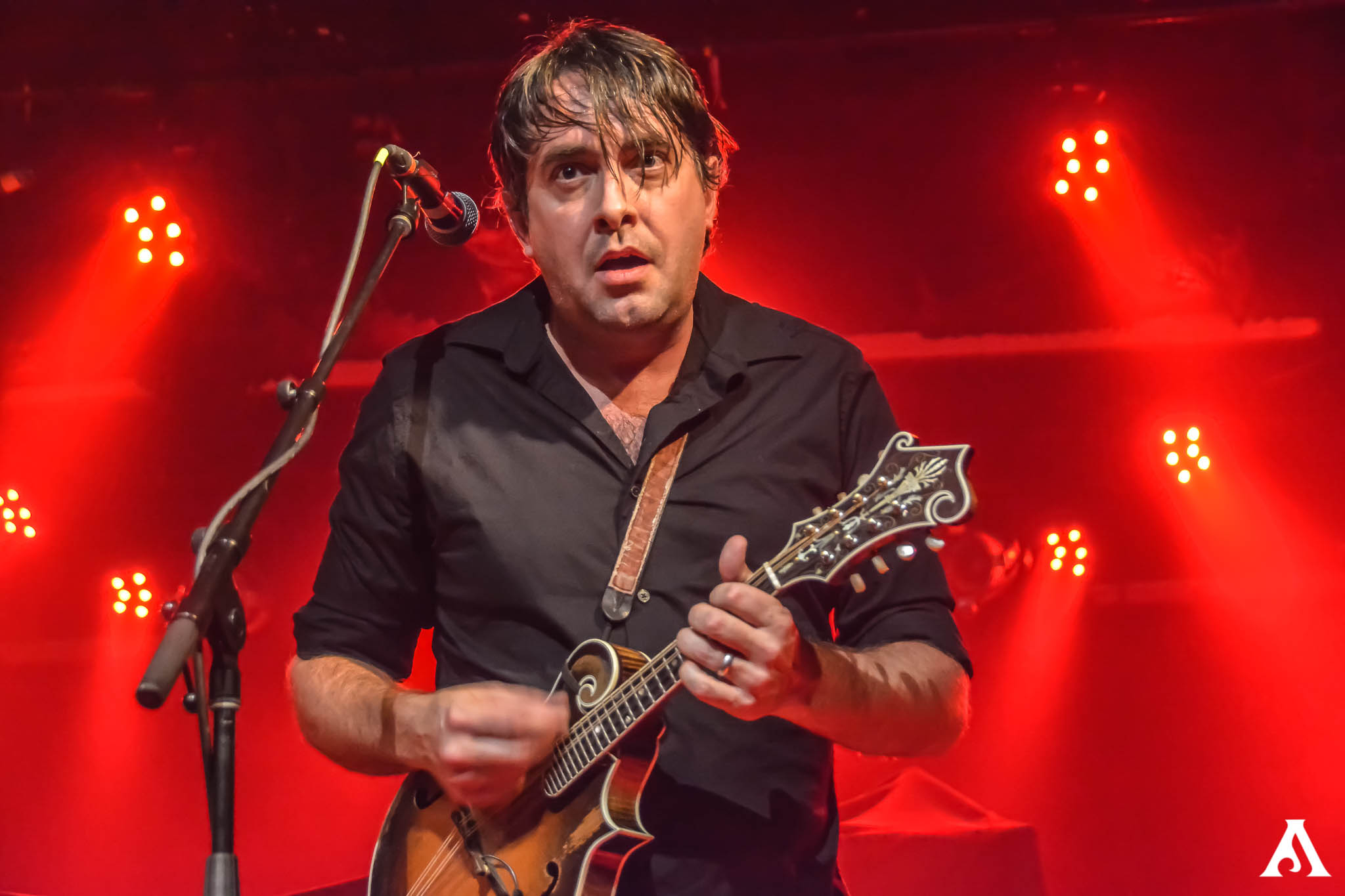 That great big hole in the fabric of the Bluegrass universe caused by Jeff's absence was clearly evident at Grey Fox. Many bands payed homage to Jeff throughout the weekend (most notably the version of "15 Steps" The Billy Strings Band played with banjo prodigy Kyle Tuttle from the Jeff Austin band sitting in), and many teary eyed fans continued to express their continued love and grief for their fallen idol (including me). It was clearly evident that Jeff's presence was sorely missed throughout the weekend.
Imagine having to fill Jeff Austin's shoes. I'm not sure exactly how it happened, but Larry Keel and the Larry Keel Experience stepped into the breach to keep "The Ball" rolling.  Thank goodness.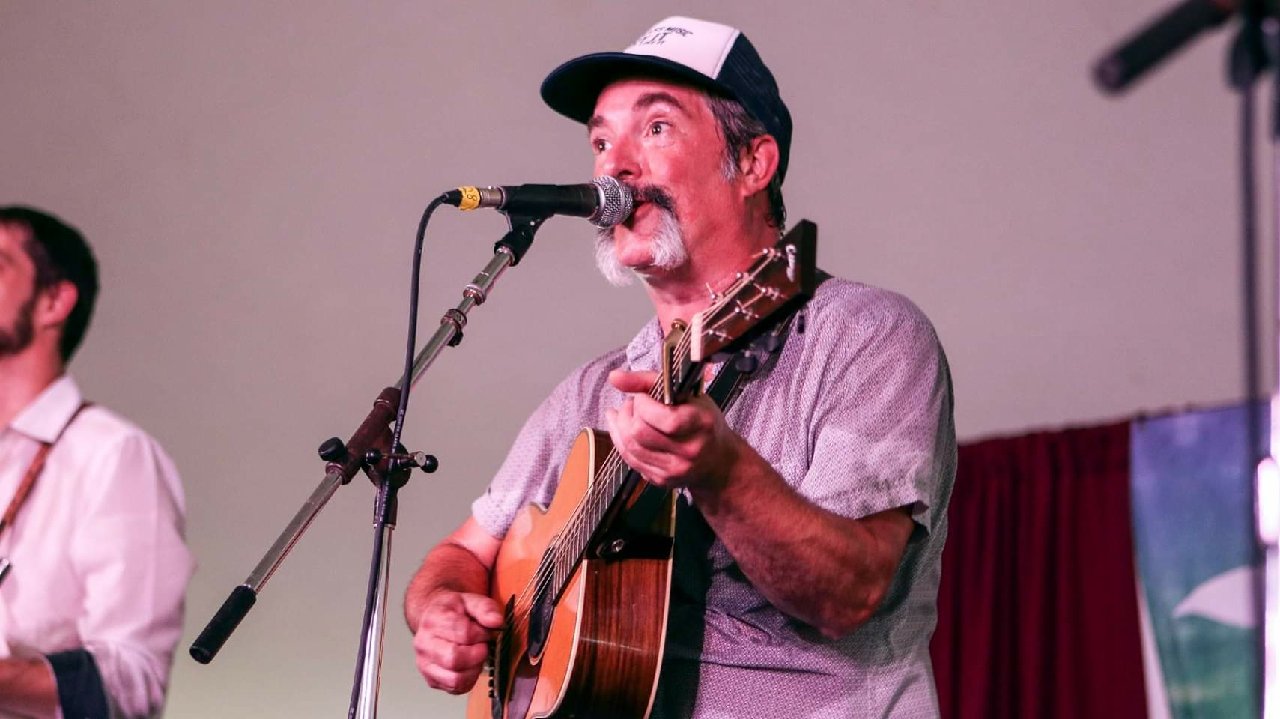 On the day of "The Ball" both The Grammy award-winning Travelin' McCourys and The Larry Keel Experience played kick ass sets in the Grey Fox Catskill Tent.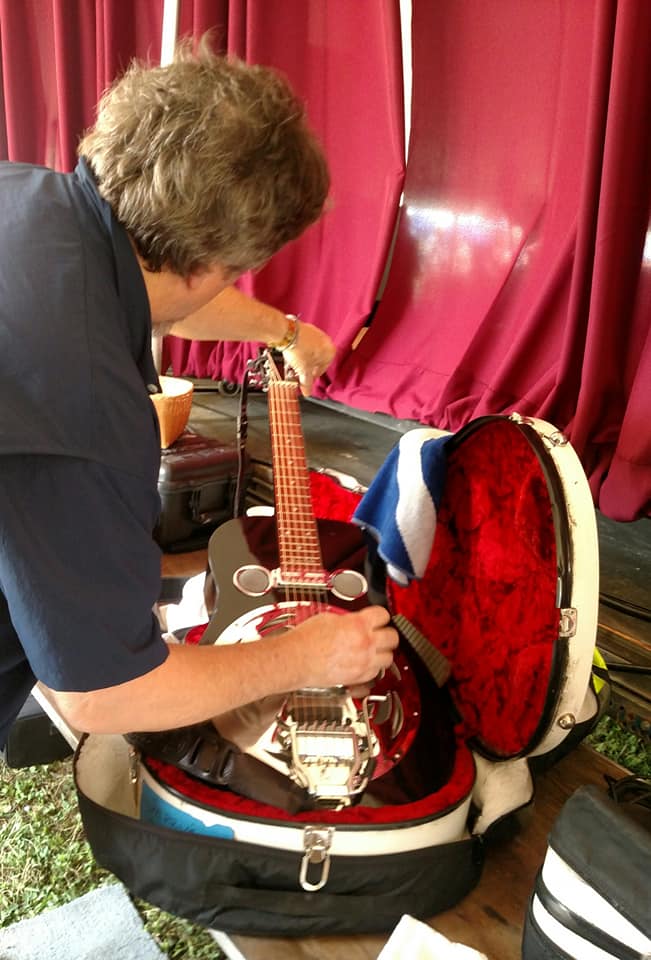 It was Friday about 3:30 and it was sweltering hot in The Catskill Tent. Jerry Douglas and the Earls of Leicester had just finished their own kick-ass set.
The Travelin' McCourys were due to play next at 3:45. When 3:45 arrived, the band was not on stage. I took a peek backstage and didn't see the band.
Prior to the Earls of Leicester's set, I had the honor of watching Jerry Douglas tune his dobro and to chat with Alan Bartram and Earls's mandolin player Jeff White, so I knew at least Alan was in the house.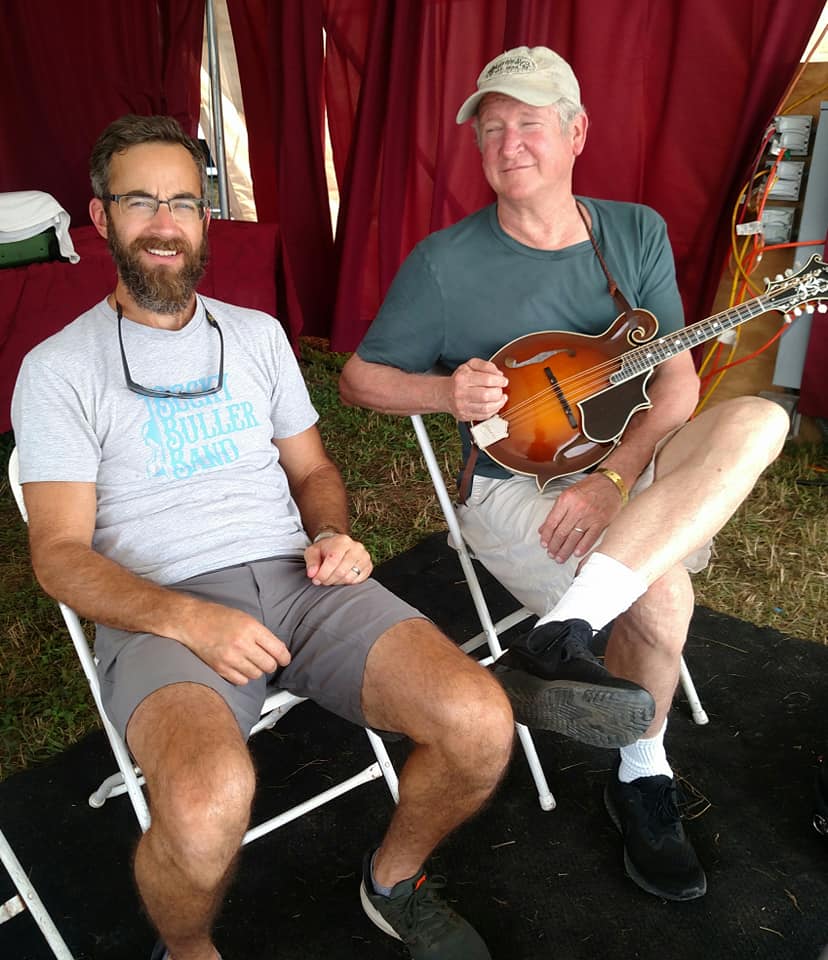 As the minutes passed, it seemed like hours especially in the sweltering heat. Suddenly there was a flurry of activity backstage as Jason Carter, Cody Kilby and Rob and Ronnie McCoury arrived. Moving with a frenetic sense of urgency, they quickly unpacked (as a bemused Larry Keel looked on), set up and launched into their set with the best version of "Lonesome On'ry and Mean" I think I've ever seen them play.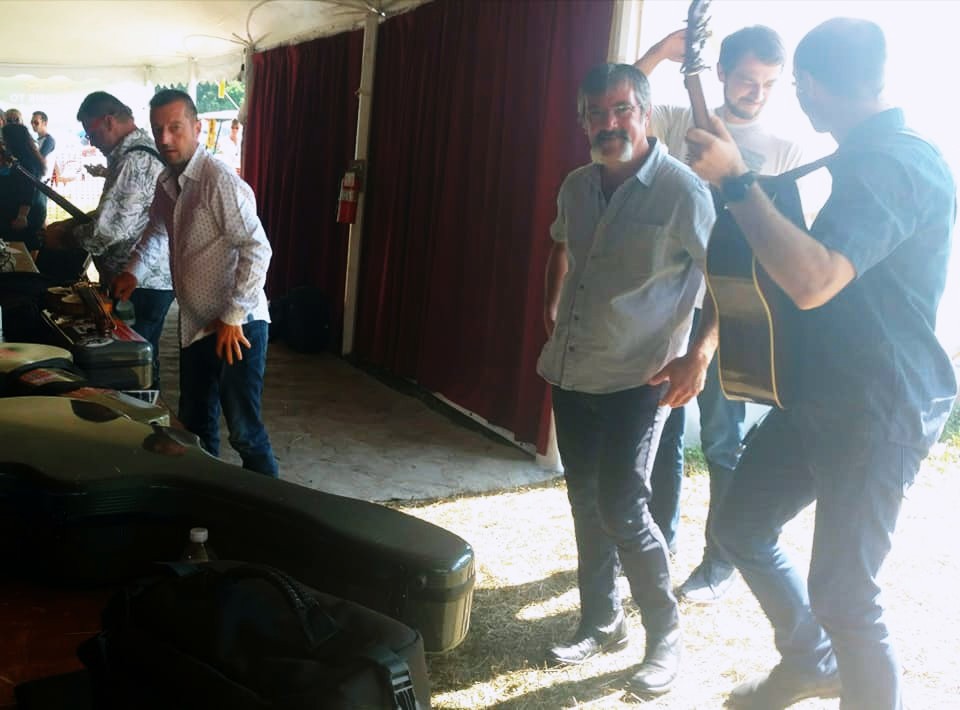 Perhaps it was the adrenaline rush of arriving late for a gig, but Jason Carter's voice was exceptional on that tune and his extended yodeling sent me into bodacious bluegrass bliss.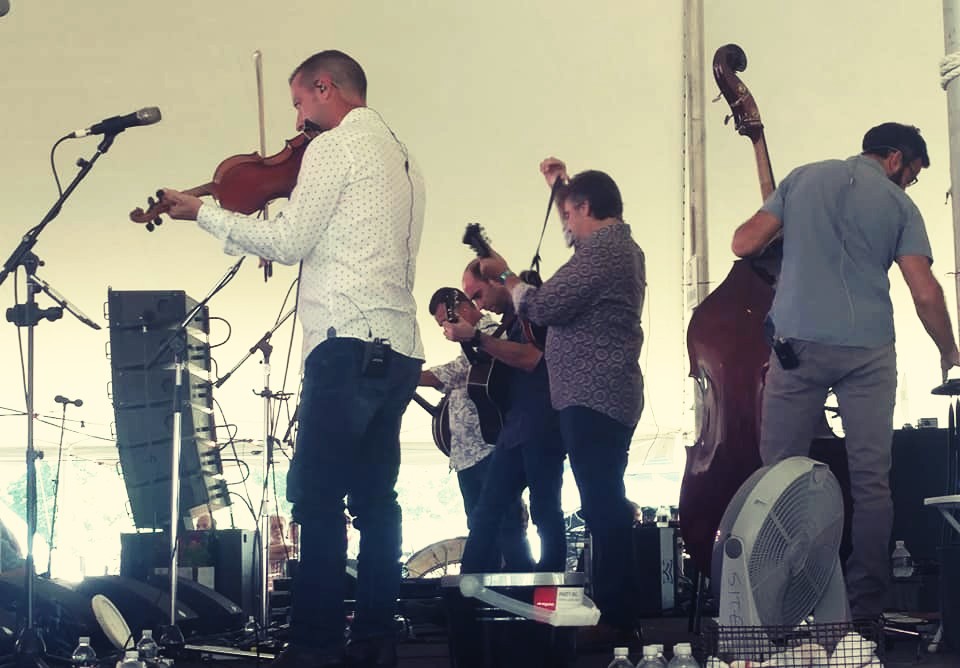 Other highlights of their abbreviated set included "The Shaker" and a rousing version of "Little Maggie" to close out their set.  They exited the stage to thunderous applause.
After a  brief chat and quick selfie with Rob and Ronnie McCoury, I ambled back to my tent (which was less than 50 yards away from The Catskill tent) for a break and to "rehydrate".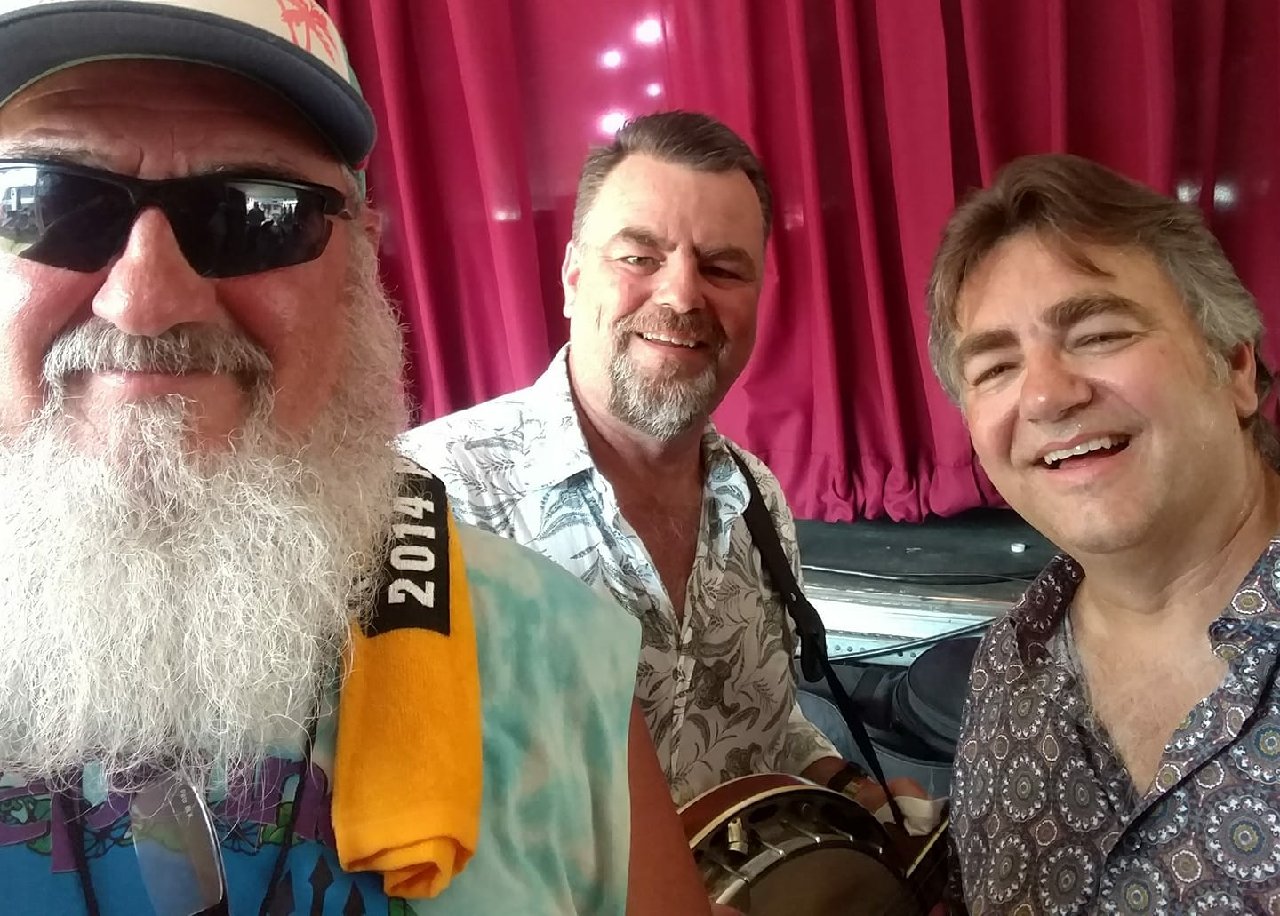 While sitting in my camping chair, I could clearly hear a sensational set by the Irish based quartet We Banjo 3 coming from The Catskill Tent. And by the amount of applause I heard it was evident that the audience thought it was sensational too.
During the set changeover, I sashayed back to The Catskill Tent to check out The Larry Keel Experience.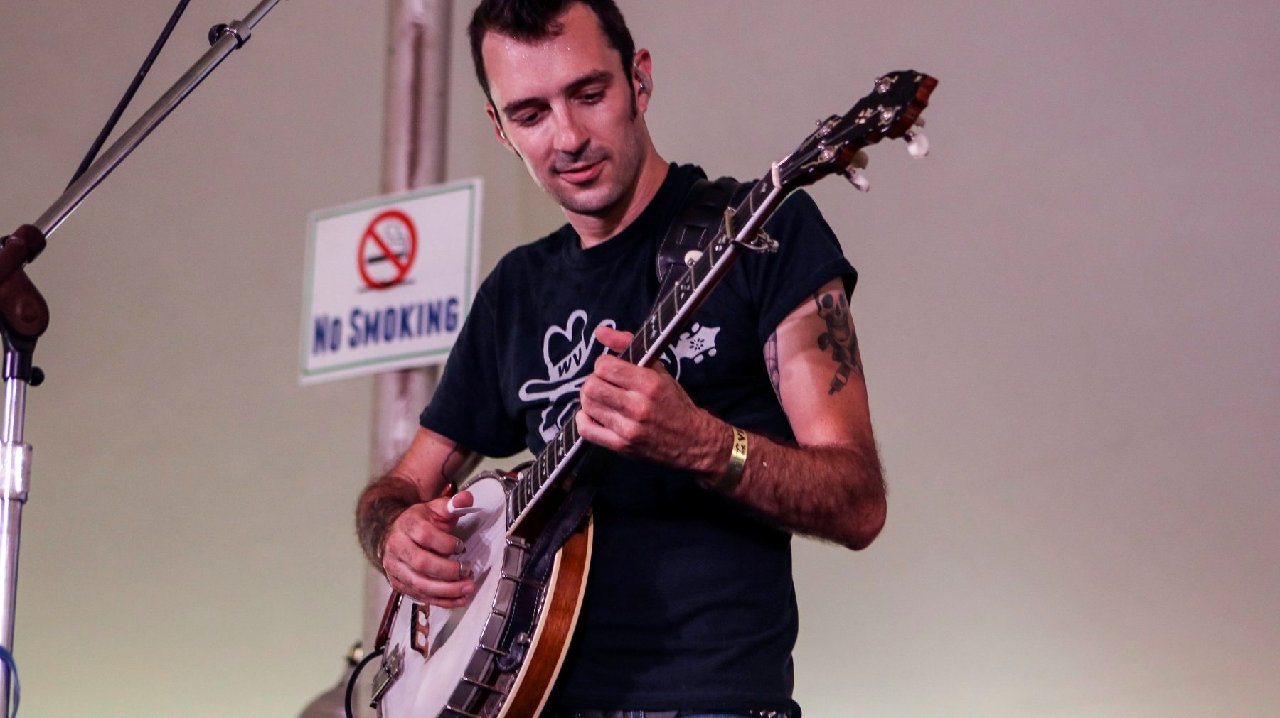 I've seen Larry Keel play several times including at DelFest a couple of times and down in Mexico at Strings & Sol. They've always performed in a trio that included Larry, his wife Jenny on bass and Jared Pool on mandolin. When I got to the side stage area, I was pleasantly surprised to see banjo prodigy Kyle Tuttle (who most recently was playing with Jeff Austin Band) had joined them.
Their set took off like a runaway freight train as Larry launched into an epic version of" Groundhog".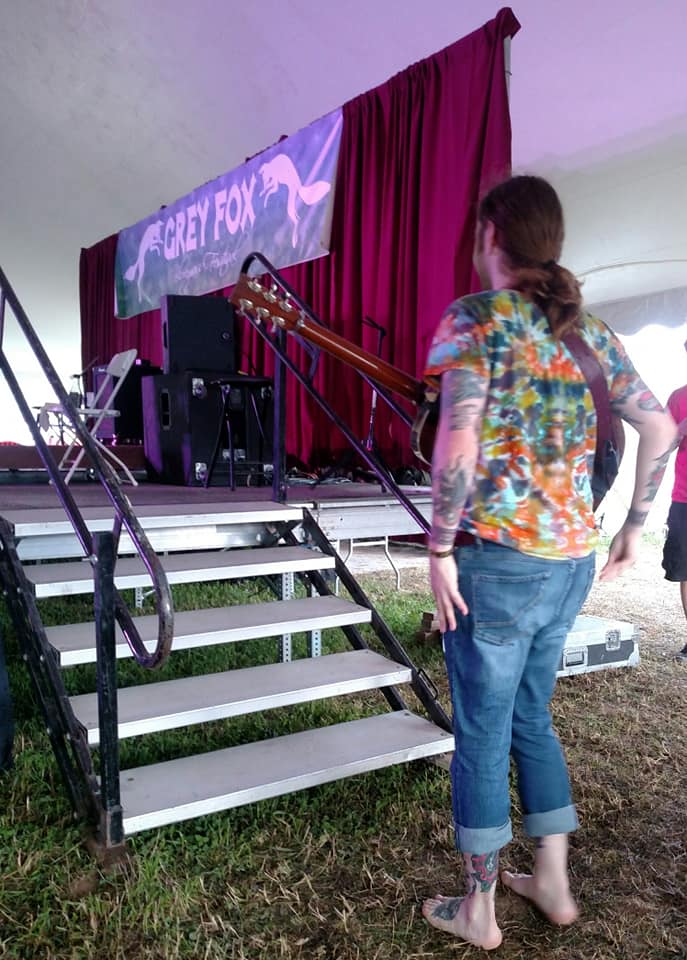 At some point Billy Strings joined them on stage. I can't remember exactly when, but Billy was most definitely there as they covered Tom Petty's "Running Down a Dream" during which Larry and Billy faced off in an incredible flat-picking guitar duel that left the audience screaming for more.
After Billy Departed, Larry busted a string. It was a marvel seeing Larry working feverishly fast as he switched out his broken string while the band covered for him.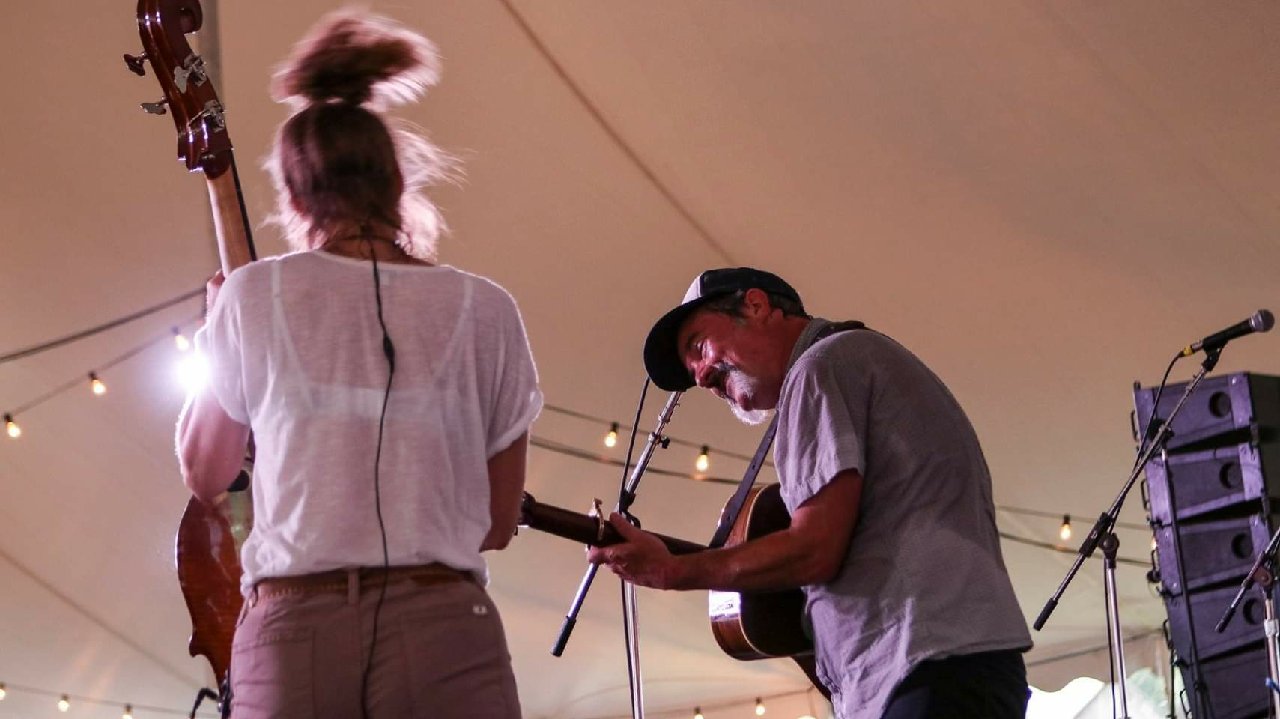 The set wound down with "I'm On My Way Home Again". It was during this song that I became aware of the beautiful bond Larry and his wife, Jenny share when they're on stage together. A wink here, a smile there, you can just tell those two are tight. It definitely brought a smile to my face.
After their set I chatted with them both briefly backstage and got an excellent photo of them.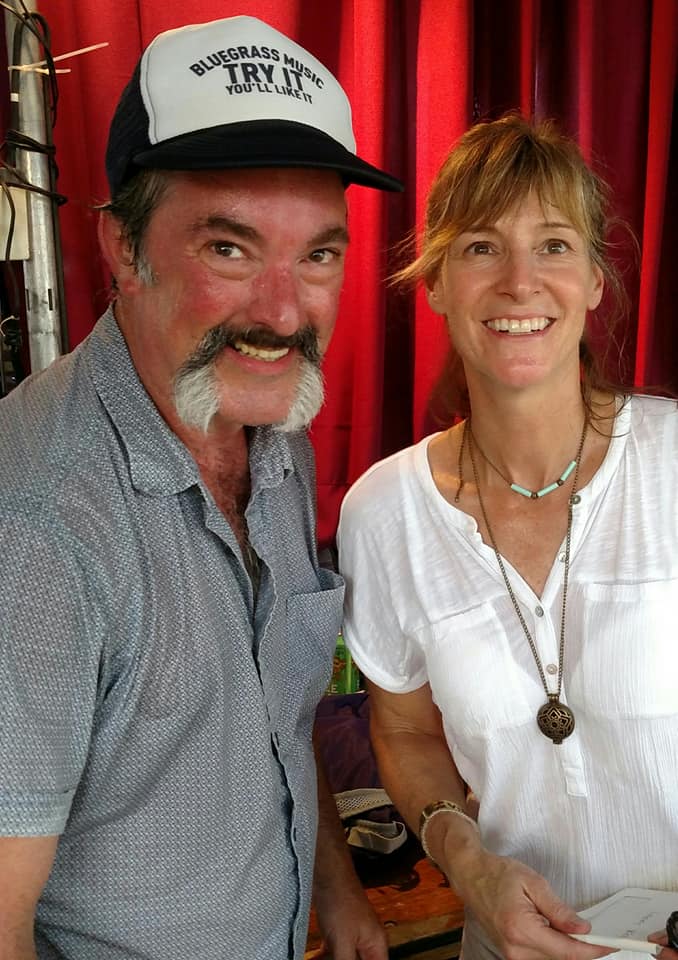 It was really tough to leave the vicinity of The Catskill Tent. After successive sets by Tim O'Brien Bluegrass Band and The Billy Strings Band kept everybody fired up.
Before you knew it, it was 10:30 - time to hike "up the hill" to The High Meadow Stage for the eagerly anticipated Grateful Ball.
When I got to the High Meadow backstage area, the person monitoring the gate had some confusion about my combination of wristband and press credentials. It eventually got sorted out, but I missed the set opening with Cumberland Blues.
As I got to the pit area, The McCourys and The Keels were cranking out one Dead standard after another that included Mama Tried, Jack Straw and Brown Eyed Women much to the delight of the crowd of Deadheads that surrounded me.
Then Billy Strings joined them on stage as they performed the Skull and Roses classic, Me and My Uncle with Billy handling the vocals.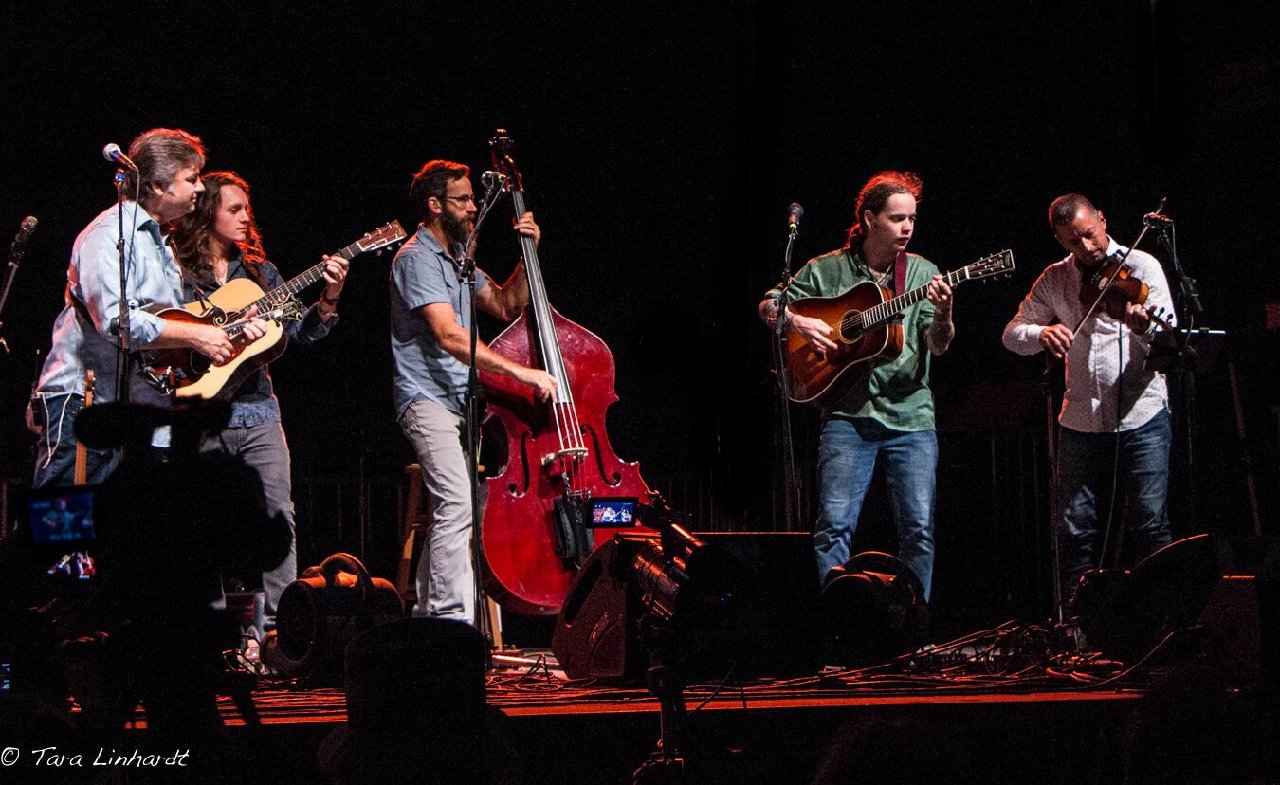 I'm not sure exactly where Billy exited, but the rest of the set included a wonderful rendition of Bird Song that moved me to tears. Followed by After Midnight and West LA Fadeaway to wrap up their set.
After they exited, the crowd cried out for more. Shortly thereafter the smiling ensemble returned to the stage for their curtain call and performed a spirited version of Loose Lucy.
At the song's conclusion, they all locked arms and did a group bow to us all.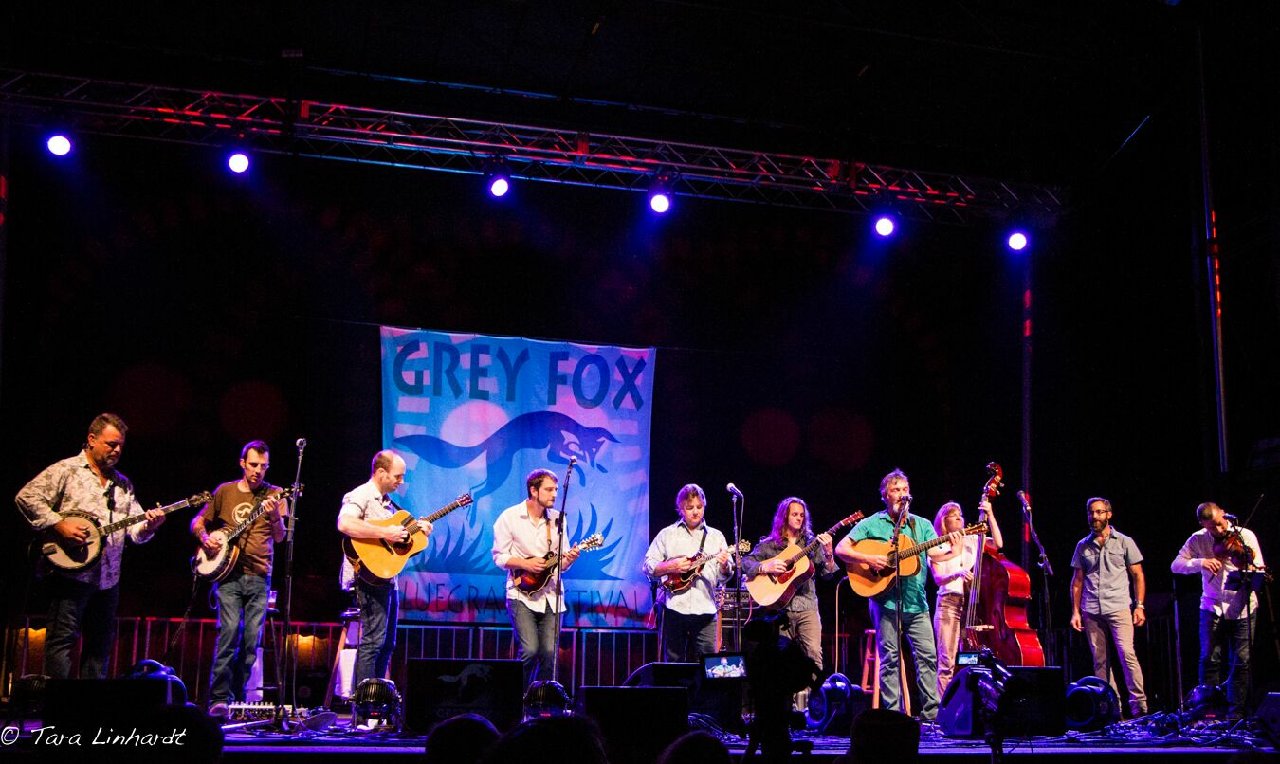 All in all, it was a great set.
I'm sure Jeff was looking down from somewhere with a great big impish Jeff Austin-esque smile on his face. He was certainly there in spirit and felt in everybody's heart.
We miss you Jeff.