The jazzy big band meets jam rock side project of Phish guitarist Trey Anastasio, the Trey Anastasio Band, embarked on a special eight show tour with the rising, indie jam band Goose this past week. This included a stop at the Mohegan Sun Arena, which is smack in the middle of Goose's home territory inside the Mohegan Sun Casino in Uncasville, CT on November 12, 2022. Both bands performed ninety minute sets, and each set included sit-ins by members of the other band. This particular show was truly a royal flush, including a couple of rarely played covers and a coveted original for Goose, as well as all members of both bands joining forces for the edgy Phish song, "Carini."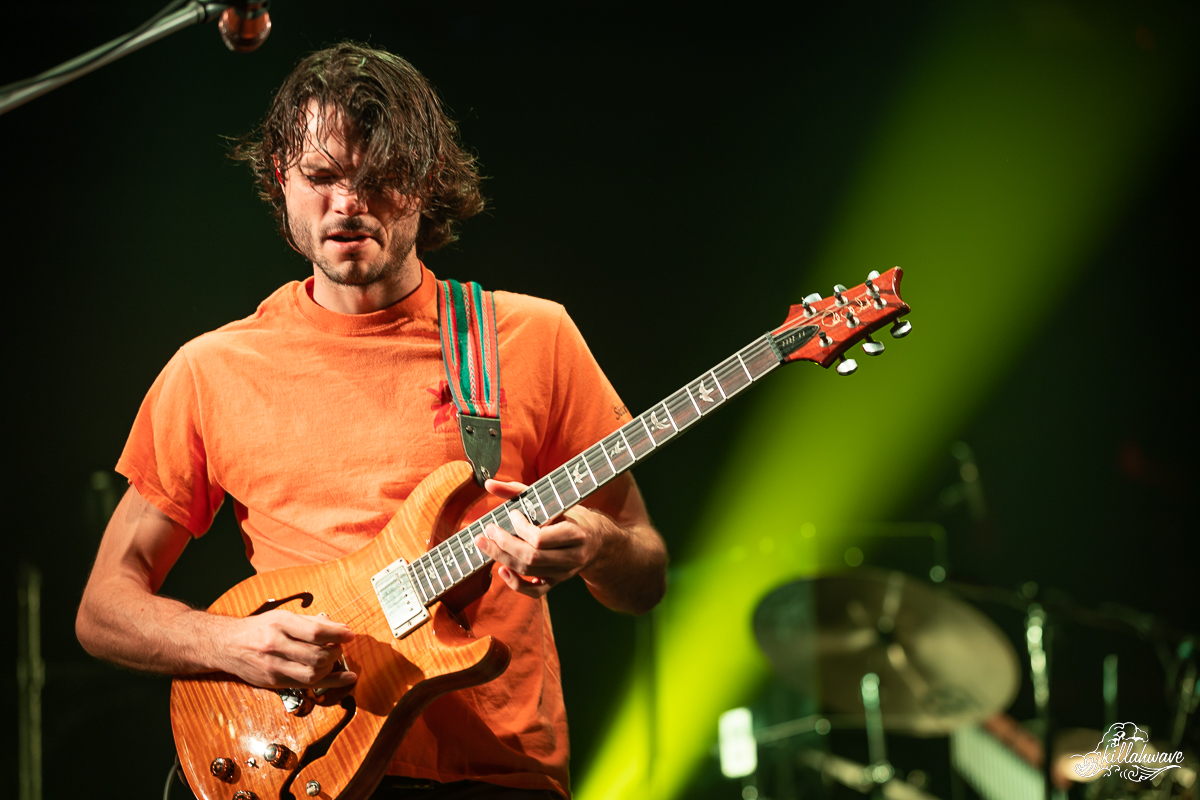 The evening began in a typical fashion for Goose shows, starting with a very long line to enter the venue. The show was completely sold out, including all seats behind the stage. Goose recently played at the arena last February for their annual Goosemas show, and did not sell any seats behind the stage. Oh what a difference ten months plus the Trey Anastasio Band can make.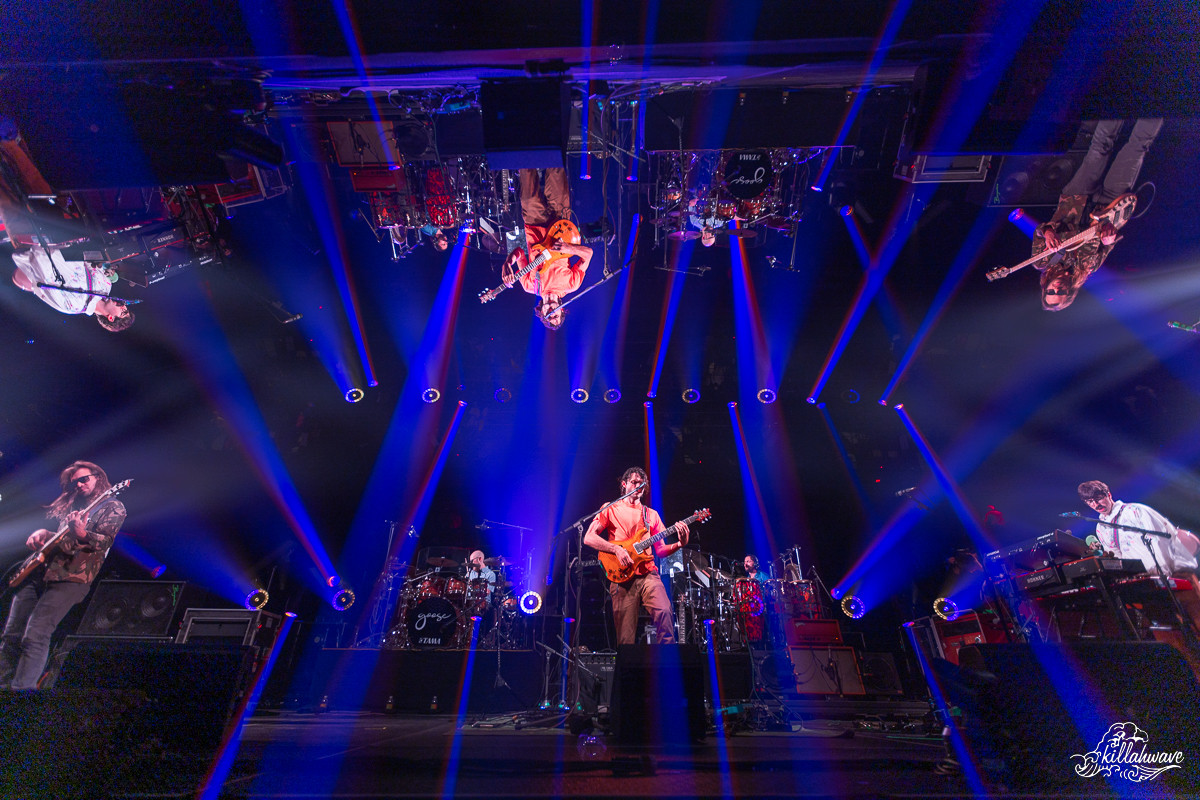 The Norwich, CT based squad took the stage for their home state fans around 7:30pm. Multi-instrumentalist Peter Anspach greeted the crowd, before unleashing the tasty synth opener for newer tune "Animal." "You're an animal. It's a carnival." This carnival seamlessly flowed into the high energy, "Flodown," which included an energetic build up. The dance party was firmly in high gear as guitarist Rick Mitarotonda unfurled the song's signature tension and release. Upon conclusion, Anspach vibrantly acknowledged that this was their first show with fans behind the stage.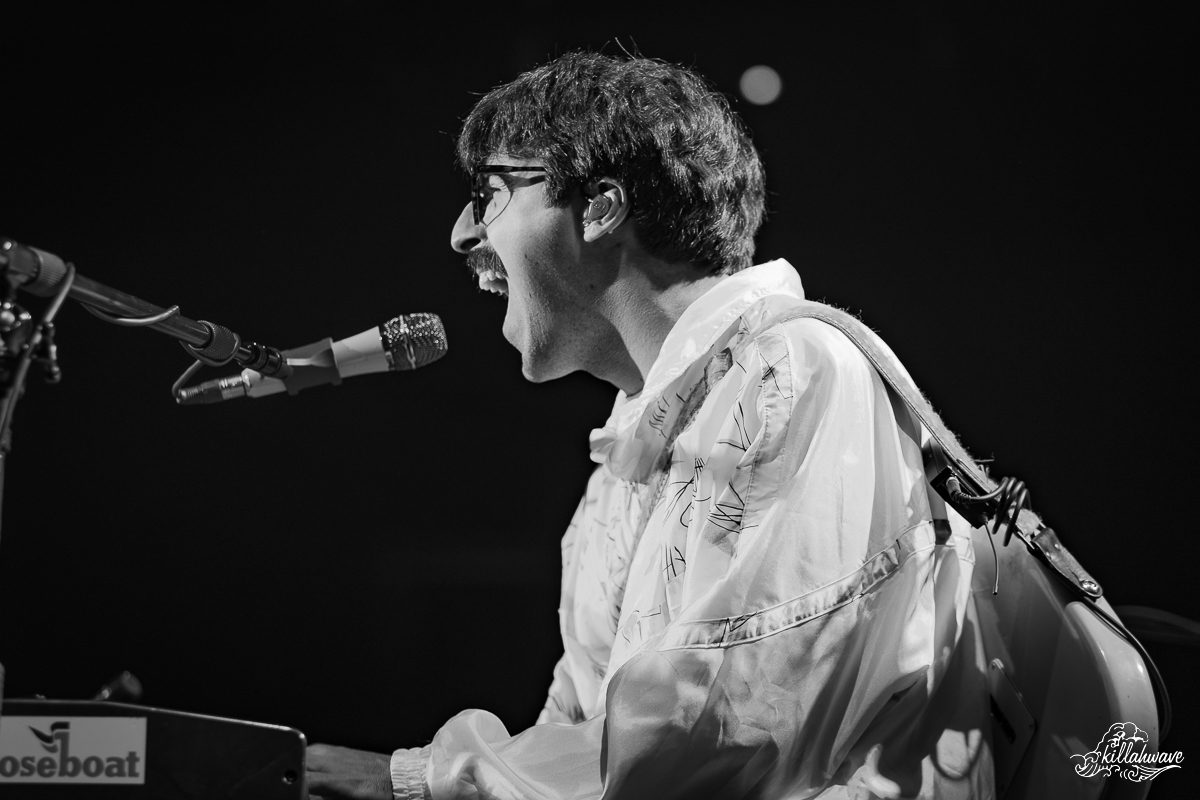 The band kept their feet on the gas, and dropped into a mind melting "Arrow." This was the longest song of their set, clocking in at fifteen minutes and twenty three seconds, according to the tracking at nugs.net. Thinking back to their performance of "Arrow" at Mohegan last February with Stuart Bogie and company on horns, it would certainly be nice to see the Trey Anastasio Band horns section join Goose for "Arrow" at some point this tour. However, this raging version was no slouch, as Mitarotonda's precise notes along with drummer Ben Atkind and percussionist Jeff Arevalo's dynamic beats elevated the jam with absolute perfection. Like a freight train, the music rolled into Bob Seger's "Hollywood Nights," last played on May 4, 2018. This blazing pace continued, as the band seamlessly began singing "Arrow's" signature "Ooo ooo ooo" to close out this smoldering sequence.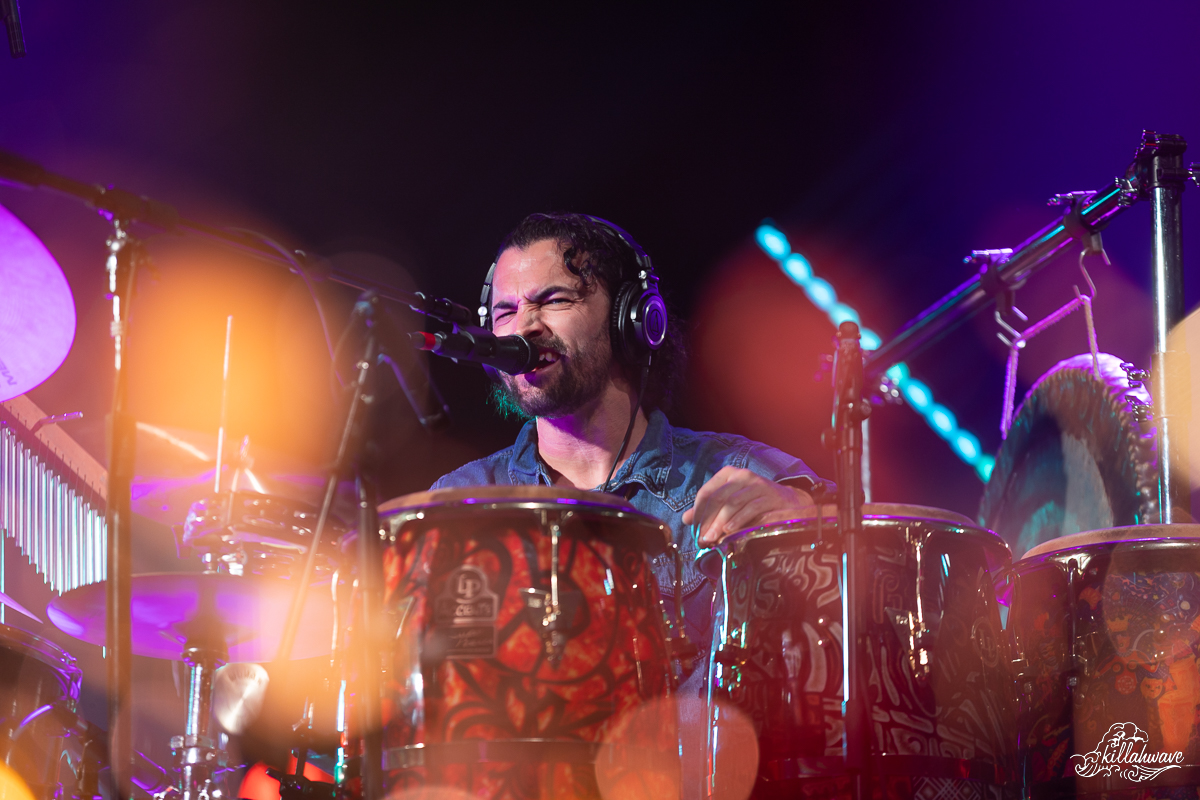 Anspach picked up his guitar for a one two guitar punch during the jam vehicle "Dripfield." This song debuted during their February Mohegan show, and has evolved into a set list staple. All band members were in the pocket, with Anspach layering synth and keys, bassist Trevor Weekz holding down the bass and Mitarotonda emanating fiery guitar licks.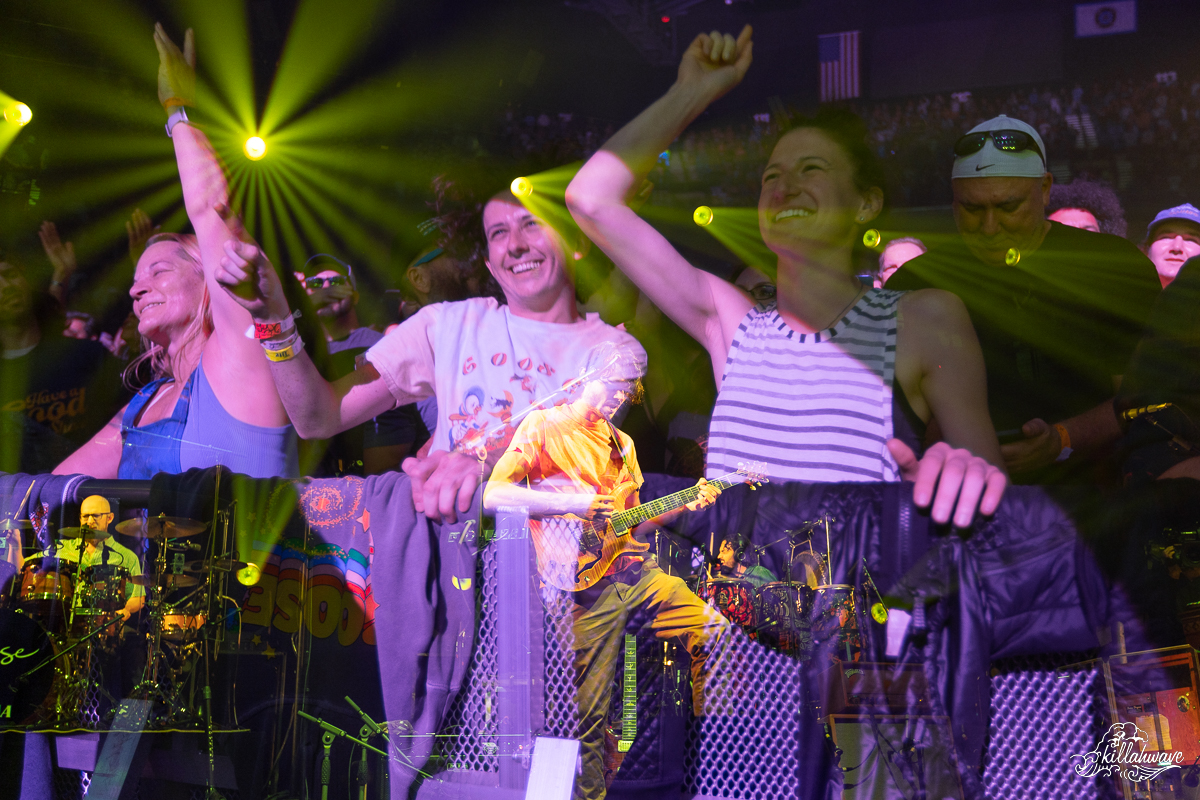 Upon conclusion of "Dripfield," the crowd got what they had been waiting for when Anspach announced that the Trey Anastasio Band horns section was joining the band for "Fish In The Sea" by Fat Freddy's Drop. This talented trio includes James Casey on saxophone, Jennifer Hartswick on trumpet and Natalie "chainsaw" Cressman on trombone. The arena was instantly transformed into an underwater paradise by Goose lighting director Andrew Goedde. The horns elevated this spacey meets funky rendition, with each TAB member taking an elevated solo. Mitarotonda's was clearly enjoying this euphonious collaboration.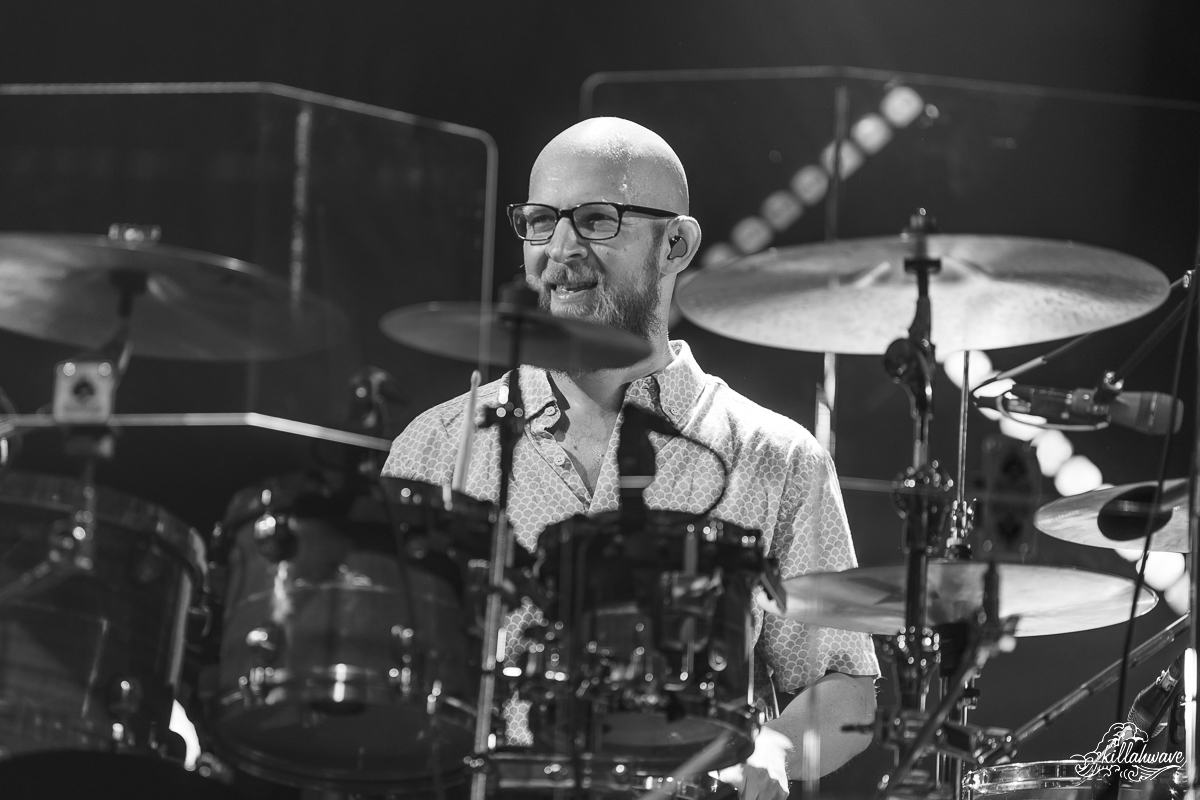 The horn section left the stage, but the set was not over quite yet. Trey Anastasio joined the Constitution State based band, as Anspach complimented Trey's shirt. He also thanked the seventy seven member crew for their dedication during this run. The music began with that familiar riff that Goose fans hope to hear, but is only played perhaps once per tour. There have been times where "Factory Fiction" was teased, only to dive into another song. Not tonight, though as the band leapt into a juicy rendition of this beloved tune by Goose predecessor, Vasudo. Anastasio's unmistakable tone elevated "Factory Fiction" to new heights, and included the first of many delightful duels with Mitarotonda. The raging peaks were certainly what dreams are made of for Goose fans, and closed out the set with an unquestionable bang.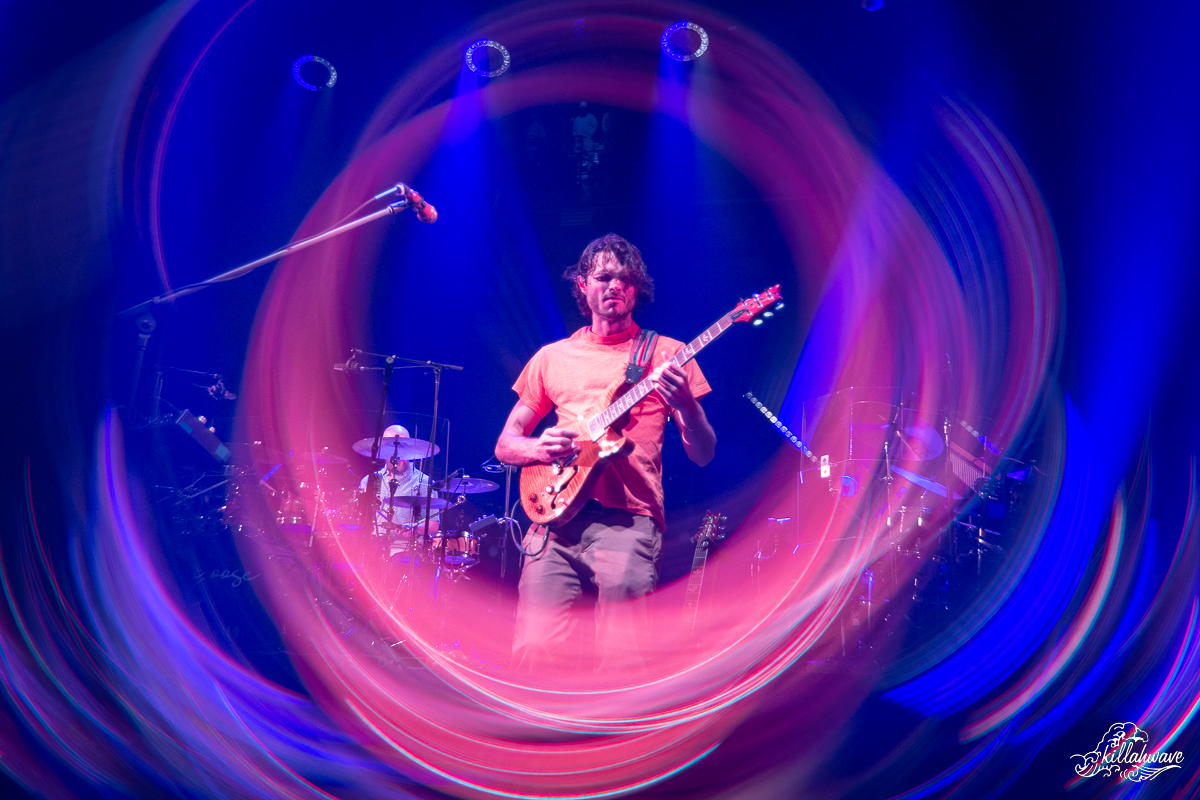 After a short break, Anastasio returned with his all start septet, the Trey Anastasio Band. They kicked their set off with "Sand," as the band vaulted full throttle into this deep jam tune. Keyboardist Ray Paczkowski layered funky clav notes while drummer Rus Lawton laid down vigorous beats. "Shine" was up next, with the TAB horns sections radiating during this bubbly tune. The energy stayed high as the set twisted around into "Twist."
The harmonious instrumental, "Mozambique" followed. Anastasio grinned as his tasty licked melded with the inspired solos by the respective horn squad. The song closed out with Cressman taking a vibrant solo that lead into Casey followed by Hartswick's taking center stage. Hartswick lended her incredible voice for the upbeat "Night Speaks to a Woman." The mood dipped momentarily for the first time this evening with "Mercy," before ratcheting up again with the breezy Phish tune "Undermind."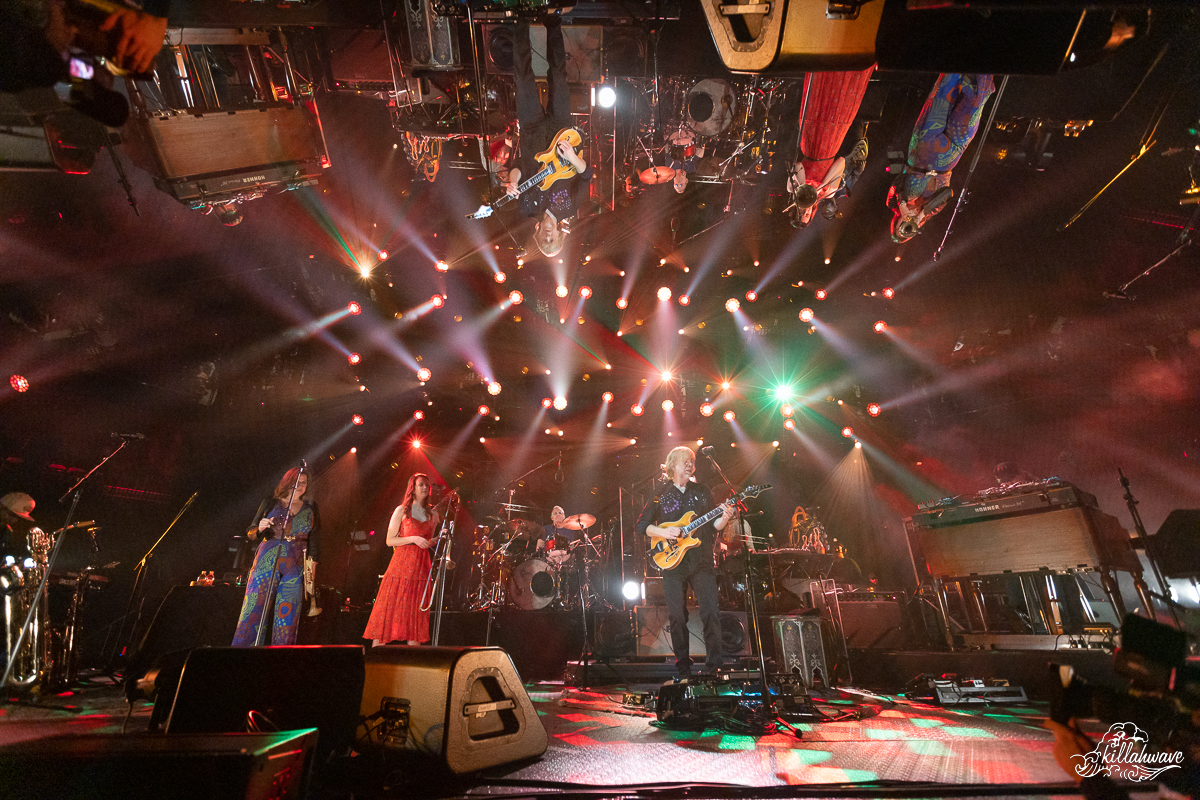 The set continued into a newer tune "...And Flew Away," with more tasty treats layered in from bassist Dezron Douglas, Percussionist Cyro Baptiste and Paczcowski. The TAB horns section contributed more back up vocals, exemplifying their multi-dimensional skills. The song concluded with another explosive late night feel saxophone solo from Casey. The mellifluous "Pigtail" followed, with more of Trey's signature guitar tone and smiles.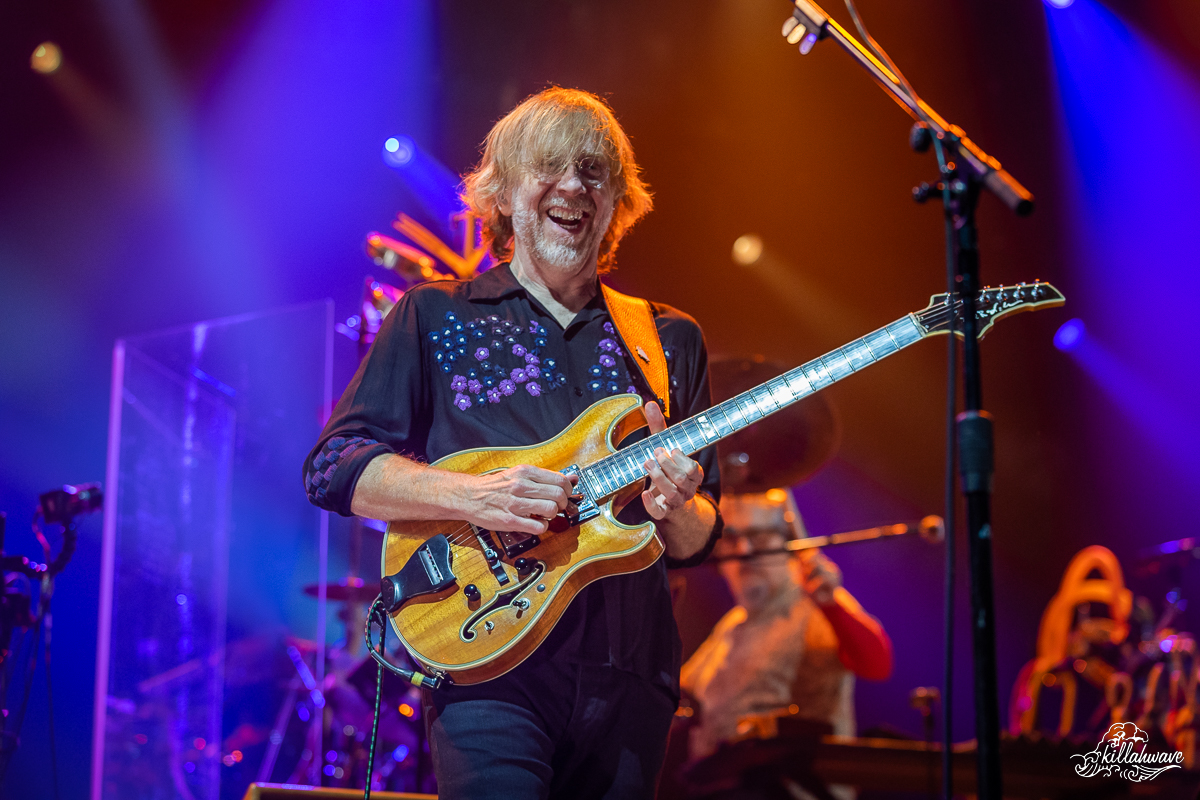 The mood got darker for the rocking tune, "About to Run," as Anastasio wailed like the rock star he is. The dynamic jams continued as the band flowed into "Push on to the Day," from Anastasio's self titled 2002 release. The horns were in lock step for this racing tune, as Lawton, Douglas and Baptiste maintained a rock solid foundation.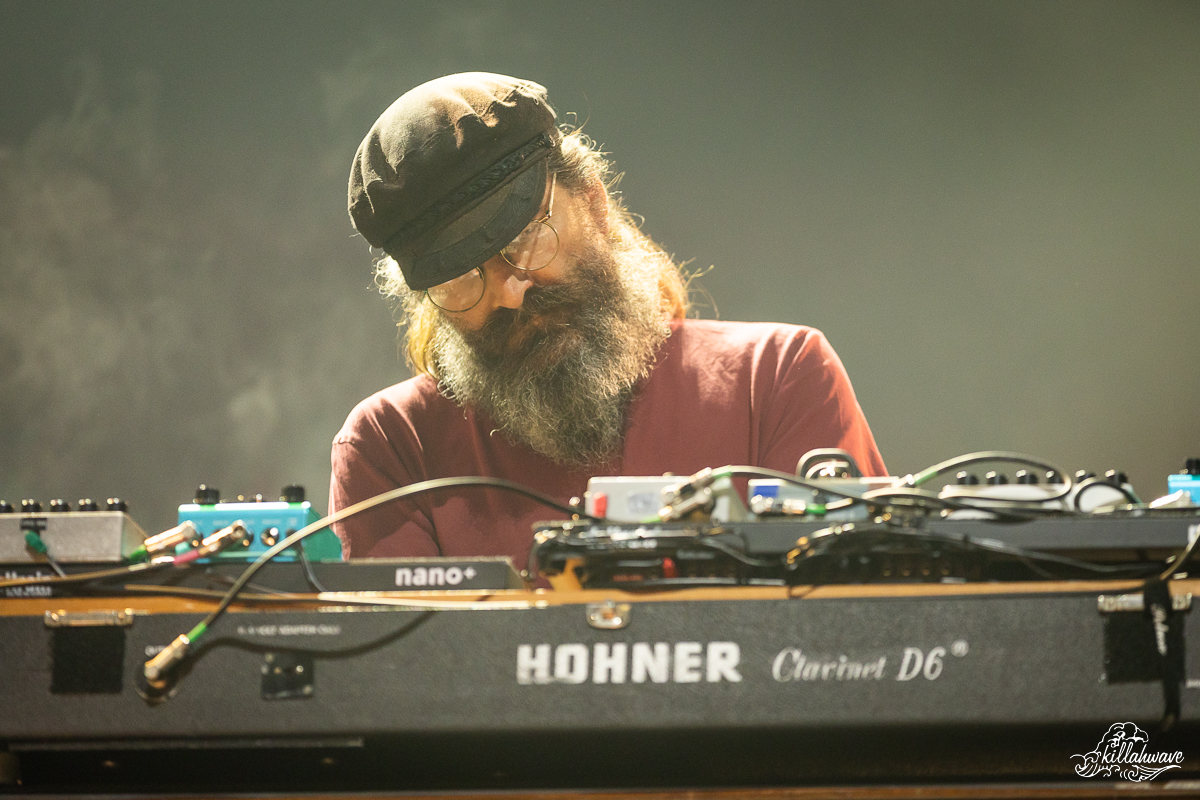 Anastasio decided to elevate the set by a factor of Goose, and invited Mitarotonda and Anspach to the party for "No Men in No Man's Land." Mitarotonda showed he has the chops to hang during this Phish song as the guitar duel picked up where it was left off in the first set. The groove went deeper with Paczcowski and Anspach layering synth, clav and organs, along with the well placed notes by the horns section. Baptiste continued to throw in the notable percussive moments with his larger than life percussion instruments.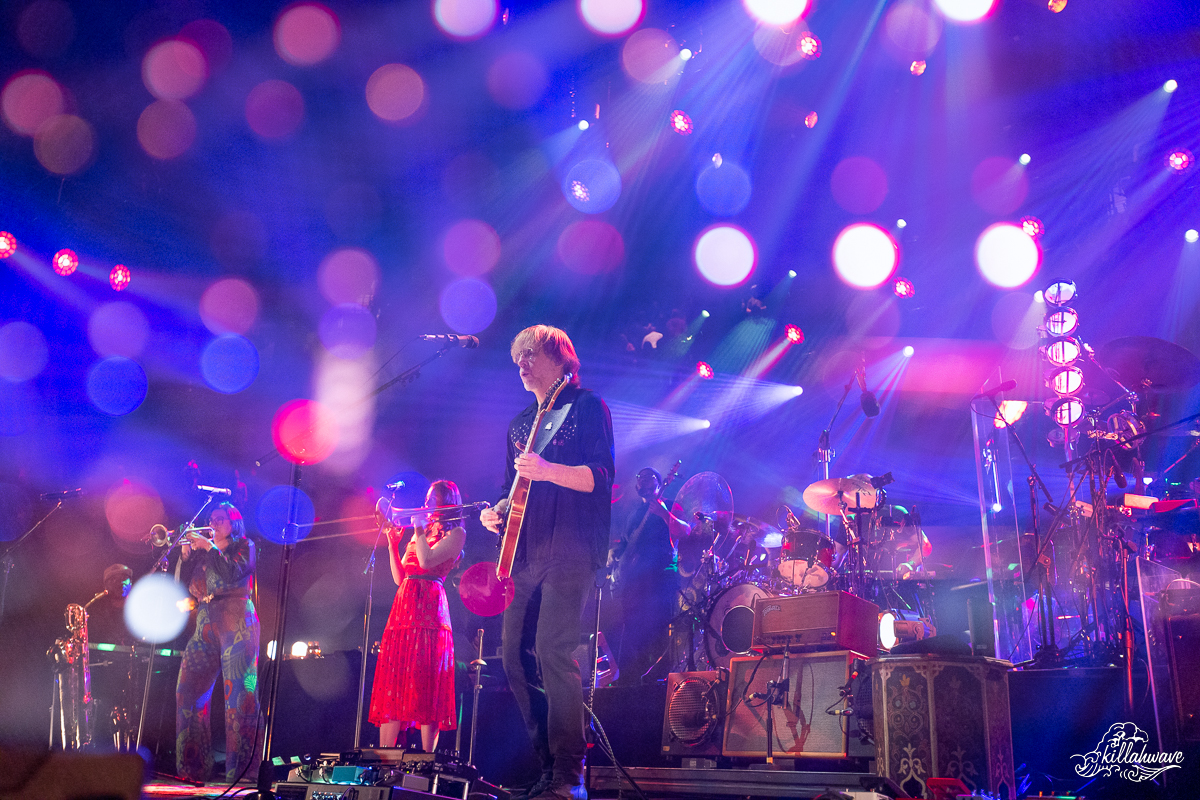 Another Phish staple entered the line up with "46 Days." Mitarotonda shined as he played the bluesy notes alongside Anastasio. Baptiste wandered over to the keyboard corner, while Anspach flashed an almost perma-grin. Anastasio closed out this ripping song and the set with his indisputable guitar excellence, backed by the delightful horn section vocals. Trey thanked his talented band mates, as well as Goose, before exiting the stage.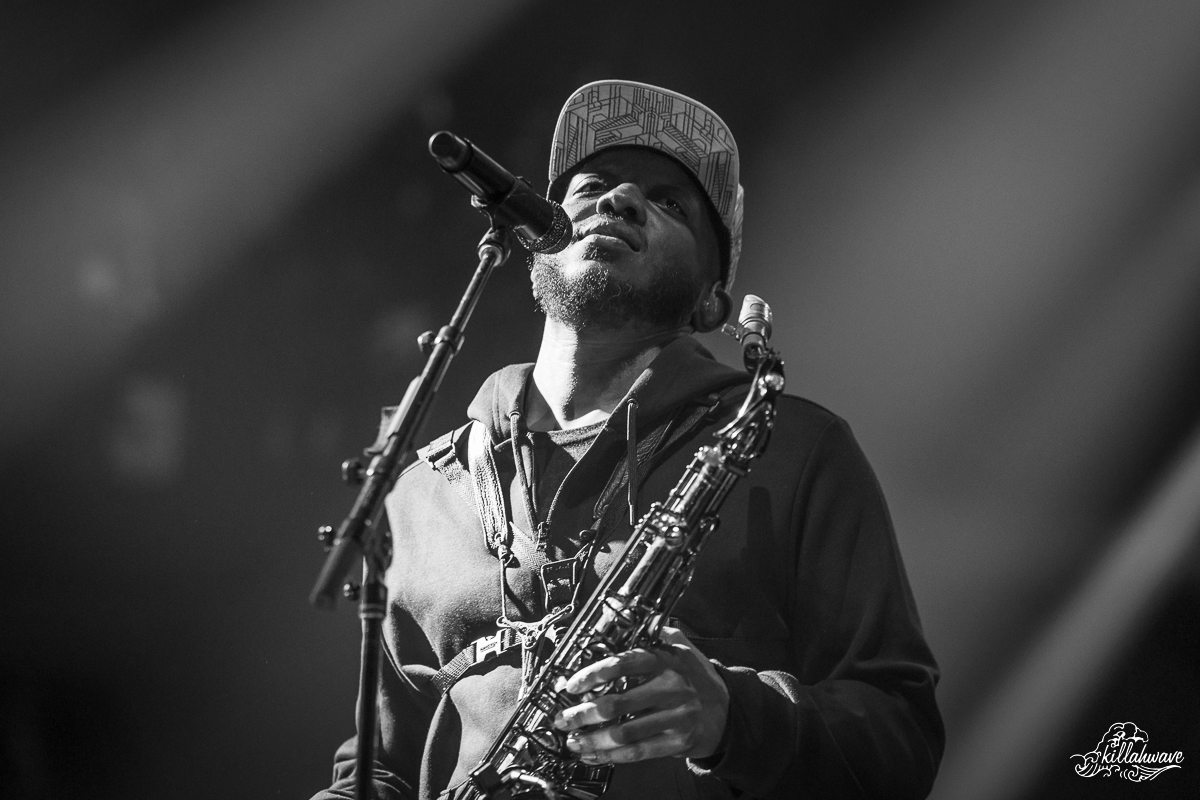 The crowd was fired up and screamed for one more song. Thankfully, these artists obliged, and returned to the stage with not only the Trey Anastasio Band, but also all five members of Goose. Anastasio remarked "Sometimes you need two bassists. This is one of those times." The expanded group of twelve treated the Phish fans in the audience to an extra murky version of "Carini." Everyone was screaming when they saw the lump, indeed. Trey's familiar dark guitar riff was explosively expanded with Mitartonda's presence. If this wasn't a dream show for fans of both bands, than it's questionable if such a show exists.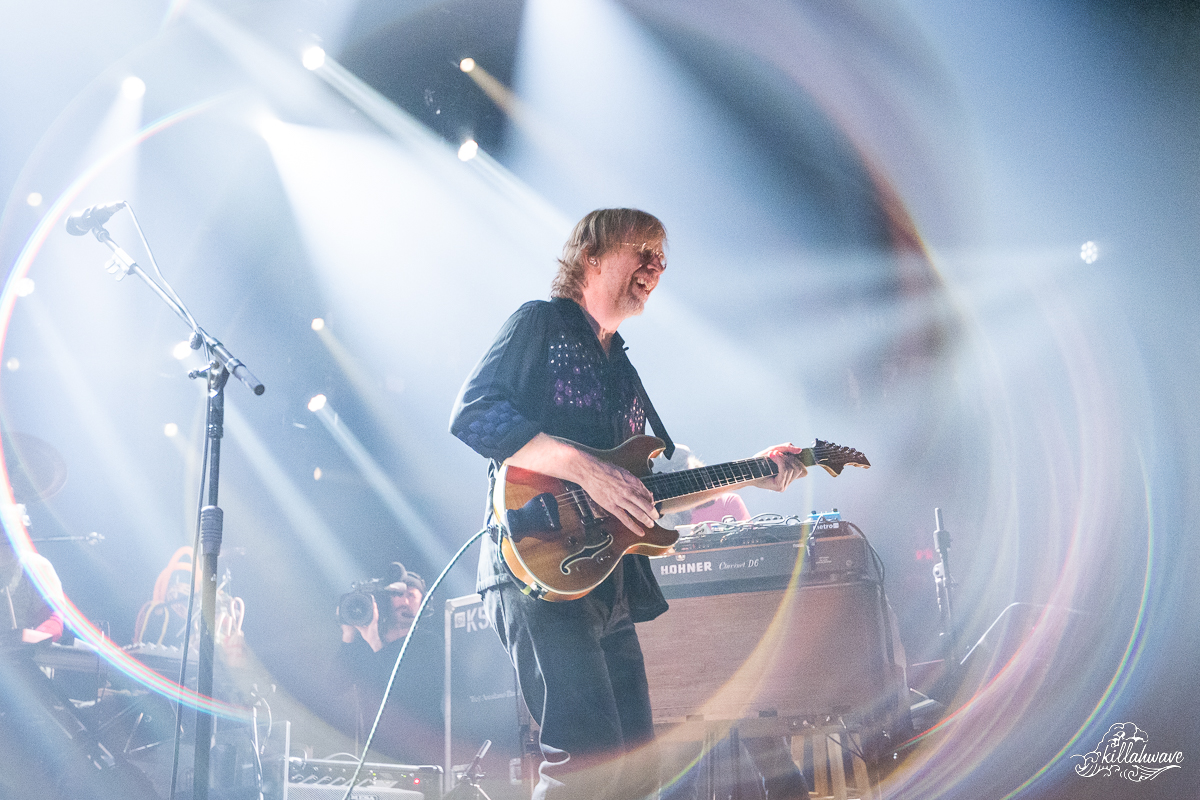 Both bands are back in action tonight in Carnot-Moon, PA at the UPMC Event Center and Thursday at the Eagle Bank Arena in Fairfax, VA. Carnot-Moon is sold out, but tickets are still available for the Fairfax show at this link.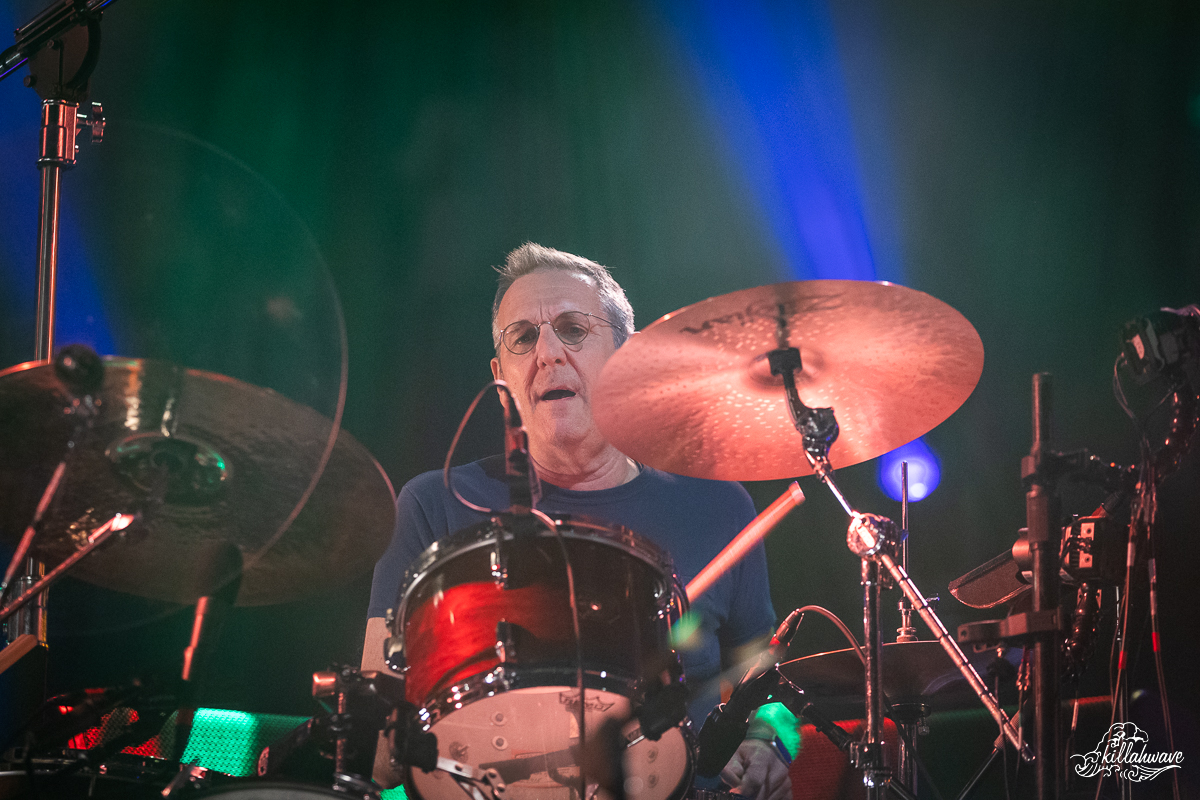 Check out more photos from the show for the Trey Anastasio Band and Goose!
Goose Set
Animal, Flodown, Arrow -> Hollywood Nights[1] -> Arrow, Dripfield, Fish In The Sea[2], Factory Fiction[3]
Trey Anastasio Band Set
Sand, Shine, Twist, Mozambique, Night Speaks to a Woman, Mercy, Undermind, …And Flew Away, Pigtail, About to Run, Push On 'Til The Day, No Men in No Man's Land[4], 46 Days[4]
Encore
Carini[5]
Notes
1. Bob Seger & The Silver Bullet Band.
2. Fat Freddy's Drop. With Natalie Cressman on trombone, Jennifer Hartswick on trumpet, and James Casey on saxophone.
3. With Trey Anastasio on guitar.
4. With Rick on guitar and Peter on keys.
5. With Rick on guitar, Peter on keys, Ben and Jeff on percussion, and Trevor on bass.