World-renowned Billboard Reggae Chart-topping group Tribal Seeds announce the official release of their fourth studio album, Representing for May 13th. Much to the excitement of their massive fanbase, the band also releases the track listing, album art, and iTunes Presale Date of May 2nd for the new 12-track LP. Earlier this year, the band released the first single off the new record, "Fill It Up" - a teaser for an album with no other information except a fan-driven music video - a thank you to the fans who support them across the country. The music video, which features special guests New Kingston and Gonzo, has reached 48,000 views to date. Watch it, here: http://youtu.be/DLN4FgIIpfc and for more information on the new album, visit: www.tribalseeds.net.
Tribal Seeds have been celebrating the release of their new album by hitting the road on a 35-date national "Representing Tour" this Spring with support fromNew Kingston and Inna Vision. Due to the popularity of this tour, the band announces today they will be picking back up in August for a Summer Representing Tour with support from New Kingston and others TBA soon. Full tour dates will be announced soon.
With this new album, Tribal Seeds decided to invite some of their closest friends to guest-perform - a perfect presentation of the reggae family they hold close.Representing features Vaughn Benjamin of Midnite on the title track as well as past tour mate, Kyle McDonald of Slightly Stoopid on "In Your Area." Tribal Seeds were honored to land reggae greats, Don Carlos & Michael Rose, to be featured in "Blood Clot" and Herb Stock" respectively. Current touring partnersNew Kingston also make an appearance on "Fill It Up" and rounding out the featured guests is Tribal Seeds' own guitarist, Gonzo who displays his singing talent in the song "Undercover Lover" - his vocal debut on a Tribal Seeds album. Along with Gonzo, Tribal Seeds' Tony-Ray also makes his vocal debut on "Rock The Night."
The forthcoming full-length album was recorded in Southern California's Imperial Sound, a recording studio owned and operated by Tribal Seeds' own E.N. Young (keyboardist/ backup vocalist) and interestingly the most Southwest recording studio in the United States. Tribal Seeds' own Tony-Ray "Maad T-Ray" Jacobo along with the rest of the band members continue to produce their own music and uniquely have been producing and mastering this record while traveling across the nation on the 35-date national tour.
Representing is a follow-up to their 2011 EP "Soundwaves" which peaked at #2 on the Billboard Reggae Charts. Representing also marks the band's first full-length release since 2009's The Harvest, a 14-track album that landed on the iTunes "Best of Reggae" list and peaked at #5 on the Billboard Reggae Charts. While the last Tribal Seeds albums were inspired by touring and the band's desire to inspire youth to raise their voices, their new album strives to take that message even further. As Tony-Ray explains it,  "this album promotes and inspires a positive and uplifting message which you can't help but vibe to."
Hailing from San Diego, California, Tribal Seeds have become known for their spiritually driven, refreshing rock vibe they have infused with the roots style of reggae music. What began as a side-project - formed in 2006 by musically gifted brothers Steven Rene Jacobo (lead vocals, guitar) and Tony­Ray "Maad T-Ray"Jacobo (producer, keyboards, back-up vocals), Tribal Seeds has grown into a movement. The band is one of the most award-winning, top-selling, musically talented, and fan-adored artists in not only the reggae world, but also across the music industry. Tribal Seeds now boasts six powerful members, including:Carlos Verdugo (drums), Victor Navarro (bass), E.N Young (keyboards, back up vocals) & Ryan Gonzo (guitar).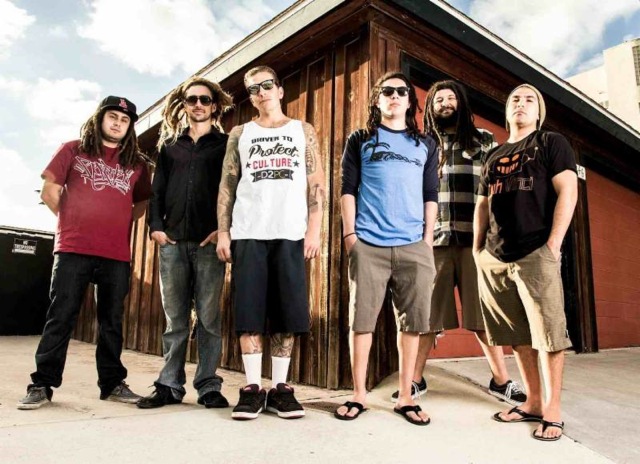 Tribal Seeds has collaborated in the studio with top artists including Sonny Sandoval (P.O.D), Eric Rachmany (Rebelution), Kyle McDonald (Slightly Stoopid), and reggae legend Don Carlos. Over the years the band has shared the stage with music's most respected artists such as Dave Mathews Band, Jack White, Red Hot Chili Peppers, Jane's Addiction, Skrillex, MGMT, Cee Lo Green, Jason Mraz, Matisyahu, Sublime with Rome, Taking Back Sunday, O.A.R., Pretty Lights, Pepper, Collie Buddz, The Wailers, Julian Marley, Stephen Marley, Slightly Stoopid, Gregory Isaacs, SOJA, Rebelution, and many more.
Tribal Seeds takes great pride in equally focusing on the art of producing high quality recorded music and the art of putting on an outstanding live show. The band maintains a strict regimen of tirelessly touring to spread their positive vibes and contagious tunes across the nation and beyond - playing shows as far as Mexico, Guam, and Aruba to continue expanding their reach. The band consistently performs for sold-out crowds and impressively has the keen ability to both cater to their fanbase while still pushing the limits of their music. The formula is working - Tribal Seeds currently boasts 200,000+ Facebook fans, 25,000+ Twitter followers - a representation of the network of steadfast fans that remain the heartbeat, pulse, and inspiration for the band to continue making music.
Tribal Seeds will release Representing on May 13th with iTunes Pre-Sale beginning on May 2nd. For more details visit www.tribalseeds.net.
Track Listing:
01. Representing
02. Rock The Night
03. Fill It Up feat. Gonzo & New Kingston
04. In Your Area feat. Kyle McDonald of Slightly Stoopid
05. Moonlight
06. Ruined
07. Blood Clot feat. Don Carlos
08. Undercover Lover feat. Gonzo
09. Night and Day
10. Herb Stock feat. Mykal Rose
11. Don't Wait
12. Lonely Night