Twiddle, the upbeat jam rock quartet from Vermont, continued their "Distance Makes the Heart" tour at Webster Hall in New York, NY on April 6, 2023. This bittersweet run has become very special for both the band and their fans after Twiddle announced that they will take an indefinite hiatus upon the conclusion of 2023. The band put on a raging show for this highly engaged Tri-state crowd, which included a special guest, for what might be their last performance in the Big Apple. The show notably did not include an opening band, and was a 100% Twiddle treat.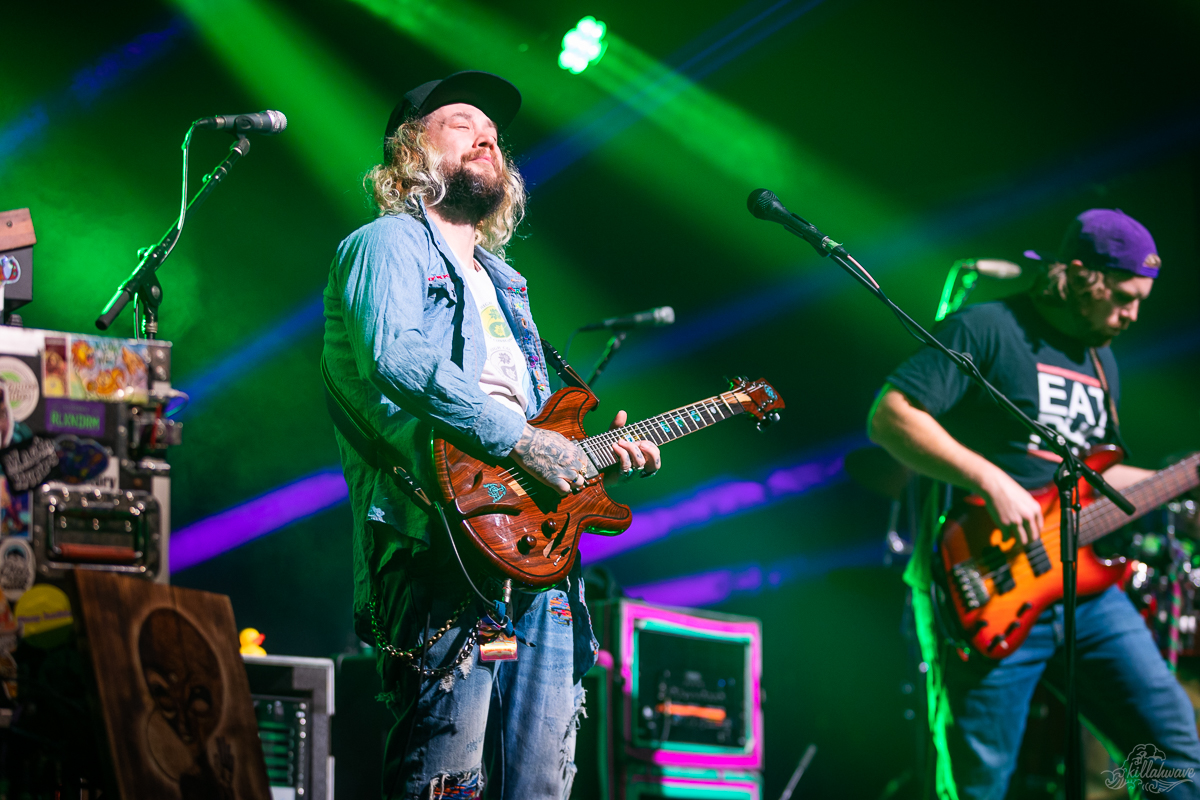 The band certainly made haste this evening, and started their set shortly after 8pm with newer tune, "The Devil." Mihali's heartfelt lyrics set the tone for the evening, and perhaps reminded many of the fans as to why they love this band so much. "Be proud of who you are. Trust what's inside your heart." This transitioned into another song released in 2022, "Breakadidown." "Brick of Barley" followed, and and included a jazzy drum solo by drummer Adrian Tramontano.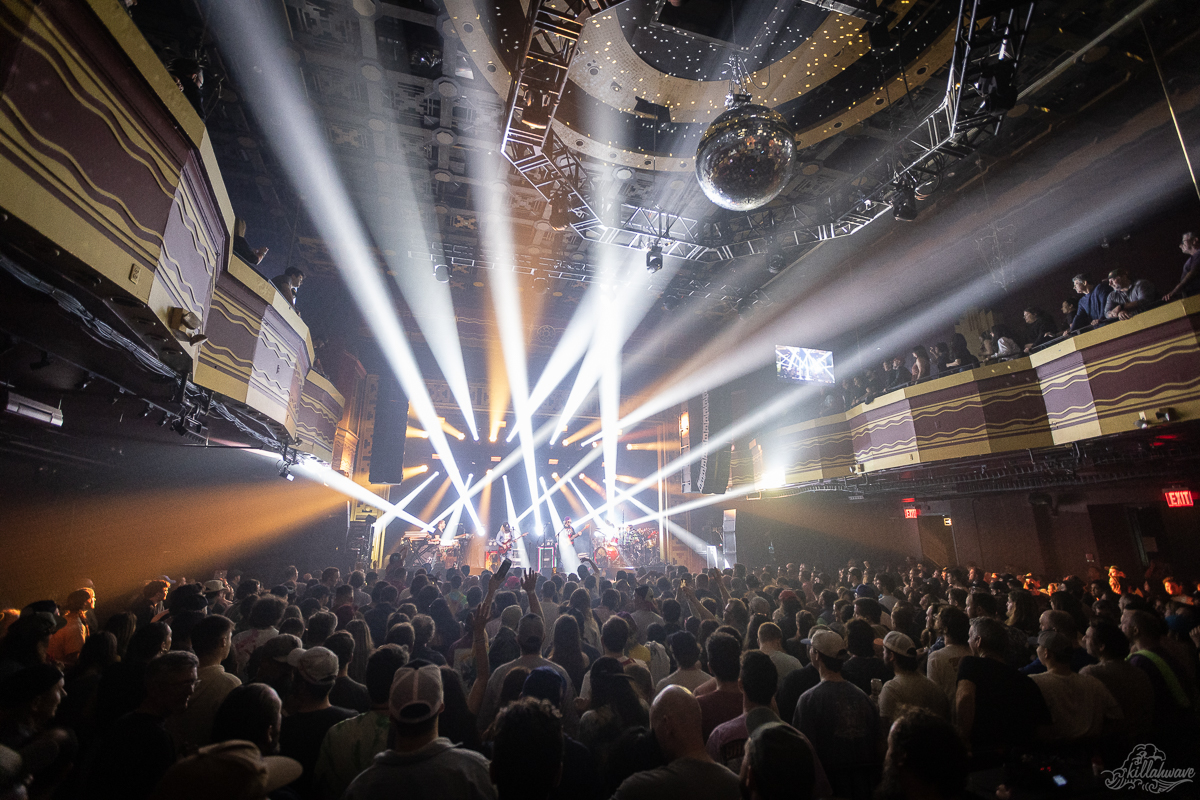 The foursome dove into a non-stop sequence for the remainder of the set, beginning with "Every Soul." Bassist Zdenek Gubb lead the charge, as he thumped through this funky tune. Lighting Director Alex "Herm" Schneider added to the depth with well timed lights on the stage and disco ball during this deep jam. Mihali fell into the pocket as the band moved into "Apples," while the lights alternated between green and candy apple red. The music mellowed out as Mihali and Gubb coordinated moves on stage before the collective group leapt into a disco funk jam. Keyboardist Ryan Dempsey layered in the synth as the music moved into "Brown Chicken Brown Cow." Gubb continued mesmerizing the crowd on the bass, and showed his rock star capabilities. The music flowed into a less intense vibe, and the band ended this fiery sequence with "Lost in the Cold." The fans joined in to sing this inspiring tune. "It's hard to see the future, when the present doesn't suit ya." Dempsey elevated this jam, as the band brought this well executed set to a close.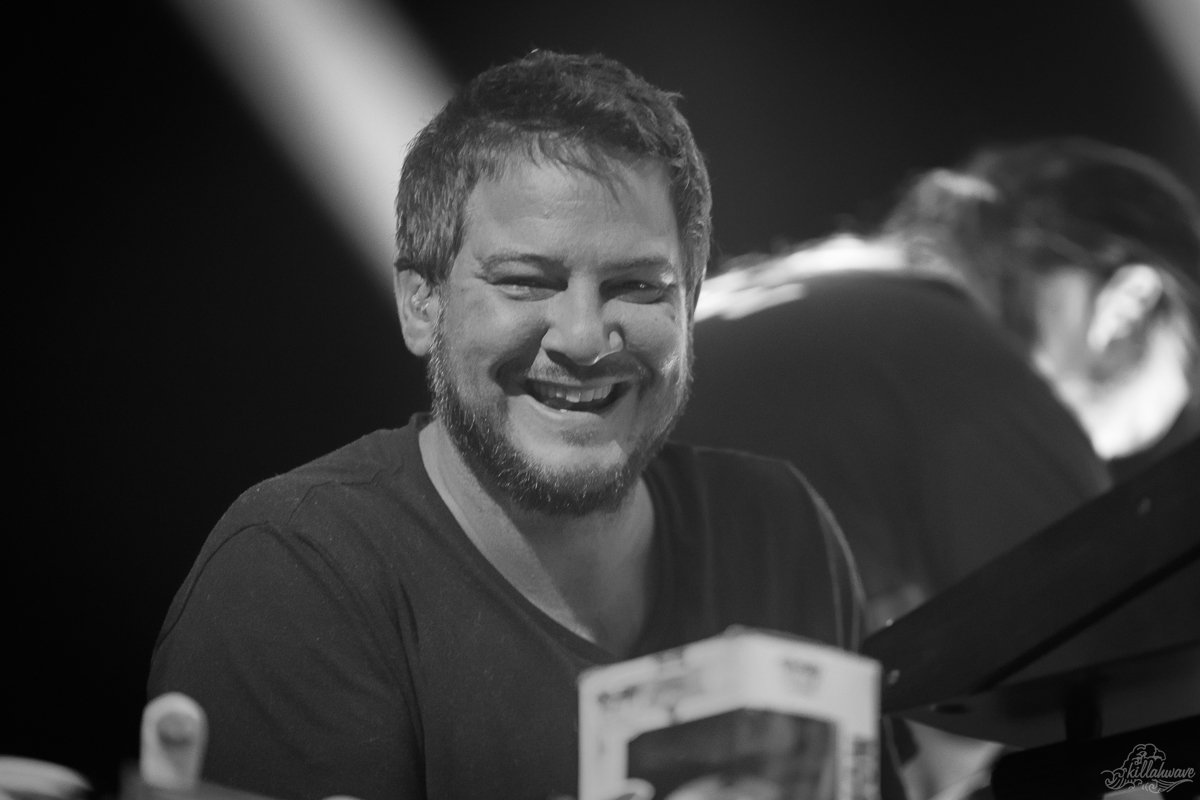 Twiddle returned energized for set two and delivered a melodic "The Fantastic Tale Of Ricky Snickle," from their 2017 release Plump (Chapters 1 & 2). The uplifting lyrics combined with the vibrant major chords felt almost like an internally blissful therapy session. Mihali slammed the composed section during this opening tune. The music shifted gears into "Nicodemus Portulay," another tune from Plump. Vintage song, "Gatsby the Great" hopped into the set list next, which prompted cheers from the crowd. Dempsey delivered more tasty notes on the synth during this euphonious jam that lasted about seventeen minutes. Mihali once again proved that he is a well oiled machine on guitar, as he and his band mates brought this tune home.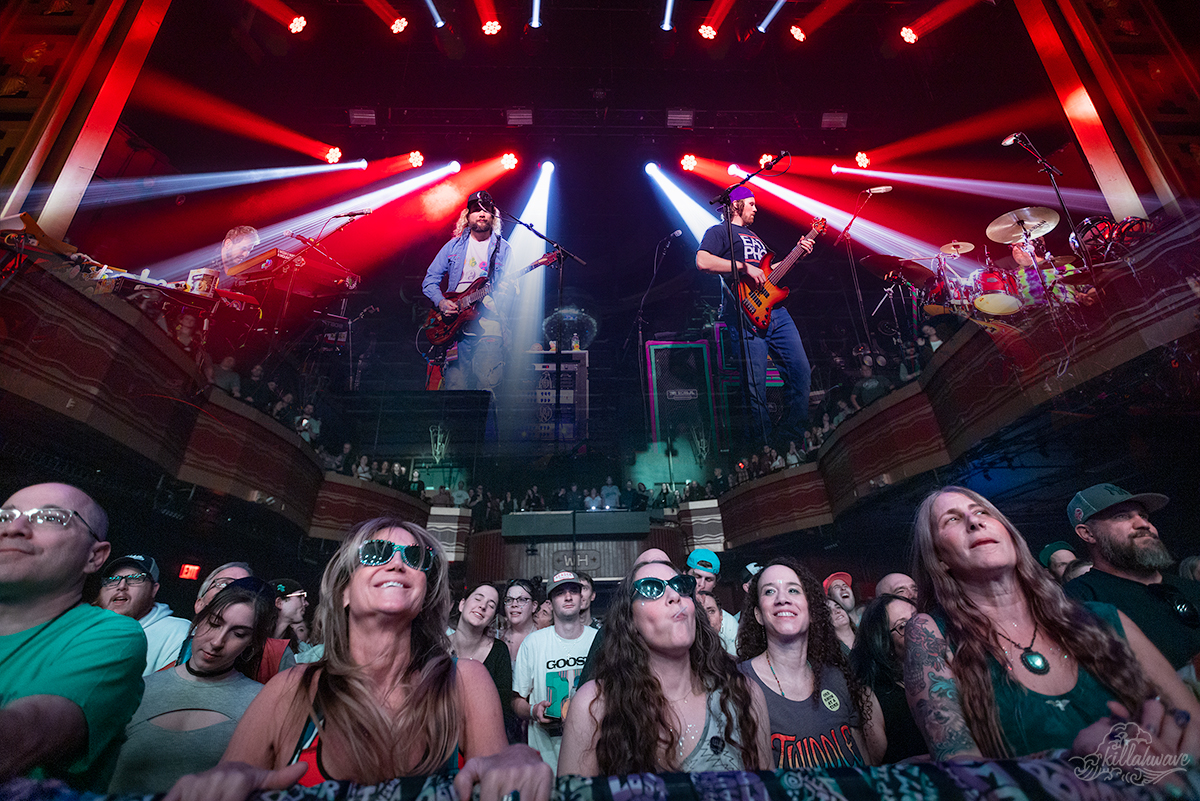 The Plump trifecta rounded out with "Syncopated Healing." "Relax and dream one day at a time. Let the beauty of the music start to heal your life." The band made this directive easy with their galvanized musicianship. The fans once again notably joined in on vocals, as Tramontano dispatched a tight beat that kept everyone dancing. This blazing hot set ended on a high note with another recently released song, "Collective Pulse," from Every Last Leaf.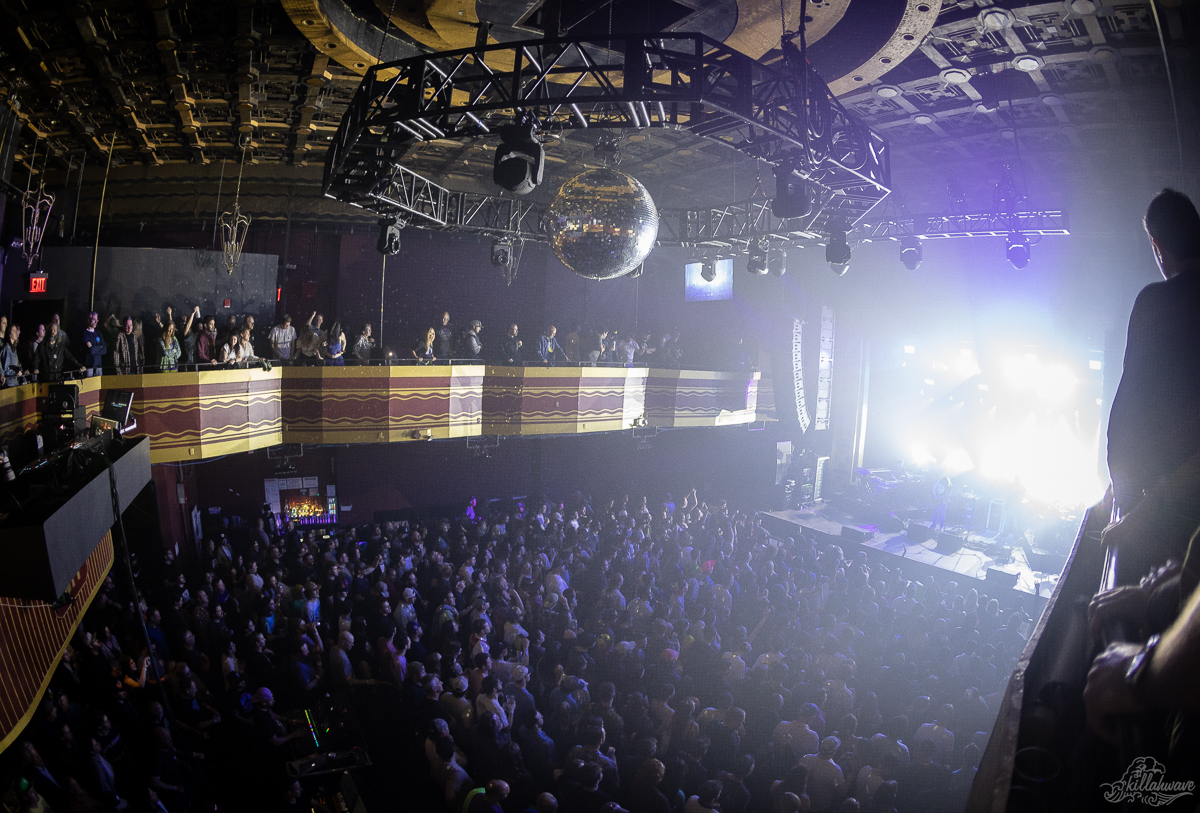 The show as not over quite yet, as Twiddle returned for an encore armed with their friend, trumpeter Michael Bafundo. He joined this gang of talented musicians for Jimi Hendrix's "All Along the Watchtower," which was unquestionably a performance that Jimi himself would have been proud of. Crew member and keyboardist Scott Hannay jumped in on the synth next to Dempsey, as they fist bumped during a euphoric moment. The musical therapy session continued into the upbeat "Hattie's Jam." "Well it's ok to be alone, you learn a lot about your own." Bafundo returned, and layered in the trumpet, as the show finished on a definitive high note with "When It Rains It Pours."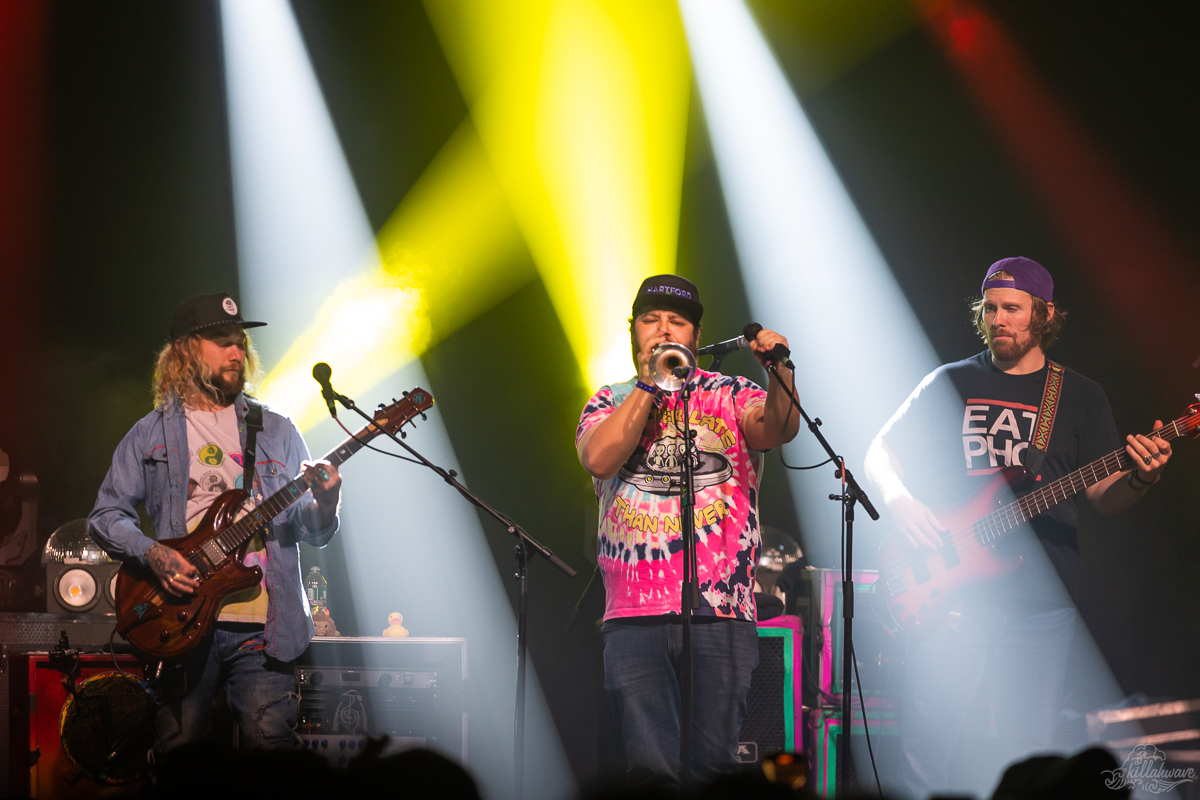 As they say, all good things must come to an end. This outstanding band has built an impressive community that is rooted in good vibes and positive messages, which is undoubtedly a rarity in this day and age. Thankfully, Twiddle will be making a number of festival appearances this summer, including Northlands and Peach Music Festival. Hop on over to their tour page, and catch this band while you still can!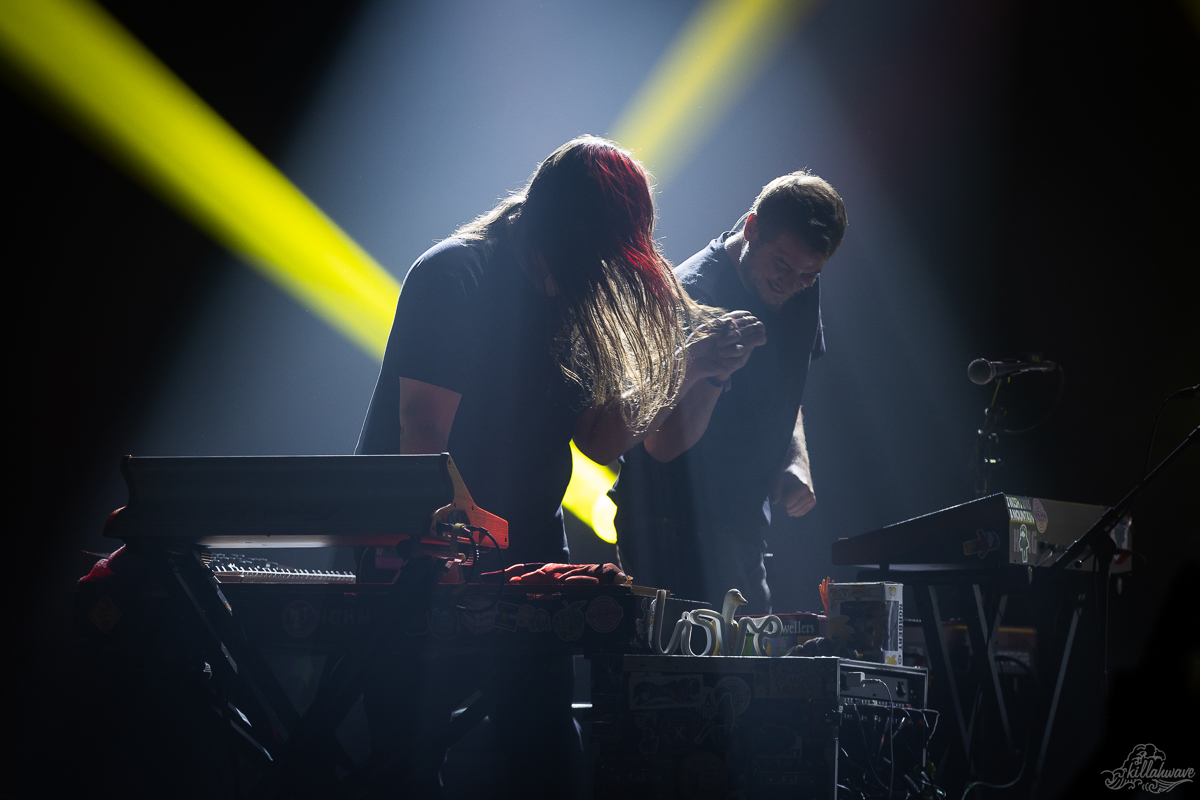 Check out more photos from the show!
Set One: The Devil -> Breakadidown, Brick of Barley, Every Soul -> Apples -> Brown Chicken Brown Cow -> Lost in the Cold
Set Two: The Fantastic Tale Of Ricky Snickle, Nicodemus Portulay -> Gatsby the Great, Syncopated Healing, Collective Pulse
Encore: All Along The Watchtower [1] [2], Hattie's Jam -> When It Rains It Pours [2]
Notes:
[1] Jimi Hendrix
[2] with Michael Bafundo on Trumpet