Portland, Oregon- The Mount Tabor Theater is located in the heart of the Hawthorne district. A place where musicians and fans alike come to celebrate music, culture, or even just the sanctity of being a part of the atypical community that has begun to flower in this calm and receptive state.
Of the Portland music scene, Jeff Hayes, percussionist and vocal extraordinaire for the band Twisted Whistle, says, " It's everywhere. It's not a being separate from the social scene: it's a part of it." And that's exactly what you get when you walk into the Mount Tabor Theater.
Everyone knows everybody else. People talk, friends catch up and everyone else is left buzzing. Those who walk in late are greeted with hugs and unbridled enthusiasm. There is a stack of hula-hoops in the corner, which become very popular the later it gets, and the dance floor is surprisingly spacious. But if dancing and hooping isn't your thing, there are plenty of stools and benches just waiting to be occupied. So grab a drink and sit, for you are surely about to embark in an enlivening conversation with anyone of these strange and beautiful people.
It's about 9:30 when Twisted Whistle comes on. They are the first of three bands up tonight, all of who are playing charitably for a local elementary school. The band opens with a much welcome "Viola Lee Blues". But the heavy chugging of this raucous tune, made famous by the Dead, gets an acoustical and harmony laden facelift courtesy of Twisted Whistle.
I have seen the band play this song at least four times and not only does it improve every time, but it also manages to churn souls in ways I never thought imaginable. The jamming between the endlessly inspiring harmonies also becomes more and more precise and uplifting with every performance, a sure sign that the band is only improving with every trip into the unknown realms of the beat. But judging solely by their performance, not to mention their musicianship, it's hard to imagine that this band is relatively new.
"We've been together about eight months," says Hayes.
"Thanksgiving is right around a year," adds Matt Franzen, the group's second singer and sole guitarist.
The quartet comprised of Hayes, Franzen, cellist/third singer Kina Lyn Muir and mandolin player David Gerow got together when Gerow's other band, Sneakin' Out, put together a chamber ensemble for their own version of "Dark Side of the Moon".
"When Dave put together 'Dark Side of the Moon', he hired Jeff to sing the lead," says Muir. "… And we all showed up to rehearsal one day but it was only the four of us that came. None of the other people showed. So we were like, 'We don't need to rehearse 'Dark Side''. So we started playing some of our tunes, and before that Dave had already started pickin' some mandolin with us… And then when Jeff came in we really started pushing it. We flew into tons and tons of gigs immediately."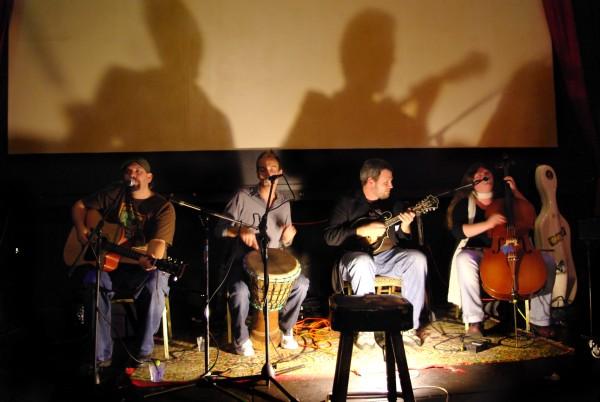 But while this eagerness to play may have turned less adventurous musicians away, it only served to solidify what the group already knew. "It pretty much sounded like that [tonight's gig] right off the bat," says Franzen on the band's crisp, unified sound. "It was pretty much just like, 'Oh, God. You guys are in my band, so make arrangements. I'm not giving you a whole lot of choice in this'".
The synchronicity of the band's origins extend further, when during their first jam, Hayes asked Muir and Franzen if they knew the song "Dark Hollow", a tune they had been working on as a duo for some time.
Muir says, "…so then we just launched into it and his [Jeff's] harmony was there immediately."
These facts may seem circumstantial on their own, but when put against the backdrop of this city it is all too understandable. There is a unique bond amongst the people of Portland, all of who are deep in their quest for something different, something that can't be measured by the digits on a pay stub or the depth of your 401k.
It's the unspoken thing: the thing that makes it all come together in ways that seem on the verge of serendipity. And it's comforting because you cannot find this feeling everywhere, so when you do you know you're in the right place.
"Portland is one band," says Franzen, "and it's called Portland."
"It's really great because you can find live music here seven nights a week," says Gerow.
"It's everywhere," adds Muir.
"None of it pays," continues Gerow, "but it's everywhere."
And with so much music readily accessible to whoever wants it, it's no wonder Twisted Whistle always tries to keep things fresh with rotating set lists, unique jams specific to each performance and an unbeatable amount of down to earth soul.
"I get really caught up and emotional during songs," says Muir, whose cello adds an even deeper touch of ingenuity to the band. "I like to play an instrument that still has room to be developed. Everything hasn't been done on the cello."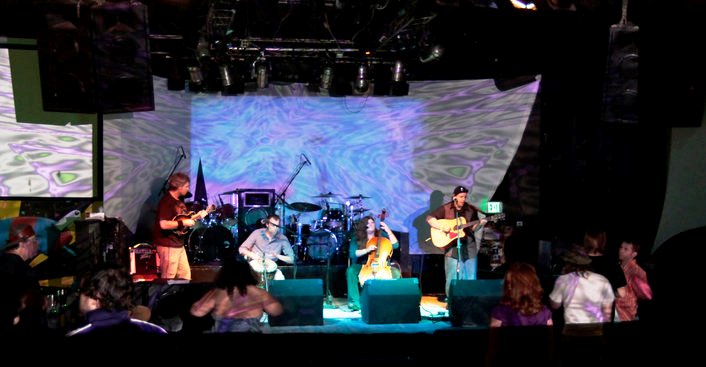 And it's this kind of thinking that keeps the Whistle blowing.
"I think we really jive well, the four of us, and we can really move together without ever speaking," Muir says.
And a band that recognizes the existence of the unspoken has only one direction to go, "East," says Gerow.
"We can't go west so most likely [we're going] south," chimes in Franzen.
"You're dealing with a bunch of smartasses," adds Hayes.
But all kidding aside, Twisted Whistle seems to be the epitome of the musical spirit that glides through this town. A band rich in vocals, lined with a fierce mandolin, a crisp and astute guitar, some plugging cello and the steady beat of a drum. And while their personalities are a reflection of their music, it is their readiness to play and explore the overflowing fields of sound that drives them towards a harmonious future.
"I think we haven't thought about it [the future]," says Hayes, "… we haven't really cared because it seems to be doing it for us. It's like a roller coaster."
"Yeah," says Franzen, "we're just on for the ride."
"It's like a fucked up chia-pet that you don't even have to water," finishes Hayes.
Truer words were never spoken.