Can I Take My Hounds to Heaven?, the highly anticipated new album from Tyler Childers and his longtime band The Food Stamps, is out today on Hickman Holler Records/RCA Records. Stream/purchase here. Conceptualized as a three-part project, the eight songs on the album are presented in a trio of distinct sonic perspectives—Hallelujah, Jubilee and Joyful Noise.
Produced by Childers and The Food Stamps, the collection features a mix of new and traditional songs and was primarily recorded in guitarist's James Barker's home studio, Dragline Studios. The Hallelujah version captures Tyler and the core band playing live in a single room over the course of two days, while the Jubilee version builds on it with the addition of strings, horns, background vocals and an array of worldly instruments such as dulcimer, mbira and sitar. The final version, Joyful Noise, consists of remixes created with DJ Charlie Brown Superstar (Brett Fuller) and includes samples from eclectic sources such as "The Andy Griffith Show," theologist Thomas Merton and comedian Jerry Clower as well as church service excerpts pulled from the Kentucky Center for Traditional Music archives.
Reflecting on the album, Childers and The Food Stamps recently sat down with journalist Silas House to discuss the project in depth. Watch the interview HERE.
Ahead of release, the Hallelujah and Jubilee versions of "Angel Band" debuted earlier this month, of which Rolling Stone praises, "soaring gospel country, an easygoing groove that gets layered with strings and horns until it sounds positively like a gig in the sweet hereafter," while Consequence proclaims, "lushly orchestrated, with extra studio flourishes that make it sound full and vibrant" and Brooklyn Vegan declares, "a sweeping, six-minute dose of country rock and a very promising first taste." Watch the official music video, directed by Bryan Schlam, HERE.
The Food Stamps are: Barker (pedal steel), Craig Burletic (bass), CJ Cain (guitar), Rodney Elkins (drums), Chase Lewis (keyboards) and Jesse Wells (guitar, fiddle).
The new album is the first new music from Childers since 2020's Grammy-nominated surprise release, Long Violent History, which NPR Music called an "explicit and remarkable stand in solidarity." His two previous releases, 2019's #1 Country Squire as well 2017's RIAA Platinum debut, Purgatory, were released to overwhelming critical and commercial acclaim. In the years since his debut, Childers has earned two Grammy nominations and has been featured on "CBS This Morning," "The Tonight Show Starring Jimmy Fallon" "Jimmy Kimmel Live!," "Late Night with Seth Meyers," NPR Music's Tiny Desk Concert series and "Anthony Bourdain: Parts Unknown."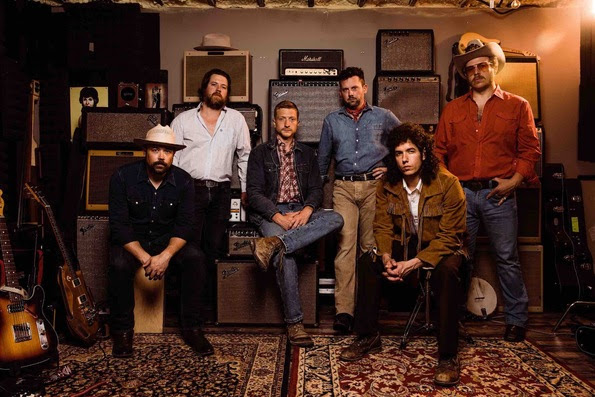 CAN I TAKE MY HOUNDS TO HEAVEN? TRACK-LIST:
HALLELUJAH
1. Old Country Church
2. Can I Take My Hounds to Heaven?
3. Two Coats
4. Purgatory
5. Way of the Triune God
6. Angel Band
7. Jubilee
8. Heart You Been Tendin'
JUBILEE
1. Old Country Church
2. Can I Take My Hounds to Heaven?
3. Two Coats
4. Purgatory
5. Way of the Triune God
6. Angel Band
7. Jubilee
8. Heart You Been Tendin'
JOYFUL NOISE
1. Old Country Church
2. Can I Take My Hounds to Heaven?
3. Two Coats
4. Purgatory
5. Way of the Triune God
6. Angel Band
7. Jubilee
8. Heart You Been Tendin'