A new version of John Prine's "Yes I Guess They Oughta Name A Drink After You," performed by Tyler Childers, is debuting today. Listen/share HERE. The song—whose proceeds benefit The Hickman Holler Appalachian Relief Fund—will be featured on the forthcoming Prine tribute record, Broken Hearts and Dirty Windows: Songs of John Prine, Vol. 2, out next Friday, October 8 on Oh Boy Records (pre-order here).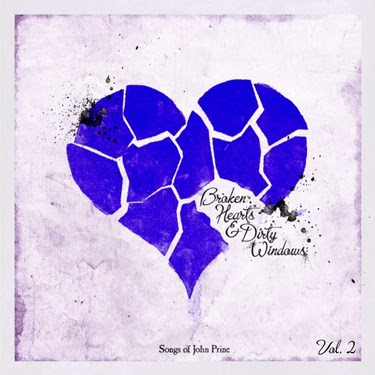 In addition to Childers' contribution, the record also features "Paradise," performed by Sturgill Simpson, and "I Remember Everything," performed by Brandi Carlile (full track list to be unveiled soon). Prine's last recorded song, "I Remember Everything" was recently named Song of the Year at the 2021 Americana Music Association Honors & Awards and won two awards at the 63rd GRAMMY Awards earlier this year: Best American Roots Song and Best American Roots Performance. Written by Prine and his longtime collaborator Pat McLaughlin, "I Remember Everything" is Prine's first #1 single and was recorded by Grammy Award-winning producer Dave Cobb and engineer Gena Johnson.
The release adds to an esteemed legacy for Prine, whose beloved self-titled debut album recently celebrated its 50th anniversary (purchase here). In celebration of the milestone, Oh Boy Records, which is celebrating its 40th anniversary this year, will release a limited-edition box set, "John Prine Plays John Prine," this spring—a special live recording of the only time Prine performed his debut record front to back (pre-order here). Recorded during AmericanaFest in 2016, the box set—created by the Grammy Award-winning Dodds Sisters—will include a CD, vinyl and DVD version of the performance, with a portion of all proceeds benefitting the Americana Music Association Foundation.
Further honoring Prine's life and career, The Prine Family will present "Souvenirs: Celebrating the Life and Songs of John Prine with Family and Friends," a special livestream tribute broadcasting from Galway's The Mick Lally Theatre, October 4 at 7:30PM IT/2:30PM ET. Tickets for the event, which will also be available for on-demand viewing October 7-10, are on-sale HERE with proceeds benefitting two local Irish organizations: Doras and The Druid Theatre Company. The first public celebration of Prine's legendary life and career, the event will feature performances from several of Prine's friends and supporters including Mary Black, Paul Brady, Pat Crowley, Mette Jensen, Ruth McGill, Tanya McCole, Chris Meehan, Paul Mulligan, Little John Nee, Declan O'Rourke, Brian Palm, Bill Shanley, Sharon Shannon, Mary Staunton, Mary Stokes and Ciaran Tourish as well as Prine's youngest son, Tommy Prine. The broadcast will also include conversations between each performer and the evening's MC, John Creedon.
Regarded as one of the English language's premier phrase-turners, Prine is a four-time Grammy-winner, a Grammy Lifetime Achievement Award honoree, an eight-time Americana Music Award-winner, a PEN New England Lyrics Award recipient and member of both the Songwriters Hall of Fame and the Nashville Songwriters Hall of Fame. Since his debut in 1971, Prine released over eighteen albums and has had his songs recorded by Johnny Cash, Carly Simon, Bette Midler, Bonnie Raitt, Norah Jones, George Strait, Miranda Lambert, Zac Brown Band and many others, while drawing effusive praise from Bob Dylan, Kris Kristofferson, Bonnie Raitt, Roger Waters, Tom Petty, Bruce Springsteen and more, who knew him as a smiling, shuffling force for good.