Nestled between Boulder and Fort Collins lies the sleepy little town of Lyons, Colorado. Populated with little more than two thousand citizens, this historic settlement has deep roots in the narrative of the Centennial State. Like much of the west, this area was first populated by multiple Native American tribes including the Cheyenne, Arapaho, and Comanche peoples, who thrived due to the vast resources of both the Rocky Mountains as well as the surrounding grasslands. With the westward expansion from the east, settlers arrived in the mid-1800s to try their lot at a new future and with this influx came others carrying the vision of developing the land. Established as a township in 1880, Edward S. Lyon founded this locale with the idea of quarrying out the unique red sandstone that surrounds its borders on three sides and would later incorporate the municipality in 1891. The concrete industry of the early twentieth century would end this pursuit and would send Lyon as well as others of the same ilk pursuing their fortunes elsewhere. Since its humble beginnings, little has changed.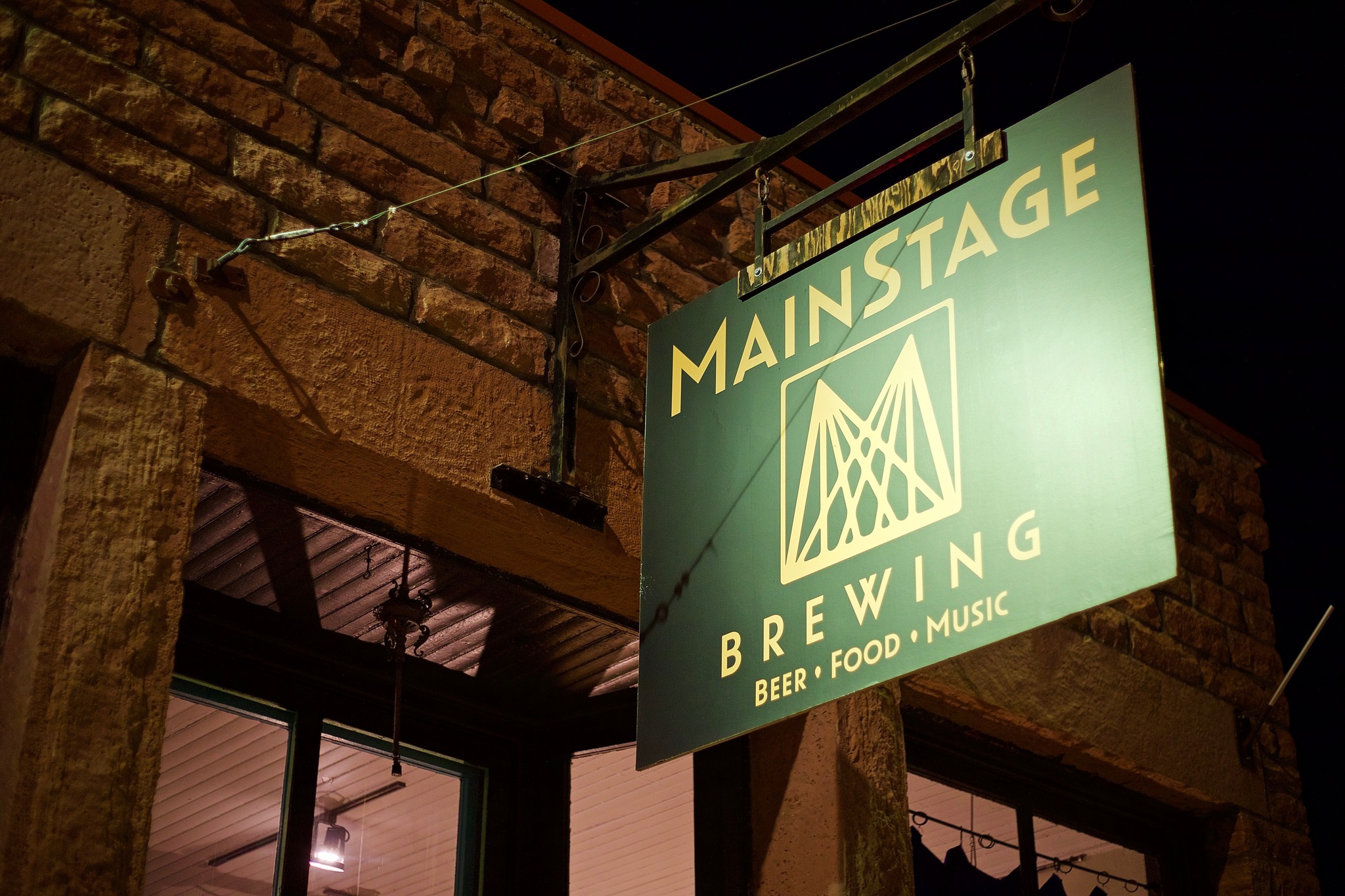 The historic district looks much like it did over 100 years ago, many of its edifices designated on the National Register of Historic Places and constructed from the very salmon colored sandstone that the town was founded on. From a modern standpoint, this community has become a refuge for many artists and musicians and serves as home base for Planet Bluegrass, the festival talent responsible for doling out not only Telluride's historic bluegrass event, but also the likes of the ever sold-out RockyGrass Festival, the latter being hosted within a mile of the village center and now running for more than fifty years. Although many music fans know this site for the big talent on its renowned stage, the magic that Lyons houses often comes in many forms, can happen at any time and, on Thursday night, Tyree Woods, military veteran turned soul soldier, was the conduit for all that is good and musical in the world.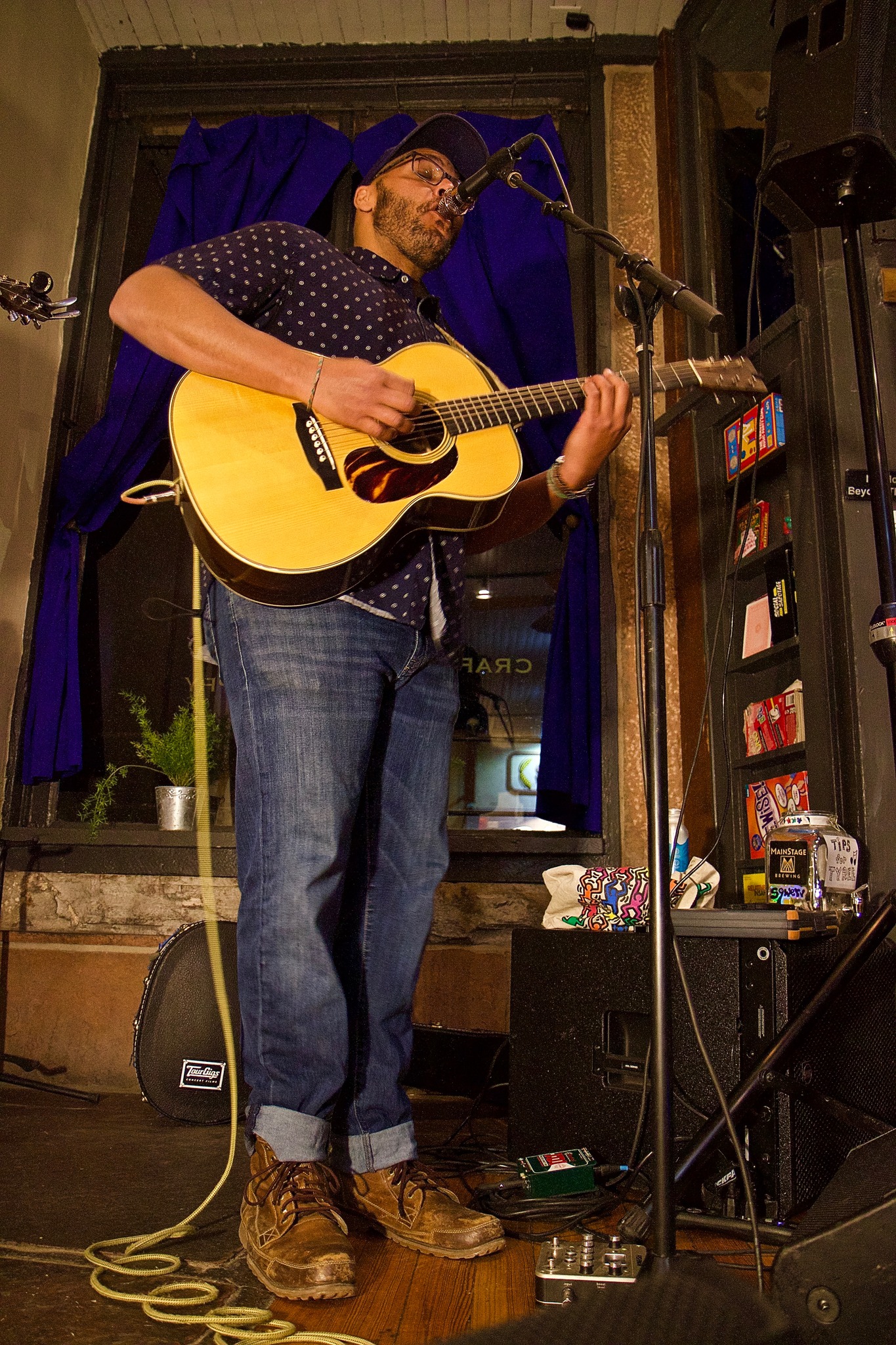 Announced as a solo performance, this open-hearted powerhouse gave an intimate crowd all he had for two solid sets that had everyone listening attentively as he delivered original tunes interspersed with personal stories alongside some familiar covers and all the while with the help of some very special people. With a showtime of 7:30 pm, many patrons showed up early to Mainstage Brewing to take in the delectable edibles and imbibe in the tasty and varied brewery options, both of which paid off and fueled connections, both old and new, in an already welcoming and bright locale.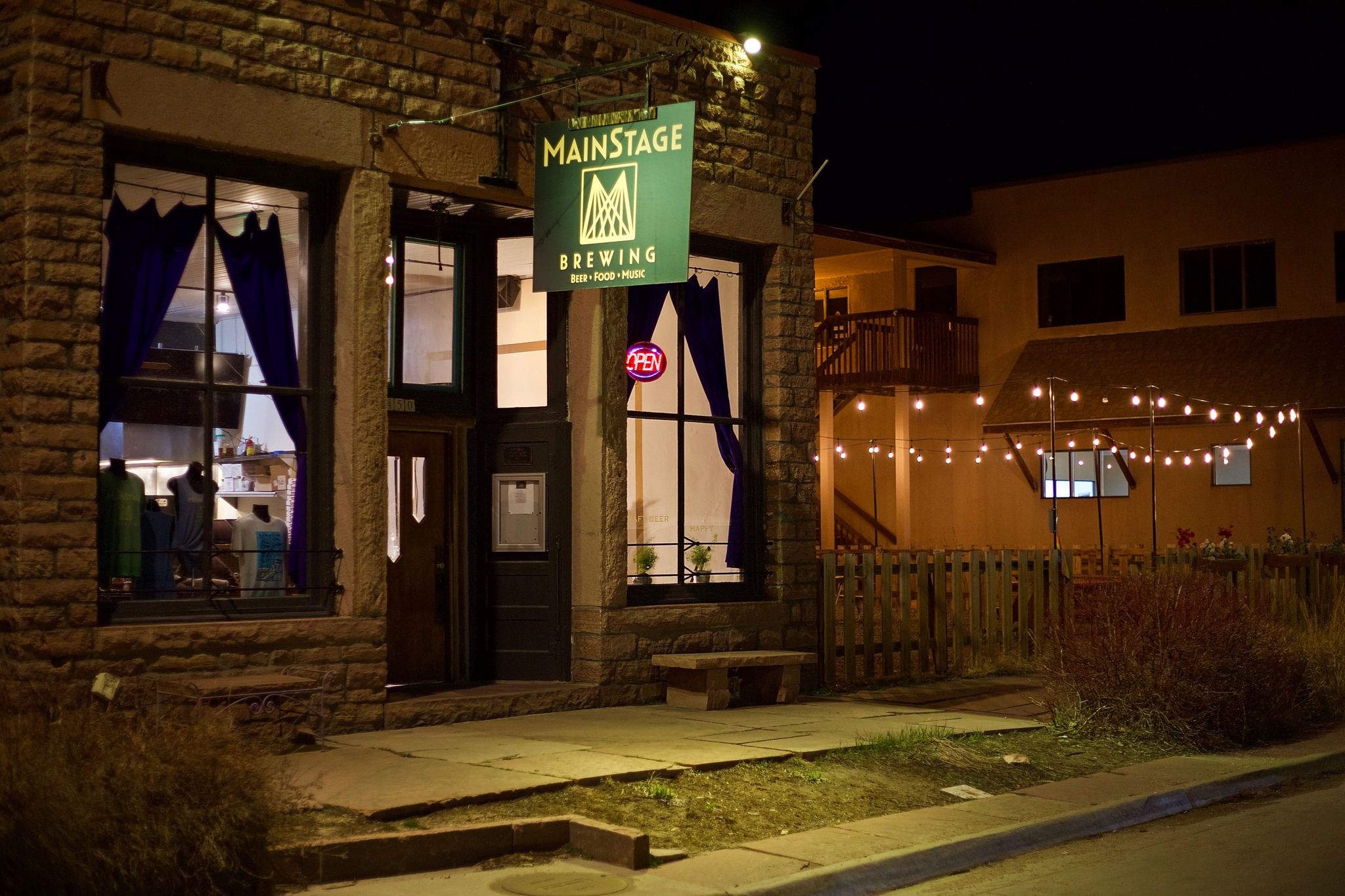 Housed in one of the historic building of Lyons originally constructed in 1881 and positioned at the literal crossroads of Colorado State Highways 7 and 36, MainStage hosts both an indoor and outdoor seating areas and from the layout and design, it is apparent that purveyors Eric Kean and Sam Scruby have placed as much importance on music events as they have on the food and drink they serve. The indoor space is rectangular in shape, hosting high ceilings and original wood floors and feels much like it would have hundred years ago with few modern embellishments being employed. One corner to the east of the front entrance is floored in stone and probably was the original site of a wood burning stove, but now serves as the traditional stage, warming the hearts of guests on cold nights. Heading outside, the summertime space consists of a covered patio as well as a large gathering area with tables and chairs, plotted out with sandstone paths, grass, and gravel, and contains another intimate stage towards the back of the property line. Standing in the deserted setting on this cold and windy Thursday night, it is easy to imagine returning to this space later this spring to take part in the annual musical run MainStage hosts known as MainGrass, surrounded by the good people of Lyons and nearby cities taking in great food, delectable brews, fantastic music, and the all around good vibes of our hosts at 450 Main Street.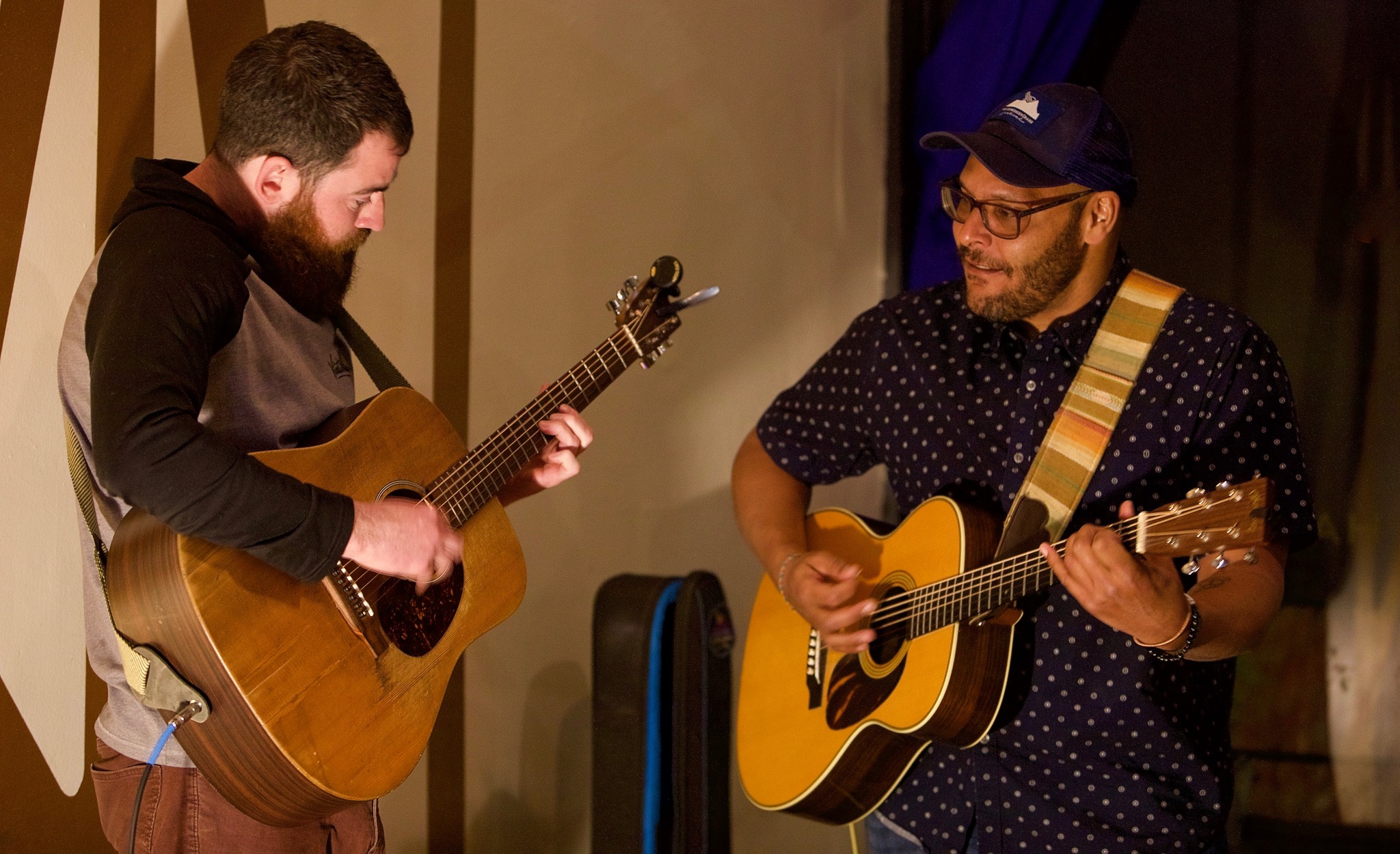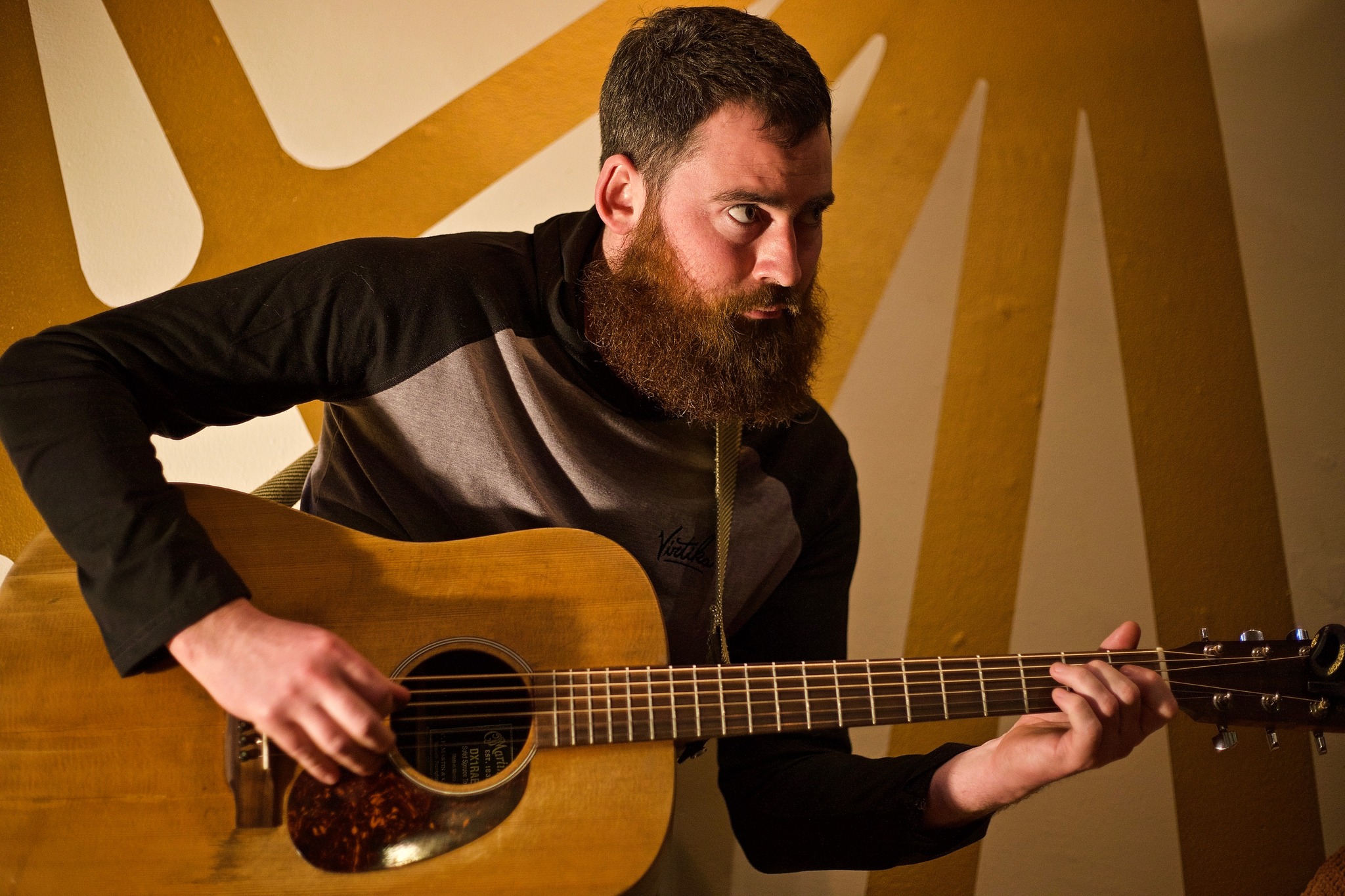 As everyone finished their last bites and refueled their empty glasses, Tyree made his way from the back, through the crowd, and slung his acoustic around his neck. Wearing the wide smile he is becoming famous for in these parts, he thanked the patronage for attending and owner Eric Kean for the opportunity and got the night started with his original "Patterns". Although billed as a solo show, Woods was joined from the onset with a partner in time, Jack Cloonan, on a second acoustic guitar. It was easy to see from the start that these two had a long history, as Cloonan seemed quite familiar with Woods' catalog and knew when to add those flourishes that made the songs all the better. Song after song, the duo were met with grateful applause and whistles from the discerning listeners, which only broadened the smile of these gentlemen even further outside the great executions of their music.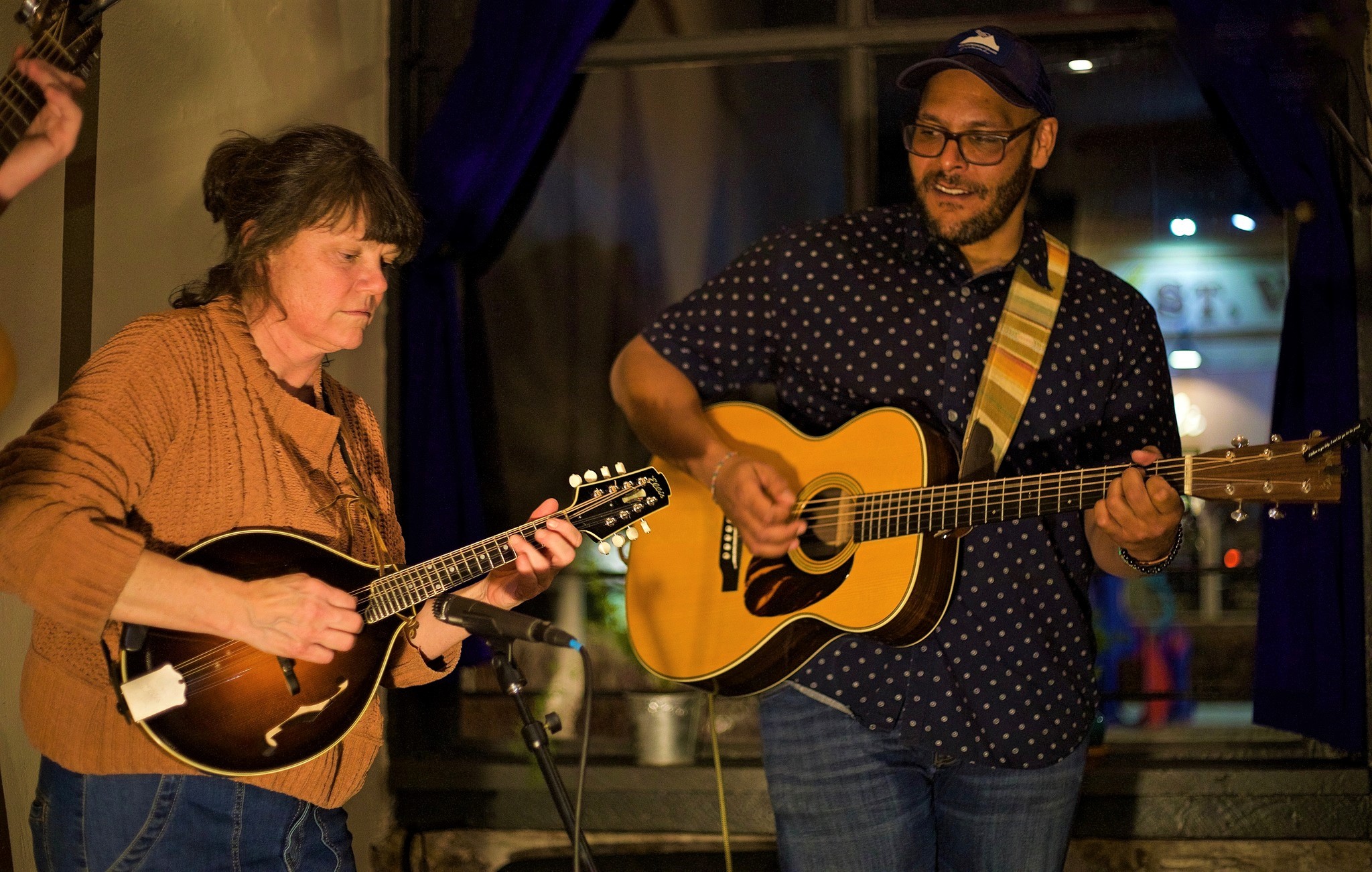 Now as anyone familiar with the Colorado music scene knows, with the endless list of talent tucked away in the Centennial cities and Rocky Mountain hold-ups, there is always a chance that someone on the who's who list will pop in to raise the ante and this night was no different. Three songs into the set, the sweet mando talent that is KC Groves did just that. Picking it all up without hesitation, this good lady of the high lonesome sound brightened Woods' originals, both on strings and vocals, and added to an already special night in all the right ways. The duo turned trio played off each other well and exchanged glances, smiles, and acknowledgments as the crowd sat back and called out for more.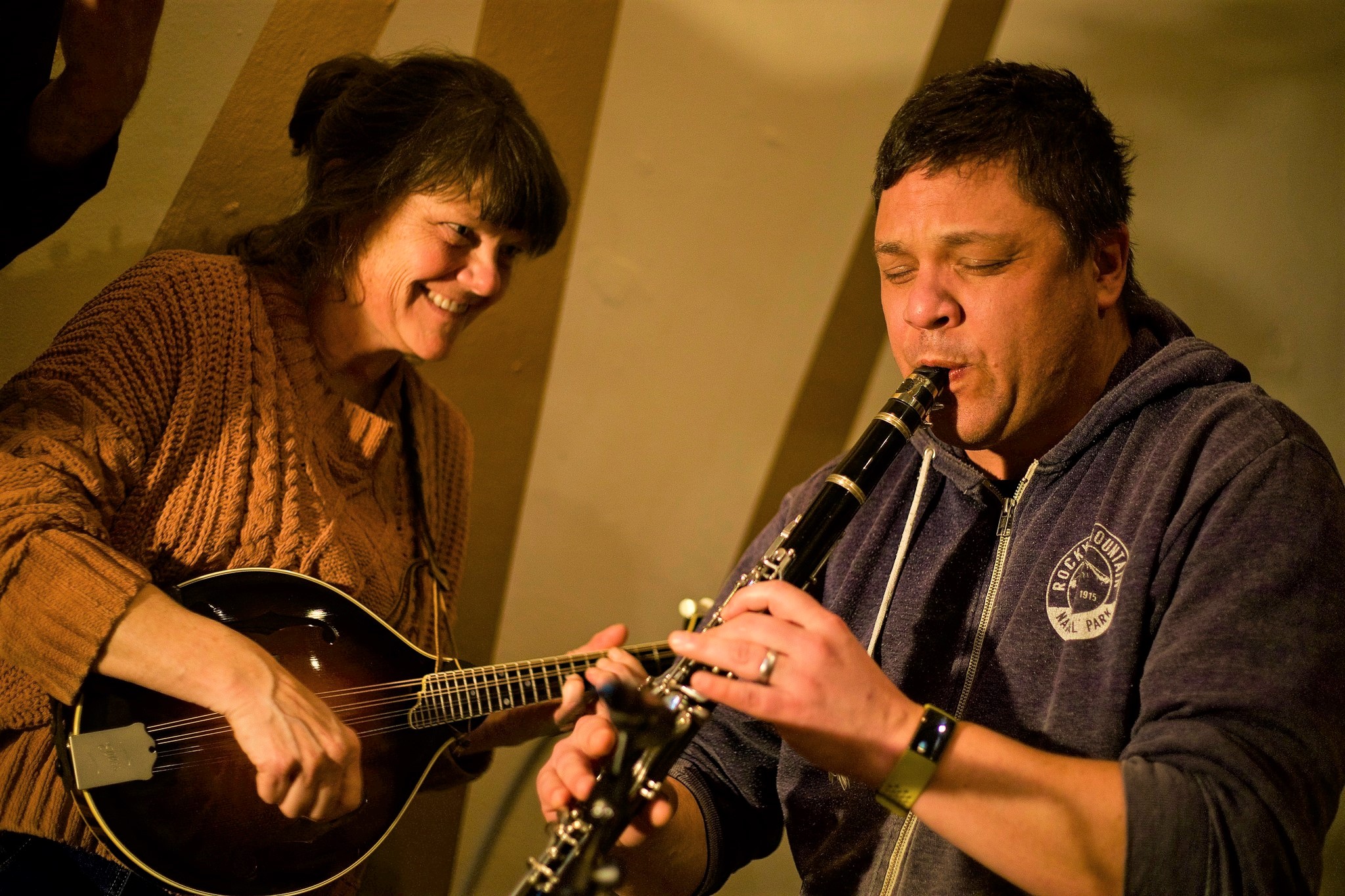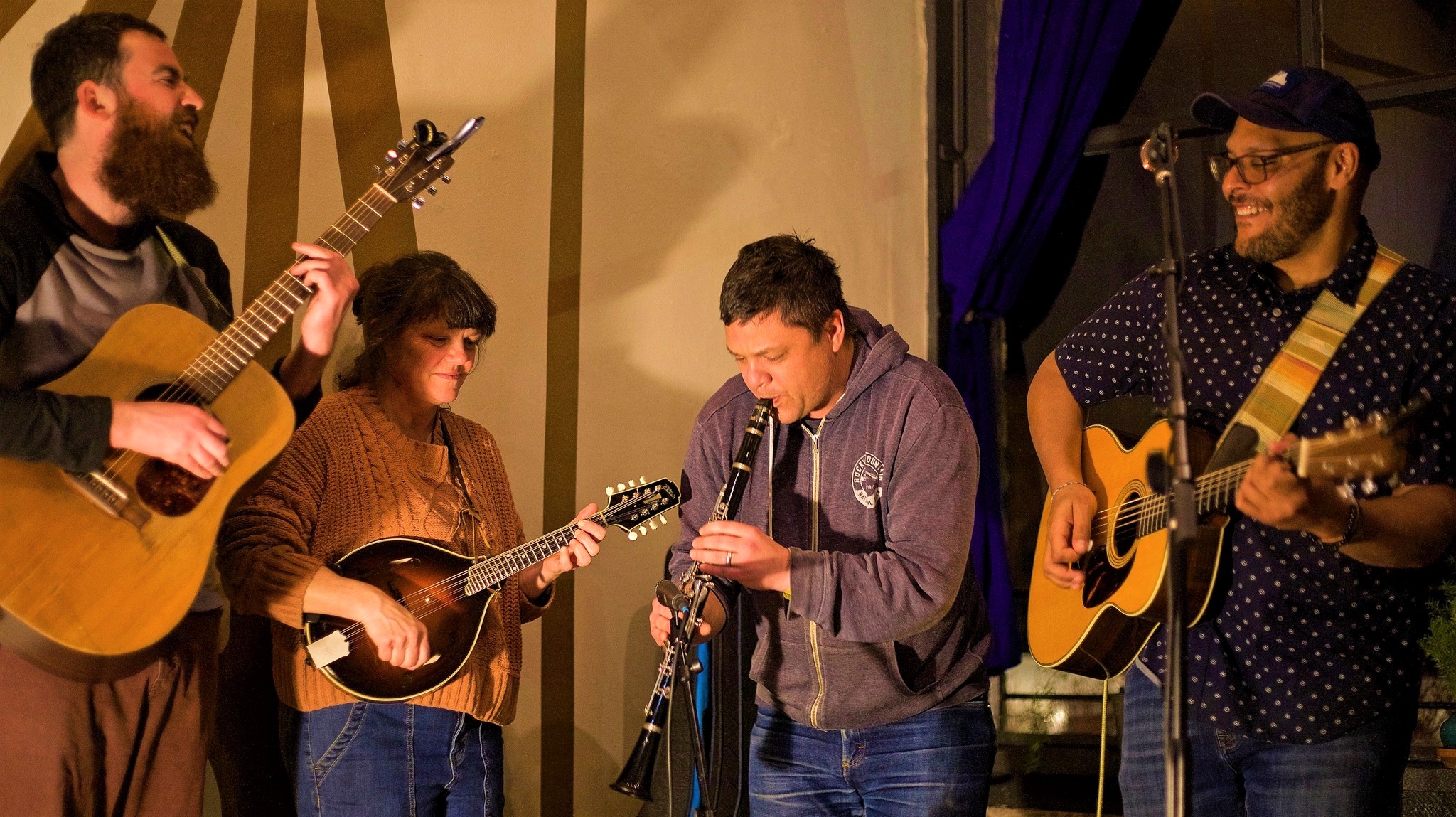 As mentioned, Colorado has this incredible list of known talent, but there is also this enclave of players who don't shine on marquees and billboards, but deliver on an equal level as the famous talent just the same. With an introduction from management from behind the bar, Eric Kean called out to Woods that his "friend Ian Brighton would love to sit-in on clarinet" and with that the trio became a quartet. Woods commented, " Well, this will be the first time I have had a clarinet sit in with me. Let's see where this goes!", and boy, how did it go! Much like Groves, Brighton blew right on in, comfortable and pronounced, and outside the occasional offsetting squeak, not skronk, he contributed as though he had been a fan of Tyree's for a long time, not just having met him through his casual introduction.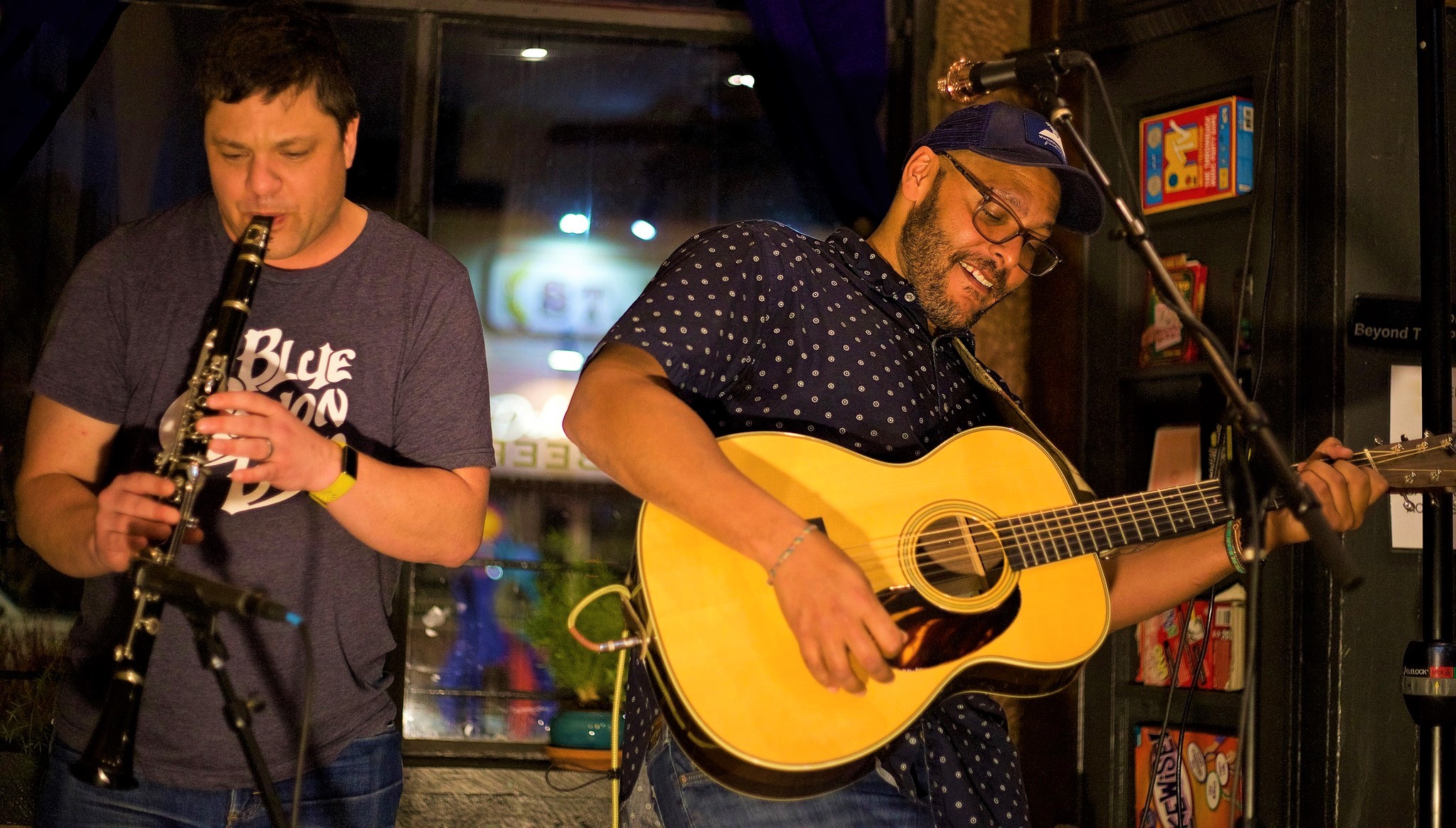 At the close of set one, the room said goodbye to KC Groves and thanked her extensively for her contribution. Those who remained behind continued their conversation and libations, sheltered from the cold bitter night outside the emotionally warmed tavern. Set two offered even more in the way of quality music and continued as a mix of covers and originals, including fan favorites from Van Morrison, The Band, Lou Reed, Tom Petty, The Rolling Stones, and others. The trio continued, and although there were no more surprises, the rest of the night was filled with great chemistry between the players and left everyone on a positive note.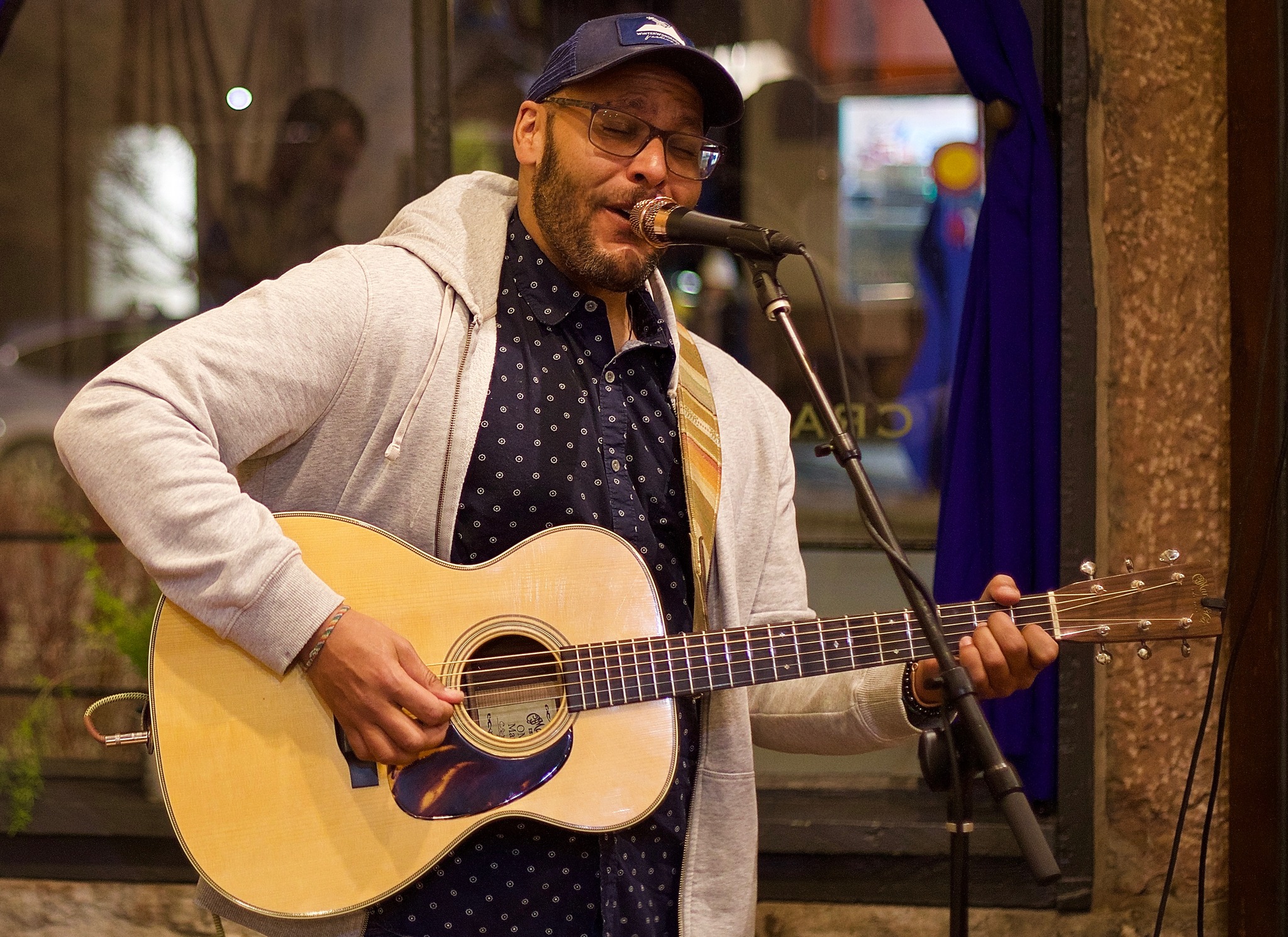 Tyree Woods is quickly becoming yet another go to name of talent in the Rocky Mountain region. Between his obvious songwriting capabilities as well as his stage presence as both solo artist as well as Buffalo Commons frontman, it is easy to see that for music lovers everywhere we will gladly see much, much more out of him and we will take whatever he can give. His distinct voice, stretching from coarse growl to silky soul, demonstrates his originality and passion for this craft he obviously pours his heart and whole body into. His wide smile is akin to that of a kid caught in the midst of fun, unhindered and free, living fully in the moment without a thought of the past or the next thing. His playing is on time and is equivalent to his singing when he stands out front, he gets the attention of everyone around, a reciprocation that hones him in even more to the moment, making the end result a beautiful and satisfying shared experience.