NorCal bluegrass jammers Hot Buttered Rum (HBR) and members of San Francisco's ALO headlined their annual family-oriented fest in the Mendocino County redwoods last weekend. They were joined by Eddie Roberts and his Meters-inspired funk, SoCal reggae roots quintet Arise Roots, jamband up-and-comers Eggy, and a variety of other acoustic and electric stylists that meshed into a seamless musical milieu.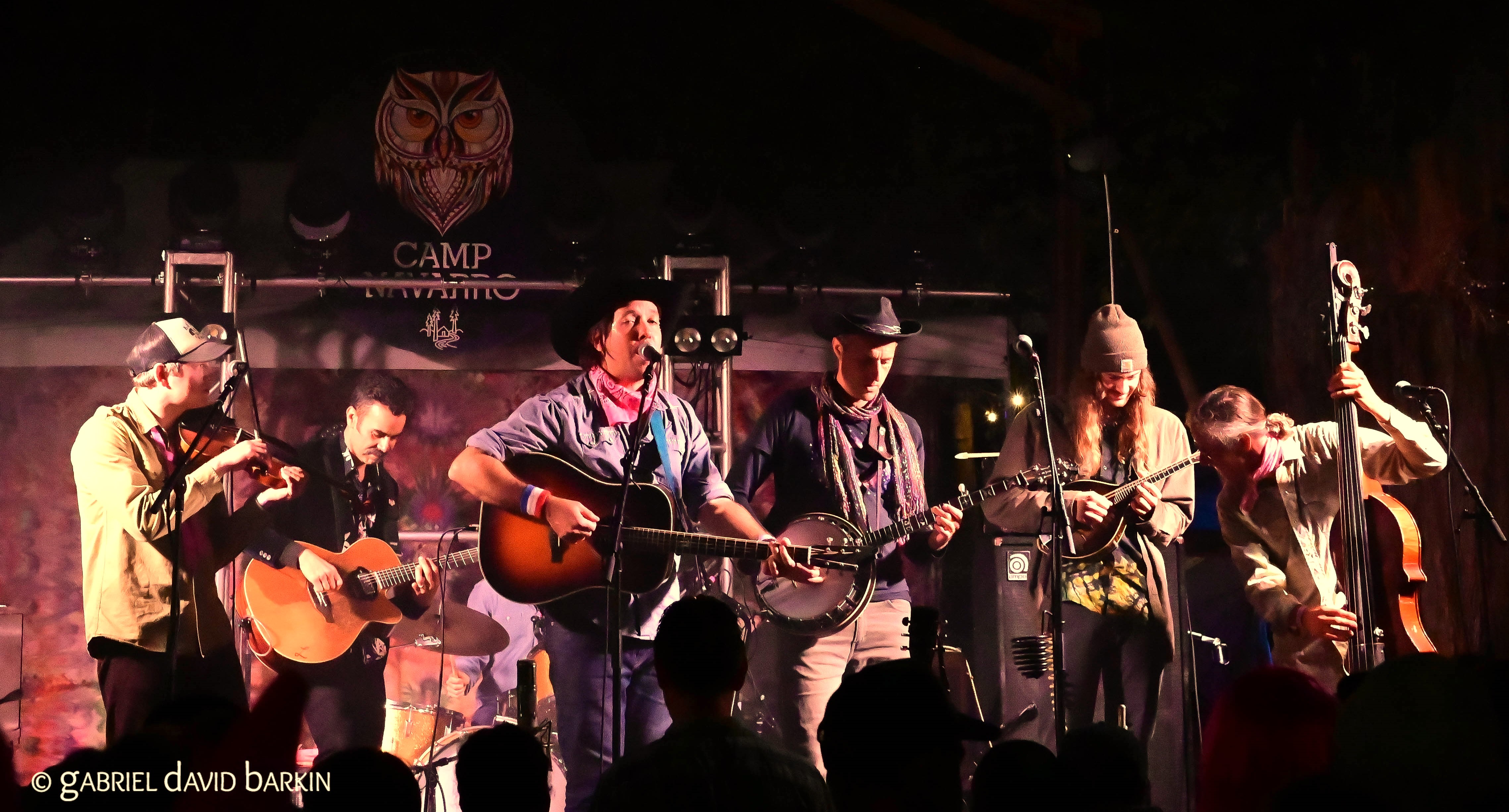 Camp Navarro, a multi-use forest campsite replete with stereotypical camp cabins, tent areas, RV parking, a bonfire pit, and a lodge, had 24 hours to transition from last week's cryptocurrency firm's offsite gathering to become the host for this annual festival. Practically overnight, a jam fest grew in the redwoods.
Camp Deep End (CDE), now in its seventh year, was the brainchild of Camp Navarro owner Dan Braun. Like many beautiful things, CDE was born out of adversity. Following a few difficulties for Camp Navaro under different management, Braun took over the operation of the camp eight years ago. The first CDE, Braun says, "was a party because of all the fucking work I had done to save this place. I wanted to throw a party for the property and for myself."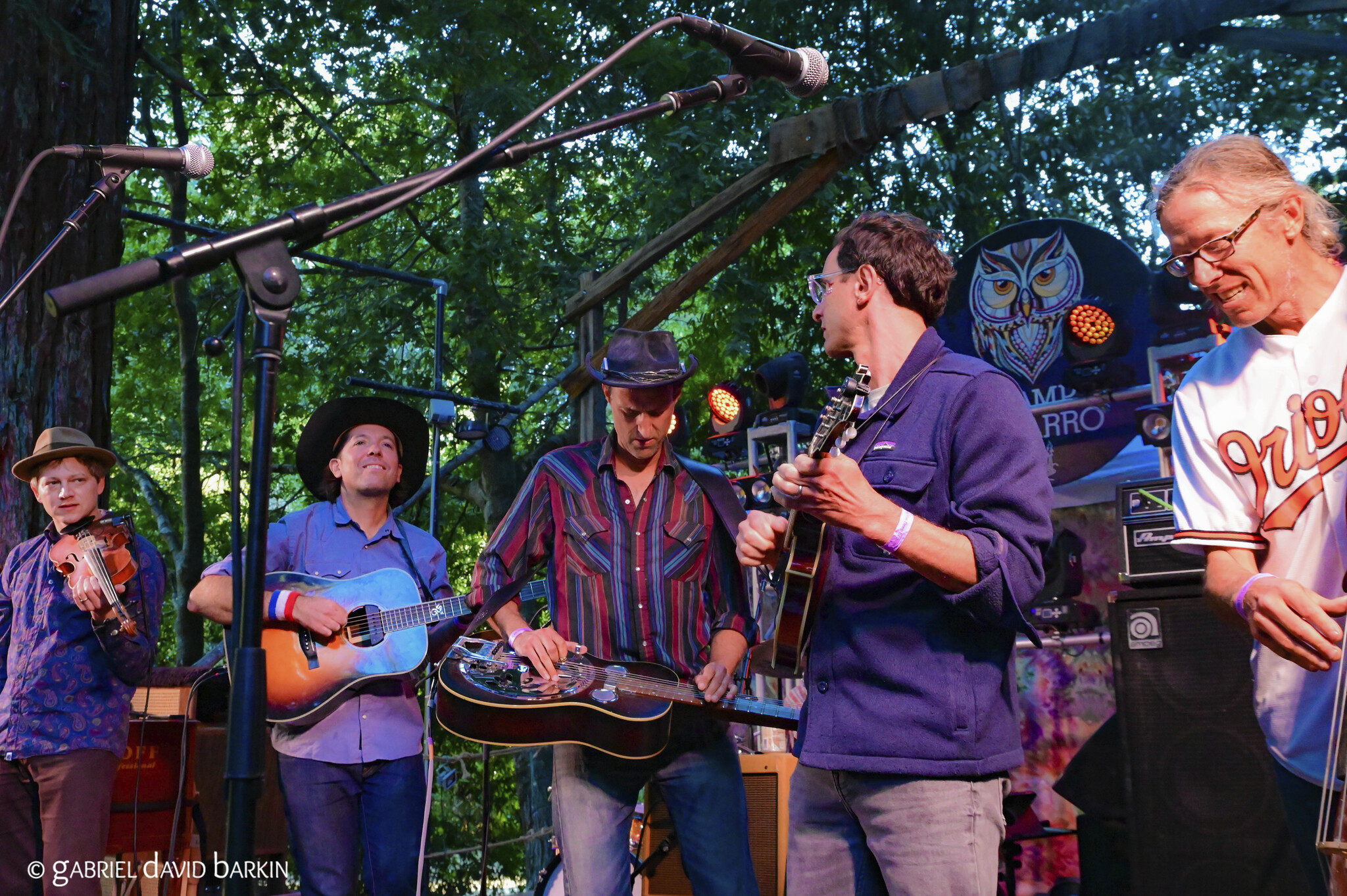 Braun roped in two of his favorite bands right away, calling on ALO (with lots of high-level support from the band's manager Jenna Lebowitz) and HBR, whom Braun had managed for a number of years previously. Nat Keefe of HBR recalls that the inspiration he, Lebowitz, and Braun drew upon was to create "a tradition that we would raise our children in, where we could have PG days and R-rated nights." He added, "We wanted a place to have our bands do our things with their nearest and dearest and the next circle out of our nearest and dearest. And we didn't want it to be a Bonnaroo."
With only slightly north of 400 tickets available each year, CDE is no Bonnaroo! CDE is an intimate, family affair. Musicians camp out and wander the grounds in awe of the redwoods just like everyone else, and children cavort and frolic safely and freely.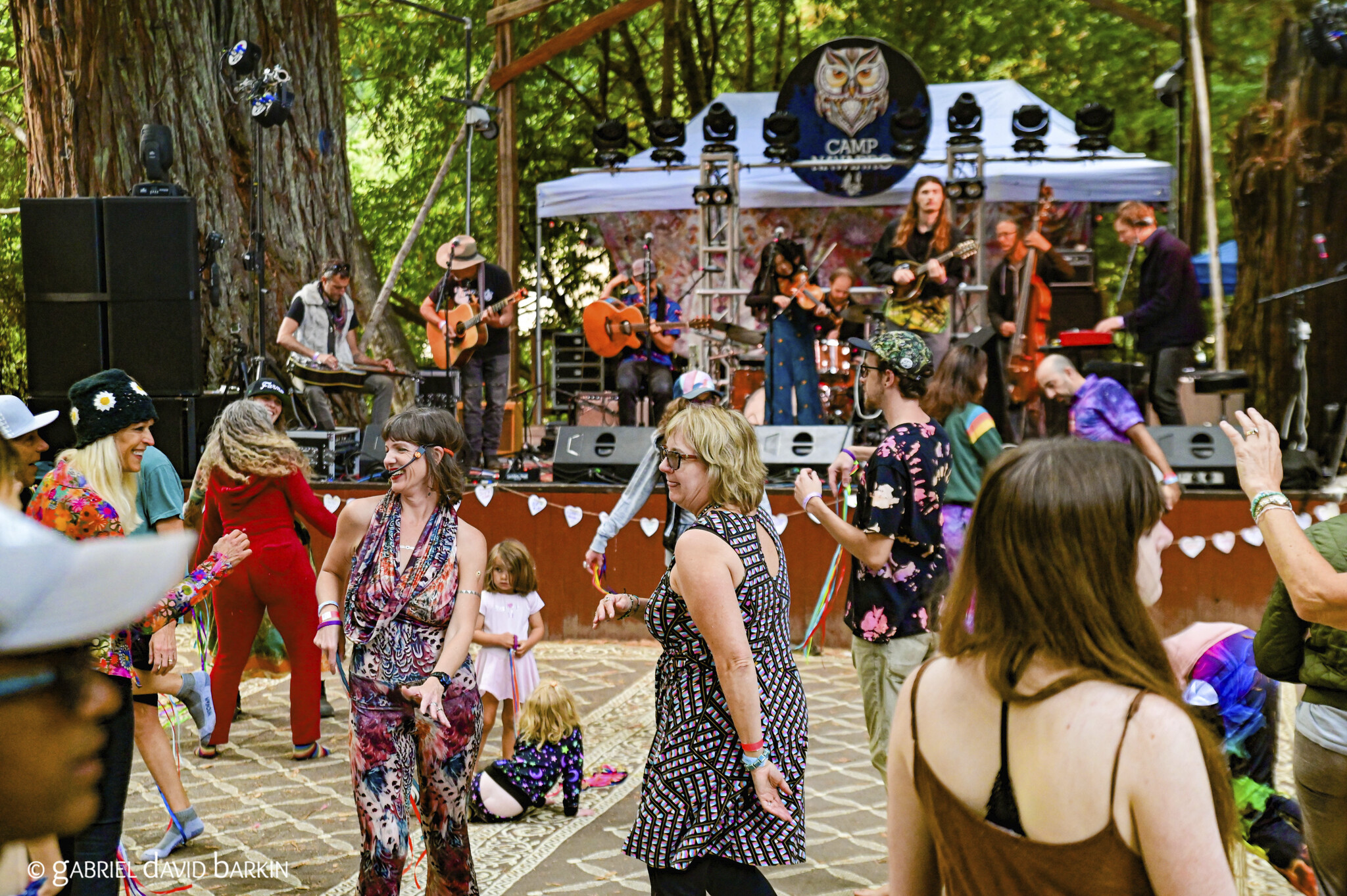 The festival name, "Camp Deep End," is derived from "Boontling" lingo, a dialect of jargon from nearby Boonville that dates back to the 1890s (Google it). "Deepend" was the nickname given to the western end of the Anderson Valley, an area that Braun says was known in days of yore as the abode of "the freaks" who were ostracized throughout the rest of the valley True to form (and not unlike a million other jamband festivals), many Deep Enders wear freaky stuff, like glittery face paint and fuzzy rave jackets – and there is a plethora of "Loveguard" pins made by a CDE lifer. Saturday evening was aglow with pink to celebrate "Ken and Barbie Night."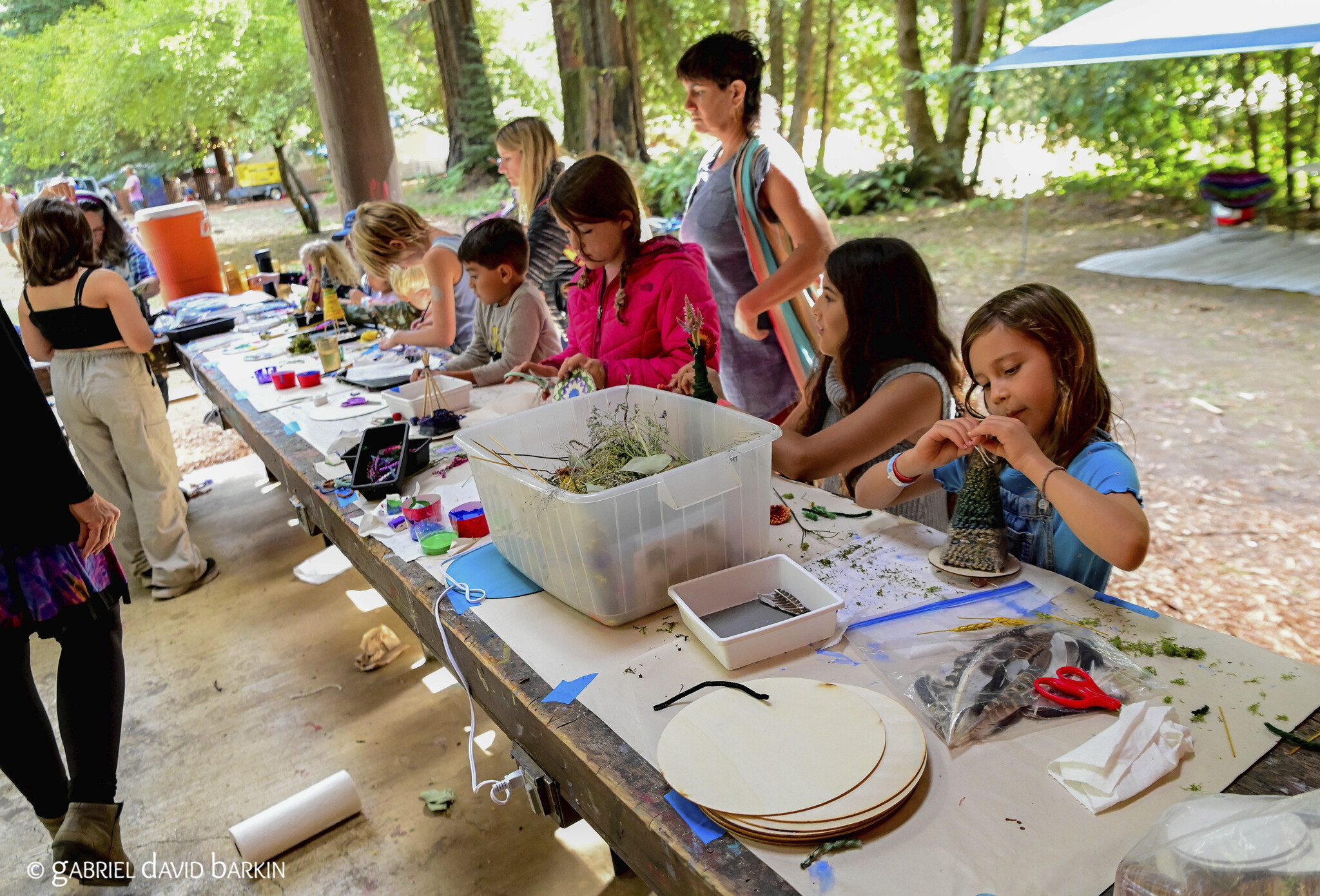 It's freaky, but it's also about family. As I write this on Sunday morning at CDE, seven or eight kids aged perhaps three to six are eating breakfast together on a redwood bench near the lodge. I'm sure their parents are nearby, but nobody feels like they need to hover over their children here; it's an incredibly safe space built for children to enjoy themselves as much as adults. Kids partake in arts and crafts sessions, line up for a climbing wall, and snarf down s'mores around the bonfire. Some tots and teens dance in the front row during musical sets. Others probably don't even realize there is a music fest happening at their mid-September summer camp.
But of course, there is music. Braun books a wide variety each year, not just bluegrass and jam. "It's my job to find amazing artists who will appreciate the setting. You can't fit a circle into a square. They have to get this."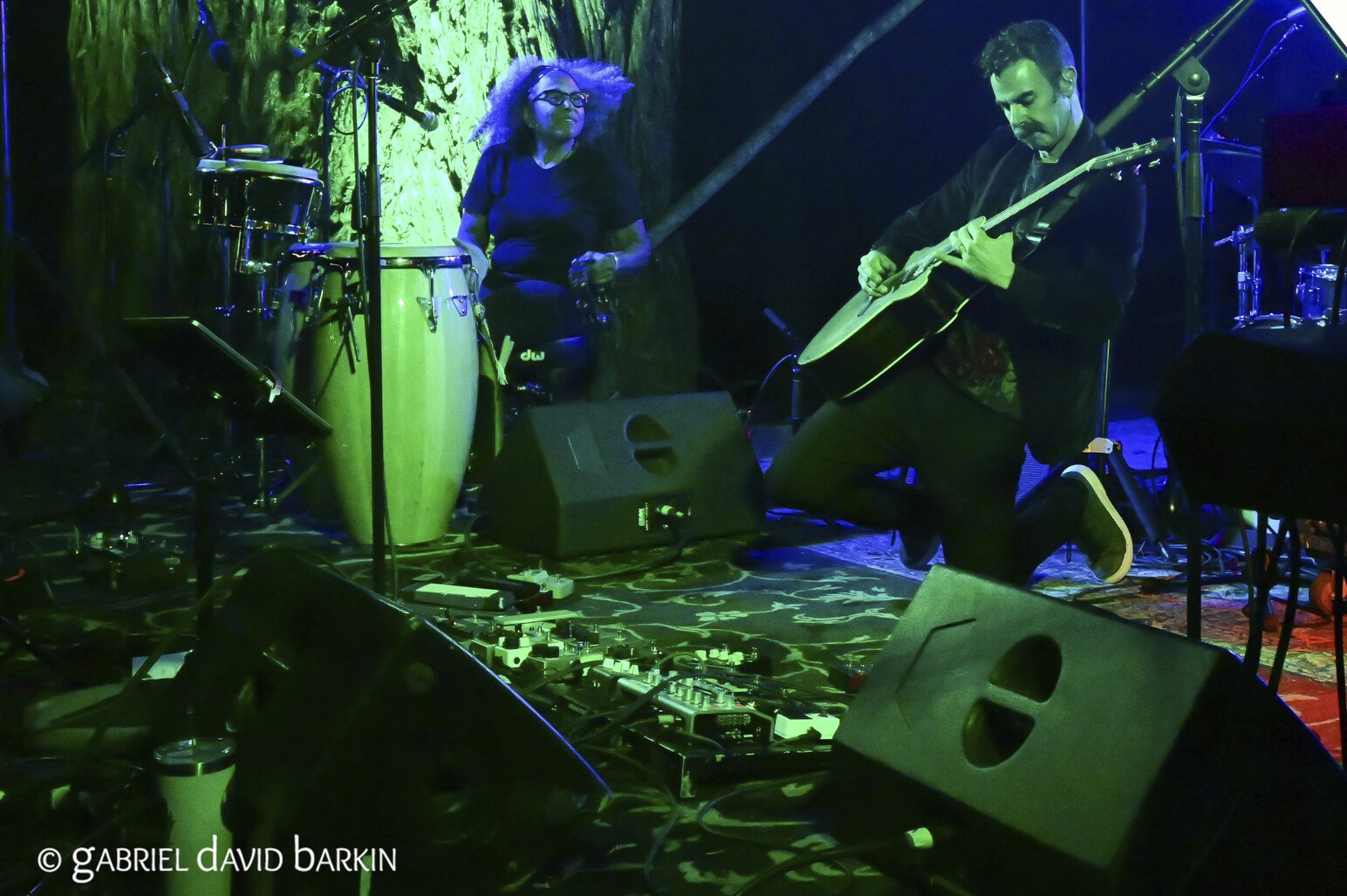 ALO and HBR always provide anchor performances at CDE. Typically, one or the other band will close the main stage on Friday and Saturday. This year, ALO sent three members to camp. (Dan "Lebo" Lebowitz on guitar, Steve Adams on bass, and Ezra Lipp on drums. Keyboard player and singer Zach Gill was caravanning around the world with some guy named Jack Johnson – perhaps you've heard of him?) Trevor Garrod on keys and vocals (Tea Leaf Green) and Vicki Randle on percussion and vocals (The Tonight Show, Aretha Franklin, Mavis Staples, etc.), joined the ALO threesome for a Friday night set that gave everyone on stage a chance to share a few of their own songs.
Lebo also jumped on stage with, well, almost everyone at one point or another.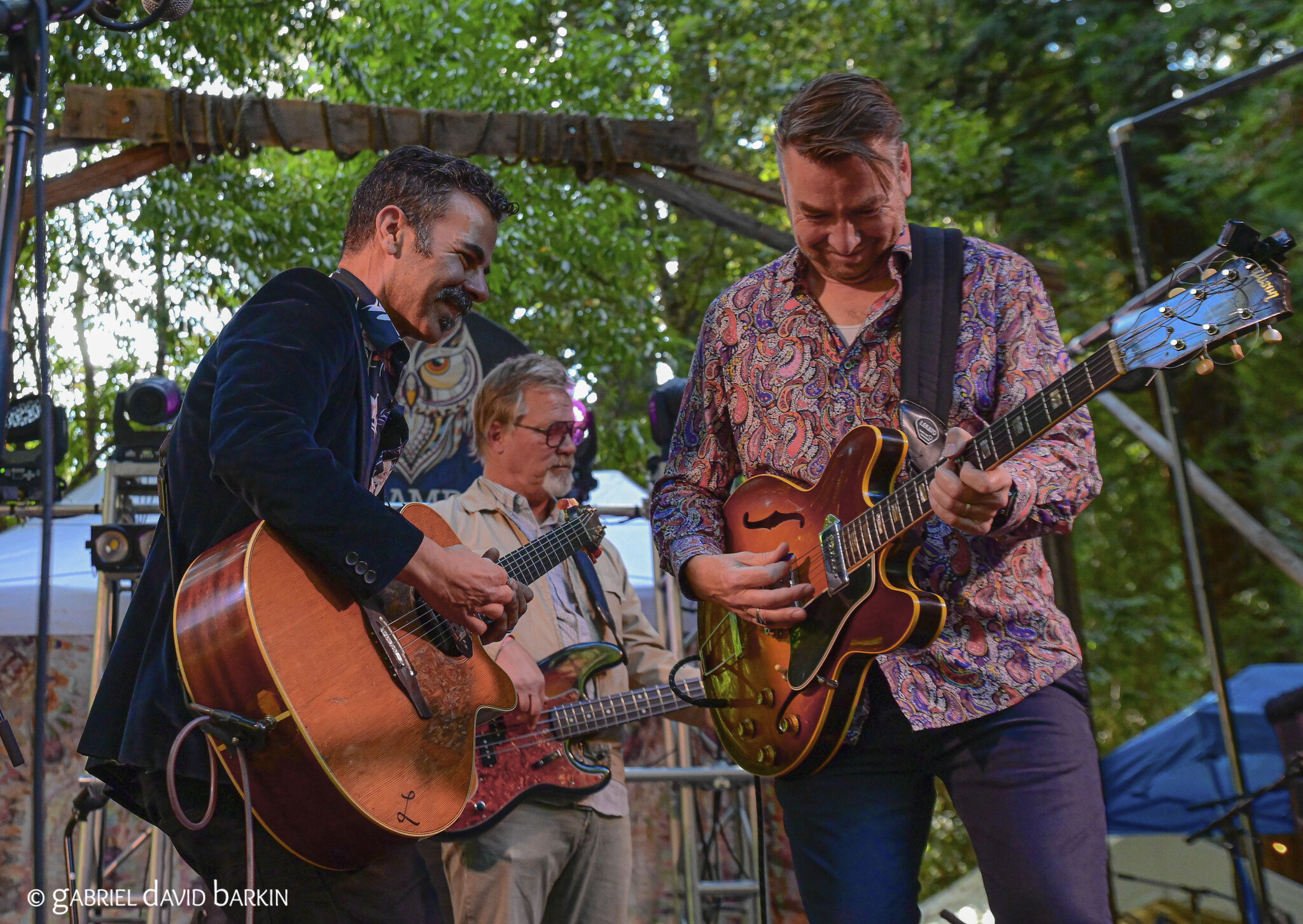 HBR was also everywhere, including two main stage sets over two days and yet another set in the small redwood-ringed amphitheater. Their six-man ensemble often grew, with guest appearances by Lebo, Roberts, and several young pickers from Broken Compass Bluegrass and Sicard Hollow.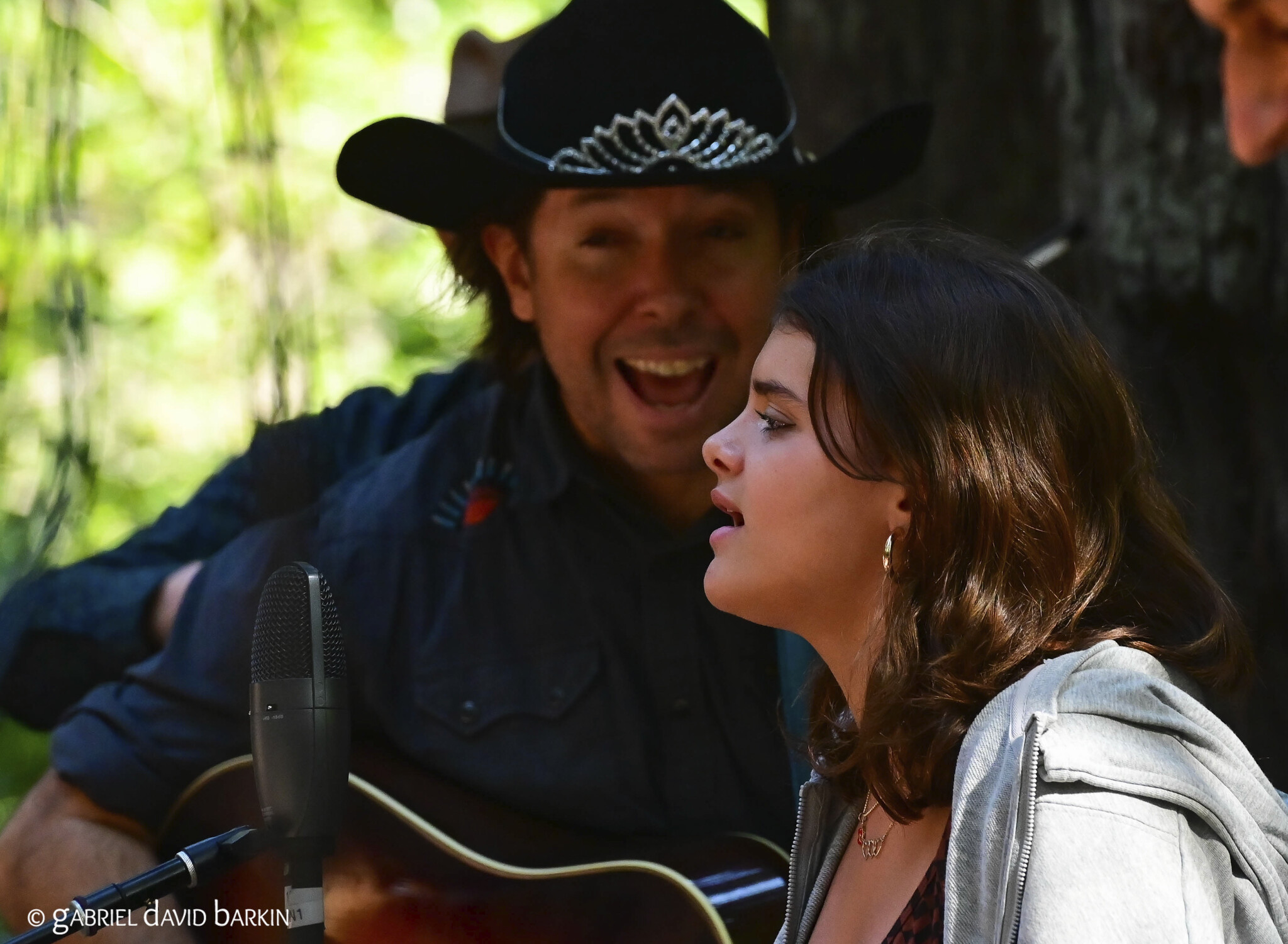 For many attendees, the standout performance during HBR's sets this weekend was when Maysa Jane Carper, the 12-year-old daughter of CDE alum Bo Carper (New Monsoon, Fog City Ramblers) joined her musical uncles for a song. A star was born in the amphitheater on Sunday afternoon as Carper gazed to the heavens to sing Chris Stapleton's "Tennessee Whiskey."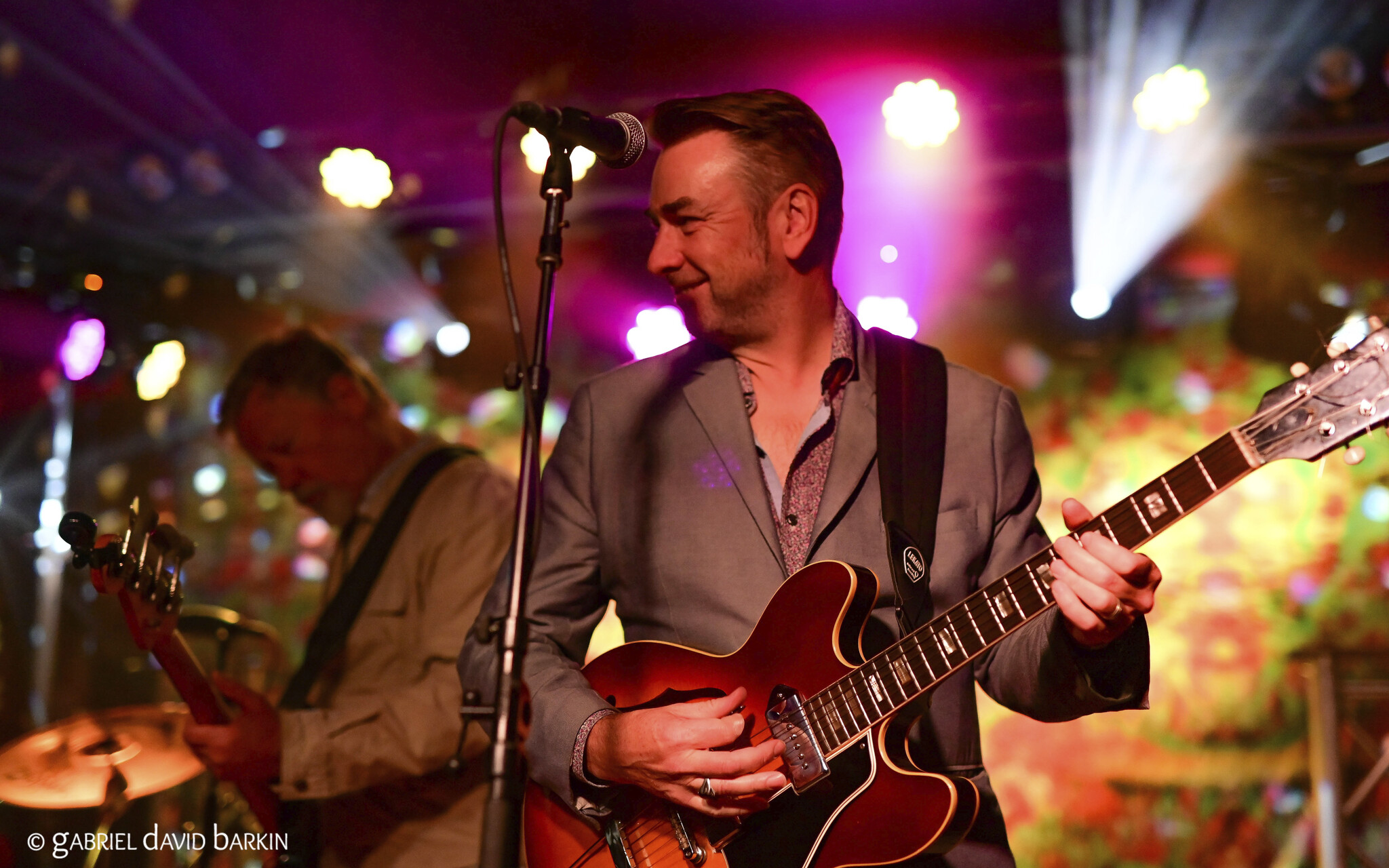 For his late-night set in the lodge on Friday, Eddie Roberts (The New Mastersounds) was joined by Adryon de León on vocals (Orgone), Chris Spies on keys (Honey Island Swamp Band), and the rhythm section from The Greyboy Allstars (Zak Najor on drums and Chris Stillwell on bass). de León killed it on the Rufus with Chaka Khan hit "You Got the Love." Roberts and Spies gave a master class in funk leads.
Roberts' Saturday daytime main stage set was sans singer de León, but Roberts came to the mic for the Isely Brothers classic "Who's That Lady" to close the set. Prior to that, Roberts and Lebo traded licks "Guitarmagedden style" while Najor and Stillwell laid down the heavy beats that have made them de facto demigods on the funk and jam circuit.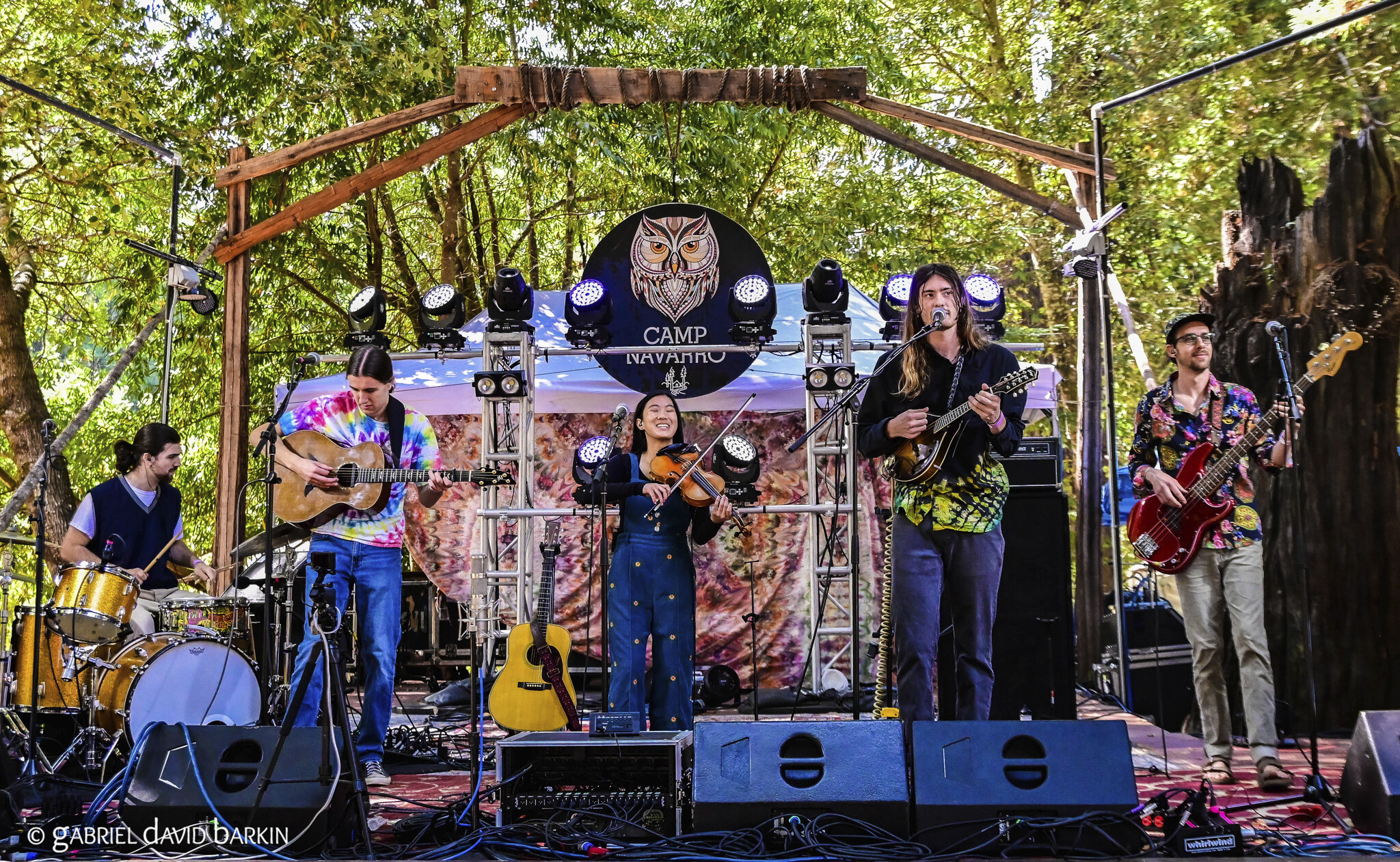 Broken Compass Bluegrass (Kyle Ledson on mandolin and guitar, Django Ruckrich on guitar and mandolin, Mei Lin Heirendt on fiddle, and Sam Jacobs on bass; everyone sings) is a CDE favorite. Ledson has attended and played at every CDE, starting when he was thirteen. "[CDE] is so chill. I feel like this is rejuvenating. A lot of festivals, I get a little tired afterward, as great as they are, but this one, I feel energized. The redwoods are the best part!"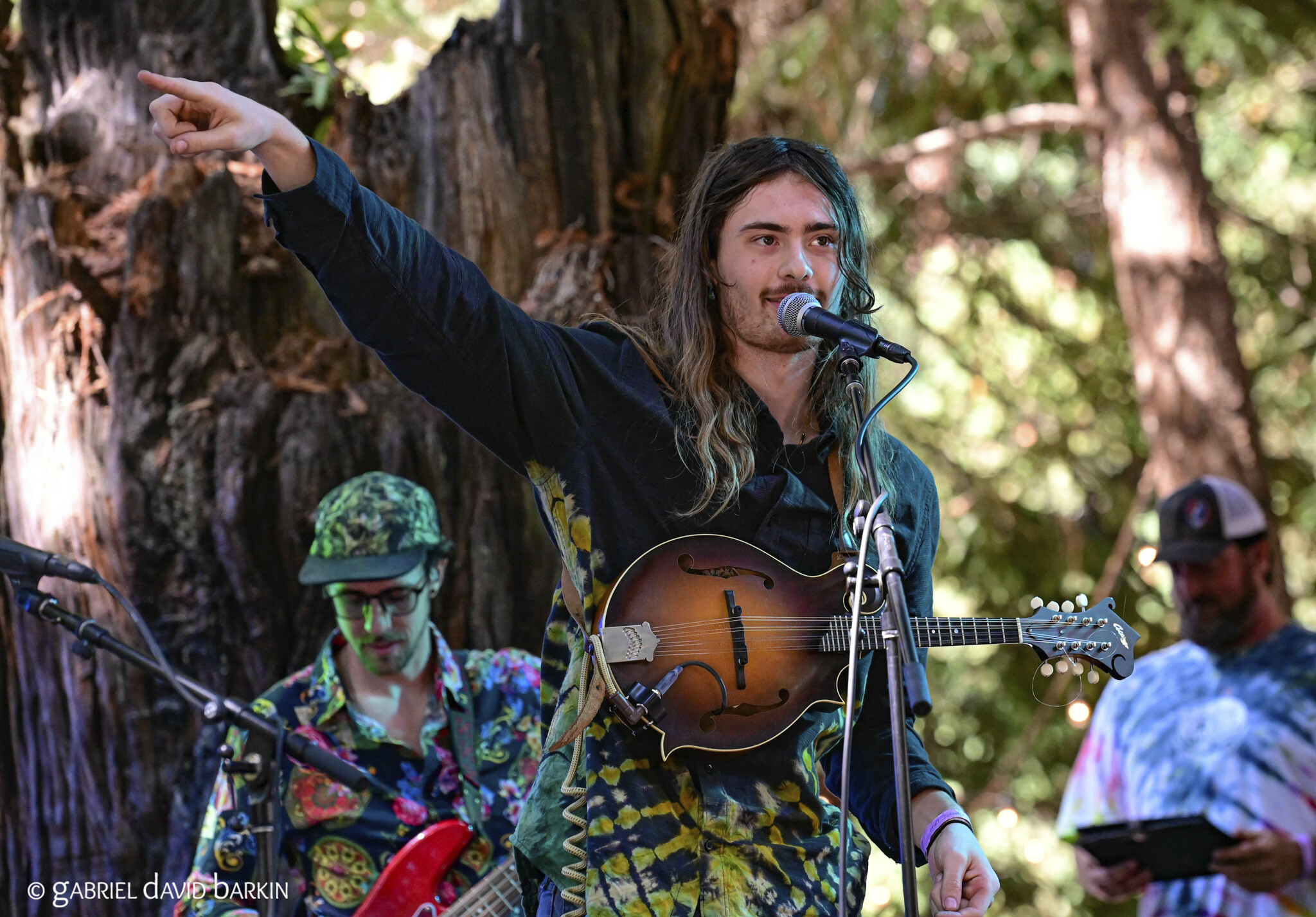 Together and also in ones and twos, Broken Compass was everywhere at CDE, from an evening amphitheater set to bonfire jams to guest appearances with pretty much everyone else all weekend long. They added a drummer, Aidan Steckley, for their main stage set on Saturday afternoon – his second (and if success is a measure, not his last!) appearance with Broken Compass.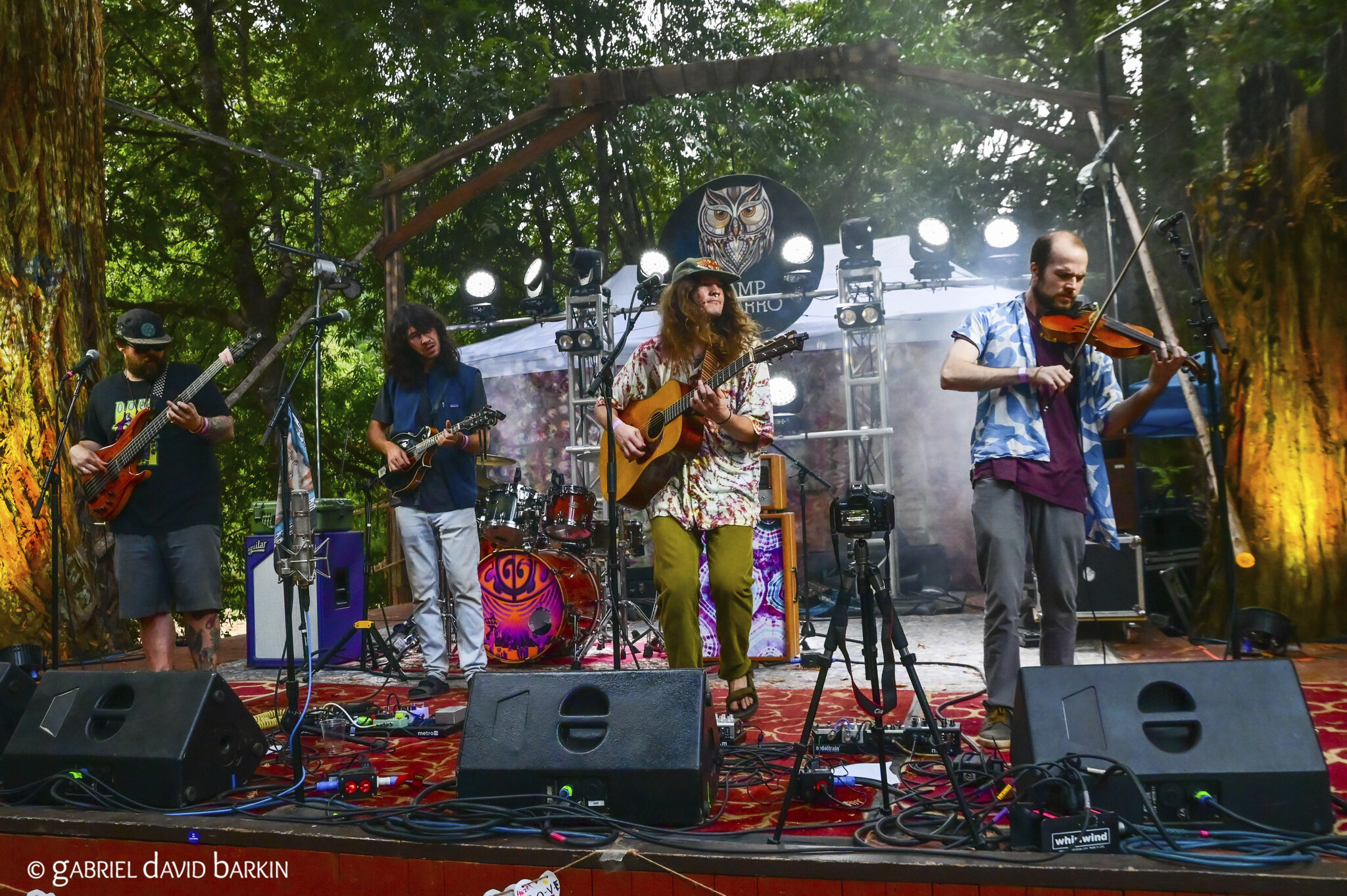 This young collaboration is among a slew of California string band upstarts, along with Molly Tuttle, AJ Lee and Blue Summit, Crying Uncle, and many others, who have created a new epicenter of bluegrass in Northern California. Sicard Hollow guitar player Alex King praised the Broken Compass string players when he told the campfire jam crowd one night, "Seriously, we even live in Nashville, and we don't have pickers like these guys where we live!"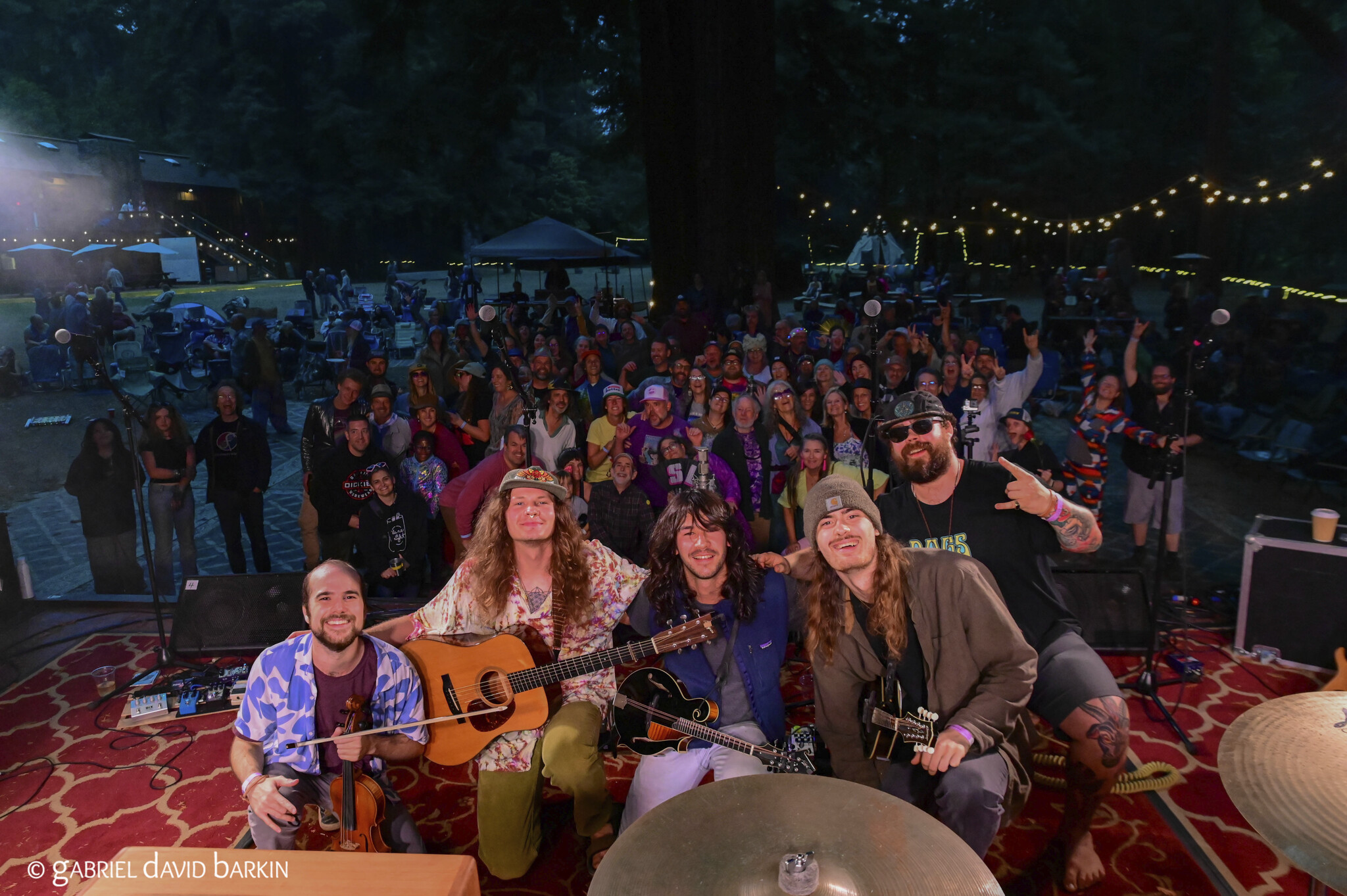 Sicard Hollow (King on guitar and vocals, Will Herrin on mandolin and vocals, Matt Rennick on fiddle, and Parrish Gabriel on bass) are no slouches either. With punk-rocky, often frenetic bluegrass (see "Turtles, Trampled By," and then add a heavy dash of early Meat Puppets), their own high-energy sets in the amphitheater and on the main stage made many new fans for these young Tennesseans. Like Broken Compass, the Sicard Hollow pickers made frequent guest appearances with many other acts throughout CDE.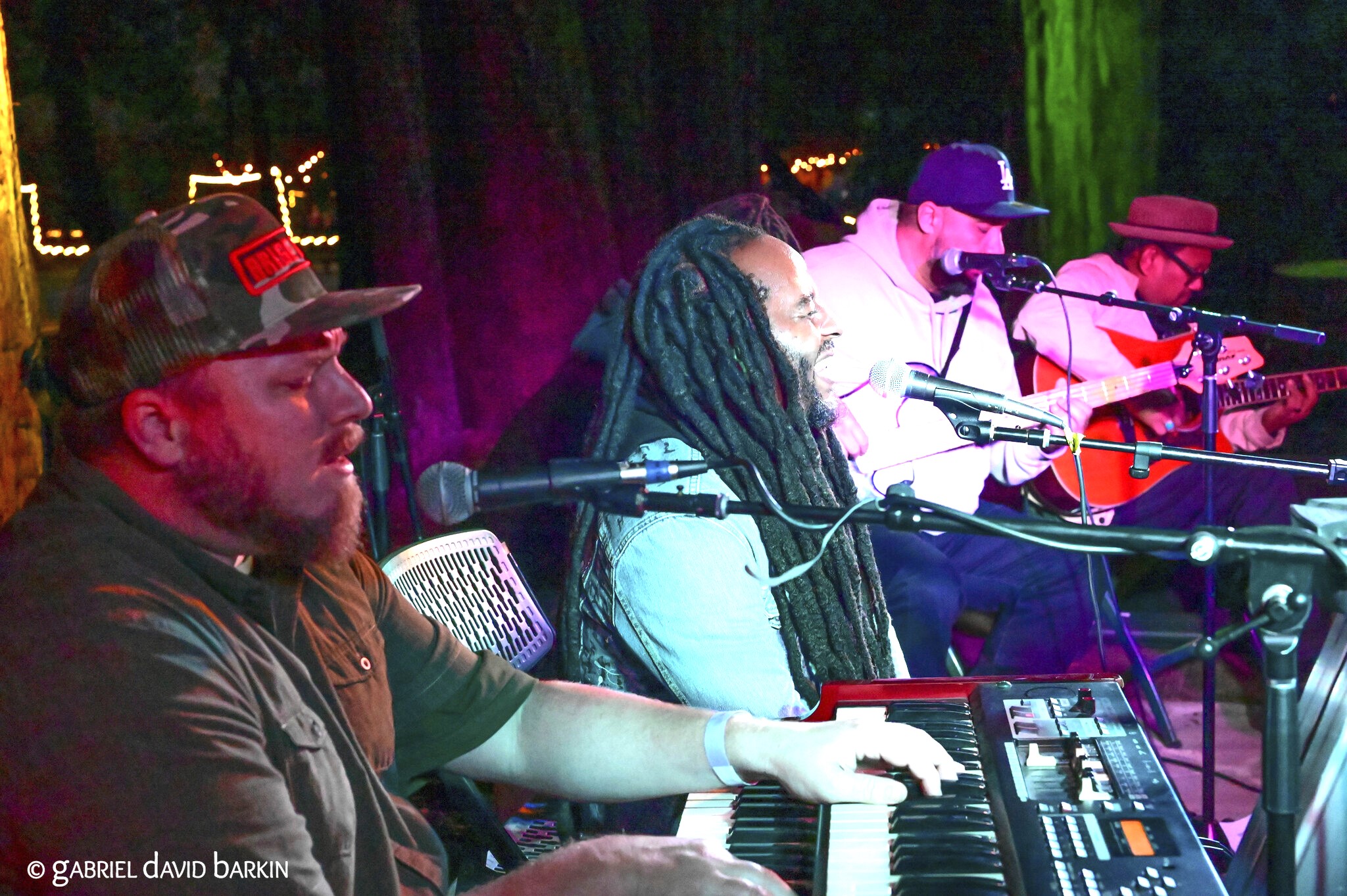 Arise Roots made their first CDE appearance on Saturday night in the amphitheater. Their conscious roots reggae was a hit with the crowd. At the request of Braun, their evening set was a semi-acoustic affair. "We don't usually play acoustic," said Karim Israel. Under redwoods lit with soft stage lights, it felt like they'd been doing this their whole lives. Arise Roots also played a full electric set on Sunday afternoon, closing with legendary roots band Black Uhuru's "Sinsemilla." Israel felt the warmth of the redwoods and the love of the CDE family, and he told the audience, " I feel like this place has got into me now. I gotta come back!"
Making its first appearance at CDE (and really, only its second appearance ever, aside from a few smaller, dry runs) Patrick Ball's "Field of Flowers" art-and-sound installation blossomed in a field adjacent to the main stage. Ball described the installation this way: "Our software tells the flowers, 'Make a pretty sequence of colors!' We create a wave of color that washes across the field, and we coordinate it with sound. The lights and sound move around the field in a way that creates a sense that things are blowing or sloshing around you."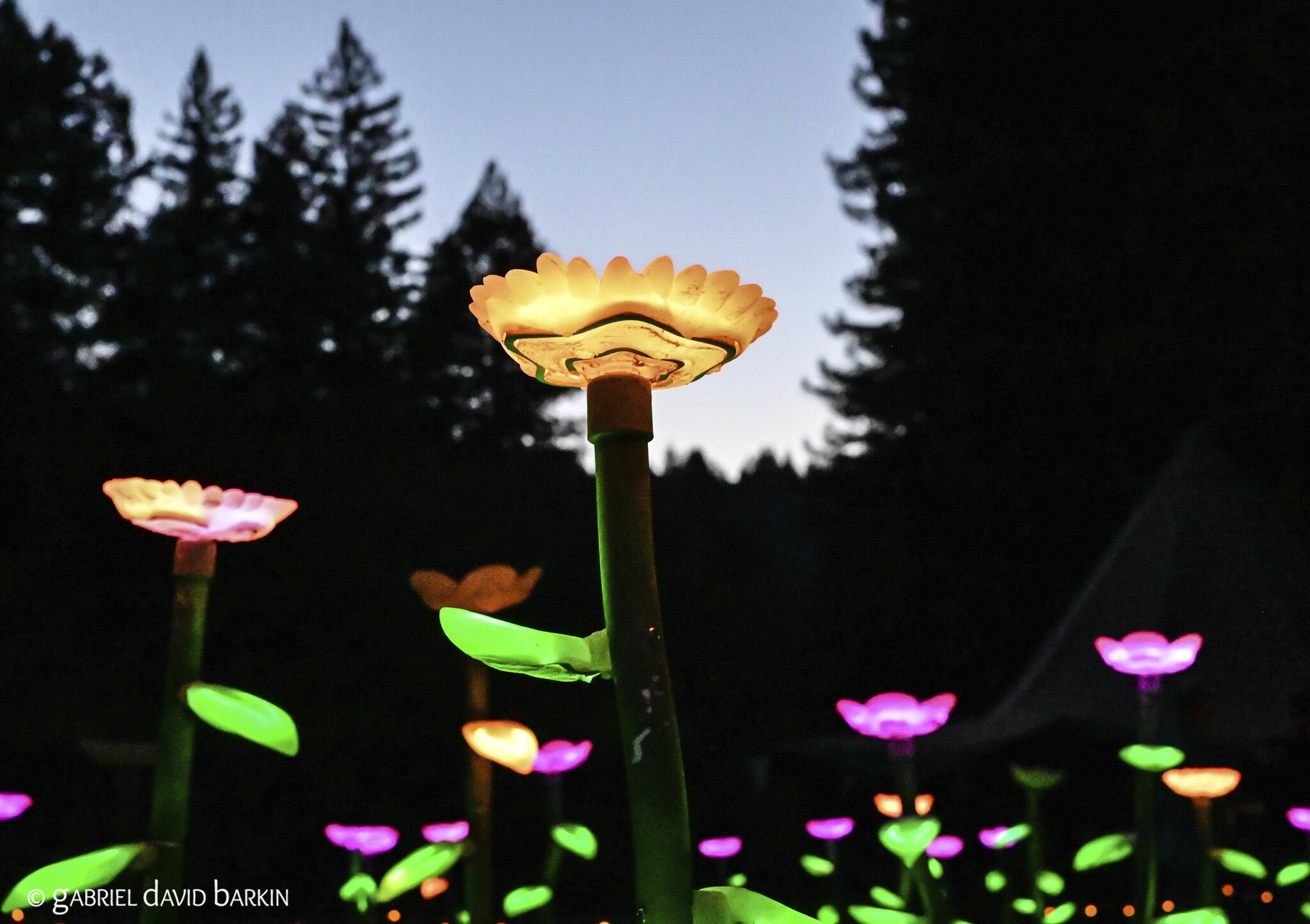 Nat Keefe of HBR, who composed and recorded sound suites for the project, DJ'ed a "live" set, accompanied by Ball on "Flowers," late Saturday night. Bizarre and sort of ominous Oohs and Ahhs emanated sporadically from the talking flowers, and also from the campers wandering through the field.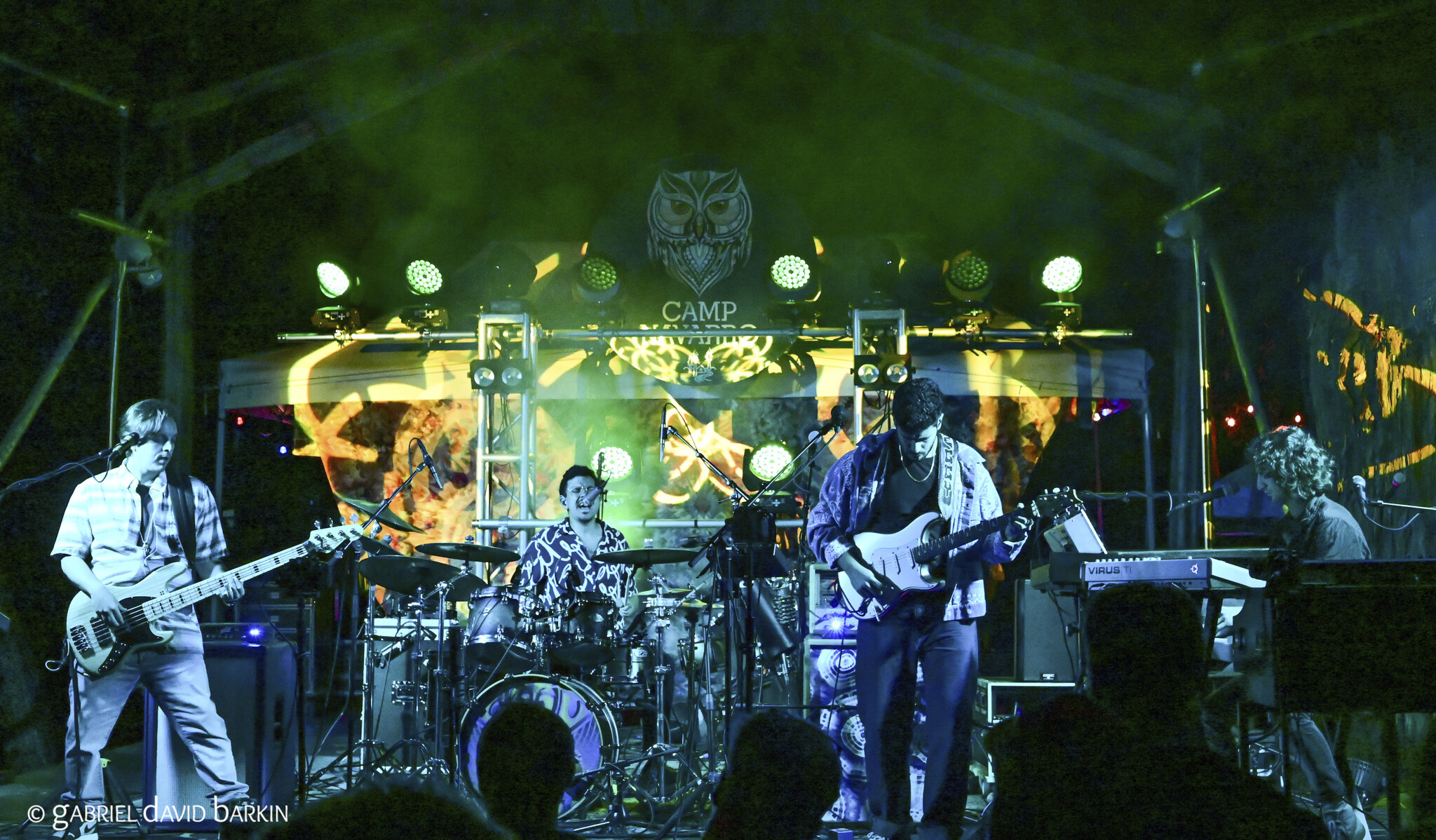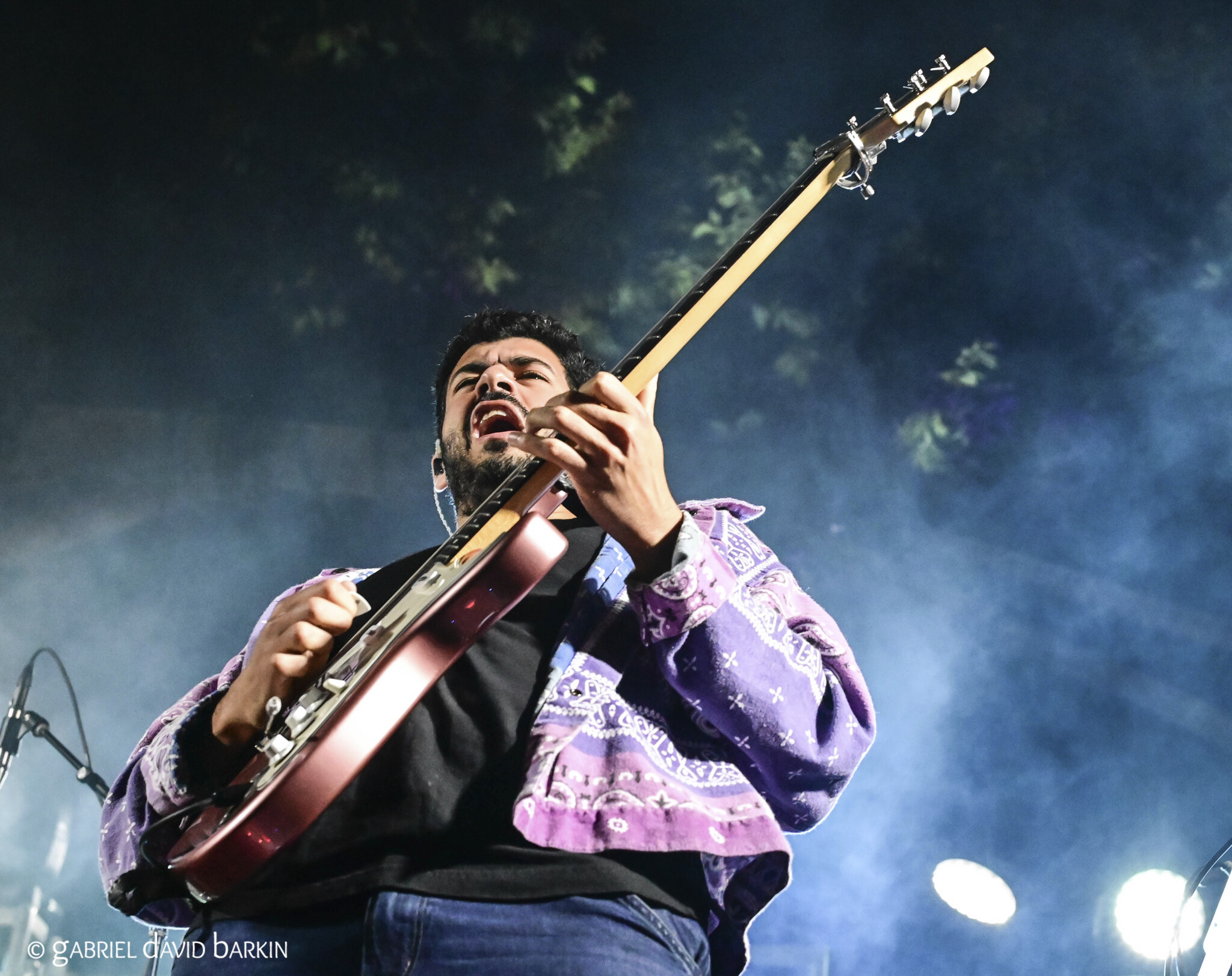 Eggy made waves too. The Connecticut jammers (Alex Bailey on drums and vocals, Jake Brownstein on guitar and vocals, Mike Goodman on bass and vocals, and Dani Battat on keys and vocals) added some Grateful Dead and CSNY songs and snatches to their setlist, but their originals shine even brighter. Brownstein and Battat soloed tastefully in both their late-night lodge set and main stage appearances, with long jams building from melodic riffs to well-crafted jamband frenzy. As one of this year's jamband "flavors of the month," Eggy showed promise of a long festival career to come.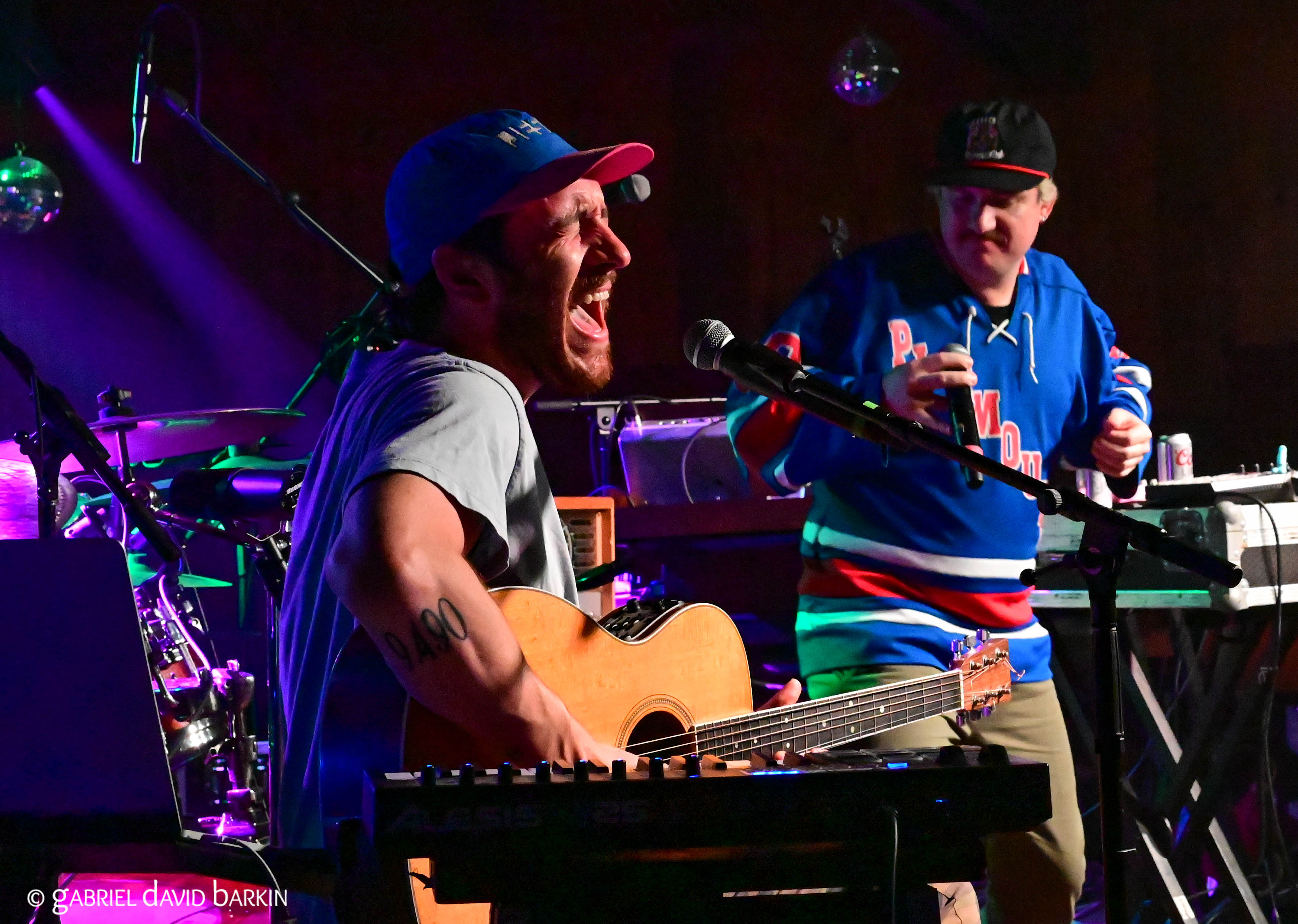 Philly's Little Stranger brought the smoke-filled house down in the lodge during their late-night set. The light-hearted hip-hop duo's rendition of Sicard Hollow and their own "Coffee and a Joint" was a highlight. This song might be part of the "R-rated" CDE experience Keefe was talking about, but at least one tot was swaying in her mother's arms while the crowd sang along with the anthemic refrain. Little Stranger also covered Gorillaz' 2001 hit "Clint Eastwood" (with a sample of the chorus from Beck's "Loser" in the middle) for a Gen X singalong.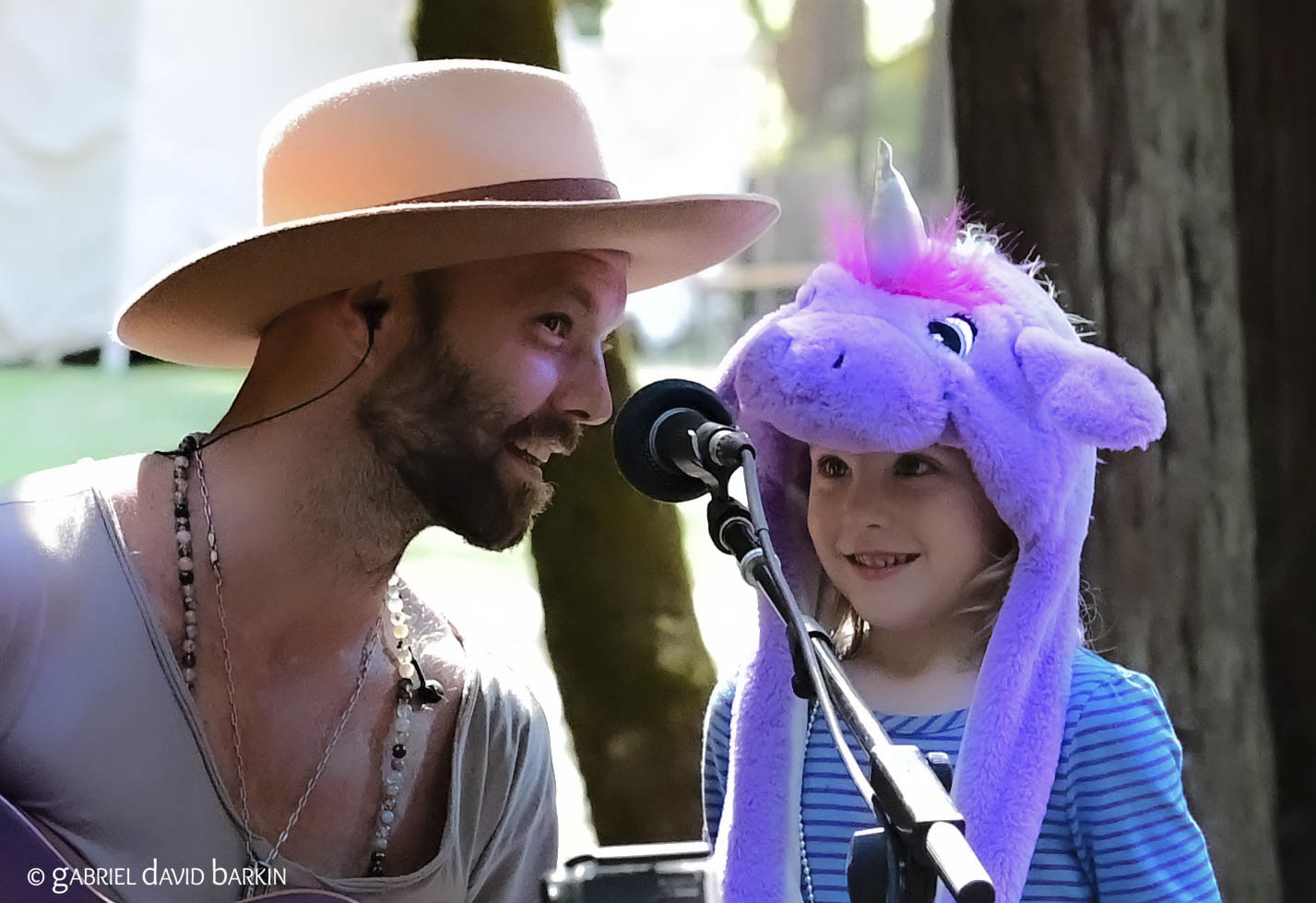 Samuel J, from Cornwall, England, brought a serious love-fest'y new-age vibe, but he also got the crowd laughing and singing along to his soulful originals. He once asked for a volunteer camper with gym class experience to lead the seated audience in a mid-set stretch session. But a young purple unicorn named Hana (I think she's four or five?) stole the show, dancing solo in front of the amphitheater stage for the entire set. In conversation, Samuel J praised CDE: "I've been overwhelmed by the whole vibe of this, all the people here and how loving everyone is."
Mikaela Davis brought her harp and a four-man band to deliver her own brand of folk-inspired rock. Her Sunday set of Grateful Dead covers in particular was a crowd-pleaser. The familiar tunes were given new life by the ethereal addition of Davis's harp and her softly strong vocals.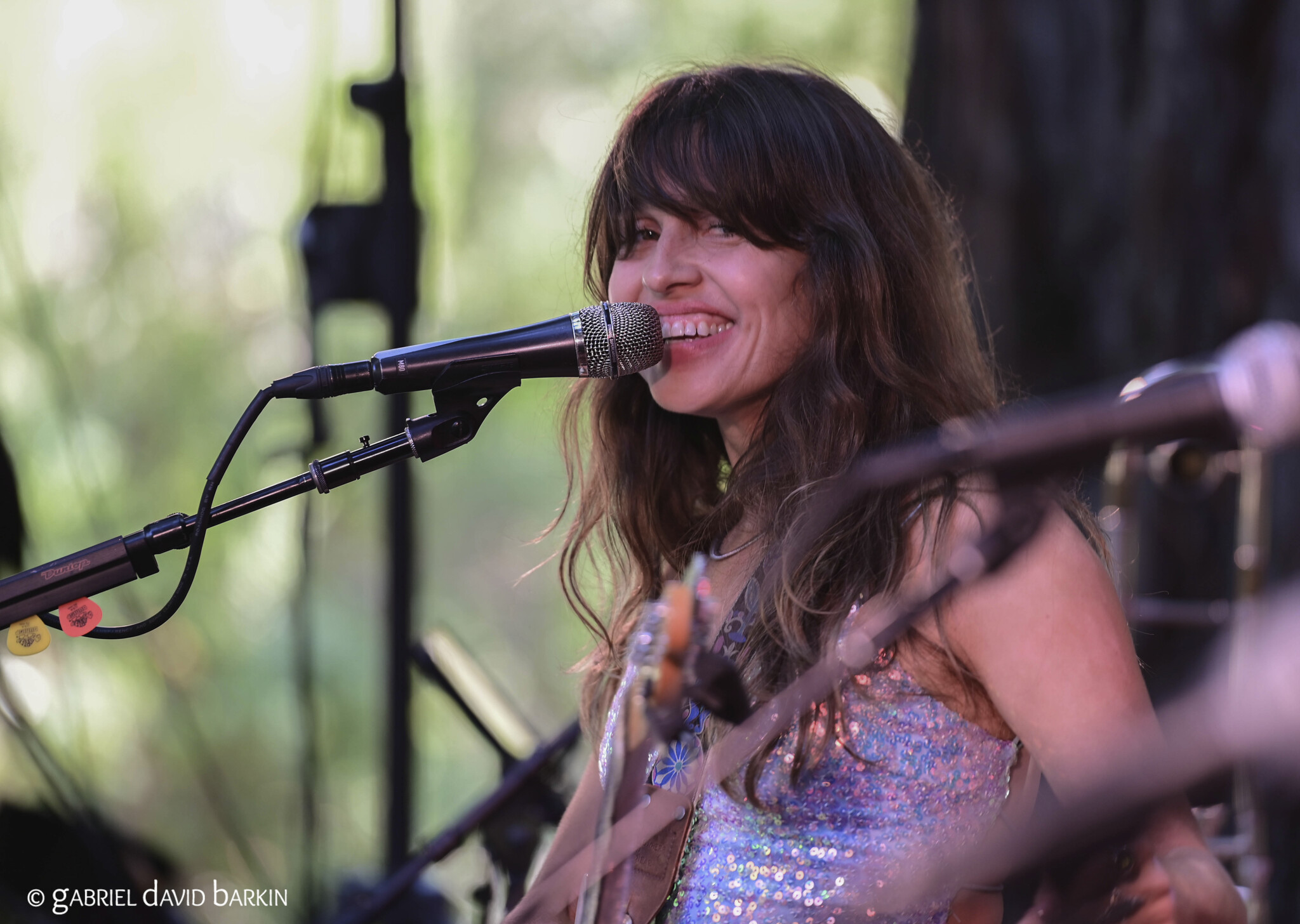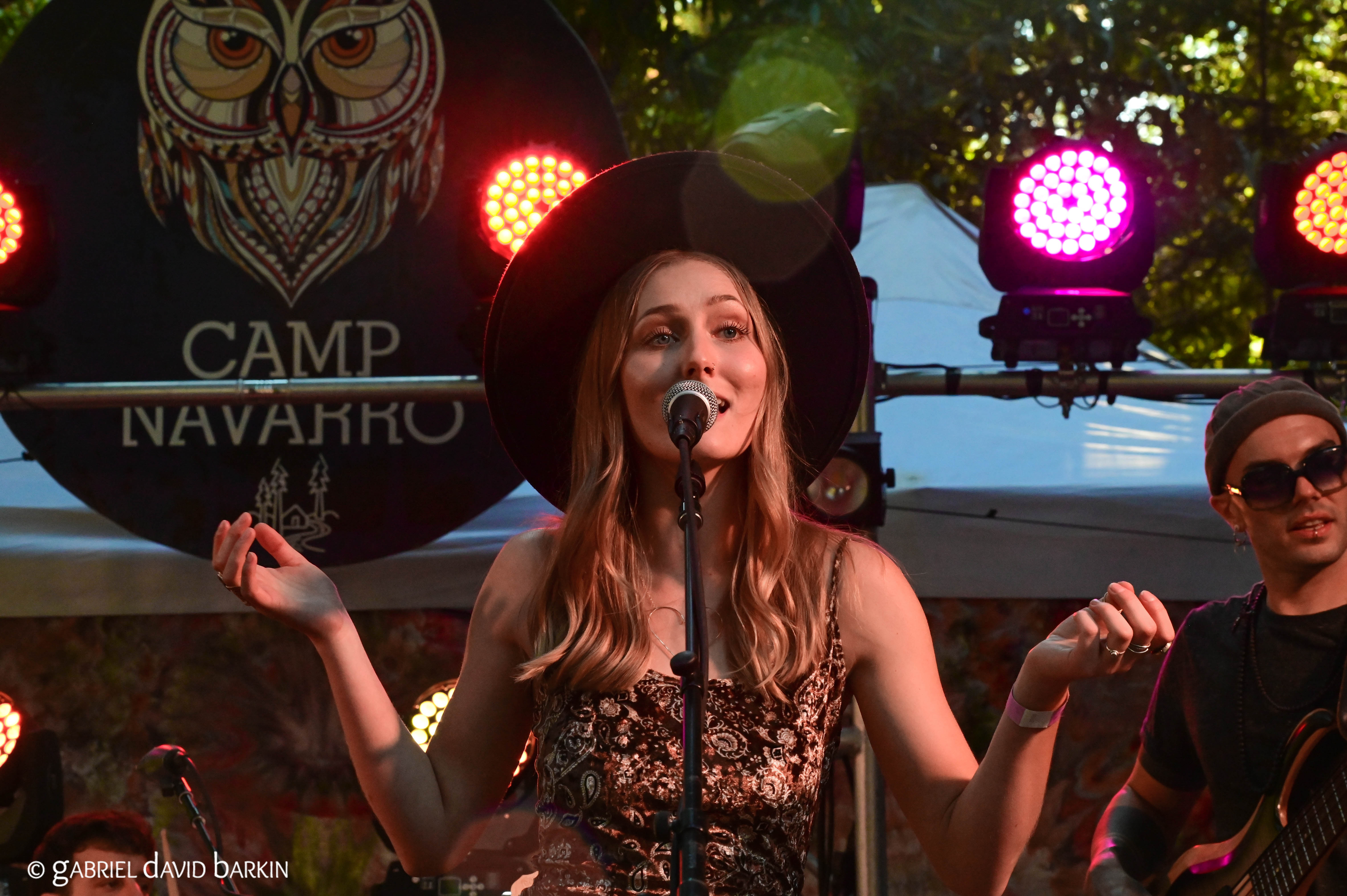 Last year, at CDE, Jessica Malone and Ruby Jaye joined Hattie Craven and her band for some stage sets and campfire singalongs. This year, Malone got to take center stage with her fun and fiery songs. (Keep an eye out for her next album, which is being produced by HBR's Keefe. Release date TBD.) Malone and crew rocked the redwood grove "house," and their harmonies reverberated pleasantly throughout the woods.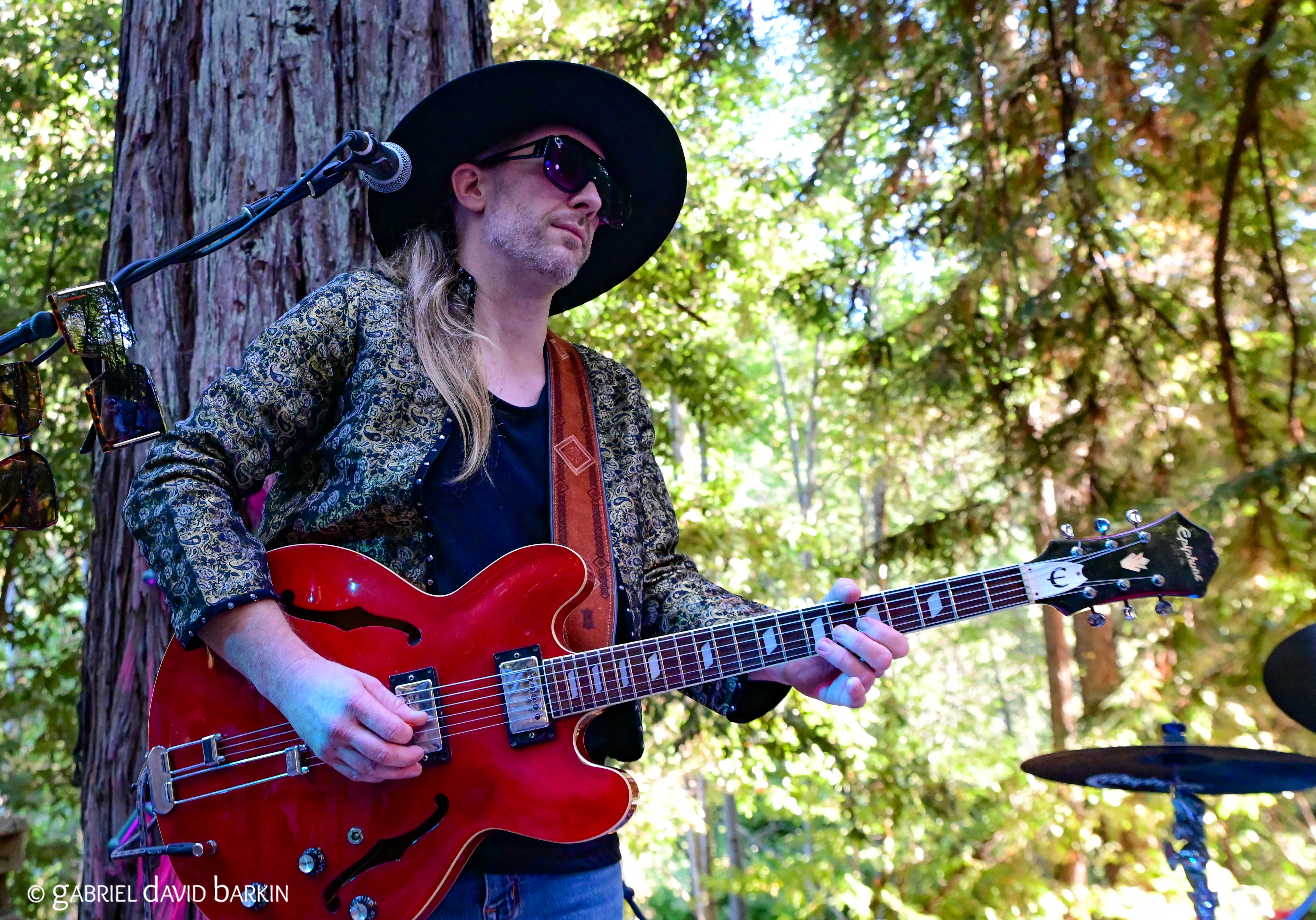 Marin County's Marshall House Project (Sam Hamby on guitar and vocals, Matty Tucker on drums, and Jason Thor on bass) has many fans among the CDE family. Their psychedelic guitar-driven jams and bass-fueled beats kept everyone on their feet dancing.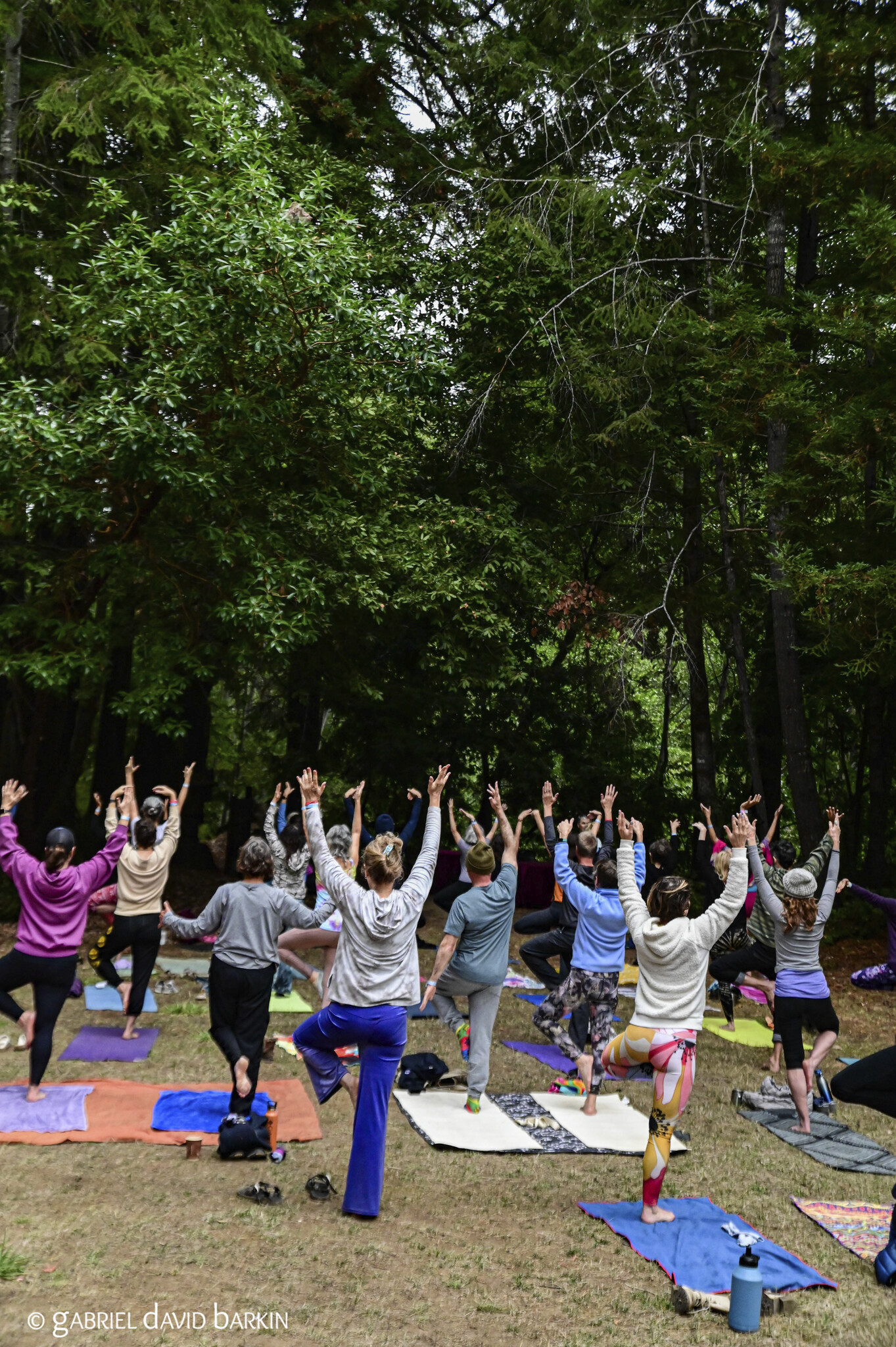 Musical acts weren't the only attractions at CDE – this IS camp, after all! Some campers hiked trails or headed off to shoot arrows at the archery corral. Jenga tables, hula hoops, and cornhole sets fill a meadow near the art barn where kids make crafts all day. Janna Barkin and Lisa Rueff led yoga sessions on the weekend mornings. "Tree pose" perhaps is never so meaningful as it is when practiced beneath towering trees!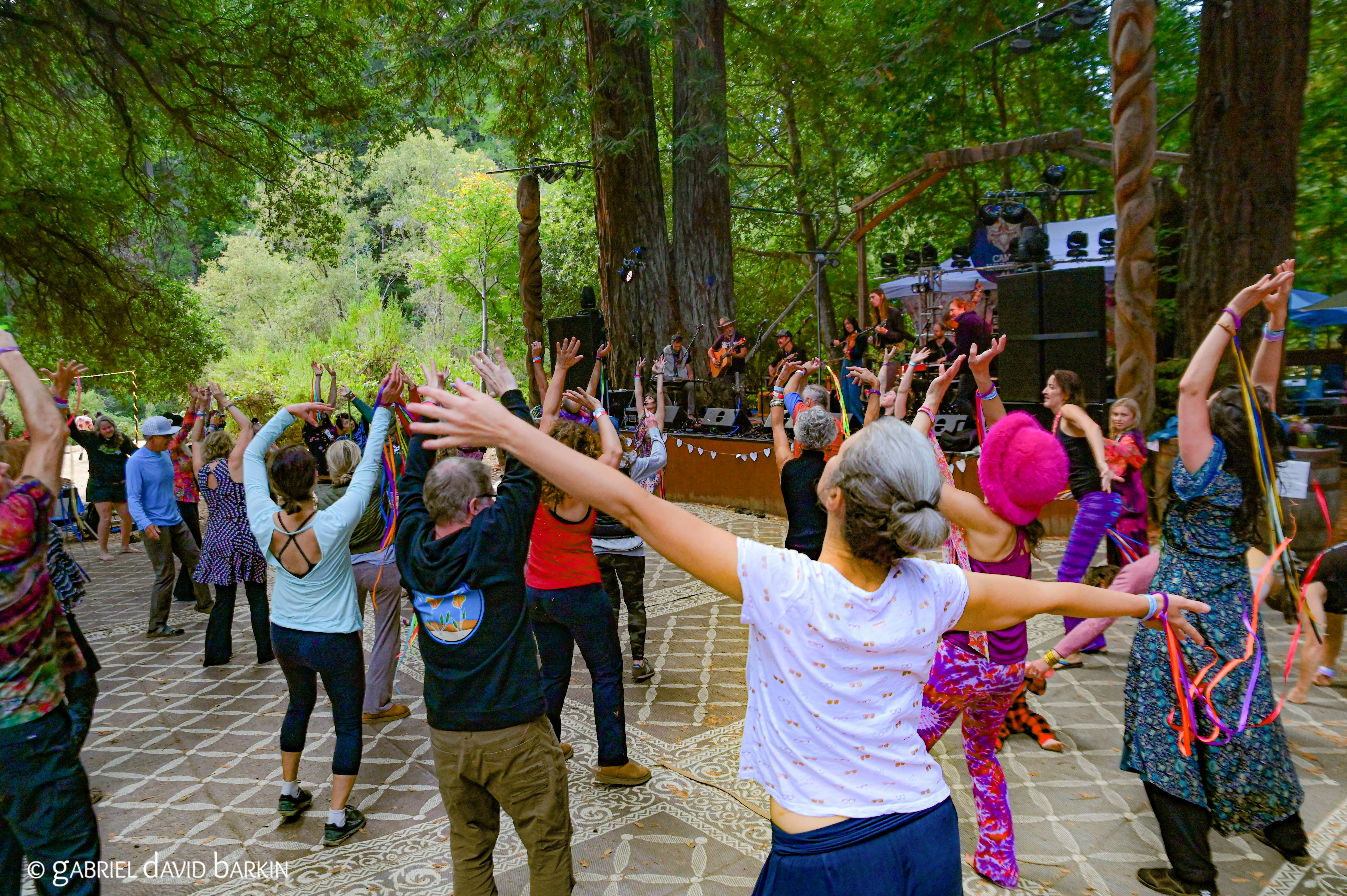 Dr. Leah Taylor has hosted her Embodied Groove experience at six of the seven CDEs. Embodied Groove sessions combine dance, movement, intention, and a live music experience. She describes the experience this way: "Embodied Groove helps people get out of their heads and into their bodies, feeling joy and flow and pleasure in big and little ways." At this year's CDE, she was backed by a band that included members of ALO, Broken Compass Bluegrass, and Tea Leaf Green.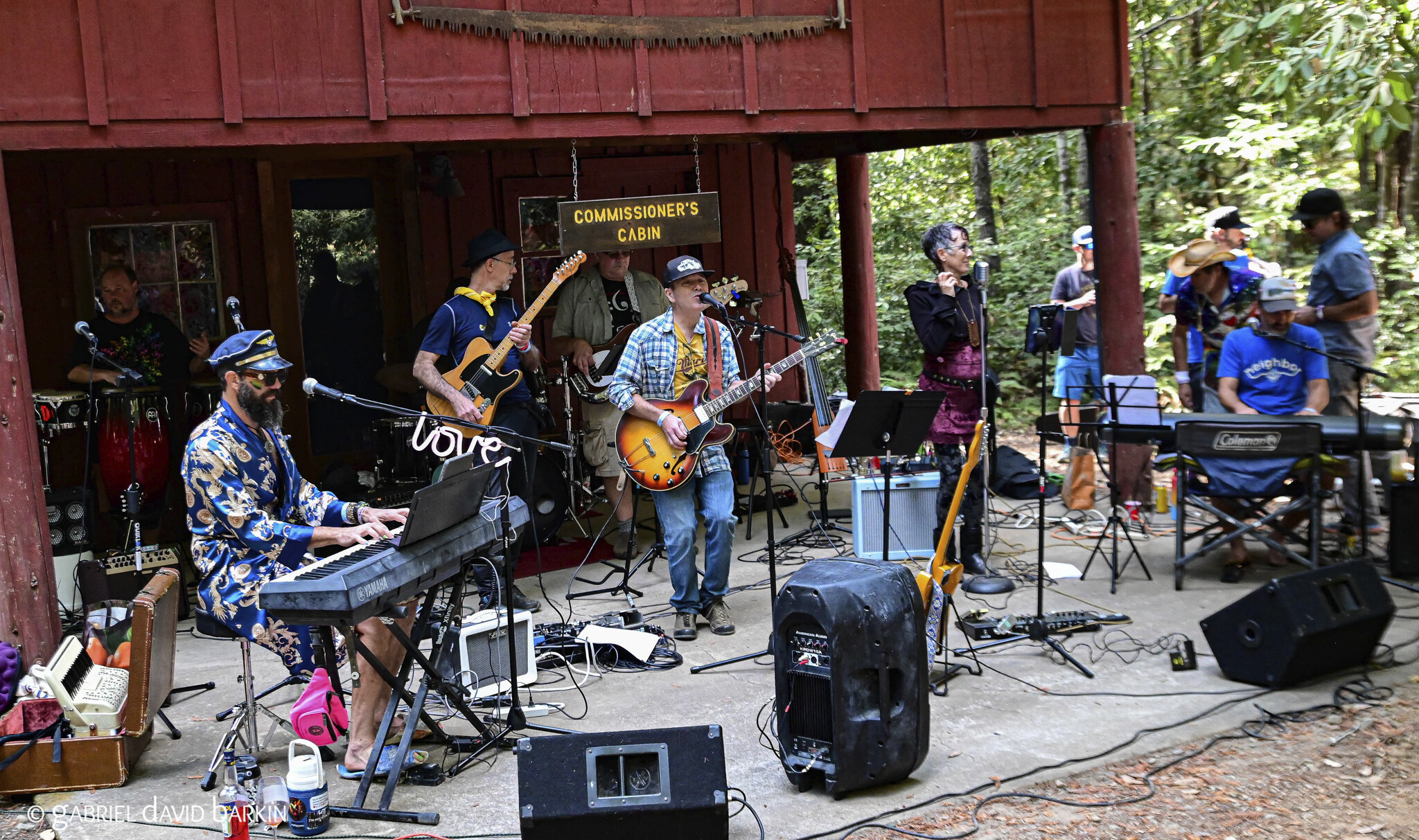 And then there's the annual Commisioner's Ramble, a plugged-in jam session organized each year by longtime CDE denizens Alan Bush and Ted Pelletier. Bush led this year's volunteer musician ensemble in Willie Nelson's "Roll Me Up and Smoke Me When I Die." Over a dozen other singers and players got to show their stuff too. (Yours truly got to sing his version of "Nobody Knows You When You're Down and Out.") But perhaps the most poignant Deep End moment was 14-year-old Sonora Gelbard's solo cover of Big Thief's "Change." Her father Jonathan is CDE's main stage host, and not unlike Broken Compass's Kyle Letson, Sonora has grown up with CDE in her blood.
Going to camp is an archetypal part of childhood for so many of us, and we keep those memories with us as we grow. CDE is only one weekend each year, but it's jam-packed with art, activities, and music – and lifelong memories! Adults and kids come back year after year to see old friends, meet new friends, and thrill to familiar and unfamiliar sounds and sights. "Family" means a lot at CDE.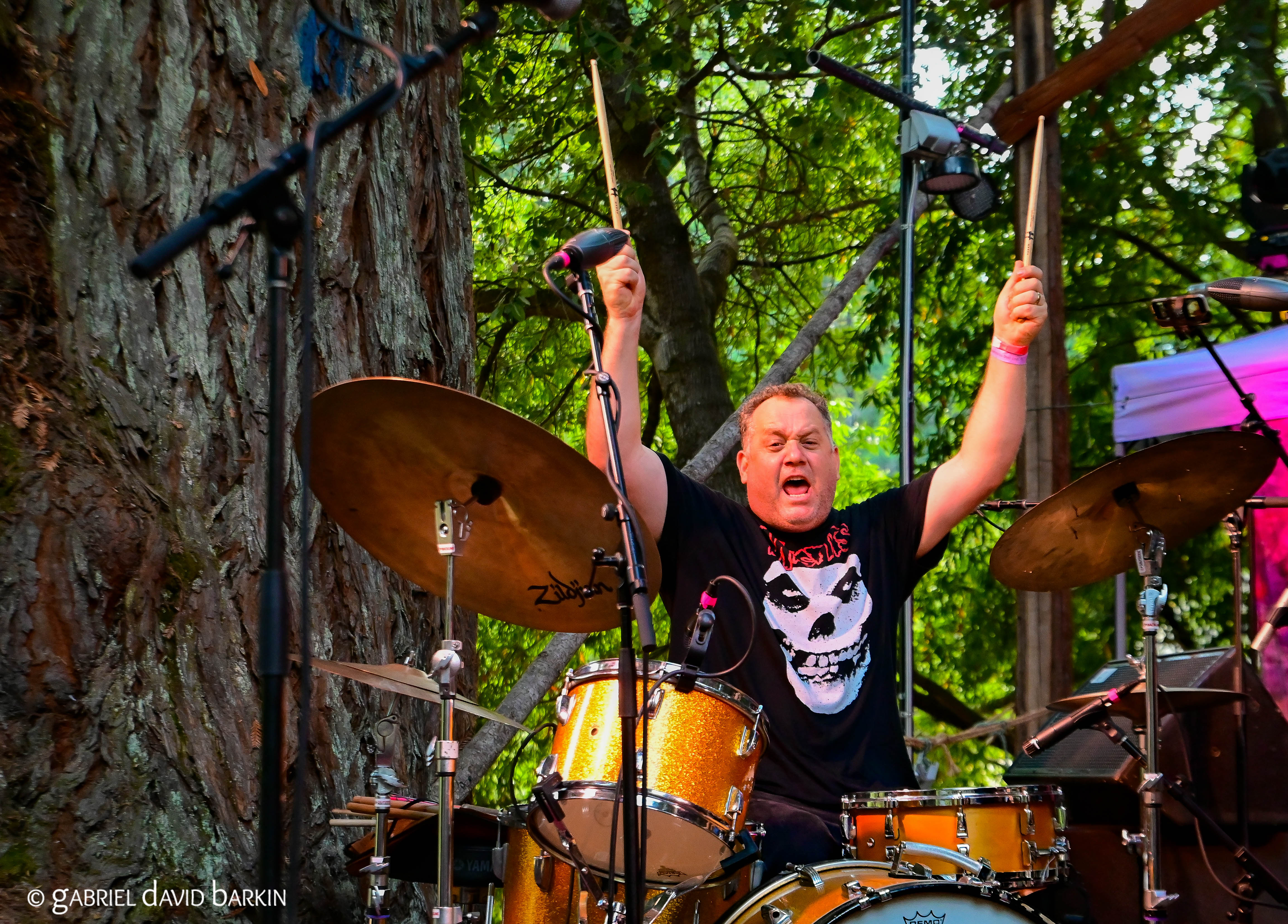 Near the end of HBR's Saturday set, Lebo added his deepest baritone vocals on the refrain of "Down in the Deep End," a CDE anthem he and HBR frontman Erik Yates wrote on-site two years ago. Everyone in the camp agreed; we were all way down in the deep end, and the fun meter for all ages was set to "stoked!"