My Morning Jacket is considered by many to be one of the premier live rock outfits in the country. Suffice to say, they did nothing but bolster that reputation over the course of six ridiculously entertaining hours Friday and Saturday night at the unparalleled Red Rocks Amphitheater in Morrison, Colorado.
Both nights began with sets from Trombone Shorty and Band of Horses. The two bands provided satisfying, if not spectacular, appetizers to the feast of MMJ (I'm referring to both the band and the liberal use of "herbal medication" by the crowd) that was to follow. Trombone Shorty (real name: James Andrews) and his band Orleans Avenue brought a jazzy, uptempo party-friendly sound with a decided Cajun tinge that was highlighted by the aforementioned Andrews' virtuosic skill on the trombone and trumpet.
Band of Horses was decidedly more downbeat, but that didn't stop them from getting the crowd going. The sets were solid, if fairly predictable, containing fan favorites and songs off their new album. Highlights included "The General Specific," "Ode to LRC," and "Monsters," as well as stirring renditions of "Funeral" to end each night's performance.
The band itself is talented, and frontman Ben Bridwell is a very solid songwriter. However, the whole time they were playing I just kept thinking they were like a diet version of My Morning Jacket. It will do in a pinch, but sometimes the only thing that will quench your thirst is Jim James and Company.
The Louisville, Kentucky group has been around since 1998 and has grown exponentially both in listeners and musical progression. Initially, their sound was indie and sparse, with top-notch songwriting being the driving factor. Now their songs include so many different styles and influences that the only term that feels appropriate to describe them is rock, plain and simple. I truly believe they are one of the great contemporary American rock bands, quite possibly the best. And now, with so many young music fans firmly ensconced in the electronic dance music scene and trading guitars for laptops, they could be one of the last.
At 9:30, MMJ hit the stage for the first time. They started things off with a slow boil of old tunes, including opener "Rollin' Back," "The Way That He Sings," and "Lowdown," both off their second album At Dawn. Things picked up with "Holdin' On to Black Metal" and "First Light," songs that are featured on MMJ's latest album, Circuital. "First Light" had guitarist Carl Broemel swapping his shred stick for an alto saxophone and playing it with some seriously funky guitar effects.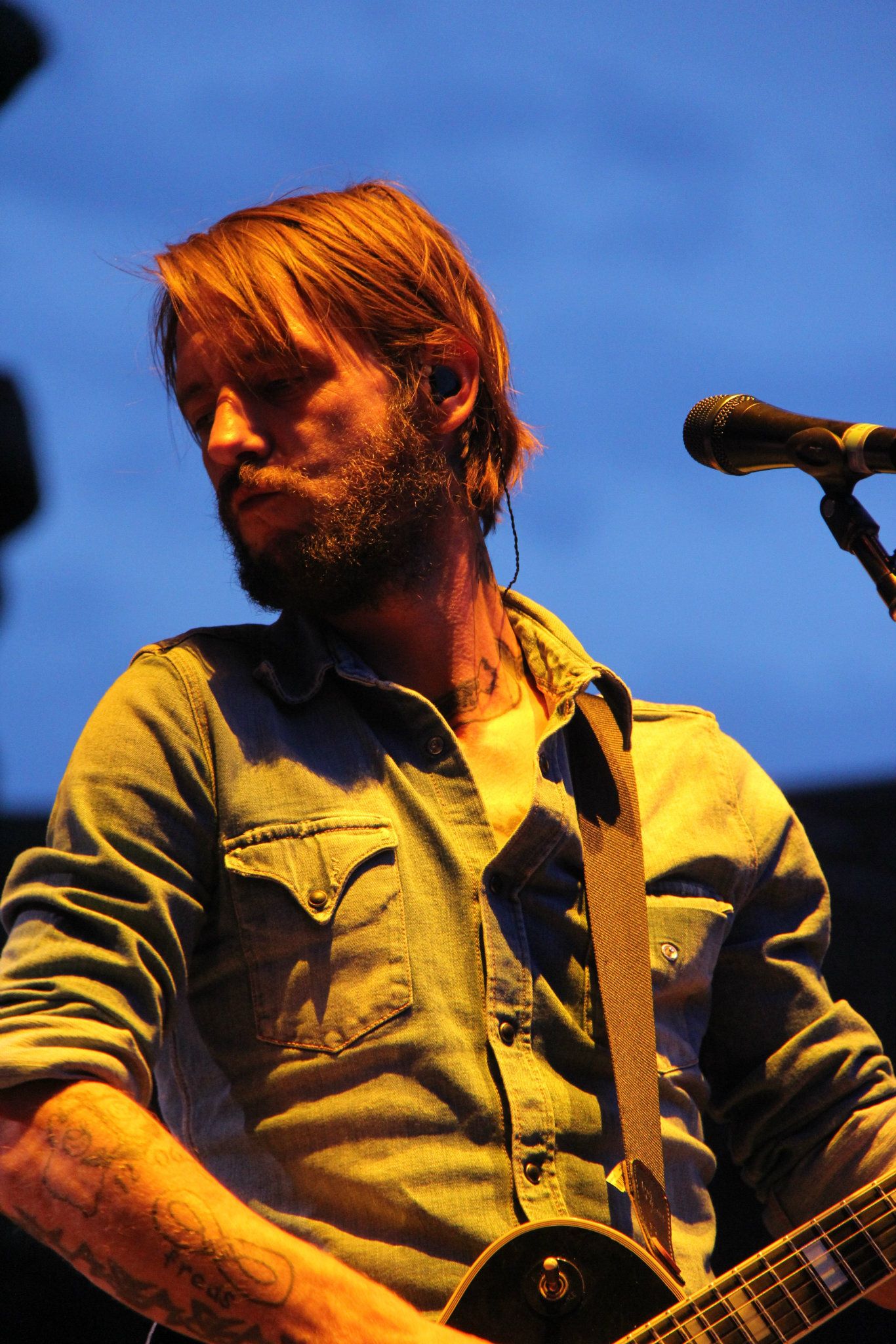 "War Begun" was next, and while it's a slower song off their first album The Tennessee Fire, the band punched up the ending with an inspired jam that featured Broemel and James trading off riffs. Band of Horses' Bridwell joined the band onstage for a superb version of "Wonderful (The Way I Feel)" that had him and James exchanging vocal responsibilities and harmonizing beautifully. James' voice is a powerful and unique instrument, and the acoustics at Red Rocks only enhanced his extraordinary wails.
I personally love it when bands cover songs, and I'm always interested to see the songs certain bands choose to pay homage to. MMJ didn't disappoint in this regard. They played Elton John's "Rocket Man" (featuring Broemel on a pedal steel guitar), Erykah Badu's "Tyrone," "Never Tear Us Apart" by INXS, and an unexpected cover of The Clash's "Rock the Casbah" during the encore that had the whole place getting their respective boogie on.
Other first night standouts were a moving version of "I Will Sing You Songs" and a three-song face punch during the encore that included "Victory Dance" off Circuital, "Off the Record" from Z (arguably MMJ's most accessible studio album), and "Cobra" from their Chocolate and Ice EP. They closed with Z's "Gideon," and the first night was officially in the books.
Even though they played 29 songs, I left the amphitheater thinking the band had left a lot on the table. I had a feeling Saturday night was going to be a monumentally epic show. My intuition proved to be correct. My Morning Jacket played an absolutely monstrous set the second night, lasting almost three-and-a-half hours. Things started off innocently enough, with a short-but-sweet version of "At Dawn", the namesake song of their second album. Next was "Circuital", the title track of their most recent album.
Guitar-heavy "Xmas Curtain," "It Beats 4 U," and "Lay Low" brought a thunderous change of pace. "Lay Low," off of Z, is an especially rocking tune that calls to mind The Allman Brothers Band, especially with the dual guitar harmonizing at the end of the song. The band then switched gears again into "Highly Suspicious," which I can only describe as WTF. It's an awesome song off 2008's Evil Urges that sounds like German industrial metal mixed with disco. James' voice was in such a high register it sounded like he was breathing out the lyrics rather than actually singing them.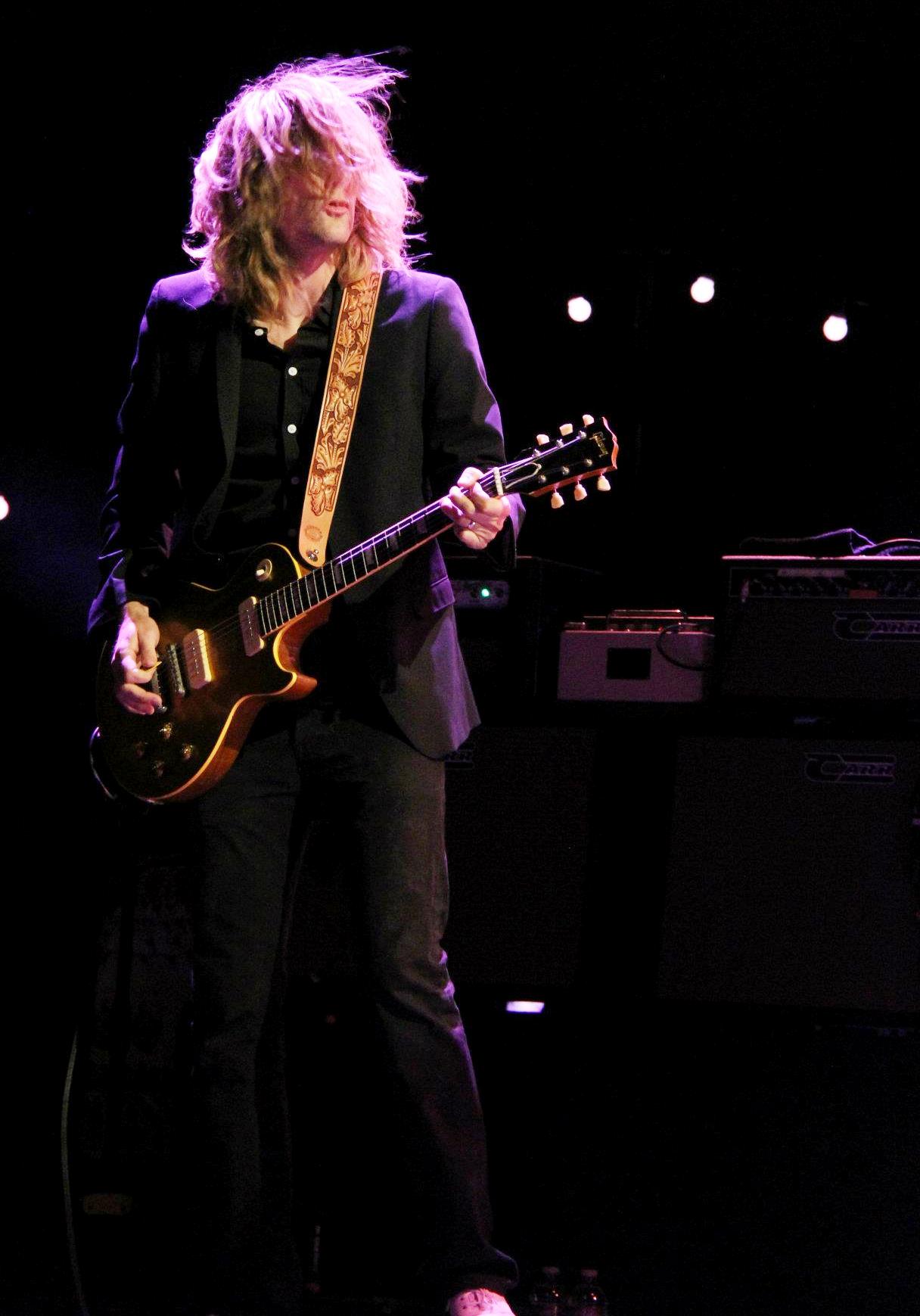 With the energy (and crowd) high, My Morning Jacket then played excellent renditions of fan favorites that included "The Bear," "Golden," and "Steam Engine." They then brought Bridwell back on stage for their first cover of the night, an incredible version of George Harrison's "Isn't This a Pity" that had James, Broemel and Bridwell sharing guitar solos all over the place.
James soon busted out the omnichord for "Touch Me I'm Going to Scream Pt. 2," a smooth, spacey, almost-but-not-quite electronic groove that was followed by the excellent "Movin' Away," the last song on Circuital and a wonderful reflection on losing a love you weren't quite ready to give up yet. Sometimes the way James sings makes his lyrics hard to understand, especially if you haven't heard the song before. But when you look up the words and combine his poetry with that voice, "genius" isn't a strong enough word.
This brings me to the best song of both nights: "Dondante," the last song off Z. A haunting, melodic, evocative masterpiece about the far-too-soon loss of a close friend, "Dondante" lasted at least 15 minutes and not once did it feel too long. It ended on a melancholy, poignant alto sax solo from Broemel. The song felt especially appropriate considering James' announcement to the crowd that their good friend Jason Noble, a fellow musician from Louisville, had passed away that very morning. I am sure that song held a distinct meaning for them that night, and they played it as such.
A loud, vibrant version of "Run-Thru" came soon after, and they ended the set with the reggae-infused "Phone Went West." The encore began with just James and his acoustic guitar playing "Bermuda Highway" and "I Will Be There When You Die." The slower, gentler songs seemed to be a way to give the crowd and the band a bit of a respite before things got hectic again.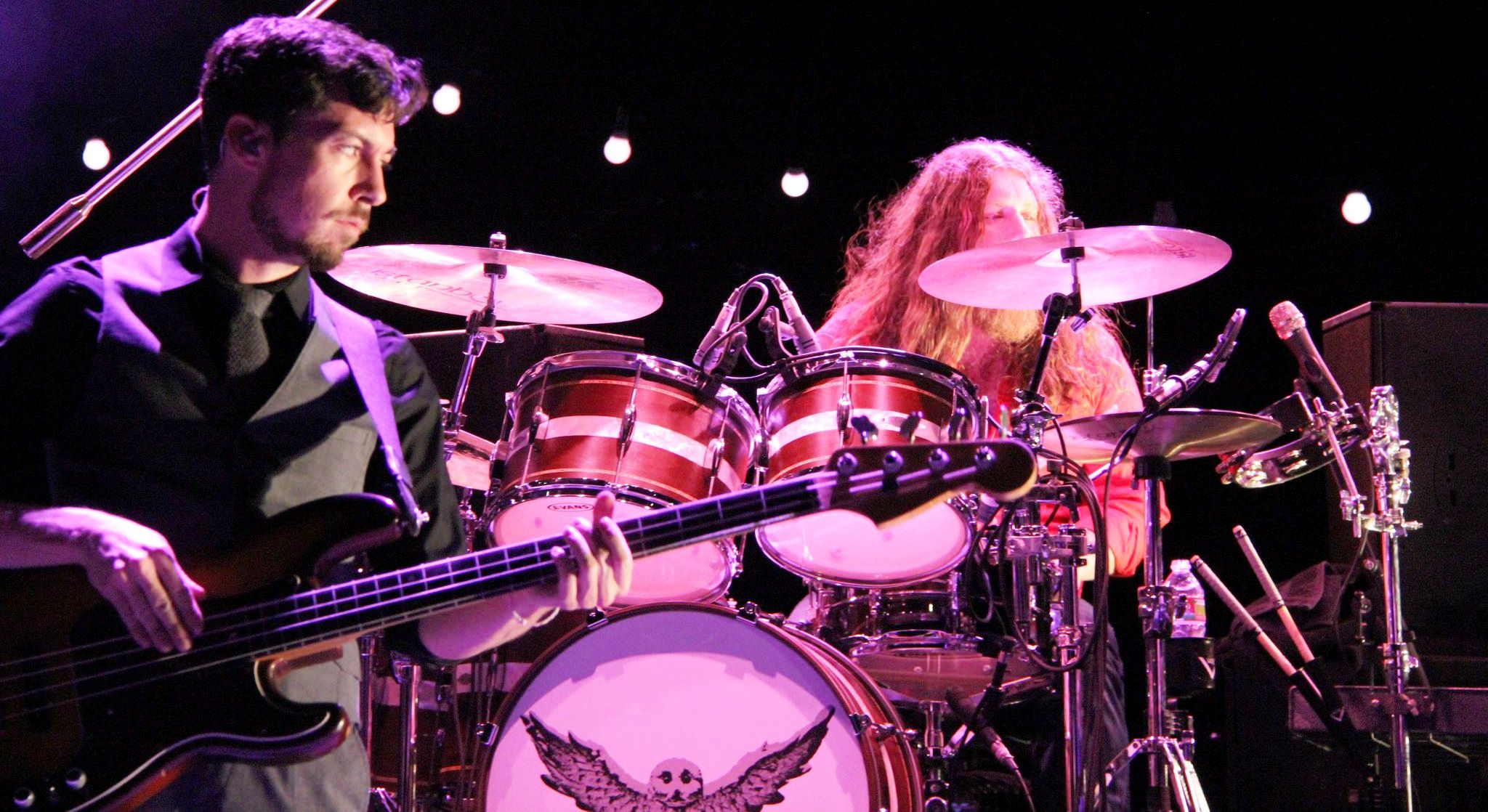 Sure enough, before too long James brought out Trombone Shorty and very special (see: random) guest John Oates to whip the crowd into a frenzy on a cover of Curtis Mayfield's "Move On Up." Trombone Shorty stayed out for "Dancefloors," a song with both a country and big-band vibe to it. After that, My Morning Jacket closed with "One Big Holiday," one of their most popular songs and one that the crowd had definitely waiting for. Despite having been blasted with music for the better part of three-and-a-half hours, there was no lack of energy and everyone in the crowd was dancing as MMJ shredded their way to glory.
While walking back to the car with my exhausted girlfriend, I couldn't get over just how phenomenal the weekend was. My Morning Jacket always looks like they are having the time of their lives. James will run back and forth across the stage, climbing on the drum set, sometimes wearing a dashiki-cape thing and singing with it in front of his face like a superhero. His fellow bandmates are always smiling and quite often mouthing the words to the songs, as they are as deep into the zone as James is.
As a band they appear extremely cohesive. James may be the main man, but I sense no jealousy or egos running wild. And I especially appreciate the lack of banter. Some bands are good at it (Yonder Mountain String Band comes to mind), but for the most part it can be irritating. Just shut up and play. I could probaby count on one hand how many times James spoke to the crowd over the course of both nights, and I believe it's because he and his bandmates genuinely love the music that they play and what they get to do for a living. Why waste time with frivolous chatter?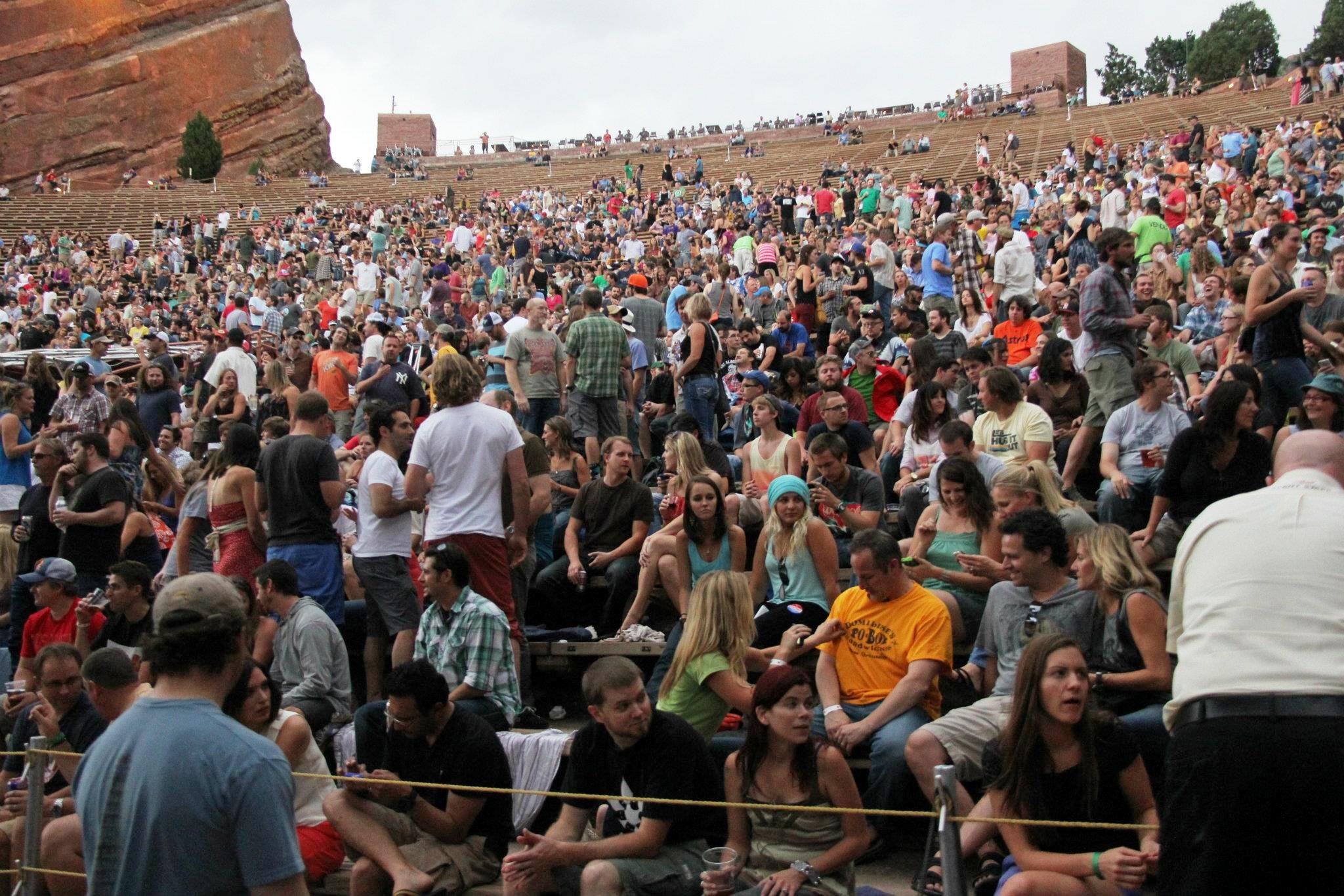 What I saw Friday and Saturday night was a band in their prime, fully engaged and demonstrating their prowess in every way imaginable. As far as live music goes, you'll be hard-pressed to find much better than the incomparable My Morning Jacket.