Venerable Grateful Dead co-founder Bob Weir led an epic spectacular on July 24, overseeing an ensemble performance at the legendary Greek Theatre on the University of California Berkeley campus. What started as a trio a little more than 2½ years ago, Bob Weir & Wolf Bros has developed a larger and deeper skillset as it is now a five-member core band, made even more versatile with the five-piece strings and brass/woodwinds Wolfpack that added new song dynamics at most every turn.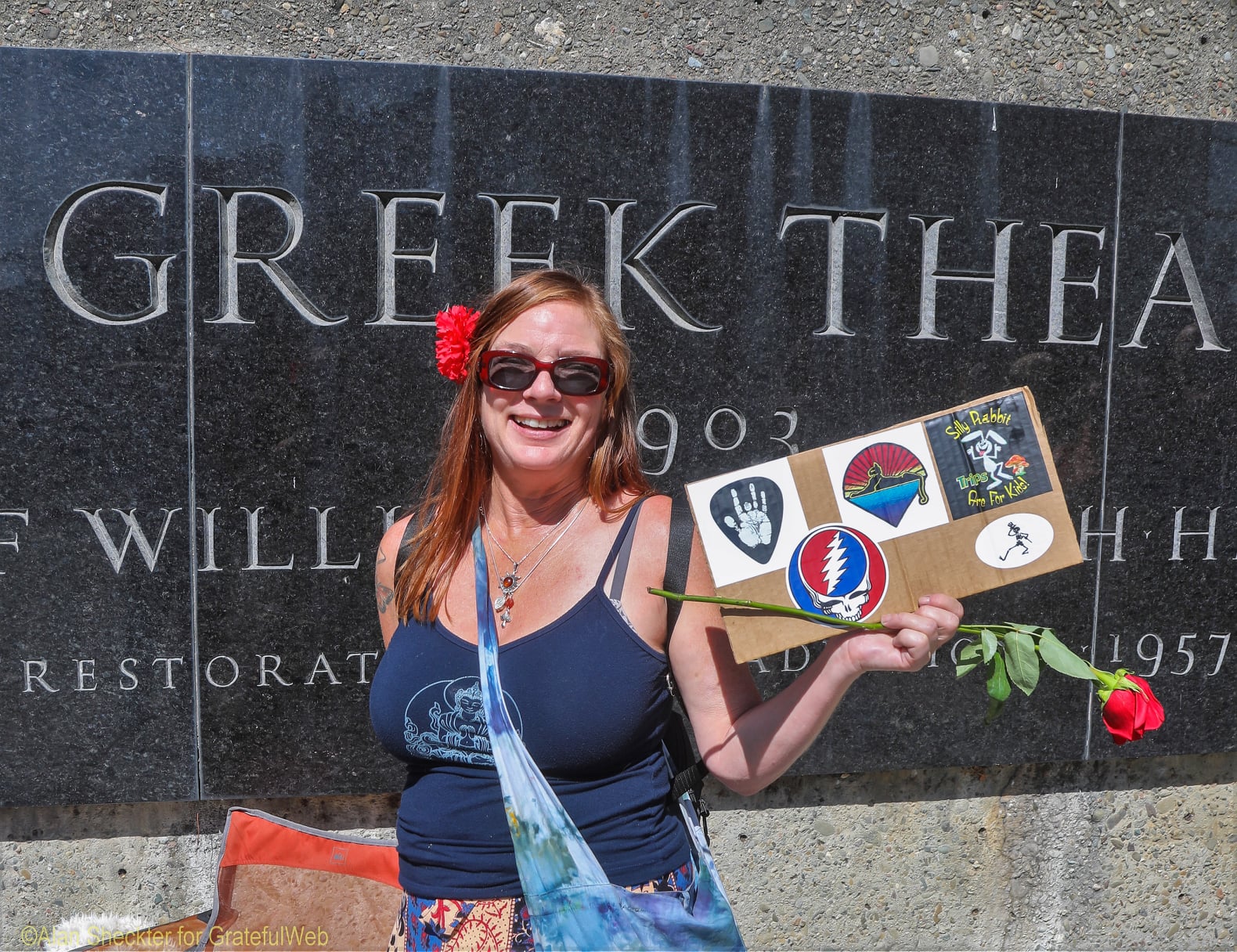 The return engagement to the Greek Theatre, a venue Weir has played several dozen times over the past 50-some years with the Grateful Dead and with other performers, was a big deal because, 1) it was a prodigious production, 2) it marked the first concert at the Greek Theatre since 2019, and 3) it was a one-off Weir & Wolf Bros show, set three weeks before the next Dead & Company tour. The four-hour show also marked a joyous reunion for the hometown family of fans, with hugs abounding between Covid-tested/vaccinated attendees all through the old bowled amphitheater as the band started and ended the performance with the Grateful Dead-familiar, Buddy Holly lyrics of "You know our love will not fade away."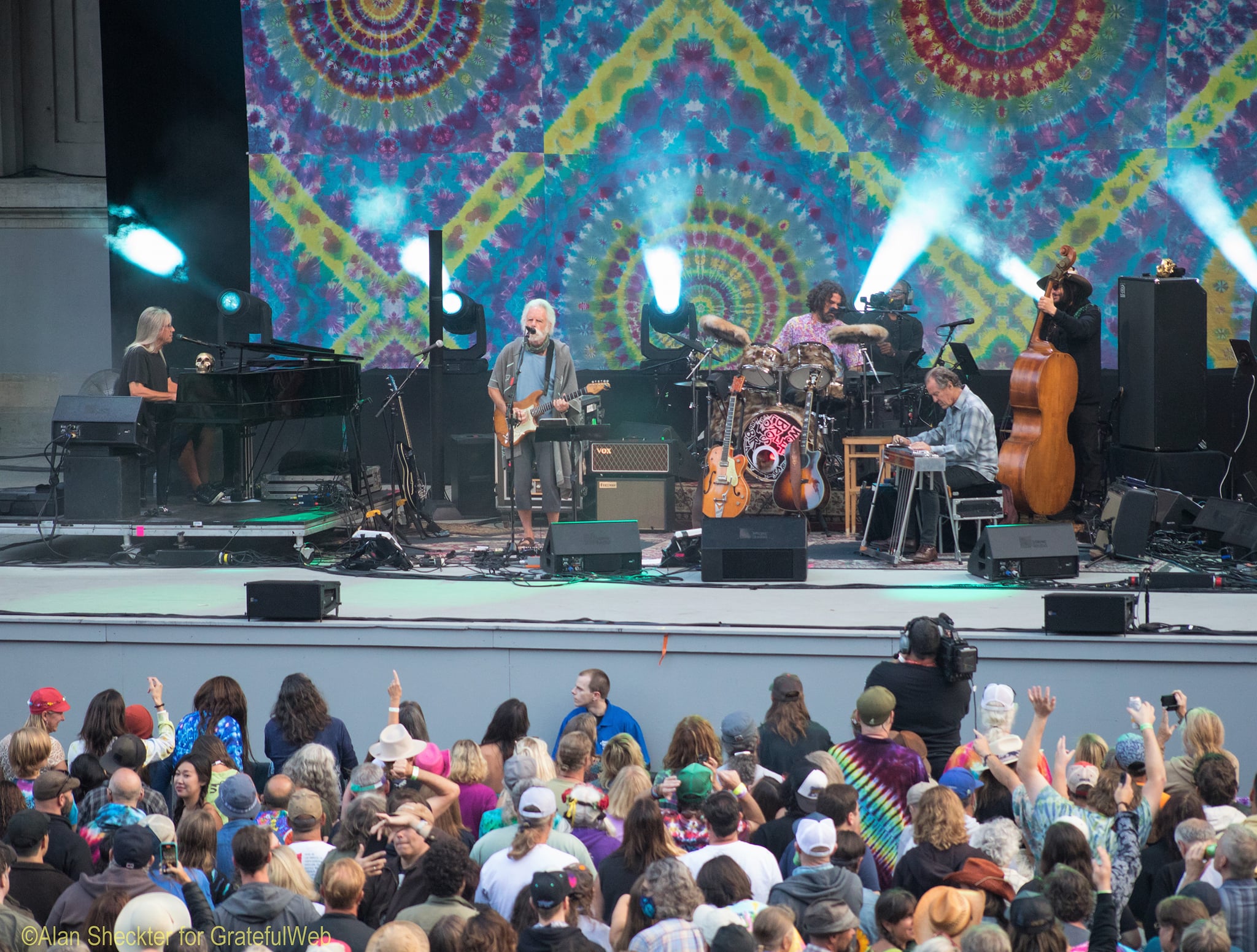 Weir & Wolf Bros' style is to reproduce Grateful Dead/Bob Weir catalog favorites in new, slow-to-mid-tempo arrangements that has Weir deftly handling both lead and rhythm guitar duties while accompanied by longtime collaborator Jay Lane on drums and Don Was, a legendary record executive, in-demand producer, and fine stand-up bass player. Recently, the core band of three became five, and more diverse, with addition of longtime Weir musical comrade Jeff Chimenti on keyboards and pedal-steel guitar specialist Greg Leisz. The result is a second current Weir-fronted Grateful Dead legacy band – the other being Dead & Company – through which the audience receives new variations on familiar Grateful Dead themes.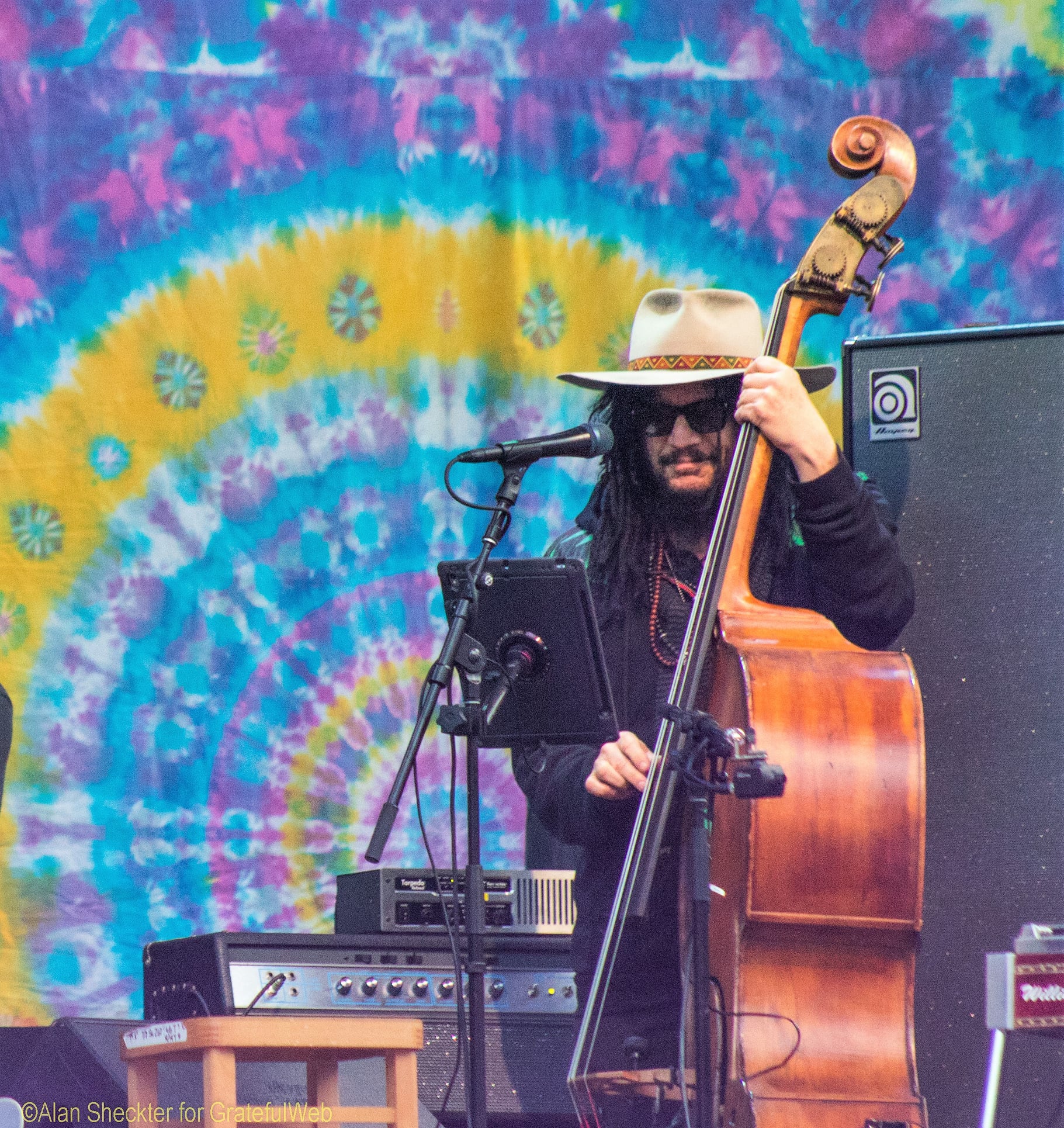 Was delivered steady, flawless bass injections that were appropriate for each song, from the countrified ditties to the epic, jazz-soaked pieces of music offered in the second set. Lane more than aptly handled drumkit duties, riding each song's tender and rocked-out interludes with equal aplomb, while Chimenti contributed his now-expected splendid array of keyboard interpretations of Grateful Dead catalog material. Both Chimenti and Lane have worked with Weir onstage for more than 25 years in RatDog, Furthur, and more.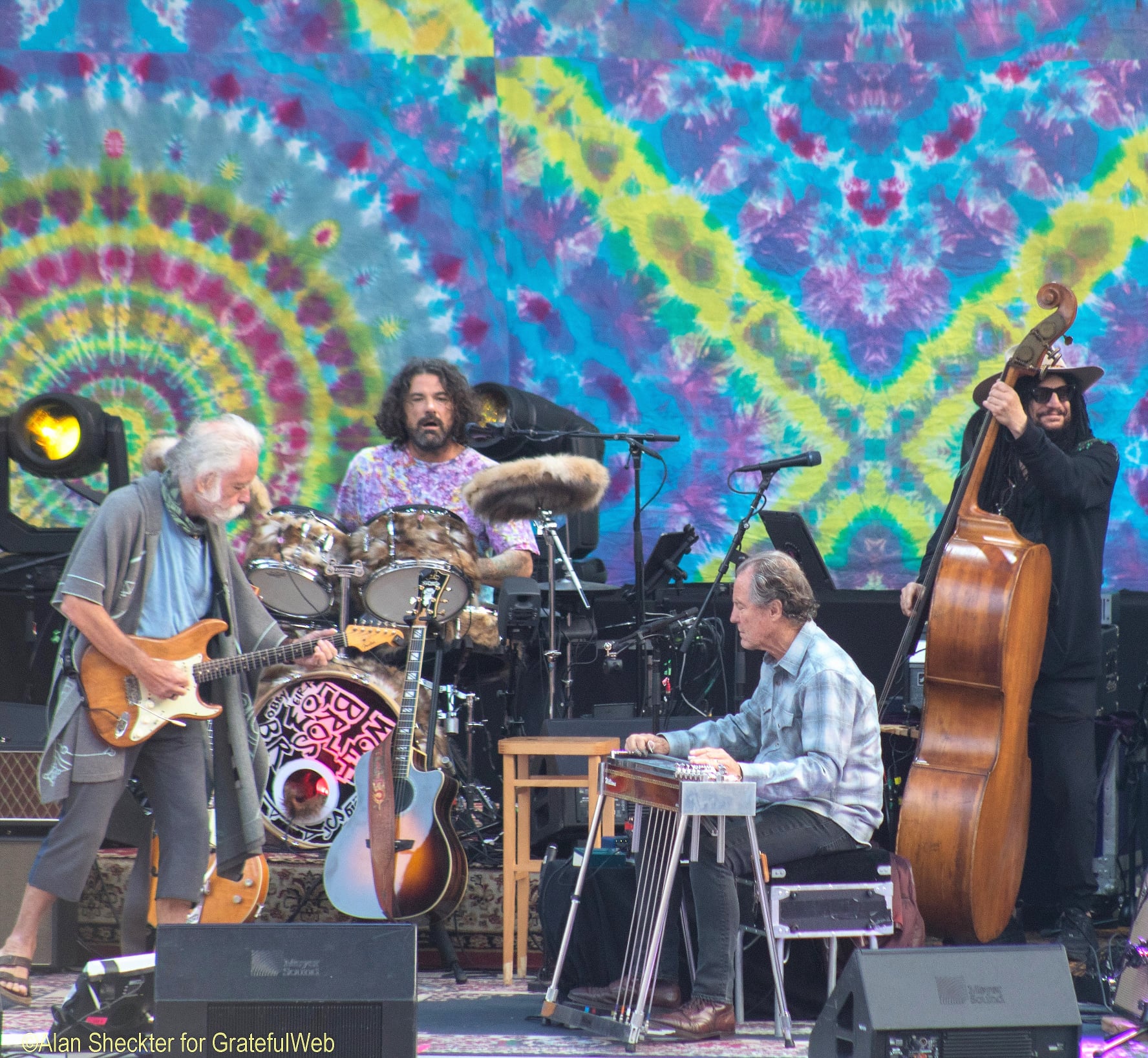 New to many in the audience was pedal steel specialist Greg Leisz, who was positioned front and center all night and delivered Grand Old Opry-evocative instrumental flourishes. The multi-instrumentalist, songwriter, and producer has recorded and performed with such luminaries as Joni Mitchell, Willie Nelson, Jackson Browne, Eric Clapton, Ray LaMontagne, Ryan Adams, Bill Frisell, k.d. lang, John Mayer, and others.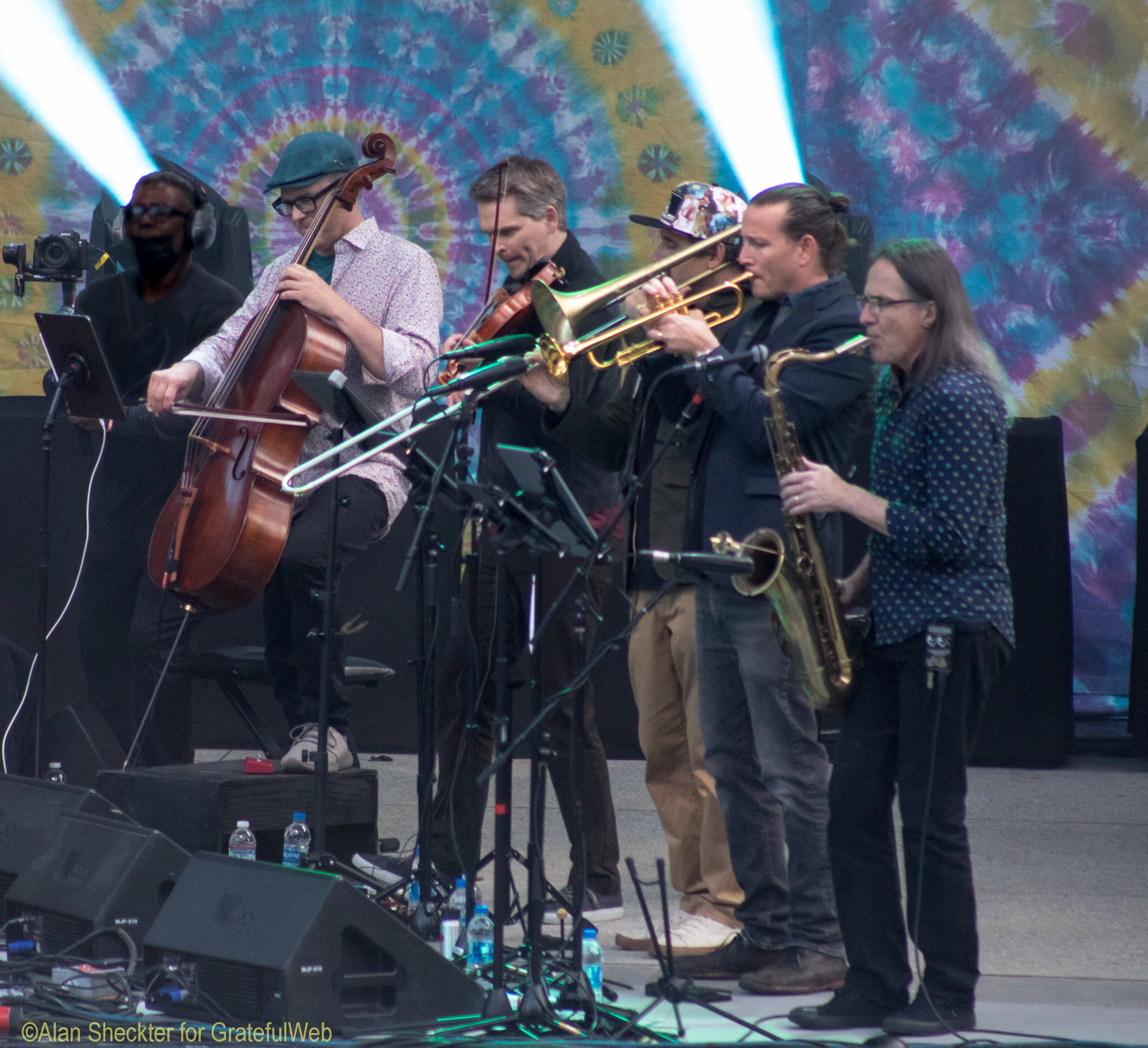 The Wolfpack strings and brass quintet brought a remarkable pedigree of players to the fold, including Alex Kelly (cello), Brian Switzer (trumpet), Adam Theis (trombone), Mads Tolling (violin), and Sheldon Brown (sax, clarinet, flute). Together they added an adept, wondrous orchestral element to the production. The collective contributions from the amalgamation of 10 musical voices into one festival of sound was awesome to behold. The development of this 10-piece ensemble is quite recent. Before this Greek Theatre show, the band debuted last month with the so-called Wolfpack for four shows in Colorado.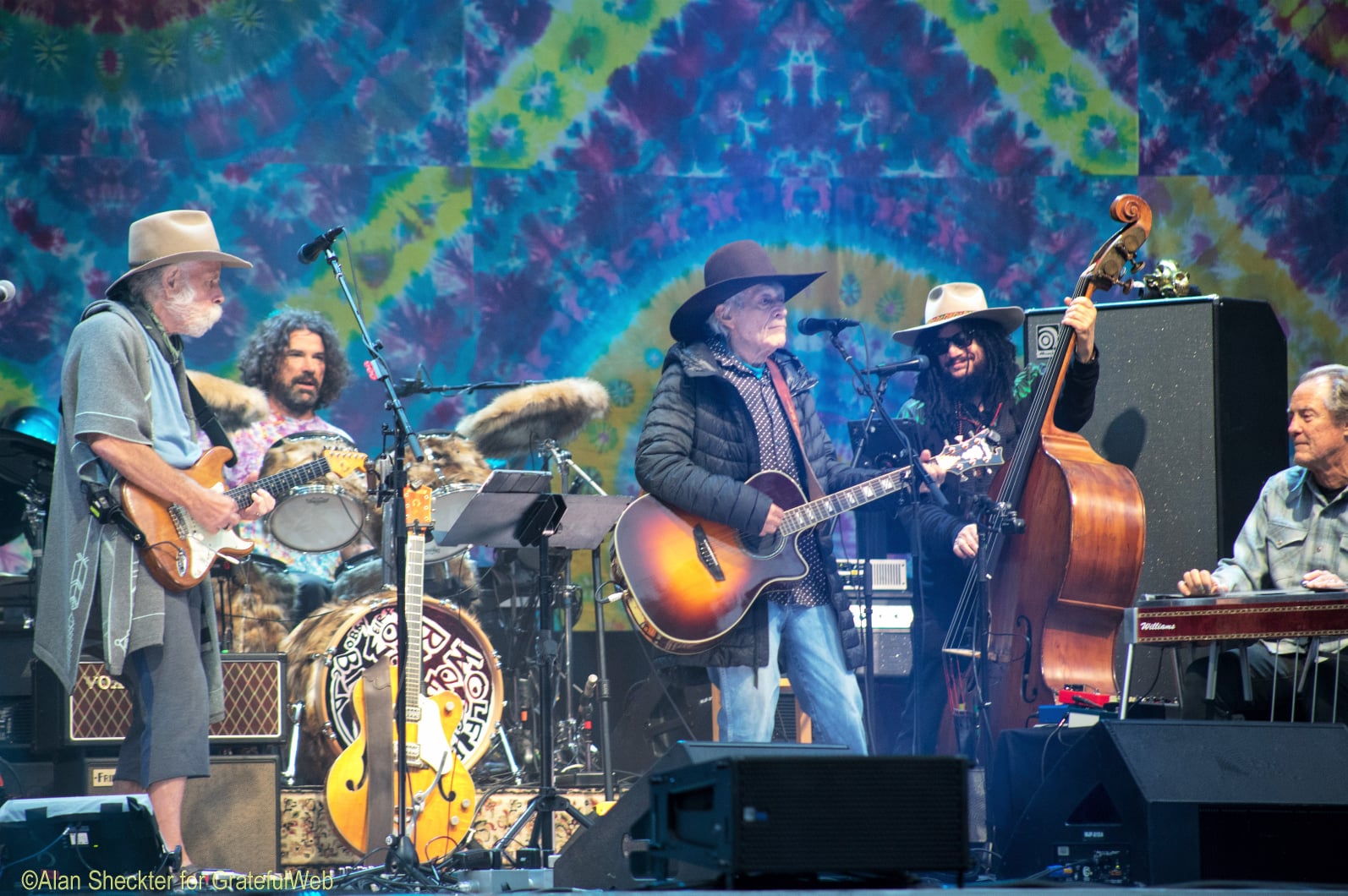 A special moment occurred midway through the first set, when folksinging luminary Ramblin' Jack Elliot, just shy of his 90th birthday and still touring, took center stage to lead the band in a meaty version of Jimmy Rodgers' "Muleskinner Blues," a song Elliot's been performing since at least 1962, as the internet can attest. It's also a song Weir performed occasionally with RatDog and Kingfish (check out the live version on Kingfish's 1977 LP, "Live 'n' Kickin' LP).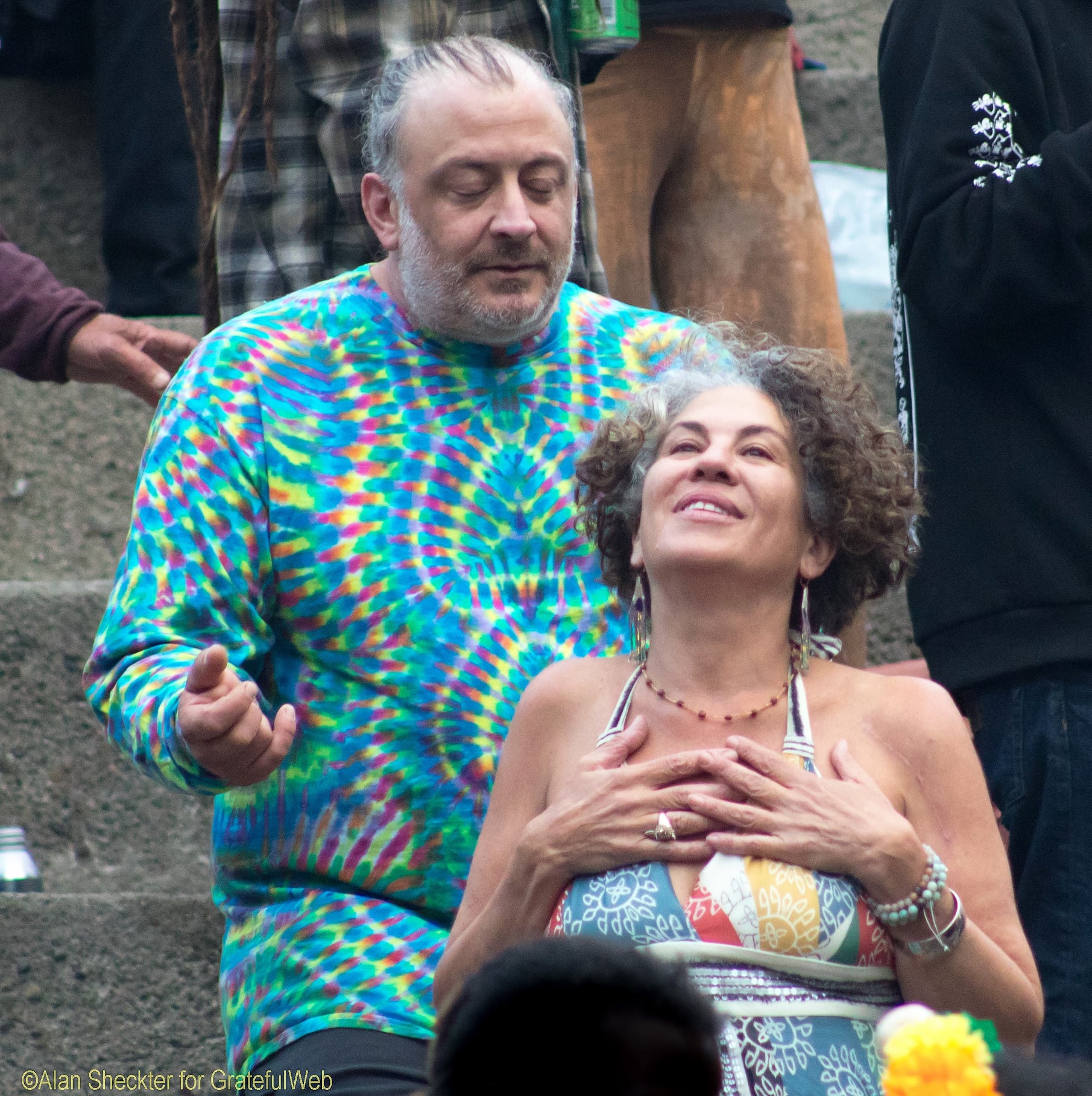 Throughout the show, the orchestral infusion to the band was distinctive and felt just right and not overly prominent, and the concerto-like song arrangements presented some musical components heard on their original vinyl recordings, but not on the live stage, till now. These included horns on "Black Throated Wind," and "Estimated Prophet," and in the case of "Weather Report Suite," a 20-minute piece of music that ended the first set, the symphonic arrangement included lovely string infusions at the start and horn embellishments reminiscent of Martin Fiero's passionate jazzy sax improvisations. In other spots, some welcome augmentations included pedal steel on "Friend of the Devil," and the inclusion of both soft pedal steel and soaring horns during "Scarlet Begonias."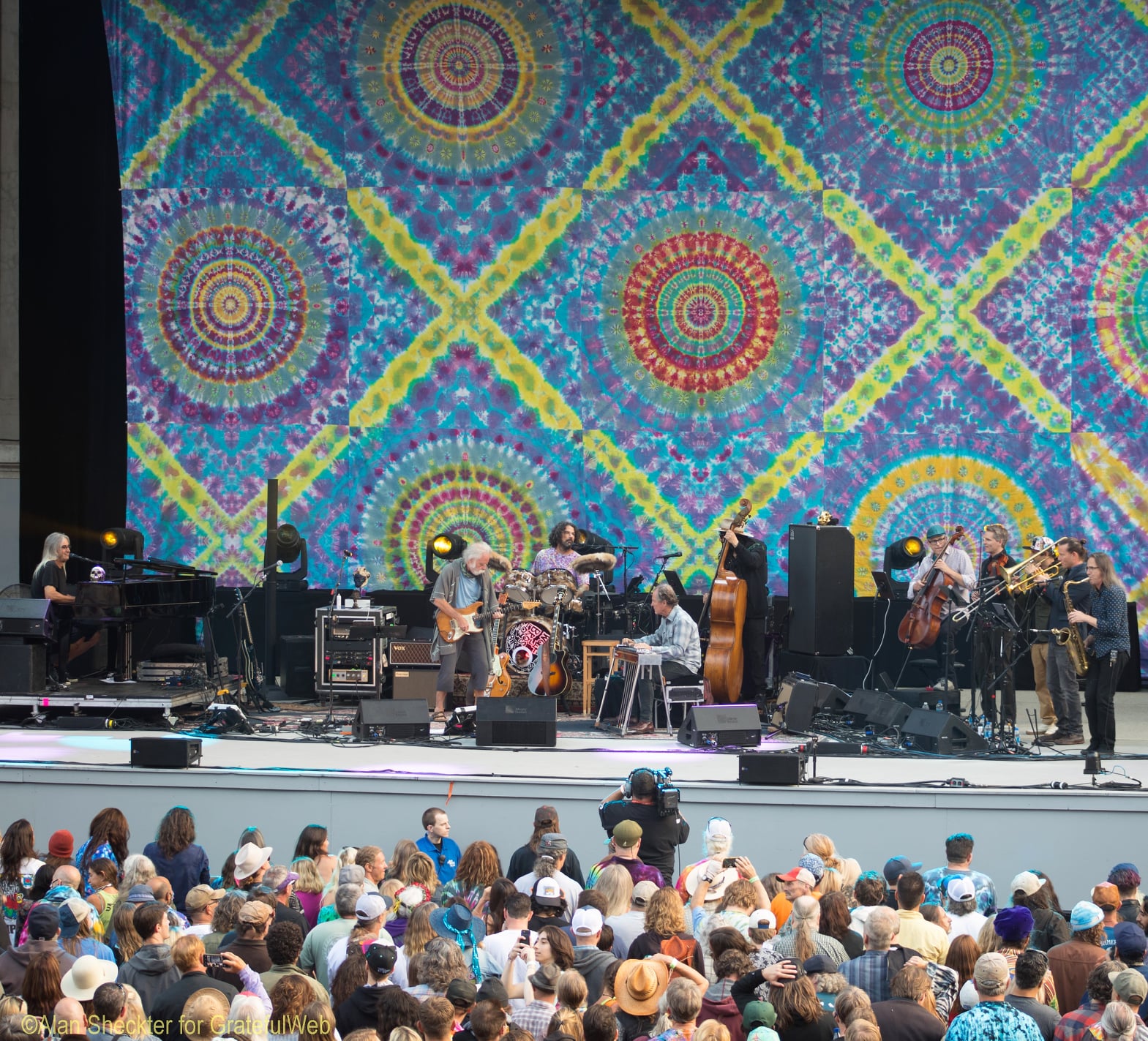 On social media on the day after the show, Theis wrote, regarding a trombone passage on "Scarlet Begonias": "I'd never soloed on this tune before this night; always fun to jump in and make it happen! I loved this moment so much because it's a killer example of how deeply this band listens to each other. I was really inspired by all the interplay and was literally taking every note I played for the first many bars from what Bob, Jeff (keys) and Greg (pedal steel) were playing melodically. You can hear us all vibing off each other's ideas and simultaneously creating new ones."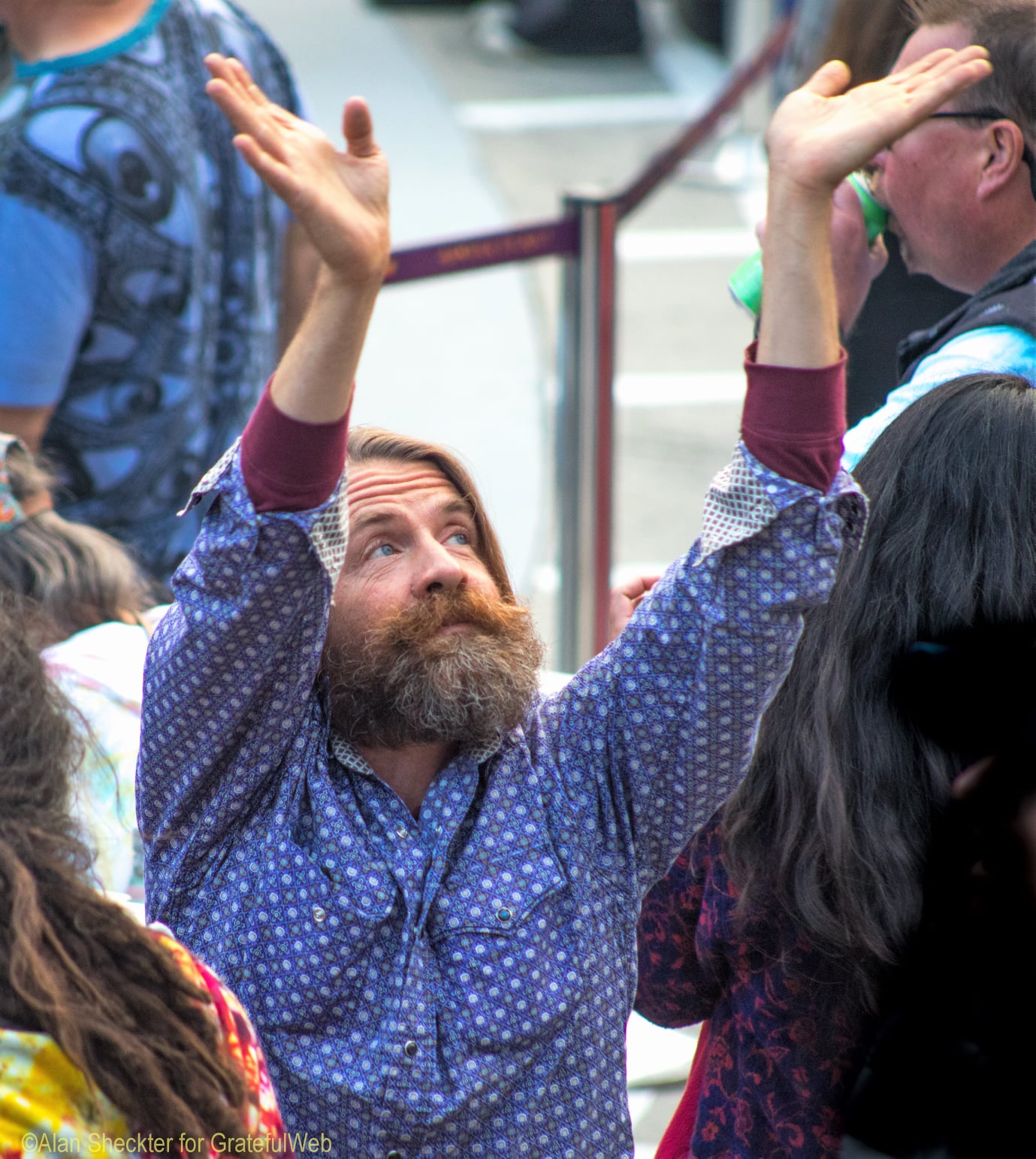 The band did present some offerings with just the core five players delivering some old Grateful Dead standards – "Friend of the Devil," "Tennessee Jed," and Hank Williams' "You Win Again" in just-right, alt-country, folk-rocky, Grateful Dead-ish arrangements. The ballad, "Standing on the Moon" was also delivered by the core five.
The second set opened with the aforementioned "You Win Again," and carried on with an impressive "Scarlet Begonias" followed by two epic sequences. The first was about a half hour's worth of "Playing in the Band" into "Uncle John's Band" back into "Playing in the Band," with a snippet of Jazz trumpeter Miles Davis's "So What" just before "Uncle John's Band," which illustrated the wide latitudes that this band can and did achieve.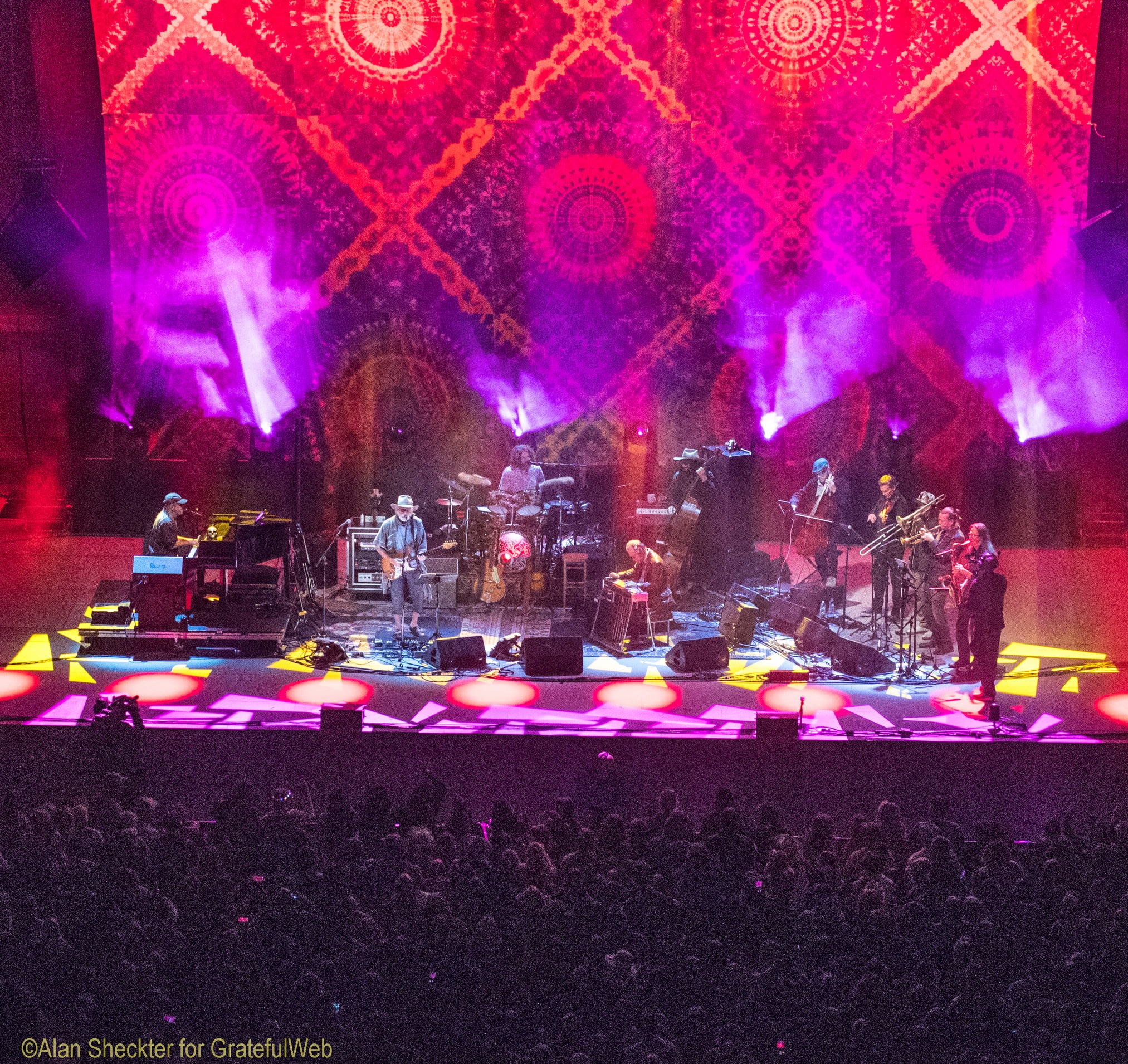 Next, the collective stretched out in impressive fashion on one of Weir's trademark long selections, "Estimated Prophet," with the 10-piece bringing additional ebbs and flows to the already ebbing and flowing piece of music. Chromaticism improvisation was at play here (and at several junctures throughout the show), a harmonic concept that makes use of tones outside the major or minor scales. This also rebutted the oft-mentioned fact that Weir leads songs that are played at a slower pace than in decades past. Indeed, but especially with the Wolf Bros and Wolfpack, there is more sound going on and in-between each note than ever before.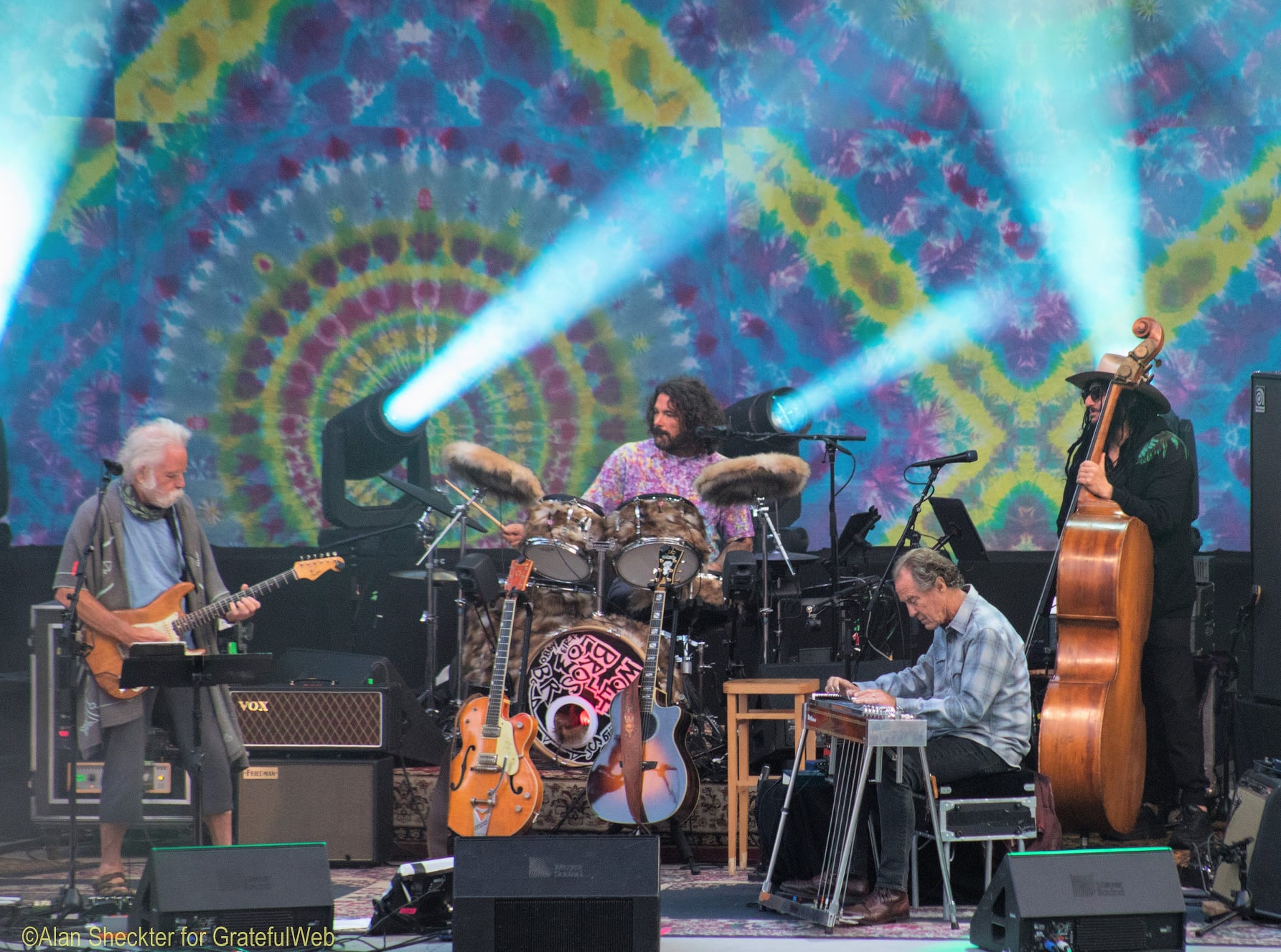 "Estimated Prophet" floated into an ethereal version of "The Other one," the first six minutes of which was a slow-tempo jazzy prelude. The ending sequence moved on to a favorite Robert Hunter-Jerry Garcia 1990's ballad, "Standing on the Moon," during which the following lyric naturally drew lots of audience fanfare: "Somewhere in San Francisco // On a back porch in July // Just looking up to heaven // At this crescent in the sky." The set concluded with a sluggish yet pleasing "One More Saturday Night," during which fans had a hard time singing along at such a slow pace. The encores of "Ripple" and concluding segment of "Not Fade Away were a nice nightcap to the proceedings.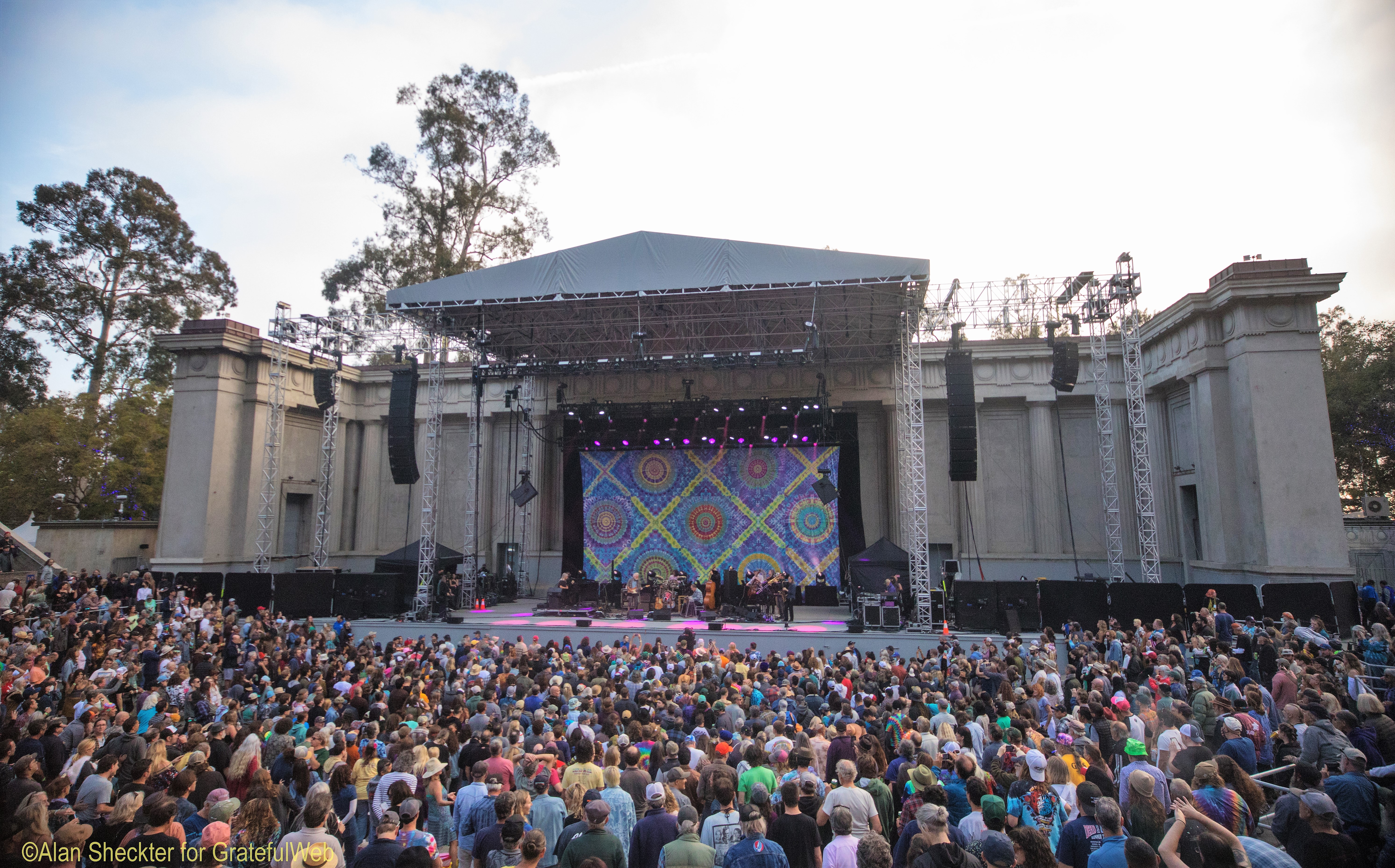 The ambitious Weir exhibited commendable stamina and commanding mastery of the entire production. In addition to being the de facto band leader, giving nods and signals to players to launch select musical passages, Weir also was chief vocalist and the only guitarist onstage. Alternating between a few guitars, Weir delivered licks with with his signature twangy, trebly tone that cut through the cool night air, exhibiting a broader wider range of guitar skills than he displayed with the Grateful Dead
The next expansive step for the group is an ambitious one, slated for the Kennedy Center Concert Hall in Washington, D.C., where Weir & Wolf Bros featuring The Wolfpack will join the National Symphony Orchestra for five performances in February 2022.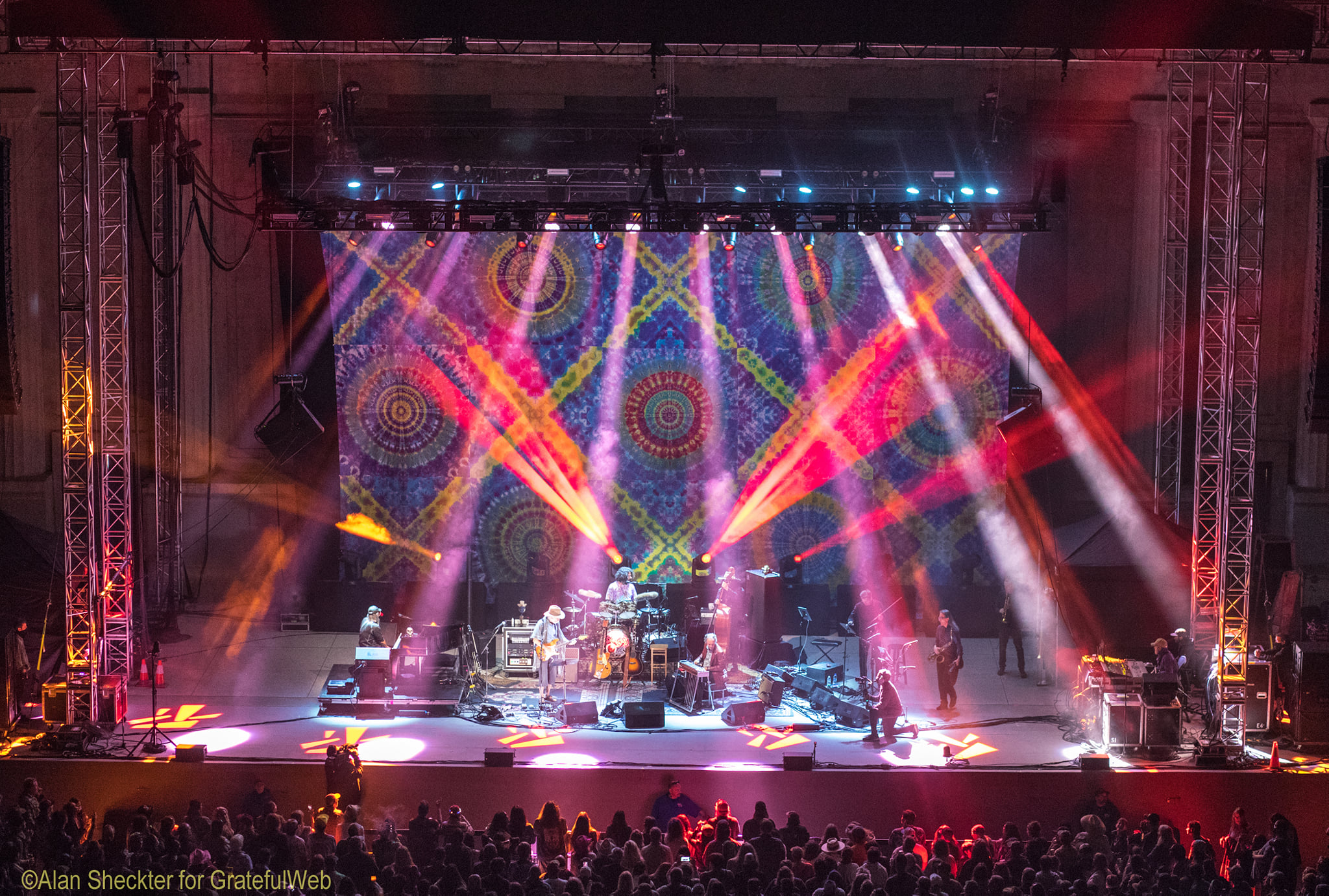 Scatter thoughts and recollections:
The show included a "breakout" of "She Says," a song recorded during sessions for RatDog's 2000 release, "Evening Moods," but not included on the record. All other songs on this night, except for "You Win Again" and "Muleskinner Blues" were played during the four-show Weir & Wolf Bros (featuring the Wolfpack) shows in Colorado in June.
Regarding the inclusion of a Miles Davis refrain, Dead & Company have before jammed in an out of Davis's "Milestones."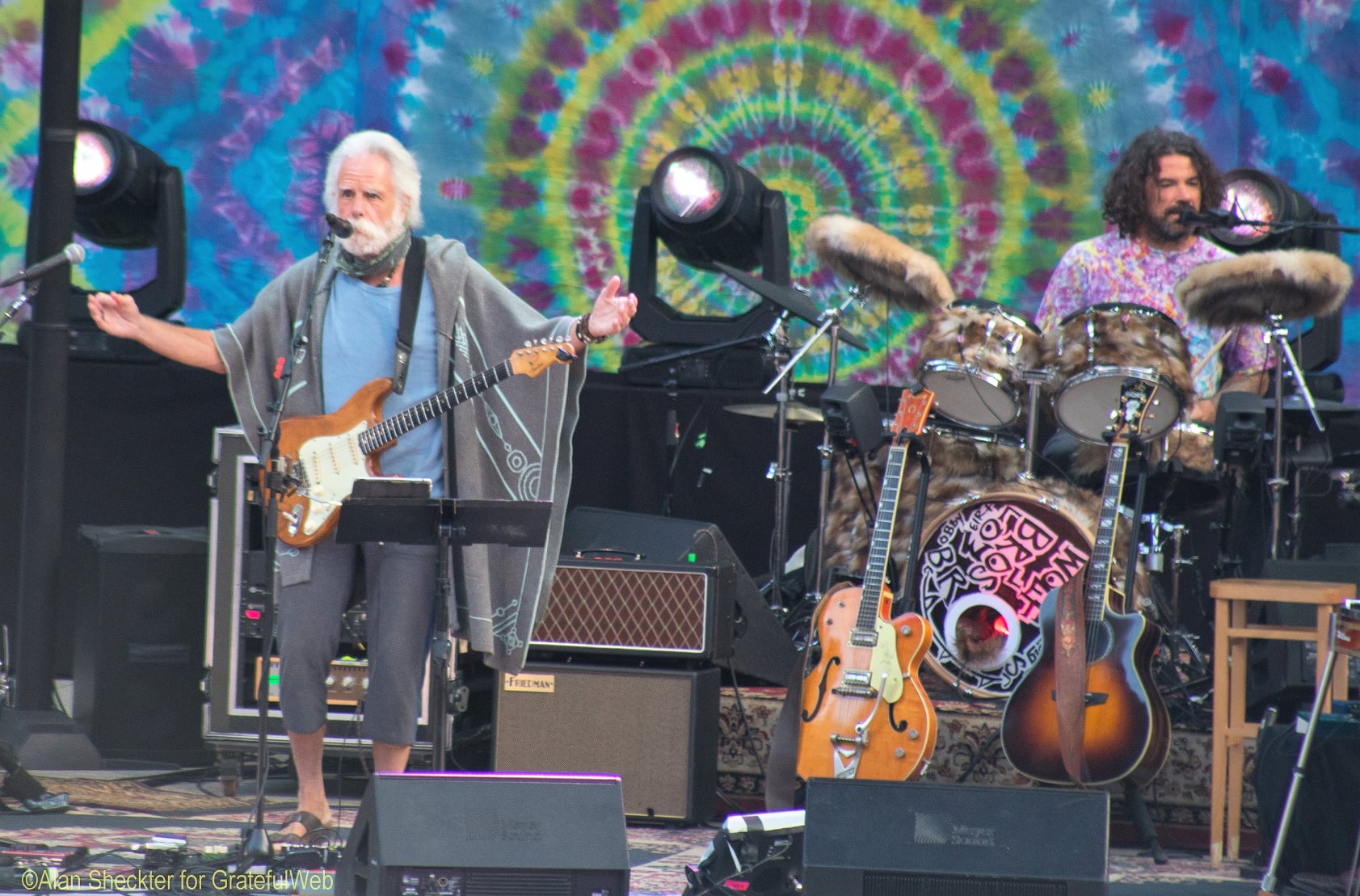 Very, very, very few people could be seen or smelled smoking cigarettes, which was appreciated. Some outdoor concert/festival attendees that still insist on puffing on silly cigarettes should emanate this model.
Scoreboard: During the course of the night, the band performed 10 "Weir songs" (counting "Weather Report Suite" as two and leaving out the Jack Elliot-led "Muleskinner Blues), and seven "Garcia songs."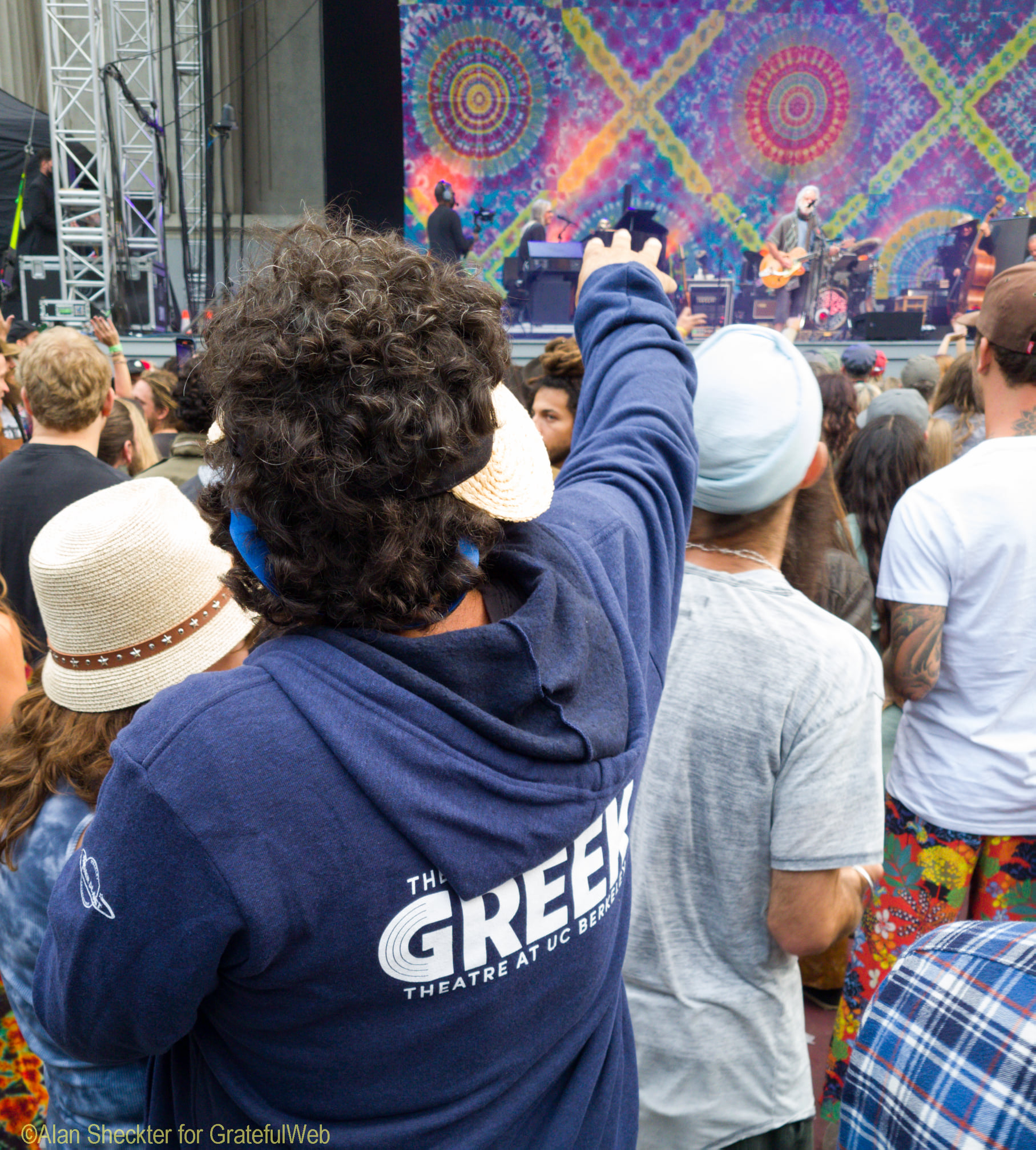 Orchestral rock associations are a bold proposition, but not so unique. Such efforts have been carried out live and/or on record by The Who, Robert Plant/Jimmy Page, Yes, Metallica, and others, and the Moody Blues set the orchestral rock standard back in 1967 when its "Days of Future Passed" LP featured the London Festival Orchestra.
Set 1: Not Fade Away -> Cassidy, She Says, Friend of the Devil, Black Throated Wind, Tennessee Jed, Muleskinner Blues, Weather Report Suite (Prelude, Part I, Part II/Let it Grow) Set 2: You Win Again, Scarlet Begonias -> Playing in the Band -> So What -> Uncle John's Band -> Playing in the Band, Estimated Prophet -> The Other One -> Standing on the Moon -> One More Saturday Night. Encore: Ripple -> Not Fade Away.