San Francisco Bay Area thalassophiles The Well Known Strangers celebrate the release of their highly-anticipated EP King Tide on Friday, March 5. The new EP is a collection of "California Country Soul" songs that are an analysis and reflection of the awesome, tumultuous time we live in - - one of drastic polarization and vast upheaval (much like the king tide), reshaping the very earth beneath our feet.
The Well Known Strangers is a collective of seasoned Bay Area session musicians and friends, featuring powerhouse vocalist Amber Morris (Narada Michael Walden, Mark Karan Band); David Noble (Poor Man's Whiskey, Pardon The Interruption) on lead guitar and vocals; Joshua Zucker (Rowan Brothers, The Jones Gang) on bass and vocals; Austin de Lone (Nick Lowe, Elvis Costello, The Fabulous Thunderbirds) on keys; Mick Hellman (The Go To Hell Man Band) on drums and vocals; Rob Anderson (emerging talent and repeat world champion cyclist) on guitar.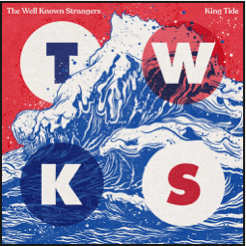 The album will be available to stream and download on most music platforms here, beginning March 5:  https://ffm.to/kingtide.
Sun State: The Well Known Strangers' homage to their home state of California, to the beach, and to those who shine brighter than the sun. Video
The Mountain Song: A celebration of the bohemian splendor, brash eclecticism, and wild diversity of humanity (and the aliens in the volcano). Our strength is in our differences. Video
Down To the River: There's always room for a good old-fashioned revival! A favorite from the live set written and originally performed by War and Treaty. Video
American Man: Not as much a political statement as a reflection of who we are collectively as Americans in the eyes of the world. It's time to take a long hard look and decide whether this is who we want to be. Video
I'm the President (live bonus track): A whimsical commentary on the former commander in chief. This one almost didn't make the cut because they weren't sure it would remain relevant pending the outcome of the election. Needless to say, it did. Video
A few times each year the forces of the moon and the sun combine, and the tide draws out unusually far exposing a network of tidepool wonder that is normally inaccessible to terrestrials. But don't linger too long, this is only the calm before the storm when the King Tide swallows the land with all of nature's majestic fury. And an apt metaphor for our current condition, no? It's too grand for one song to cover it, so The Well Known Strangers wrote a whole album about it.
For more information on The Well Known Strangers, please visit thewellknownstrangers.com.