As I awoke that Sunday, there was not much desire to trek up to Red Rocks to see a group that I was only vaguely familiar with.  I had had one of those horrible, no good, very bad weeks and did not think the Pixies were capable of solving any of my issues.  However, knowing that I had only heard pleasant statements about the Pixies, as well as the fact that my brother had extended his visit here from North Carolina for the sole purpose of seeing this show, I decided it would be best to check it out.  Besides, the Violent Femmes were also playing, and I had actually seen the Femmes play about ten years ago with Morphine.  It was a great show, so I figured this wouldn't be a total waste of my time.
After we safely made it through security and settled into our seats, I somewhat paid attention to the opening act (the Bellrays – I think?).  They definitely were not horrible.  Although it was not really my bag of chips, the female lead singer had a great stage presence.  Nevertheless, I eventually began observing the crowd.  There wasn't any one particular type of person, and everyone appeared happy to be, so I decided my decision to see this show was a good one.
While the sun still hung in the sky, the Violent Femmes took the stage.  I have not heard much of their new music, so I just hoped they would stick to what most of us know.  My prayers were answered, and they did just that.  I was not completely blown away by the performance or anything.  They definitely had their chops down, but I could not find anything very new and exciting within their music.  I did notice a few songs in there that were very Christian, and this surprised me just because I never thought of them as a religious band.  I guess we really do learn something new everyday….  Although the Violent Femmes did a good job, I definitely had more fun walking through the crowd taking pictures and visiting with strangers than I would have if I chose to remain in my seat.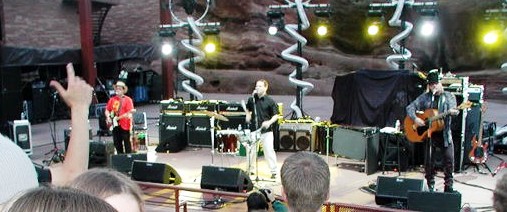 After the Femmes finished their encore, I continued to walk around until The Pixies began.  I must've been gone for quite a while seeing that my brother was a little worried about my whereabouts when I returned to my seat.  I appreciated his concern, but I assured him that I was capable.  Even so, I decided to stay put for the rest of the concert. 
As for the Pixies, I thought they were great.  Again, I had heard very little of their music before this time, and I was pleasantly surprised.  I am familiar with The Breeders' music, and figured the bassist, Kim Deal, would be worth it.  Besides, aren't all women bass players awesome anyways?  In terms of general observations, it is quite clear that this band has been around for some time.  The group dynamic was definitely there.  I really enjoyed watching the drummer – he dominated that drum set and the tight-knit relationship between the drums and bass made their sound very tangible.  The lead guitarist and lead singer were also very good.  The front man definitely had a range to his voice – modulating from songs that basically required yelling, to very nice melodic tunes.  For the most part, this was catchy music, but it was not like the overabundance of plastic pop music that is overbearingly available.  By the middle of their set, I knew I would need to check out some Pixies albums.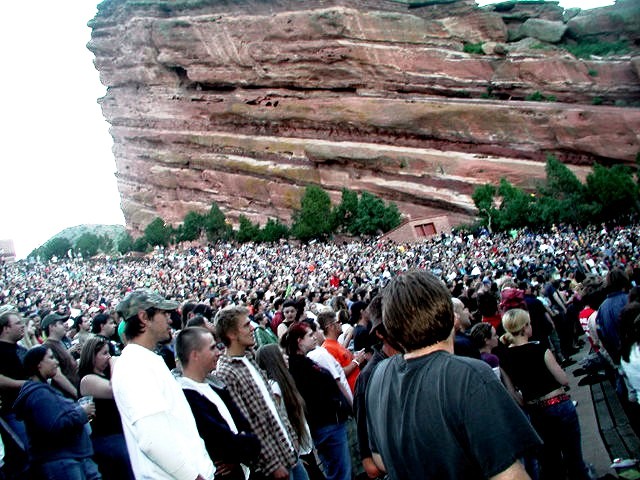 By the end of the show, I was very pleased with my decision to experience this music.  At one point towards the end, The Pixies played a song that really struck a chord within me.  In the chorus, the singer was asking, "where did my mind go?"  I couldn't help but smile at this question because I felt a similar way the previous week.  I think it just goes to show that sometimes all you need to get back on the good foot is some fulfilling music.  With music and sound, come vibrations, and with vibrations, healing may occur.  It's also helpful to be in the Red Rocks type of setting with fun-loving people around you.  It just goes to show that seemingly small and simple things can produce drastic effects within and without us.