The music of Frank Zappa could be considered the most important compositional contributions to American popular music in the 20th century. Many might find this claim blasphemous. What about Miles Davis? John Coltrane? Bing Crosby? The list could go on. Zappa's music blended important elements of orchestral and jazz music while serving as a working parody of music and popular culture. His unique knack for combining humor and seeing right through the bullshit made his lyrics topically daring and provocative. Many of his targets hated him, especially when he took on the uber-censorship politicians who were trying to put parental advisory warnings all over albums that had "foul language" or were "topically controversial". He never compromised his style for anybody, and blew away people's expectations of the potential functions of both classical and rock music. Ultimately his legacy will only continue to be recognized as his catalogue continues to grow even twenty years after his untimely death from prostate cancer. Frank's most admirable quality was that he included himself as a target for roasting in his music and lyrics. If you can't take what you dish, you shouldn't dish it to begin with.
Frank's son Dweezil had sat in and performed with his father since the early 1980s. If anybody "got" Frank's music, and his extremely complex instrumental changes, cues, and insinuations, it was his kin. In 2007, he founded a project to the joy of the legions of Zappa fans worldwide called Zappa Plays Zappa. The band was less of a cover band or a tribute project than a chance for people who might not have been able to experience a Frank show to witness the mayhem that goes into his music. When they first toured, Dweezil performed alongside Zappa band alumnus including drummer Terry Bozzio, saxophonist Napoleon Murphy Brock, and guitarist Steve Vai. When fans responded with support beyond expectation, Zappa knew he needed to continue to pet project and form a full time touring band. Over five years later the tour is still performing theaters, arenas, and festivals with a growing catalogue of songs (the Zappa catalogue seems endless) and continued new explorations. The current tour consists of multi-instrumentalist Scheila Gonzalez, drummer Joe Travers, vocalist and horn-man Ben Thomas (who usually takes on Frank's vocal parts), keyboardist Chris Norton, and bassist Billy Hulting. The band must have the most rigorous rehearsal schedule in order to accurately bring out the color of Frank's music. I have seen this band half a dozen times and can attest to their brilliance. "Cover band" would be insulting. Every wonder why there's so few Zappa cover bands? It's not because that wouldn't be popular, it's because the music is actually that challenging to understand. Nothing about Frank's music abides by any three-chord structure or standard rock convention. That's what makes it so damn amazing.

Zappa Plays Zappa performed their second show at Boulder, Colorado's Fox Theatre last Friday night. It sold out well in advance, same as the first time. The crowd at the University Hill venue was about three-quarters old enough to have seen Frank, but a young crowd also made an admirable chunk of those in attendance. The band arrived right on time and opened with "Willie The Pimp" off of 1969's Hot Rats album, the album that really solidified Frank as a god in the music world. It was also the first recorded collaborative effort between Zappa and partner in crime pianist/bandleader Captain Beefheart, the only musical entity weirder than Frank now and then. Next came "I'm So Cute" off of 1978's Sheik Yer Booty. It's so incredible how spot-on the vocal work of Zappa Plays Zappa is when contrasted to the original studio recordings. The performance continued it's high caliber esteem with "Penguin in Bondage" originally off of the Roxy and Elsewhere album. The song is one of Frank's wildest ruminations featuring complex instrumental changes and quality horn work. Other quality interpretations that stick out in my mind were the honky-tonk goof-off "Harder Than Your Husband", the Frank-staple "City of Tiny Lights" with brilliant vocal work courtesy of Chris Norton and a lengthy improvisational breakdown that gave Sheila Gonzalez a memorable saxophone solo.
Another reason that Dweezil's homage to his father's legacy is spot on is because he engages the crowd in the same way that Zappa famously would in concert. Frank would honor any crowd shout-out to the extent of absurdity. This is most notably documented in his film "Baby Snakes" (which Dweezil's band also performed the title song of) where he stops mid-song multiple times to entertain any audience member's irrelevant comment and even has to turn down a bong from a couple of college kids, deeming it a "dope fiend device" (those who have a working knowledge of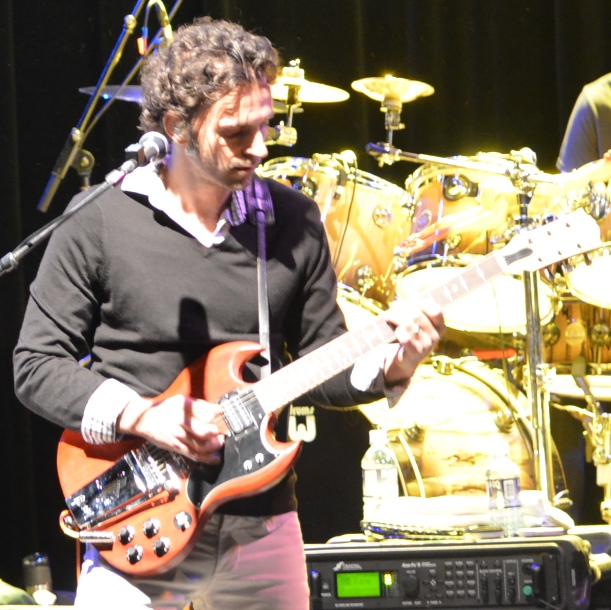 Frank's shtick know that he frowned upon drug users and famously made his only drugs of choice coffee and cigarettes.) Sometime during the performance in between songs, Dweezil noticed a young kid in the audience and invited him onstage. The kid claimed to play saxophone but was too shy to play in front of the sold-out crowd. After he interrupted the show to no avail, Dweezil instructed Sheila and Joe to cover the "All In The Family" theme song and automatically Joe took on Edith Bunker's vocals and Sheila taking on Archie Bunker's part. Not only was it seamlessly understood what they needed to do, but they also traded gender roles, making it a ridiculous parody true to the spirit of Frank's humor. The band ended their long set with the fan-favorite "Muffin Man" to the joy of my many comrades in attendance.
When the band left the stage, they truly made the crowd beg for an encore. I think it could have been three minutes before they arrived back onstage. My issue with the encore call in general is that it's been grandfathered into most performances and even if the crowd doesn't give a worthy cheer for the band to come back, usually they do. But yeah, they made us beg for it. And the treat was well worth it. A performance of perhaps Frank's most famous instrumental "Peaches En Regalia" into an interpretation of the Allman Brothers Band's "Whippin Post". Zappa band performed this famously in the 80s and Dweezil's band killed the Zappa-style nature of the cover. After a satisfying double encore Dweezil engaged us for one more, a rare instrumental titled "Strictly Genteel". This is one of Frank's more structurally serious compositions and was done justice with an admirable performance.
I can confidently say that this was one of the band's finest performances I have witnessed to date. Maybe it was the small venue space or the laid back crowd but something about last Friday was spot on. We caught up with Billy the bassist out front of the venue for a post-show cigarette who engaged us about their current tour and the crazy venues they were billed at. The rest of the band was inside the lobby graciously signing merch and memorabilia. In addition to being fabulous performers the entire band appeared humble and overly accessible to the fans. Not bad for a bunch of folks based out of L.A. If you haven't had the pleasure of seeing a Zappa Plays Zappa performance and love Frank's music, you're missing out. The band is regarded in high esteem by the jazz and rock touring circuits and Dweezil's pet project has grow to open shows for such greats as Return to Forever and Jeff Beck. The band is about halfway through their Midwest/Rockies/West tour, which ends on December 23rd at The Neptune in Seattle, Washington. Thanks for throwing one of the greatest Zappa Plays Zappa shindigs to date. Naturally, I'll be there next time.