A family legacy of music can be a precious thing for a musician, and when a duo brings two of them together, the results can be even more special. But when the duo are John Cloyd Miller and Natalya Zoe Weinstein, whose grandfathers were hard-working practitioners of musical styles birthed in two different cultures and originally separated by thousands of miles, the outcome is something else altogether: the unique, artfully crafted yet deeply organic blend found in Zoe & Cloyd's Songs of Our Grandfathers, their upcoming release for Organic Records. The album is now available for pre-save, add or order ahead of its May 19 release.
The project isn't the first time the two have touched on their familial musical roots — Natalya's grandfather, David Weinstein was a Jewish klezmer musician who emigrated from Ukraine to New York by way of Argentina, while John's, Jim Shumate, was a pioneering North Carolina bluegrass fiddler — but for the first time, Zoe & Cloyd have devoted an entire album to exploring these two musical streams in ways that not only honor the distinctive features of each, but also blend them in exciting and innovative ways. And in a nod to one of the project's inspirations, four numbers feature Statman, a virtuoso bluegrass (and beyond) mandolin player and accomplished klezmer clarinetist who contributes to both sides of the combination.  
"Songs of Our Grandfathers is inspired by the 1995 album by David Grisman and Andy Statman entitled Songs of Our Fathers, a beautiful project composed of Jewish and klezmer music," say the husband and wife duo. "We conceived our album in a similar vein, albeit with klezmer and bluegrass, as an homage to our grandfathers and their unique musical stories. Both Jim and David have had a profound influence on our musical development individually and as Zoe & Cloyd."
"Interestingly," they note, "bluegrass and klezmer are actually more similar than they may first appear. Both styles of music were born in working class communities, incorporating regional and popular influences of the time. Bluegrass absorbed elements of jazz and blues into its old-time stringband framework, while klezmer music, with its genesis in the Jewish community of Eastern Europe, often included tunes from a wide variety of countries and ethnic groups."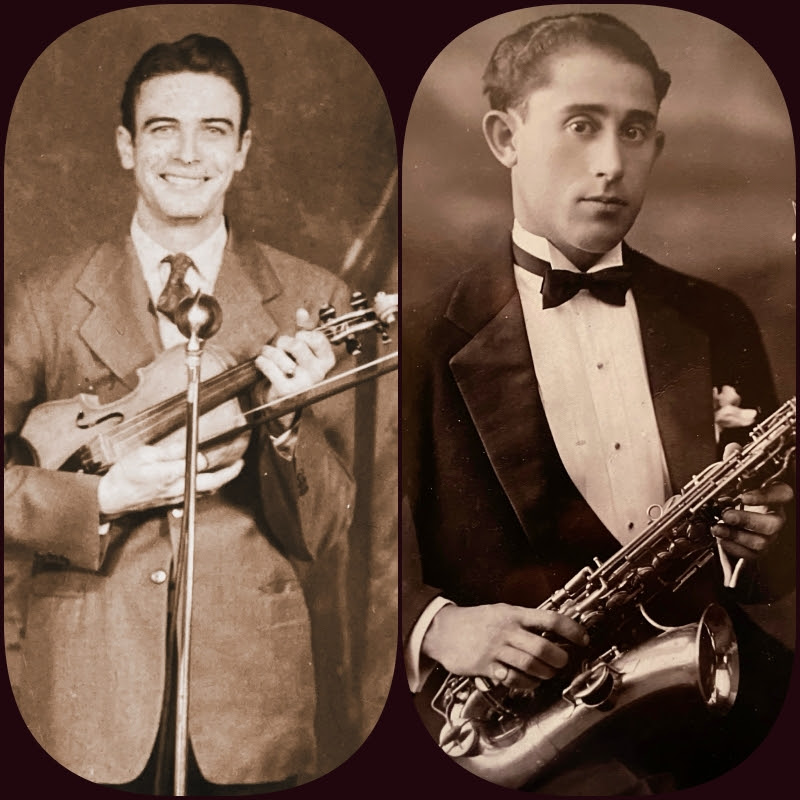 Along with producer Jon Weisberger, Weinstein and Miller opted for a varied approach to the material, exploring multiple ways in which the bluegrass and klezmer strands might be combined within the entire collection's framework. Some numbers, such as "We'll Meet Again Sweetheart," on which Weinstein plays the fiddle Jim Shumate used on the original, groundbreaking Flatt & Scruggs recording from 1948, and "Rocky Road Blues," to which Statman contributes a deliciously Bill Monroe-flavored mandolin part, are mostly straight-up bluegrass, sharpened by outside-the-box touches from banjoist Bennett Sullivan and enlivened by Miller's powerful vocals. The same is true on the other side of the coin with Weinstein's featured vocal, "Bei Mir Bistu Sheyn," and "Misirlou," both staples of the New York Yiddish music scene in the 1930s and subsequently popularized by artists like the Andrews Sisters (who did the former as "Bei Mir Bist Du Schön," with English lyrics) and surf guitarist Dick Dale, who turned the latter into a rock'n'roll hit in 1962; here Sullivan trades his banjo for a guitar, while Miller switches to mandolin and bassist Kevin Kehrberg turns in impressive solos.
Still other selections blend bluegrass instrumentation and musical tropes with klezmer melodies and rhythms in surprising and compelling ways. Statman, who began exploring klezmer clarinet playing in the 1970s after winning acclaim as an inventive bluegrass mandolinist, brings the instrument to "Bulgar Sigansky" and "Ich Benk Noch Mein Shtetele," providing a dazzling contrast to Sullivan's bluegrass banjo playing — while bringing the same abandon to a mandolin part on a version of Jim Shumate's original bluegrass tune, "Up and At 'Em," that opens with a klezmer style "doina" introduction. On these entries, the entire ensemble bring their deep knowledge of traditional musics and their free-ranging creativity together in ways that elevate both into a stunningly unique musical tapestry.
"Both styles are melting pots," note the artists, "and it is fitting and natural for us to combine them in our music." And indeed, by the time the final track,"Misirlou," fades away, listeners of Songs of Our Grandfathers will have heard a full-bodied new take on American roots music, one that holds fast to the integrity of Zoe & Cloyd's legacies yet brings them together in unique and compelling ways.  
Pre-save, add or order Songs Of Our Grandfathers HERE.