I have to admit, I am not an avid Phish follower. I don't travel to see them, I haven't bought an album since Farmhouse, and I hadn't really enjoyed a live show since Greensboro '03, but this show reminded me of all the things I had forgotten. I love running into all kinds of people I haven't seen in years in the parking lot. I love the range of music blasting from the cars parked early for tailgating, and the folks selling all kinds of stuff from food and beverages to art and jewelry.
I had to work my marketing tent this show, so I missed the beginning. And I was working with a bunch of young college kids who knew nothing about Phish. As I sang along to Ha Ha Ha, one of them, who had also worked Saturday's show, commented on the fact that the drummer was wearing that same weird dress again, and I realized there is a whole younger generation that know nothing about Phish and can't understand why there are people that travel following this band. This was a perfect weekend introduction; since they were exposed to what I think was a weekend of better sets I have heard in a while. I had heard the set list from the night before, and was really bummed I had missed it, but mostly I was afraid I had missed the "good" night. I had nothing to worry about.
I finally made it out to a lawn spot sometime during The Divided Sky, about five songs in and got some dancing in. Boogie On Reggae Woman was one of my very first favorite songs, so I got to groove to that one on the lawn before I found my way into the pavilion to meet some friends just in time for Bathtub Gin. It was here I realized what I had been missing the past few times I have seen Phish…being able to see! Seeing the stage and the early attempt at a light show, even though there was still plenty of daylight streaming in was amazing. The closer you get to the stage, the more ecstatic energy courses through the crowd. Which meant, I had to get even closer.
For the second set, I braved the general admission area in front of the stage, which during the first set was so packed; I had tried to wiggle in once and gave up. Being this close was worth the wade through the sticky sweaty crowd. Starting with Party Time, and seeing the guys so close made the night perfect. Although I wasn't as hooked into the songs in the beginning of the second set, I loved being so in the mix. I lasted until somewhere during Alaska, until braving the crowd again to hit the bathroom. Realizing that the music would probably be over around 11 because of the neighborhood codes, I figured I might get a head start on the traffic since I had been there all day working and I was a little beat.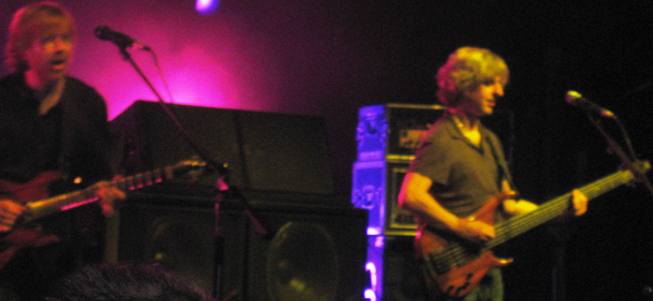 Little did I know, Phish didn't care about the fine they would have to pay for going over the limit. I missed a few good ones, and learned some valuable lessons. It's worth spending the money on getting closer to the stage, and you have to stay until the end because you'll miss something you wish you had stuck around for, in my case Loving Cup. And next time that is exactly what I will do!