Boogie Matrix Mechanism
Submitted by mike on Sat, 04/18/2009 - 06:58
Started in 2005, Boogie Matrix Mechanism released their debut album "Glass Candy" over Halloween 2006. They give the audience an eclectic mix of Jam psychedelia, hip hop, blues, reggae, funk n more. This seven piece band gives the audience not just funked out grooves or trippy space, but also some strong messages through the lyrics and entertaining opportunities through crowd participation.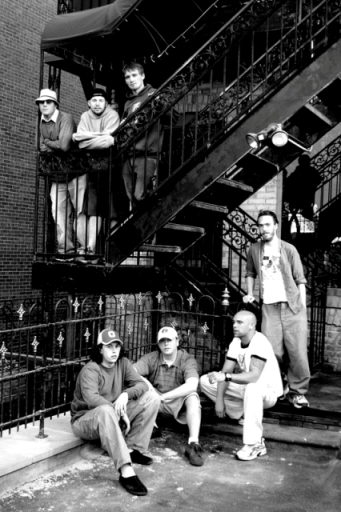 Out of Toledo, OH this jam band is bringing a positive vibe with an original mix of styles that few if any are doing today. Through a mutual friend, Brian Bell AKA 'Mainstream' and Bob Maltby, met in the fall of 2003. Immediately they started making music. Mainstream's innovative, often politically based, occasionally psychedelic induced lyrics mixed with Bob's funked out bass riffs along with some added drumming started a simple first band. However after the drummers exit from the band Brian and Bob started reevaluating the seriousness of their musical goals and moved from the trio format to create more of an acoustic sound with Bob playing rhythm guitar instead of bass. Looking for percussion/bass/whatever, in December 2004 Brian ran into an old friend Ben Durham whose band, Blind Sighted, had just broken up. His addition on bass along with his drummer Eric Lowden laid down a strong foundation for Boogie Matrix Mechanism. A short search for a keyboardist led to Jim Kahmann out of Toledo. Soon after came the addition of lead guitarist John Kuntz into the mix and finally, in November of 2005, Eric's close friend Aaron Armstrong was added in on percussion and the evolution of Boogie Matrix Mechanism continues........
Boogie Matrix independently released their first album "Glass Candy" on Halloween 2006 . Then independently released their second album "Animated Reality" in the spring of 2008 and are now playing shows around Ohio, Michigan, Indiana and Pennsylvania. They are interested in expanding their range and playing in as many different places as possible. In the past three summers they have played festivals such as Columbia Gas Ribs by the River 2006 and 2007 in Promenade Park in downtown Toledo, Indiana Jam Bash 2006, The Chaffee Gathering 2007 and Shamy Bash 2007 and 2008, Hookahville 29, Rhythmfest 3 and Gratefulfest 9. They have also shared the bill with such names as George Clinton and the Parliment Funkidelic, Moe., Ekoostik Hookah, Vince Herman, Railroad Earth, One Under, Wookiefoot, Mickey Hart Band, Dark Star Orchestra, Jim Miller Band, The Rumpke Mountain Boys, Boom Box, U-Melt, The Maji, Lotus, Family Groove Company, The Spike Drivers, The Macpodz, The Goods, The Werks, Covert Operations, Papadosio, Moser Woods and many more.
They are playing great Ohio venues such as Nelson's Ledges Quarry Park, Legend Valley, Frontier Ranch, Headliner's in Toledo, The Mad Frog in Cincinnati, Canal Street Tavern in Dayton, Phantasy Club in Lakewood, Howard's Club H in Bowling Green, Jackie O's in Athens, Ruby Tuesdays in Columbus, Mickey Finn's in Toledo. They have also played Docksider in Erie, PA Doc's Music Hall in Muncie, IN. The Blind Pig in Ann Arbor, MI, T.C. Speakeasy in Ypsilanti, MI and many more. Boogie Matrix recorded their second album independently and looks toward touring out of state in pursuit of reaching music fans all over the country. Boogie Matrix combines a diverse mix of genres including jam/ psychedlic rock, hip-hop, reggae, blues, funk, bluegrass n more. What sets them apart, is their positive vibe, distinct style with the music and delivery of lyrics that no one else is doing today. Boogie Matrix Mechanism's influence include The Grateful Dead, Santana, Widespread Panic, Talking Heads, Frank Zappa, Bob Marley, Sublime and many, many, many more!
Currently touring Ohio, Indiana, Pennsylvania, and Michigan with a dedicated following of dance-happy music fans, the fire breathing septet has landed in places like Hookahville 29, Rhythmfest 3, and Gratefulfest 9, not to mention the many club gigs at premier area venues. These days BMM is ferociously pursuing national tour dates. With their kind vibes and energetic performances Boogie Matrix Mechanism is guaranteed to get any live crowd on its feet.
Boogie Matrix will be opening for Keller Williams at the Shamy Bash, so be sure to get there and check 'em out!
| | | |
| --- | --- | --- |
| | One Eyed Jack's w/ Jones for Revival | Fairborn, Ohio |
| | Mickey Finn's Irish Pub - 4:20 Blowout w/ Jones for Revival | Toledo, Ohio |
| | Rock-N-Reggae Festival @ Salt River Acres Campground | Shepherd, Michigan |
| | Kaysan's 5th Down wsg Ladymoon | Fort Wayne, Indiana |
| | The Mousetrap wsg Ladymoon | Indianapolis, Indiana |
| | Boogie Matrix Mechanism's Mainstream Birthday Bash and Memorial Day Madness Celebration | Toledo, Ohio |
| | NLQP Summer Kick-Off @ Nelson's Ledges Quarry Park | Nelson township/Garrettsville, Ohio |
| | Benefit for our brother Shawn(DedicatedCarpenter420)tba | tba, Ohio |
| | Southwind Music Festival @ The Zane Shawnee Caverns | Bellefontaine, Ohio |
| | Super Secret Late Night Festi Set @ We're not telling!!!! | ERIE |
| | Ann Arbor Street Art Fair w/ The Macpodz | Ann Arbor, Michigan |
| | Private Party | Findlay, Ohio |
| | Shamy Bash / Snugglefest @ Frontier Ranch | Pataskala, Ohio |
| | Something Fantastic II | Logan |